When you think about the latest and greatest technology, vacuum cleaners aren't usually top on the list. People think about the latest game console, or whatever new feature Tesla has just announced. When pressed to think about home goods, there are still plenty of sexier options. For instance, there are refrigerators that monitor your grocery status and automatically generate a list. But vacuum cleaners are one of those unappreciated things that can make or break a home. Ironically, this is because nobody actually wants to use them.
Think about it. Vacuuming is a necessary part of adulting, but it's also a chore. It's the exact opposite of fun. You want to get the job done efficiently and move on to something you enjoy. So it only makes sense that you want a powerful, efficient vacuum. You also want one that has all the accessories you need to clean different parts of your home. Now, you might think that you need to spend hundreds of dollars on a canister vacuum to get the best. But with modern technology, many cordless stick vacuums can perform just as well as their larger counterparts.
We're about to review the DreameTech T10 Cordless Vacuum Cleaner. This is a stick vacuum that runs on battery power, so you can move it easily from room to room. It also has a number of accessories, so you can clean upholstery, curtains, and crevices as well as carpets. But how good a job does it actually do? We're about to look at all aspects of the T10's performance. We'll start by looking at the physical design, and some of the basic features. We'll move on to the cleaning performance, and all the accessories. Then, we'll talk about the battery life and the filter performance. At the end, we'll sum up what we've learned, and make our final determination.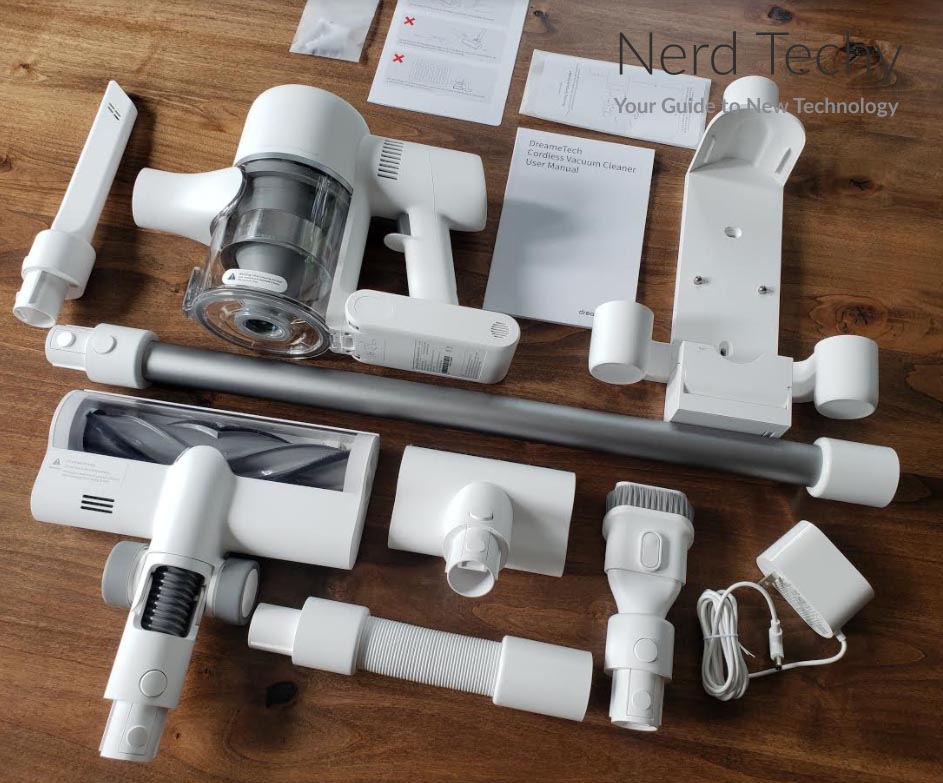 Design & Construction
The DreameTech T10 Cordless Vacuum Cleaner is designed for easy storage and portability. The main housing is built similarly to a power drill, with a pistol grip and a trigger for operation. The motor housing is directly above the grip, and the battery is attached underneath. Since the motor and the battery are the heaviest parts of the vacuum, this design ensures that it remains back-heavy. The overall weight can be as light as 3.64 pounds, depending on what attachments you're using. This makes it easy to hold overhead, if you're cleaning curtains, ceilings, and light fixtures.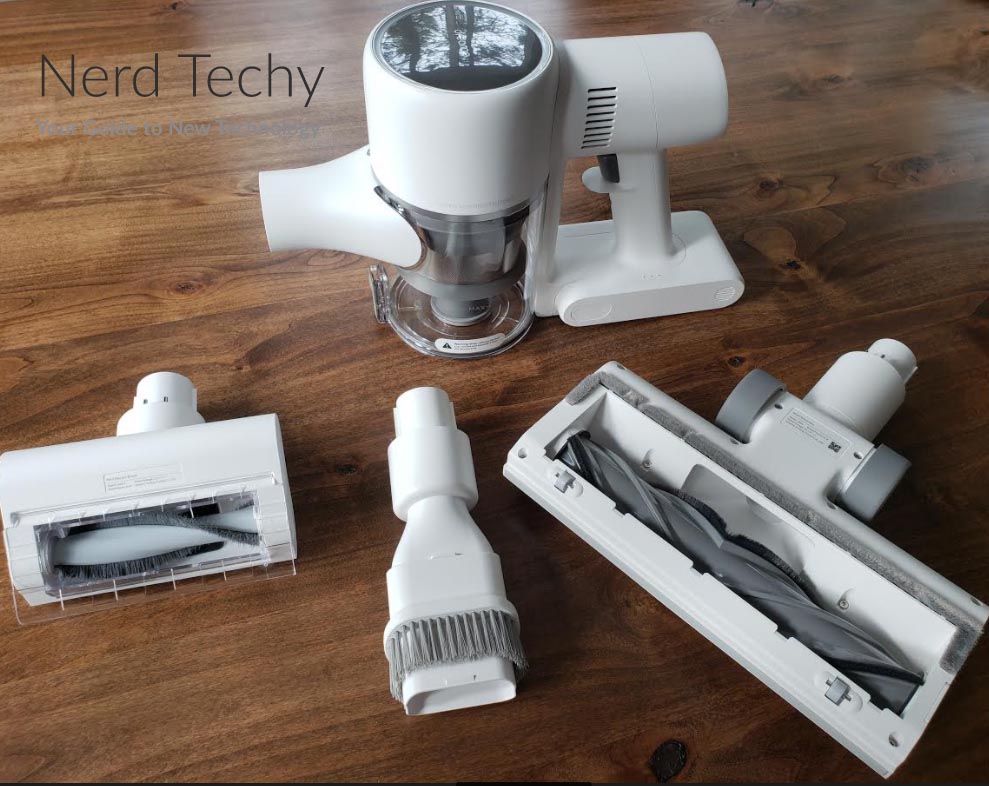 The housing is constructed from glossy white plastic, which is easy to wipe down and keep clean. The trigger is grey, and the other controls are located on the back of the motor housing. These controls are relatively simple, and consist of a speed control switch and a trigger lock button. When the trigger lock button is pressed, it will lock the trigger in place, so you can take your finger off. When the button is pressed again, the trigger will be released and the vacuum will turn off. This feature makes the T10 easy to operate for people with arthritis and other grip issues.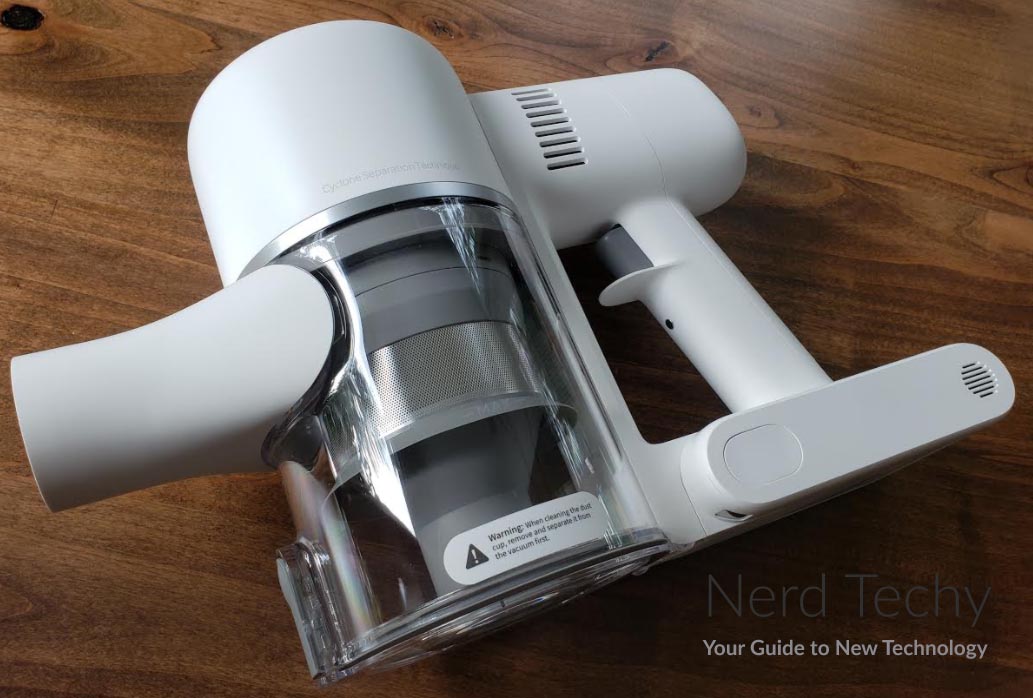 The bottom of the unit houses a cylindrical dust hopper with transparent sides. The capacity is 0.6 liters, slightly larger than the average stick vac, which usually tops out at half a liter. Thanks to the transparent sides, it's easy to tell when you're starting to get full. When the time comes, the hopper is very easy to empty. There's a button that opens the entire base. Hold the vacuum over your trash can, press the button, and all the dust will drop right out. Simply click the base shut to close the hopper back up.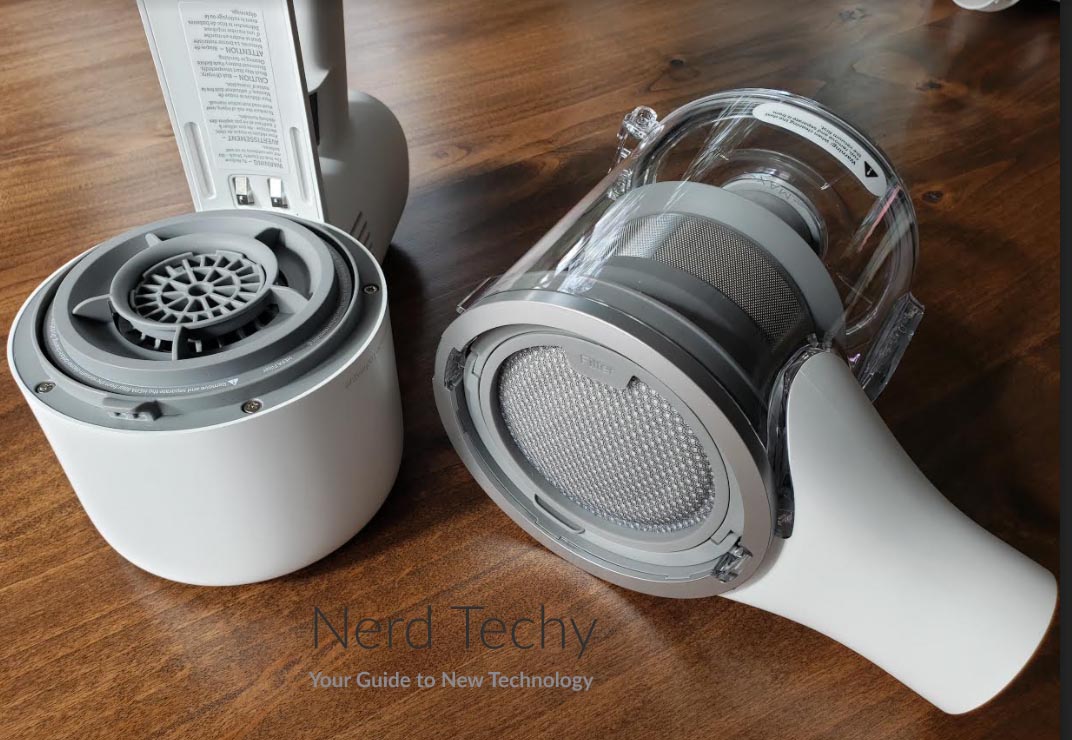 Along with the vacuum and the accessories, you also get a wall mount. This mount has room not just for the vacuum, but also for the accessories. Everything can go in one place, which makes it harder for any parts to get lost. Not only that, but the mount also functions as a charger. Whenever the vacuum is mounted, its battery will be topping off for the next time you need it. That said, you'll want to keep in mind that it needs to be hung in the general vicinity of a wall outlet.
The vacuum, accessories, and charger are all covered by DreameTech's 12-month manufacturer's warranty. This covers you for any defects in materials or workmanship. If the vacuum fails during the first year, you'll receive a full refund or replacement.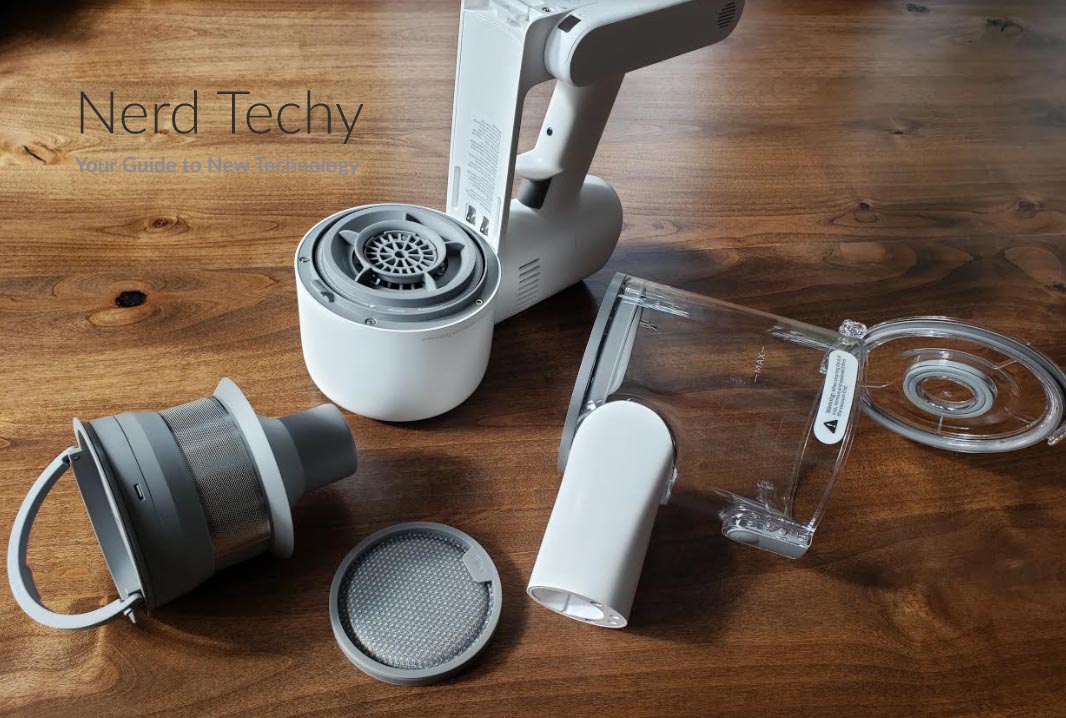 Cleaning & Accessories
The T10 has three different suction power levels. The switch is used to select between Eco mode, Standard mode, and Turbo mode. Eco mode is suitable for solid floors, as well as delicate objects like curtains. Standard mode is better for upholstery, as well as for short pile carpets. Turbo mode is best for deep pile carpets, or for heavily-soiled areas like door mats. The maximum power on Turbo mode is 20KPa. By comparison, the average vacuum provides about 14KPa of suction. Despite its small size, the T10 has a lot of power!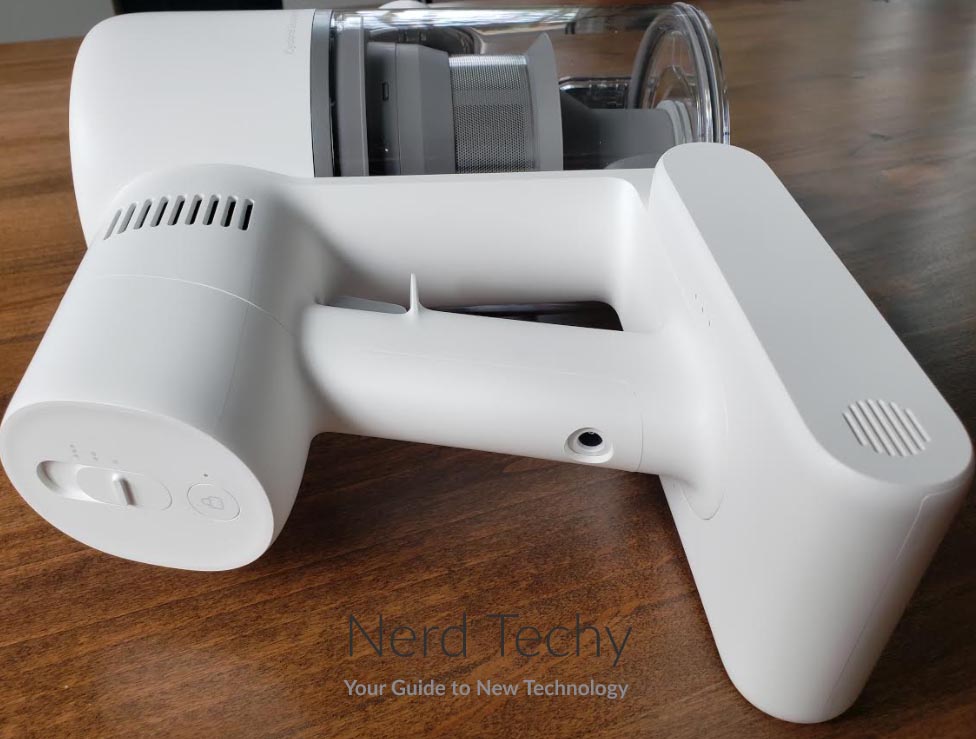 As you might imagine, the volume level is variable depending on the suction setting. In Eco mode, the T10 is quiet, almost like a small USB vacuum. On Standard mode, it's a bit louder, but still quieter than most upright vacuums. On Turbo mode, it's loud! But that's to be expected when you're pulling 20KPa of suction.
If for some reason you need a stick vacuum with even more power, it can be done. Take a look at the DreameTech T20, which is capable of 25KPa of suction. It also sports a nifty LCD display on the housing, but it comes with a correspondingly higher price tag.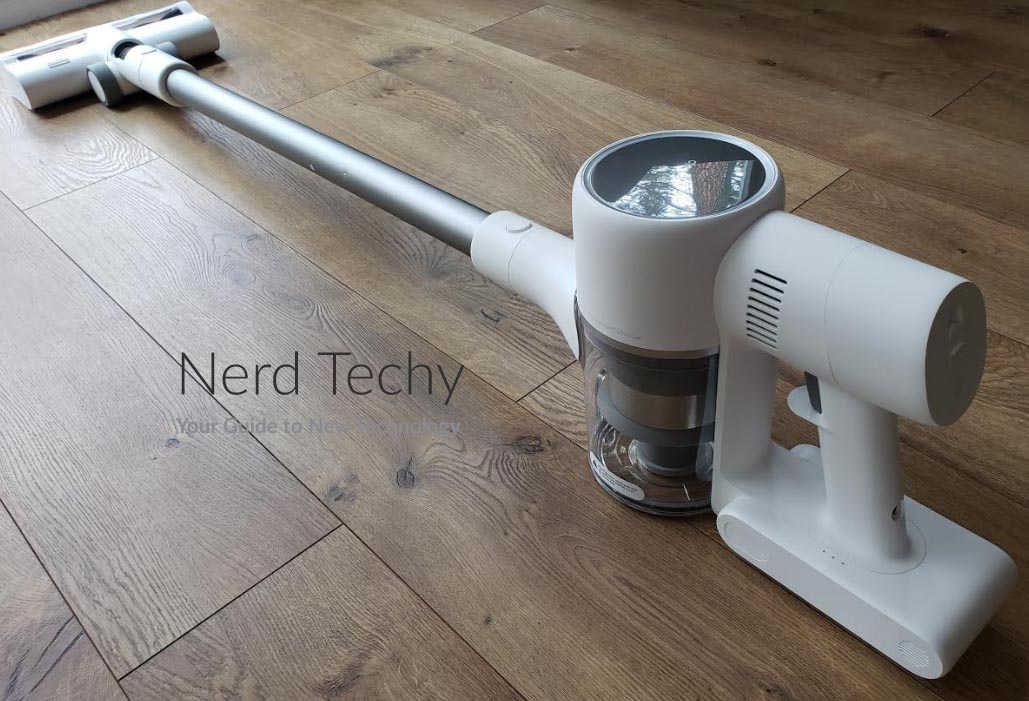 The main roller attachment is beefy, and can be attached directly to the housing or to an extension tube. The former is better if you're on your hands and knees, and the tube is better for normal vacuuming. The roller itself has a V-shaped brush that's advertised as "tangle-free." Let's be clear: if you've got long hair, there is no such thing as a tangle-free vacuum roller. You'll find a real-life Bigfoot before that ever happens. But the V-shaped design is better than a traditional spiral, significantly less likely to get wrapped up with hair. At the very least, you'll spend less time clearing tangles than you used to. Our only minor gripe about the roller is that there's no light on the front.
For upholstery and smaller surfaces, there's also a smaller roller attachment. This can be attached the same ways as the main roller. However, it can also be attached via a flexible extension hose. The hose connection can help you reach areas that might otherwise be inaccessible with a rigid vacuum.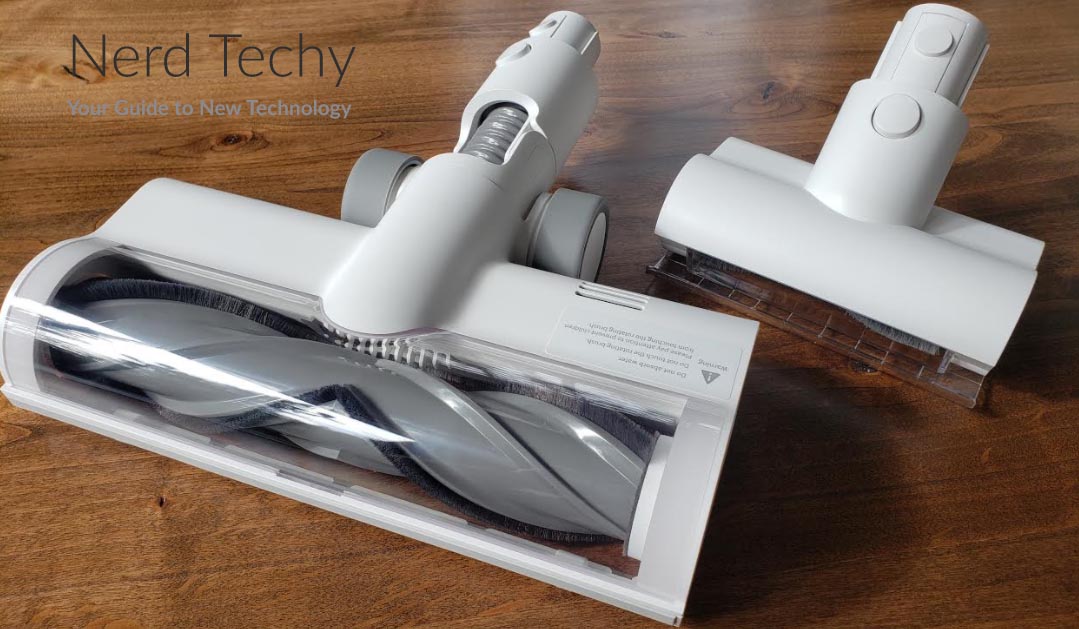 The brush attachment is designed for more delicate tasks, such as cleaning curtains or computer keyboards. It can sweep across a surface and remove dust, while only delivering a portion of the vacuum's total suction. The crevice tool is long and slender, and designed to reach where other attachments can't. It's a simple rectangular plastic tube that can fit in the grooves of your sofa or under a bookcase. There's nothing terribly complicated going on here.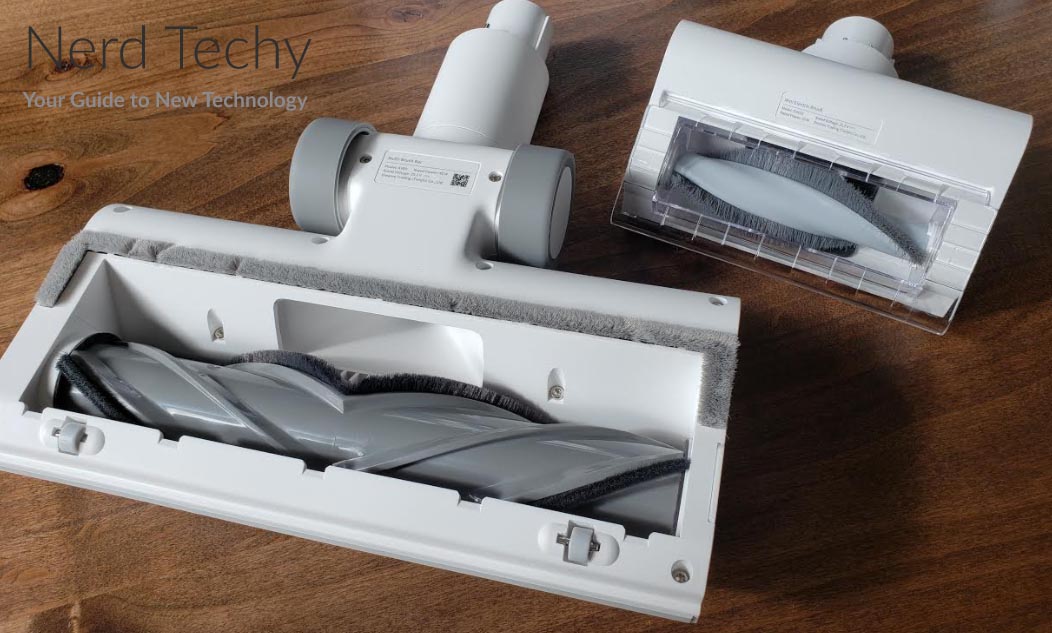 All of the attachments are constructed from the same white plastic as the main vacuum housing. The only exception is the extension rod, which is aluminum for most of its length. The connections click easily into place, and release with the push of a button, so swapping attachments is simple.
There's one thing the T10 won't do, and that's mop your floor. For that, you'll need a DreameTech D9. This is a robotic vacuum that zooms about your floor on its own, and can clean your home on a schedule. It also has an optional mopping mode, but the vacuum function isn't as powerful as the T10.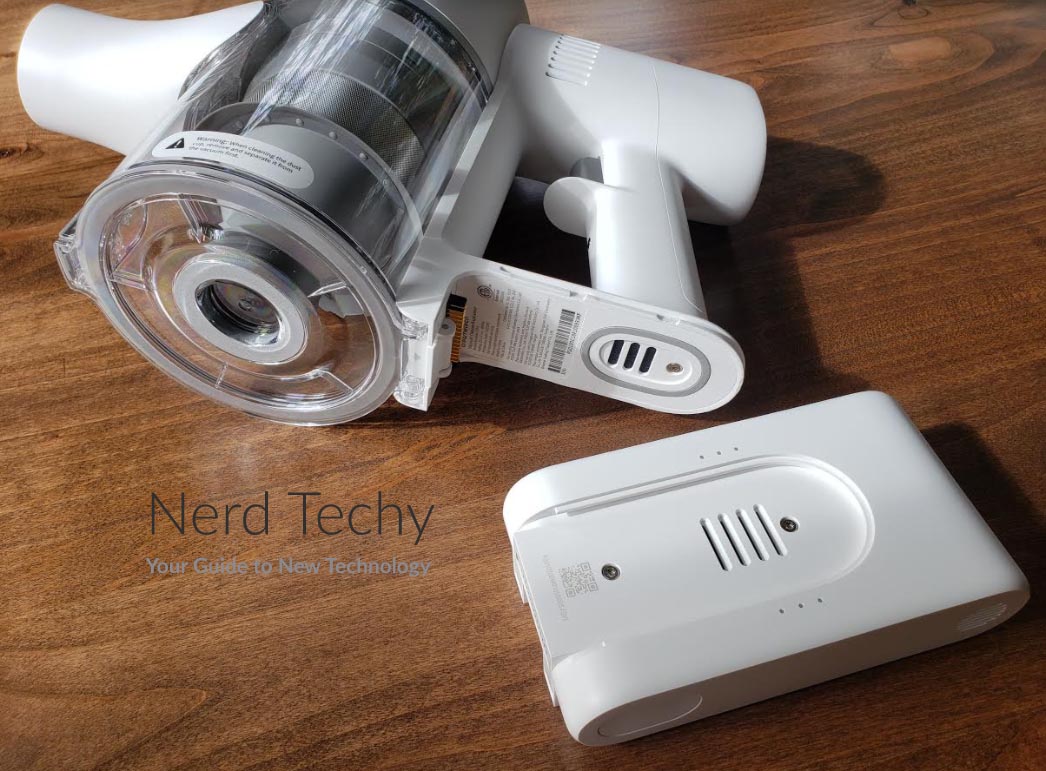 Battery & Filters
The DreameTech T10's battery life can be wildly different depending on what mode you're using. In Eco mode, you can get up to 60 minutes of use. This is enough to entirely clean many homes, provided you've got all solid floors. In Standard mode, you can get 28 minutes of vacuuming. This isn't nearly as much, but it's plenty for cleaning a few rooms. For most people, that's all you're going to need. In Turbo mode, the battery will run out in only eight minutes. If you've got a lot of deep pile carpets, you're not going to have enough battery life.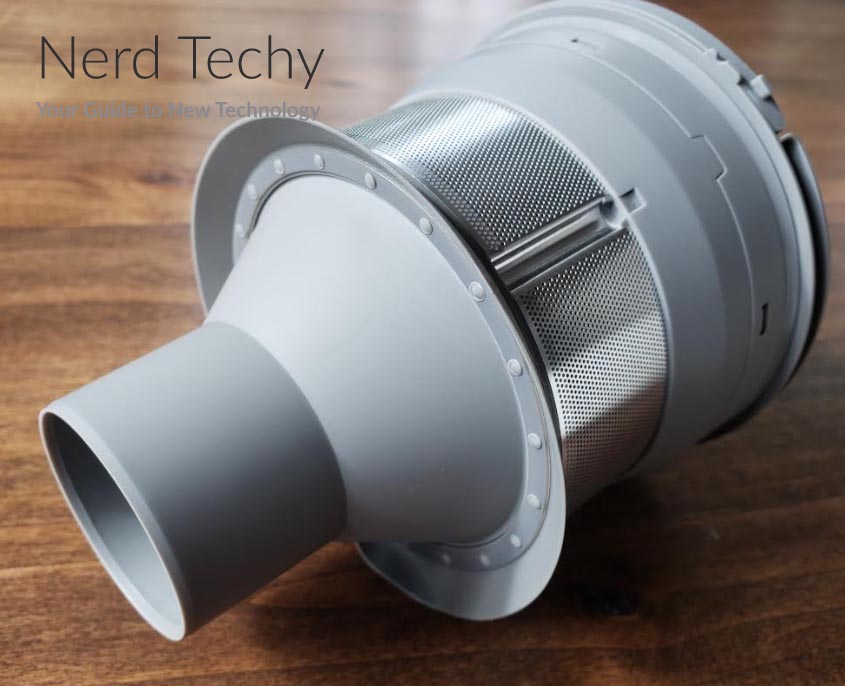 Thankfully, the battery is swappable. It slides easily on and off, so you can change it in just a few seconds. If you need more battery life, simply get a second battery and double your vacuuming time. Just remember to charge both batteries when you're one, or you'll only have one available next time.
The T10's filtration system is designed to remove 99.97 percent of particles down to a size of 0.3 microns. This is literally HEPA quality, because there's a HEPA filter in the loop. This will remove most allergens like pet dander, dust, dust mites, and pollen. The HEPA filter is preceded by a metal mesh filter, a cyclone filter, and a sponge filter. This helps keep it from clogging up, so you don't have to replace it too frequently.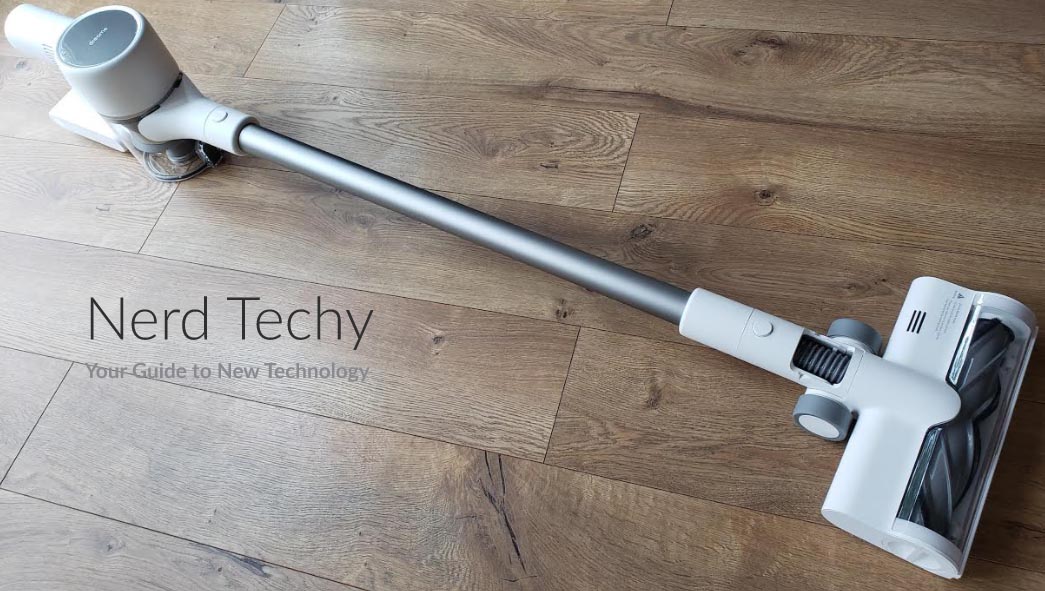 Final Verdict
The DreameTech T10 is one of the most powerful cordless vacuums on the market today. In fact, it's so powerful that it even beats out the majority of canister and upright vacs. To be fair, it's hampered by a short battery life on maximum power. But most of the time, medium or low power is going to do the job just fine. You get all the accessories you need to clean your entire home, from the carpet to the curtains. You also get the benefit of an easy-to-use control scheme, as well as an easy-to-empty dust hopper. Vacuuming your home might still be a chore, but you'll finish faster and more efficiently than ever before.