When most people think of their day being ruined by an accident, they think of something major. Maybe you get rear-ended at a stoplight, or someone cuts you off and you clip them. These aren't just the kinds of things that can ruin your day. They're also the perfect opportunity for scammers, which is one reason dash cams are so important. With a dash cam, you can get video evidence in the event of an accident.
But truth be told, a minor fender bender can be nearly as stressful as a full-blown accident. Yes, there's little risk of injury in a parking lot bump. But you still have to file a police report, notify your insurance company, and possibly see your rates go up. A backup camera can help you avoid these minor incidents. You'll deal with less stress, save money, and keep your insurance rates low. You'll also avoid aggravating your neighbors by backing into their mailbox.
Note: At no extra cost to you, we may earn a commission for purchases using our links. Learn more.
For this reason, many modern vehicles come with a backup camera already installed. But this isn't the case for every vehicle. For instance, some models offer the backup camera as one of several options. If you chose the version with GPS, for instance, you may need an aftermarket backup camera. But many backup cameras can be tough to install, particularly when you need to run wires.
We're about to review the Auto-Vox TW1 Truly Wireless Backup Camera. This is an aftermarket backup camera that's designed to install in minutes instead of hours. Not only does it wirelessly connect to the monitor, but you can also install a second camera. This gives you the option to use it more or less like a traditional dash cam. But how well does it work, and how good is the video quality? We're about to take a close look, and uncover everything the TW1 has to offer. Let's get started, and see what we learn!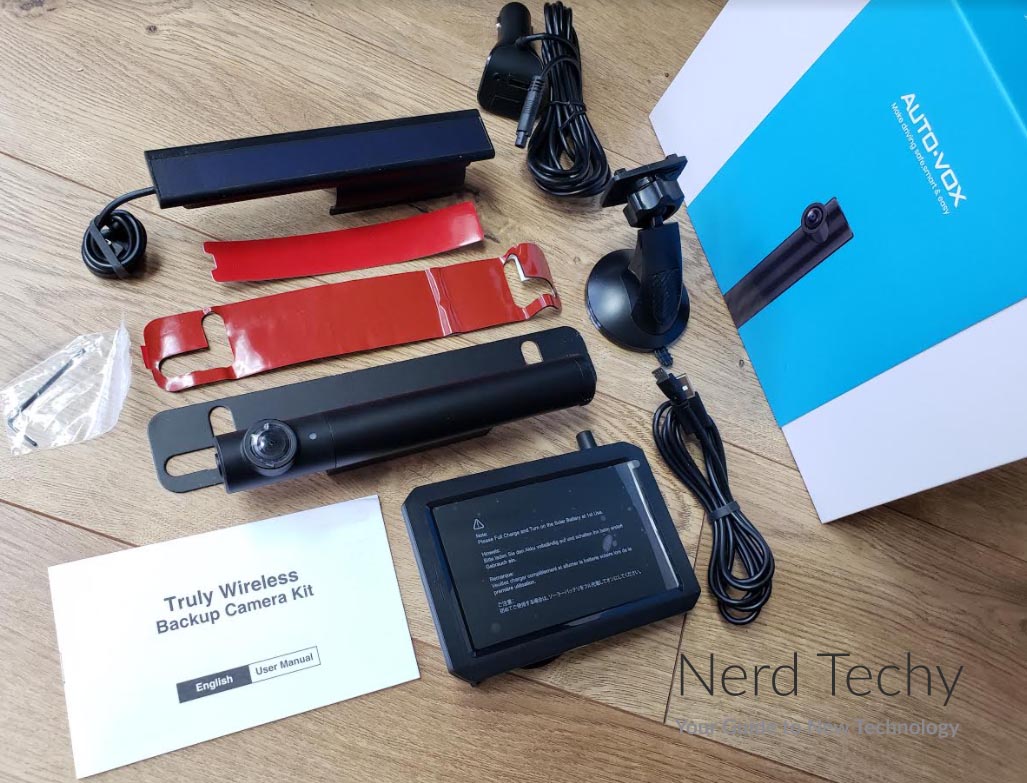 Overall Design
The Auto-Vox TW1 Truly Wireless Backup Camera consists of two main components: the camera and the monitor, with an optional solar panel charger unit. The camera is cylindrical in shape, which is unusual for a rear view camera. It's also larger than most backup cameras. This is because it has a built-in battery, rather than receiving wired power. The housing is black, with a USB charging port at one end. It's IP68-rated for weather-resistance, which is truly exceptional. It's literally submersion-proof, so it's suitable for even the most extreme driving conditions. Moreover, the dust-resistance is also excellent, so off-roading is not a durability concern.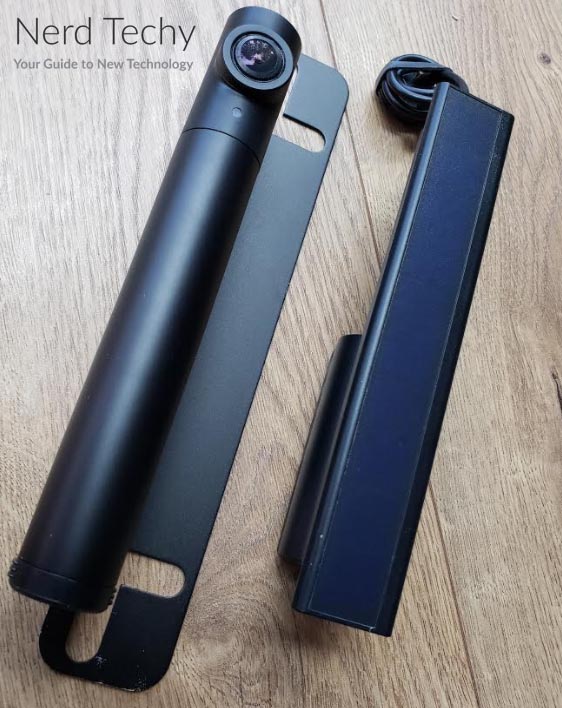 The monitor contains a five-inch LCD display, with a housing that's only slightly larger. This makes it big enough to see clearly, but small enough for easy positioning. You don't have to worry about it obscuring your view. The monitor housing has a small nub antenna on top, which facilitates the wireless connection. There are also three buttons on the side, which allow you to navigate the menu and adjust the settings. It rests on a dashboard mount, and can be swiveled in multiple directions.
Use code "FD9QGVX2" for 10% OFF on Amazon
Optionally, you can expand the TW1 kit with a second camera, which is sold separately. This camera can be mounted on the front bumper and used as a traditional dash cam. Alternatively, it can be positioned on a trailer, so you can use the same system whether you're towing or not. Another way to expand your system is simply to use a dual dash cam to begin with. The Auto-Vox V5 Pro is a reasonably good choice. It's a mirror dash cam, which means it takes the place of your rearview mirror. It also includes a rear camera, but the wired installation takes time and experience.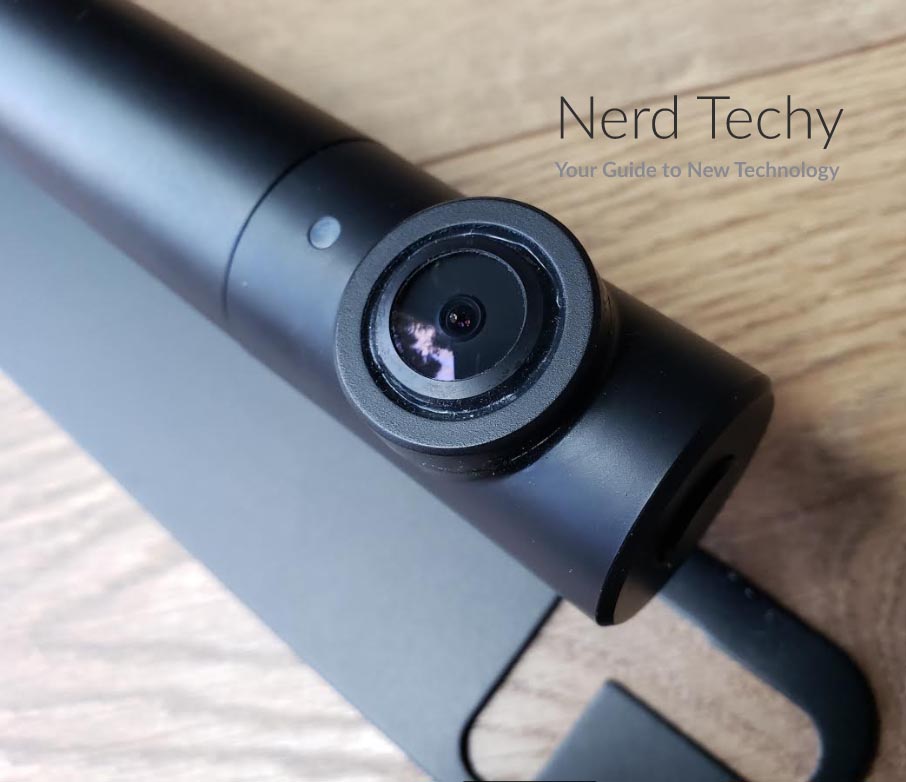 The camera monitor plugs into your car's DC power outlet, with a special charger that's included in the package. The charger has a built-in on/off button, so you can activate the camera easily. You can also power it off easily whenever it's not in use. In addition, there's a USB cable included for charging, although you'll need to supply your own AC charger.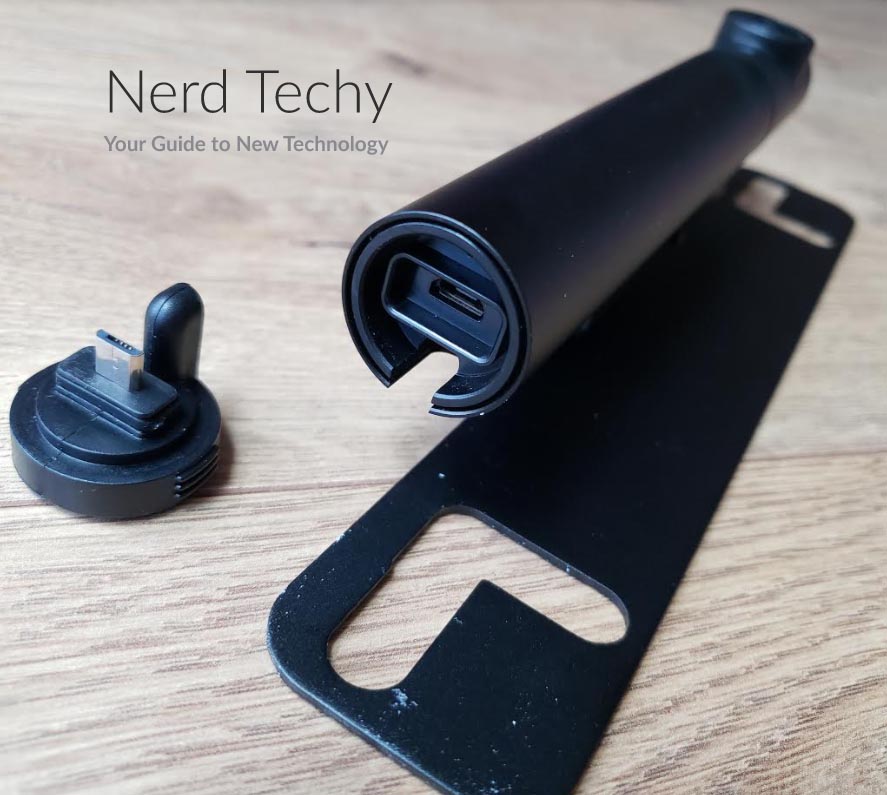 Installation
The best feature of the TW1 is its wireless design. Because the rear camera doesn't have to be wired in, you don't have to drill holes or run all kinds of cables. This means you don't have to be an expert to install your new backup camera. The kit includes a bracket for mounting directly above the top of your license plate. By default, the bracket gets screwed in. However, you can also use the double-sided adhesive if you prefer not to screw it in. If you do decide to use the adhesive, make sure to follow the instructions to the letter. Without the proper prep work, the adhesive won't be guaranteed to hold.
The camera slides in and out of the bracket with minimal effort, so it's easy to take out for charging. As for how often you'll need to charge it, that's an open question. When used occasionally for parking, the battery can potentially last for months. However, if you're using it continuously, you can expect about four to six hours. Exactly how long will depend on the signal range and the temperature, among other factors. Regardless, you don't have to rely on your car battery to keep your camera running.
The dashboard mount is also well-designed. The latest version has been re-engineered with a silicone base. This makes it flexible, so it can conform to a wider variety of dashboards. The material is also highly resistant to temperature. Even in 185-degree interior temperatures, the grip won't let loose. This means the monitor will stay in place, even if you're parked in the sun on a hot summer's day.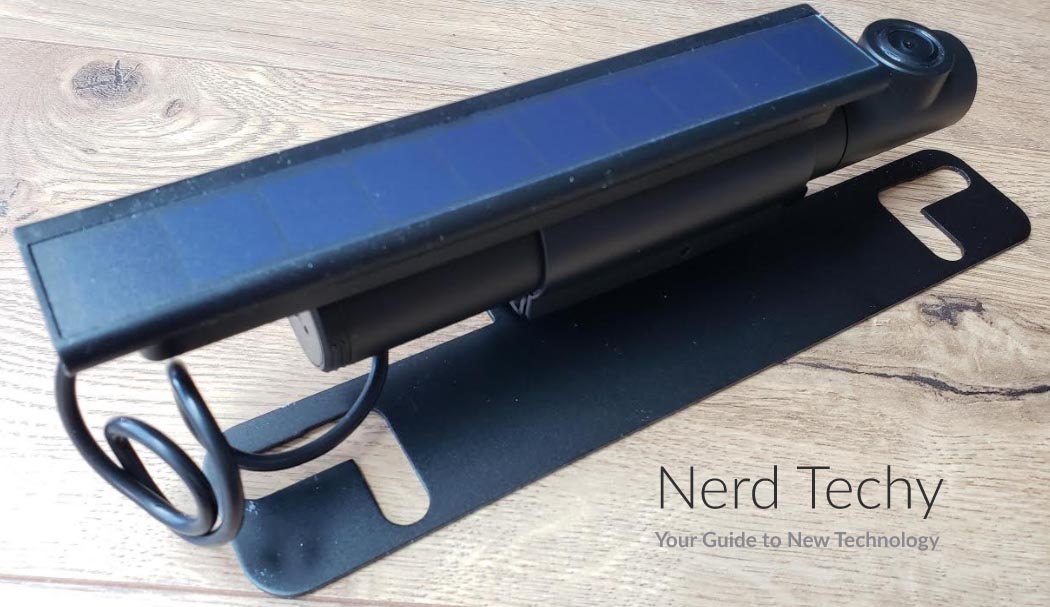 Another easy-to-install option is the Auto-Vox AD2. It's a dual camera, with a rear camera that mounts on the inside of your back window. However, because of the rear camera placement, there are no parking guidelines. You'll be able to see behind you, but not quite the same way as an ordinary parking camera.
Video Quality
The video resolution of the TW1 camera is only 720p. Under most circumstances, we'd have knocked off a point or two for that. But here's the thing: this is a backup camera, not a dash cam. You're not supposed to be reading fast-moving license plates 200 feet away. You're supposed to be looking out for objects that are within a few feet of the back of your car. For that purpose, 720p is more than you need.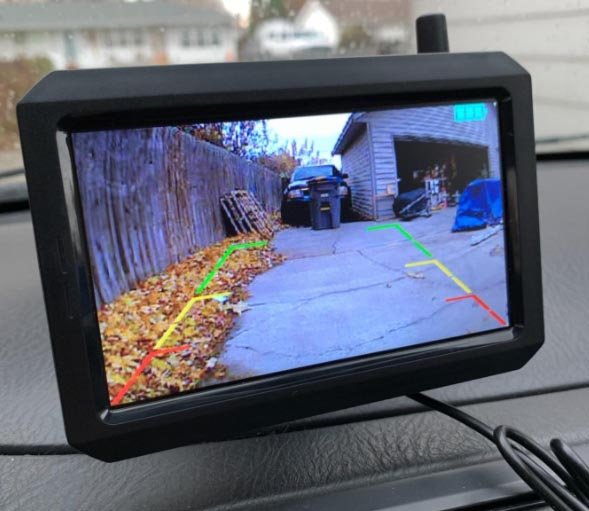 The camera is advertised as "night vision," but it would be better described as very good full-color low-light vision. It's made for viewing objects near the back of your car, which are within reach of your reverse lights. For this purpose, the night vision is better than we expected. You can distinguish colors and shapes clearly, even in very dim lighting. Again, this wouldn't be ideal for a full dash cam, but it's perfect for a reverse camera. In addition, the lens has a 115-degree field of view. This is wide enough to see the lanes to both sides, without distorting shapes like some truly wide-angle lenses.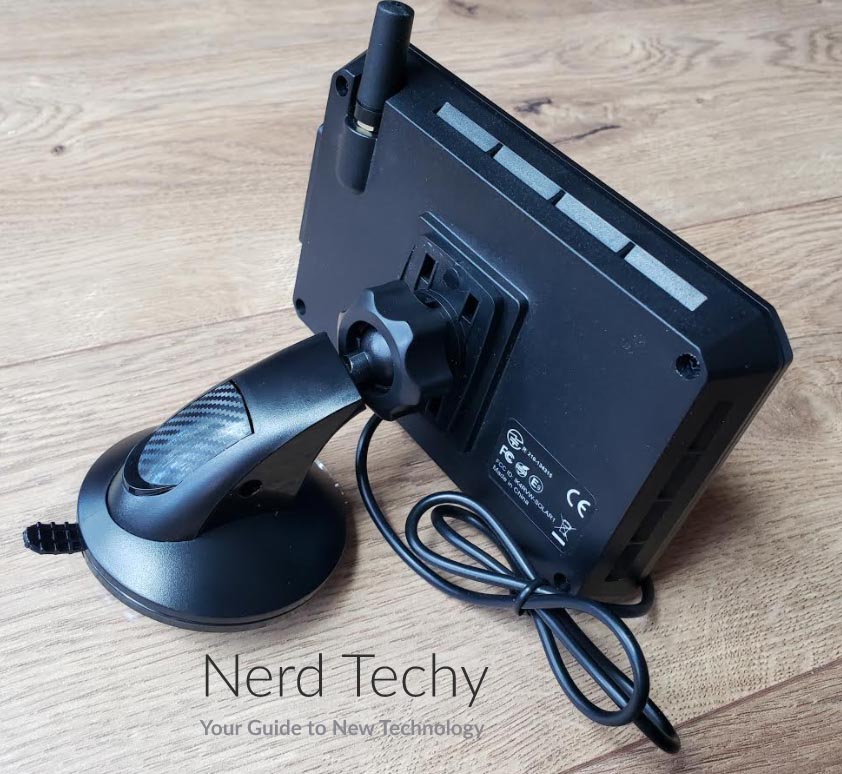 The display gives you the ability to adjust your video as needed depending on your placement. The view can be mirrored, inverted, both, or neither, for a total of four configurations. If the camera is mounted upside-down and backwards, that's not an issue. Similarly, if you use a second TW1 camera on the front bumper, you can make sure the image is not inverted.
The motion stabilization is moderately effective. It keeps the video smooth and stable, up to about 60 miles per hour depending on road conditions. This means you can get quality motion recordings on city roads. Performance will suffer at highway speeds, but once again, this is primarily a backup camera. The fact that it has any kind of motion stabilization is just a bonus.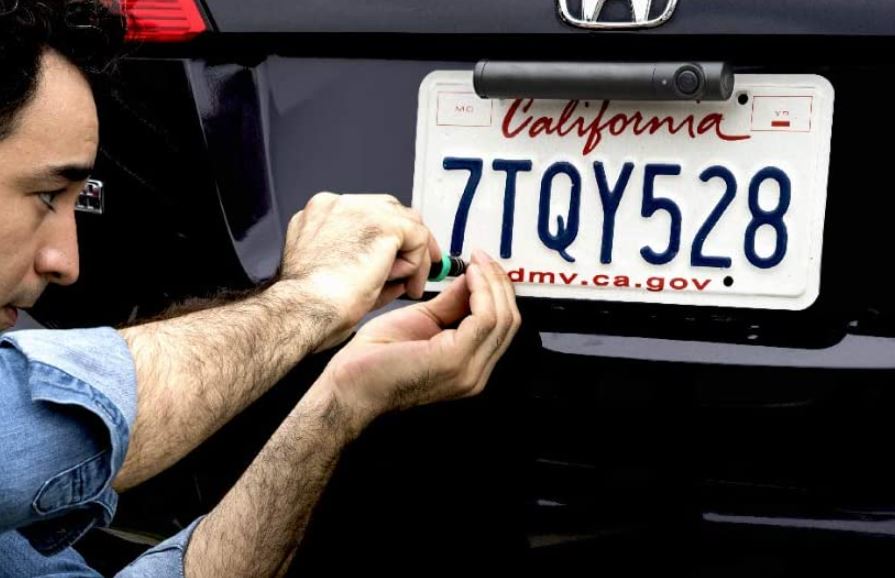 Storage & Extras
The TW1's biggest drawback is that it doesn't come with any kind of storage. On the one hand, this shouldn't be terribly surprising. This is a backup camera, not a dash cam, so recording shouldn't be required. But if you want to use a second camera on your front bumper, you won't be able to capture video evidence. This severely hampers the TW1 for anything but parking.
One very useful add-on is the solar charger. It connects to the USB input port on the camera unit and allows for a truly wireless setup. It's a small, unobtrusive accessory that snaps-on with ease and plugs in just as easily. Although Auto-Vox claims it's not included, our packaging included this accessory in the box. It's the main reason why the TW1 is "truly" wireless. This means a complicated wiring job isn't needed.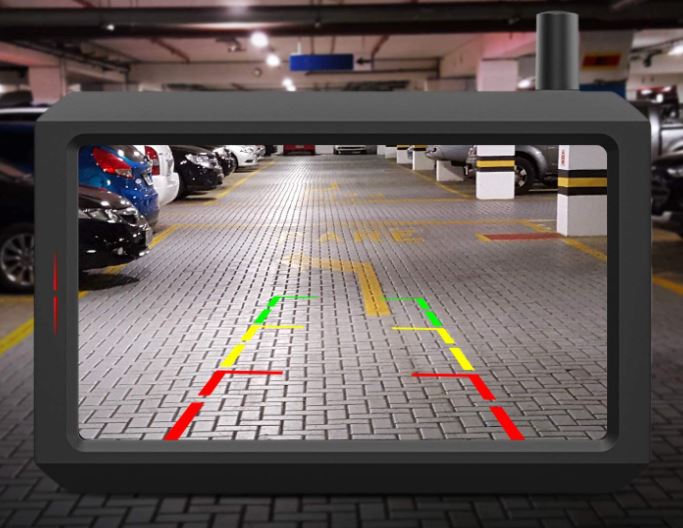 Not all vehicles are the same width, and not all have the same turning radius. This can be problematic for aftermarket backup cameras, since backup lanes may not always be accurate. Lines that are perfect for a small sedan will be wildly inaccurate on a full-sized pickup. For this reason, Auto-Vox has built in six sets of guidelines for you to choose from. This is worth playing with when you first buy the camera. Set up a couple of cones or other soft objects and test out the guidelines. If you hit something — or if you're understeering — switch to a different set of lines. By finding the right set, you'll significantly improve the backup camera's performance.
Not all rear-facing cameras are designed for backing up. Some, like the Auto-Vox Aurora, show the inside of your vehicle instead of the outside. This is obviously useless for reversing your car. But if you're a rideshare driver, an interior camera can be a lifesaver in the event of a customer dispute.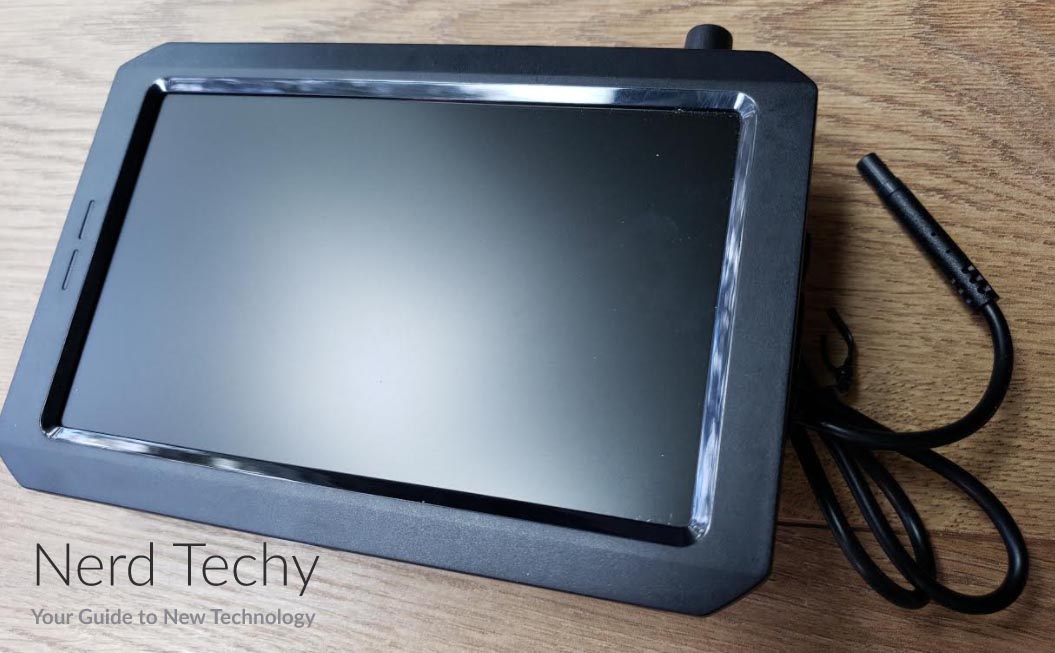 Final Verdict
As you can see, the Auto-Vox TW1 is a great choice if you need a good reverse camera that's simple to install. It has six sets of guidelines, the monitor is unobtrusive, and the controls are simple. It's not perfect. Some features are geared towards dash cam use, but they're not fleshed out. Without storage, for instance, a front camera only has very limited applications. Even so, you're looking at a solid camera with good night vision and excellent weather-resistance. It's also very easy to install, so anyone can utilize it, even those without any experience installing a backup camera on a vehicle.
Note: At no extra cost to you, we may earn a commission for purchases using our links. Learn more.