Dash cams have been around for several years now, but they're just starting to become popular in the US. In the past, they were most widely used in Russia, where insurance scams are common. This made them an essential accessory for any Russian who didn't want to fork over their money to scammers. But for most Americans, the cost was a bit steep. Unless you were a professional trucking company, they were more of a luxury than a necessity. In the past few years, though, costs have come down significantly. This has made a dash cam well worth considering, even for the average driver.
This has coincided with another trend: the growth in popularity of ride-sharing services. If you're a rideshare driver, you may encounter troublesome customers from time to time. This is especially true of you're working the bar scene. If someone vomits in your car or sexually harasses you, it's your word against theirs. Unless, that is, you have an effective interior camera.
As a result, the best dash cam for rideshare drivers will have two parts. First, there will be a front-facing dash cam for insurance purposes. Second, there will be a rear-facing interior camera for rideshare purposes. For this reason, we've chosen to review the Auto-Vox Aurora Dash Cam, which meets these criteria. But is it worth your time and money? Or is it going to be more trouble than it's worth? We're about to take a close look at all the Aurora's features and benefits. We'll look at installation, image resolution, and recording quality. After that, we'll see what we've learned. Let's get started!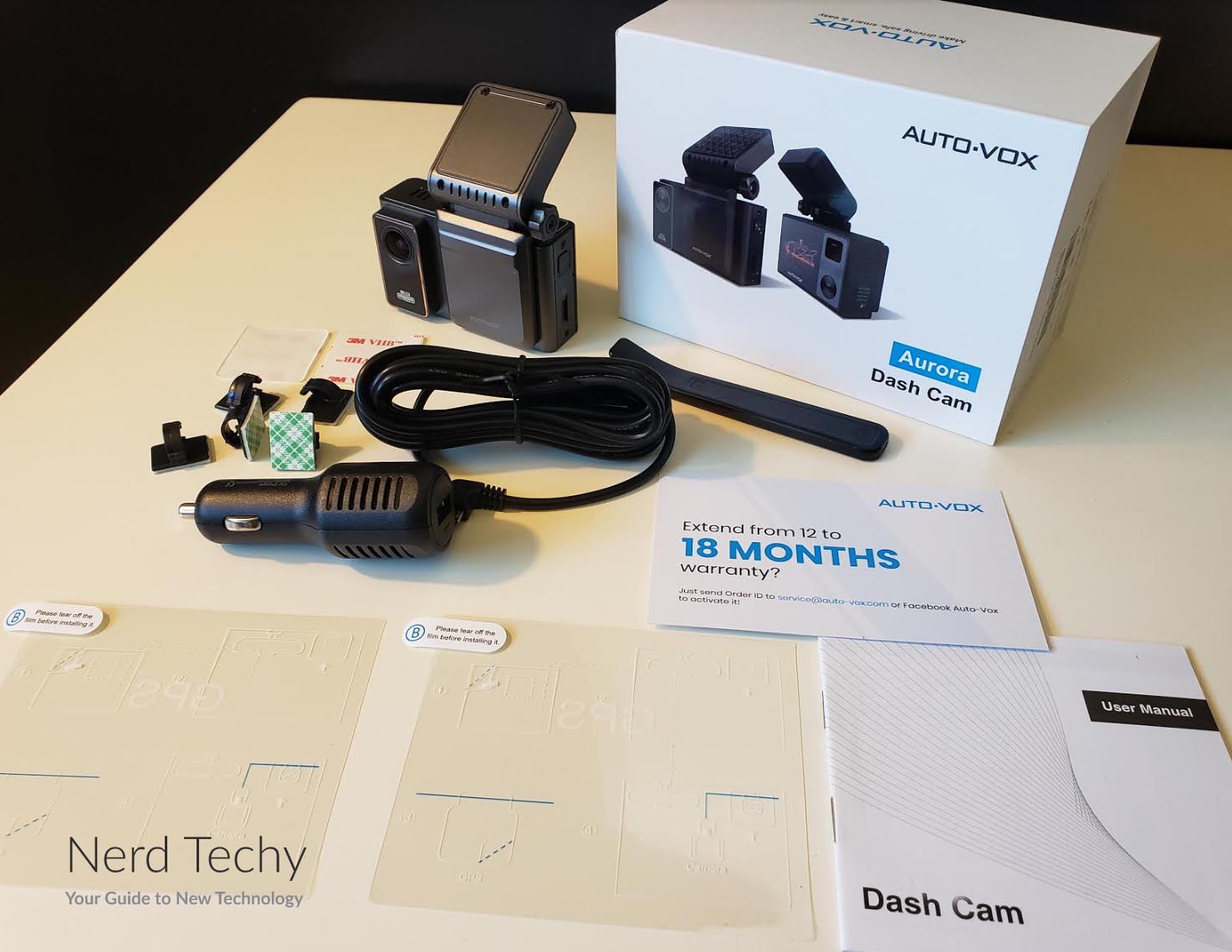 Design & Construction
Many dual dash cams are relatively large, with a clunky, highly-visible profile. The Auto-Vox Aurora Dash Cam, on the other hand, is relatively compact. It measures just 2 inches tall and 4 inches wide, and is designed to mount on the back of your rearview mirror. It will hang down slightly, exposing the rear-facing lens to the interior. The front-facing lens, meanwhile, will already have a clear field of view. At 1 pound, it's very lightweight. You don't have to worry about it falling off or putting unnecessary strain on your rearview mirror.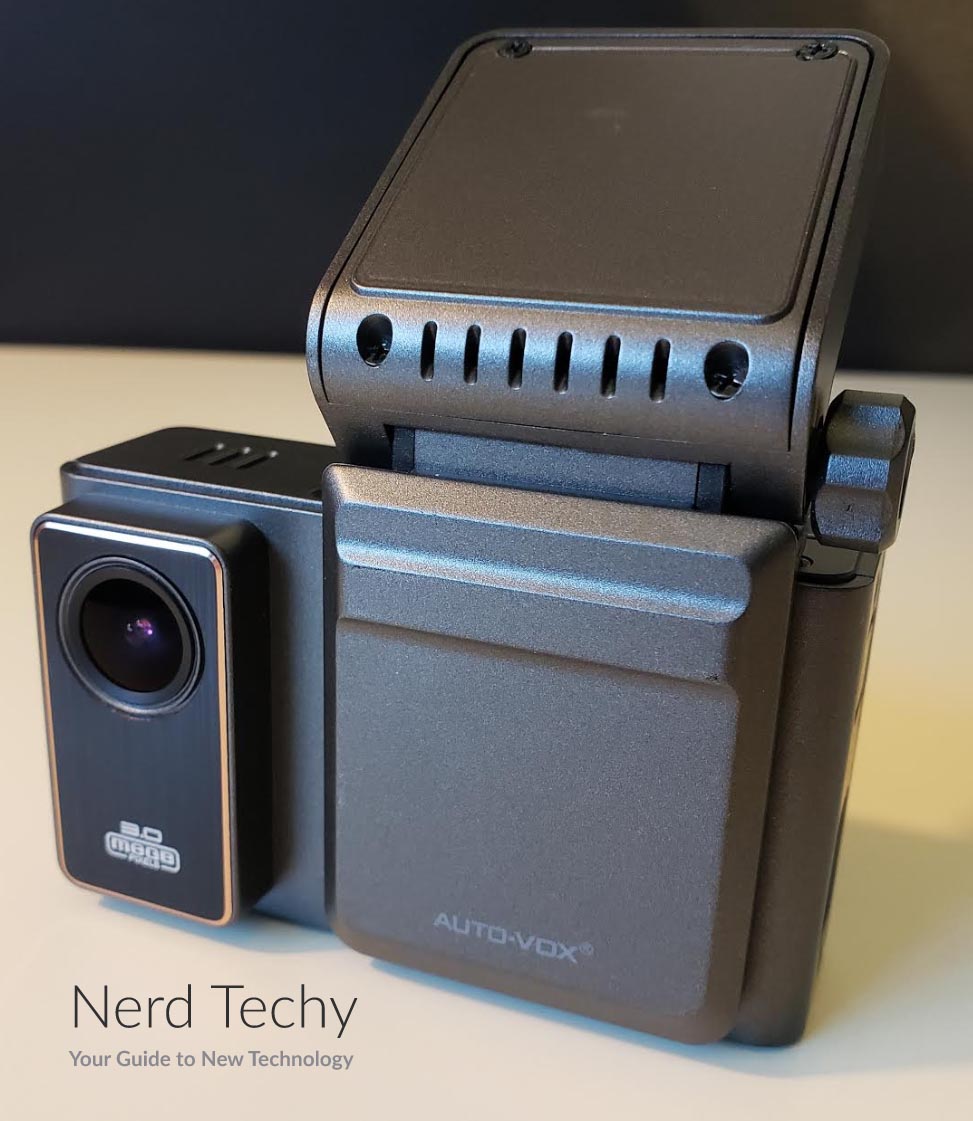 The unit itself is constructed from black ABS plastic, with a low-visibility matte black finish. It has a two-part design, with a flexible bracket that attaches to the rearview mirror. The camera and mount are both magnetized. As a result, it's easy to take your camera in and out of the car. If you want to copy your recordings to your computer every night, you don't have to worry about complex removal. The camera is vented on both sides, which allows for easy cooling. So even if it's running continuously, overheating is going to be a non-issue.
In addition to the camera itself, you also get a small GPS module. This is totally optional, but it's helpful for some extra features that we'll talk about in a minute. If you want to use it, simply attach it to the back side of the mounting bracket. It snaps in easily, and adds only very slightly to the Aurora's form factor.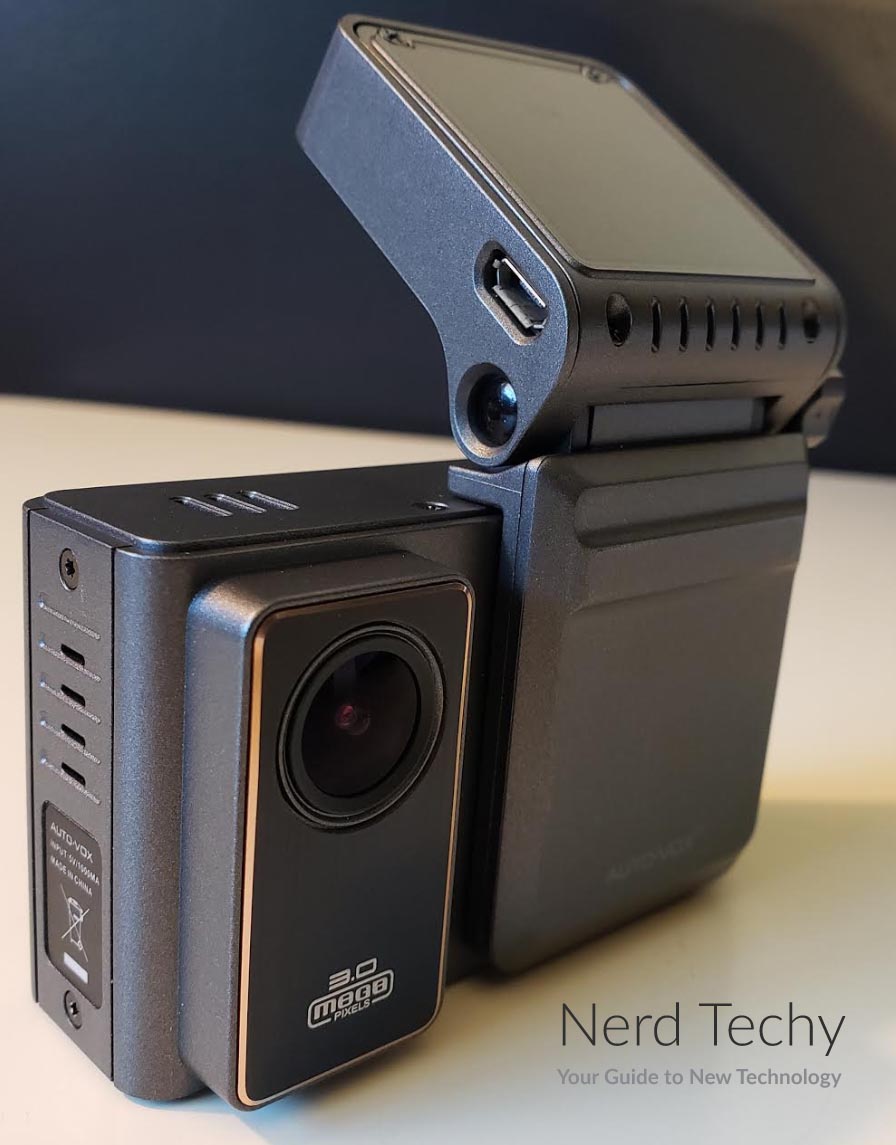 If you want an even more unobtrusive design, check out our review of the Auto-Vox V5. It straps over your rearview mirror, and actually takes its place. Best of all, it also functions as a backup camera for parallel parking. On the other hand, there's no rearward-facing interior camera which may be an issue if you're a rideshare driver.
Use code "FOPOTKLL" for 10% the Aurora Dash Cam when you order it on Amazon.com
Installation & Storage
The Auto-Vox Aurora Dash Cam is very easy to setup and install. Unlike many other dash cams, you don't have to deal with any complex wire runs or other complications. Without a backup parking camera, there's simply no need for any. Instead, there's a simple, 11.5-foot car charger cable for supplying power. Included in the kit, there are also five lightweight mounting clamps. The clamps slide into the groove around your windshield, and hold the cable in place. As a result, you can run the wire in just a few minutes, plug it in, and get out on the road.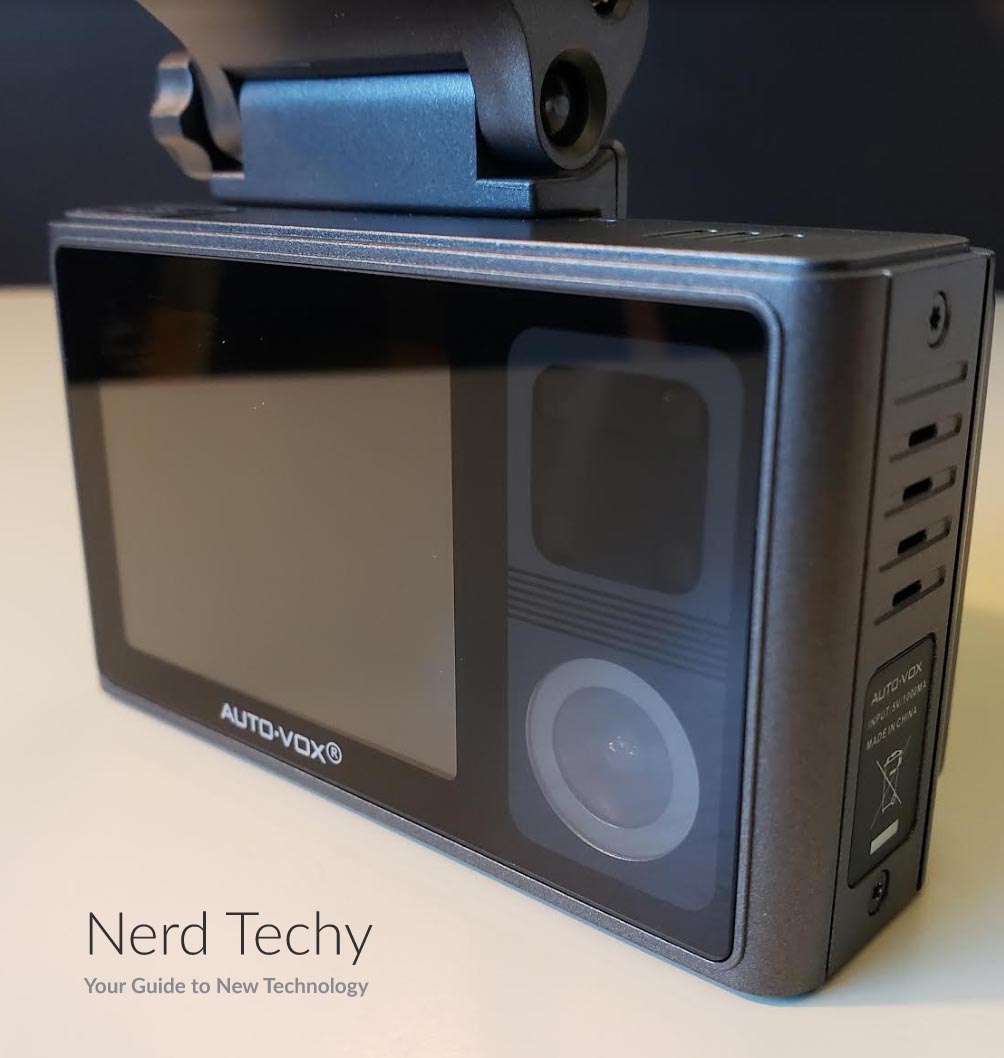 Installing the mounting bracket itself is similarly easy. You don't need to clamp it on or otherwise risk damaging your rearview mirror. Instead, you simply attach the bracket with double-sided 3M tape. As with all 3M tape, make sure to follow the instructions. Take the time to clean the bracket and the back of your mirror with alcohol to remove any dust, grease, or moisture. And make sure to hold the clamp in place for a full minute to ensure proper adhesion. If you make a mistake or need to reposition the bracket, it's not the end of the world. Auto-Vox includes a second piece of double-sided tape for just this eventuality.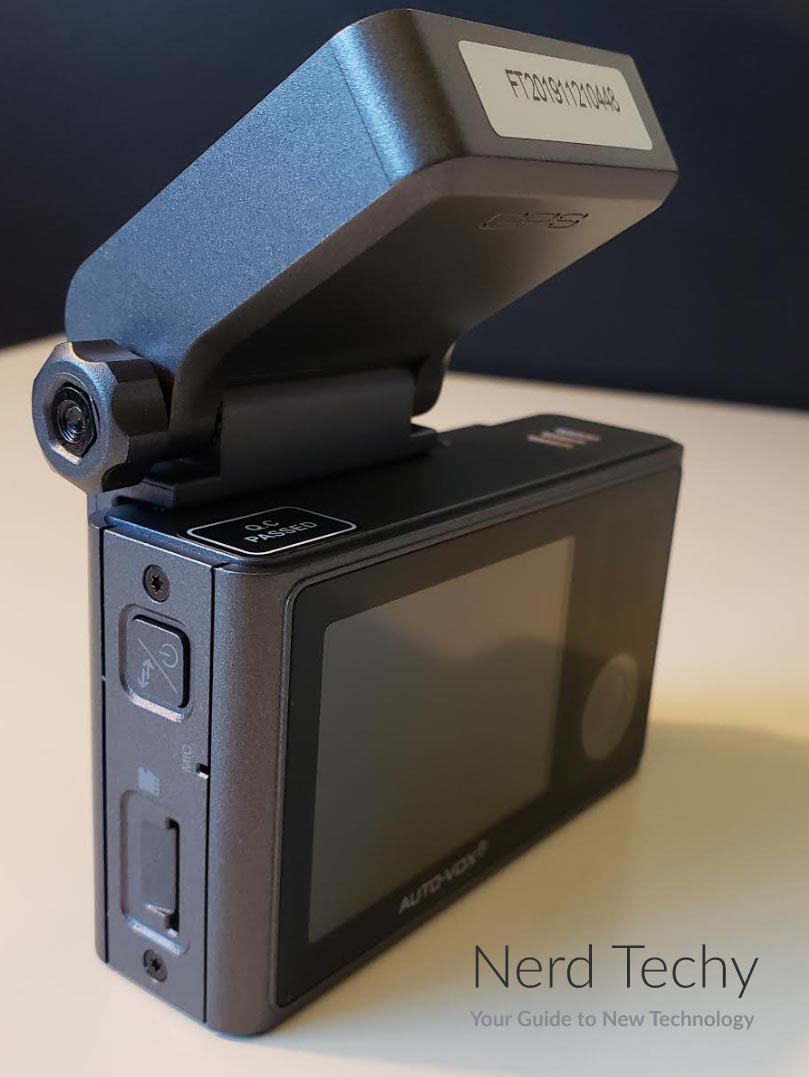 For storage, the Auto-Vox Aurora uses an SD card. The camera supports any size, from 32 to 128GB. This means you can spend a small amount for less storage, or splurge on a higher-capacity card. Regardless of your choice, the SD card will need to be formatted in FAT32 before you insert it. There's no formatting function on the Aurora camera itself. Recording will occupy about 100MB for each minute of video. As a result, you're looking at a total capacity of about one hour for every six GB of SD storage. With a 128GB SD card, this equates to just over 21 hours of total recording capacity.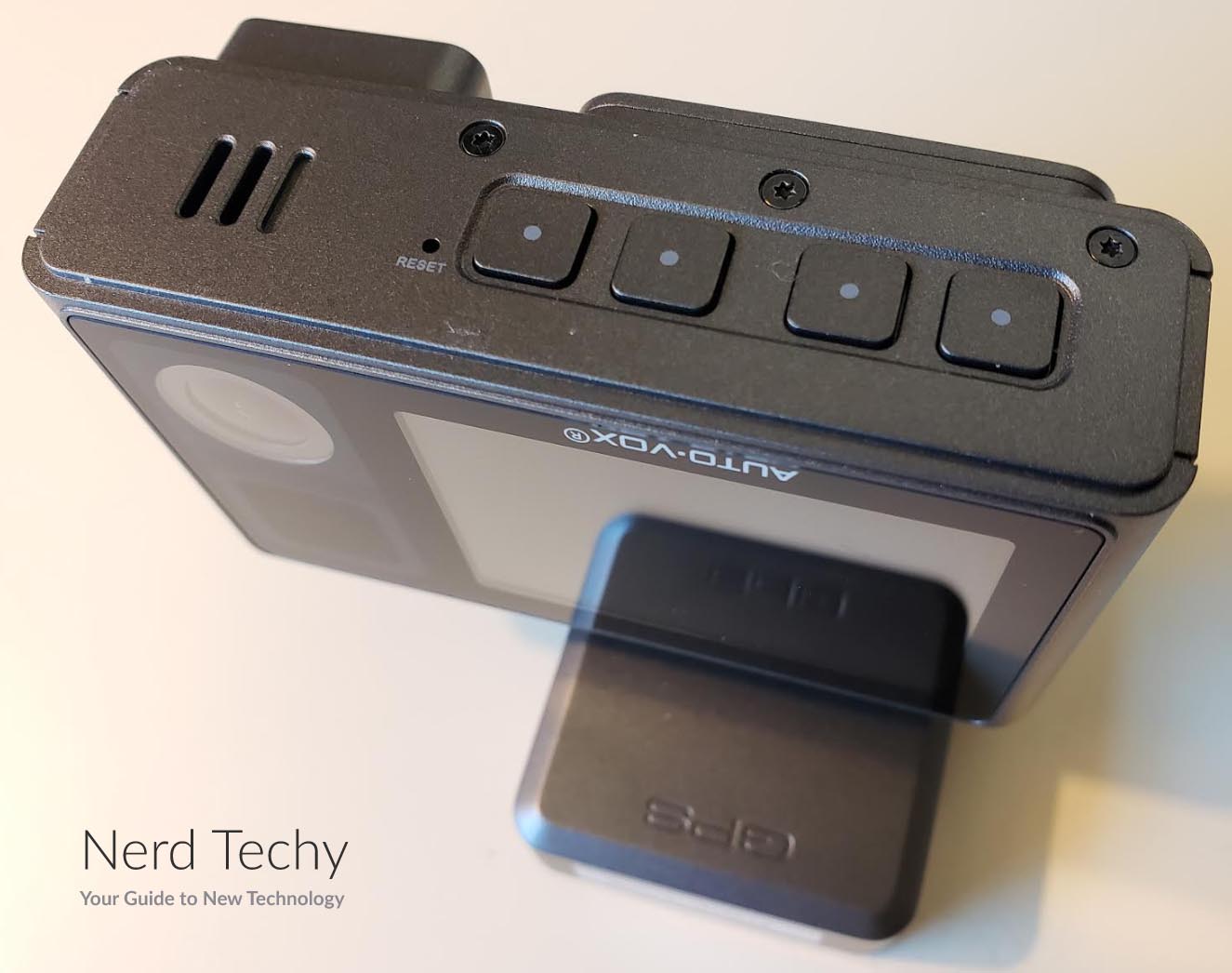 Video Quality & Extras
The Auto-Vox Aurora Dash Cam's video recording quality depends on what mode it's used in. You can record through both cameras simultaneously, which is the standard method of operation. In this case, you'll get 1080p video on both cameras, at a framerate of 30 frames per second. Alternatively, you can set the camera to record through the front lens only when you're driving alone. In this mode, you'll get the same 1080p quality, but you'll get double the framerate, or 60 frames per second. For most purposes, this should be unnecessary. However, if you want to capture license plates at high speed, a higher framerate will get the job done.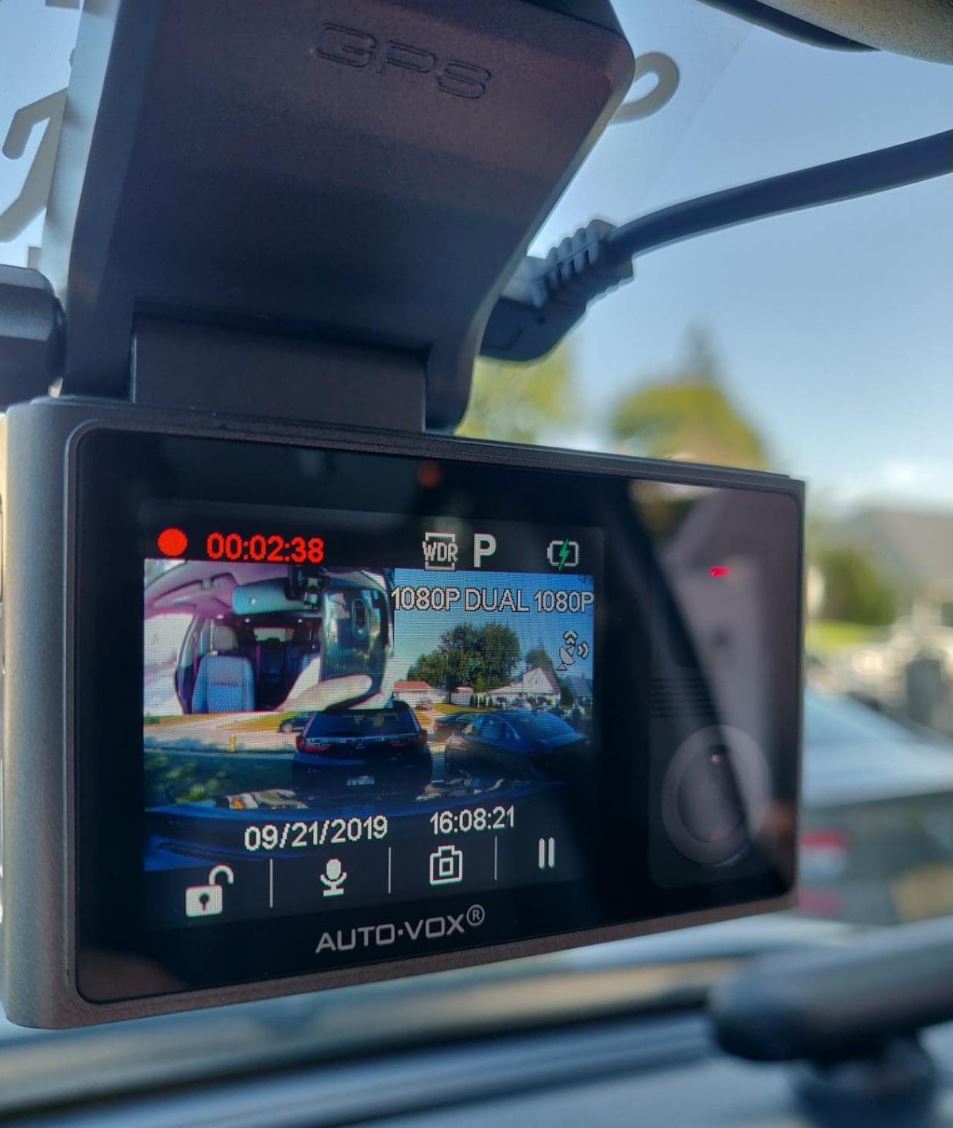 Under most circumstances, a 1080p dash cam will be good enough for your needs. But what if you need to see license plates at an even further distance? In that case, a 4K dash cam like the VIOFO A129 PRO Duo might be a better option. Like the Aurora, it also features a rear-facing camera for interior use.
The Aurora's front camera has a 170-degree field of view. This is unusually wide, but it's enough to capture the lanes to both sides in addition to your lane. The internal camera has a 150-degree field of view, enough to see your car's entire interior. In total, this gives you a 320-degree field of view. If you want to get a nearly 360-degree recording of all your surroundings, this is a fantastic feature.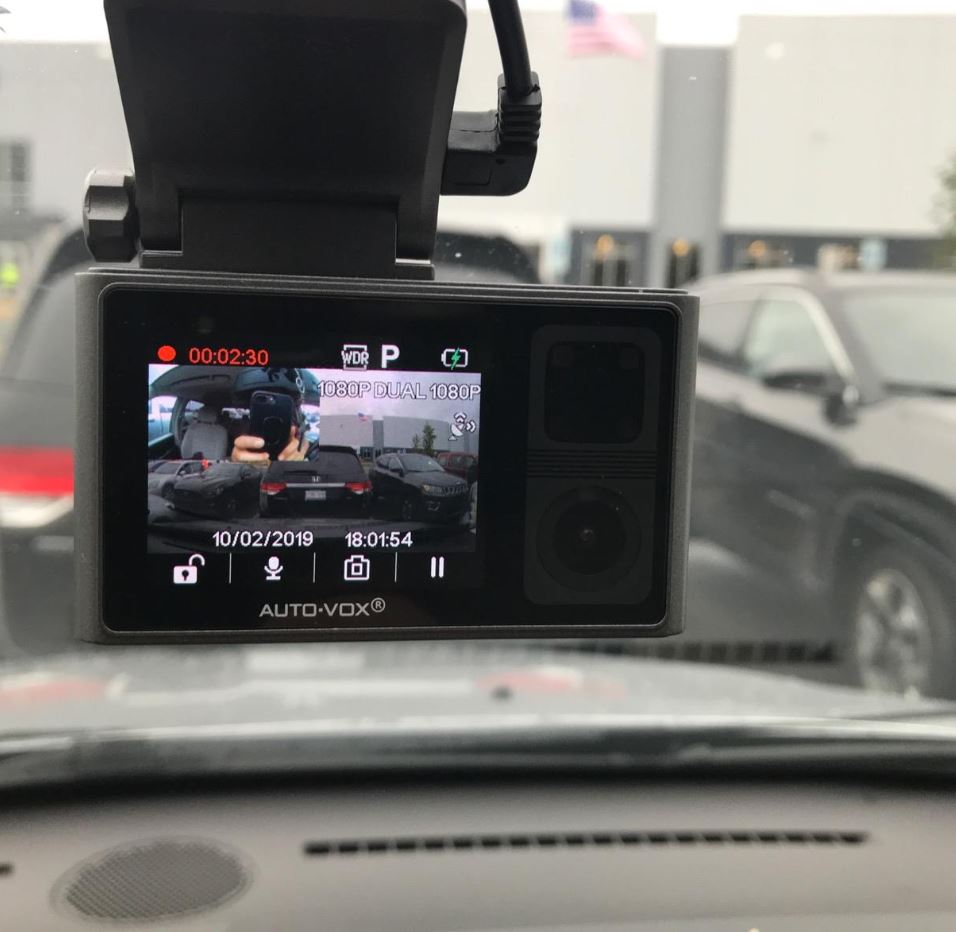 Both cameras feature infrared night vision. The front camera uses passive infrared, which means it relies on outside light sources. On the other hand, you presumably have your headlights on, so this is a non-issue. The interior camera, on the other hand, uses active infrared. It sports four infrared lights that allow you to record in excellent quality, even when your interior is dark. This is a fantastic feature if you're working the bar crowd, which favors late nights. That said, the rear-facing camera's default mode is black and white, to compliment the night vision. You can set it to color mode, but the image will have a noticeable purple tinge. But the rear-facing camera shouldn't generally require color, so this is really a non-issue.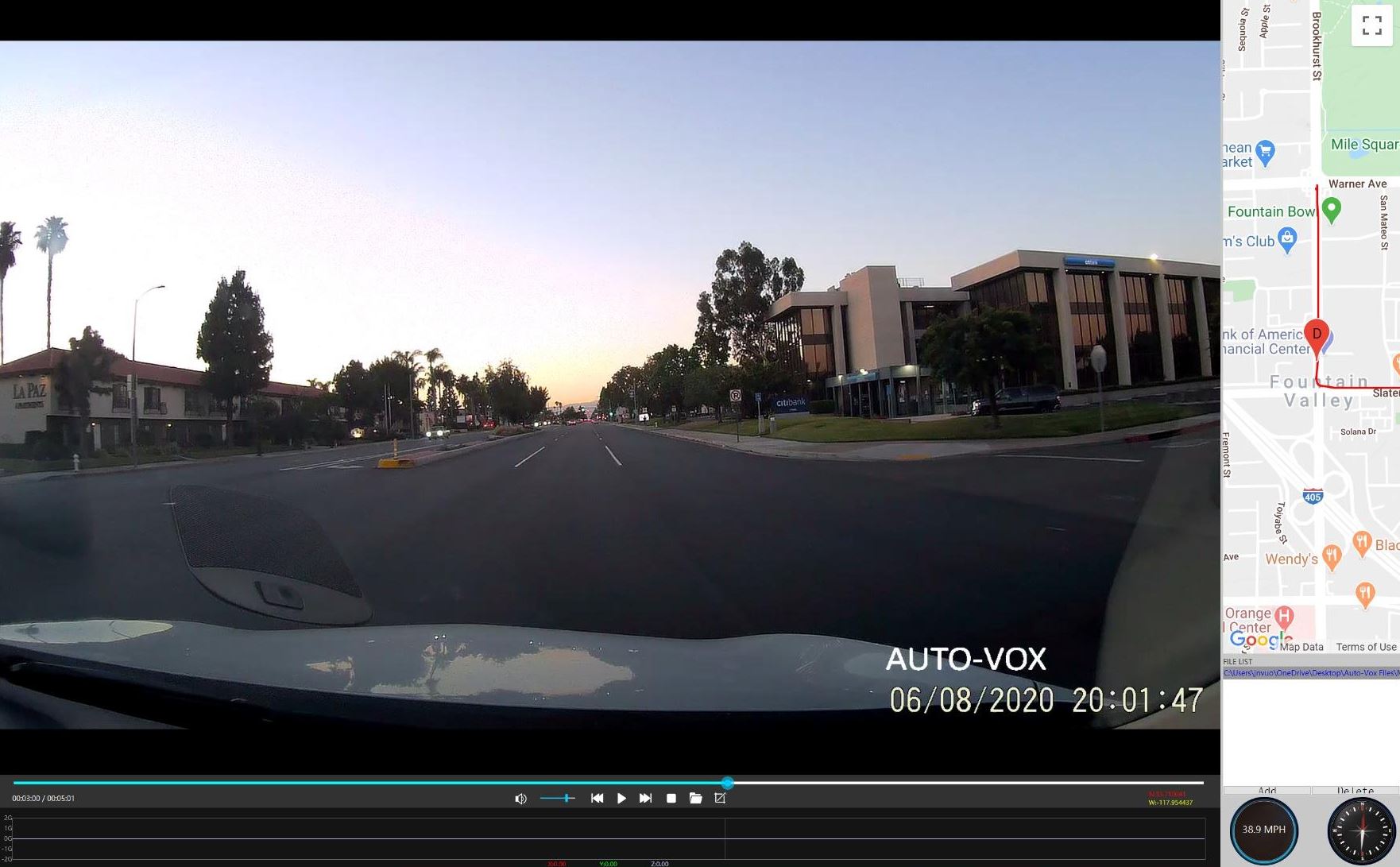 In addition to recording camera footage, the Aurora also captures audio recordings. This is another great feature for rideshare drivers, since all your audio will be recorded. Not only that, but the recording will display GPS coordinates, your compass direction, the time, and your current speed. These features are only available if you're using the GPS module. However, they can be a great asset if you need to fight any traffic tickets.
About the only thing the Aurora doesn't do is provide you with a rearview parking camera. If that's what you need, consider the Auto-Vox CS-2 Wireless Backup Camera Kit. It's specifically designed for backing up, but there's no forward or interior camera.
Use code "FOPOTKLL" for 10% the Aurora Dash Cam when you order it on Amazon.com
The Aurora is designed with a parking mode, which allows for 24/7 monitoring of your vehicle. When there's any kind of impact, the camera's motion sensors will automatically trigger recording. The camera will record for a full 30 seconds, so you'll get a complete look at the incident. These 30-second recordings are saved as special "event files", which must be manually deleted. As a result, they won't get overwritten as the camera progresses through loop recording. The battery is sufficient for 19 hours of recording, so leaving your camera in the car overnight is just fine. That said, if you're planning on long-term parking, you might want to invest in a hardwiring kit.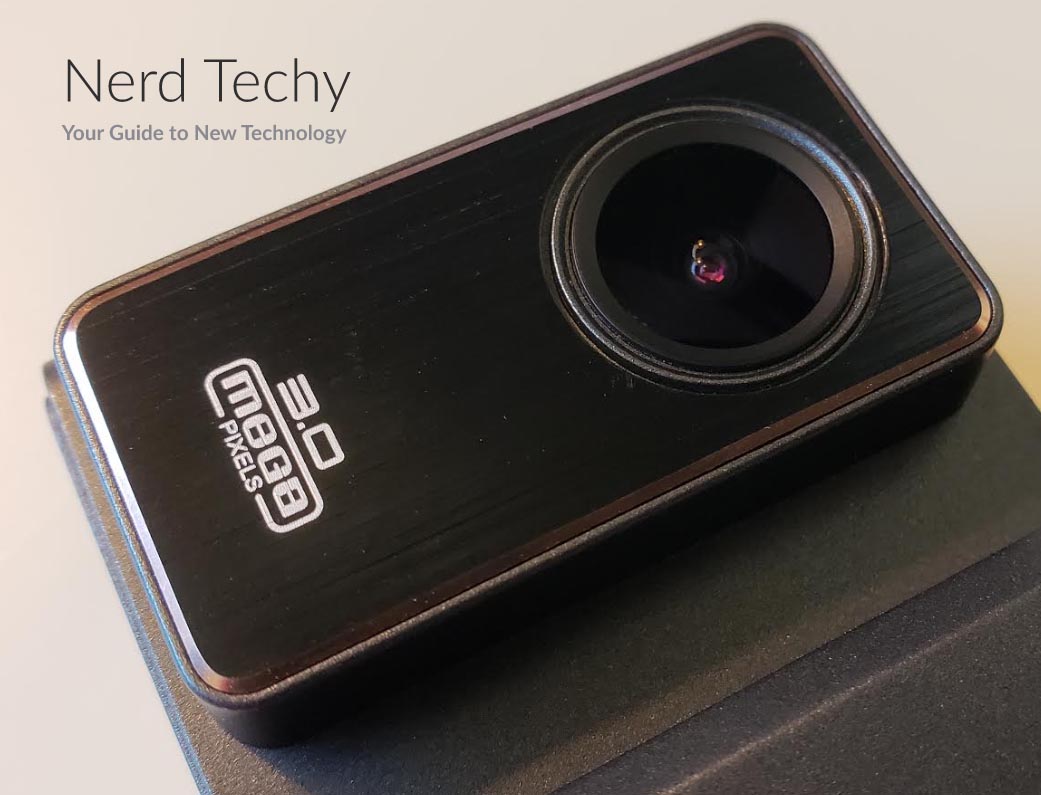 Final Verdict
As you can see, the Auto-Vox Aurora Dash Cam is suitable for a variety of applications. With its interior camera, it's primarily designed for rideshare drivers. However, the front-facing camera also offers excellent recording quality. If you're looking for a general-purpose camera, it will still do a great job.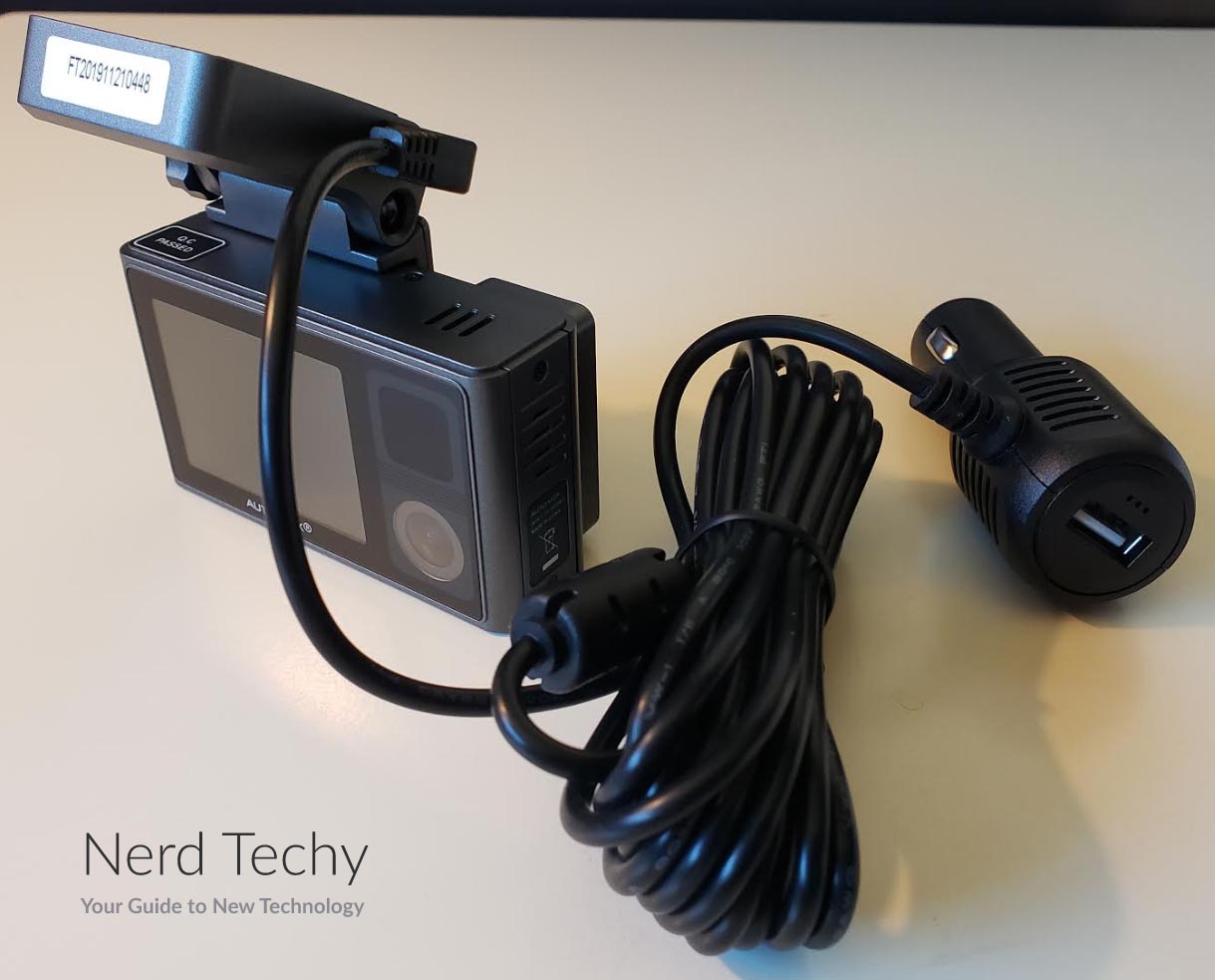 The mounting bracket is easy to install, and you don't have to mess around with complex wiring. This sets the Aurora apart from other, similar cameras that can be a pain to install. One thing we would have liked to see was the option for cloud storage and remote monitoring. Then again, these features often require a subscription fee, which the Aurora doesn't. And considering its primary purpose, they're not really necessary. Even without wireless functionality, you still get a working parking camera. The small form factor is also a plus, since it won't obstruct your view.