Tacklife HD60
Pros
Accurate to 1/16th of an inch, even over long distances.
Works in both Imperial and metric units.
Can calculate area and volume.
Adjustable zero mark.
Cons
Struggles in bright lighting conditions.
Learning curve is a bit steep.
When you're working on a big job, you need to take a lot of measurements. For instance, let's say you're painting a very large room. You need to know the height and width of the walls. Now, a tape measure and a pen and paper are often a good way to take these measurements. But they have inherent limitations. For one thing, if you're measuring anything larger than a few feet, you'll need a second person to help. For another thing, if you're measuring more than about 32 feet, an ordinary tape measure won't be big enough. You'll need a larger, reel-style tape measure. These are bulky, and aren't always convenient to carry with you in the field.
One solution is to use a laser measure. A laser measure allows you to take very long measurements, even if you're all alone. Moreover, a quality laser measure will have on-board storage for your measurements. This eliminates the need to stop after every measurement and write things down. Finally, laser measures are small enough to carry on your belt. This means you won't have to carry around a bulky reel-style tape measure. With all of these benefits, it's easy to see why more and more professionals are using laser measures.
Today, we're going to review the Tacklife HD60 Classic Laser Measure. Tacklife is an established manufacturer, with high-quality offerings like emergency jump starters. But that's not a 100 percent guarantee that the HD60 is worth buying. To find out how good it is, we needed to try it out and get a look at all of its features. We'll talk about how the measure is built, how it works, and what you can do with it. Along the way, we'll touch on its accuracy, and on a handful of extra features. After that, we'll know enough to render our verdict. Let's take a closer look, and see what we learn!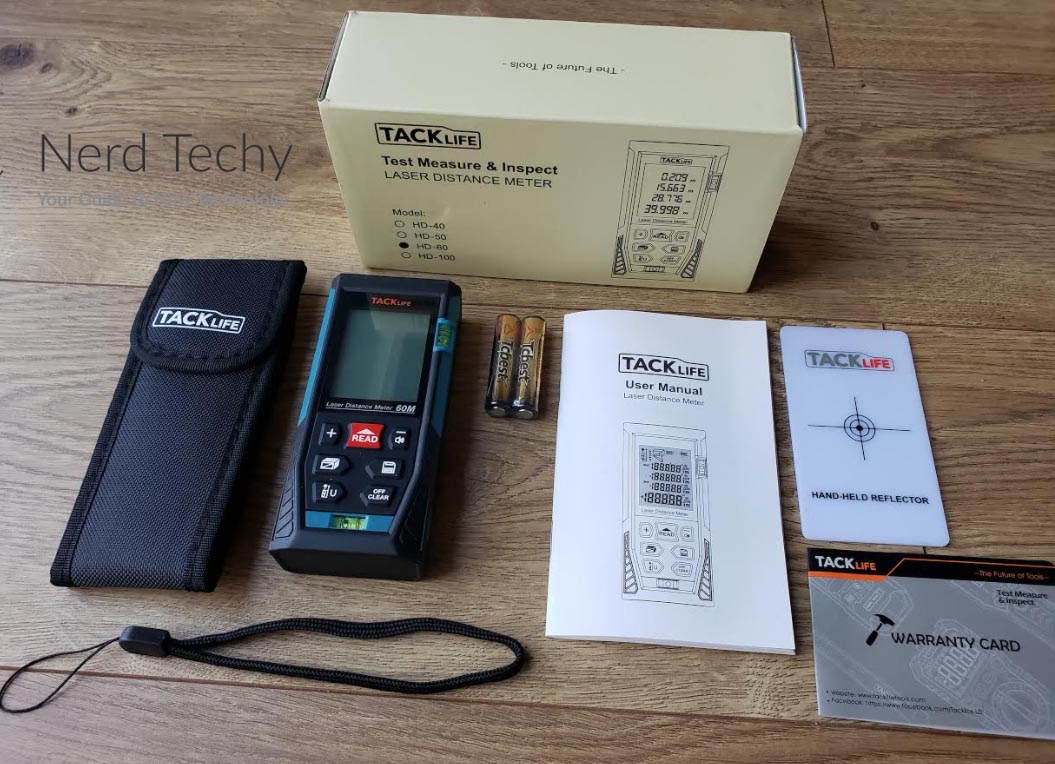 Overall Design
The Tacklife HD60 is a handheld unit that's about the size of a small smartphone. It's 4.3 inches long, 2.36 inches wide, and just a hair under an inch thick. The weight is under half a pound, so it's comfortable to carry for a long period if you need to. The bulk of the housing is constructed from black ABS plastic, with an easy-to-clean matte finish. There are rubber grips on the sides, and these provide a splash of color. The HD60 is available in blue, red, or high-visibility orange.
The housing has a weather-resistance rating of IP54. This means medium dust-resistance and moderate water-resistance. Sand and grit aren't going to infiltrate, and a little bit of rain isn't going to ruin anything. That said, it's not submersible. If you use the HD60 underwater, it will fail. But the laser wouldn't refract correctly underwater anyway, so this isn't a concern.
A bright LCD display occupies most of the top half of the housing. This will display your current measurement by default. However, it can also be used for viewing historical measurements, as well as a variety of other functions. There's also a battery meter at the top right, so you won't get caught wrong-footed by a dead battery. One feature we really like is that you can switch between feet, inches, and meters. There's a single button for switching units, which makes this a truly universal tool. It can also be useful if you're doing international business.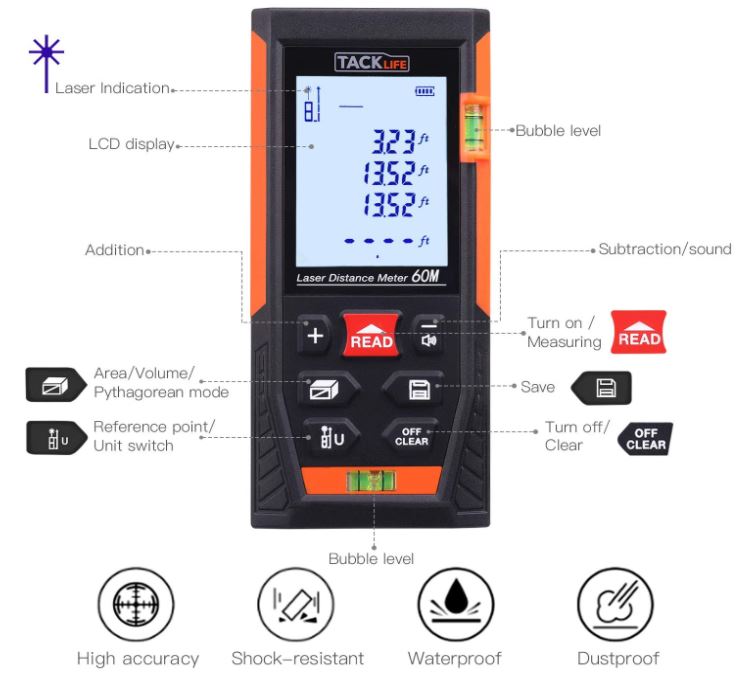 The unit-switching button, along with all the other controls, is located just beneath the LCD screen. Here, you'll find shortcut buttons for a number of commonly-used functions. The buttons are large and stiff, well designed for being operated with gloves. The symbols are also easy to read, so it's easy to work in low-visibility environments.
At the right and the bottom of the housing, you'll find a vertical and horizontal bubble level respectively. These are used for orienting the measure, both in vertical and horizontal applications. Both bubble levels are surrounded with a small colored panel that matches the rubber housing grip.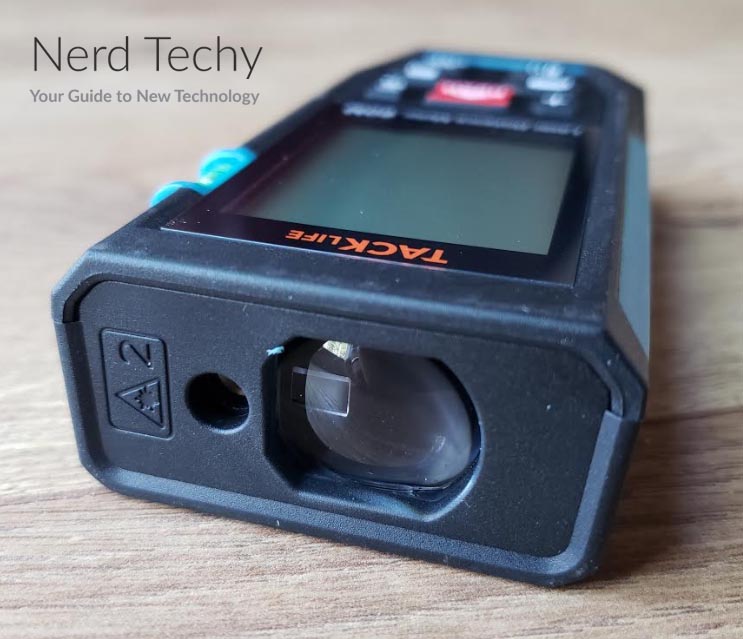 The HD60 is powered by a pair of AAA batteries, which are included with the package. Battery life is very good, and a single pair can be used for making hundreds of measurements. Part of the reason they perform so well is that the unit will power down automatically if it's not used. Leave it to sit for 150 seconds, and it will deactivate itself.
The package also includes a nylon carrying case and a lanyard. The lanyard is similar to an old-school cell phone lanyard, and is good enough for casual carrying. It's still just a lanyard, though. Give it a very hard yank, and it can be broken. The carrying case is a bit more rugged, with black nylon construction and even some lightweight padding. It's designed to carry on your belt, to free up your hands and your toolbox.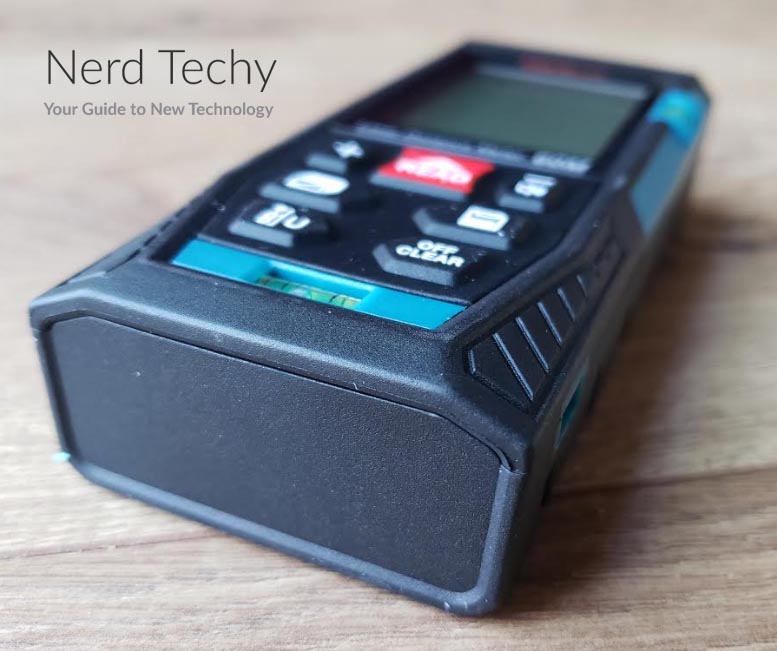 Basic Measuring Functions
The Tacklife HD60 Classic Laser Measure has a range of up to 196 feet. Even at this distance, you can expect an accuracy of 1/16th of an inch. For any large-scale application, you're looking at exceptional accuracy and precision. That said, you may run into issues in very bright environments. Simply put, daylight and very bright indoor lights can obscure the laser, particularly at longer distances. It's more or less impossible to take an accurate outdoor measurement at high noon on a sunny day. You'll need to measure in the morning or the evening, or under cloudy conditions. Ordinary household lighting and commercial fluorescent lighting won't be so bright as to cause an issue.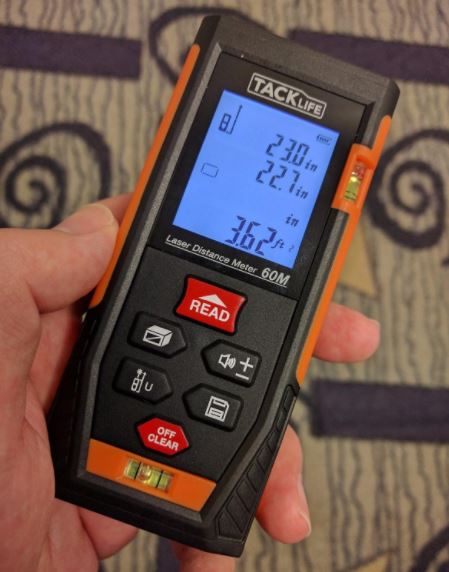 To get an accurate measurement, you'll need to do a couple of things. First, use your bubble levels! If the laser is pointed at an angle, it's going to throw off your measurement. Make sure it's nice and flat when you take your reading. The other thing to be aware of is where your zero mark is. The measurement can be taken either from the tip of the laser or the base of the unit. You can switch between the two with the push of a button, and the setting is displayed on the screen. However, if you don't know which measurement you're using, you can be off by the HD60's length — 4.3 inches.
By default, the HD60 reads out your measurements audibly. This allows you to use your ears as well as your eyes. However, you might not always want to hear an audible readout. Imagine you're trying to measure a public library, or a doctor's office. You'll be expected to work as quietly as possible. In that case, there's a mute button that can be used to silence the speaker. Pressing the button a second time will return the measure to voice mode.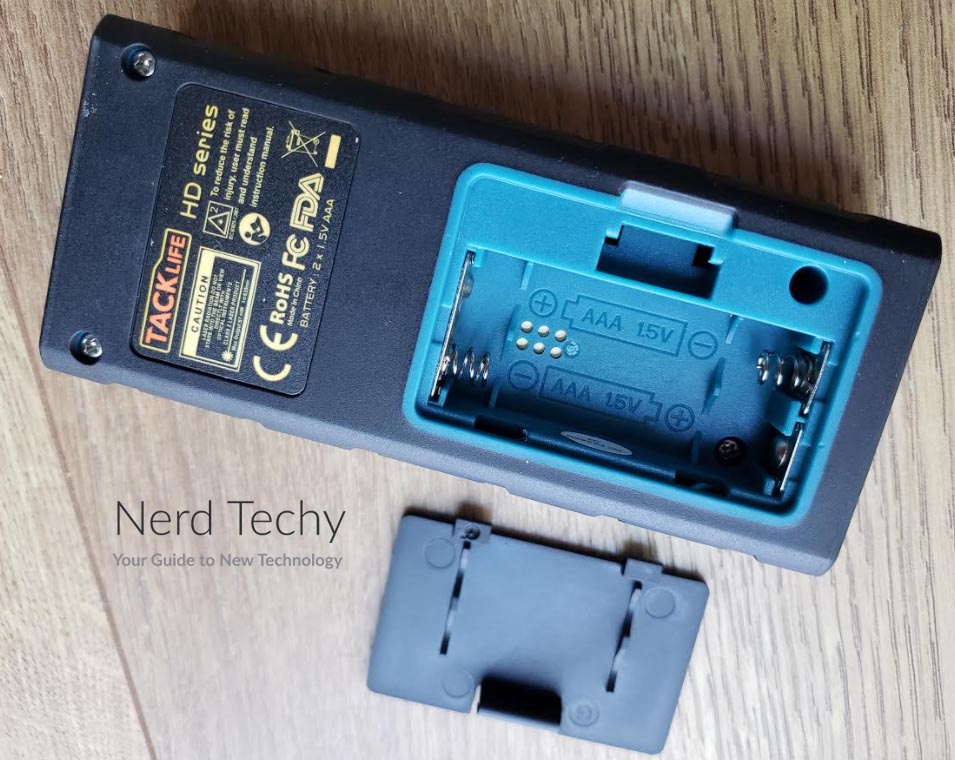 Our only real complaint is that the HD60's buttons and functions aren't intuitive. This isn't to say they don't work. As we hope we've made clear, this is a very effective laser measure. But the learning curve is a bit steep, particularly if you're trying to use any of the more advanced features. You'll probably need to read the owner's manual more than once in order to get a full grasp on things.
Extra Features
There are a few extra features that allow the HD60 to do much more than simply measure distance. For one thing, there's a button for automatically calculating area and volume. Measure the length, width, and height of an area, and you can get all of these calculations. This is one of those features that can be a bit confusing for new users. Just read the manual, and keep it handy the first time you try to measure area or volume. You can also recalibrate the measure if you're experiencing any issues. There's no need to take it in for repair just because it needs recalibrating.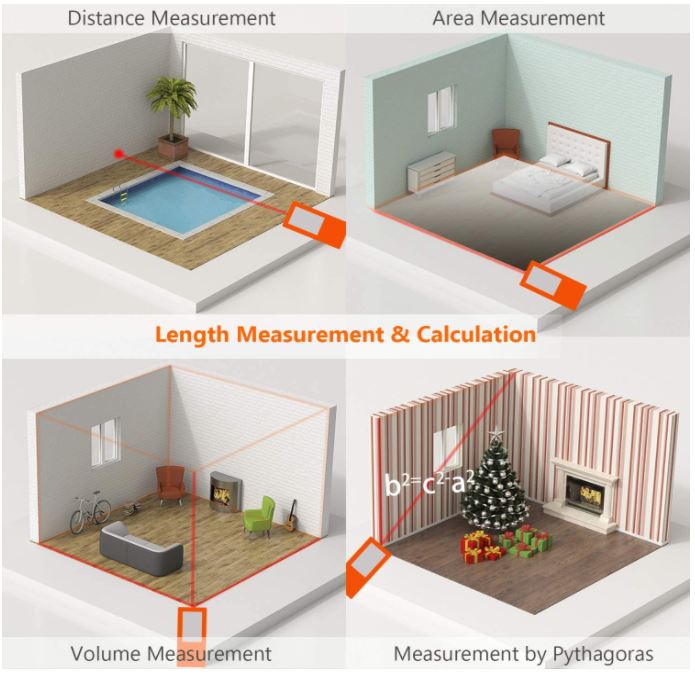 By pressing the "save" button, you can store up to 30 groups of data. In this case, a "group" of data includes up to three measurements: length, width, and height. Once a measurement has been saved, it will be stored in memory indefinitely. You'll have to manually delete old measurements when you reach the 30-group limit.
There's an option to find the maximum and minimum values in storage. This is useful if you're trying to compare large groups of objects. For example, suppose you're doing quality control on a modular shed. You could find the largest and smallest quickly and easily, and single them out for further review.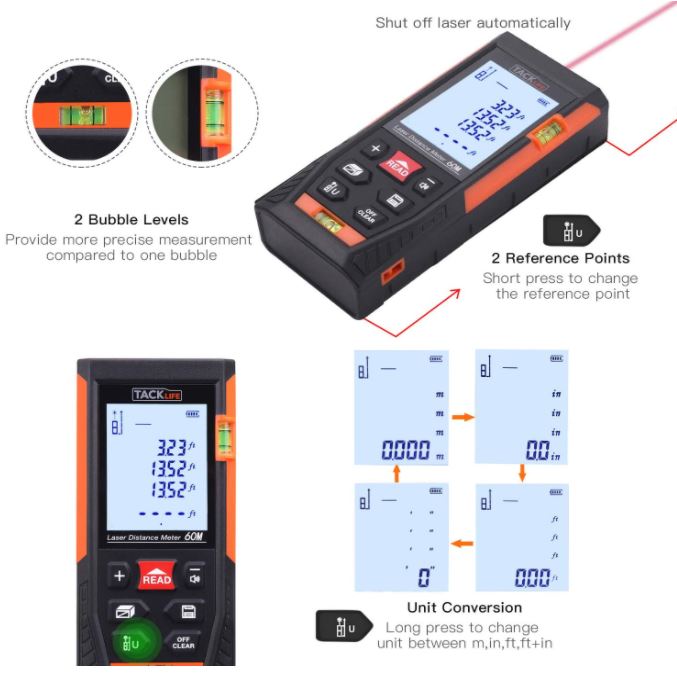 Finally, the HD60 is easy to use for adding multiple measurements. Let's say you're measuring the inside of a stable with multiple horse stalls. Because the interior is divided, there's no way to simply measure from one exterior wall to the other. Instead, you have to measure each stall individually and add the numbers together. By using the add button, you can do this effortlessly as you go along. Similarly, there's a subtract button. You can measure an entire space, then subtract the width of a particular hallway or gap.
Final Verdict
So, is the Tacklife HD60 Classic Laser Measure worth your investment? For most people, the answer is going to be yes. To be fair, there are some drawbacks. You'll have to be willing to learn to use it, for one thing. For another thing, you won't be able to use it outdoors in broad daylight. But that's a common issue for any laser measure in this price range.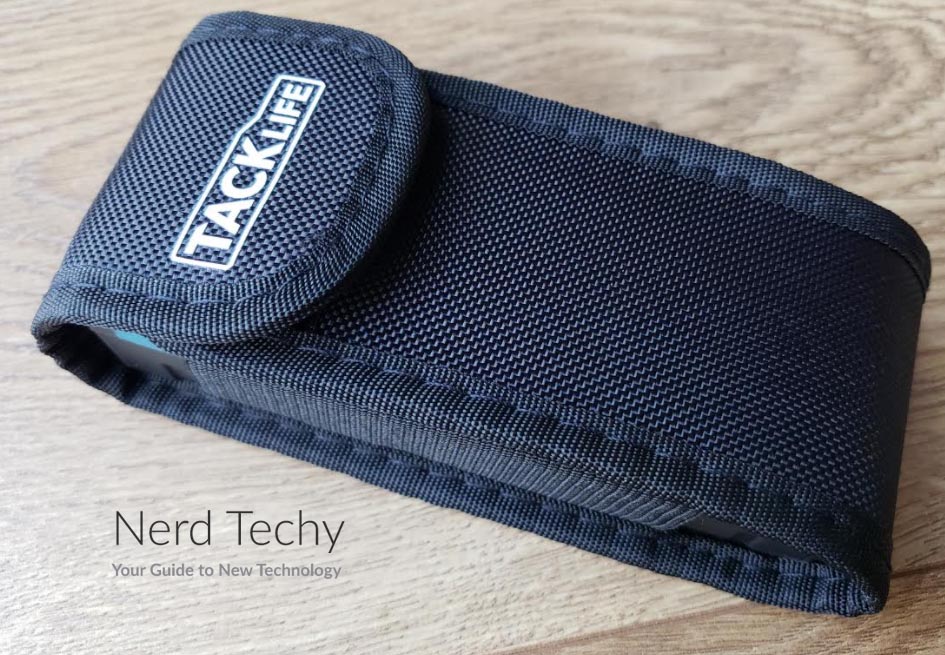 First and foremost, you have an extreme degree of accuracy, and the ability to calibrate the laser yourself. You also get an adjustable zero point, area calculation, and plenty of storage. This is a huge upgrade from a traditional tape measure. It's also a better performer than most competing laser measures. All in all it's a great choice if you're looking for a slick upgrade to your toolkit.