What do you do if you need to see inside a confined space, like a wall, pipe, or engine cylinder? The answer, in all of these cases, is to use an inspection camera. An inspection camera, sometimes called an "endoscope" or a "borescope," consists of a camera mounted on a semi-rigid rod. The rod can be inserted, flexed, and moved around inside an enclosed space. This way, the camera can be pointed wherever it's needed. Most inspection cameras also have lights built in, with the assumption that you're probing a dark environment.
A good quality borescope should have a snake that's neither too stiff nor too loose. If it's too stiff, you won't be able to get it around 90-degree angles or U-turns. On the other hand, if it's too loose, it won't stay in place when you want the camera to remain steady. Another thing to look for is whether there are one or two cameras. A single camera will do a lot of work, but a secondary camera is even better. The second camera is typically positioned at a 90-degree angle, to provide an alternate view. With this type of setup, you'll be able to scope out just about anything.
Today, we'll be reviewing the DEPSTECH DS500 Dual Lens Inspection Camera. DEPSTECH is a well-known manufacturer of scopes and small cameras. They even make otoscopes (ear cameras) for doctors and individuals alike. Their DS500 camera is designed for larger tasks, although it can be used for small jobs as well. But how durable is it, and how good is the video? We'll look at these factors, along with the battery life, controls, and extras. At that point, we'll be able to render our verdict.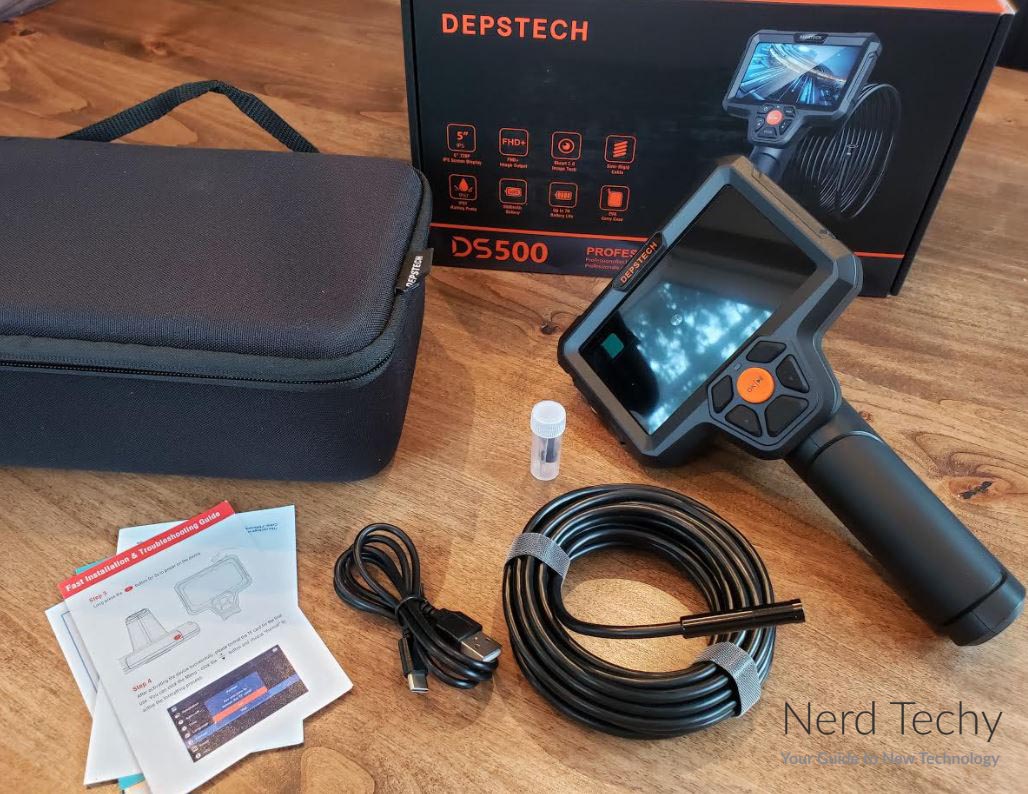 Design & Construction
The DEPSTECH DS500 consists of two main components: the control grip and the snake itself. The snake gets screwed onto the grip for operation, but is separate for easy storage. It's semi-rigid, just like we like, and it's 16 ½ feet in length. This makes it long enough to scope out very long runs. For storage, it comes with a set of velcro straps to keep it organized while it's coiled up. It's also smooth-sided, rather than ribbed. This makes it easy to clean off if you're scoping out a greasy or unsanitary space. The camera tip measures 7.9mm in diameter, which means it can fit down very narrow pipes.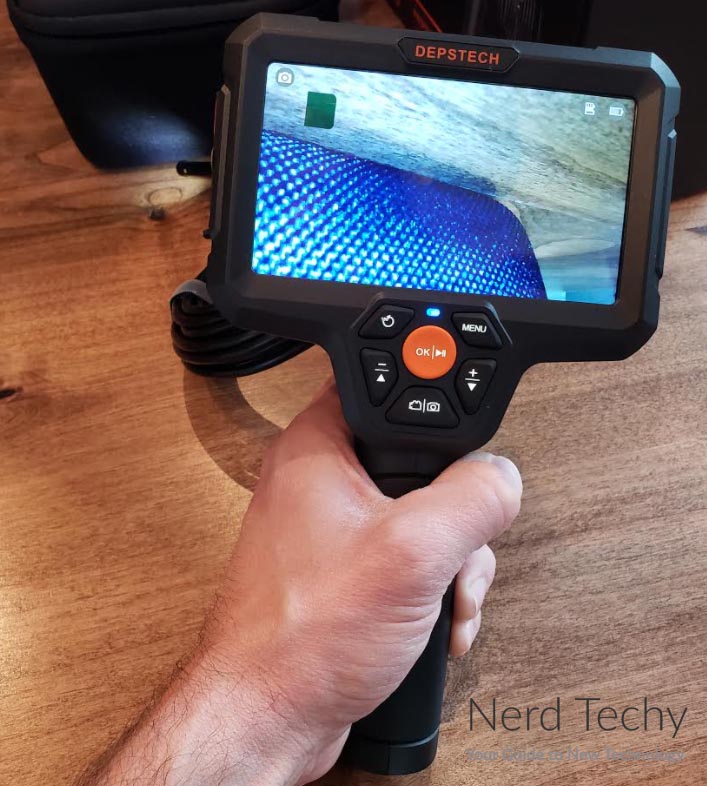 The handheld control unit consists of a round grip attached to a viewscreen. Unlike a lot of scopes, there's no separate screen or smartphone pairing. Everything is on-board and easy to use. The screen resolution is 1,280 x 720 pixels. That's actually less than the camera resolution, as we'll see. However, it's the largest resolution you're really going to need at a size of five inches. Your eyes literally couldn't see the difference between a 720p screen and a 1080p screen at this size.
The controls consist of a set of buttons located near your thumb. There's a single button for switching between the two cameras, and another to switch between video and still photos. Underneath, there's a trigger for actually taking a picture, or for starting and stopping recording. Additional buttons allow you to rotate the tip, navigate the menu, and play or pause video you're reviewing.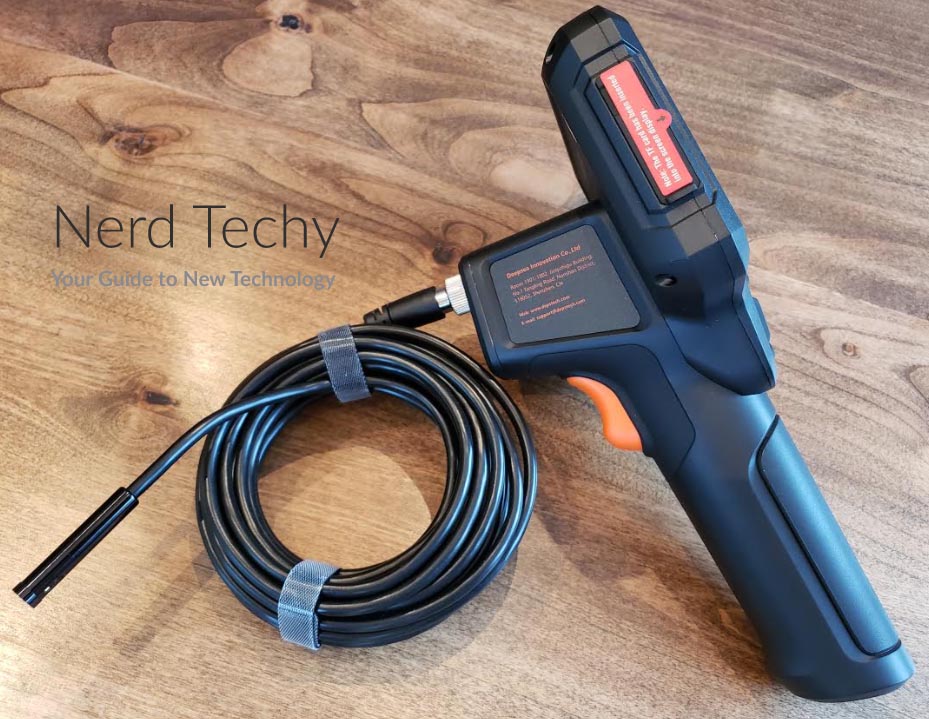 The scope and snake portion of the DS500 have a water-resistance rating of IP67. The 7 indicates that it can withstand full submersion for a minimum of 30 minutes. In practice, you can scope an open-ended pipe more or less indefinitely. Incidentally, the 6 refers to the dust-resistance rating, which is also quite good. If you're scoping an old, rusty pipe or an interstitial space, dust won't infiltrate and ruin your camera.
Along with the scope and the control unit, you also get a durable EVA plastic carrying case. This case is a bit large, as is necessary to accommodate the entire DS500. Think of it as something that sits alongside your toolbox, not inside it. The case is also waterproof, so it's just fine to transport in an open truck bed.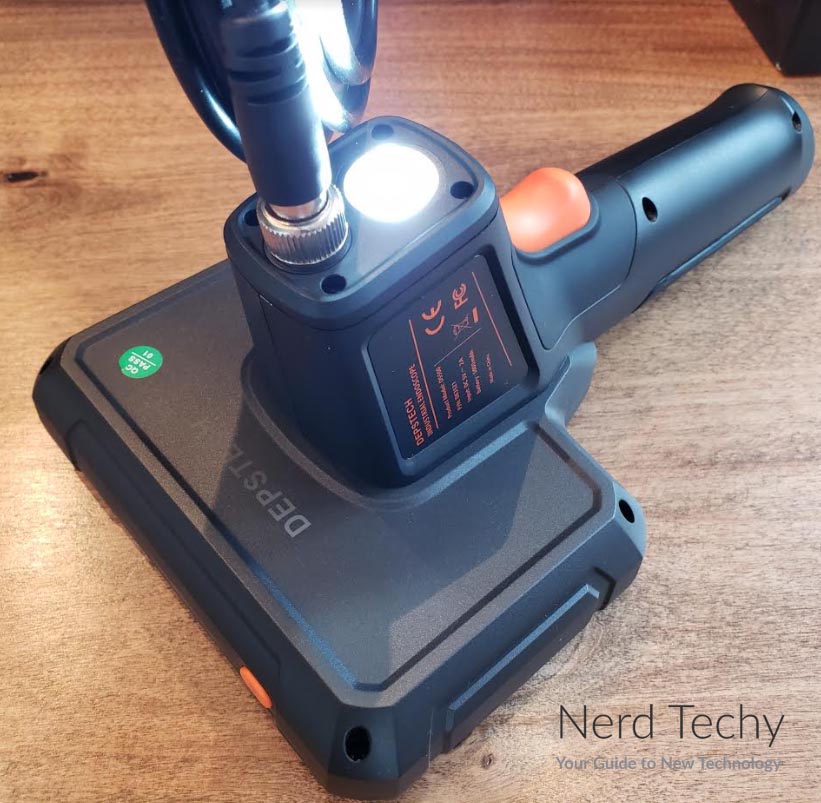 Image Quality & Lighting
The tip of the DS500 sports a pair of camera lenses, one forward-facing and the other pointed to the side. The resolution on both lenses is 1080p. As we already mentioned, the built-in screen only has a resolution of 720p. However, if you transfer the videos to another device, you'll be able to see more detail. Similarly, you can zoom in on videos in the DS500 screen, so those extra pixels come in handy. The still camera resolution is rated as 2.0 megapixels. This is so close to 1080p that it might as well be the same. You're not getting super-precise 8 megapixel images, but you don't need to. 2 megapixels is more than enough for use in any small space.
If you want a borescope with a little more resolution, consider the DEPSTECH DS430. It records at an impressive resolution of 2,592 x 1,944 pixels. On the downside, the attachments are poorly manufactured, and the main unit is not as rugged in general.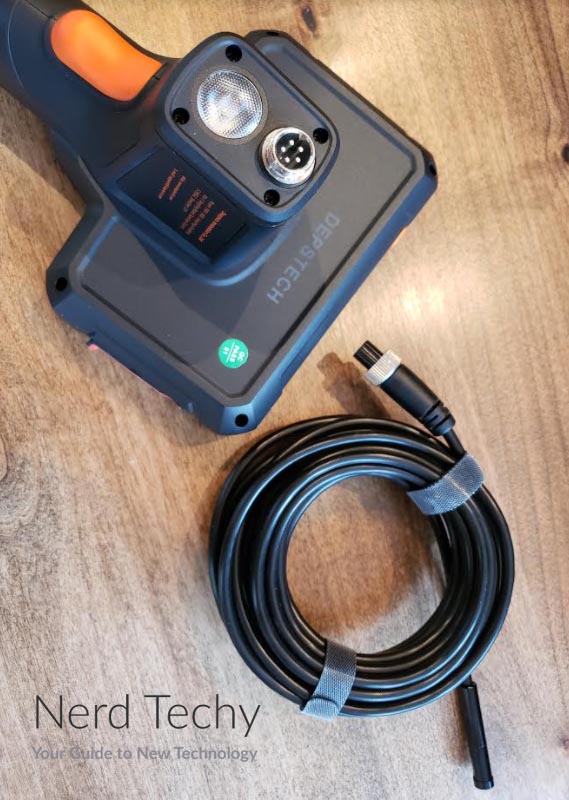 Perhaps the DS500's most impressive feature is its wide focal range. The main camera can focus on objects between 1.2 and 3.9 inches in distance. This means it's useful for larger compartments like engine housing. It also makes positioning easier, since you don't have to sit in a very narrow distance band. The side camera is designed for closer use, from 0.8 to 2.4 inches. This is logical, since it will often be facing the side of a pipe, which is very close to the camera.
DEPSTECH makes much of the fact that there are seven LEDs. In fact, the main camera sports six LEDs, arranged in a circular pattern around the lens. You could easily get the same brightness from a single LED. However, by distributing six diodes around the lens, you get more even distribution. The seventh LED is located on the side of the tip, next to the side camera. Since it's the only LED for that camera, it's considerably larger and brighter than the other six diodes. Both the front and side LEDs can be adjusted between three brightness settings.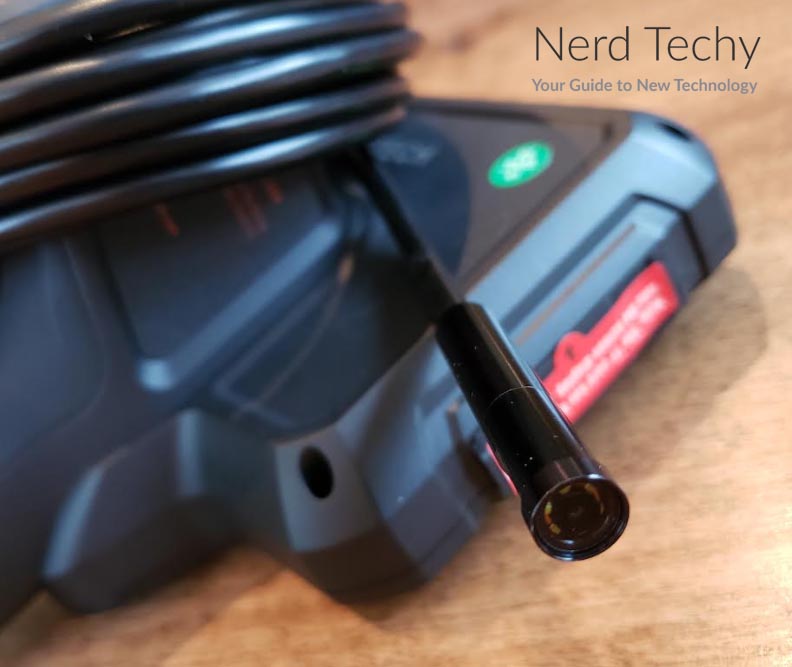 On the base of the handheld control, there's a large, bright LED flashlight. This isn't typically used for lighting up the camera. However, it's a great tool for making a direct visual inspection. It can also help you find a pipe or conduit opening that is itself located down in a wall or a floor.
Storage & Playback
The DEPSTECH DS500 comes with a 32GB SD card. This is enough to record several hours of video, or to store literally tens of thousands of pictures. In all likelihood, you're never going to need more storage. However, if you're trying to store even more video, you can always upgrade to a larger SD card.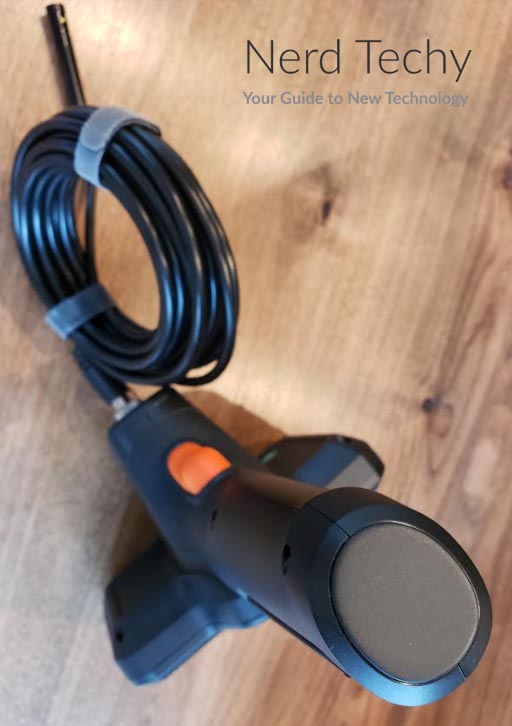 As we already mentioned, you can review your footage or videos on the built-in display. However, there's also the option to review on another device, like a PC or a tablet. In that case, you can simply transfer the SD card from one device to another. This way, you can bring up pictures on a larger screen, or save them for your records. You can also email them, so you can get repair approval from a customer by easily showing them their problem.
Another option for connectivity is to use an inspection camera with its own WiFi connection. The DEPSTECH WiFi Endoscope is an excellent example of this. The control unit is small enough to hold in one hand, so it's easy to store and carry. It connects to your phone via WiFi, and you review or save footage from there. The features are otherwise similar to the DS500, but the battery is considerably smaller.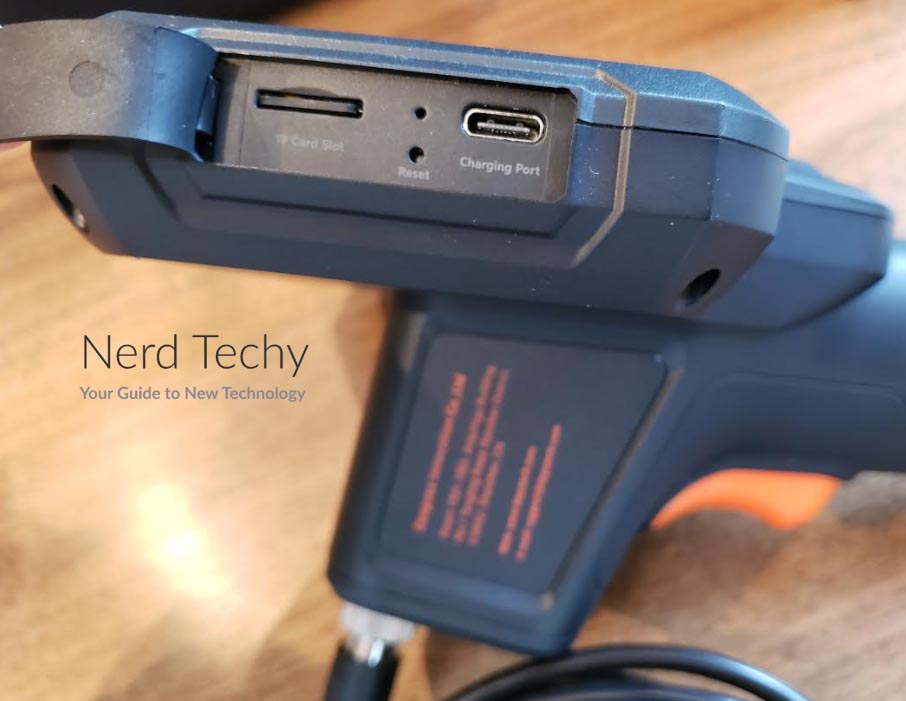 Battery & Extras
The DS500's internal battery has a large capacity of 5,000mAh. This is enough for up to seven hours of continuous operation. Notice the operative phrase "up to." You'll get seven hours of operation with the LEDs on their lowest setting, and if you're only recording occasionally. As soon as you turn the lights up or start recording or playback, your battery life starts to drop. Even so, you'll get a good two to three hours of continuous, heavy use. If you spend longer than that scoping a pipe or an engine, you're dealing with a very unusual issue. In practice, even if you use it frequently, you can always plug it in between uses.
In addition to its use as a simple camera, the DS500 can also be used for retrieving lost objects. There are two attachment tips for this purpose: a hook and a magnet. These attachments lock securely into the tip, and are reasonably durable. You can't haul a trailer with the hook, but it's just fine for snagging a lost engagement ring or a dropped tool. Similarly, the magnet is suitable for collecting screws, nuts, bolts, and other small metallic objects. The purpose here is simply to clear debris from pipes, conduit, and other small spaces.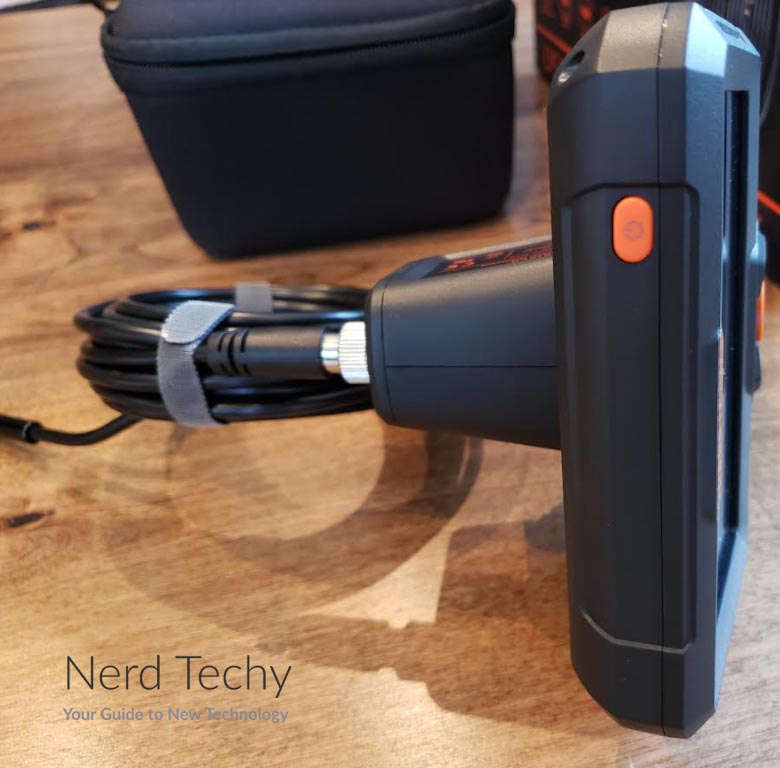 Final Verdict
The DEPSTECH DS500 Dual Lens Inspection Camera is one of the better-engineered borescopes we've seen. Indeed, one of its only drawbacks — the size — is a byproduct of the fact that it's such a beast. It has a beautiful IPS screen, a long snake, and a pair of high-quality 1080p HD lenses. The lighting is very good, so you get everything you need to capture excellent video and pictures.
Another thing we liked was the control scheme. You can operate everything with your thumb and forefinger. Despite the size, your other hand is still free to deal with the snake itself. Finally, the attachments are well-designed, and the battery has plenty of power. You can retrieve objects with ease, and keep using the camera all day. This is a high-quality tool for people who are willing to spend a bit more to get the best.
Meet Derek, "TechGuru," a 34-year-old technology enthusiast with a deep passion for tech innovations. With extensive experience, he specializes in gaming hardware and software, and has expertise in gadgets, custom PCs, and audio.
Besides writing about tech and reviewing new products, Derek enjoys traveling, hiking, and photography. Committed to keeping up with the latest industry trends, he aims to guide readers in making informed tech decisions.