Annke NC400
Pros
2K high-resolution video and color night vision.
Accepts PoE or AC power.
Smartphone access and push alerts.
Compatible with most third-party software and base stations.
Cons
Requires a hard drive for storage (not included).
No two-way voice communication.
If you're worried about your home's security, you're not alone. Security camera systems may seem like a new invention, but they're just the most advanced tool in our toolkit. The fact is, people have always been using the latest and greatest technology to keep their homes safe.
For example, keyed locks have been around since Roman times. But until the Industrial Revolution and mass production, they were impossible to produce cheaply. Every lock and key had to be painstakingly made and assembled by hand. They were used by the elite to lock up money and valuables, and by the military for security. But even in the year 1800, the average person had a wooden bar or simple metal latch securing their door. But as soon as locks could be affordably mass produced, they became ubiquitous. Nowadays, you wouldn't think of securing your house in that fashion. The very idea of not having a deadbolt on your front door is laughable.
Security camera systems are analogous to locks and keys. Until recently, they were prohibitively expensive for most people. Besides the cost of the camera, you either had to pay for monitoring, or install a large, expensive monitoring station. Businesses used them. Wealthy people used them. Most people didn't. But now, you can install a quality home security camera system for a reasonable price. And you can monitor it yourself via the web. Suddenly, we can all own one, just like we all have locks on our doors.
Today, we're going to review the Annke NC400 PoE Bullet Security Camera. This is a single camera, designed to be used by itself or incorporated with an existing setup. We've reviewed Annke products before, such as their BM100 Baby Monitor, and we approved. Now, it's time to see if they can bring the same quality engineering to the realm of security. Let's find out!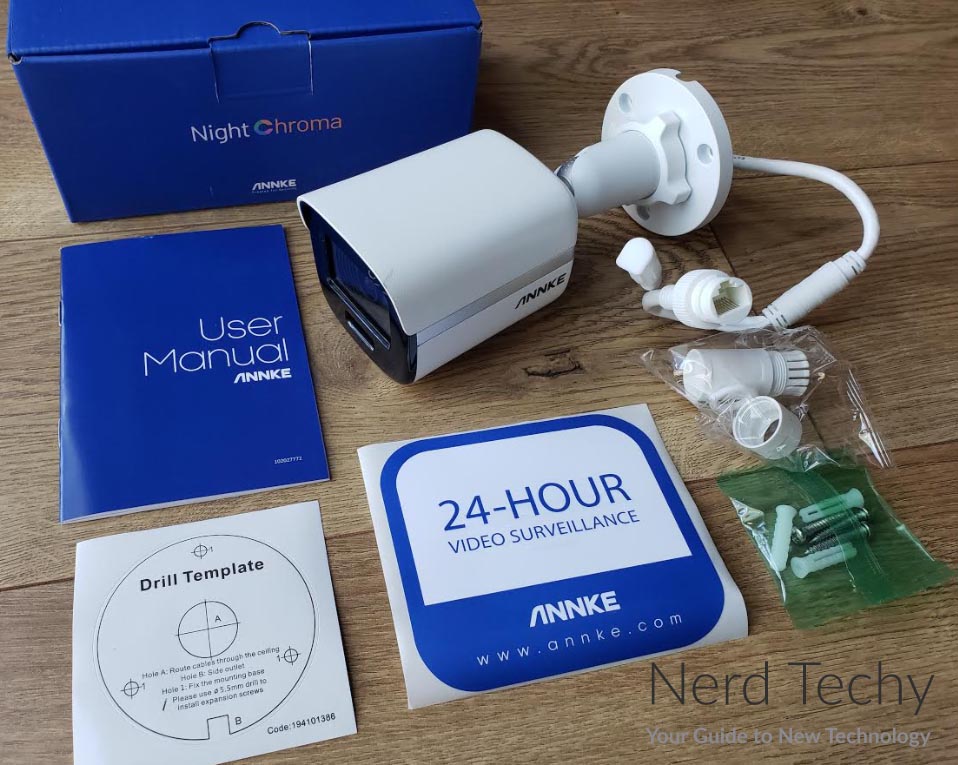 Design & Construction
The Annke NC400 PoE Bullet Security Camera doesn't have a quirky shape like many modern security cameras. It has a utilitarian design, with a rectangular profile that looks just like what it is. This was actually reassuring, since it told us Annke didn't waste money on irrelevant features. Our second clue as to the overall quality was the rugged aluminum housing. You don't have to bang on this camera to know how durable it is. Simply picking it up and holding it in your hand is enough to know it's a well-engineered piece of equipment.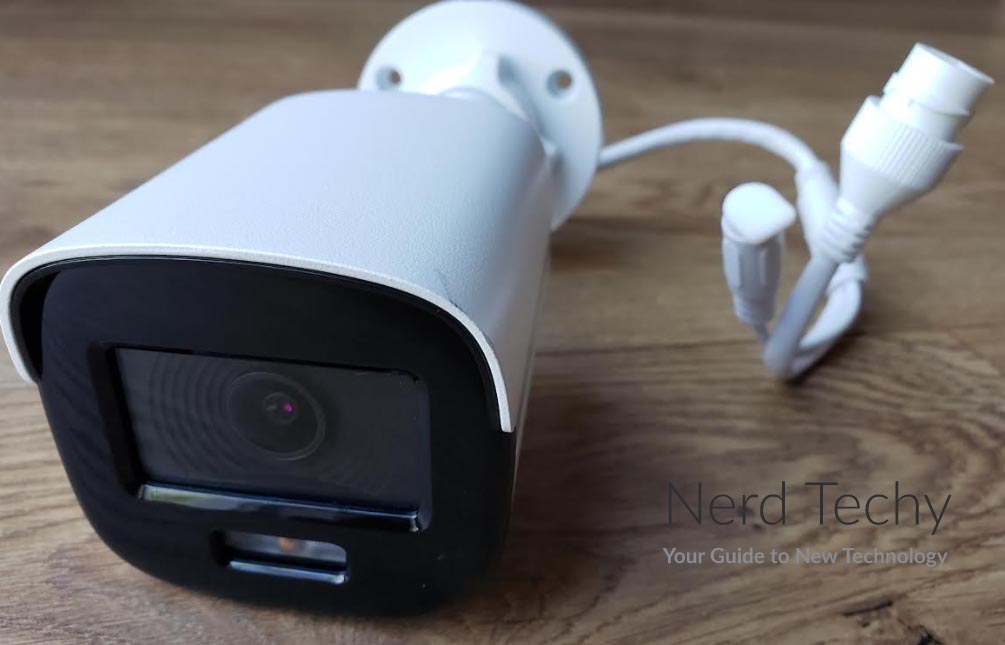 By default, the camera mounts into a bracket that attaches to a pivot on the back. It's designed so it can be attached either to a wall or to a soffit or eave. This gives you plenty of options for installation. The kit includes a mounting base, screws, and anchors. All you have to do is drill the holes, insert the anchors, and screw in the base. Provided you already know where the camera is going, installation should only take you a few minutes. Alternatively, the NC400 can also be mounted on a tripod. We're not sure why you'd want to do this, but it's never bad to have more choices.
On the front of the white aluminum housing, you'll see the lens cover. This is mostly black, but there's a large white motion detector bar towards the bottom. The lens itself is small and circular, and buried in the upper half of the lens housing. This goes right along with the NC400's utilitarian aesthetic. It's not flashy, but it works very well.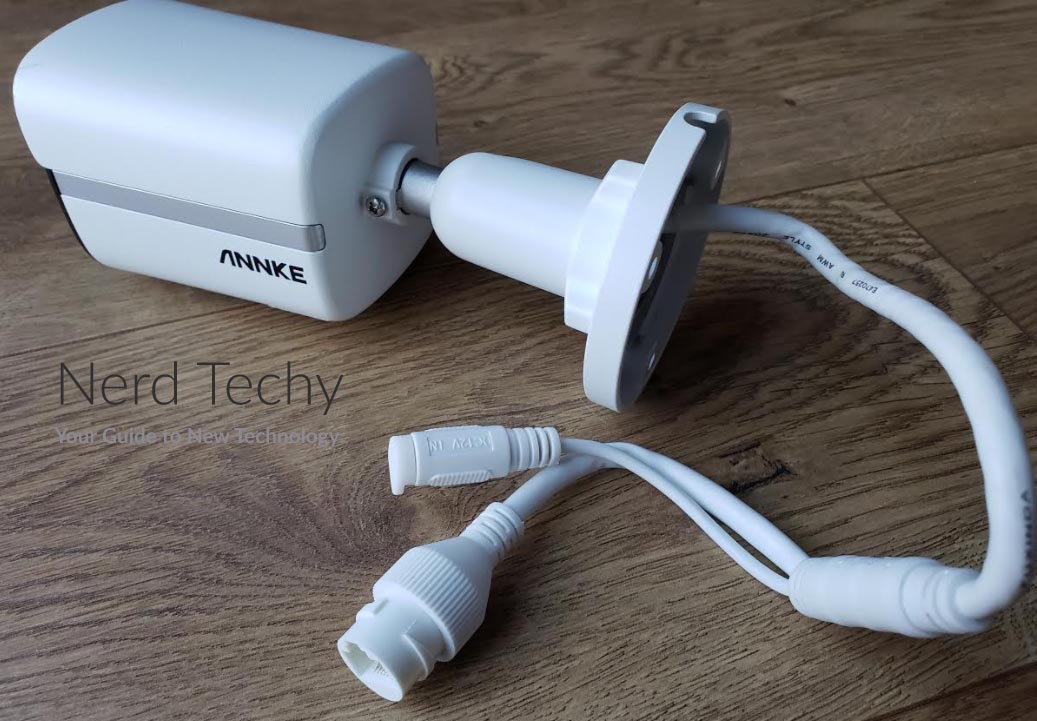 The entire unit is IP67-rated for weather resistance. The 6 is a measurement of dust-resistance, and is very good. You won't have to worry about even the driest, dustiest environments inhabited by ordinary human beings. By the same token, the 7 refers to a submersion-proof water-resistance rating. You can drop this camera in your swimming pool, fish it out, and put it back in service. Needless to say, a thunderstorm or even a hurricane isn't going to get the camera wet enough to damage it.
Power & Connectivity
The NC400 connects via Ethernet, in order to ensure a more secure connection. There is no wireless option. This can be both helpful and frustrating. On the one hand, you don't have to worry about potential security vulnerabilities from a WiFi camera. You also won't have to pay for a data plan for a 4G or 5G camera. On the other hand, you'll have to run a wire, which can be inconvenient depending on your setup.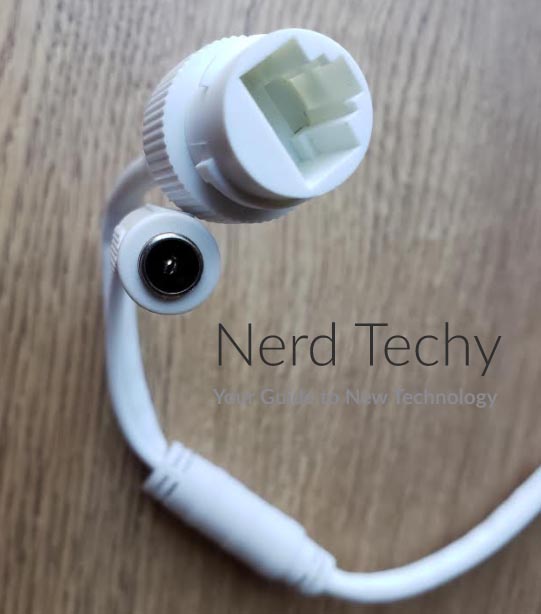 Fortunately, the NC400 is capable of receiving PoE power. PoE is short for "Power over Ethernet," and is commonly used for security cameras and other low-voltage devices. By transmitting an electrical current via the existing Ethernet connection, PoE negates the need for a second wire. You'll only have to run one. Alternatively, you can use the other power connection to plug into an AC power supply. This can be easier if your existing Ethernet network does not have a PoE Switch or injector.
As an alternative, you may want to consider a security camera that requires no wiring whatsoever. In that case, the HeimVision HMD2 is an excellent choice. It's a WiFi camera, so there's no need for an Ethernet cable. Even better, it comes with a solar panel, so it has its own local power supply.
By default, the Annke NC400 works with Annke's smartphone app. However, it's also designed to be compatible with popular third-party software. If you already use Blue Iris, Milestone, Synology, or other similar software, you won't have to change over. This camera will integrate into your existing system.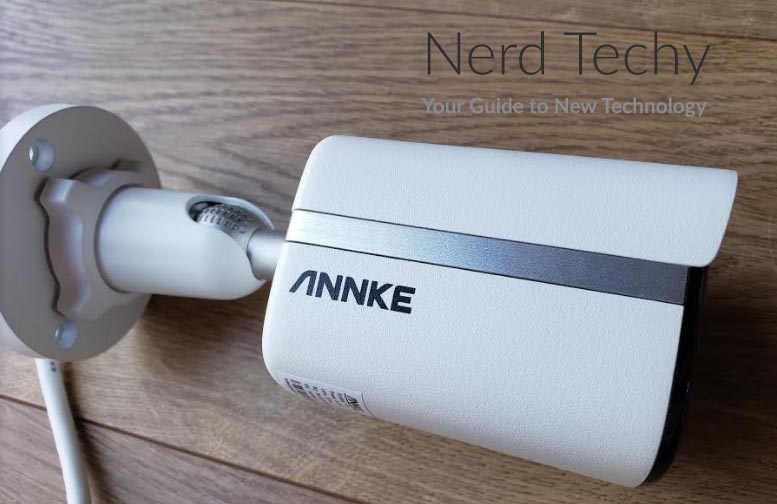 Camera Quality
The NC400 camera captures video in 1440p. This resolution, also known as 2K, is halfway between 1080p HD and 4K Ultra HD. It's better than most security cameras, which typically still fall in the 720p to 1080p range. At 1440p, you can see finer details than you could make out at 1080p. This means you'll be more likely to identify individuals. Even if you can't, law enforcement may be able to pick out clues like license plates that would otherwise be illegible. For still photos, this equates to a resolution of 4MP. That's not stellar, but once again, it beats out most security cameras. This is far from your stereotype of "grainy security camera footage."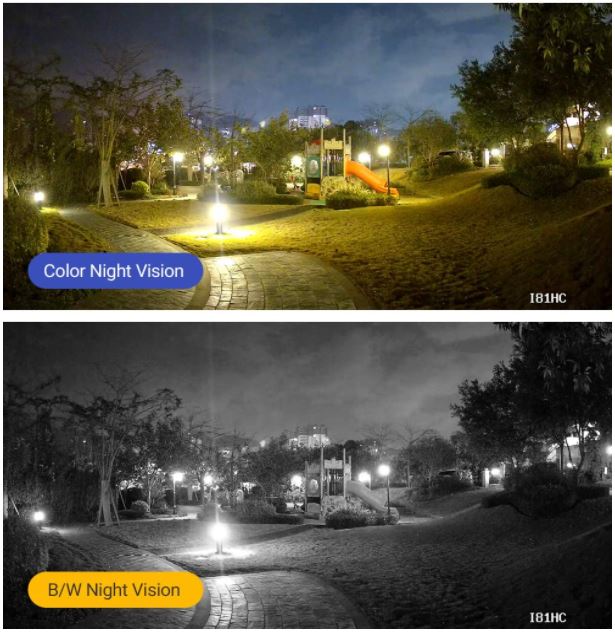 The quality holds up even at night, where the night vision works in full color. It has a range of 100 feet, and can even show some objects beyond that depending on how dark it is. Keep in mind that this isn't true "night vision," and would better be termed "low-light vision." In an urban area, a suburb, or even a rural area on a moonlit night, you'll see plenty of details. But if the environment is truly pitch black, you won't be able to see much of anything.
The field of view is 102 degrees horizontally and 54 degrees vertically. This is a true medium-angle lens, designed to keep shapes as true as possible. Beyond that, it's also well-sized for corners. The difference between 90 degrees and 102 degrees isn't huge, but it's a comfortable buffer. If you're positioning this camera inside a 90-degree angle, you'll have an easy time aiming it.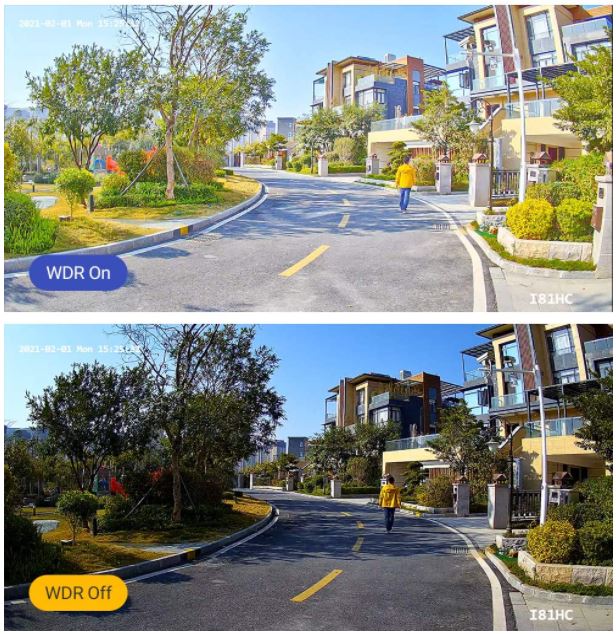 Storage & Extra Features
When the NC400 camera detects any movement, it sends an app alert and an email with photos. This will instantly let you know if anything is wrong. The motion-detection algorithm senses only large objects, to reduce false positives. It won't get set off by squirrels, or by a few leaves blowing across the lawn. That said, larger animals may set it off. If you live in an area with a lot of deer, you'll find out when they're crossing in front of your door!
To pair with the camera, you'll need to install the Annke app on your smartphone, tablet, PC, or Mac. This app allows you to get a live feed of whatever your camera is seeing. You can check in in real time, no matter where you're from in the world. This gives you the peace of mind of knowing you're always able to see what's going on at home.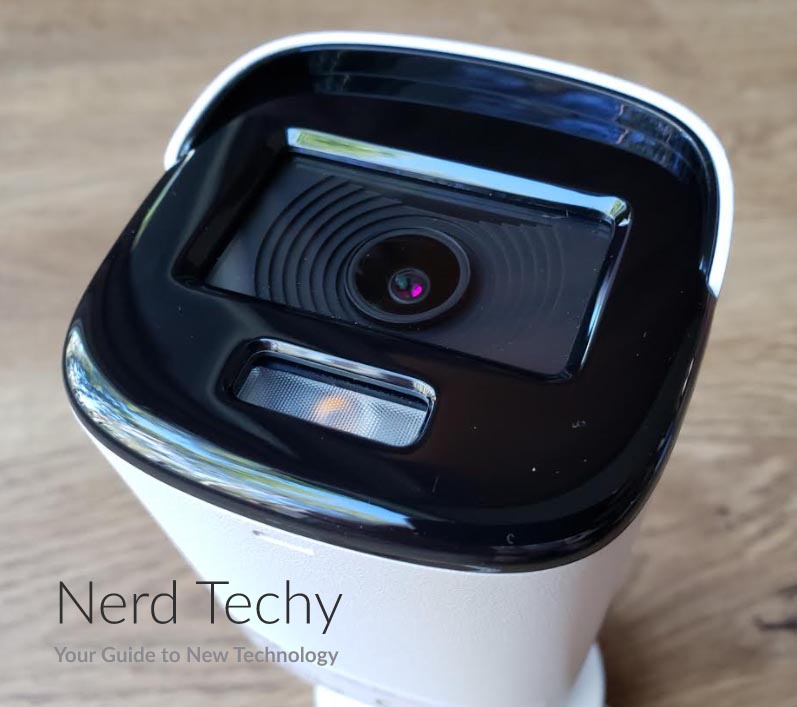 You can tell Annke are experts on monitoring and not on storage because of the NC400's storage features. To be blunt, it has none. There's no automatic recording, no SD card storage, and no cloud storage option. You can record videos live from the app, and download them to your phone or computer. However, if you missed something, you won't be able to go back and review the footage. Unless you were recording it live, it's gone forever. This limits the NC400's usefulness, since its only security "footage" will usually be still photos. This was perhaps our biggest disappointment about Annke's security camera.
If storage is a must, you'll find it on almost every security camera on today's market. As one example, take the Reolink Go PT. It has SD card storage, so all your videos are saved locally. On the downside, it requires its own data plan if you want to use any of the online features.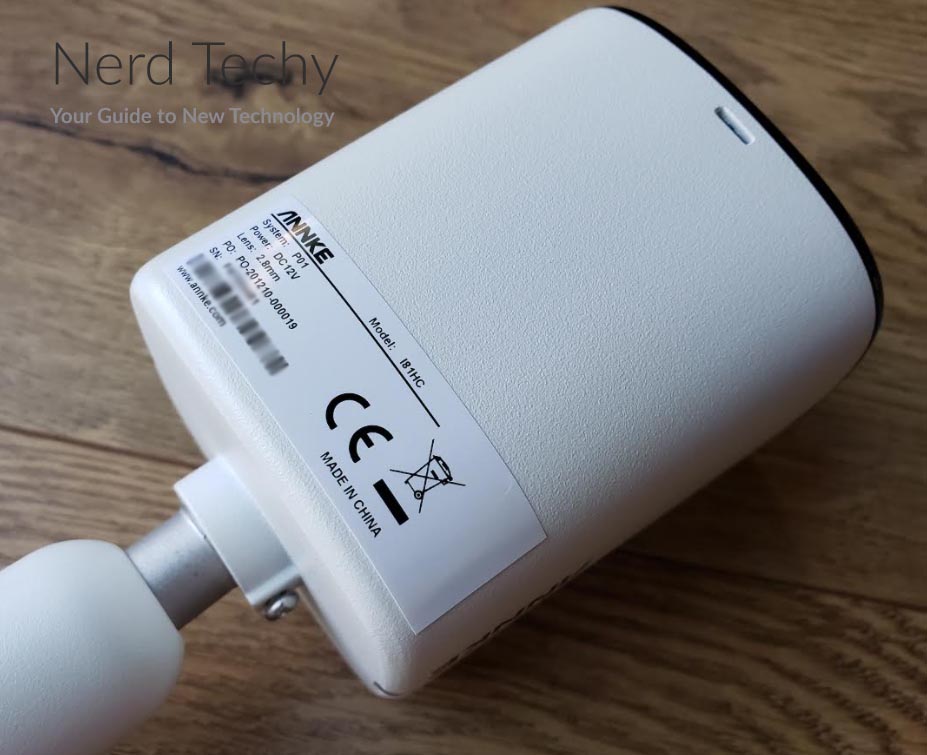 Final Verdict
The Annke NC400 is one of the better security cameras we've reviewed. To begin with, the resolution is very good. At 1440p, it's far superior to the majority of security cameras on today's market. The night vision is also excellent. We appreciated the full color view, which shows far more detail than most night vision systems. Installation is also simple, with an easy-to-use mount and all the hardware you need.
The biggest drawback was the lack of storage. Unless you instantly check every alert, you won't get video recordings of any events. And even when you do, you'll only be able to store it on your phone or PC. But if that's not an issue for you, there's a lot to like about this powerful PoE security camera.
Meet Derek, "TechGuru," a 34-year-old technology enthusiast with a deep passion for tech innovations. With extensive experience, he specializes in gaming hardware and software, and has expertise in gadgets, custom PCs, and audio.
Besides writing about tech and reviewing new products, Derek enjoys traveling, hiking, and photography. Committed to keeping up with the latest industry trends, he aims to guide readers in making informed tech decisions.