EnGenius ECW260
Pros
Ideal for connecting multiple devices.
No AC power connection required.
Full suite of cloud management controls.
Can work as part of a mesh system.
Cons
Low bandwidth compared to other WiFi 6 devices.
Very expensive.
It wasn't long ago that the average home only had one or two connected devices. You might own a family PC with an internet connection, and maybe a work computer. That was about it. More recently, smartphones, tablets, and connected game consoles have become the norm. But this can be managed by any halfway-decent WiFi router. There's no need for any kind of complicated solution. Now, though, we're faced with the Internet of Things (IoT), which promises to increase our wireless needs even more.
IoT devices include all kinds of gadgets, from doorbells to security cameras to smoke detectors, and they can be anywhere on your property. For instance, you might have a connected thermometer in the lawn, or a camera in a detached garage. This means you'll have to improve your wireless network not just in terms of number of devices, but of range. An outdoor wireless access point is one good way of doing this.
Today, we'll be reviewing the EnGenius ECW260 Cloud Managed Wi-Fi 6 2×2 Outdoor AccessPoint. This is a small access point that, as its name implies, is meant to be installed outdoors. This means that quality of engineering is essential, simply in terms of physical construction. But while we need good waterproofing, we also need to make sure the wireless performance is up to par. Otherwise, we could find ourselves with a waterproof device that doesn't actually do anything. As a result, we've reviewed every aspect of the ECW260's performance. Here's what we found, along with our final verdict.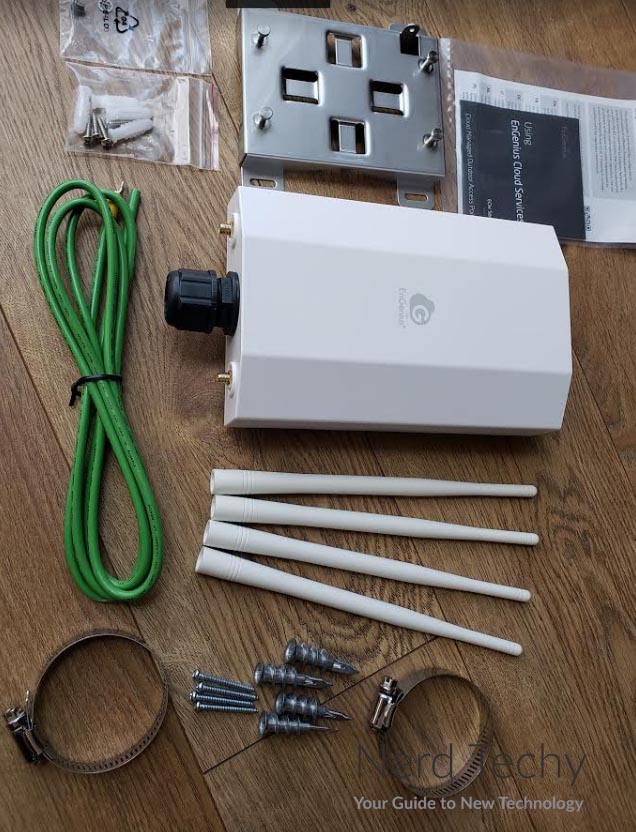 Design & Construction
The EnGenius ECW260 is a compact access point that's made to mount on the exterior of your home or business. When we say "compact," we mean that in terms of outdoor devices. It's actually about 10 inches long and six inches wide, but it looks smaller outside. It has a trapezoidal form factor, with a glossy white plastic finish. As a result, it's a reasonable match for most exterior color schemes. Attached to either end of the unit, you'll see a pair of antennas, which are themselves about a foot long. The antennas can be kept parallel for a sleeker look, or swiveled to get the best possible signal.
The back of the housing is grey, and has four mounting holes and slots. The screws are included in the package, and installation is fairly straightforward. Decide where you want to mount the access point, drill your holes, insert the screws, and hang it up. There's really not that much else to it. At the bottom of the housing, you'll see a small black extension. This is the connection for the Ethernet cable, and it's water-resistant.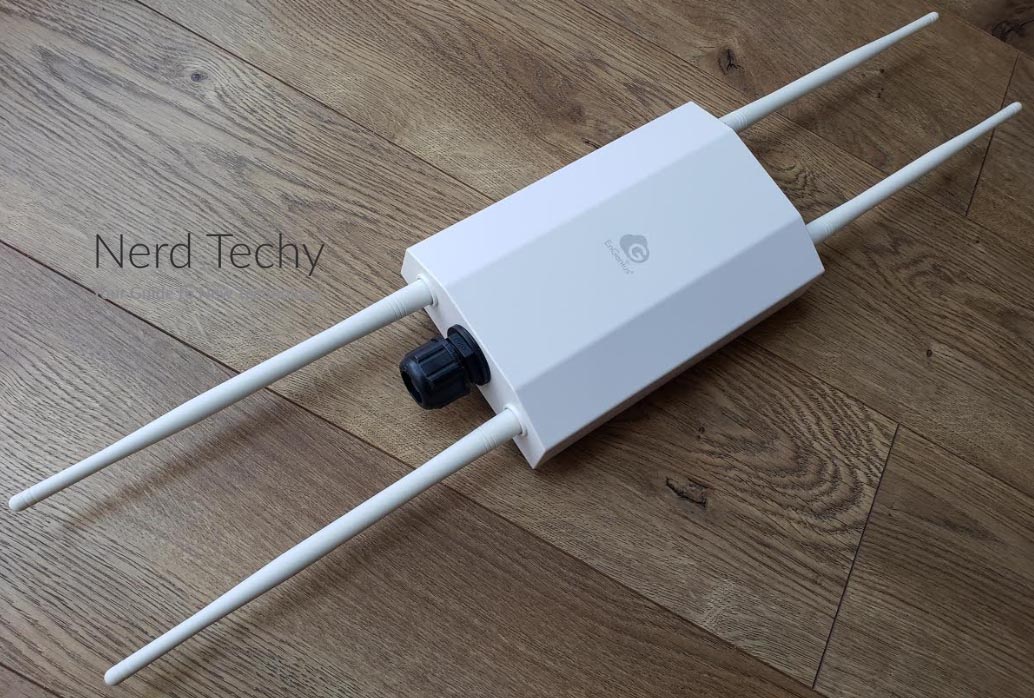 In fact, the entire housing is both waterproof and dustproof, with a weather-resistance rating of IP67. The 6 is in reference to the dust-resistance, which is better than average. Even in the NEvada desert, dust infiltration won't cause any damage. The 7 refers the water-resistance rating, which is exceptional. In fact, the ECW260 can be fully submerged for up to a half hour at a depth of one meter. Even the worst summer storm isn't going to pose a threat to any of its internal electronics.
One last thing we should mention is that the ECW260 requires a Power over Ethernet (PoE) connection. PoE allows you to run small devices, like a wireless access point, without a separate power connection. This means there's only one wire to run. On the other hand, it means you'll need a PoE injector to supply power to the Ethernet line. Alternatively, on a larger network, it might make sense to use a PoE switch instead. A PoE switch can be used to power multiple devices, without the need to set up multiple injectors.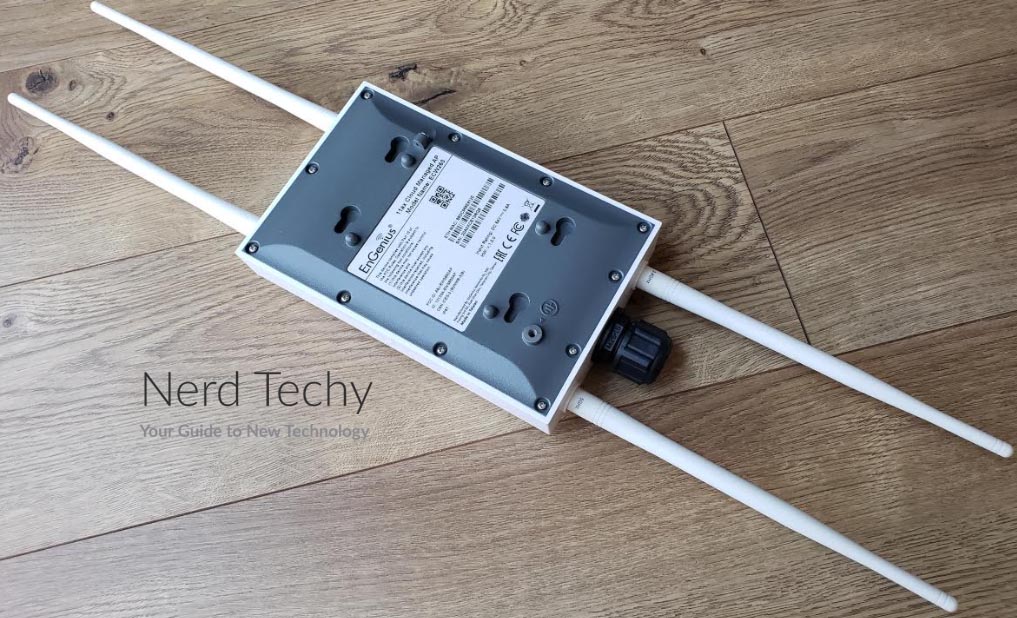 Setup and Controls
Setting up the ECW260 requires it to first be plugged into your PoE-powered Ethernet line. One that's done, the next step is to install the EnGenius app on your smartphone. This app is free on Google Play and the Apple Store, and takes only minutes to install on a modern phone. Once it's installed, you'll be guided through a setup process, which requires you to pair with your WAP. This means you'll have to scan a unique barcode on the back of the device. Once that's done, configuring the rest of the settings takes only a few minutes. You won't have to spend hours tinkering around to get everything set up the way you like it. Not only that, but EnGenius provides around-the-clock customer support to anyone who needs it.
If you're unhappy with your initial settings, you're not locked into them. You can use the app to remotely configure the WAP from anywhere in the world. It includes a full suite of tools for advanced users to change any settings they like. Perhaps the most useful feature is the ability to view your network traffic in real time. You can see how much total bandwidth is being used, along with the amount used by each individual device. Moreover, you can view historical data to see what traffic has looked like in the past. There are other analytics as well, so you can look for trends like usage by time of day.
The best part is that all of this is free. There are no licensing or subscription fees for using the EnGenius app. This is not a small factor in the ECW260's favor, since it's an enterprise-grade access point. In many cases, enterprise-grade WAPs require a subscription for their online services. By providing monitoring and analytics for free, EnGenius offers a great value for consumers and businesses alike.
In addition to all that, the ECW260 comes with a number of security options. You can switch between WPA 3 Personal, Enterprise, and Mixed, or WPA2 Mixed and Enterprise. Enterprise options come with Suite B support, which is a big plus for power users. Regardless, you'll be able to keep your devices — and your other network users — safe while they surf.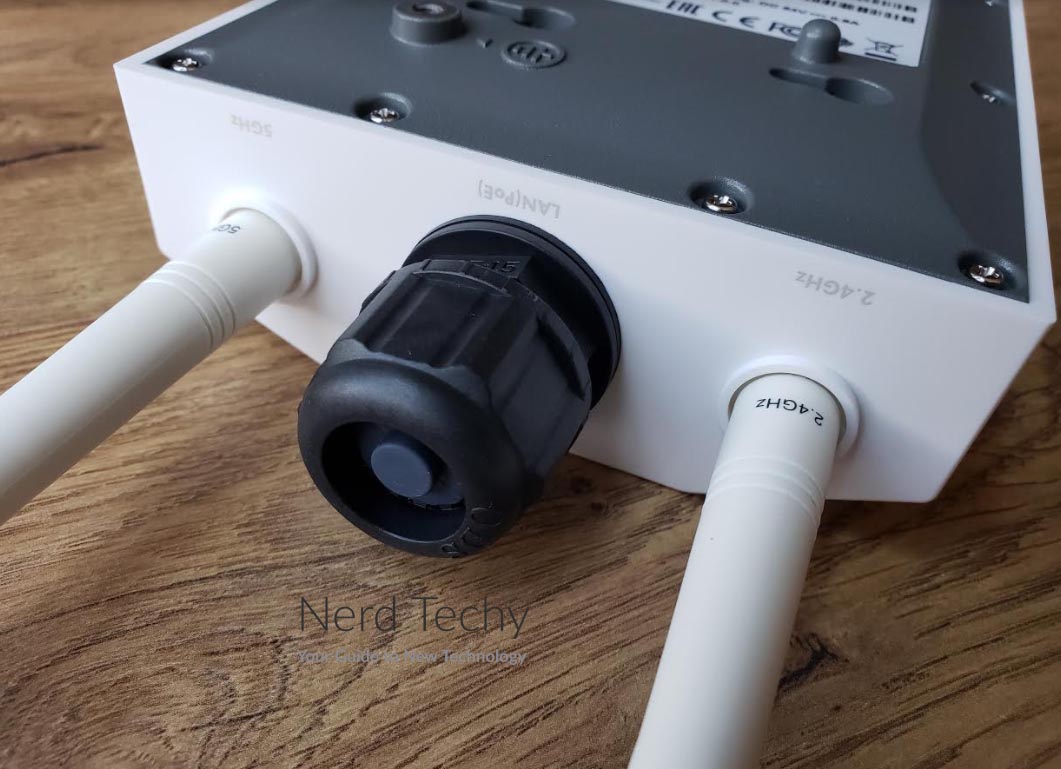 WiFi 6 Connectivity
As you may have guessed, the ECW260 is capable of WiFi 6 connections. But what does this mean in practice? In theory, WiFi 6 supports speeds of up to 9.6Gbps, an increase from 802.11ac's 3.5Gbps maximum. But there's a lot of play in both of those numbers. In fact, they're theoretical, and no real hardware can actually achieve 100 percent of those numbers. Even if you could get a full 9.6Gbps, you wouldn't be able to use it. The average American internet connection is still slower than 100Mbps, or roughly 1 percent of the maximum.
What does this mean for the ECW260? The four detachable, 360-degree mics support up to 1,200Mbps on the 5GHz band. On the 2.4GHz band, they support an additional 574Mbps. This means that, in theory, you can achieve a maximum speed of 1,774Mbps. That's better than plain Ethernet speeds, but short of what WiFi 6 can fully offer. In addition, keep in mind that the 2.4GHz band has a longer range than the 5GHz band. Don't install your WAP all the way at the end of your main router's range. Install it where you're still getting four bars, and take advantage of those 5GHz speeds.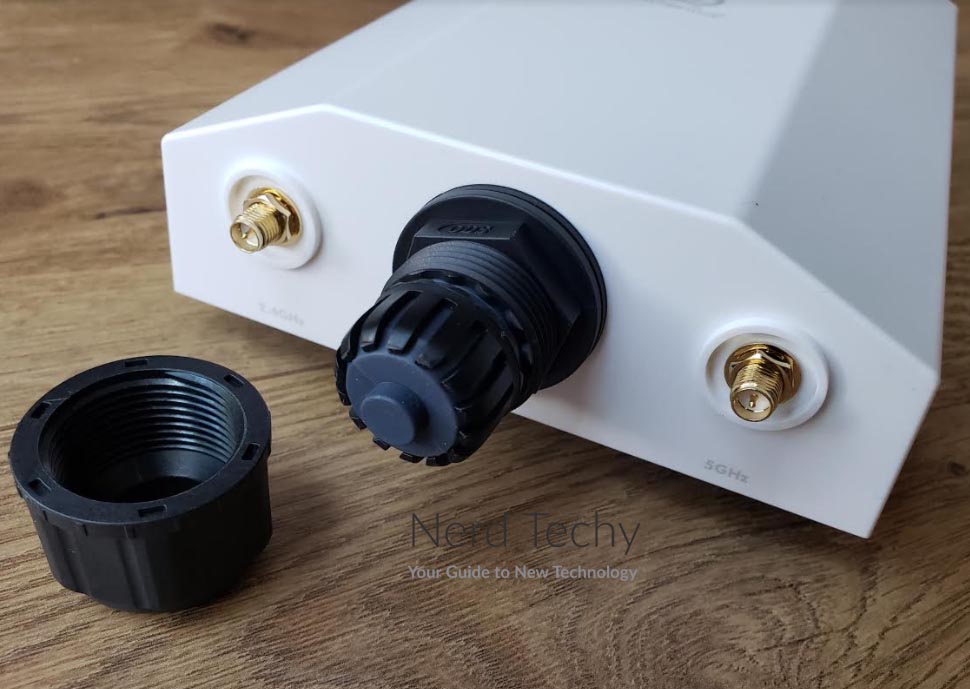 With all of that being said, there are good reasons that WiFi 6 allows for such insane speeds. The reason is that a router or WAP isn't just handling traffic between your device and the internet. It's also transferring information between different devices. For instance, suppose you're watching Netflix on your TV. At the same time, you're backing up some files from your laptop to your network drive. Your Netflix stream is coming from the web, but the backup files are all local traffic. In other words, they're not subject to the limitations of your LAN's internet uplink. They can be transferred as fast as your local networking equipment can handle.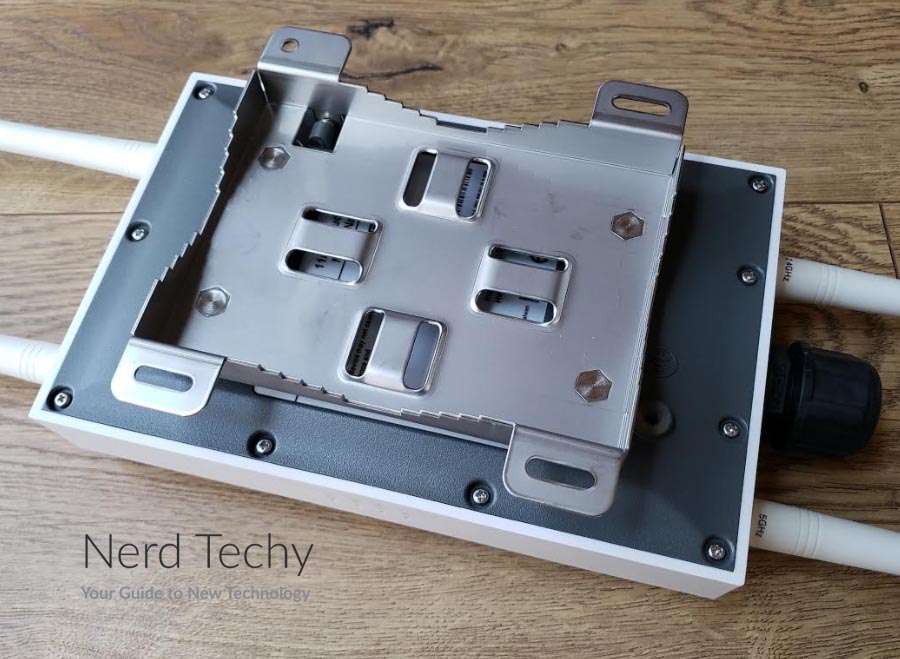 Another advantage of WiFi 6 is that it allows for more efficient sharing of bandwidth between devices. With older WiFi variants, even low-traffic devices could use a lot of bandwidth. For instance, a WiFi smoke detector might hog 20Mbps, despite only sending a few megabits of data per day. This might not sound like much. But multiply that by 20, 30, or 50 smart home devices, and you quickly run into a bandwidth logjam. WiFi 6 allocates bandwidth on an as-needed basis. So your idle smoke detector might only get a few Kbps of bandwidth. If it suddenly goes off, the WAP will open the floodgates and supply it with the bandwidth it needs.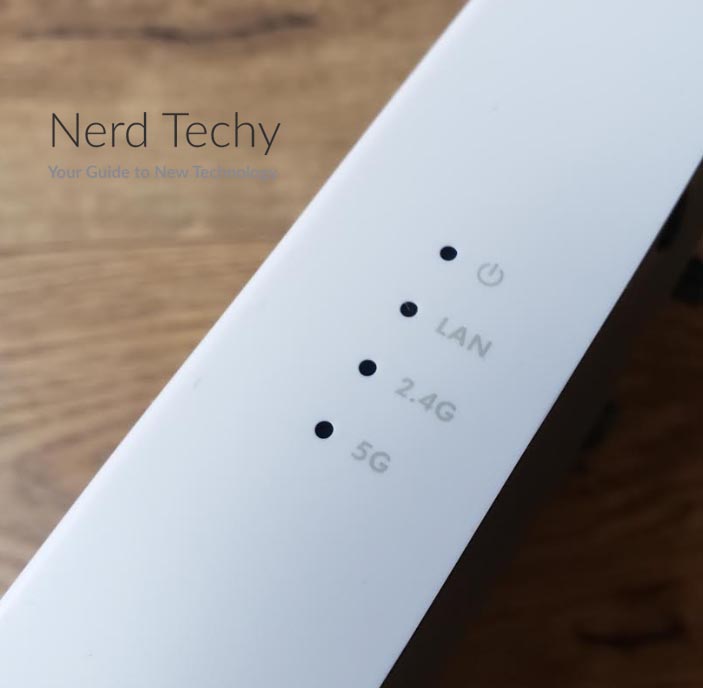 The ECW260 in particular utilizes 2×2 Mu-MiMo technology to augment its WiFi 6 capabilities. In a nutshell, Mu-MiMo lets your router or WAP multitask and switch devices more efficiently. Once again, you're looking for a major benefit for anyone with a lot of IoT devices.
One of the ECW260's few drawbacks is that it's a bit pricey. If you don't need an outdoor WAP, you can save a lot of money and get similar performance. If that's what you need, take a look at the EnGenius ECW120. It's much more affordable, but it can only be used inside the home.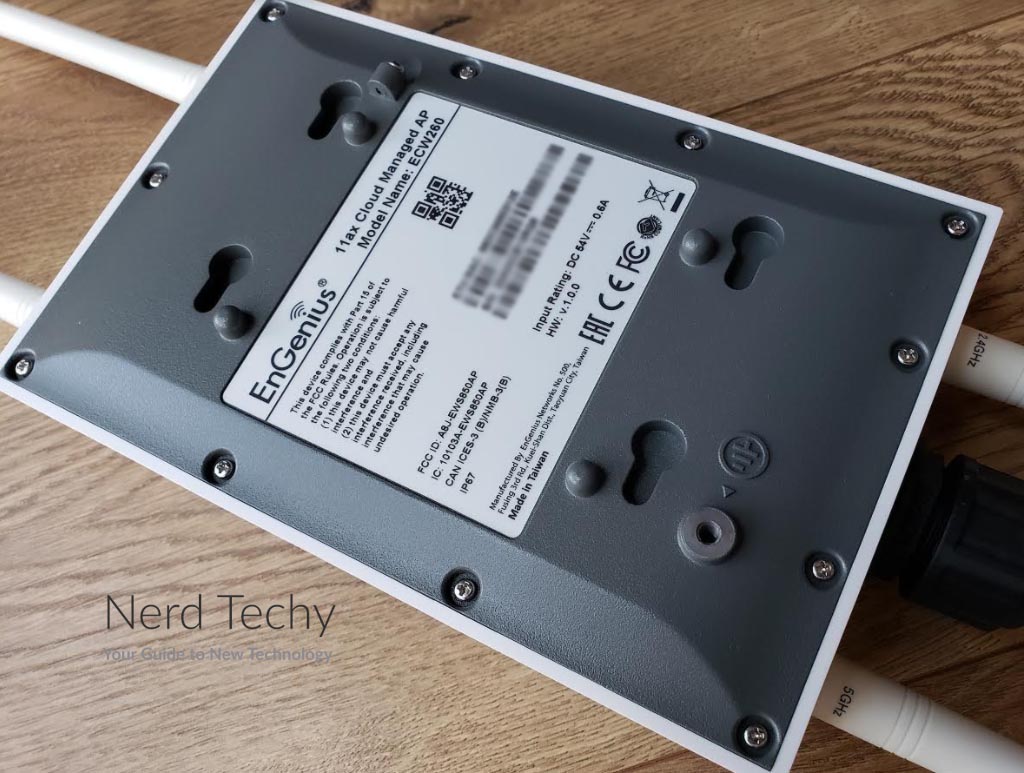 Final Verdict
The EnGenius ECW260 Outdoor Access Point is effective and easy to use. It takes just a few minutes to install, and it also comes with a powerful app. This makes it suitable for novices and power users alike. Moreover, it lives up to its promise, with excellent water and dust resistance. It could have offered more bandwidth, and gamers in particular might want more. That said, it's still well within the normal range, particularly as an access point and not a router. Finally, the ECW260 is very efficient at allocating bandwidth and switching between connections. If you have a lot of smart home devices, you'll appreciate this feature.