The Nintendo Switch is one of the best-selling consoles of all time, and for good reason; it's incredibly innovative! The main conceit of the Switch is that it can be used either as a handheld gaming device or as a traditional console. You can play it in handheld mode with the Joy-Con controllers on the sides of a 720p display. Alternatively, you can pop it into the dock and enjoy full 1080p video on a full-sized TV. And, with the exception of a handful of motion control games, you can play the entire Switch library in both modes. This makes the Switch a worthy successor to the Wii, which was itself one of the most innovative consoles ever.
Of course, a handheld game system is only as useful as it is portable. If your Switch breaks while you're traveling, the only game you'll be playing is called "filing a warranty claim." Thankfully, there are many ways to keep your Switch safe while you're on the road. In the past, we've reviewed dockable Switch cases. These are solid, form-fitting sleeves that are slim enough to fit inside the Switch dock. Today, we're going to be going a step further. We're about to review three of the most durable Nintendo Switch cases available on the market today.
Note: At no extra cost to you, we may earn a commission for purchases using our links. Learn more.
We'll kick off our list with the Pelican Vault V300. This is a heavy-duty pistol case that can also be used for the Nintendo Switch. Next, we'll review the Nanuk 920. This is a flat case that's available in several different colors. Last of all, we'll look at the MEIJIA Portable Waterproof Case. This is a fat, sturdy case that's designed to take a beating. But which one of these choices is the best? To find out, we'll need to take a closer look at each of their features, benefits, and drawbacks. After we've gotten a clearer picture, we'll be well-positioned to render our final verdict. Let's begin!
What to Look For in a Custom-Fit Waterproof Case
So, what should we be looking for when we choose a waterproof case for a Nintendo Switch? The first thing to discuss is what we mean by the term "custom-fit." Didn't we just say one of these is a pistol case? Yes, we did. But in this context, custom-fit doesn't mean custom-fitted to the Nintendo Switch. It means a fit that's customizable. This is common not just for firearms cases, but also for electronics.
Here's how it typically works. The inside of a case is more or less entirely occupied by foam. You then use a razor knife to cut out a cavity for whatever you're carrying. In this case, you cut out a hole the size of the Nintendo Switch. This type of design gives you some degree of flexibility, since all these cases are actually oversized for the Switch. You can carry just the Switch and Joy-Cons, along with a heavier load of padding. Conversely, you can cut out additional cavities for accessories like a Pro Controller, power adapter, and more. This means less padding, but you can carry proportionately more gear.
Another thing to look for is a sturdy shell. Even the best padding isn't going to do much for you if the shell itself is fragile. Look for a durable polymer or polypropylene if at all possible. Rounded or sloped edges are also something you should look out for For one thing, sharp edges and corners can jab or poke you. More pertinently, they represent a weak point in the design. If the case is dropped on a sharp edge, it will easily crack. On the other hand, a rounded or sloped edge will distribute the impact over a larger surface area. This results in less shock to the case, and less risk of damage to your Switch.
Finally, let's talk about waterproofing. There's a standard for electronics called the IP standard. Essentially, items receive a rating of IPX4, IPX5, IPX6, and so on. The higher the number, the greater the water resistance. The gold standard for electronics is IPX7. IPX8 is an optional standard which goes even further, but is less common. With all of that being said, this standard is mostly used for electronics. As a result, many waterproof case manufacturers don't supply a specific rating. This makes it tough to say exactly how waterproof the cases are without extensive testing. But unless you want to take your Nintendo Switch scuba diving, that shouldn't be much of a concern.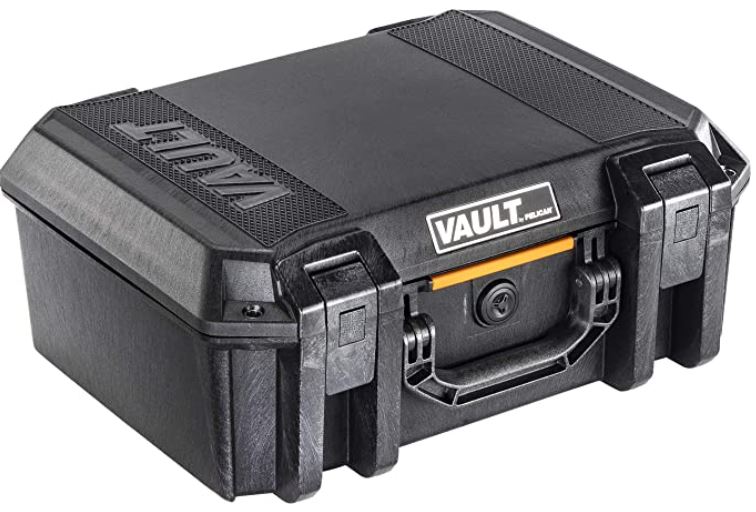 Pelican Vault V300
Pelican is a manufacturer we've looked at in the past. Not too long ago, we reviewed their waterproof laptop case, and we liked the design. The Pelican Vault V300 takes the same approach to quality, with a high-impact polymer shell. It can take a serious beating, and will even survive falling out of a moving vehicle. This is thanks in large part to the angular, tank-like design and sloped lid edges. The lid itself snaps shut with heavy-duty stainless steel hasps. These are invisible when the box is closed, hidden beneath polymer covers that allow for an easy grip. They also feature an easy-to-use push button release, so the case can be opened in a snap.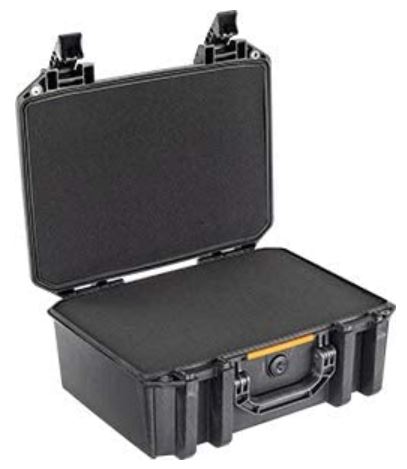 The overall dimensions of the Vault V300 are 17.54 inches wide, 14.21 deep, and 7.16 inches thick. On the inside, the usable space is a bit smaller, at 16 inches wide, 11 deep, and 6.5 thick. This is significantly larger than the Switch, which measures 9.4 inches wide, 4 inches deep, and 0.55 thick. This includes the size of the Joy-Cons, so the Switch itself will only occupy just over half of the space. The rest will be available for accessories. Otherwise, you can leave the maximum amount of foam intact, increasing your durability.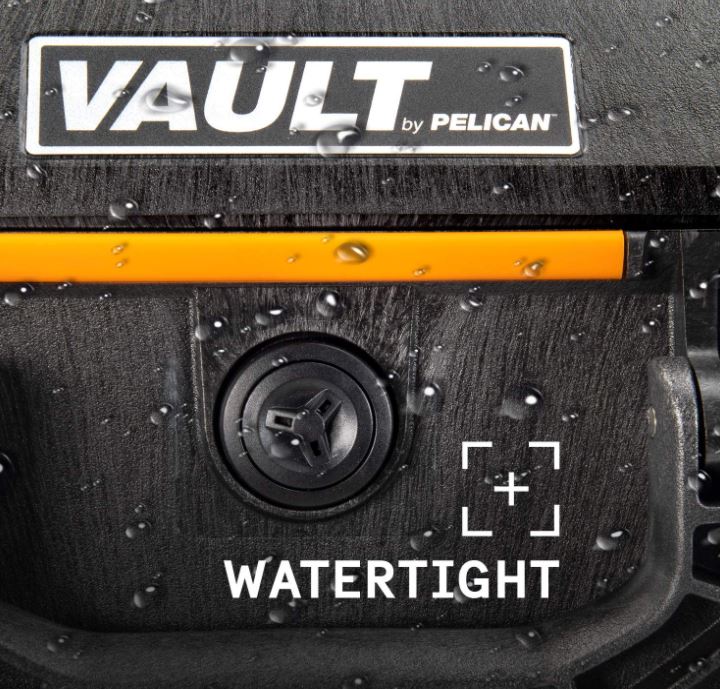 The case weighs 6.69 pounds empty. Even with the Switch inside, it will weigh just over 7 ½ pounds. We suppose if you jammed it full of accessories, it could exceed eight pounds. Still, you're not looking at anything too heavy to carry around. The folding handle is bare plastic, but it's serviceable. It's certainly all you need for toting around a case of this size. As for air travel, you're well covered. The two front corners have 5/16-inch grommet holes for inserting padlocks. Toss in a pair of TSA-approved locks, and you're good to go.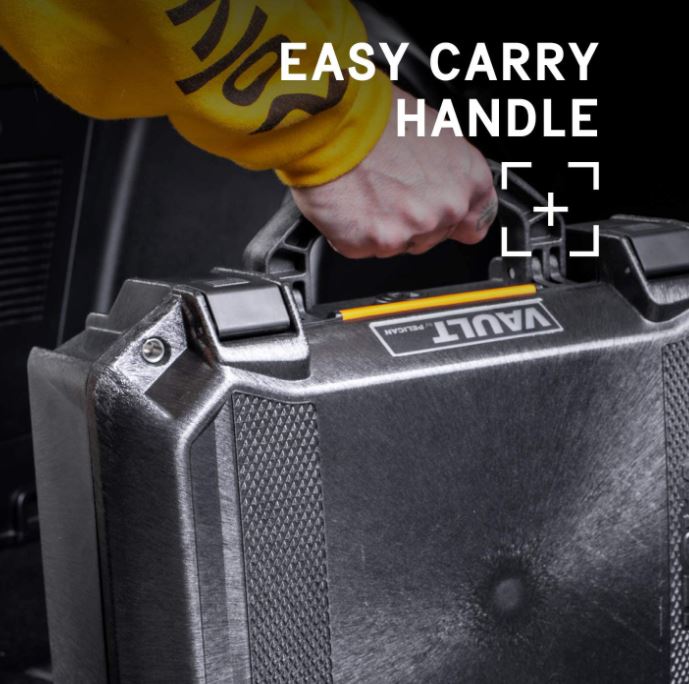 The Vault V300 is weather-resistant. As is expected in this industry, Pelican doesn't say exactly how weather-resistant. It can certainly withstand intense rain, and it will float in water. Unless you were to forcibly hold it underwater, there's no reason you'd have to worry about submersion. You'll also notice that there's a small valve under the opening. This is a one-way pressure relief valve, which will release air in low-pressure situations. This keeps the otherwise-airtight case from being damaged due to high relative pressure.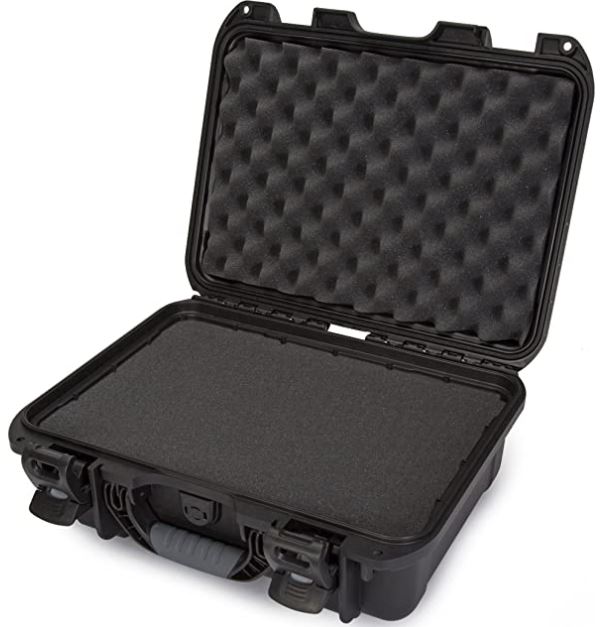 Nanuk 920
The Nanuk 920 Waterproof Hard Case is a sleek, rounded case that's constructed from NK-7 resin. This is an exceptionally rugged resin, and can withstand more abuse than almost any other hard case out there. It's also easy on the eyes. In addition to black, it's available in seven other colors, including blue red, yellow, charcoal grey, and olive green. Opening and closing the latches is easy. Instead of a push-button design, they feature a hinged design with a sliding locking mechanism. Basically, you can open and close them with just your thumb. When they're closed, the lever action of the hinge keeps them shut securely. Nanuk calls this a "powerclaw." We call it a highly effective closure.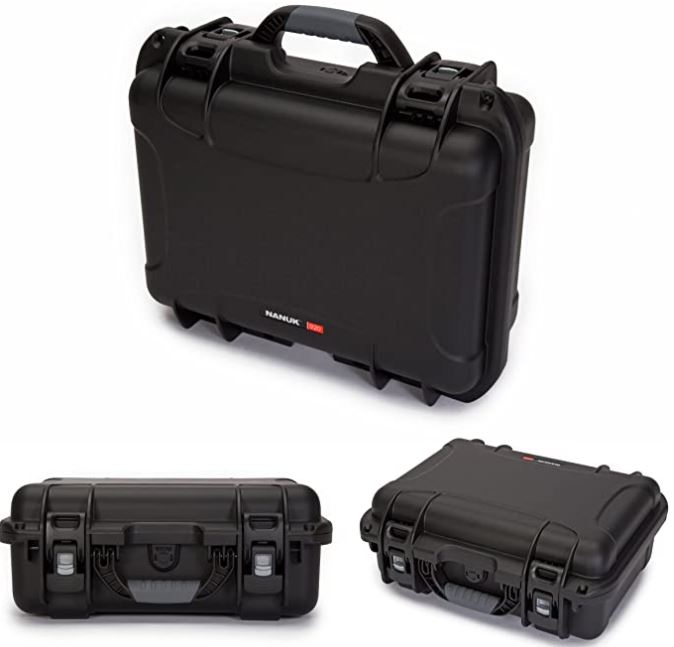 The 920 is ever so slightly smaller than the Vault V300. It measures 16.7 inches wide, 13.4 deep, and 6.8 thick. This slightly smaller size extends to the interior dimensions as well. Inside, the housing measures 15 inches wide, 10.5 deep, and 6.2 inches thick. This is still more than large enough to accommodate a Switch and a Pro Controller, with room to spare. Weight is a non-issue with the 920. At 5.1 pounds empty, it comes in under six pounds even with the Switch inside.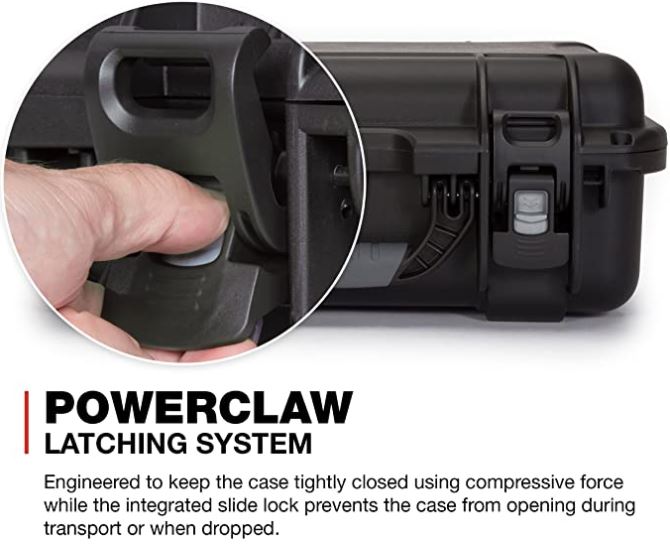 One feature we particularly appreciated was the design of the folding handle. Not only does it have an ergonomic grip, but there's also a set of stays on one side. These stays apply pressure to the side of the handle, holding it folded in place when it's not in use. Like the Vault V300, you'll also find a pair of padlock holes. These are bare resin, not grommeted. But given the strength of the resin, grommeting really shouldn't be necessary.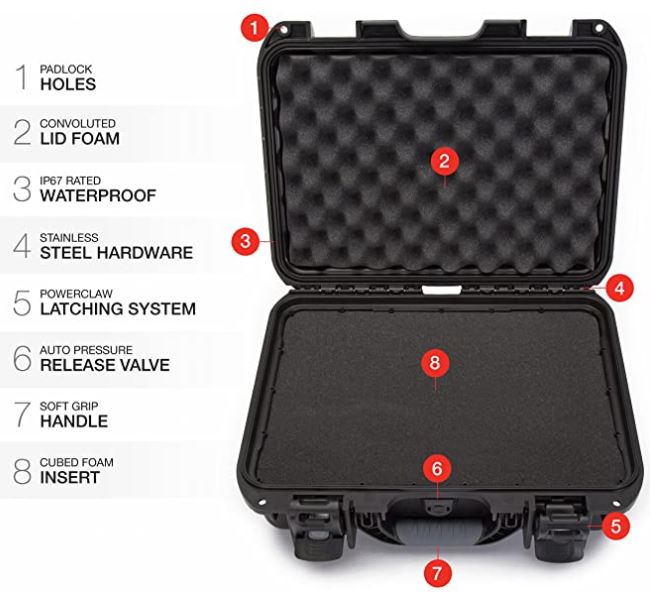 Another thing we liked was the design of the interior padding. This comes in not one, but four separate pieces. There's an eggshell pad on the top, along with a flat pad on the bottom. In between, you'll find two thick pieces of foam. These pieces are perforated in grids, so it's easy to cut out blocks if needed. You might not get a 100 percent perfect fit with this method, but it's easy, and you'll get pretty close.
Finally, the Nanuk 920 has an IP rating of IP67. This means it's been tested at a depth of one meter for at least 30 minutes. In addition, it floats, so submersion shouldn't be an issue to begin with. There's also a pressure valve on the front, which serves the same purpose as the one on the Pelican case.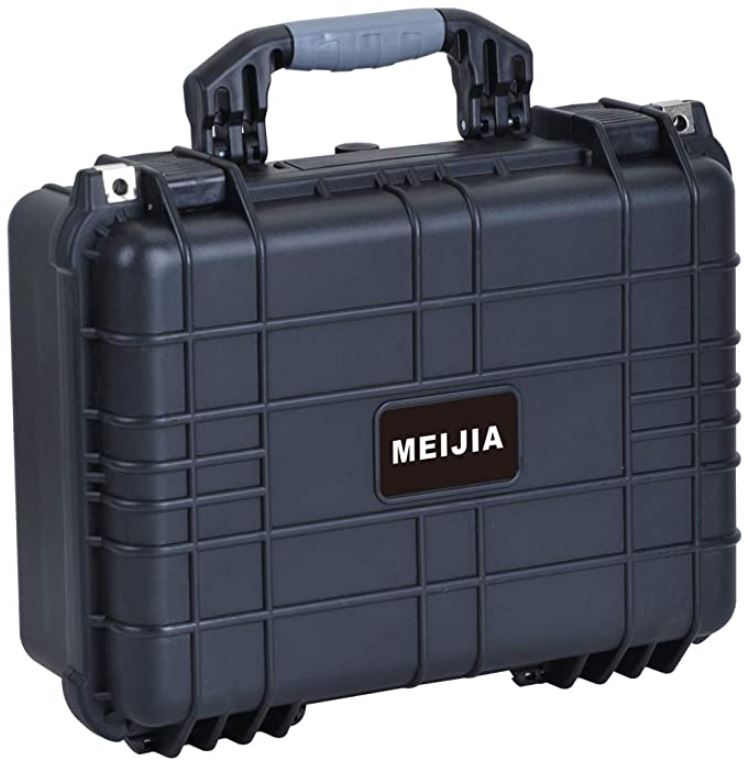 MEIJIA Portable Waterproof Case
The MEIJIA Portable Waterproof Case is the smallest of the bunch. At 15.98 inches wide, 12.99 deep, and 6.85 thick, it's relatively compact, at least within our size range. The inside dimensions are 14.62 inches wide, 10.18 deep, and 6 thick. This is still reasonably large, enough to accommodate a Switch and some accessories. Like the Nanuk 920, it has more than one layer of foam. In this case, there's an eggshell top piece, and two scored pieces. In practice, you'll want to leave one of these intact for the bottom of the case. Still, the extra pad gives you some leeway if you make a cutting error.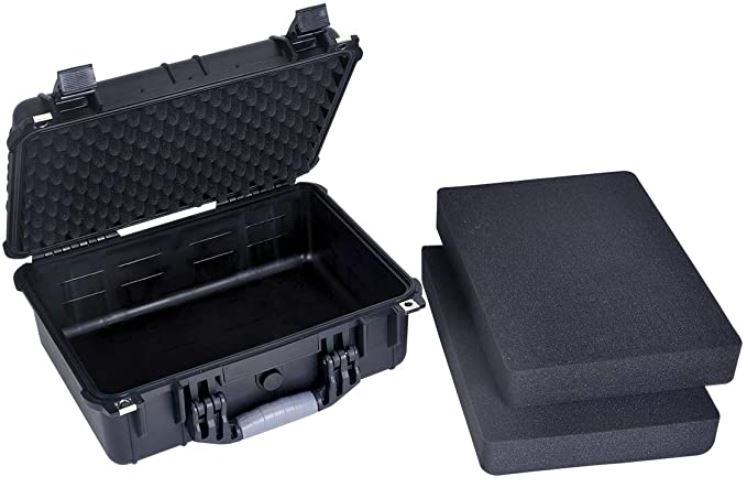 The outer shell is molded polypropylene. This isn't quite as tough as our previous options, but it's still well-engineered and crush-resistant. There are even reinforcing hashes on the lid to add some extra strength. Like the Pelican Vault V300, it's waterproof, but not with any specific rating. Still, it will keep your Switch dry under any realistic circumstances.
It also stays securely shut when it needs to. The handles are big and fat, and clip in tightly to the bottom half of the shell. The handle is big and rubbery and easy to grip. Finally, there's a pair of padlock holes. These are steel-grommeted, so you don't have to worry about damaging the plastic with a lock.
Final Verdict
So, which one of these custom-fit waterproof cases is right for you and your Switch? We started today by looking at the Pelican Vault V300. This is the largest of the three cases, with the biggest internal capacity. There's not a huge difference between any of the three, but there is some. If you want maximum capacity, this is where you'll find it. Otherwise, this case is a bit barebones. That's not necessarily a bad thing, if all you want is a case that's both large and tough.
The Nanuk 920 is an even more durable case that's made of NK-7 resin. The resin is available in six colors, and is virtually indestructible. The interior padding is easy to cut, and is scored in blocks for clean separation. Finally, you get a water-resistance rating of IP67, which means it's submersion-proof.
The MEIJIA Portable Waterproof Case is more affordable than the last two. It's also less durable, constructed from polypropylene rather than resin or polymer. Still, it's pretty tough, and it's also waterproof. And with its compact form factor, it's perhaps the most convenient case for travelers.
Please consider sharing:
Note: At no extra cost to you, we may earn a commission for purchases using our links. Learn more.