As technology becomes increasingly compact and agile, we're not able to take it with us wherever we go. But where laptops are concerned, they're often not designed to withstand the environments we need them.
Just as we rely on cases to keep our phone safe, there are many laptop cases available to help them survive environments they weren't designed for. Your typical laptop sleeve or clip-on enclosure is good for most users, but if you're regularly venturing out into extreme environments you need something a little more rugged.
Note: At no extra cost to you, we may earn a commission for purchases using our links. Learn more.
We put some of the most popular cases to the test and found that two particular models really stood out from the crowd. These waterproof laptops cases are both designed for very different purposes, but will help you take your delicate technology places that would give the engineers a heart attack.
Pelican 1495 Black Computer Case
Having been in business for many years, Pelican cases are trusted by everyone from musicians to technicians who need a safe way to transport expensive equipment in an industrial environment. Their cases use high density, patented materials that can withstand extreme bumps and scratches, keeping your computer protected when it's most needed.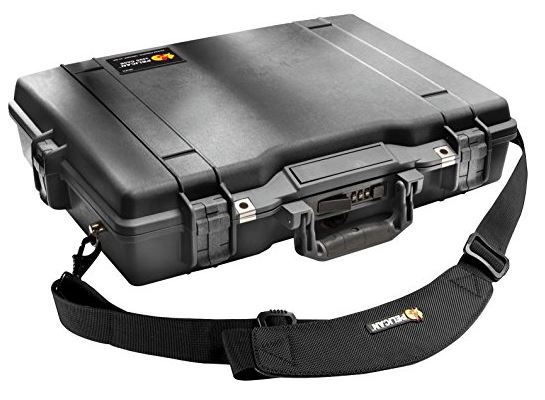 First Look
The Pelican 1495 is a briefcase style laptop case that can support any computer up to 17" in size. It's got four plastic latches (two on the front and one on each side) plus a code lock in the middle. This case is waterproof, crushproof, and dustproof.
Unlike the standard pelican cases, there are a number of design elements and features that make it better suited for laptop use than standard cases. It doesn't come cheap, but this is the most durable laptop case that money can buy.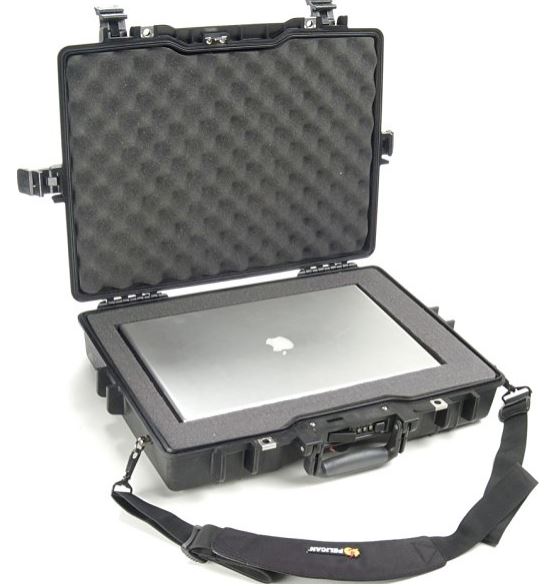 Look and Feel
The matte black plastic the Pelican case is made out of has a very rugged and utilitarian appearance. The feel of the material is very smooth, and slightly textured. There are several ridges along the face that show you where the structural reinforcement is located. Although the case is almost entirely plastic, there is metal reinforcement on every part of the locking mechanisms, and the handle is rubberized to enable you to get a firmer grip.
The best indicator of the quality of these cases is the double throw latches. The part that actually locks is actuated on a very short pivot. You curl your finger under the base, and slowly rotate it up to open. This acts as a lever. Once you reach about the half way mark, you feel a solid click as the latch pops off the locking mechanism. This same lever allows you to put a lot of extra force when closing, securely sealing off the outside of the case.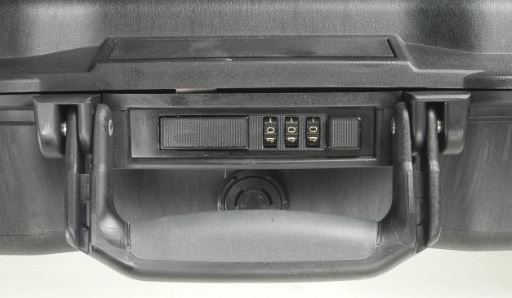 Layout
Upon opening up the Pelican 1495, you'll find that the inside is lined with a high-density foam. This is similar to the memory foam used in mattresses, but much less compressible. The purpose of this foam is to brace your laptop for impact and absorb any of the shock. Direct from the factory, there is nothing but a foam pad inside. But if you look carefully, you'll see that they foam has been chopped into a little grid. You can tear the foam apart along any of the grid lines, creating a cutout that fits your laptop exactly. Getting the grid to fit tightly around your laptop is important to properly absorb the most shock possible.
There is three layers of this foam. The bottom layer of this foam can be torn with a different arrangement. Pelican includes a handy little accessory bag with their case. What we did was cut out the top layer of foam to fit our laptop. Below, we removed a smaller layer that fit the accessory bag. This allowed us to secure our charger, cables, and external mouse.
Although it takes a bit of work, we're big fans of this removable foam. This gives you the same tight fit as a case made for your specific model of laptop, but it's universal and works with any computer.
Since the case is large enough to fit a 17" laptop, if you have a smaller model there is additional room. For example, with a 13" installed, you'd have extra space for a mouse or external hard drive.
Durability
This is one of the areas where the pelican case really excels. These very same cases are used by the military to store weapons. Pelican cases are available that are fireproof, waterproof, and even dust proof. One of the reasons they are so durable is the manufacturing process. Instead of injection molded plastic, they used pressed plastic. This reduces the temperature they need to heat the plastic to in order to mound it, increasing the internal integrity.
We tried all of the typical tests to see how this case held up. We threw it down the stairs, dropped it on hard concrete, and submerged it under water. Beyond a little mild scuffing, there was very little damage sustained to the case, and absolutely none to our laptop.
Upon closer inspection, we found out what makes the pelican case so waterproof. There is a very large (half inch diameter) rubber ring that runs all through the top case. When you close the case, you're crushing the ring against a hard-black plastic band. This creates the airtight seal that doesn't let anything past. Because the ring is so thick, you're able to take this case much deeper (or to much higher altitudes, in the case of flying) than your typical waterproof objects.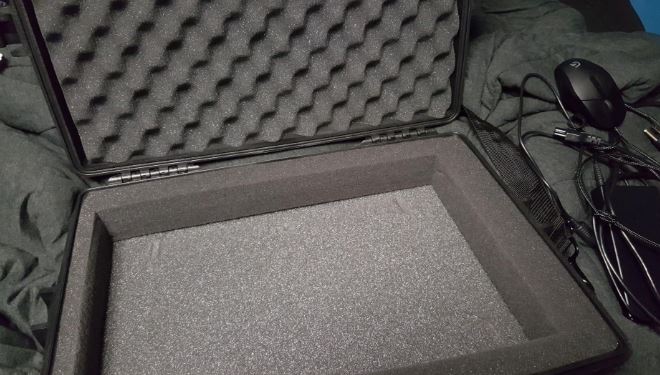 Extra Features
There are a few nice touches on this case that are very nice to have. The main thing we were happy to see was the pressure equalization valve. Because the case is air tight, it maintains whatever air pressure is around when you close the case. If you were to travel from LA to New York, the change in air pressure would be so great that it would create a vacuum. This can make it extremely hard to open the case. To correct this issue, there is a pressure equalization valve on the front of the case. Just turn the locking ring and push the button in, and the pressure will equalize. This allows the Pelican case to have a totally air tight seal, while still allowing you to open it after air travel.
Another handy feature is the metal locking rings. These rings are located on either side of the handle. They are aluminum plates with holes through them. Even though you've got the three digit code on the front that can secure your case, these rings can be used along with a lock to secure your case. Anything from a padlock to a Bluetooth Lock can be used, providing additional security beyond what's built into the case.
Aqua Quest Storm Laptop Case
Aqua Quest is a company that makes everything from float bags to backpack guards. Their products are heavily used on the west coast, where a humid environment is a part of everyday life. Whether you're working with a rainy day or the stormy seas, their unique waterproofing system is ahead of most other solutions on the market, making the choice easy for consumers.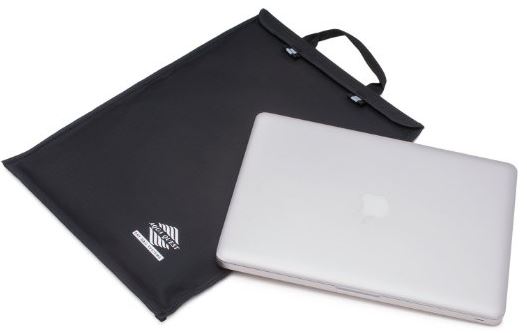 First Look
The Aqua Quest Storm is a waterproof bag designed for those of you who need to have your laptop with you in an environment where exposure to liquid is common. It's available in four different sizes, each one designed for a specific size of laptop. Made from a completely waterproof material, this soft case is the easiest way to waterproof your technology without adding additional size and weight to your laptop.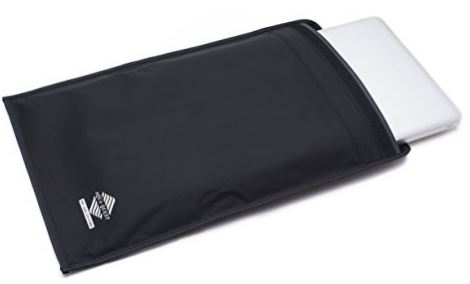 Look and Feel
The Aqua Quest Storm Case is available in two colors, red or black. It's got a very smooth, textured feel to it much like what you'd find on a weatherproof jacket. It's a soft case, so when it's not in use you'll have no problem rolling it up and storing it away for future use. This makes it ideal for backpackers who require a high level of durability with the smallest amount of additional weight. Weighing only a total of six ounces, it's unlikely that you'll even notice the additional weight.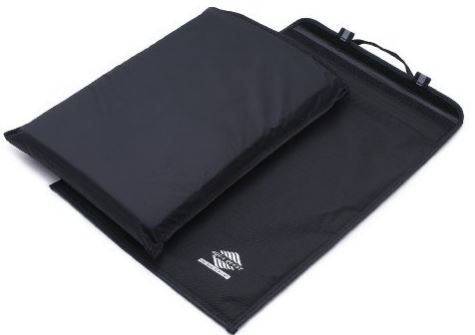 Layout
Three sides of this case (the sides and the bottom) are pressure and heat sealed, creating a totally weatherproof environment. The case opens from the top, acting like a pouch that is easy to slip your laptop into. There are two zippered areas on the top. Once acts as the primary seal, while the second is located slightly below the main seal, helping to keep the main flap folded over.
Like the Pelican case, this is not something that allows you to use the laptop with it installed. It's designed for use while in transport. The difference is that this one is extremely lightweight, making it ideal for use in areas where space is at a premium.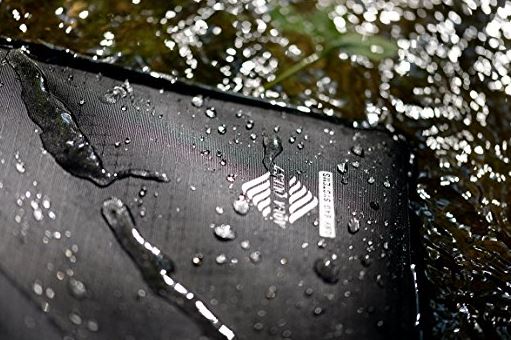 Durability
Waterproofing is the area where this sleeve really excels. We were able to keep our laptop fully submerged for an extended period of time, without even the slightest drop of water penetrating it. The inside compartment is slightly padded, much like your typical laptop sleeve. This is ideal for use in a backpack, messenger bag, or anywhere it might be exposed to the occasional bump or scratch.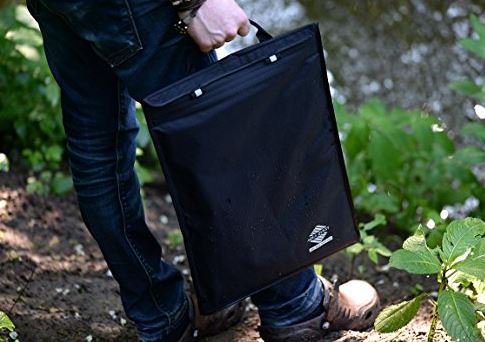 Extra Features
Although this case can easily be used in conjunction with a bag or messenger, it's easy to use on its own. There is a fabric handle stitched into the upper part of the pouch. This makes it easy to carry, but doesn't affect the durability at all. Even if the handle was to be torn off, the holes wouldn't create an opening in the main pouch. This allows it to keep its seal and allowing it to survive in aquatic conditions.
Which Rugged Waterproof Laptop Case is Right for Me?
How you choose to protect your laptop depends primarily on what you need to protect your laptop from. If you're looking for protection from both moisture and physical damage, the Pelican 1495 Laptop Case is the way to go. This case isn't just military grade, it's the exact same case used for military applications. Its unique design allows it to withstand excessive amounts of pressure, moisture, or any other environmental variable that could spell the end of your computer.
Although the Pelican case excels (in almost every way) from cases that we've reviewed in the past, it's excessive for almost every application. If your main goal is waterproofing, the Aqua Quest Storm provides you with everything you need. Cases of a similar design are commonly used as 'wet bags' in nautical industries. These bags keep first aid kits, keys, or other essential items save while out on the water. This case can protect your computer from all things water, whether it's an overturned boat or an unfortunate turn of the weather.
Not concerned about water? Keeping a case waterproof is an all or nothing job. The last thing that any of us want is for something that's sold as waterproof to fail, so manufacturers take great care to ensure their products are reliable. If you don't really need the waterproofing, you'll end up spending money on something unnecessary. For general day to day use, we generally recommend a protective, padded laptop sleeve to protect your investment against the bumps and scratches that occur in everyday life.
Please consider sharing:
Note: At no extra cost to you, we may earn a commission for purchases using our links. Learn more.