Laptops are an amazing piece of technology. With a laptop, you can take your entire work life wherever you want to go. However, their portability puts them at risk of being damaged while traveling. To help fight this, laptop owners should consider a waterproof laptop case.
These are the Top 5 Waterproof Laptop Cases:
As you can see, these cases are available in a ton of different sizes and styles. However, they all serve the same purpose of keeping your laptop safe from water, dust, and impact. To pick the best waterproof laptop case for your needs, there are a few different factors you may want to consider. Here is what you should pay attention to:
Durability and construction
Durability is arguably the most important feature of cases like this. You're putting technology inside of it that can cost thousands of dollars. With a case like this, you need it to stand up to whatever you throw at it, so having one made well from quality materials is a must. Additionally, pay attention to just how waterproof these cases are. Some may be just splashproof, while others can take on quite a bit of water.
Sizes
Laptops come in all different shapes, sizes, and designs. To make sure your laptop case works as best it can, you need to get one that's compatible with whatever size laptop you have. If you get one that's too small, it won't be able to fit, and it's pointless to have in the first place. If you get one that's too big, and you run the risk of your laptop bouncing around internally and breaking from all that movement. You want a case that has been designed to be compatible with the laptop size that you plan to use it with.
Portability
Portability is important because these cases have the main purpose of keeping your laptop safe, especially while on the go. Some of them are going to be bulkier than others, which may or may not be an issue depending on your use case. Make sure that you know how much you're going to use this item while traveling, and pick the right one with the best portability features that you can find.
Extras
Just like most pieces of technology, there are extra features and things that set them apart from one another. When looking through the best choices, make sure to see if any have a specific extra feature that might be really useful for you and your plans for how you'll use a rugged, waterproof laptop case.
Best Overall: CASEMATIX Waterproof Laptop Hard Case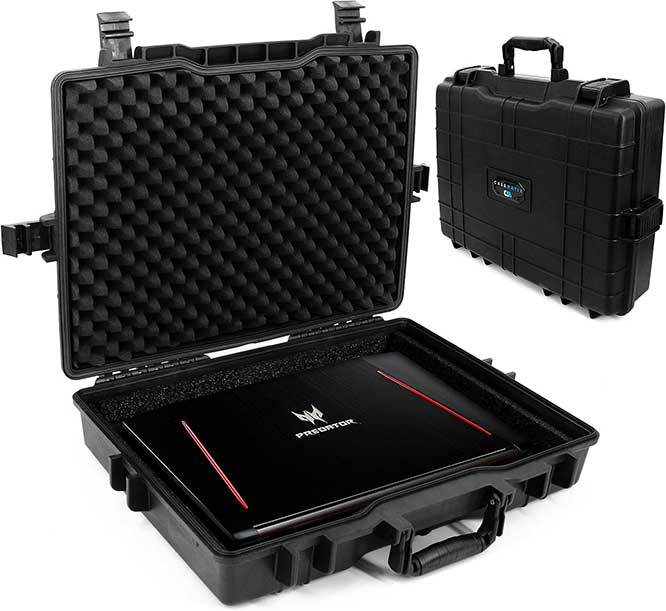 Key Features:
Hard polymer composite plastic construction
Holds 15 to 17-inch laptops
Foldable carry handle
If you want your laptop as safe as possible from impacts and water, then the best choice is the CASEMATIX Waterproof Laptop Hard Case. This thing is built to be extremely durable. It's a hard shell case made entirely from a hard polymer composite plastic material. This ensures that no matter what, you're laptop won't be damaged from exterior factors. On the inside, there are also multiple layers of foam padding to further reduce the effects of any impact that may happen, as well as to keep your accessories from resting on your computer.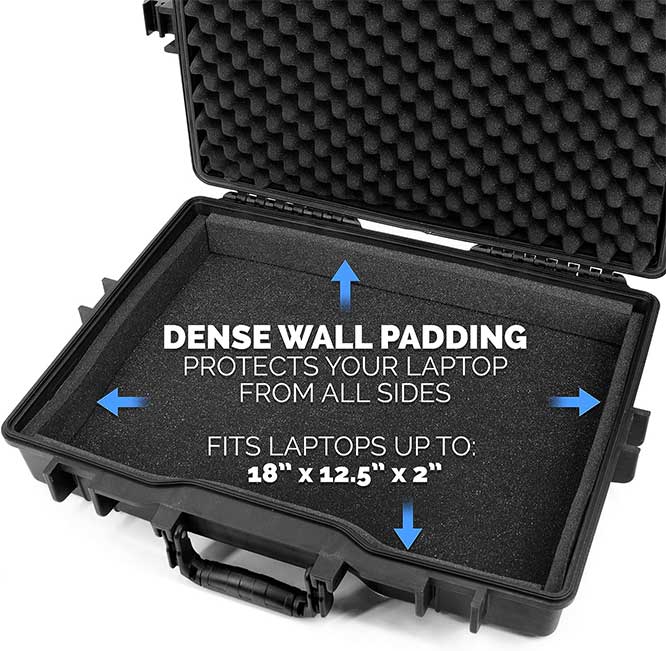 There is only one size for this case, which is compatible with laptops between 15 and 17 inches. The overall external dimensions of the case are 21 x 16 x 4 inches. Internally, it has dimensions of 18 x 12.5 x 3.25 inches. When used with the proper-sized laptop, you can easily fit extra cords, keyboards, a mouse, and more accessories without any issues.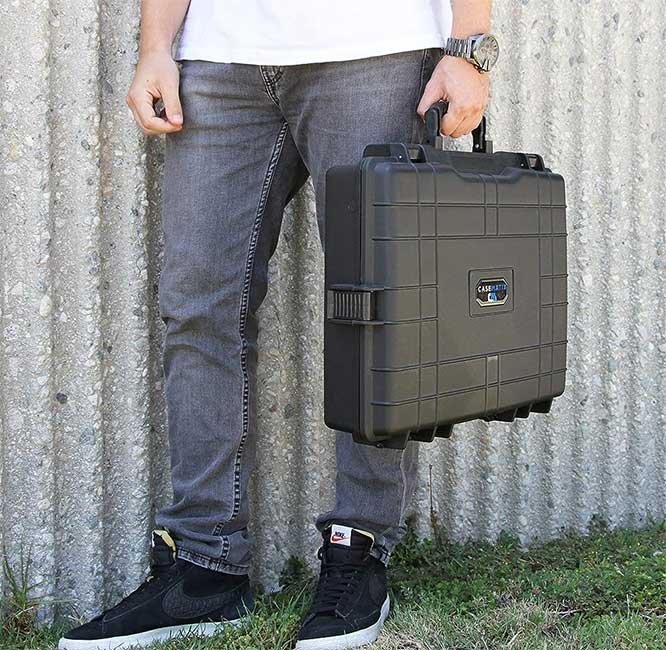 Even though this is a large case, it's still fairly portable. The main reason for this is the folding travel handle. It's designed to function just like a briefcase does, so carrying it by the handle is simple. When not in use, it will simply fold down and stay out of the way. The case itself is 8.5 pounds, with the weight increasing past that when you add in your laptop and accessories.

One great additional feature of this case is the latching system. The latches are super heavy-duty and do a great job of keeping the case sealed and waterproof. When you need to open it, simply pop them up, and you can get your computer out. Overall, if you want to be sure your case is safe, go with the CASEMATIX.
Pros:
Ultra-durable construction
Holds laptops and accessories
Foldable handle for easier portability
Cons:
When you put your computer and accessories, it may start to get heavier than you'd like for taking on the go everywhere
Best Runner-Up: Eylar Standard 16″ Waterproof Hard Case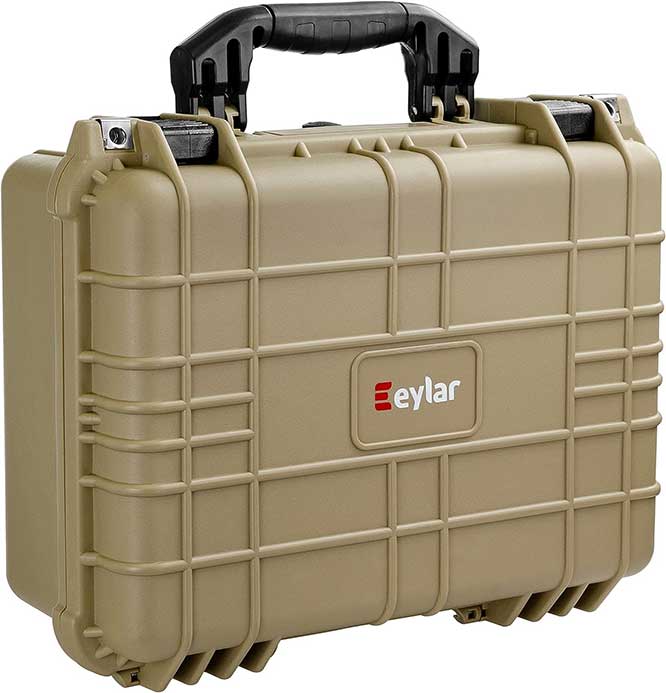 Key Features:
IP67 waterproof rating
One size available
Easy to carry with you on the go
A great runner-up choice is the Eylar Standard 16″ Waterproof Hard Case. This case is extremely solid, and it's made from a durable polypropylene plastic material. It's also dustproof and waterproof, featuring a rating of IP67 due to its rubber seal along the edges inside. Internally, there are three different foam layers that are used to keep your laptop safe from impacts while on the go.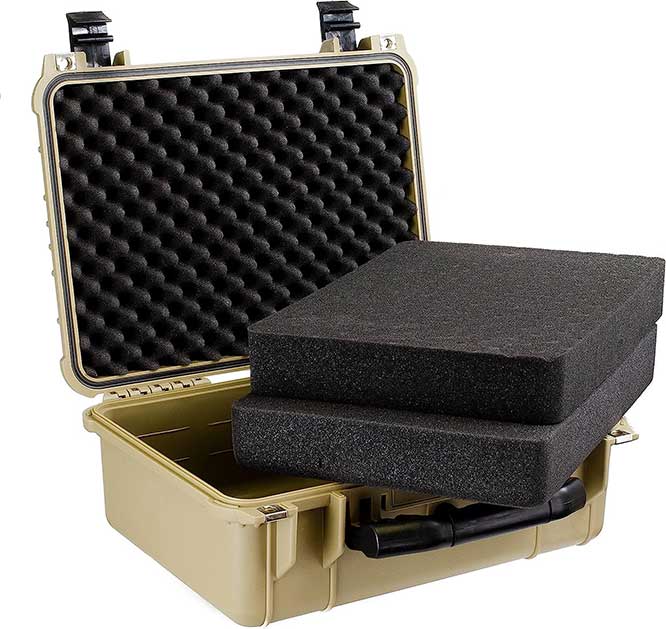 There is only one size available for this case. However, this size can be somewhat customized. The external dimensions are 16 x 13 x 6.87 inches, and internally they're 14.62 x 10.18 x 6 inches. At maximum, the Eylar can handle a 16-inch laptop. The customization piece comes in with the foam layers. The middle layer is made with a pull-and-pluck design. This means you can take out as much or as little foam as you want to in order to make it perfectly fit any laptop up to 16 inches.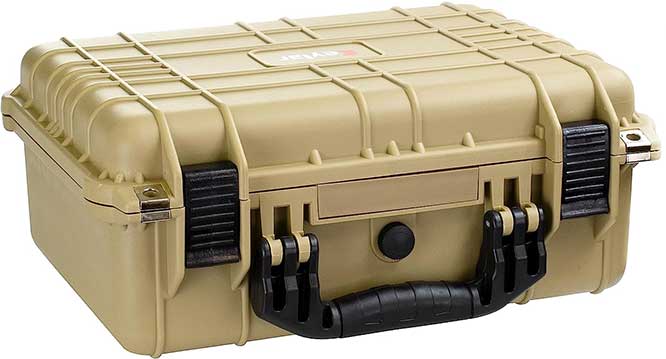 Similar to the CASEMATIX, this case is designed to be portable. The top has a foldable handle that makes picking it up and taking it with you a simple process. It also cuts down on case weight, coming in at only 5.6 pounds which makes it that much easier to take with you wherever you go.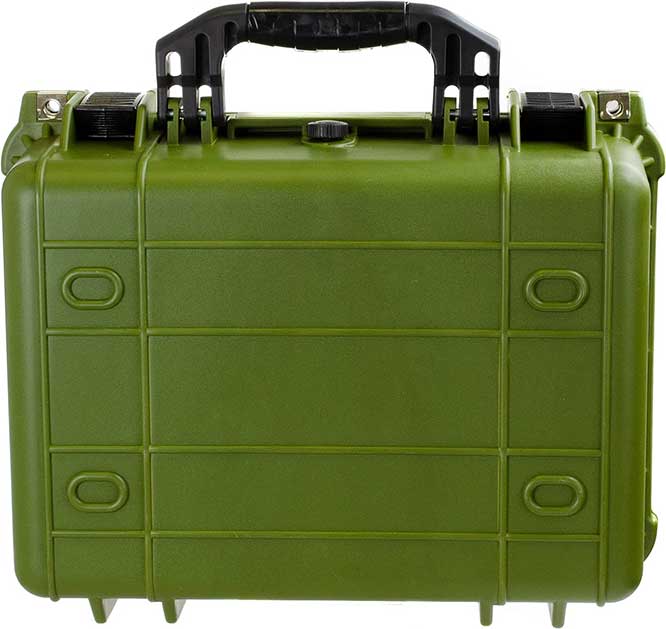 The main extra feature this case has is its color options. You can get it in 6 different colors, including tan, black, gray, green, white, and yellow. This means no matter if you want it to stand out or stay discreet, there will be a durable, waterproof, dustproof laptop case for you from Eylar.
Pros:
Six color choices
Customizable internal size
Durable exterior shell
Cons:
The bottom layer isn't removable and is a bit bulky
Best Slim Design: Pelican Laptop Case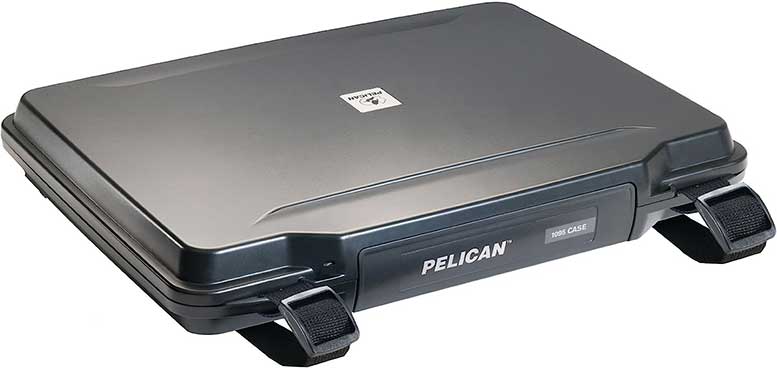 Key Features:
Waterproof, crushproof, and dustproof molded plastic construction
Four sizes available
Super slim design
For those looking for a super slim laptop case, the one from Pelican will do the trick. This case is extremely durable, as it can keep your laptop safe with it's waterproof, crushproof, and dustproof construction. Internally it also has a plush shock-absorbing liner to protect from impacts. Along with the liner, it has customizable foam to make it fit exactly the shape of whatever laptop you have.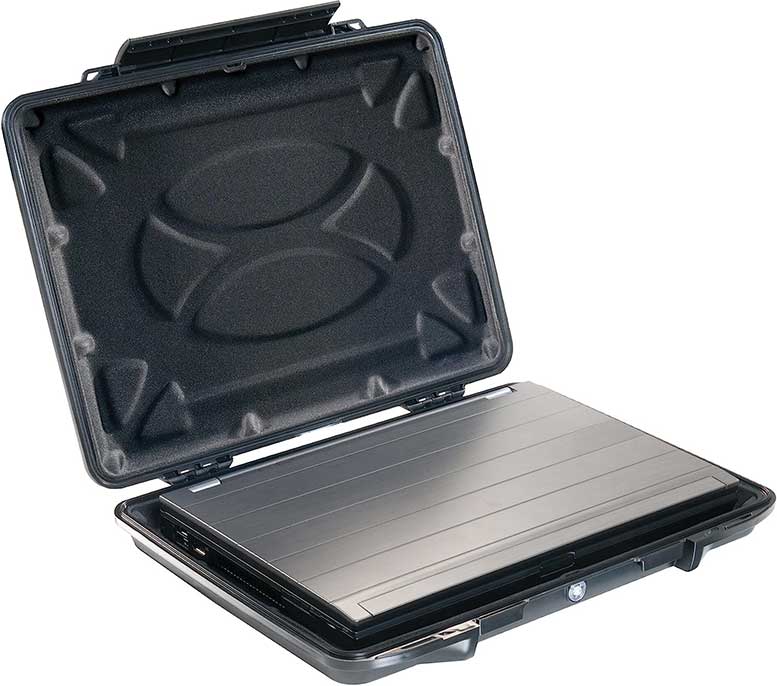 As for sizes, there are four different options to choose from. The smallest is the 1075 case, which can hold laptops up to 10.1 inches. The next is the 1085, which can hold laptops up to 14 inches. The third is the 1095CC, which can hold 15-inch laptops. Finally, the fourth can hold up to 17-inch laptops. This should give you plenty of coverage no matter what size laptop you have. Additionally, due to the custom foam inside, you can buy a case that is bigger than your laptop and still have it work with whatever you have.
Portability is a key feature of this case. Since it's designed to be so tough yet so slim, it's perfect for taking with you anywhere. To help accommodate this, Pelican has included a removable shoulder strap. This strap attaches to both ends of the case and can be worn on your shoulder to make carrying it simple. When not in use, simply unclip it and store it somewhere.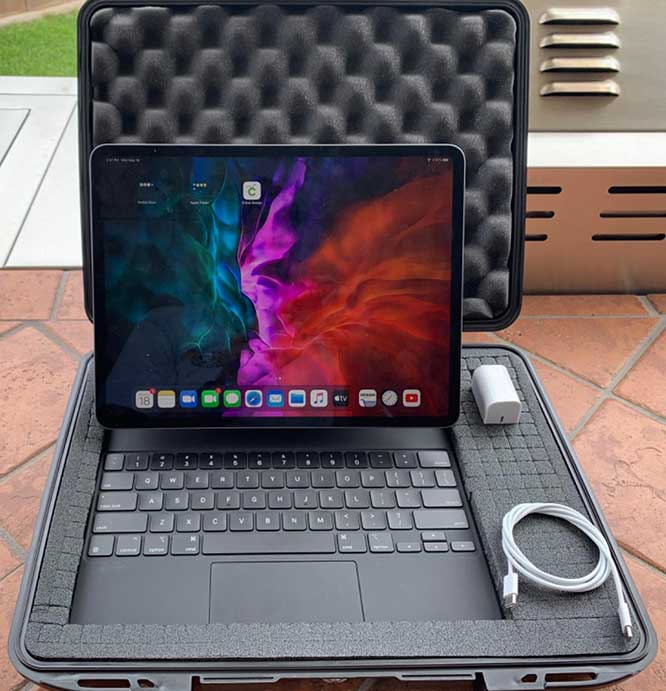 One great extra feature relates to the waterproof capabilities of the Pelican laptop case. While it does use a rubber seal like many others do, it also has another trick it can do. There's a built-in pressure equalization valve in the case itself, which automatically triggers if it's submerged. This keeps the water from rushing into the case no matter what happens.
Pros:
Pressure equalization valve
Four different sizes that can each be customized
Extremely durable yet slim
Cons:
Little room for additional accessories if you need them
Best Sleeve: AquaQuest Storm Laptop Sleeve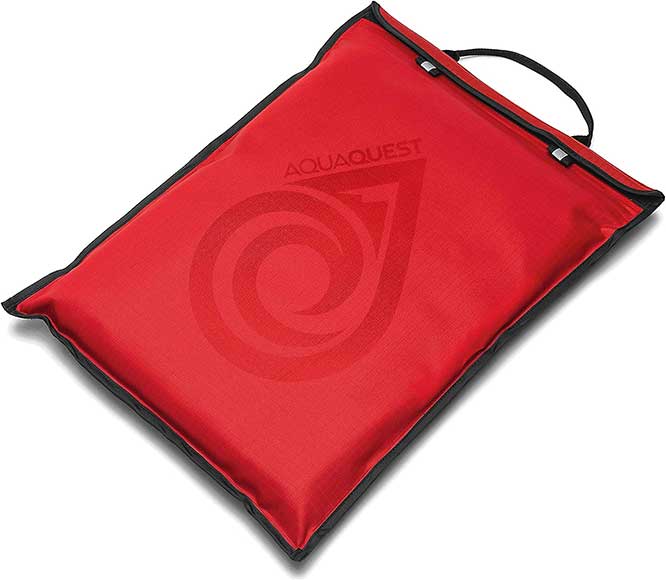 Key Features:
Nylon and neoprene sleeve
Four sizes available
Compact and easy to carry
If you want to go to a sleeve-style case, the AquaQuest Storm is the way to go. Rather than being a big, bulky plastic case, this sleeve is made from nylon and neoprene to provide great water protection. There is also an internal neoprene sleeve that helps eliminate damage from impacts. While it won't be as effective as a hard plastic case from impact damage, it should still protect it from common everyday perils.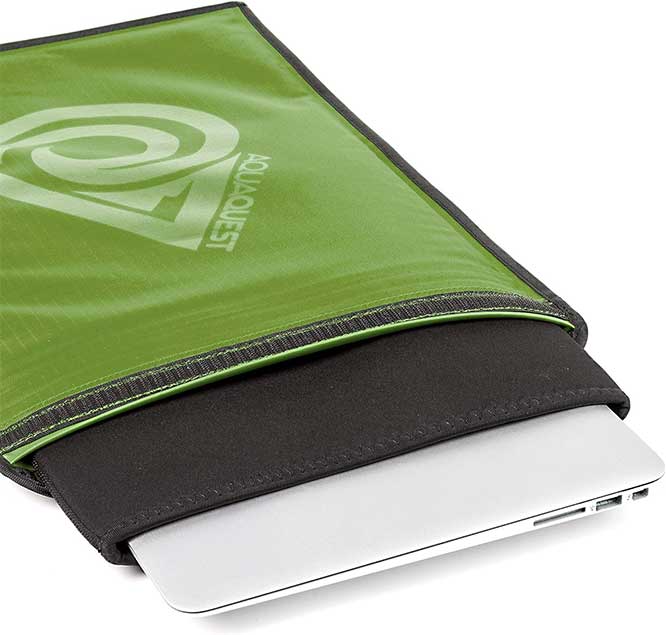 There are four different sizes available for this laptop sleeve. They include 11-inch, 13-inch, 15-inch, and 17-inch. This gives you a wide variety to choose from depending on which laptop you plan to put inside of it. You can also get a sleeve that is a size bigger than your computer if you need room for additional accessories, but you do run the risk of impact damage if you do so.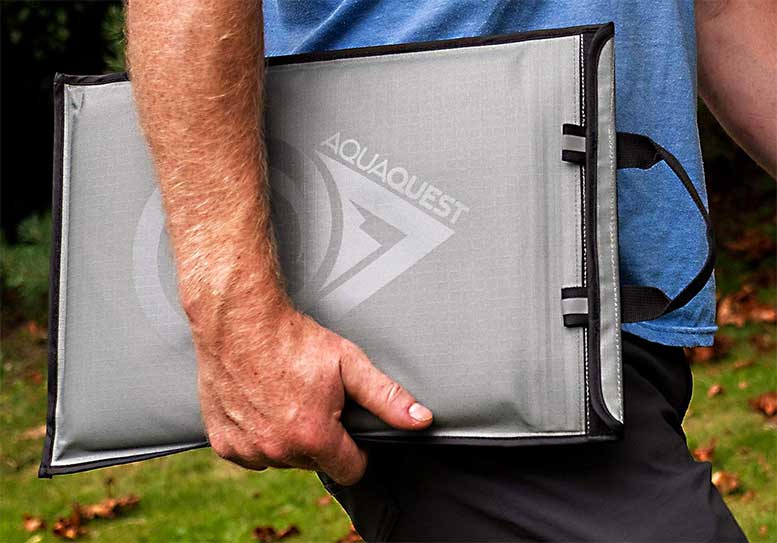 As for portability, this case is a good option. It's extremely lightweight and easy to take with you in normal day-to-day places. It has an included carrying handle on the top, which can make it even more easily portable. However, since it isn't super impact-resistant, we wouldn't suggest taking it anywhere that you run the risk of serious damage from dropping it or banging it against things.
The best extra that this case has to offer is the color options. You can choose between six options, including black, blue, camo, green, red, and grey. Each lets you keep your laptop safe and secure from water and light impacts while looking great too.
Pros:
Multiple colors and sizes to choose from
Extremely waterproof design
Lightweight and easy to take with you on the go
Cons:
It isn't very impact-resistant, so be careful with it still
Best Backpack: Breakwater Supply 100% Waterproof Submersible Backpack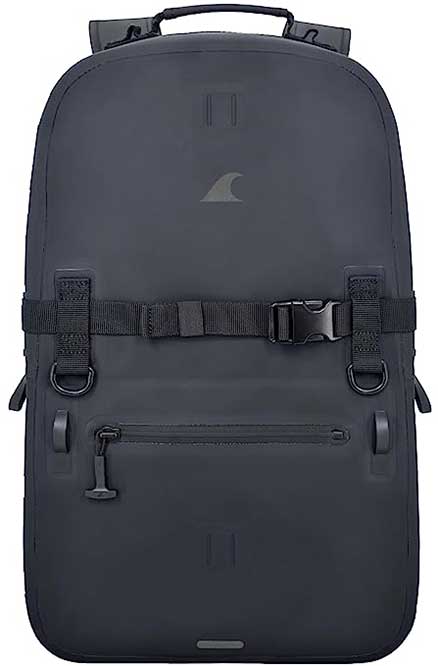 Key Features:
Waterproof submersible construction
Three sizes to choose from
Easy to carry backpack design
If you want the ultimate laptop backpack for waterproof needs, then the options from Breakwater Supply are worth considering. This backpack is 100% waterproof and is even able to be submerged underwater without having water getting in and ruining your laptop and accessories. It's made from a virtually indestructible Hydrowall TPU material, along with multiple waterproof, airtight chambers internally. There are welded seams, waterproof straps, and non-corrosive hardware used throughout to further improve its durability.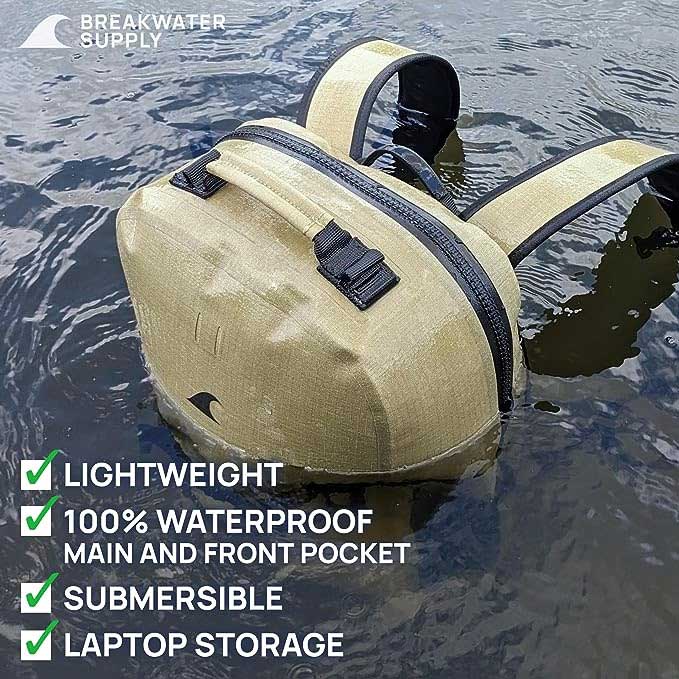 As for sizes, you have three options to choose from. The first is the 25l, which can hold a laptop up to 16 inches. The second is the 20l, which can hold up to 14-inch laptops. Finally, the third is the 15l which can hold a standard-sized laptop. Basically, no matter what size laptop you have, you should be able to find a backpack option that fits your computer.
Portability is one of the main selling points of a backpack like this. It's super lightweight and easy to take with you for a day in the woods or wherever you have to go with your laptop. The back features multiple customizable straps, so it can be extremely comfortable to carry with you all day long.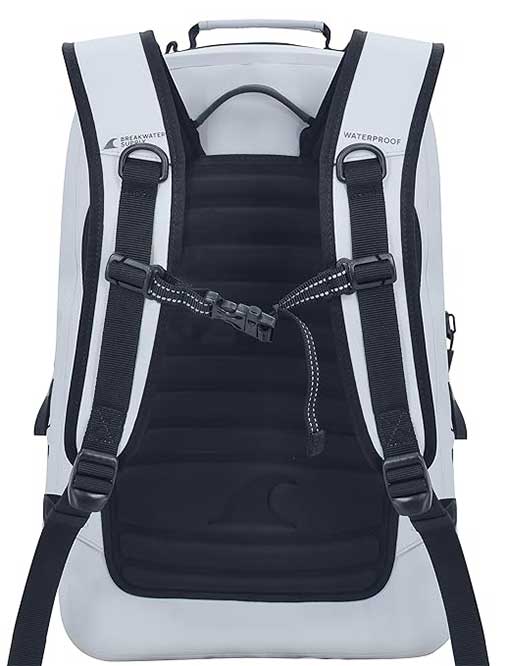 There are a few different color options for this laptop backpack. You can pick between black, white, tan, and green. One thing to note is that not all colors are available in all sizes, so you'll be limited depending on your size needs. Overall, this is an amazingly waterproof backpack for your laptop.
Pros:
Extremely portable design
Incredibly waterproof due to multiple features
Three different sizes are available
Cons: