Overall design -

9/10

Battery life -

9.5/10

Ease of installation -

9/10

Integration & compatibility -

9/10
Summary
The SwitchBot Curtain 3 totally changes the game in the smart home world, blending cool tech with simple design. It really shows how SwitchBot is all about taking everyday home stuff and giving it a high-tech twist. And hey, those add-ons like the Solar Panel and Bluetooth Remote? They just prove that SwitchBot wants everyone to get in on the smart home action but in a green way. Whether you're new to this techy world or you've been around the block, the Curtain 3 has some features that'll make you want to add it to your space.
Pros
Quick plug-and-play installation
Eight-month battery life potential
Quiet operation below 25 dB
Supports up to 33-pound curtains
Cons
Hub sold separately
Must ensure correct model before purchase
SwitchBot is a leading name in the smart home domain. It's got an ever-growing global footprint and is renowned for its innovative smart home devices. Their reputation for providing consumers with devices that are simple to install, irrespective of their tech-savviness, remains unchallenged. Continuing the legacy of its previous versions, the company has launched the SwitchBot Curtain 3, and here's our take on it.
First Impressions
Right off the bat, you'll notice the sleek and minimalist design and finish. Crafted from white ABS and PC plastic, it's not just another pretty face. This housing is built to be resilient – boasting UV and fire-resistant properties and carrying a V-0 rating. This assures users of its safety standards. Now, size does matter, especially when you're fitting smart devices into your home. It scores high on compactness, with its main body measuring a neat 1.7 x 2 x 6.8 inches.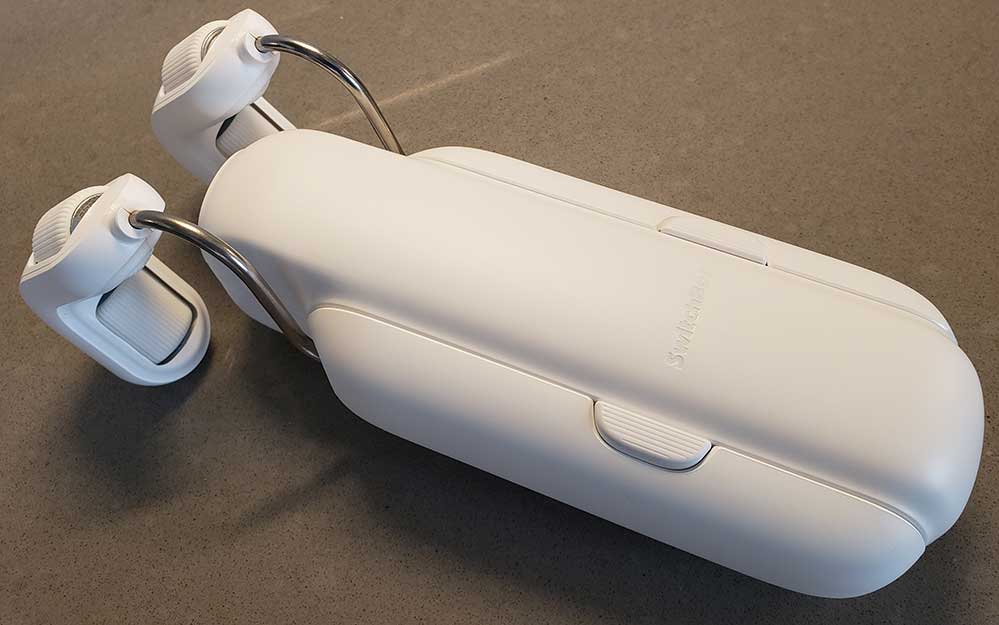 Surprisingly, for a device packed with such robust features, it weighs just 9.9 ounces. For power users, its USB-C input allows for a quick and efficient charge. Speaking of which, it's impressive to note that once powered, this device can run for approximately eight months. And remember, with the optional solar panel (which we'll discuss momentarily), the battery life can theoretically be unlimited. Connectivity is a breeze with Bluetooth 5.0, ensuring a smooth link-up with your devices.
And let's not forget the meaty stuff – its performance. Laboratory tests reveal this wonder can support curtains weighing up to a whopping 33 pounds. And it can accommodate curtain lengths up to 9.8 feet. Such strength in such a compact body is truly noteworthy. Planning and scheduling? It's got you covered. Within its dedicated app, you can set up to five schedules a day. But if you pair it up with the SwitchBot Hub (which is sold separately), your scheduling options become unlimited.
For those who've embraced the smart home ecosystem, Curtain 3 shines with its Cloud Support. Whether you're an Amazon Alexa fan, a Google Assistant user, or even a devotee of Siri Shortcuts, SmartThings, or IFTTT, this device smoothly integrates into your setup. Lastly, while it's a one-size-fits-all world out there, Curtain 3 begs to differ. It has compatible versions tailored for different needs, be it rod and rail, U-rail, or I-rail. Just ensure you check the version before clicking that order button.
With that, let's take a quick look at what's included with the Curtain 3:
1x Curtain 3 Robot
1x Bead chain for grommet curtains
3x Curtain loop clips
1x each left & right hook pair
1x USB-A to USB-C charging cable
1x Reset tool
1x Positioning magnet for calibration
1x Cleaning wipe
1x User manual
The unboxing process is about what you'd expect it to be. You get the essentials in a blend of simplicity, functionality, and sophistication. Next up, let's dig into the rich features of this innovative device and its accessories.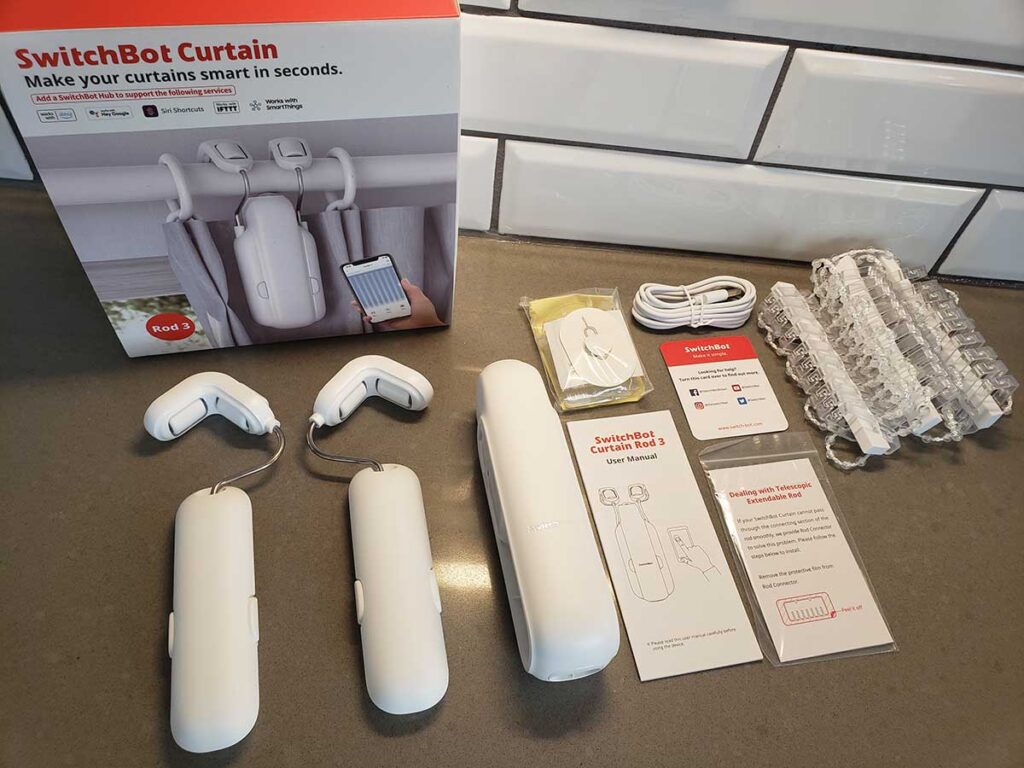 Features
So, you know how everyone's diving into this whole smart home thing these days? Well, SwitchBot Curtain 3 is totally rocking that scene by turning old-school curtain controls into something super fancy. It's like this perfect mix of a design that's easy on the eyes, has top-notch performance, and is able to fit in just about anywhere.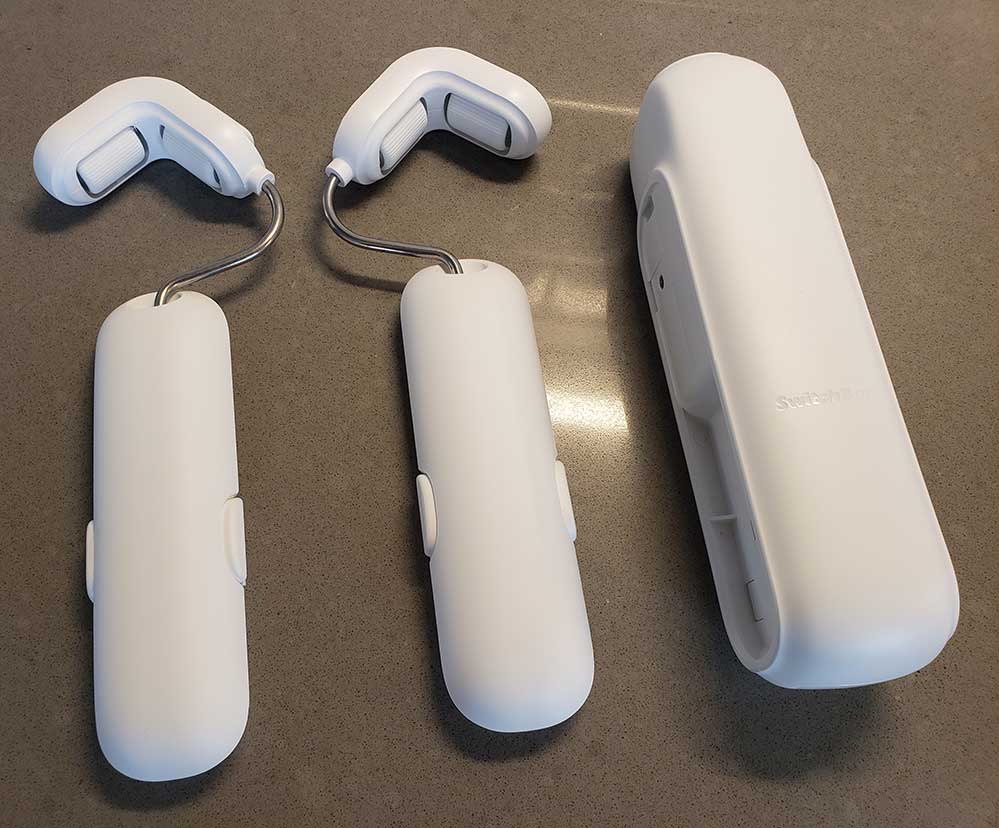 Easy Installation
First off, setting it up is a breeze. Remember the days of pulling your hair out over complicated setups? Those are long gone! One of the coolest things about Curtain 3 is you just plug it in, and you're all set. With the DynamiClamp technology, it seamlessly fits with almost all curtain track types. In mere seconds, your standard curtains are transformed into smart curtains without any fuss.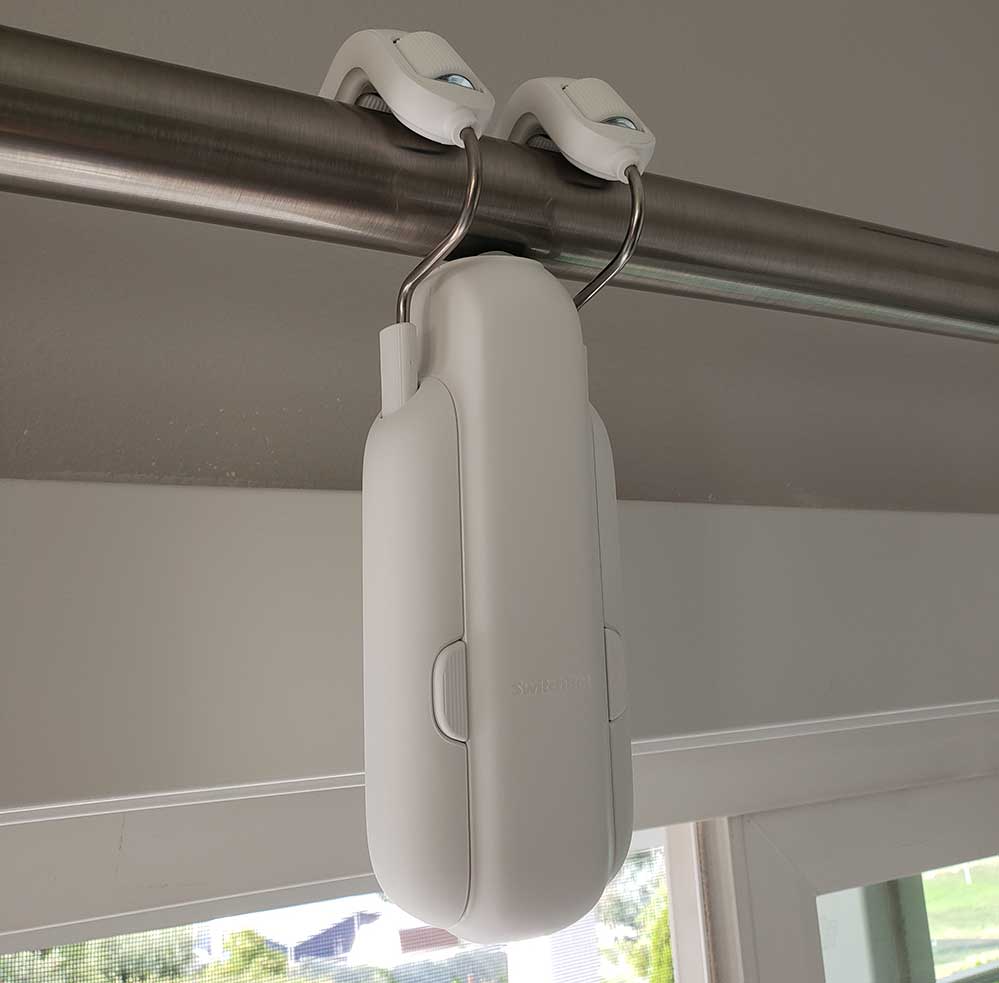 Quiet Operation
Nobody appreciates an interruption, especially when it's noise. The Curtain 3's QuietDrift mode ensures that the unit operates with utmost discretion, maintaining noise levels below 25 dB. Imagine the serene experience of being gently awakened by the subtle parting of curtains, revealing a sunlit room instead of a blaring alarm.
Efficient Power Management
The Curtain 3 has a solid 3350 mAh Lithium-ion battery. Under the right conditions, this can give you a battery life up to an impressive 8 months. That's quite a stretch. While actual battery longevity might differ based on various factors, the introduction of the SwitchBot Solar Panel 3 offers a sustainable energy source. This solar integration not only ensures continuous operation but also contributes to green living.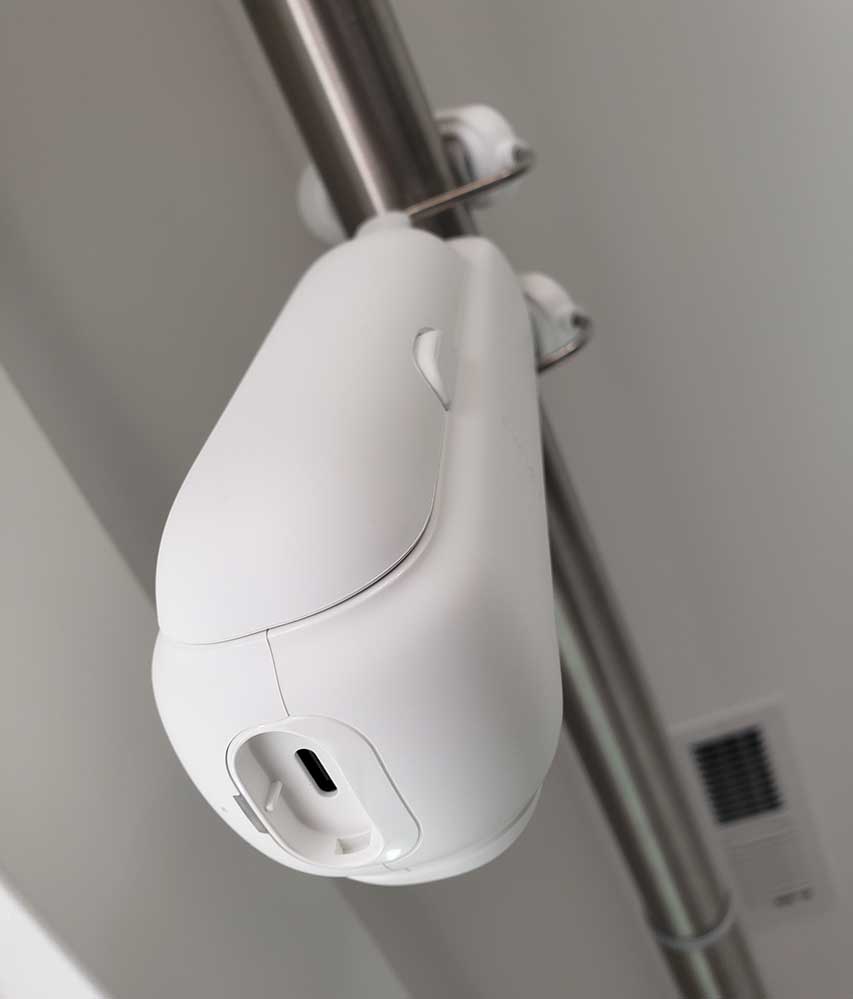 Versatile Controls
The Curtain 3 is crafted keeping in mind the varied preferences of its users. Whether you're a fan of voice control through platforms like Amazon Alexa and Google Assistant or prefer tactile controls like the SwitchBot Remote, this device has you covered. Innovative features such as sunrise and sunset modes, compatibility with Apple Watch, and light-sensor control further elevate the user experience.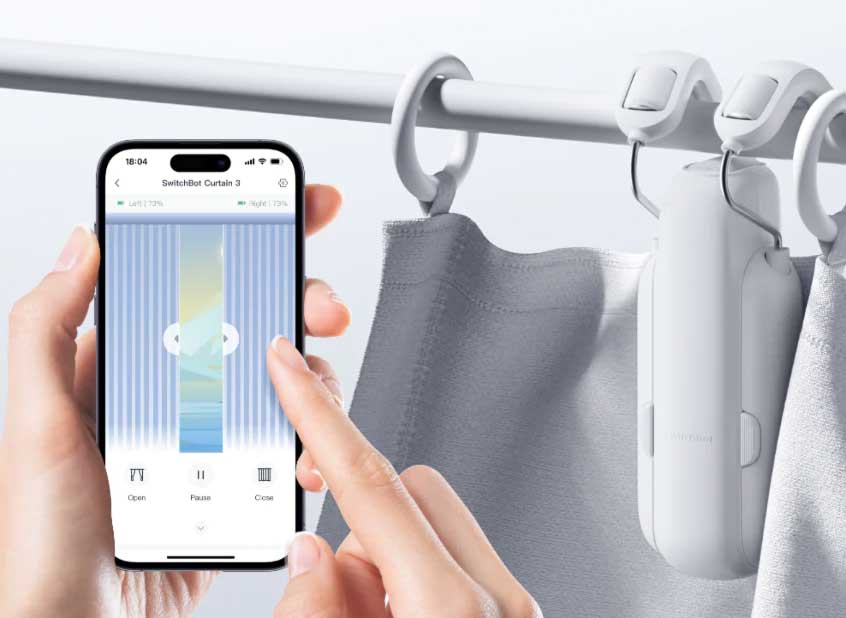 Scenes for Different Moods
Flexibility in operation is a key component of any smart device, and the Curtain 3 doesn't disappoint. Users can set unique scenes tailored to specific moments:
Morning Wake Up: A scheduled curtain opening at 8 am to welcome the day.
Good Night: A pre-determined setting to ensure the room is ready for bedtime.
Cool Down: A smart feature to ensure comfort by adjusting curtains based on room temperature.
Use code MQ10NERD when you purchase the SwitchBot Curtain 3 on Amazon or the official website for a 10% discount.
Robust Performance
Building upon the legacy of its predecessor, the Curtain 3's motor is a force to be reckoned with. Capable of managing curtains weighing up to 16 kg, its raw strength is undeniable. An anecdotal testament to its power came from an unexpected incident with its earlier version, spotlighting the device's unmatched torque.
The Curtain 3 is more than just a smart curtain controller; it's a testament to how technology can seamlessly blend into our daily lives, offering convenience, adaptability, and efficiency. Whether you're seeking noiseless operation, versatile controls, or powerful performance, the Curtain 3 promises and delivers on all fronts. It's not just about controlling curtains; it's about elevating the entire living experience.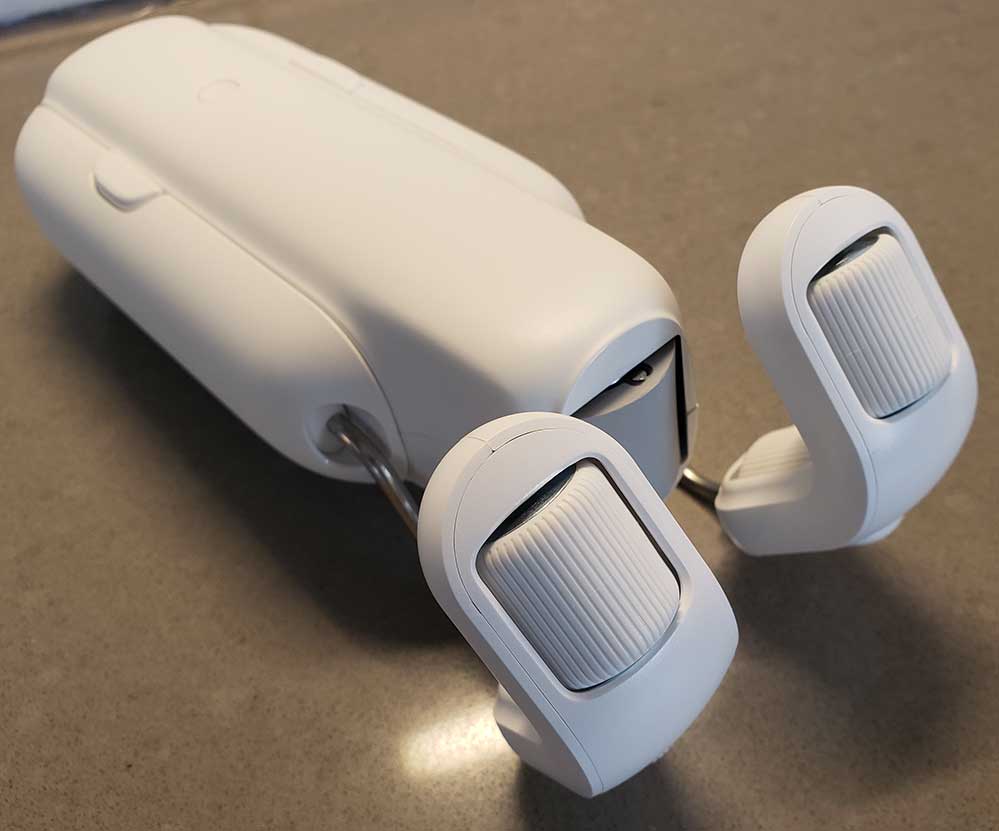 Bluetooth Remote and Solar Panel
In an era where smart home devices are gaining immense popularity, it's the accessories and peripherals that often augment their functionality and make them stand out. In the case of the Curtain 3, two such essential add-ons are the SwitchBot Solar Panel and the SwitchBot Remote. Let's take a closer look at these indispensable additions.
SwitchBot Solar Panel
The magic of Curtain 3 doesn't just stop at its advanced features and the seamless experience it offers. Enter the SwitchBot Solar Panel, an accessory that not only champions eco-friendliness but ensures your Curtain 3 never skips a beat. Designed specifically for the Curtain 3 with U/Rod/I models, this solar panel promises compatibility like no other. And if you're imagining a complex setup process, think again. The brand stays true to its plug-and-play philosophy here, as well.
Just plug the solar panel in, and you're all set to harness the sun's power, no complicated settings to wrestle with. Now, let's talk longevity. This isn't just any solar charger; once it's fully juiced up, your Curtain 3 is powered and ready to operate for a whopping 8 months. And while it's performing this marvel, it does so with elegance. Sporting a sleek design, the panel measures a compact 2.83 x 6.5 x 0.98 inches and weighs just about 5.6 ounces.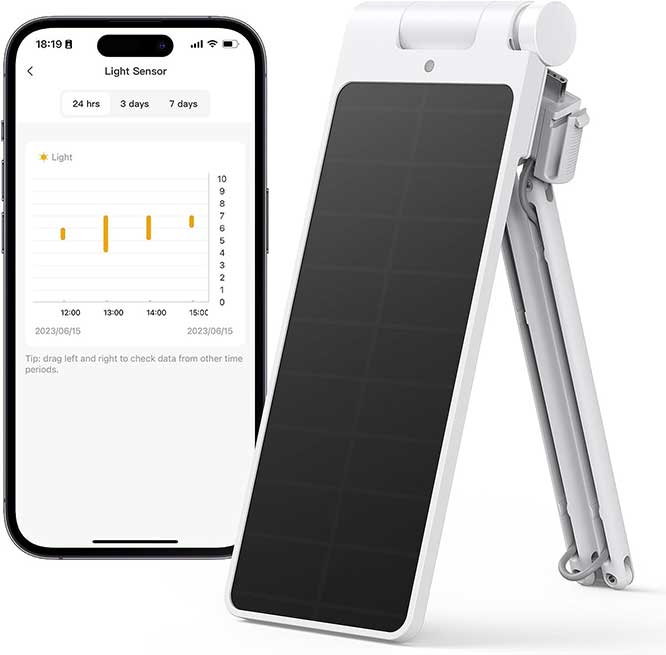 It's designed to be both subtle and stylish, ensuring it doesn't dominate your decor. Digging into the specifics, its model is the W3603400. The housing? It's a robust white ABS material treated with a UV-resistant coating, so you can be sure it's built to last under the sun's glare. The power cable is also worth mentioning. This USB-C cable, tailored with a clip connector, is perfect for a snug fit with the Curtain 3 robot. And the best part? All it asks for is a place under the direct sunlight. Once there, it can churn out an impressive 3.5v at 450mA. Worried about it withstanding the elements? Fear not.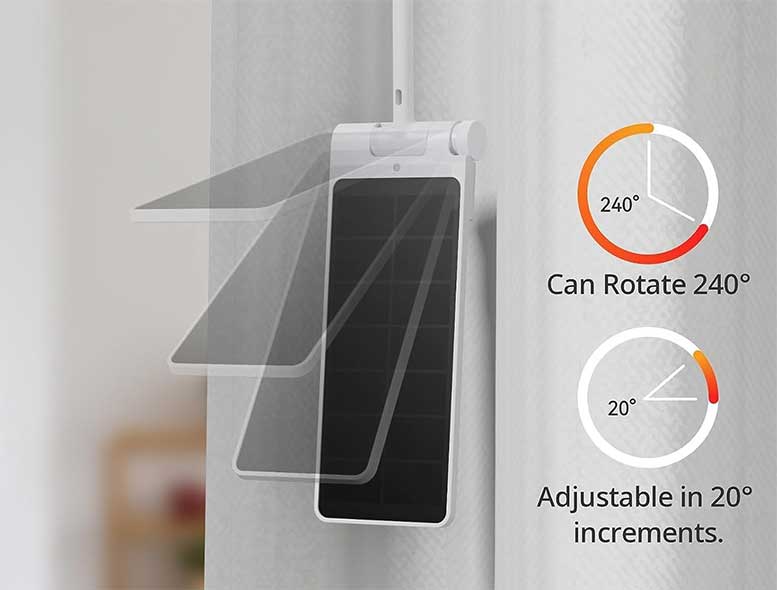 Whether you're in chilly winters hitting temperatures as low as -4°F or scorching summers reaching up to 140°F, this solar panel is up for the challenge. It even laughs in the face of humidity, functioning seamlessly anywhere between 10% and 90%. When you unbox this marvel, you'll find the main photovoltaic panel with its integrated charging arm ready to connect directly to the Curtain 3. And to ensure you get the best out of it, there's a comprehensive user manual to guide you every step of the way.
SwitchBot Bluetooth Remote
While the very essence of smart home devices lies in their ability to be controlled remotely through smartphones or voice assistants, not everyone might find this mode of operation convenient or intuitive. This is especially true for households with children or elderly individuals who might not be as tech-savvy. Enter the SwitchBot Remote. This Bluetooth-powered device acts as a bridge between the advanced functionalities of the SwitchBot range and the traditional mode of operation that many are accustomed to.
With its compatibility spanning multiple SwitchBot devices, including the Curtain, Bot, Color Bulb, LED Strip Light, and Blind Tilt, its versatility is undeniable. The design of the SwitchBot Remote is intuitive, requiring just a tap of a button to control the connected devices. So, whether it's young kids who are intrigued by the magical movement of curtains or grandparents who'd rather not fiddle with smartphones, the remote offers a straightforward solution.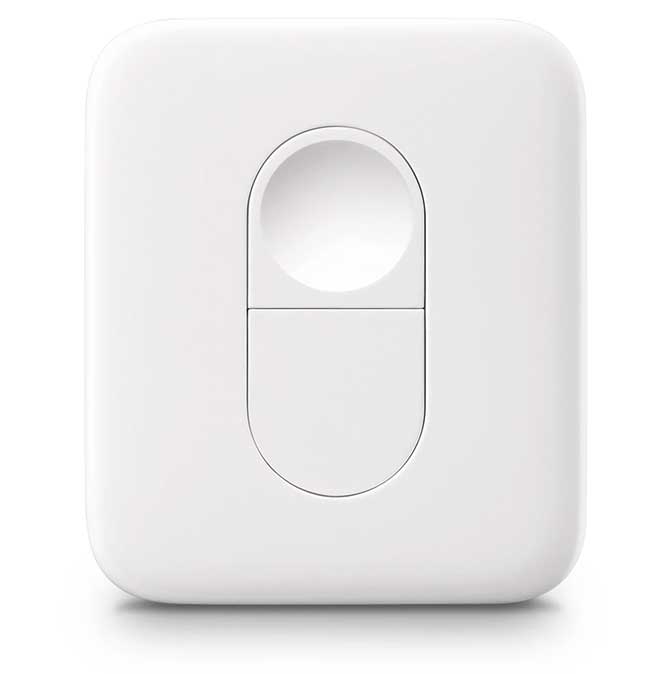 It empowers every member of the household to benefit from the advanced features of the Curtain 3 and other SwitchBot devices without the need for a steep learning curve. Moreover, while the Curtain 3 and its ilk offer an array of functionalities via digital platforms, the SwitchBot Remote (sold separately) ensures that the most basic and essential features are accessible to everyone at any time.
The synergy between a main device and its accessories can often define the overall user experience. With the Solar Panel and the Bluetooth Remote, SwitchBot not only augments the functionality of the Curtain 3 but also ensures inclusivity and sustainability. These additions epitomize the brand's vision of integrating cutting-edge technology with user-friendly design, ensuring that smart living is a reality for all.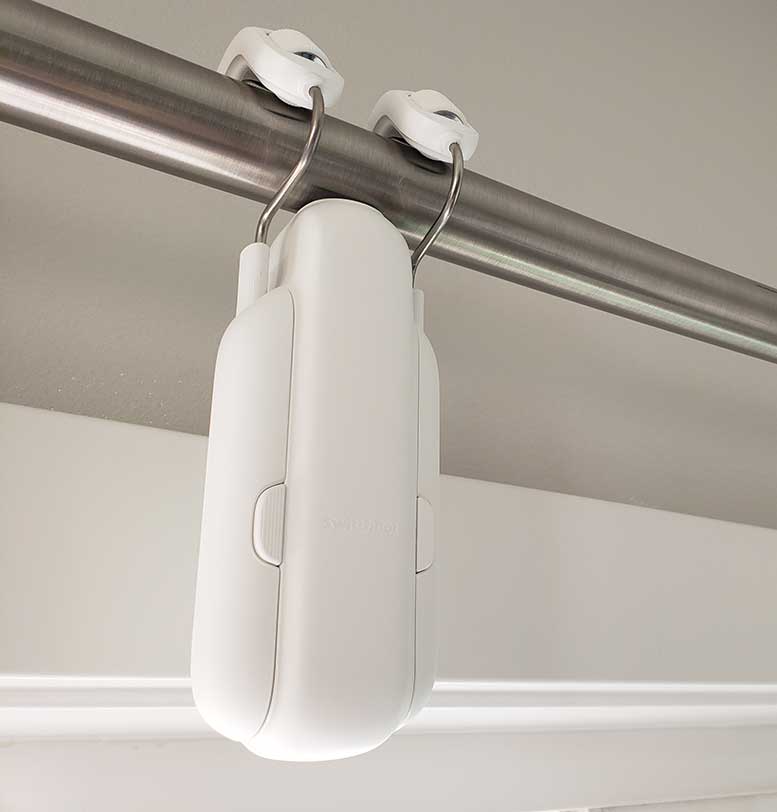 Final Verdict
The SwitchBot Curtain 3 totally changes the game in the smart home world, blending cool tech with simple design. It really shows how SwitchBot is all about taking everyday home stuff and giving it a high-tech twist. And hey, those add-ons like the Solar Panel and Bluetooth Remote? They just prove that SwitchBot wants everyone to get in on the smart home action but in a green way. Whether you're new to this techy world or you've been around the block, the Curtain 3 has some features that'll make you want to add it to your space.