Tribit StormBox Micro
Pros
Excellent audio and rich bass.
Extreme levels of water-resistance.
Travel-friendly design with durable mounting strap.
Can pair two Speakers for stereo use.
Cons
Stereo use requires pairing every time the speakers are turned on.
Relatively short battery life.
If you want to listen to music with more than one person, you used to need a clunky device, like a boombox. If you don't know what that is, it's what people used for music before iPhone docks. But in all seriousness, digital media has allowed us to shrink our stereos significantly. No longer do you need to have space for one or two tape decks and a three-CD changer. You just need space for speakers and a way to plug in your phone or MP3 player. Alternatively, you can use a Bluetooth speaker and forego the need for wires and plugs altogether.
Nowadays, you can take a Bluetooth speaker to places you could only dream of taking an old boombox. Want to go mountain biking? You can take your speaker. Want to have a poolside party? Many Bluetooth speakers are waterproof. Want something you can actually bring on an airplane? A Bluetooth speaker will fit in your luggage. Point being, there's a reason people are ditching their old docks and buying wireless speakers. But not all speakers are equally well-engineered. If you want to find one that's good quality, it helps to look for a brand you already know and trust.
Tribit is one of the more reliable brands out there. In addition to several Bluetooth speakers, we've also reviewed some of their Bluetooth headphones. Their audio equipment is generally good quality, and we were excited to see what they came out with next. Now, we're going to review the Tribit StormBox Micro Portable Speaker. This is a travel speaker that's designed to be strap-mounted to bicycles, or simply to furniture. It's also made to pair with other StormBox Micro speakers and work in stereo mode. But how well does it perform in practice, and how good is the audio quality? Let's look a little closer, and see what we discover!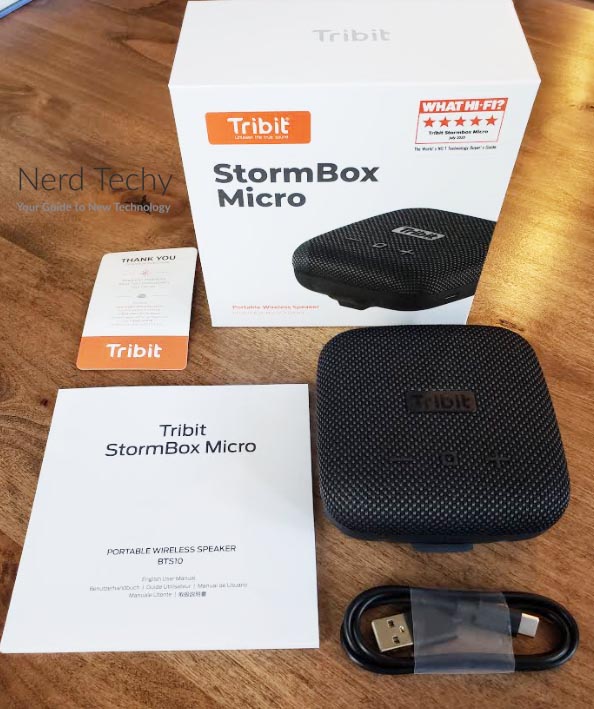 Design & Construction
The Tribit StormBox Micro Portable Speaker is a compact speaker that's nearly square in shape. It measures 3.87 inches in both width and depth, and 1.37 inches thick. It weighs about what you'd expect for the size, at just a smidge under 10 ounces. The housing is available in black or orange, so you can be understated or fun, depending on your tastes. It's also rounded on all the corners and the edges, so there are no sharp angles to jab you or your gear.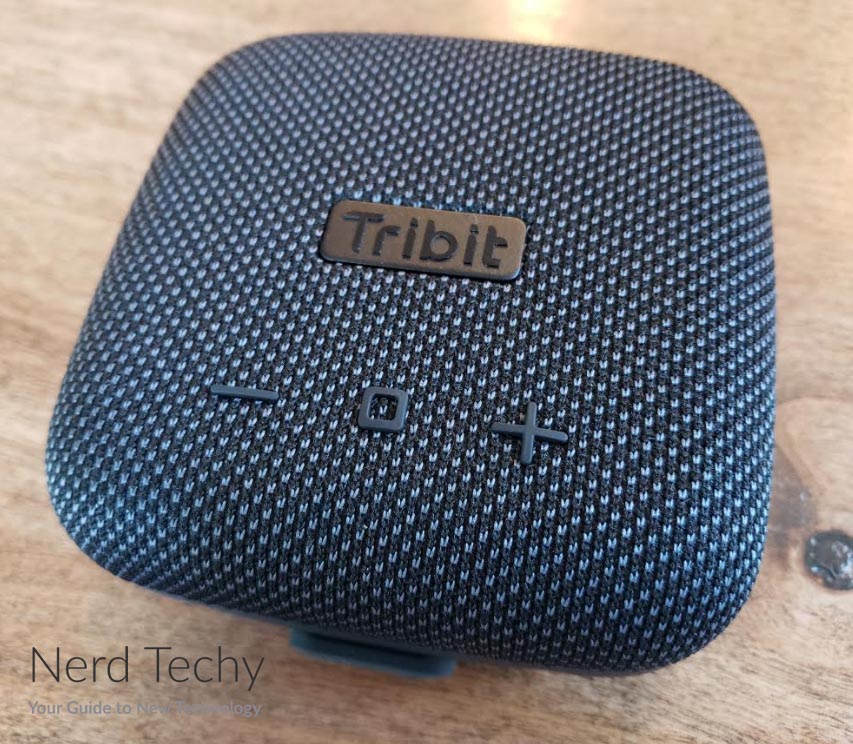 The housing is divided in two, with the top and bottom having distinctly different functions. The top consists of a dense speaker mesh, which allows sound to be distributed from inside. The mesh is black on the black variant and orange on the orange one, matching the bottom of the housing. There's a Tribit logo in the center, but no other decorations. There are, however, a row of three functional, practical buttons. These buttons take the form of plastic icons, which are small and unobtrusive. The left and right "+" and "-" buttons adjust the volume, while the middle square button makes selections.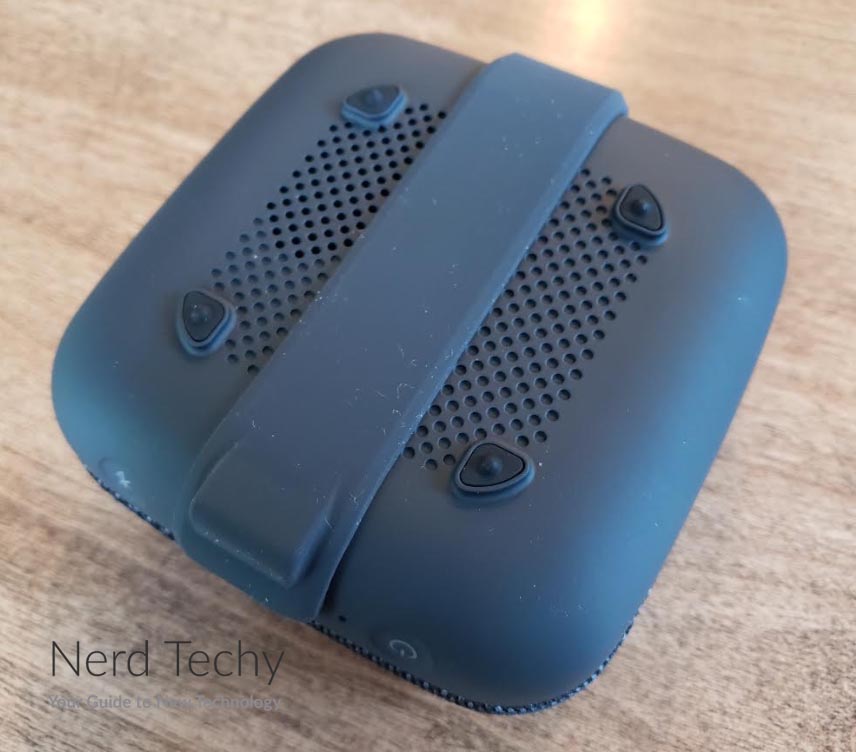 The bottom of the housing is a matte polymer, colored to match the top. It's durable and shock-proof, and capable of taking a beating. If you wanted to do any serious damage to this housing, you'd have to take a hammer to it. Most of the surface is smooth and uninterrupted. However, towards the front of the base, there are two additional buttons. These consist of a power button to the left and a Bluetooth button to the right. Between these buttons, you'll see a row of six LED lights. The first, blue light indicates that there's an active bluetooth connection. The five white lights let you know the current battery charge level. On the left side of the housing, there's a USB Type-C port for charging the battery. A Type-C cable is included in the package.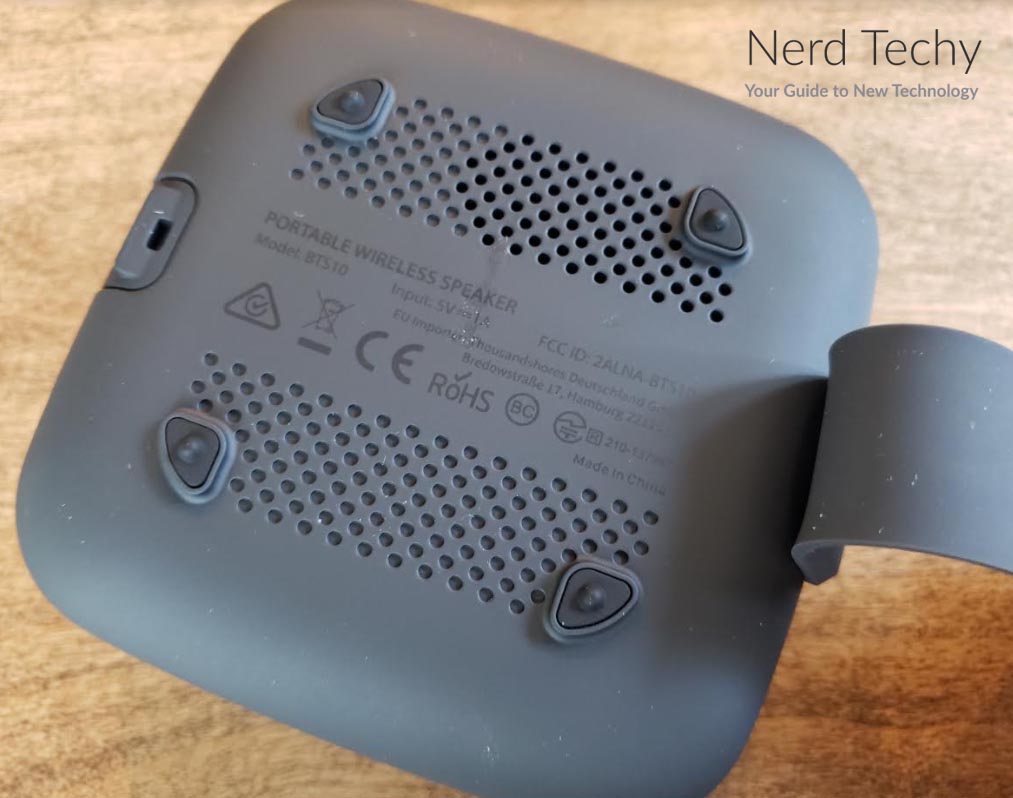 The main unique feature of the StormBox Micro, though, is the built-in silicone mounting strap. This strap runs from the back to the front of the base, and is easy to close and open. When not in use, it sits flat against the base, and doesn't get in the way. When it is in use, it's surprisingly stretchy, and also secure. It won't pop open on its own, even when subjected to vibrations and jostling. As a result, you can carry the speaker on a bicycle or moped. You can even attach it temporarily to some furniture during a party. Your options are more or less endless in this regard.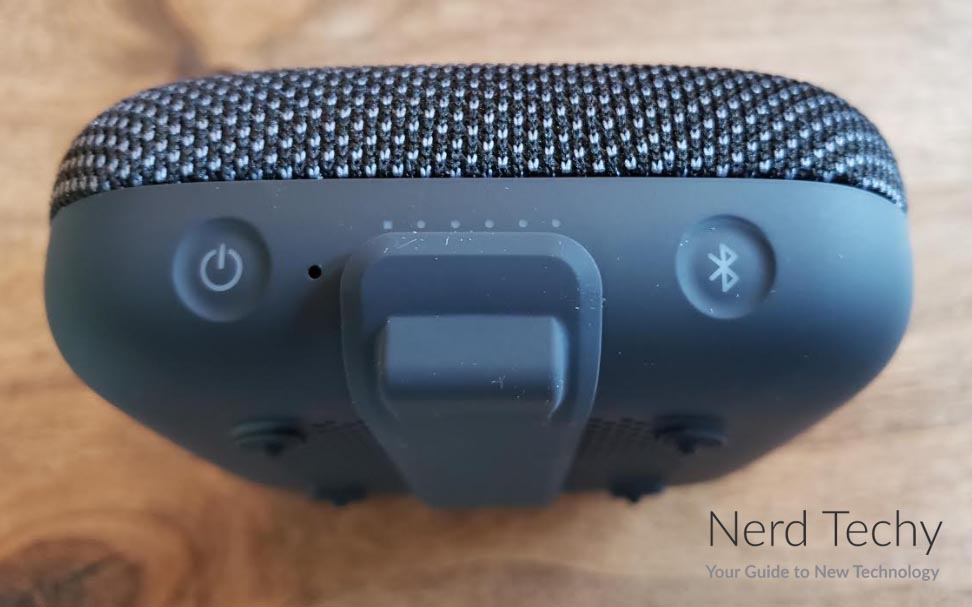 True to its name, the StormBox Micro is water-resistant, with a rating of IP67. This means it can withstand full submersion for at least 30 minutes at at least one meter of depth. Should you do this intentionally? That would probably not be wise. Is your speaker going to fail because it got kicked in the swimming pool? Probably not, provided you fish it out right away. As an added bonus, the StormBox is also dust-resistant. This probably won't matter much during your backyard barbecue. On the other hand, if you're a dedicated trail rider, you'll appreciate not ruining your speaker on a dry day.
Battery Life & Connectivity
To get the most out of any speaker, you want to have a battery that lasts. In that respect, the StormBox Micro is a bit of a mixed bag. The battery is rated for eight hours, but as is so often the case, that rating is a bit misleading. It's true enough if you're playing at half volume. But if you're trying to fill a backyard or a large room with sound, you've probably got the speaker pumped. In that case, six or seven hours is a more realistic expectation. That's still long enough for most people, but it's a limitation that's worth keeping in mind.
Charging the battery is a relatively simple matter. You simply plug into any USB charger, and your battery will be full in less than two hours. Even if you use it every day, an overnight charge will be longer than you need to have a full battery. Moreover, the speaker can even be used while it's plugged in. Depending on positioning, you can simply keep it plugged into a power outlet. On the go, you can extend its life with a power bank.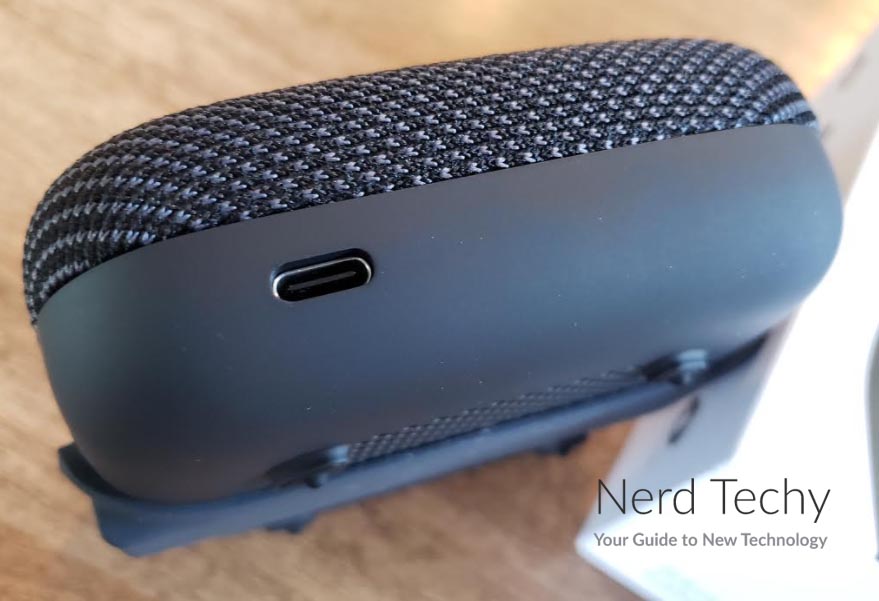 If size is not a concern but battery life is, take a look at the original Tribit StormBox. It has an impressive 20 hours of battery life per charge, enough to literally last all day. The downside is that it's not as compact as the StormBox Micro. It also doesn't have the same convenient, built-in mounting strap.
The StormBox Micro utilizes the Bluetooth 5.0 protocol, which is the current wireless audio standard. It allows for low-latency connections that are ideal for movies and gaming. It also provides a more stable signal than older Bluetooth versions. Finally, it has a higher maximum bitrate, so you can listen to HD audio files if you want to. Not only that, but the speaker's chip has a boosted antenna with an impressive, 100-foot range. You can roam your house, or even your backyard, with your phone in your pocket and your speaker in place.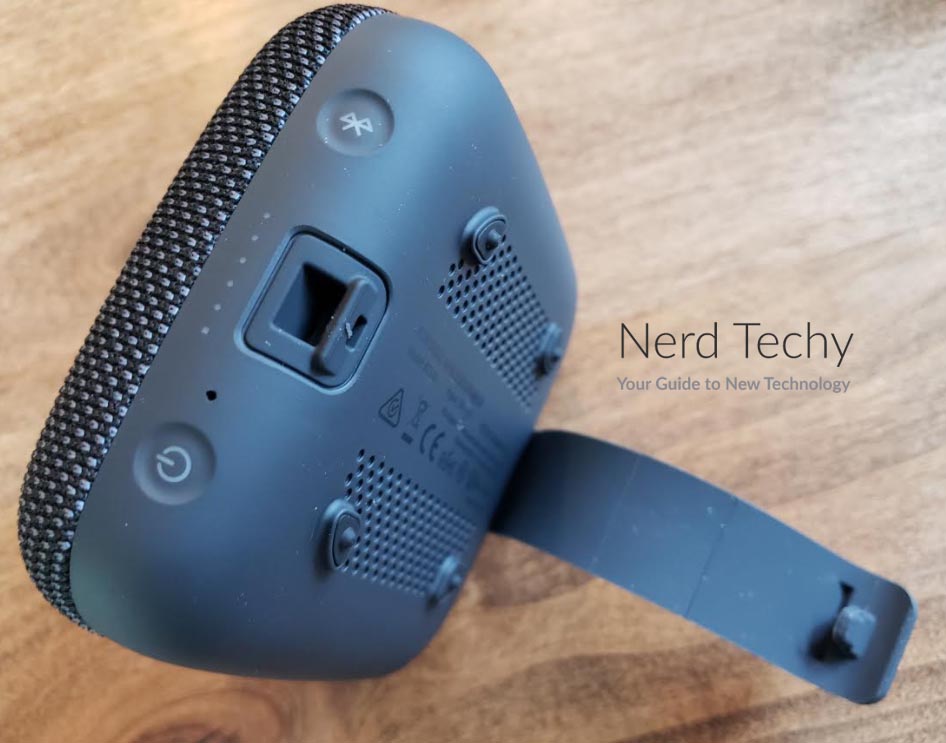 In addition to all that, you can also pair two StormBox Micro speakers for stereo use. This isn't always practical on a bike or other portable platform. But if you're listening in your home or yard, it works well enough. It certainly improves the audio quality, as is always the case when switching from mono to stereo. That said, most stereo-capable Bluetooth speakers will remain paired when they restart. These do not. If you regularly use your speakers in stereo mode, you'll have to manually pair them every time they start up. This is a frustrating oversight in an otherwise excellent feature.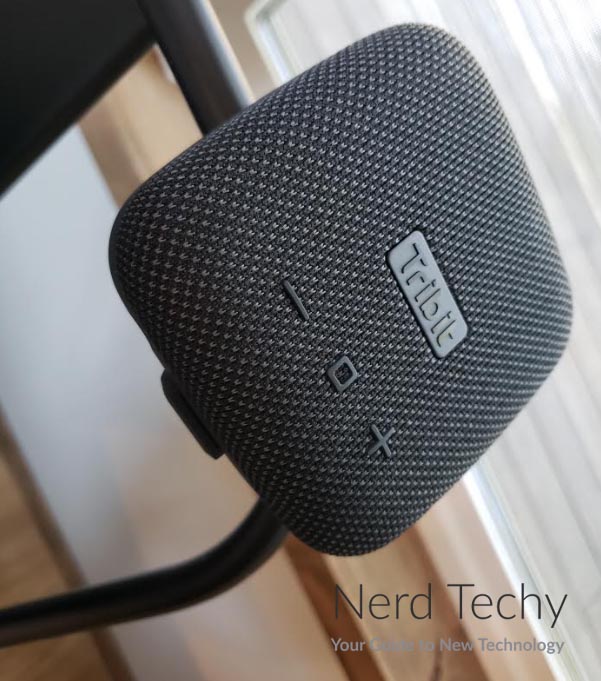 Audio Quality
The Tribit StormBox Micro is a 9-watt speaker, which means it's on the lower-wattage side. This is to be expected, considering that we're dealing with a small, portable speaker. But it's also important to keep in mind that volume is limited. You can fill a room, but you're not going to shake an entire house. That said, the audio is rich on all frequencies, from low to high. And the quality doesn't suffer when you crank the volume up. So you can at least take full advantage of all the power the StormBox Micro does have to offer.
We were particularly impressed with the bass on this speaker. Many lower-wattage and "mini" speakers suffer on the low end, and that's not an issue here. The bass volume is right in line with your other frequencies. The sound isn't "bass-heavy," but the bass is fully present in the mix. Part of this is thanks to the wide soundstage. With plenty of separation between instruments, you get a broader feel with more "space" to the music. This is obviously much more pronounced in stereo mode, where you have the benefit of two separate channels.
If you're going to need more volume, consider the Tribit MaxSound Plus. This is a 24-watt speaker that's loud enough for even a very large room. However, it's correspondingly larger, so it doesn't have the same portability and versatility as the StormBox Micro.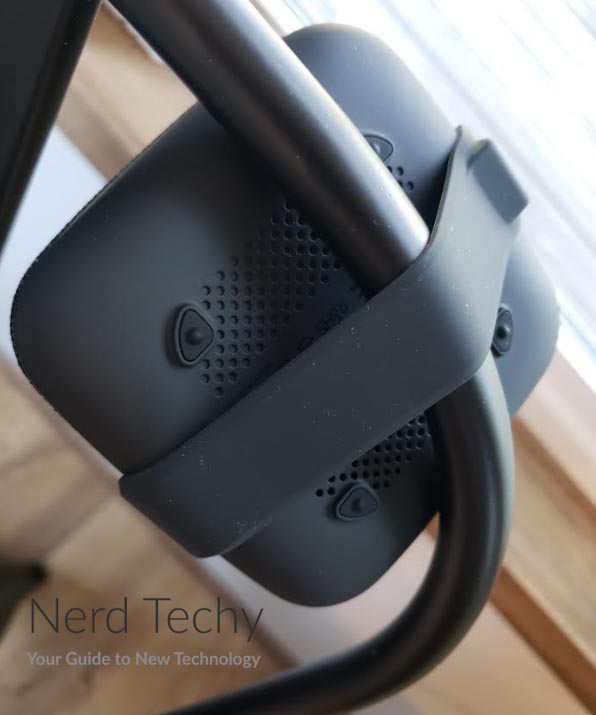 Final Verdict
As you can see, there's a lot to like about the Tribit StormBox Micro Portable Speaker. To begin with, it really lives up to its name. Not only can it stand up to foul weather and even submersion, but you can carry it just about anywhere. It's clearly targeted towards bicyclists in particular, but it can easily be used by just about anybody. We had some quibbles. The stereo pairing function was unnecessarily clunky and awkward, and the battery is a bit small. But the versatility and audio quality more than make up for any flaws. All in all, this is one of the better Bluetooth speakers we've seen.