Earlier this year, Tribit's MaxSound Plus Bluetooth speaker took the internet by storm. With its punchy bass and long battery life, it's quickly become one of the most popular speakers of 2019. But the MaxSound is a bit large to be easily portable. For a home speaker, that's not necessarily a huge problem, but if you're planning on taking your speaker somewhere you're going to want a slightly smaller package.
But at the same time, Tribit also released the StormBox. This smaller speaker is an excellent compliment to the MaxSound. It manages to pack a lot of power and good battery life into a package that's more than a third lighter and smaller. All in all, it's a pretty attractive package, made all the more so by Tribit's sterling reputation for producing quality Bluetooth speakers at a reasonable price. But we decided to take a closer look. We're looking under the hood, and finding out how the StormBox actually performs. Let's get started!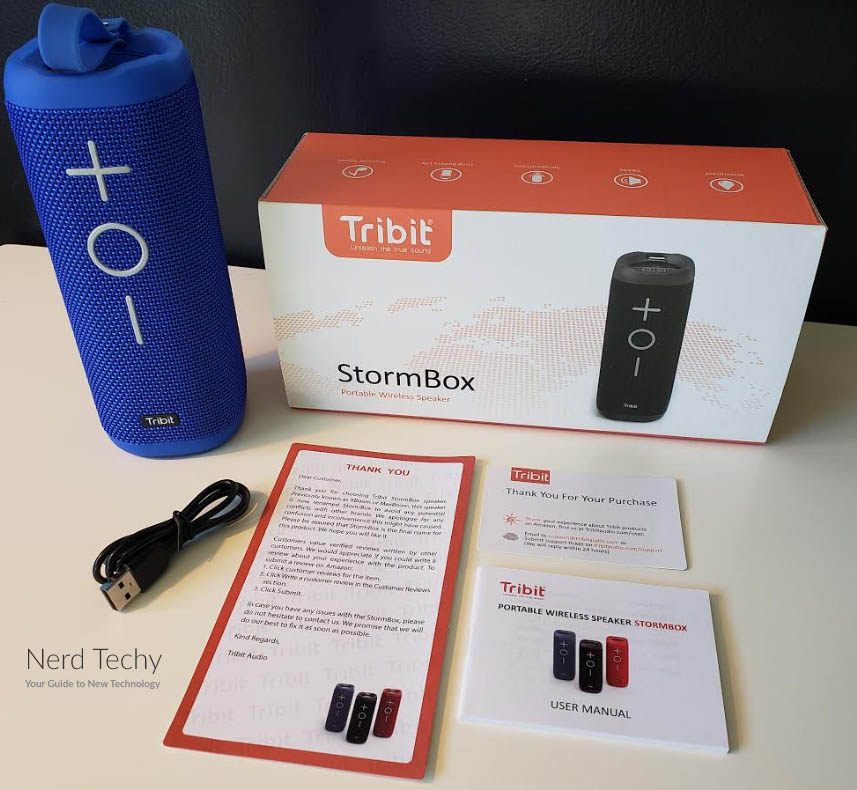 Technical Specifications
Before we take a deep dive, let's go over the basics. If you're looking for a quick overview of the specifics, this is it.
24-watt speaker
360-degree sound
Mono (stereo when daisy-chained)
20 hours of battery life
IPX7 water resistance
Connects via Bluetooth 4.2 or aux
66-foot Bluetooth range
Built-in carrying strap
Includes Micro USB charging cable
Measures 7.08" high x 2.68" wide x 2.68" deep
Weighs 1.1 pounds
Overall Design
To start with, let's look at the speaker case and appearance. This isn't a huge consideration, but a speaker sits out in the open, so physical appearance is a consideration. It's designed with a similar shape to the popular Ultimate Ears and JBL lines of wireless Bluetooth speakers, which is probably intentional. The StormBox is available in three different colors: black, blue, or red.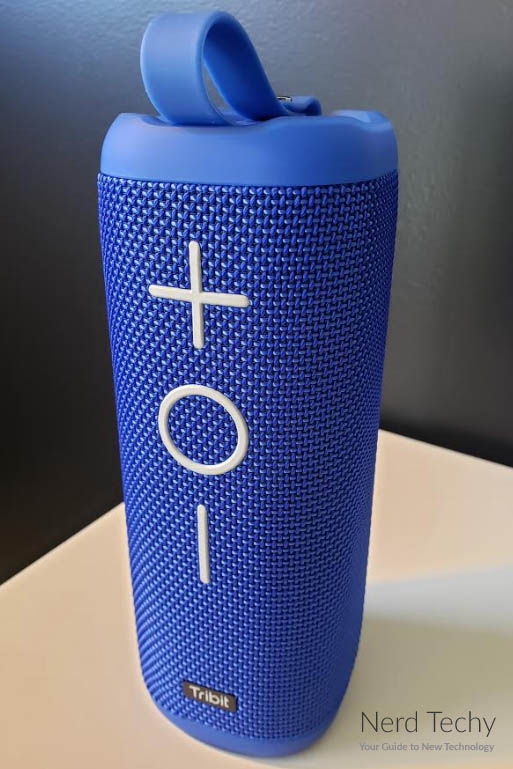 We appreciated the StormBox's sleek design, with volume and power buttons that are large and highly visible, but don't protrude from the frame. They have a soft, light touch, which makes them easy to operate even if you're trying to adjust the volume with a single hand. The shape is a slightly-rounded rectangle, which measures just over 7 inches high and 2 2/3 inches on the sides.
This speaker has a durable design that can take a serious beating if it needs to. The sides are constructed from a thick fabric that's stretchy enough to bend but not break under impact.
Inside, an anodized aluminum frame provides plenty of rigidity, while an outer rubber layer around the top and bottom offer excellent drop protection. In terms of weight, you're looking at 1.1 pounds, which is easy enough to hold. That said, why would you want to carry your speaker in your hand when there are better options? The StormBox comes with a small leather lanyard, which attaches to a slot in the top of the frame. It's sufficient to support the light weight of the speaker, and can be looped over a belt or backpack strap for easy transport.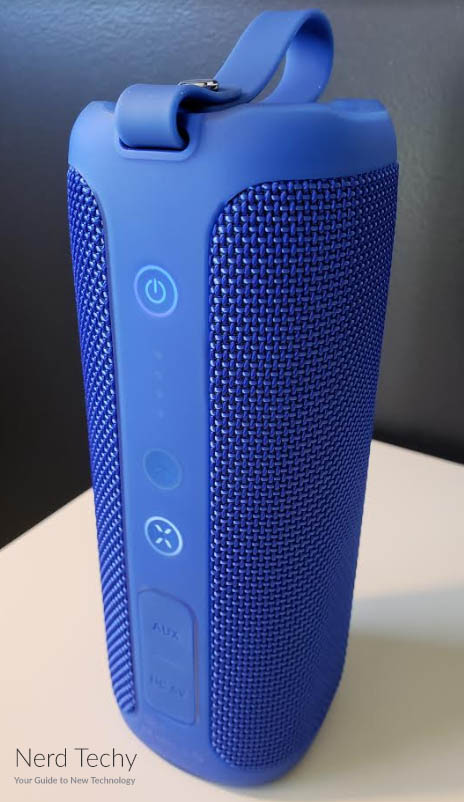 Another thing we appreciated about the StormBox is the fact that it has a water resistance rating of IPX7. This isn't just your typical "splash a little water on it and it'll be fine" IPX4 rating we've come to expect from Bluetooth speakers. This is serious water resistance. Want to take your speaker in the shower? The StormBox will go there. Want a poolside speaker that can withstand full submersion? The StormBox is up to the task. It can withstand up to 30 minutes of submersion in 3 feet of water. So if you accidentally kick it into the pool, you'll have plenty of time to safely retrieve it.
Connectivity
By default, the Tribit StormBox connects using Bluetooth 4.2. This is a slightly older protocol than the newer Bluetooth 5.0, but it's compatible with virtually all devices. Not only can you connect to it with your smartphone, but you can also stream from an iPod, a tablet, and even from an Amazon Echo unit if you want access to voice commands. And when you're connected to your phone, you can even use your StormBox to make and receive phone calls.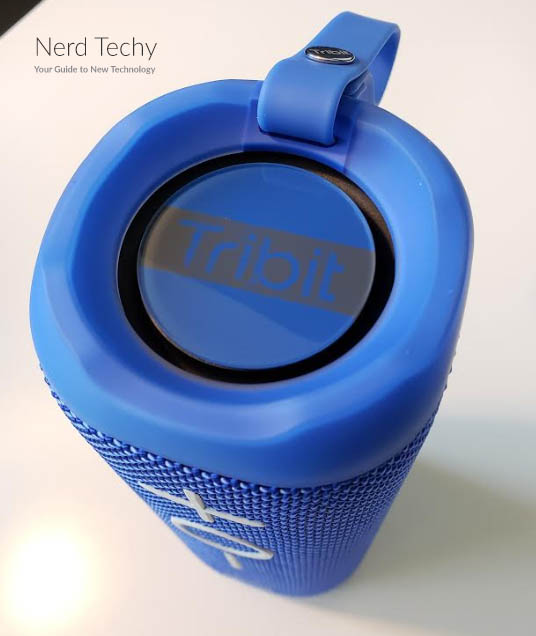 The Bluetooth connection is very stable, and has a long enough range that you won't need to worry about losing your signal indoors unless you have a very large house. With a clear line of sight, the connection is rated for 66 feet. However, depending on your device, you may be able to stretch this to around 75 feet. As with all Bluetooth speakers, overall distance drops significantly if you've lost line of sight. Still, the signal is still good at about 30 feet if you're behind a sheetrock wall. Brick or other masonry will reduce this to nearly zero. All in all, though, the indoor performance is pretty impressive. Outdoors, the 66-foot range is sufficient for most backyards, which means you'll be able to keep your phone on your person while you go about your day.
If you prefer an old-school wired connection, the StormBox also has a 3.5mm aux port on the top of the speaker. There's no aux cable included, but this is really only a secondary a secondary option, and it's nice to have the choice, especially if you occasionally want to connect to an older device like a standalone CD player or cassette player.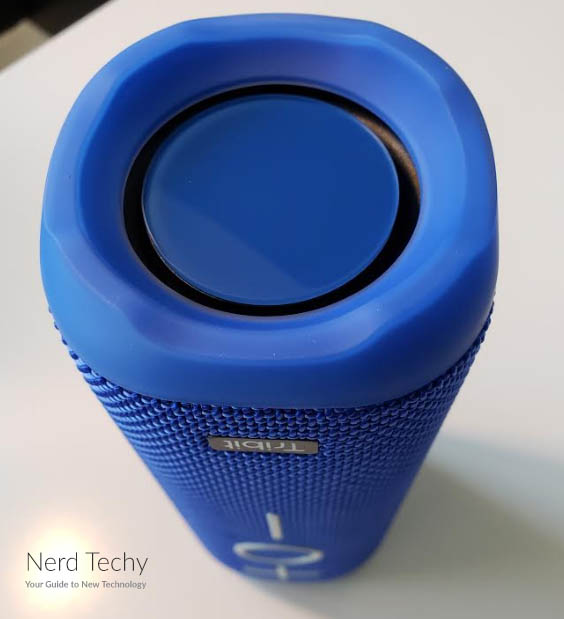 When you're using a single StormBox, the sound is in mono by necessity. After all, there's only one speaker! But if you buy a second StormBox, you can daisy chain the two speakers over Bluetooth. When the speakers are daisy chained in this fashion, the speakers will play in stereo, so you can get a full cinematic experience during movies.
Battery & Charging
The StormBox utilizes a 2,600mAh rechargeable internal Lithium-ion battery pack. It's rated for 20 hours of playback, but obviously that's going to vary depending on how loudly the volume is turned up. We've seen results from 18 to 21 hours, which is not bad at all. The battery charges with a Micro USB cable, which is included with the speaker. From a completely discharged state, it will recharge in about 3 hours. This makes it easy to recharge overnight, with enough juice to keep playing through even a very long day.
Sound Quality
Tribit is well known for producing quality audio at a reasonable price. We're happy to say that the StormBox does not disappoint. To begin with, you get truly omnidirectional sound. This is impressive, given the price. It also means the speaker can fill your room with sound from almost any position. The 360-degree sound projection was surprising, since two sides of the unit are mostly occupied by large buttons. When daisy chaining speakers, if you're not watching a movie, it can be better to listen in mono. Otherwise, walking around a kitchen or patio can actually make the sound quality worse, since the stereo will not be coming from opposite sides at a consistent distance.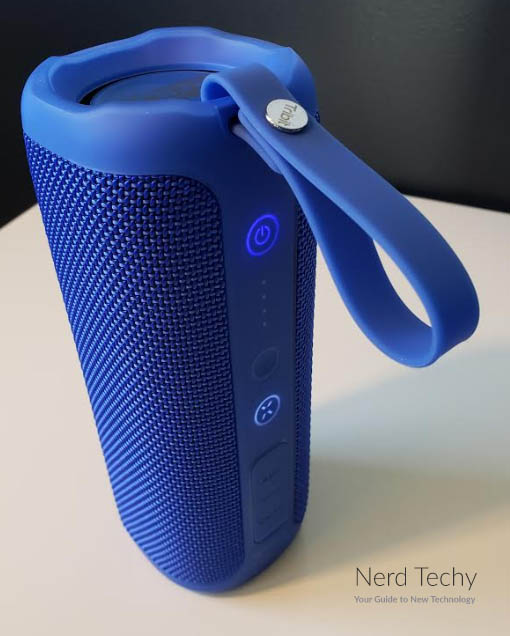 As usual when looking at sound quality, let's take things from the high end to the low end. The highs are crisp and clean, with plenty of shimmer. You'll get clear cymbals, along with great response on the high end for electronic music as well as classical. From Schubert to Skrillex, they've got your trebles covered. This is also important for good vocals, since sibilant sounds like "S" depend on clear treble in order to come across clearly. One thing we did notice is that sound quality remains consistent, even if you have the volume jacked up all the way. This is unusual on an inexpensive speaker, and it's nice to know that you can actually get full quality at loud volumes.
Moving down to the mids, you continue to get plenty of clarity. They don't get muddy, even with the bass turned up, and the speakers won't buzz when there's a lot of action going on in the mids and the highs at the same time. Once again, this is absolutely essential for clear vocals. This doesn't just apply to music. It also applies to spoken-word podcasts, audiobooks, and even phone calls.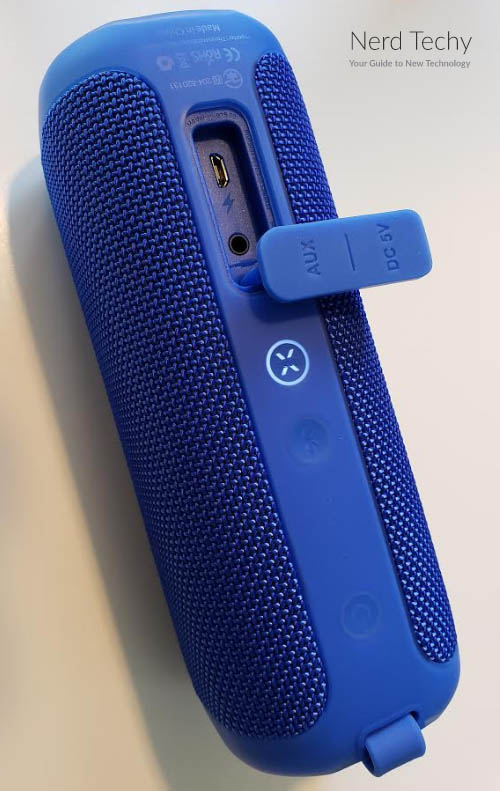 So far, so good. But how about the bass? Here, the StormBox was a mild disappointment. In a sense, this is to be expected. We're looking at a discount speaker, not a high-end sound bar or subwoofer. Don't get us wrong – the bass is certainly present, but it's not front and center even if you've got the bass cranked up all the way on your device's EQ. There's also a bass boost mode, which can be activated by a button on the back of the speaker. From what we could tell, the bass boost does absolutely nothing. Once again, this isn't a huge disappointment. It's to be expected on a budget-rate speaker. But it's nice to dream, and we'd been dreaming of an affordable speaker with quality bass response.
Our minor bass gripes aside, let's talk about phone quality. This is an easy feature to overlook, since a Bluetooth speaker is, by nature, better suited for music than it is for phone conversations. That's just fine, but it's still something we thought we should cover. In general, sound quality is good, with minimal lag. We were actually surprised by this, since Bluetooth 4.2 is a bit slower than 5.0. The speakers are powerful enough for you to hear your conversation partner clearly across a large room. However, the microphone is fairly weak. If you're more than a couple of feet away, you'll start to sound like you're very far away, and your conversation partner will probably complain.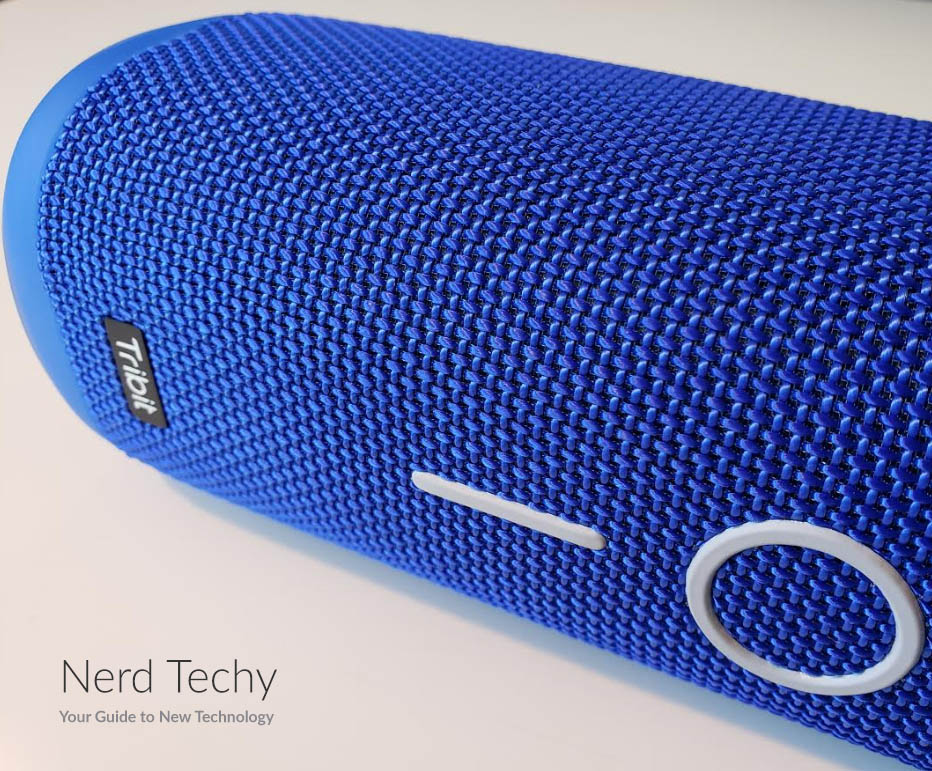 Final Verdict
At the end of the day, the Tribit StormBox is a great value for the money. It provides a balanced sound profile, even if it's a little short on bass. But the main attraction is the durable case, which is tough enough to handle a few drops.. On an inexpensive speaker, it's tough to find IPX7 water resistance, and it's nice to see Tribit provide such a reliable option for indoors, outdoors, and even for the shower. And the ability to daisy chain two speakers together is just the icing on the cake. All in all, it's an excellent buy.