San Francisco-based luggage designer Waterfied Designs made waves in 2017 with their popular Air Porter carry-on bag. This rugged bag is sleek and stylish, and is constructed from durable ballistic cloth, with leather flaps and panels that are very attractive. However, the Air Porter had a weakness: it was small! This is great if you're looking for a light, compact carry-on bag, but customers were looking for more. They wanted a bag that was spacious enough for a weekend trip.
Now, Waterfield Designs have delivered with their new Air Duffel. This bag has a similar design to the air porter, and is both rugged and attractive to look at. As they say on their website: "The Air Porter tips toward work functionality and 'just ok' travel functionality. The Air Duffel flips that: It's a great travel bag with just enough business functionality". So, of course, we couldn't wait to get our hands on one and see how it performs. Here's what we found.
Shell and Materials
The Air Duffel is constructed from a blend of different materials, depending on the part of the bag. This allows for durability where it's needed most, and an attractive finish where you want a little flash. The bottom is constructed from Denier ballistic nylon, a tough, durable fabric that's designed to take a beating. Throw this bag down on the sidewalk or subject it to even the roughest airport baggage handler, and it will come out on the other end as good as new.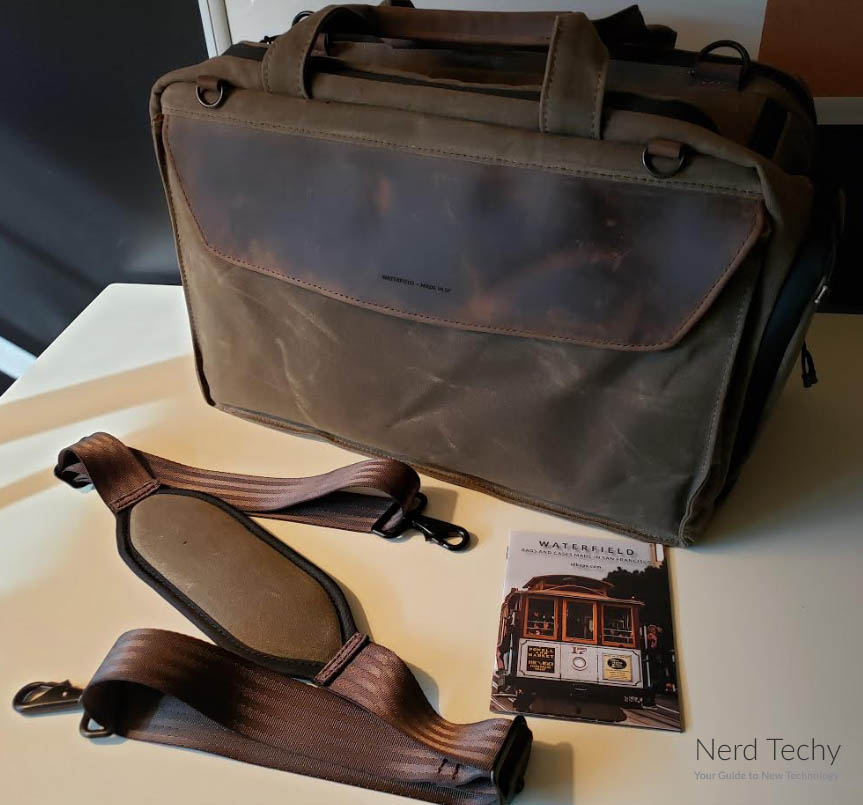 The top and sides of the bag are stitched from waxed canvas. The finish is so smooth and rich that we mistook it for leather at first glance. When you get your hands on it, you'll appreciate the soft touch, both inside and outside of the bag. And while this material isn't quite as resilient as the ballistic nylon bottom, it's more than tough enough to stand up to everyday abuse. Best of all, if the finish gets scratched, you can oil it to bring back the luster.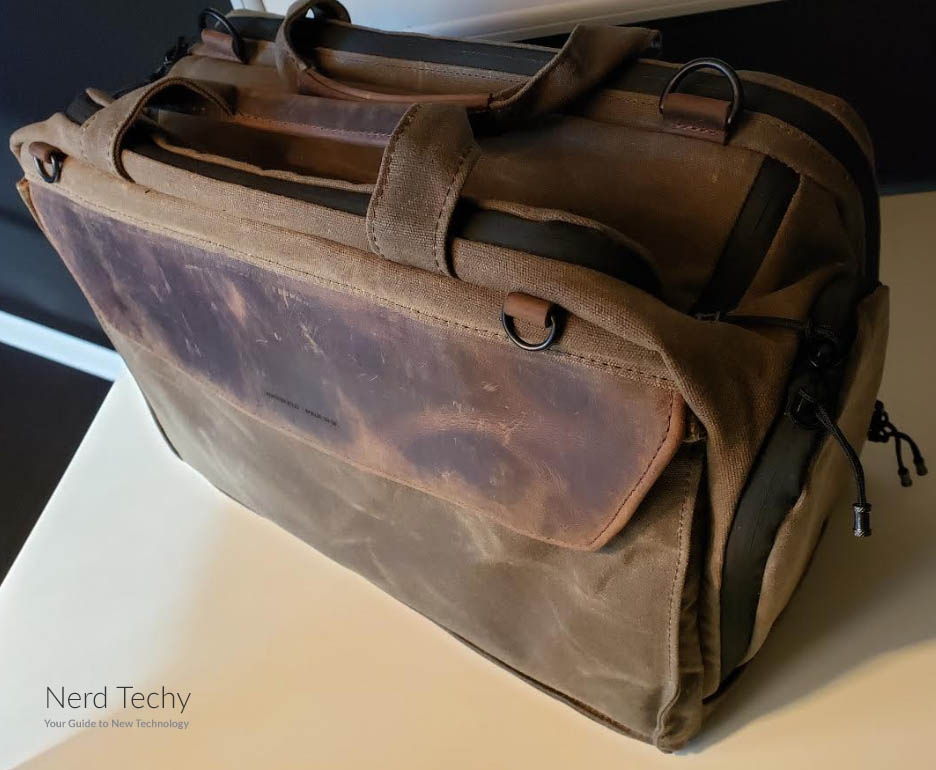 Certain high-stress areas are reinforced with leather, which serves as a cosmetic accent as well as protection from damage. These areas include the attachment points for the shoulder strap, as well as extra padding on the handles. The flaps on the side pouches are also leather. By default, the leather is a rich caramel color, matching the canvas shell. There's also an alternative option with black leather accents, which matches the zippers. The zippers themselves are splash-proof, which means your clothing and supplies won't get wet in the rain. But splash-proof isn't the same as waterproof. If you somehow drop this bag in a swimming pool, your stuff is going to get wet.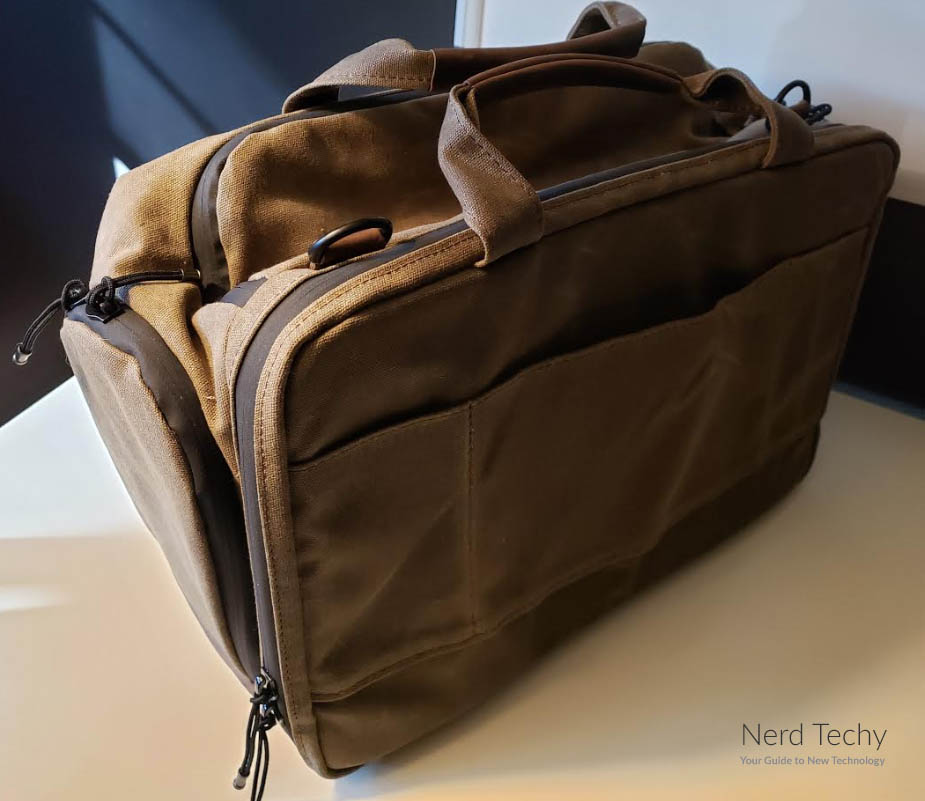 Finally, there's an additional option available. You can order a variant of the Air Duffel that's constructed entirely from ballistic nylon. This version is more utilitarian, and lacks the gorgeous, buffed finish of the standard version. That said, it's also exceptionally durable. If you need a bag that takes a lickin' and keeps on tickin', consider the nylon variant.
Dimensions and Design
The Air Duffel measures 16 inches long, 8.25 inches wide, and 10.25 inches high. This makes it small enough to meet the TSA's travel requirements of 9 x 14 x 22. It will fit comfortably under any aircraft seat, with enough room to fit your toes underneath as well. As with any carry on bag, be careful if you've got long legs. There's only so much space on today's cramped airlines, so you might want to go with a smaller carry on and send the Air Duffel in your carry on luggage.
One neat thing about the Air Duffel is that their small Air Caddy laptop bag will actually fit inside. This makes it a great choice for weekend trips. You can check the Air Duffel, take out the Air Caddy, and bring your laptop on board. Then, once you pick up the Air Duffel, you can put your Air Caddy back inside so you only have to carry a single bag.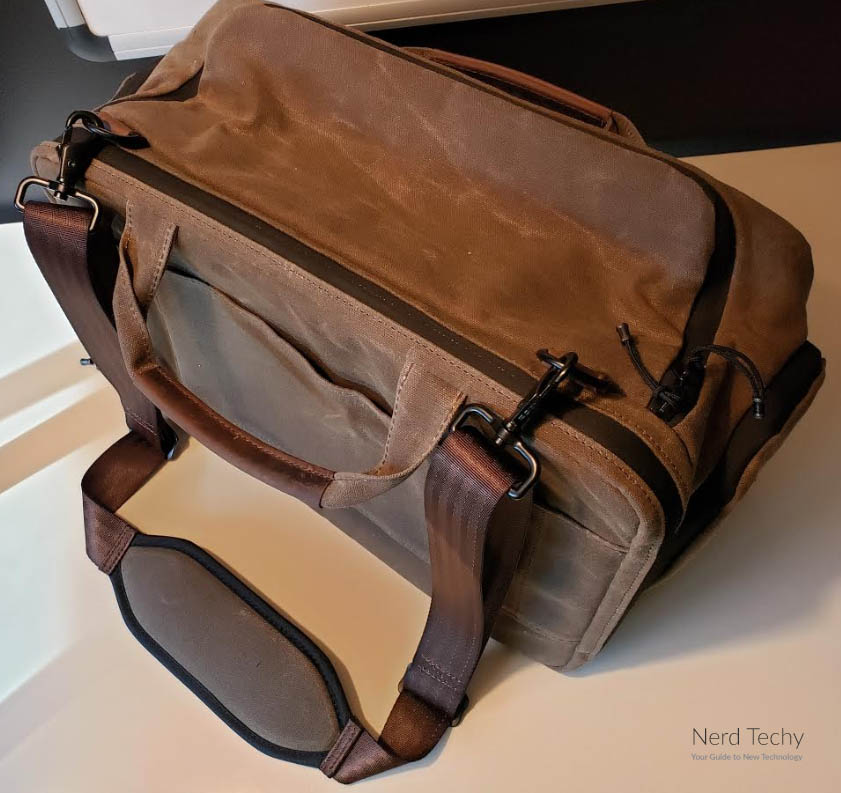 All of that being said, the Air Duffel is designed first and foremost to make the most of your carry on allotment. Not only can you fit it under any airline seat, but it's sized perfectly for the overhead bins on most airlines. So if you want to maximize your leg room, consider putting your Air Duffel up top. Not only will you still have access to your laptop or books, but you won't have to shell out extra cash to pay for checked luggage.
If you're going on a longer trip, the Air Duffel also has a pass-through slot on the back. This slot is designed to slide over the extending handle on a standard rolling travel suitcase. So when you're traveling through the airport or to and from your hotel room, you won't have to carry the Air Duffel in your other hand. Operate your phone, open doors, or hand your credit card to the concierge without having to set down all your gear. On either side of the pass-through slot are smaller slots. On the right, two tiny slots are designed to accept a pair of pens. On the left, a medium slot is ready to accept your glasses. Just be careful if you're transporting your glasses this way. If you forget they're there and throw your bag down on top of them, you'll find yourself in need of a new pair of shades.
Ease of Transport
The Air Duffel provides two methods of carrying. The primary method is a pair of small canvas handles located on either side of the top zipper. These handles are reinforced with leather in the center, and are comfortable to grip. They meet easily in the middle, with enough space underneath to accommodate large hands, but comfortable enough that people will smaller hands will also have a secure grip.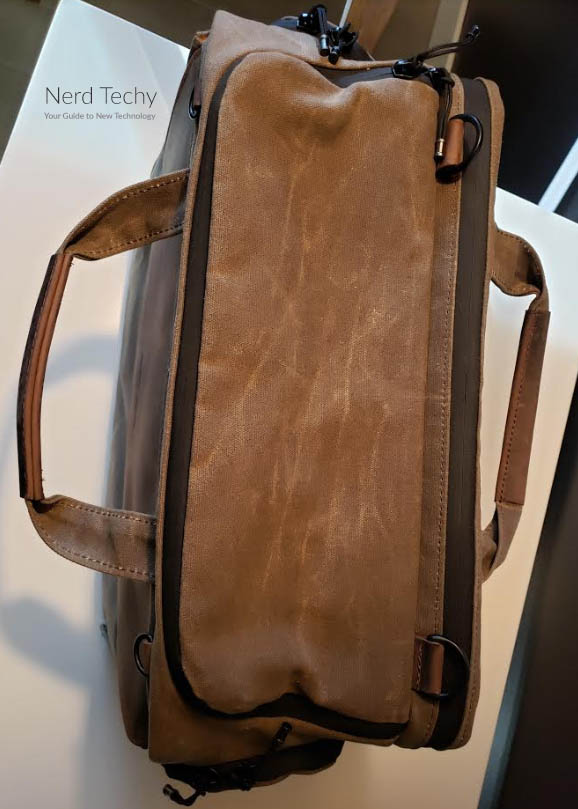 If you prefer to carry your bag on a shoulder strap, you can do that, too. It's not quite as attractive as the rest of the bag, constructed from the same ballistic nylon as the bottom. The colors match, though, and the webbing is nice and tight, with a comfortable adjustable shoulder pad that keeps it from digging into your collarbone. The latches are also very secure, constructed from heavy-duty steel with a black gloss finish. The latches lock into matching, heavy-duty rings that are positioned on all four corners of the bag. This allows for a variety of carrying positions, which is helpful since your weight and balance will vary based on what you're carrying.
Internal Storage
Of course, even the most tough, rugged, portable bag has one primary job: carrying your stuff. If it fails at that task, it's not going to be worth your investment. So, how does the Air Duffel stack up?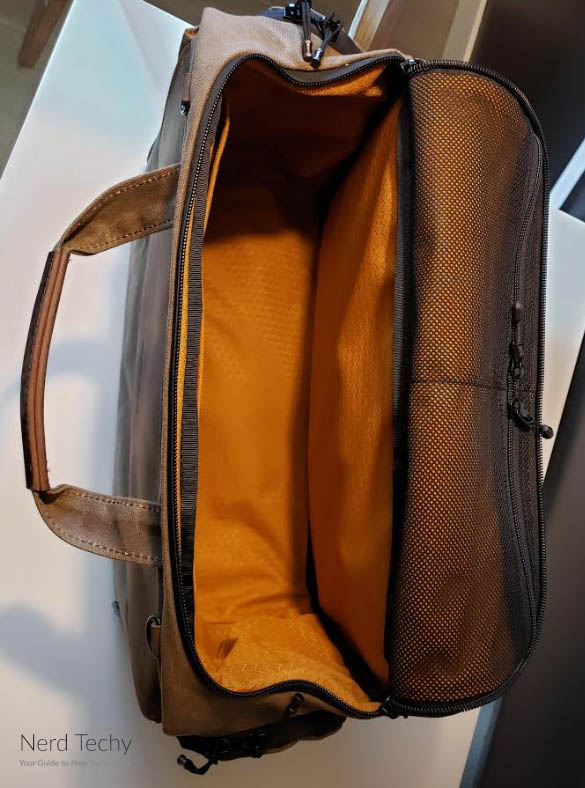 To begin with, the main storage compartment is divided into two halves. The smaller, outer half is designed for carrying electronics like a laptop or notebook. It's designed to open easily while the bag is laying flat on its size, which makes it easy to take through airport security. In addition to the padded laptop space, there are also a series of smaller slots for pens, and a pair of larger slots that can carry a cell phone or charging cables. Finally, an inner sleeve lies flat on the inside. It's designed to carry folders, notepads, and other documents.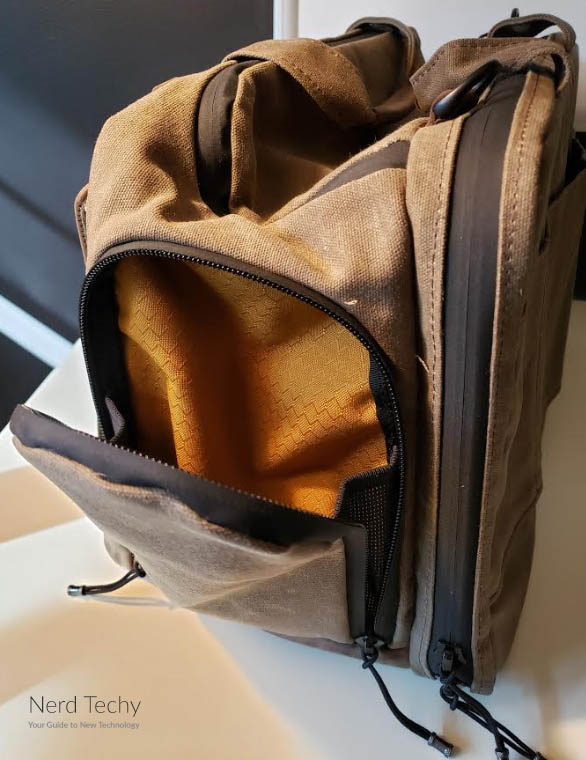 The larger, primary compartment is very spacious, with plenty of padding around the outside. There are three additional storage slots on the outside, designed for carrying small objects that might get lost in the bottom of the bag. There's one additional touch we really liked: a built-in key tether. Why carry your house and car keys in your pocket while you're on the road? And why lose them in your bag? The tether is a simple, short strap that has a small clip on the end. The strap makes it easy to store your keys, and allows you to retrieve them easily when you get home.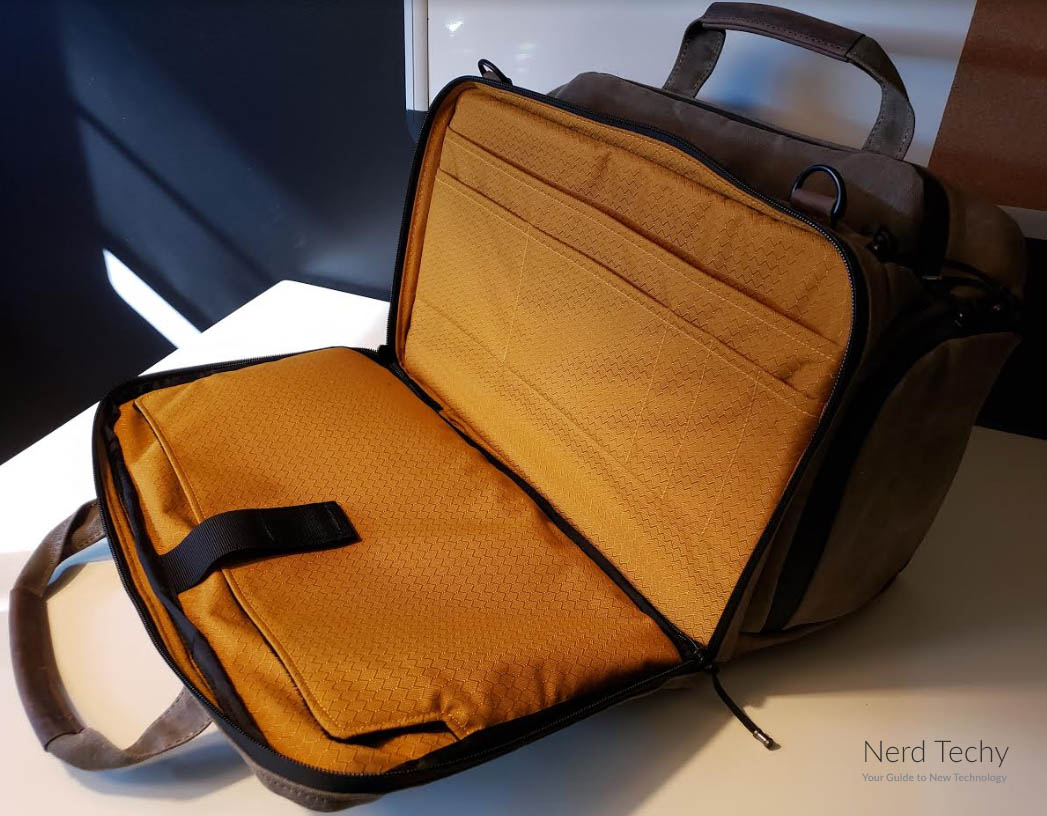 The lid of the main compartment has a mesh liner, with two zipper compartments that are designed to give you quick access to essential supplies. They're big enough to hold a few toiletry items, such as a stick of deodorant and a tube of toothpaste. Alternatively, they're another great spot to store a phone charger, so you can top off your battery when you get to your destination, without the need to root around in the bottom of your bag first thing.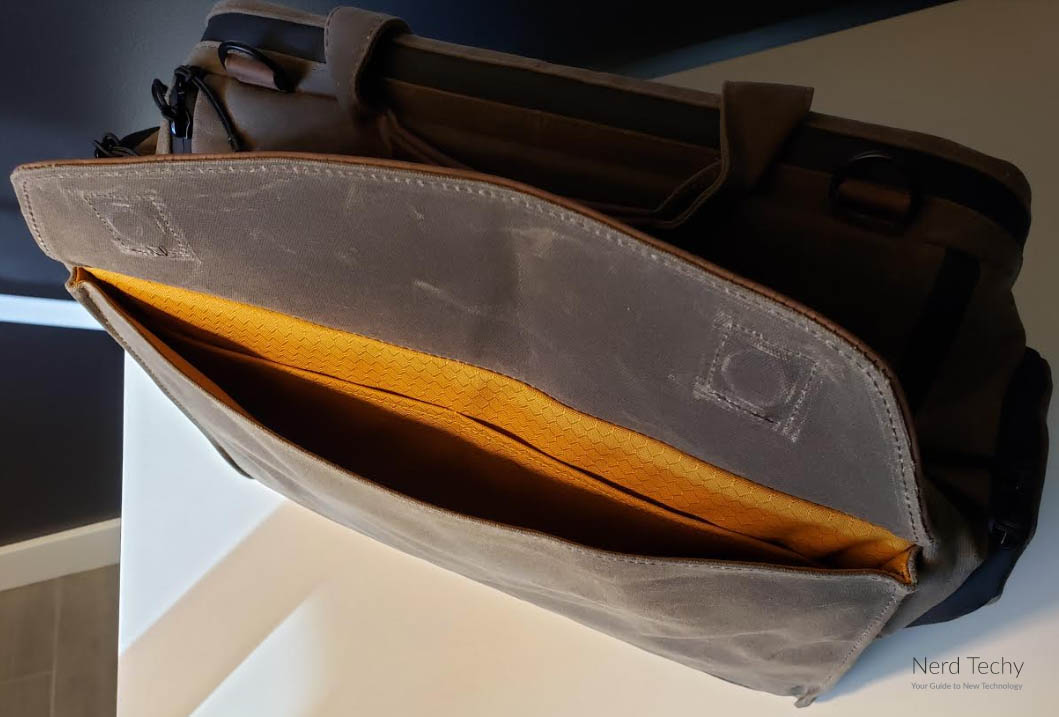 There are also two smaller, vertical zipper pockets on the narrow ends of the bag. They're big enough for a 20-ounce water bottle, but they're also a great place to store boarding passes, passports, and other small necessities for easy access. Finally, you'll also find a pair of wide, flat pockets on the longer sides of the bag. They don't zipper shut; instead, they fasten with a pair of N35 rare earth magnets. These magnets are smaller and lighter than traditional iron magnets, while still maintaining plenty of strength to ensure that your flaps don't pop open by mistake. These pockets are easy to open with one hand, and are an ideal space for storing books, magazines, and other reading material for your travels.
Final Verdict
So, is the Waterfield Designs Air Duffel worth the investment? We're not going to lie. It's on the pricey side. But you get what you pay for; in this case, exceptional durability and a clean, professional appearance.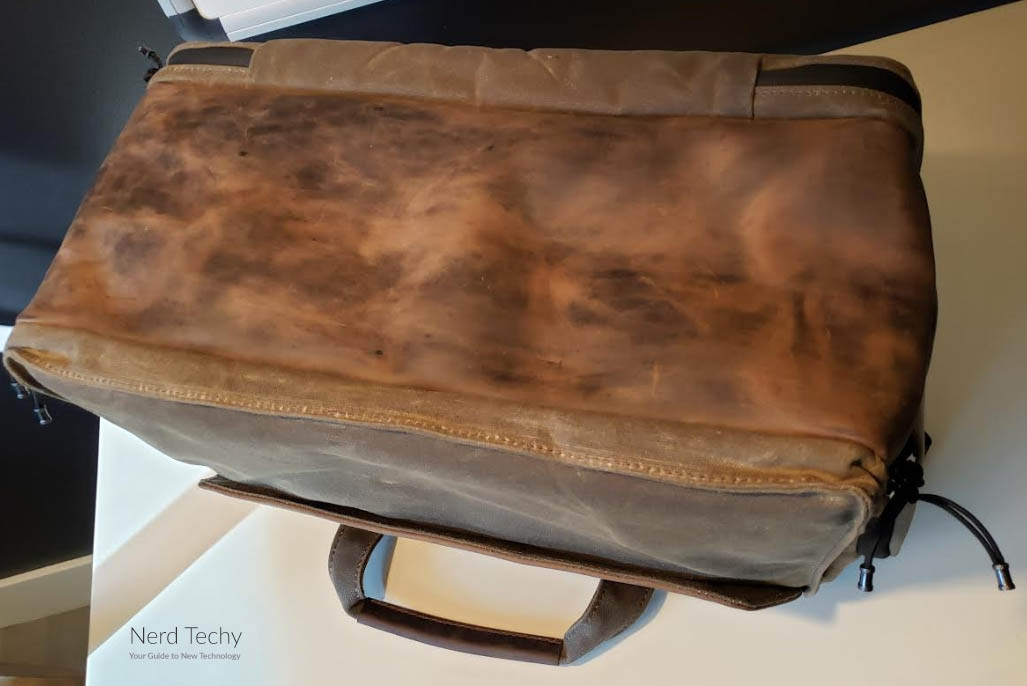 The bag was designed specifically to maximize your carry on space, and it delivers in spades. It's just small enough to squeeze into overhead storage, which makes it perfectly suited for almost any travel scenario. Meanwhile, it offers a generous amount of interior storage space, enough room for a few changes of clothes and all your toiletries, along with your laptop, travel documents, and business supplies.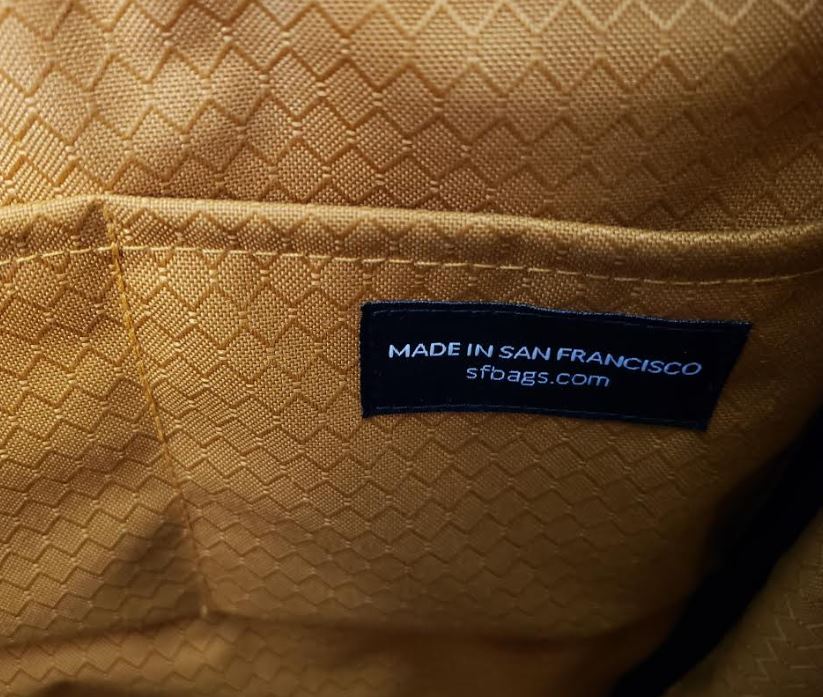 You'll also appreciate the rugged construction. The canvas shell can handle a lot of abuse, and it's attractive to look at. What's more, the pass through slot on the back makes it easy to transport along with a standard rolling suitcase. The Air Duffel is currently available for order directly from Waterfield Designs' website.