A good set of Bluetooth speakers face a unique challenge. On the one hand, we expect them to produce quality sound, oftentimes at loud volumes. On the other hand, we expect them to be lightweight and portable. This is a difficult combination to achieve. By their very nature, speakers require magnets and metal cones, which can be light or powerful, but rarely both. So, it's rare to see an affordable pair of Bluetooth speakers that checks all the right boxes.
Last year, we reviewed the DOSS Soundbox Pro. This is a well-engineered speaker that falls squarely in the comfortable middle between weight and quality. We were big fans, especially when it came to the overall design quality and ease of control.
But suppose you want a Bluetooth speaker with a little more punch? In that case, DOSS has offered a beefed-up version of the SoundBox Pro, the SoundBox Pro+. It has a similar design, but there are several upgrades to the original that are well worth mentioning. Let's take a closer look!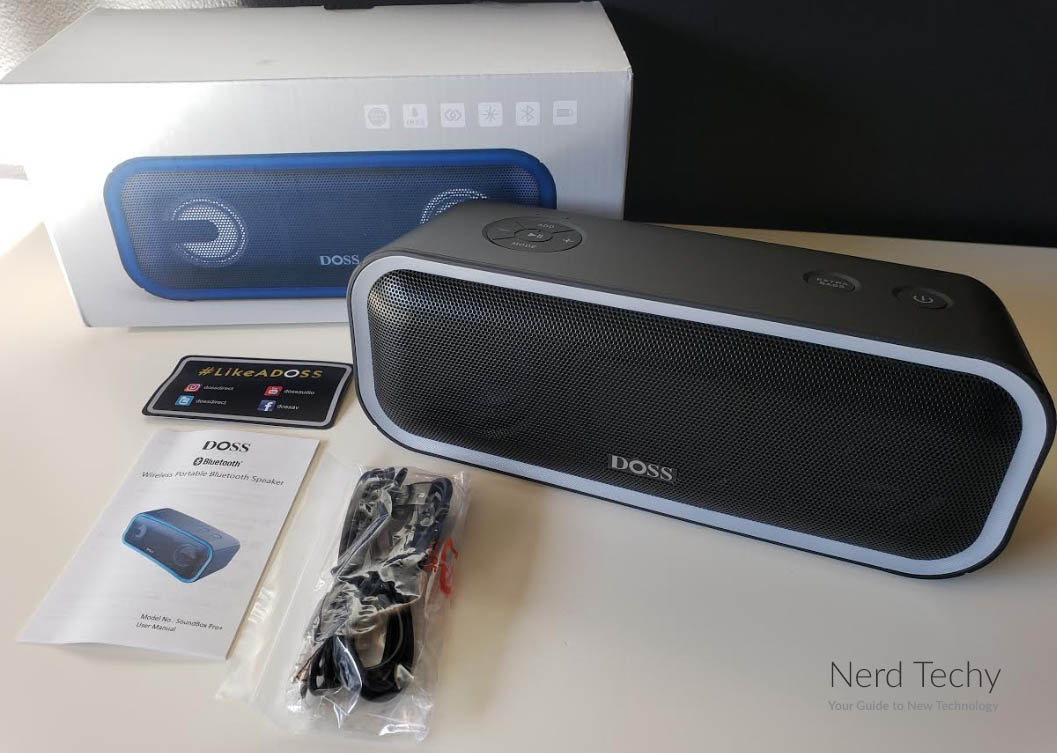 Design & Construction
When it's not powered up, the SoundBox Pro+ looks like a larger brother to the original. It has the same matte finish, and the same wide shape with dual drivers positioned to each side. The top, back, and bottom of the speaker has a smooth finish, while the sides have a textured finish that has the same lumps and ridges as leather, and looks a little bit like it from a distance. The shell is constructed from ABS plastic, with internal aluminum supports that are invisible, but add additional support. In all, there are four colors available: black, blue, green, and gray. On the front, you'll find a tough, black aluminum grill, which is dent-resistant and does a good job of protecting the drivers from any serious damage.
However, when the speaker is turned on, you'll notice a significant difference. There's a multicolored LED light that wraps around the outer rim of the speaker. When you play music through the speaker, the LED light changes color and intensity in time with the beat. This doesn't actually achieve anything functionally, but it looks cool if you're hosting a party or a barbecue.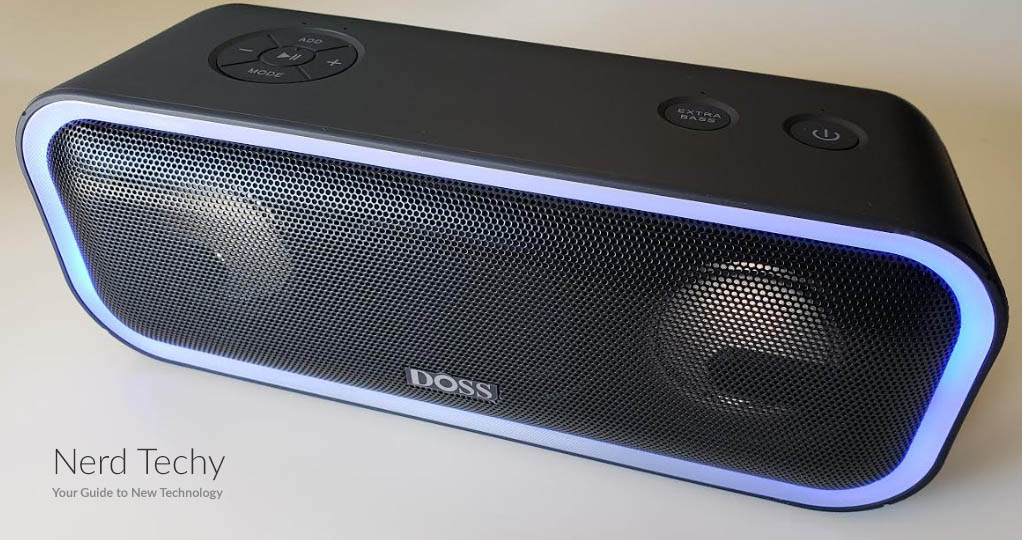 The SoundBox Pro+ has controls mounted on the top. Towards the left side, up and down volume controls, a play/pause button, a Bluetooth pairing button, and an input mode button are laid out in an attractive circular arrangement. Towards the right, you'll find the power button, as well as a bass boost button, which we'll talk more about in a minute.
On the back of the Pro+, you'll find a few more features that are well worth mentioning. There's a small LED battery meter, which gives you a rough idea of how much play time you have remaining. There's also a slot in the back for inserting a Micro SD card, in case you'd rather use that method than connect over Bluetooth. There's also a 3.5mm aux port, as well as a socket for plugging in the battery charger.
The overall size of the unit is slightly larger than the original SoundBox Pro, measuring 8.9 inches in width, 3.5 inches in height, and 3.3 inches in depth. That's definitely on the big side, well above pocket sized, but it's necessary to support the Pro+'s large-diameter drivers. That said, it only weighs 1.74 pounds, so it's light enough to carry in one hand without any worries.
Another upgrade SoundBox added to the Pro+ was an IPX5 water resistance rating. This means that it's not rated for submersion, but it can stand up to a "sustained, low-pressure water jet spray". So you wouldn't want to drop it in your pool, but if it accidentally gets sprayed by a lawn sprinkler or gets spilled on by your buddy who's had one too many, it's going to be just fine.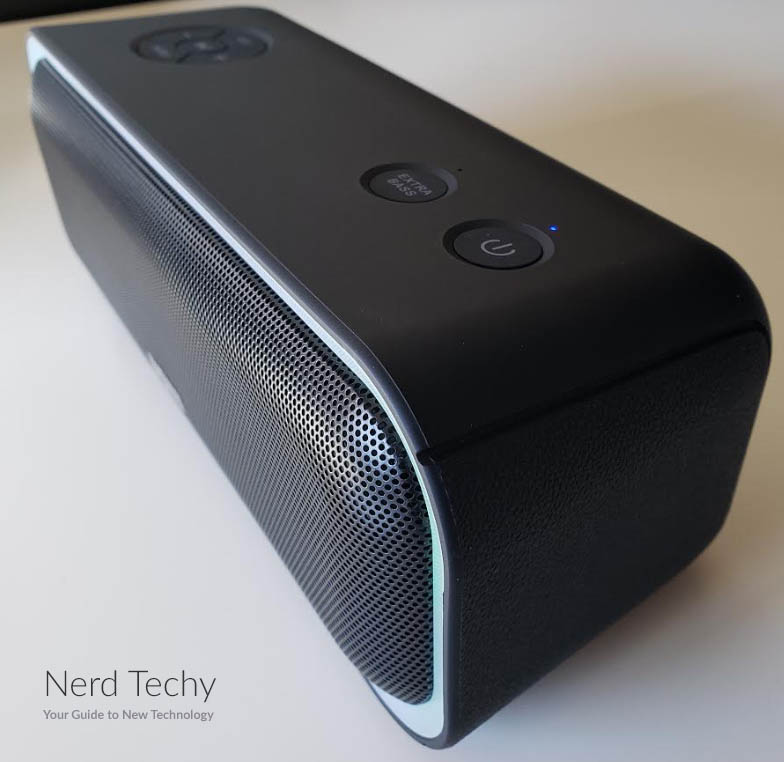 For a full-on pool speaker, you'll want something that's rated IPX7 or above. One such speaker is the Tronsmart Element T2 Plus. It's not as beefy or as powerful as the SoundBox Pro+, but you can drop it in your swimming pool, retrieve it, and it will come out fully functional.
Battery and Charging
While the original SoundBox Pro had a 2,200 mAh battery, the Pro+ is outfitted with a 2,600 mAh battery. Because of the larger, more powerful speakers, though, this equates to nearly identical battery life. As advertised by the company, the battery will last for 15 hours when the volume is at 50 percent. In practice, you're likely to get a little less life out of it, since you'll probably have the volume turned up a bit higher. The performance also drops if you've got the bass boost turned on or if the decorative LED light is active.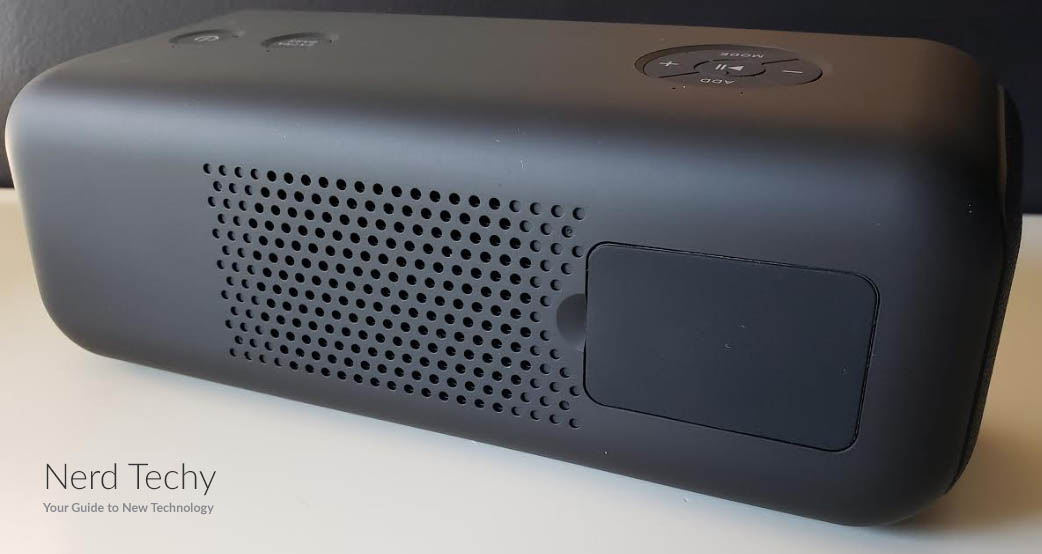 At full volume, with the bass boost and lights on, you'll get about five hours of life. That said, you can leave the SoundBox Pro+ plugged into a wall outlet and it will continue running. But this isn't always possible, so you'll want to keep a close eye on your battery meter if you're using the Pro+ for an outdoor party.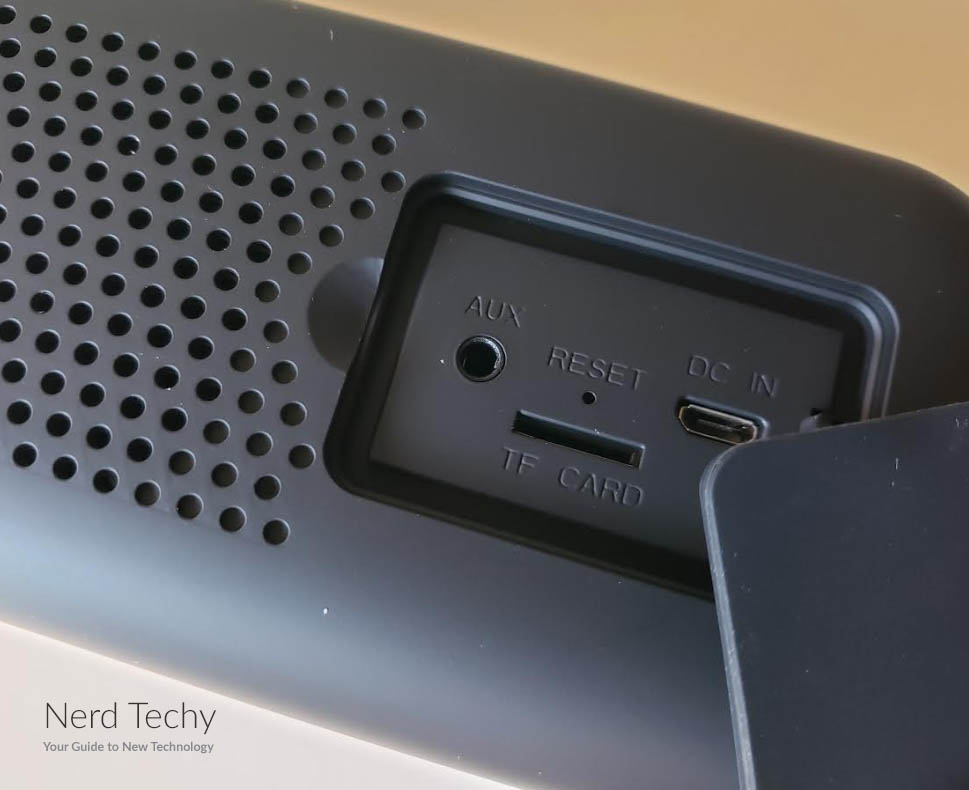 When fully drained, the battery charges quickly, in about an hour. Remember, though, it charges on wall power, not via USB. This is probably for the best, though, since a USB charger, even one with rapid charging capabilities, would take significantly longer. All in all, we appreciate the ability to charge from wall power, but it still would have been nice to have the option of charging in your car.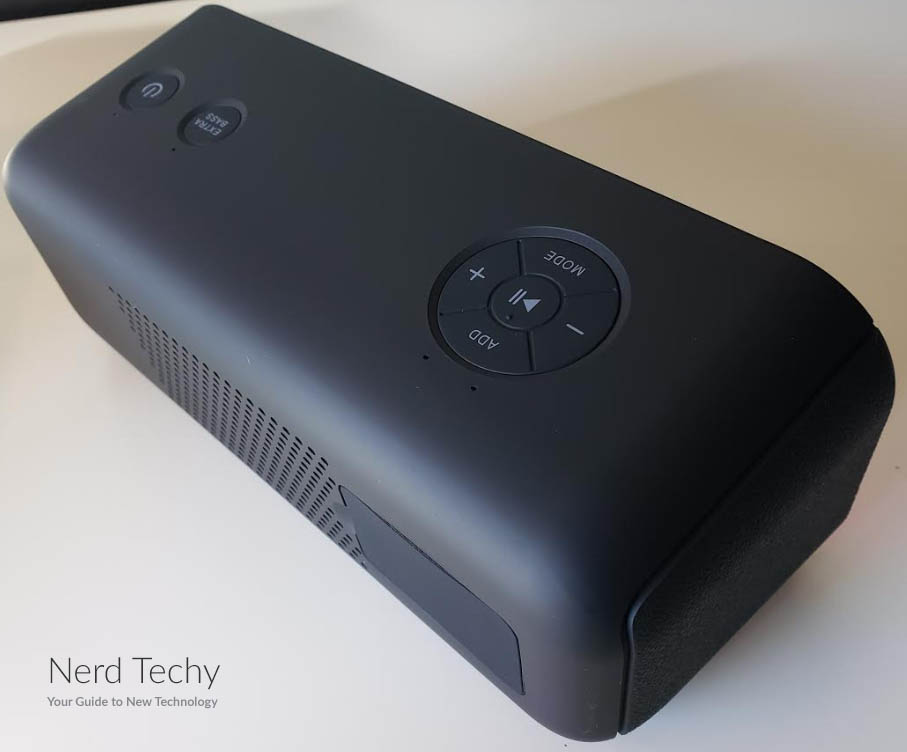 Connection Options
There are three different ways to connect to the SoundBox Pro+. The first method is the most obvious: simply use Bluetooth 4.2. While this protocol isn't quite as low-latency as the newer Bluetooth 5.0 profile. That said, it's very powerful, and allows you to connect from 66 feet away. This is a great feature for outdoor listening, since you'll probably want to move around a bit and not have to leave your phone sitting on a table next to the speaker all day. Pairing is easy: simply press the Bluetooth pairing button on top of the speaker, then open your phone or MP3 player's Bluetooth menu and select the SoundBox Pro+. You'll be playing your favorite tunes in just minutes.
Alternatively, you can use a 3.5mm aux cable to connect to the speaker. This is a little old-school, but it can be useful for two purposes. First, it enables you to use older devices, or even newer devices that aren't Bluetooth-enabled. Secondly, it's a great choice for security-minded individuals, since you won't need to have your Bluetooth activated.
Finally, you can play MP3 files from a Micro SD card. We're not sure how many people would actually use this feature these days, since most people only use Micro SD cards for audio. Still, if you've got a bunch of MP3s saved on an SD card, it's a good way to listen to your old music library.
Another feature we should mention is that you can actually pair two SoundBox Pro+ units together. This can only be done via Bluetooth, but it gives you something most Bluetooth speakers aren't able to offer: stereo sound. As with any set of stereo speakers, the quality will depend on proper spacing and orientation of the speakers, so take a few minutes to get them positioned the way you like.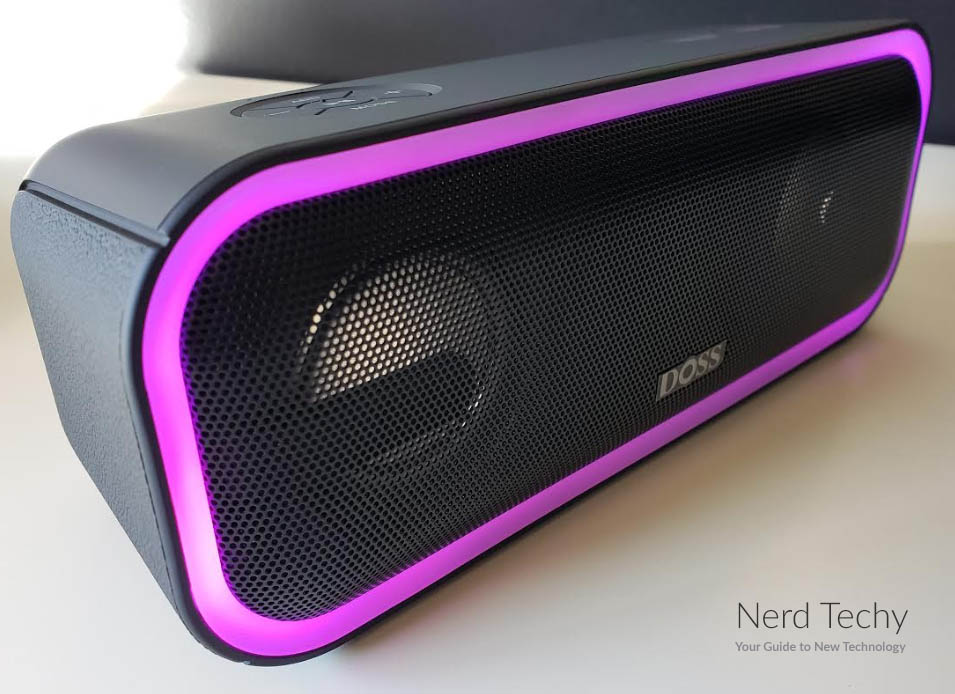 Sound Quality
Now, we come to sound quality. This is where the SoundBox Pro+ really shines. It's designed with a pair of exceptionally powerful 12-watt drivers. This is a significant upgrade over the original SoundBox Pro, which had only 10-watt drivers. The drivers are full-spectrum, which means there's no sub woofer, but on a speaker this small it would be silly to include, since small sub woofers don't offer a lot of benefit when compared to a quality, full-spectrum driver.
Between the two drivers, a pair of passive radiators are pointed up and down. These radiators essentially serve as an advanced set of amplifiers. As sound waves pass through them, they cause the radiators to vibrate just like a driver. This action both boosts the volume of the sound, and pushes it out in more directions, which helps you to fill a large room, or to hear the speaker from a good distance away when you're outdoors.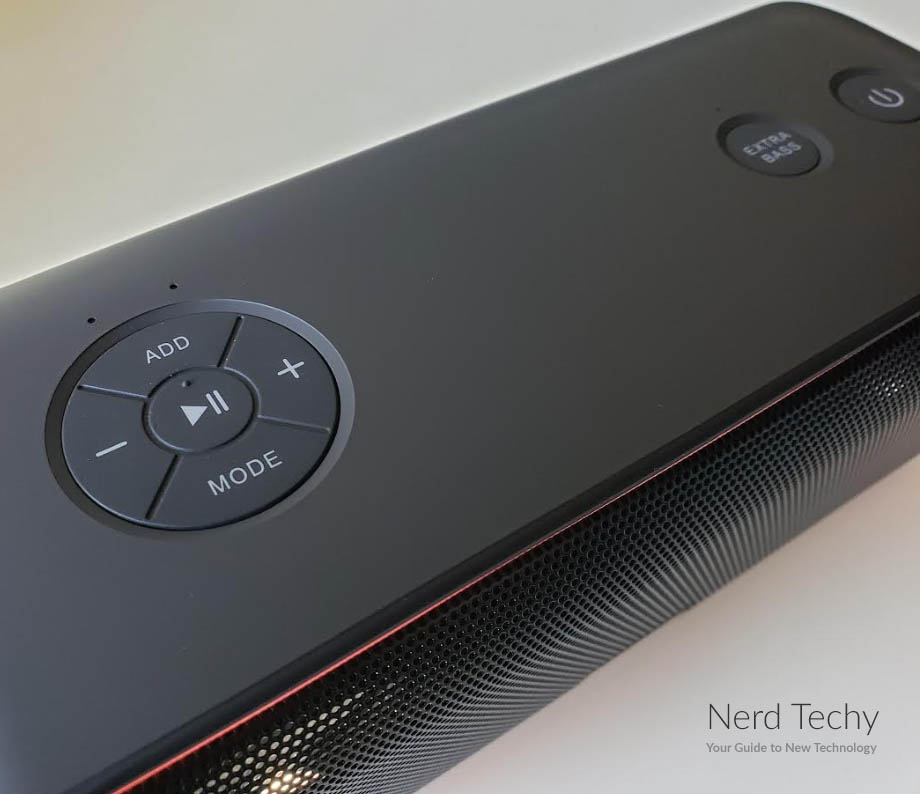 Sound quality is generally good across the board. The highs are bright and crisp, and the mids are exceptionally clear. There's no interference from the mids or rumble from the bass. And speaking of bass, the Pro+ has a ton of punch. You'll hear the beat clearly in dance music, and heavy metal drums will rock your socks off. And with the bass boost enabled, you'll have a dance speaker that really bounces.
For smaller size – albeit correspondingly smaller sound – the Braven BRV-Mini is a good place to start. It's compact, it has great mids and highs, and the controls are simple and intuitive. And it's also waterproof!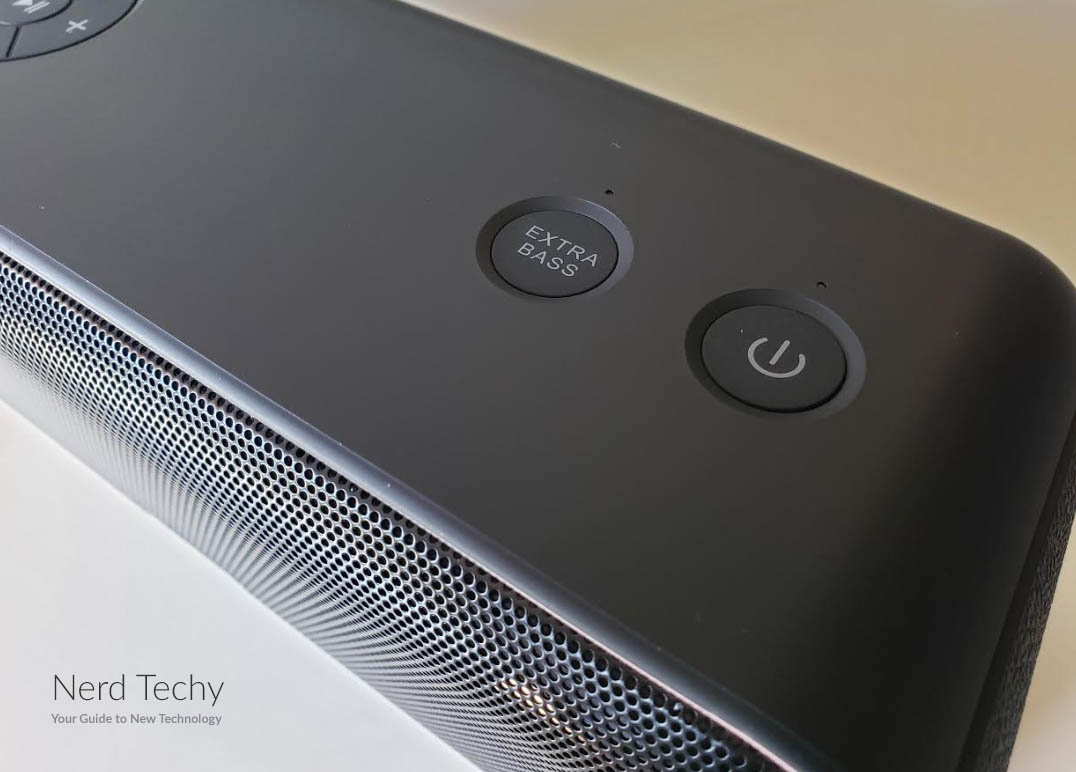 Final Verdict
At the end of the day, whether the DOSS SoundBox Pro+ is a good choice for you is going to depend on what you want. To begin with the downside, it's fairly large. If you're looking for a small speaker that's easily portable, you might want to go another direction. That said, the large size is necessary if you're going to produce this much sound. We're talking about a pair of 12-watt speakers, which requires a little bit of space to accommodate them.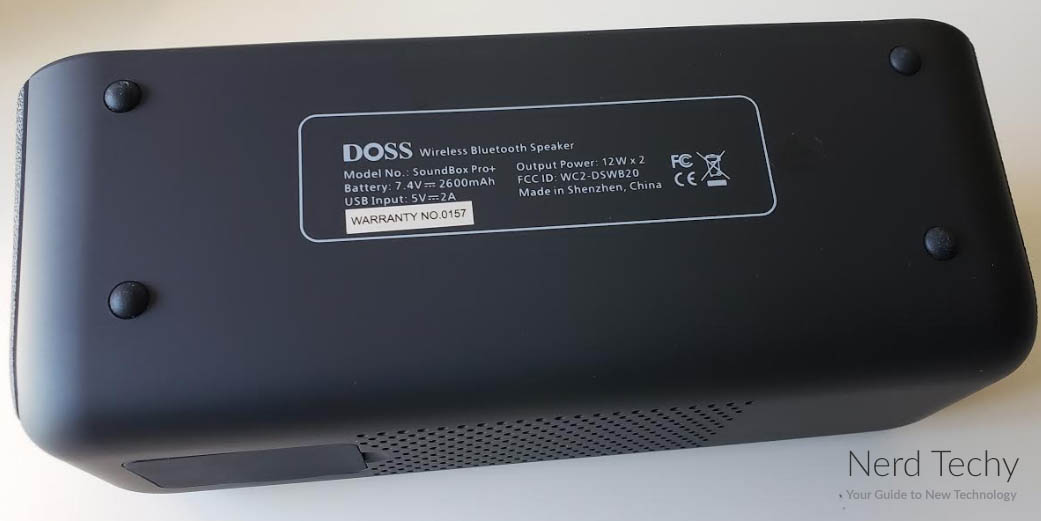 And, believe us, you're going to notice the difference between the Pro+ and smaller Bluetooth speakers. The sound profile is exceptional, with a full range of response from the highest highs to the punchiest bass. If you're looking for a speaker that can replicate dance music authentically, this is a fantastic choice, and it's one of the few Bluetooth speakers that's capable of putting out this quality of sound.
Besides which, the Pro+ is attractive and well-designed. The LED lighting may be a bit gimmicky, but it's cool, and it's sure to become a conversation piece. And the controls are well laid-out and intuitive, meaning there's a shallow learning curve for new Pro+ users.