Tronsmart has made some great speakers but with the T2 Plus they seem to have outdone themselves. Whether you need to set the mood in the shower or rock out in the woods during a rain storm, the T2 Plus will be there with you to do its part.
At NerdTechy we love universal or multipurpose technology because you get the best bang for your buck. When you have to have specialized items it tends to be a big investment for something you might not use very often but when you can take the same item around no matter what you are doing, that's when you get true value.
With advancements in technology everything has gotten smaller. But just as our phones are both smaller and much more powerful than phones from twenty years back, speakers have also gotten much more powerful in a much more compact package. Today as you can tell we are going to dive into everything that makes the Tronsmart Element T2 Plus 20W Speaker awesome.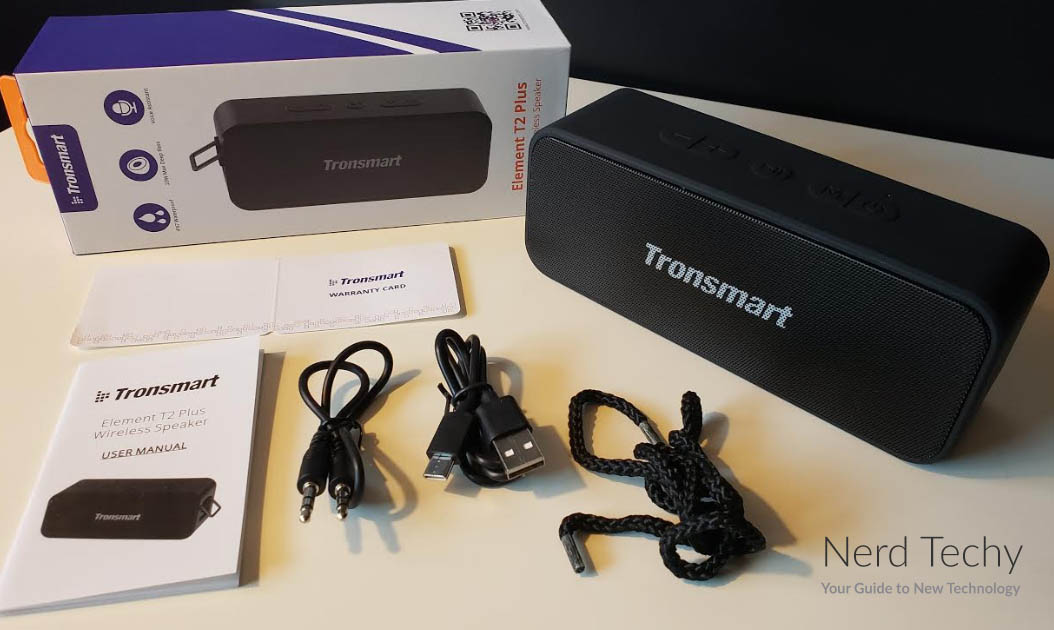 Tronsmart T2 Plus 'The Element'
The T2 Plus is the most recent Bluetooth speaker manufactured by Tronsmart. They have turned their "Element" speaker into more of a brand series than the name of a single speaker as can be seen with the Tronsmart T6 Plus 40W "Element" speaker. The T6 is truly an amazing speaker though it's a bit larger than the T2 Plus. With the T2 being smaller that clearly gives it one up on the T6 in terms of portability. They utilize the name "The Element" due to this series ability to handle the elements.
With its IPX7 waterproof rating and durable rugged design, all of the speakers in this series are meant to come with you no matter where you find yourself. They even built in a metal hook that was specially designed so that you can hang it on your backpack or luggage of choice so you may bring it outdoors, on trips, or just to a friend's party. For those that like holding onto your property the Tronsmart T2 Plus fits right in the palm of your hand.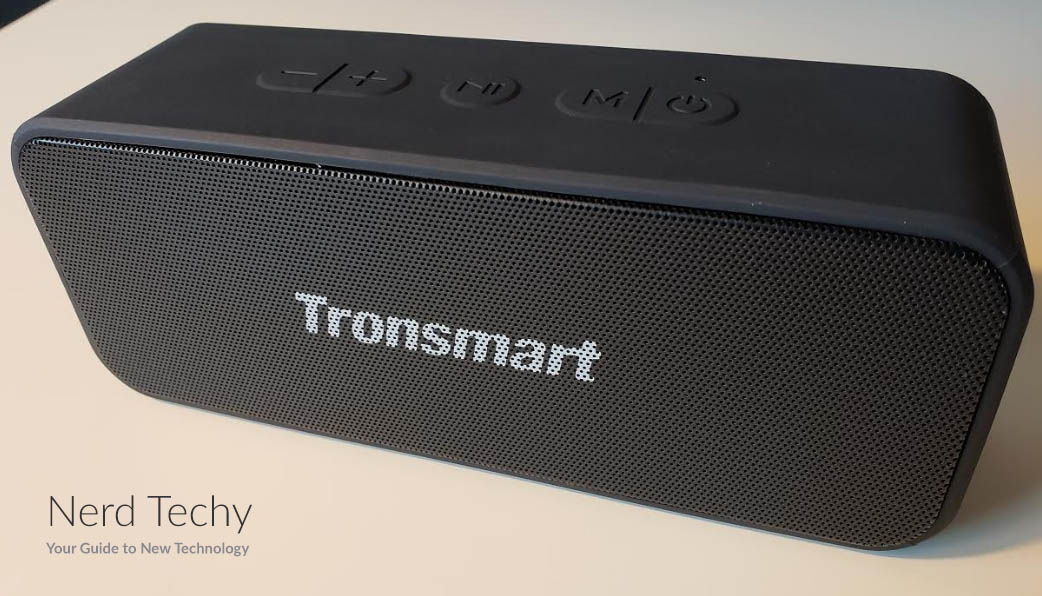 Because this is a speaker designed to get wet, we want to spend a little time diving into the IPX7 waterproof rating. As many of you already know, IP stands for Ingress Protection which means you are protected from water entering the IP rated product. The following digits, or in this case the X and 7, stand for dust and water protection respectively.
In this case the 7 means that this speaker can be submerged up to one meter in water for up to thirty seconds. That might not seem like a lot, but it also means that the speaker can take high pressure water jets as well. So, whether you are getting rained on, or you accidentally drop this speaker in a stream while camping, this thing is going to keep on going as long as you are.
Design & Layout
Concerning its size, the T2 Plus comes in at 6.89 by 2.72 by 2.09 inches. An incredibly portable size and design. The body of the speaker is rectangular with rounded edges and the control buttons at the top. From the far left you have the power button with the TWS pairing button right next to it on the right.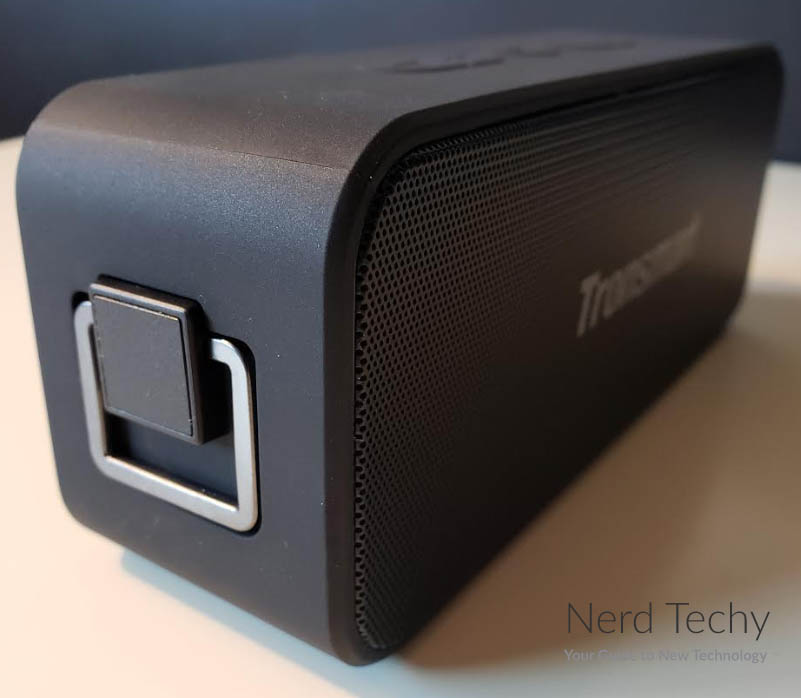 Separated a bit there is the play and pause button in the center of the top and then followed by a gap you have the volume buttons. The entire body of the speaker is black, this includes the buttons and the speaker grating however the logo that is painted onto the speaker grating is white.
On the back side of the speaker above the Tronsmart logo there is a cover that when moved reveals the AUX-IN port should you still use that port. After the AUX-In is the USB-C charging port and as per usual we have to commend Tronsmart here for choosing to build in the USB-C port instead of going with the old Micro or Mini USB ports.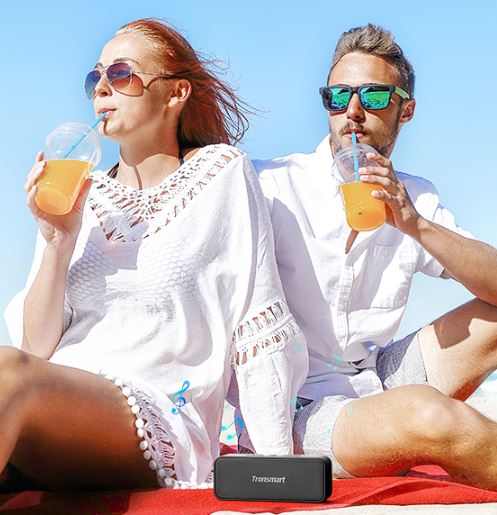 Finally, after the USB-C port you have the TF/Micro SD card slot that you can use to play music directly from the SD card instead of needing to connect a phone. This is particularly useful for campers because we all know that phones are the first to die. So even without your Bluetooth connection to a phone you are still able to keep the party going with music stored on a Micro SD card.
Audio Quality
Let's talk about why you are all here in the first place, the audio quality. They engineered this portable speaker to produce deep bass and intense sound in the smallest package they could. With a 20-watt speaker output you can get crystal clear booming sound your neighbors can enjoy.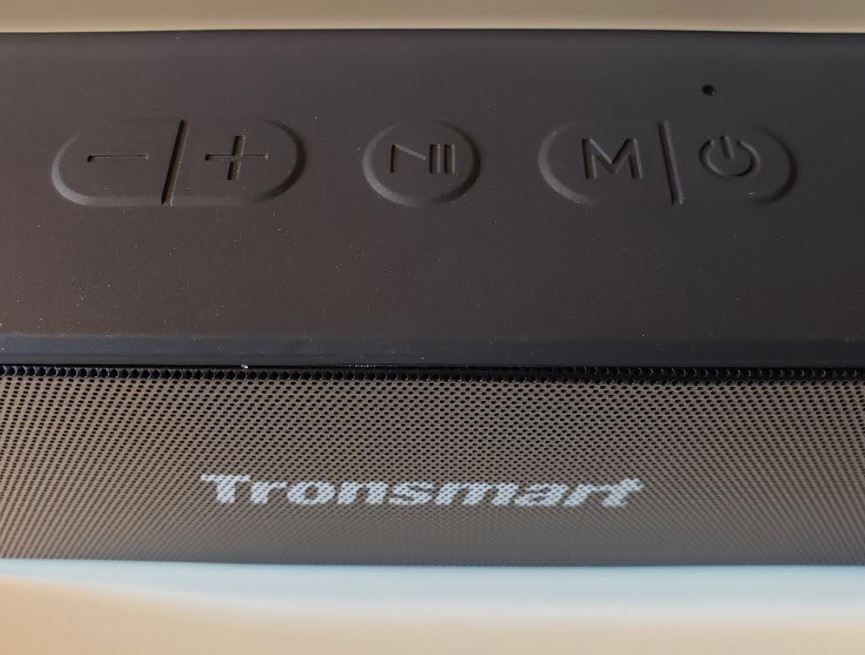 What is even better though is the fact that you can use the TWS technology in these speakers to pair two of them together so you can double your output and get a surround sound experience utilizing stereo coupling.
TWS allows AS2DP audio to be shared between two TWS enabled speakers or devices so that sound can be synced between the two. The true wireless part is a bit self-explanatory but simply means that it utilizes Bluetooth instead of wires. This is the same technology you can find in True Wireless earbuds such as the Aukey Key Series T10 earbuds.
The TWS technology works by having a master slave relationship between the two speakers. The master speaker is paired with the phone or Bluetooth server device and then pairs with the 2nd speaker syncing the transmission speed to the audio playback. This creates a perfectly in sync playback of the music or audio files you are streaming from your phone between the two speakers.
Ease of Use
The Tronsmart T2 Plus has a built-in microphone that can be used as your phone mic when paired. Specifically, it's designed so that you can tie into your phone's voice assistant such as Siri or Google. The microphone also works with a paired amazon echo dot or if you don't want to use Bluetooth you can connect a 2.5mm aux input cable from your phone to the speaker and run the phone that way.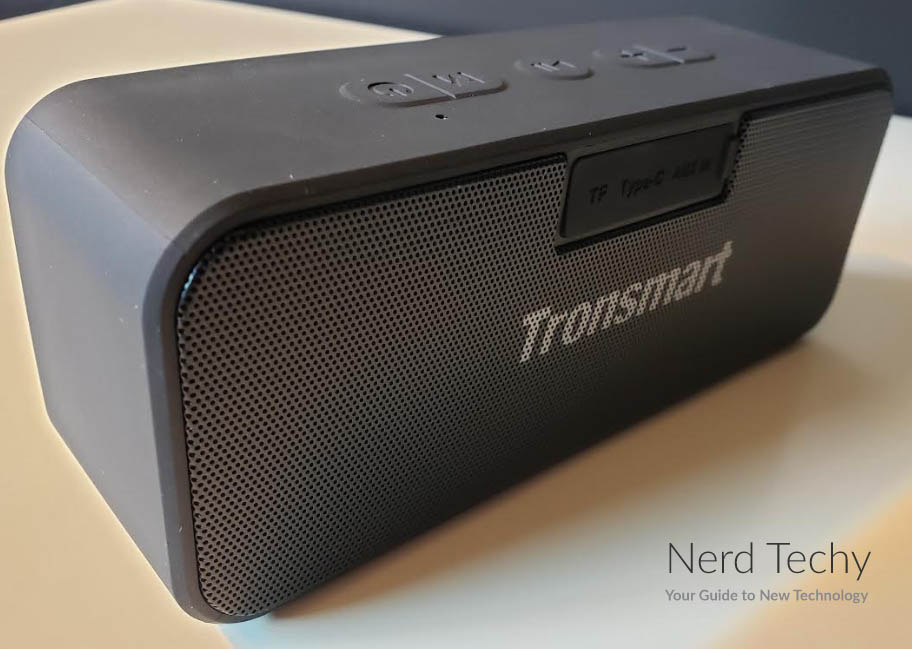 Some might not see the point at first, however aside from the general voice commands, you can use it to skip songs or go back to the previous song as well as play and pause hands free of course.
Pairing the speaker is incredibly easy. To pair you just turn on the speaker and then search on your phone for "Tronsmart Element T2 Plus" then click to connect. If you want to take advantage of the coupling function so you can pair two speakers, just turn both speakers near one another and they will automatically enter the True Wireless Stereo pairing mode. If the two speakers do not pair automatically you can hold the "M" button for three seconds and they will search for other True Wireless T2 Plus speakers then pair.
Wireless Connectivity
The wireless connection for the T2 plus utilizes Bluetooth 5.0 which of course is the newest Bluetooth version. Bluetooth 5.0 provides a more stable, and much faster connection than previous renditions of the wireless protocol.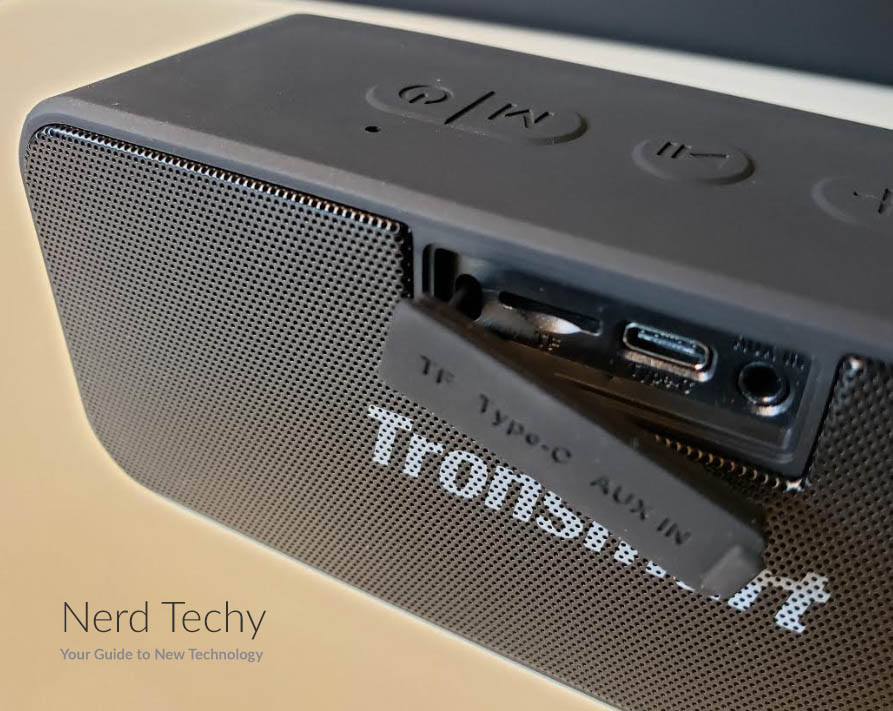 Due to the connection strength of this new tech you can get a stable streaming range of up to a 100 feet transmission. So not only did Tronsmart utilize the newest USB technology with USB-C they also packed in the newest Bluetooth technology to ensure you get the latest and greatest tech.
Battery Lifespan
The battery on this speaker is awesome. With the built in 3600mAH rechargeable Lithium ion battery, you can get over 24 hours of non-stop playtime if you are running at 50% volume. The playtime of course depends on what volume you play at and the type of content you are listening to.
So, if you are booming the bass non-stop you might end up draining your battery a little faster than, say, a Mozart marathon. On that same tone, the battery life can exceed 24 hours at a lower volume, so it really comes down to your general usage. Regardless of usage however, you can trust the battery to last through any of your normal use.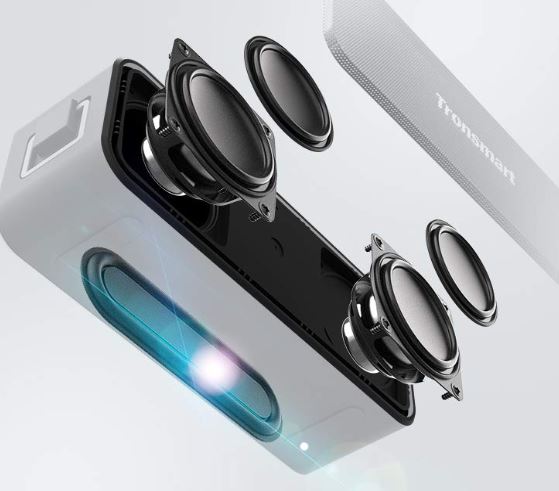 Concerns
Our only major concern here is with the charging speed limitations. The decision to go with the USB-C port is great, however they do not use it to its full potential. The charging speed is 5V/2A and takes around 3 hours to get a full charge. Sure, this is not long compared to the 24-hour play time you get, however it still isn't the best.
With the USB-C port they could have given the speaker compatibility with PD (Power Deliver) charging technology so that you can get ultra-fast charges. Despite this missed opportunity and inability to utilize the technology to its full potential, the speaker still performs great on every other scale.
Though not really as important, one additional thing to bring up is that you cannot utilize this speaker as a portable power bank. There are some speakers that have monster batteries that the manufacturer knows you might not utilize completely on a single trip, so they build in the capacity to charge your other USB powered devices by utilizing the speaker as a power bank. It would have been really great to see that feature built into the Tronsmart T2 plus though it isn't a deal breaker, it would definitely have been a major selling point.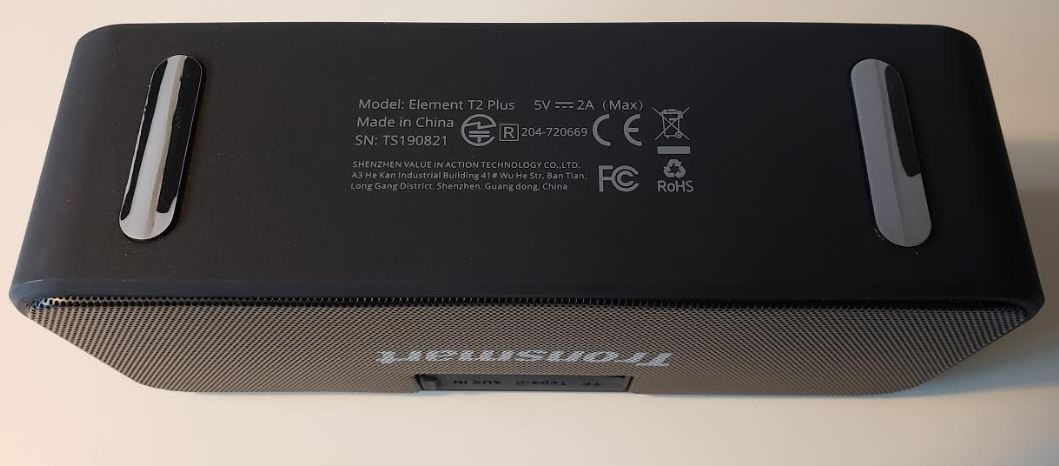 Who Should Choose the Tronsmart T2 Plus Bluetooth Speaker?
The Tronsmart T2 Plus "Element" Series Speaker is an amazingly powerfully little speaker and the size makes it so easy to carry with you everywhere. This is the kind of speaker that anyone in any situation, whether kayaking, showering, or hanging out around a fire.
We definitely give this speaker our seal of approval and have been impressed with it's performance so check it and out and let us know what adventures you take it on because we want to know exactly what kind of damage this thing can survive.