Over the years, there have been numerous improvements in wireless technology. Starting with the 802.11 standard in 1997, subsequent improvements have been labeled 802.11b, 802.11a, 802.11g, and 802.11ac, along with several other protocols that were mostly experimental and never gained widespread popularity.
With the latest iteration, the Institute of Electrical and Electronics Engineers (IEEE) has decided to drop the new protocol's designation of 802.11ax, and opted for the cleaner-looking, easier to read "Wi-Fi 6". Because this is a new protocol, we're still looking at the first wave of routers to support it. As yet, there are no devices on the market that are compatible with Wi-Fi 6, but you can expect to see many of them start to hit shelves in 2020, including the latest major smartphones.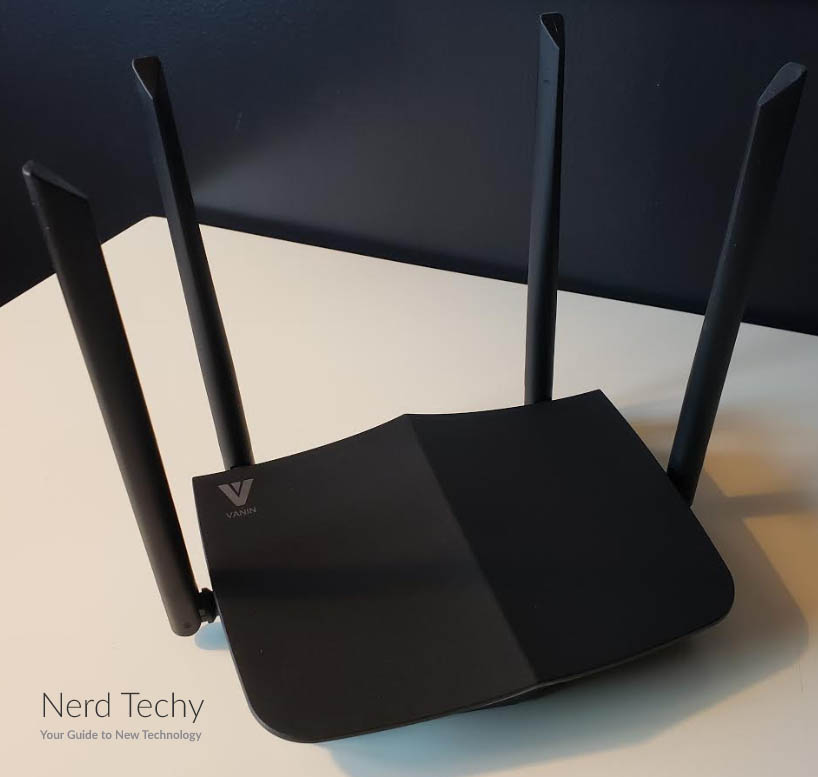 Today, we'll be taking a look at the VANIN (Juplink) AX1500, a new Wi-Fi 6 router that's designed to be as affordable as possible, while still offering the blazing fast speed and multi-device support that you'd expect from Wi-Fi 6.
If you're looking for a more full-featured Wi-Fi 6 router, we've written about the ARRIS SURFboard mAX Plus W30 in the past. This router comes with a range extender, and both of them function as WiFi and Bluetooth speakers. The SURFboard mAX Plus W30 is an ideal choice for large homes, or for anyone who expects to have a lot of users on their network. Unfortunately, it comes with a hefty price tag. Fortunately, there's always the more affordable VANIN AX1500. Let's take a look!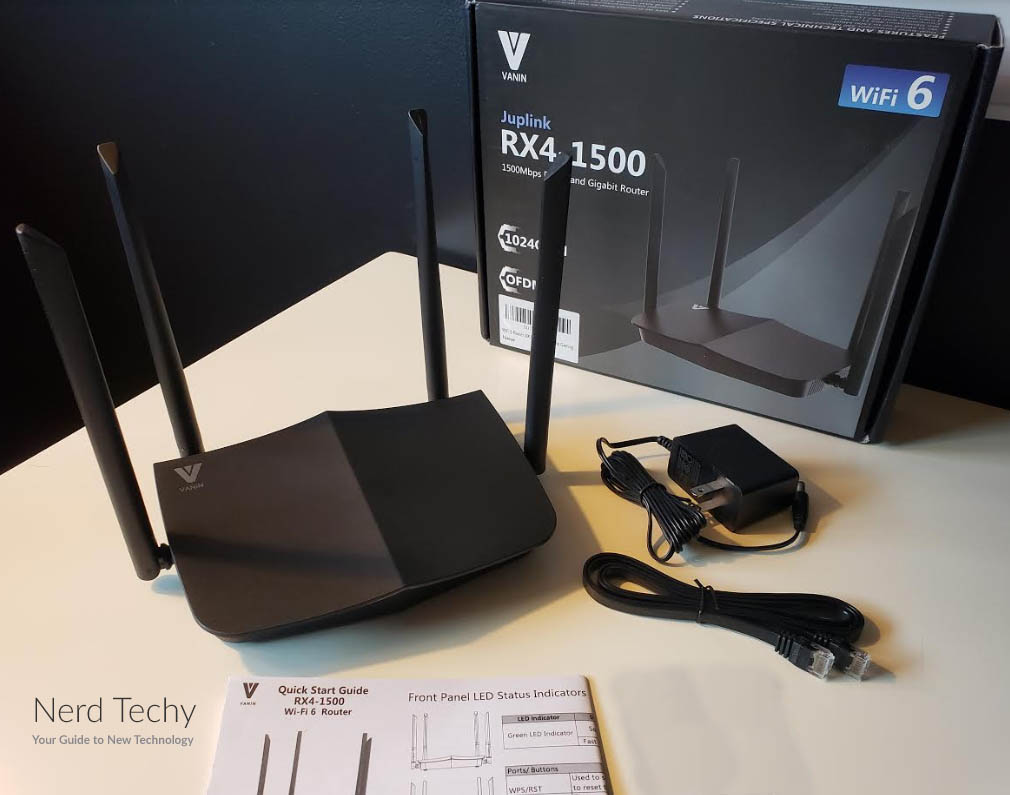 Technical Specifications
Before we take a deep dive into the AX1500's features, here's the TL;DR version in case you're in a hurry:
Supports all WiFi protocols, including 802.11ax/Wi-Fi 6
300 Mbps at 2.4 GHz, 1,200 Mbps at 5 GHz
1.5 GHz 64-bit tri-core processor
4 Gigabit LAN ports
1 Gigabit WAN port
OFDMA traffic management
WPA3 encryption
Integrated parental controls
4 independent front end modules (FEM)
As you can see, this is a powerful router that's up to all the latest standards. But to many people, this just looks like a list of numbers. For those of us who aren't up on all the latest specifications, let's take a deeper, closer look at what the AX1500 has to offer.
Look and Feel
The first thing we noticed about the AX1500 is that it combines a sleek, modern look with a traditional design and a relatively small footprint. We appreciated this, since a lot of the newer routers are trying to look like large, fancy devices. Sometimes, this is justified, since they offer additional functionality. But other times, it would be nice to have a traditional router, particularly if you've already got a spot for one on your desk or shelf.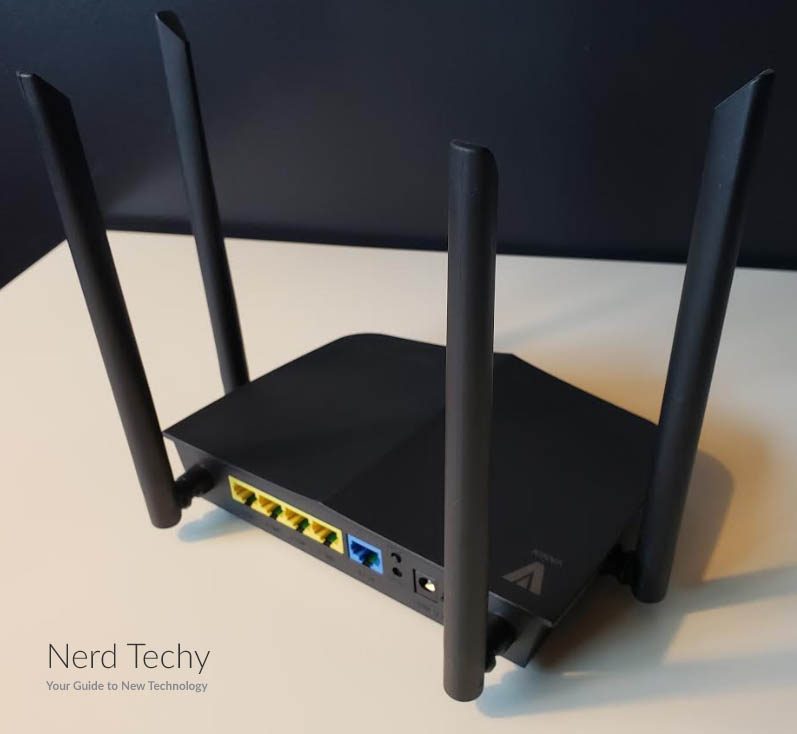 The case is constructed from smooth black ABS plastic. The top has a scalloped, gull-wing design that looks like it's ready to fly away from your desk, and the front is angled forward like the prow of a ship. The side vents are understated, with dark vertical slits that run the full length of the router. This provides plenty of airflow, and keeps the back clean, with the exception of the four Gigabit LAN ports and the Gigabit WAN port. LED lights let you know which ports are active, but they're located on the back of the unit and they're not very bright, so they won't keep you up at night if your router is located in the bedroom.
Another thing we appreciated were the four Front End Modules (FEMs), which is a fancy tech term for an antenna and receiver. In promotional pictures, the antennas are all vertical, but in reality they can all be rotated independently. This can be moderately helpful if you're trying to extend coverage from one end of a large house to another, but for the most part the antennas work just fine in the vertical position. This is more attractive than having the antennas pointing every which direction, and provides a cleaner look if your router is somewhere easily visible.
Speed and Connection Quality
As we mentioned at the beginning of this review, the AX1500 supports the latest Wi-Fi 6 protocol. This allows for exceptional speed, up to 300 Mbps at 2.4 GHz, or a blazing-fast 1,200 Mbps at 5 GHz. This is fast enough for streaming 4K video on multiple devices, or for streaming 8K video for a VR or AR device. This is exceptional speed, since 4K streaming is still in its infancy and 8K, while it exists, still doesn't actually do anything useful. In other words, you're looking at a future-proof router that's going to remain a reliable workhorse in 10 years or more. That's a lot of capacity from a router that's near the bottom of the barrel when it comes to price.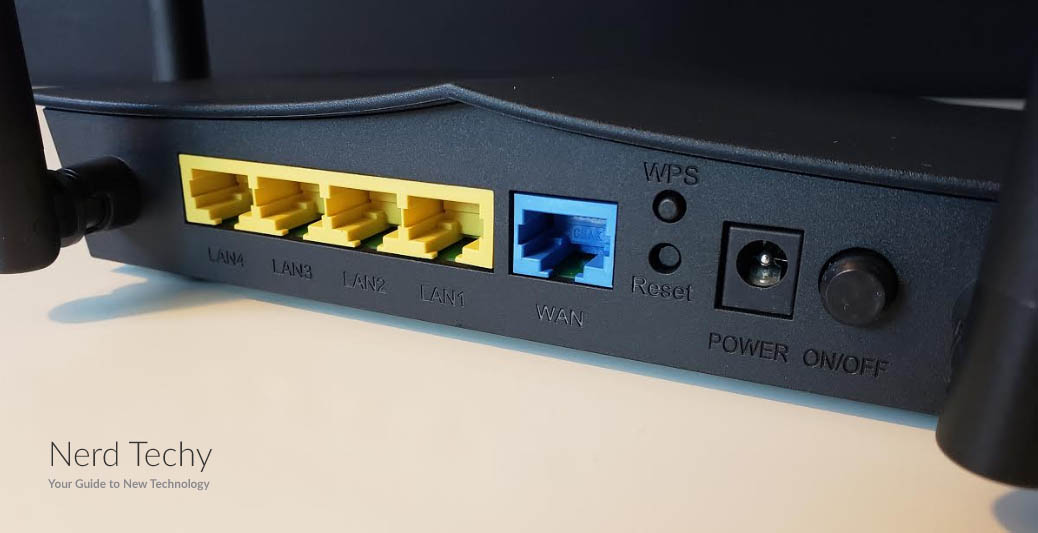 Speaking of being future-proof, the AX1500 also allows you to keep on using your old devices. It's compatible with all legacy protocols, including 802.11b, 802.11a, 802.11g, 802.11n, and 802.11ac. In other words, if you still have an old laptop for running classic games, you're not going to experience any connectivity issues. The AX1500 automatically detects the fastest protocol that your device is capable of using, and uses that protocol to ensure that you get the fastest connection possible.
Another thing we liked about this router is that it use orthogonal frequency-division multiple access (OFDMA). This technology uses different frequencies and different receivers – hence the four FEMs – to provide separate connections to different devices, so faster connections will receive priority access. For example, suppose you're streaming a 4K video in the living room, your partner is listening to a podcast as they run on the treadmill, and your teenager is chatting with friends on Facebook messenger. Each device would communicate through a separate FEM.
To reduce interference, the 4K TV would connect over the faster 5 GHz band, and the two other devices would connect via the 2.4 GHz band. If your teenager suddenly switches to watching a YouTube video in HD, their phone will switch over to the 5 GHz band seamlessly to provide extra bandwidth.
That said, the AX1500 is still an affordable router, and the latency isn't the lowest on the market. You're looking at 60 to 80 milliseconds, which isn't bad. Anything under 100 milliseconds is going to be good enough for most people.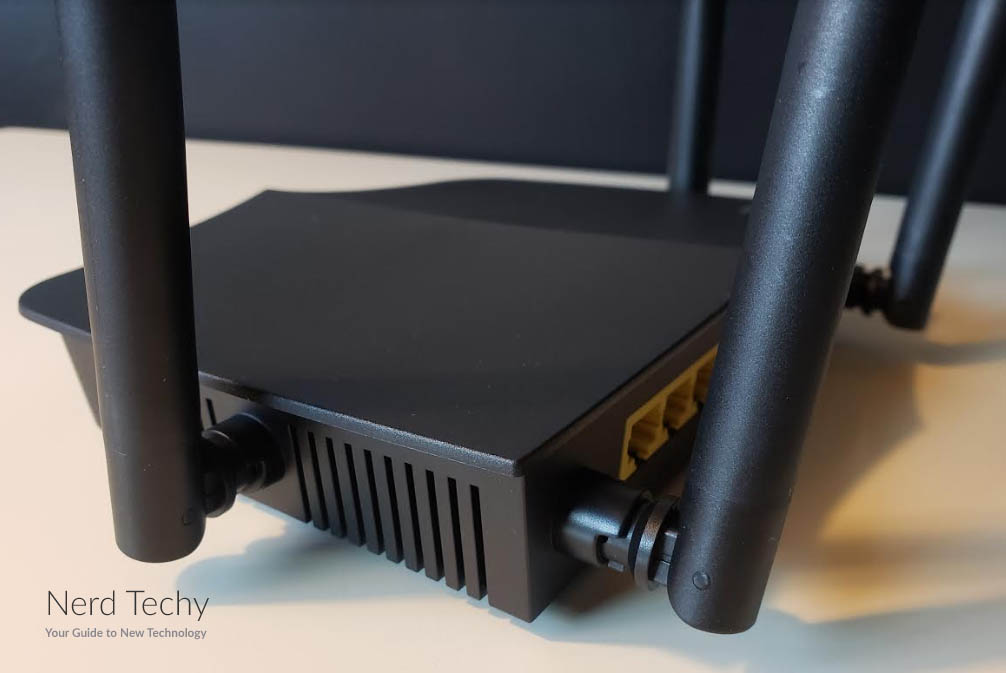 But if you're looking for a router specifically for minimal gaming latency, we've reviewed even faster options. The Netgear Nighthawk XR450 is a great example. This router comes with a variety of software tools to tweak your settings to reduce your latency to a bare minimum. If you're looking for the fastest ping speed possible, this router is a tough one to beat. It's also reasonably priced, though still a bit pricier than the AX1500.
Extra Features
Of course, a quality router is about much more than stacking up impressive specifications. It's also about the little extras that differentiate a quality router from one that's simply ho-hum in terms of quality. Thankfully, the AX1500 brings a couple of these nifty features to the table.
To begin with, it offers WPA3 compatibility. This is the latest standard of wireless security, both faster and more secure than old-school WEP, WPA, and WPA2 security protocols.
If you're concerned about your neighbors leeching off your internet, this is a good way to ensure that your internet connection is truly your own. It also supports WiFi Protected Setup (WPS) pairing, which enables familiar devices to connect automatically once you've entered the password once. This is nearly essential on phones, tablets, and laptops, since you don't want to have to select the network and enter your password every time you come home.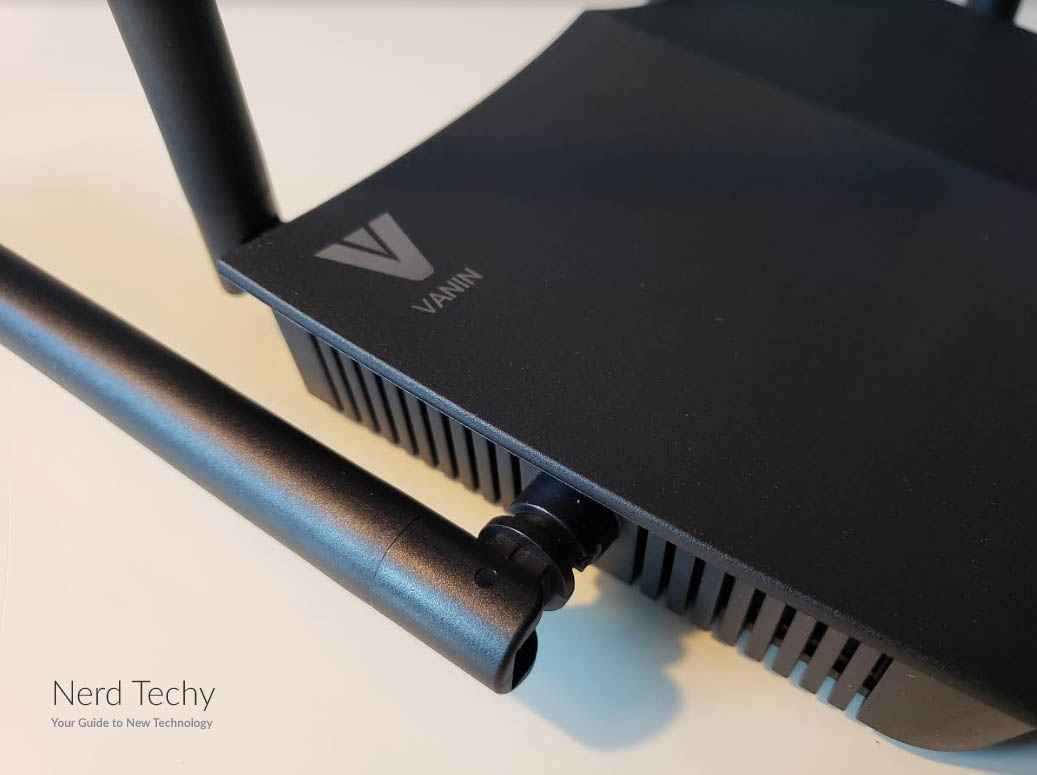 Another feature that the AX1500 offers is geared specifically to parents. It has built-in parental controls, so you can block adult sites and other content that you don't want your kids to stumble across. You can also customize these controls to set limits on various types of content, and even set different limits for different devices.
For example, if you have two kids, you can allot two hours of streaming video time per day to each of their phones. Another nice feature for parents is the ability to set an internet bedtime for your kids. If your kids like to sit up late, chatting with their friends on social media with the blanket pulled up over their heads, an internet bedtime is a good way to ensure that they get a good night's sleep.
Of course, you might be looking for even more security. If that's the case, the Keezel 2.0 VPN Portable Router might be just what you're looking for. This is a mini router, designed for one or two devices, not for the entire house. That said, it's small enough to take on the road, and can easily be used to improve your security when you login from a hotel or a coffee shop.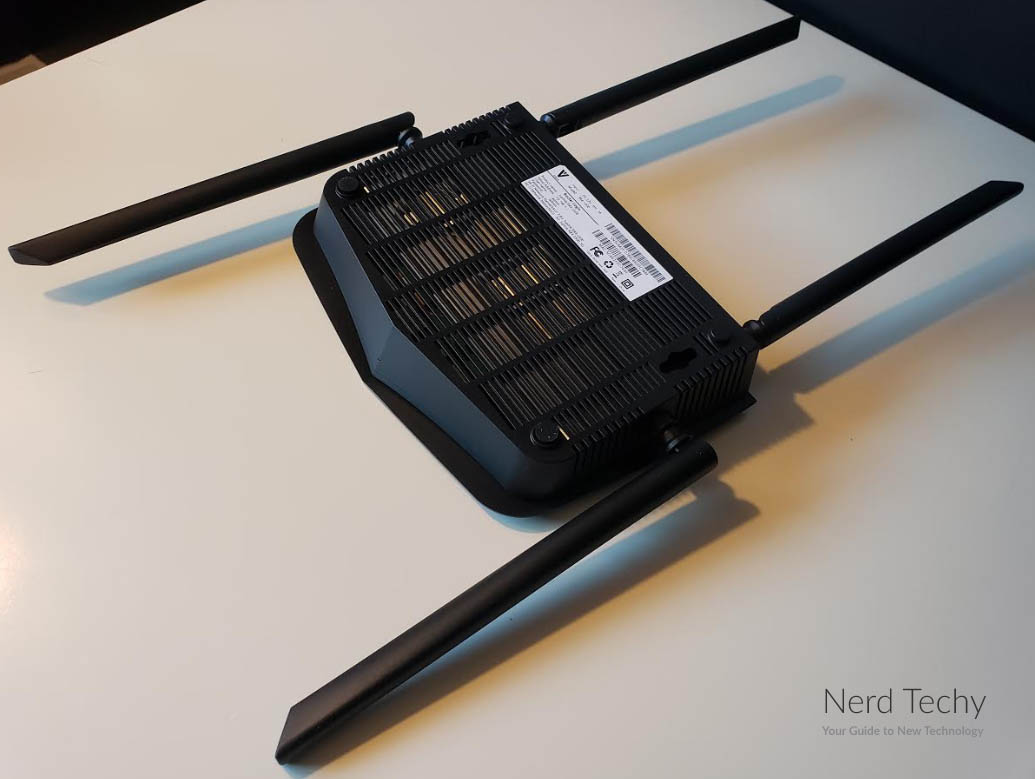 The Keezel offers two types of security. The first is built-in antivirus and anti-malware protection. This isn't a replacement for your existing antivirus software, but it's always good to have a second layer of security. More importantly, as its name implies, this router directs your traffic through a secure VPN. And because the router connects to the VPN right from the get-go, it's even more secure than VPN software, which leaves your computer unprotected for a few seconds during startup and shutdown.
Final Verdict
So, at the end of the day, is the VANIN AX1500 a good buy? All things considered, we think it's a solid choice for most people. To begin with, you get a traditional design with a small, predictable footprint. You also get a significant range, with a powerful signal that can connect up to 25 separate devices, including future smart home devices that haven't been released yet.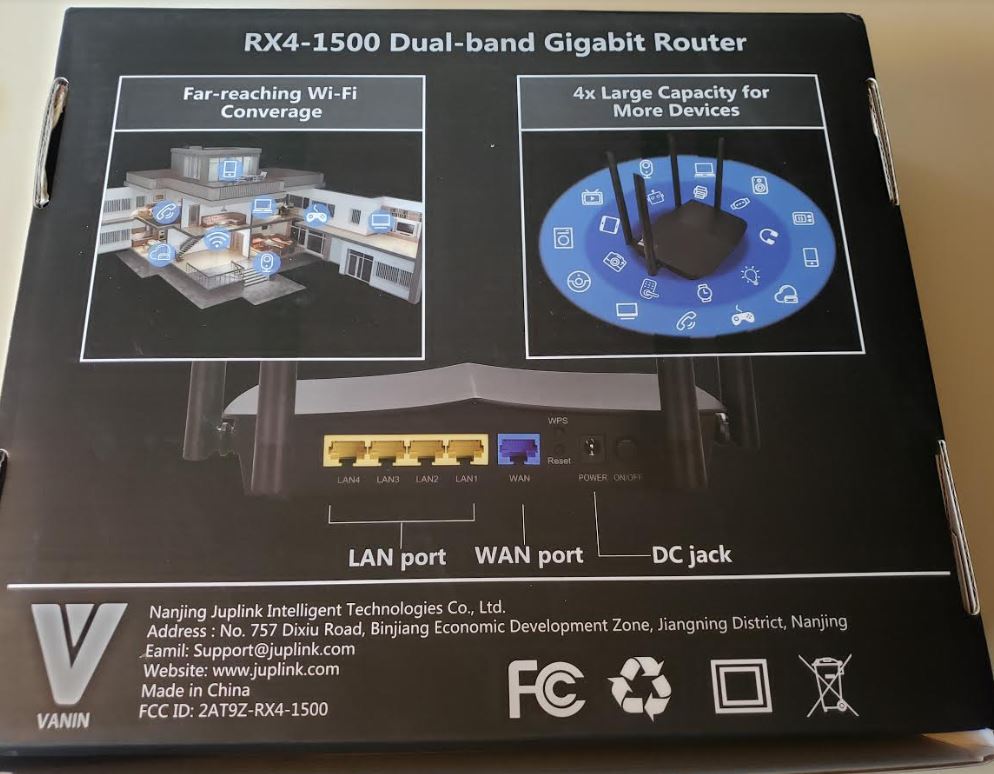 This gives you the ability to connect as many devices as you can manage, and to connect with blazing-fast Wi-Fi 6 speed. In addition, the parental controls and internet bedtime are both fantastic features, giving parents the opportunity to control kids' access to the internet. If you want a secure, stable, and future-proof router, the AX1500 is an excellent choice.