Traveling always comes with certain risks. And in the digital age, those risks aren't only things like pickpocketing. They also include risks to your data and even your identity. Accessing public wireless networks means transmitting your data into the hands of someone else's networking equipment. That can put you at risk if the person setting up the network was incompetent, or if there are malicious people around. Which is why a lot of people turn towards VPNs.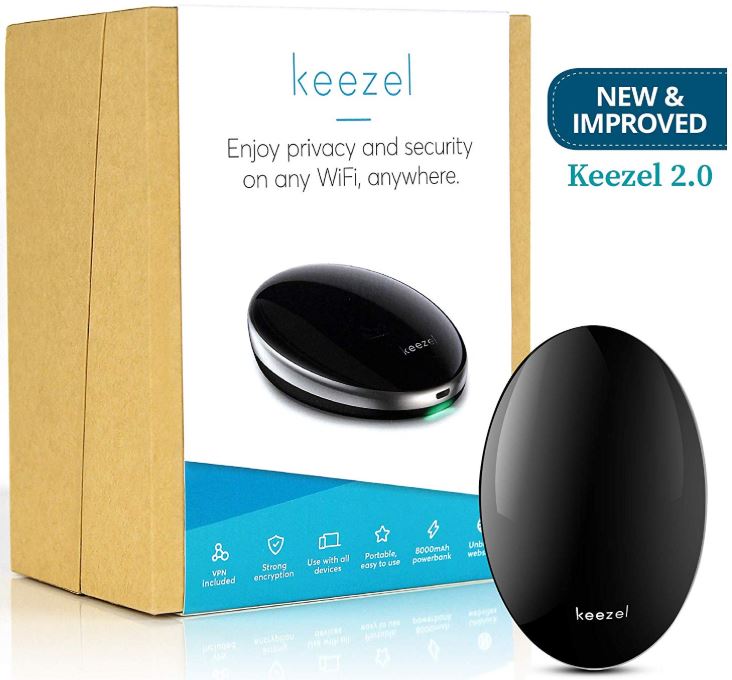 Keezel 2.0 VPN Portable Router
The new Keezel 2.0 VPN Portable Router is essentially only a small improvement over the previous iteration. But any improvement is a good improvement, right? Keezel's VPN router is supposed to be a cybersecurity device that makes an active effort to protect users from malware and other malicious programs. That includes attacks from hackers, protecting you from spying, and preventing ransomware from taking over.
And they've ensured their VPN is portable enough to be taken basically anywhere. That includes working remotely, traveling, and so on. You could even take this thing in to work with you. That makes portable VPNs like the Keezel a good choice for people who are persistently traveling, and therefore at greater risk of losing their data across an unsecured public network.
Clearly, Keezel has a heavy focus on security. And as part of that, they provide users with encrypted data from one end to the other. And then they layer on decently formidable firewalls, and some add blocking and anti-phishing features. That means your device will never be connected to an unsecure network because anytime you're using a VPN you're secure. And it means you're protected even if the network you're using isn't.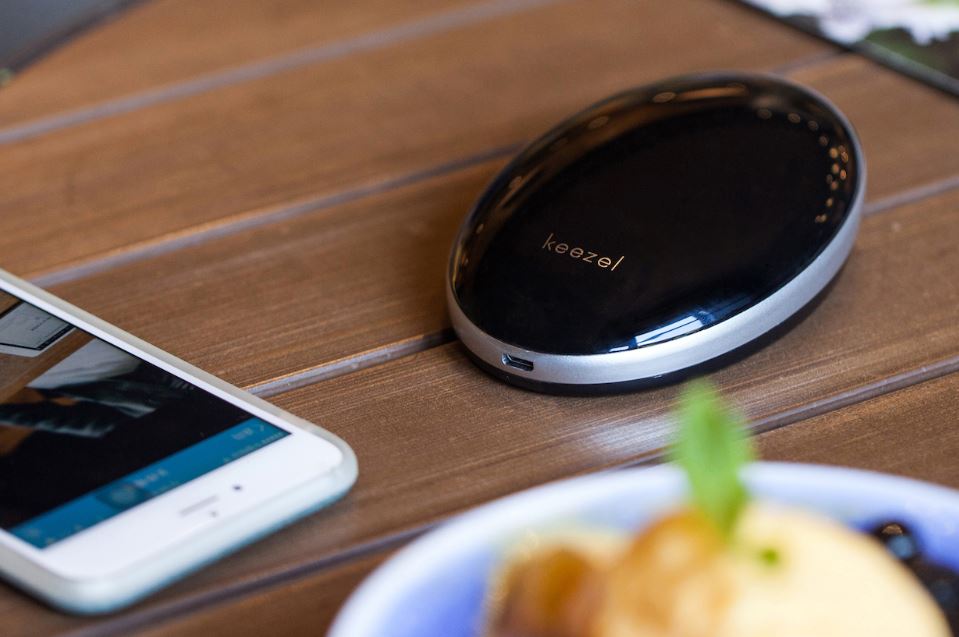 Design & Layout
The Keezel 2.0 has an elongated egg-like shape. But it measures around 4.8 x 3.2 x 1.8 inches, and weighs a little more than one pound. That's basically a hand-held shape that's not that different from a smartphone, just a tad thicker. So you can pretty easily shove it into your pocket, take it in a travel bag, toss it into a glove box, and so forth.
Notably, the device doesn't seem to have any cooling ports or fans. As such, all of its heat is dissipated through the shell. Since the shell is made of the right plastics for heat dissipation, this works pretty well. It also means you don't have to worry about noise being made by fans. But the Keezel 2.0 still manages to heat-up considerably while under full load, similar to a regular router. You don't need to make sure it has airflow or anything like that, but you probably wouldn't want to wrap it up under fabric or otherwise hide it away while being used.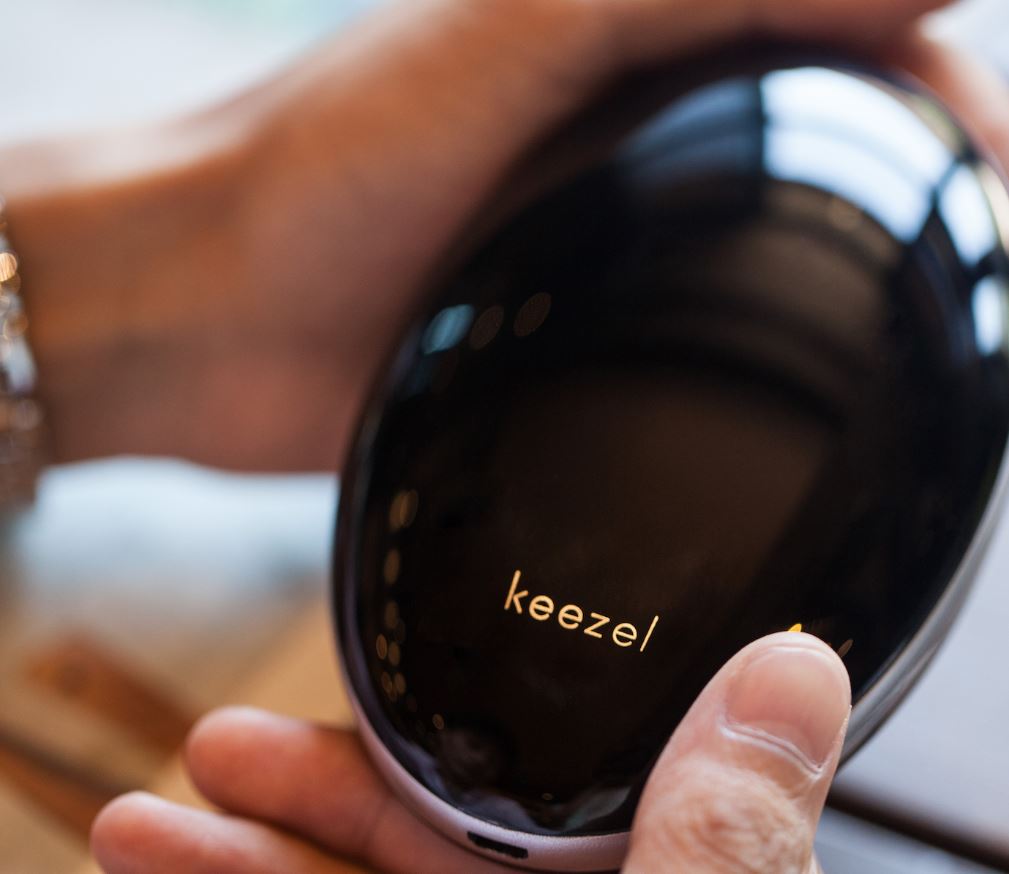 Because internally, Keezel 2.0 is made with a dual core CPU. And that processor is powerful enough to produce a decent amount of heat. Additionally, there's 512MB of RAM. That seems a little bit low, but it's sufficient for the ten connections this device is supposed to facilitate.
Of course, since this is a VPN network, you're never going to end up with the same kind of speeds that you can get from a direct connection. But nevertheless, Keezel 2.0 does a decent job at keeping those speeds up, as we'll see in a moment. First, we should look at how long Keezel can maintain one of these networks on its battery supply.
Battery Lifespan
Portability is a mixture of many factors. In this case, it's important to look at how they've managed to keep their travel router powered. Because no small part of the appeal of Keezel is that you're able to use this thing for traveling. If you were going to take Keezel and throw on some kind of wired connection, the portability would disappear in an instant. As such, they decided to shove a battery inside.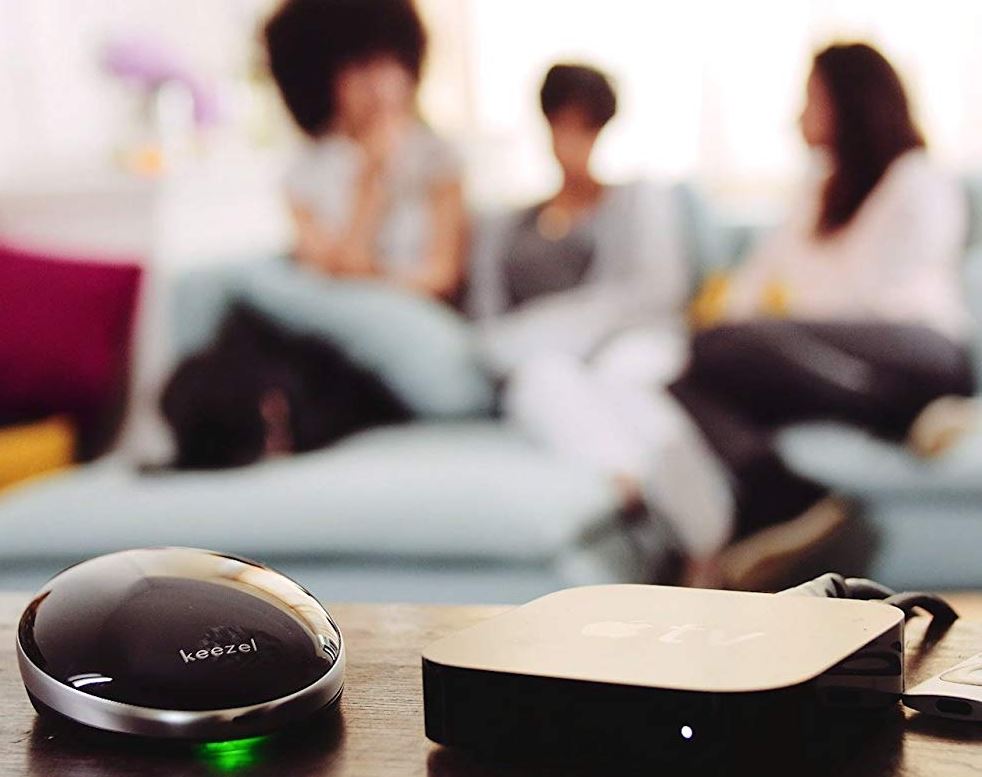 Though amusingly, the battery weight makes up the majority of the weight of this device. So in an ironic way, the battery also slightly detracts from its portable nature. In any case, the battery they've used is a pretty formidable 8,000mAh lithium-ion rechargeable. It's supposed to be able to deliver around 20 hours on a regular basis. Though the actual performance you get from the battery will depend on a number of factors. Is there just one device connected, or do you have ten users in the network?
Are you using the Keezel in an area that's unusually warm or cold? With the wrong set of circumstances, you could see that 20-hour lifespan start to creep closer to 16-hours. Still pretty impressive, and still enough to get the job done in most situations. Recharging it from empty does end up taking the better part of five hours. Big batteries tend to take a while to finish. And regrettably, there aren't any fast recharge features to help things along.
When it comes to longevity, it's important to recognize that any device with a built-in battery is ultimately a disposable device. Especially if it can't be operated without that battery someday. Because after regular use, even a good lithium-ion battery is eventually going to wear out. In this case, you're looking at around 500 recharge cycles. In other words, you can expect something like a minimum of 10,000 hours of use from the Keezel 2.0.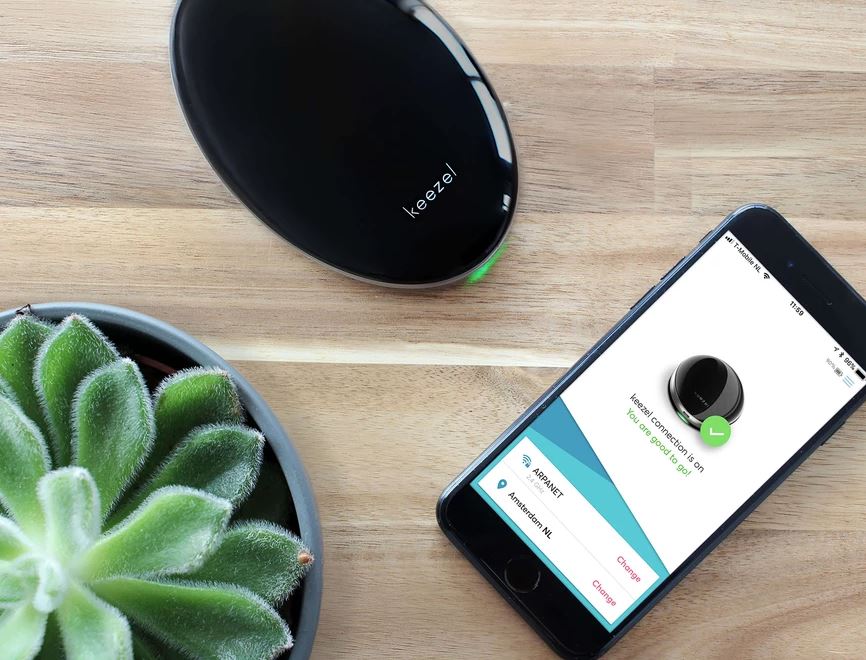 Security Provided
When you flip on the Keezel, it works by creating its own separate wireless network. That network is dedicated to you. That way, the Keezel connects to whatever public Wi-Fi networks are around you. And then your other devices connect to the Keezel. That puts a barrier of separation between yourself and a variety of threats.
How does Keezel compare to VPN software? Well, the big problem with VPN websites is that you're required to connect to the WI-FI network in order to then access the VPN service. That means you will momentarily be connected with an unsecured network. And all it takes is one second to put your data at risk. Though admittedly, VPN software will cover you in most situations, there's no denying that Keezel is more secure across the board.
You can connect a maximum of 10 devices at the same time. Keezel is compatible with basically anything that can support a wireless connection. That might include a laptop, smartphone, Apple TV, Roku, and so forth. The 10-device limit shouldn't be a big barrier for many people. Though finding a network that's capable of protecting more devices is possible, it also becomes rather expensive. So if you can squeeze by with the 10-device design, then you're better off doing so.
Another thing to keep I mind is that Keezel provides continuous software updates for their router. That means you're protected from new threats as they emerge. And without a need for you to go out and download updates or otherwise protect yourself in a more active way. That can be pretty important because new threats appear on literally a daily basis, so router companies have to be vigilant about combatting them.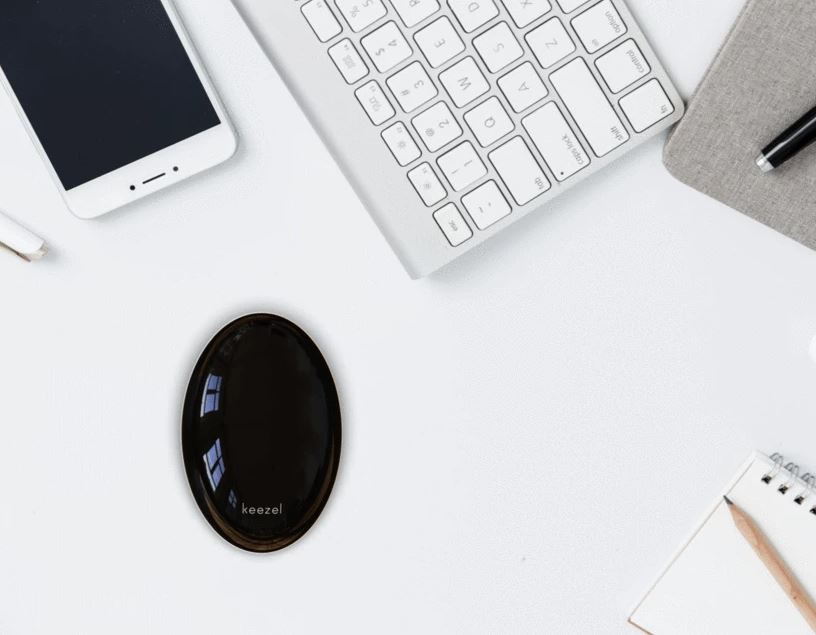 Networking Power
The wireless is 802.11b/g/n running both 2.4Ghz and 5GHz. So being able to access either band means you're in a great position to get signals when you're not directly next to the router to which you're connecting. And you're also in a great position to get high-bandwidth connections while you're positioned near the broadcasting router.
In either case, you get the full advantages of running a modern wireless network in the Keezel 2.0. And you're able to access VPN servers from around the globe. Of course, setting things up isn't totally smooth and seamless. A lot of the time, networking equipment can be a little complicated. And when you're getting other people's networking equipment involved with your own devices, then adding an intermediary device like Keezel? That's only asking for complications to crop up.
Thankfully, using Keezel is pretty smooth once you've got it setup for the first time. Once you get it going, the setup is really like a road bump. But you will need to follow along with the user manual because the series of steps required to finish the setup must be taken in proper sequential order. It would've been nice if they'd designed this around some kind of one-button Bluetooth installation, but it's not so complex that the average person can't handle it.
Other Considerations
Keezel's VPN works well for tablets, smartphones, laptops, and so forth. But of course, this device doesn't necessarily need to be used for traveling. While it would make a little less sense in a home environment due to the battery limiting the lifespan of the device, it would work just fine in that capacity. And you might use Keezel for a smart TV, Wi-Fi home appliances, and so on.
Usually, devices like this come with a solid two or three-year warranty. Keezel hasn't gone so far. Though they do provide you with everything you need to get started using their router. That includes the short charging cable, a user guide, and a small carrying pouch.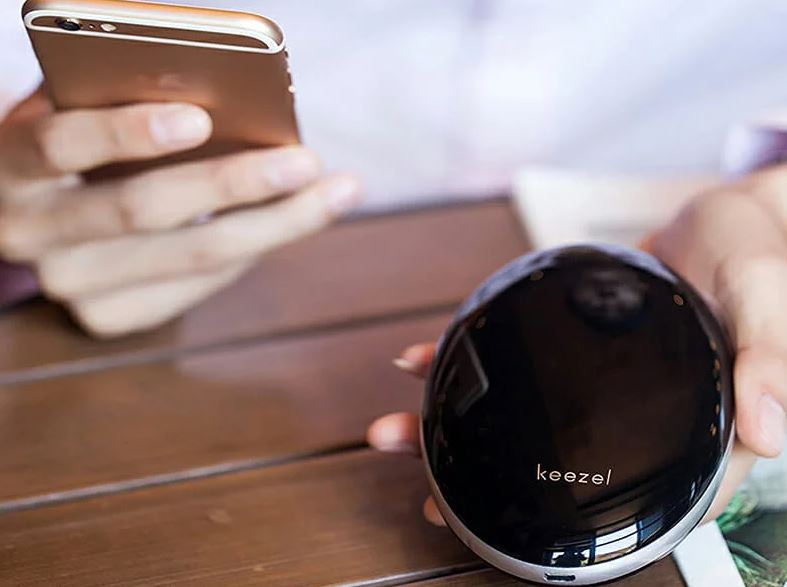 Who Should Choose Keezel 2.0 VPN Portable Router?
The Keezel 2.0 VPN Portable Router isn't going to be the right solution for everybody. Compared to simply using some cheap VPN software, the Keezel isn't all that much better. But it does have some distinct advantages. Notably, it means you don't ever have to connect to an unsecured network, not even for a moment. That kind of extra security can matter while you're traveling and using questionable wireless networks.
Keezel's capacity to keep up with local networks, updated security, and modern wireless technologies makes it pretty solid from top to bottom. And having Keezel also adds layers of protections that may or may not be provided by the network you're joining. For instance, it provides you with your own firewall, and it has those native ad-blocking and anti-phishing filters. For anyone who's not an expert on web security, those kinds of extras can really help.
Though the fact this device is made with a battery really emphasizes its portable nature. Though this might not be a bad choice for someone setting up a network at home, Keezel is really best suited for someone who spends a lot of time traveling.