Based on HBO's "Mad Men", the golden days of business were very different from the ones we have today. Instead of tiny cubicles, we had massive corner offices. In replacement of laptops, we carried briefcases. Instead of catching up on our TPS reports, we spent out lunch enjoying a scotch with our best client.
In reality, the contrast between the 60s and today might not be so extreme. Technology has definitely made our lives much easier, but paper still has its place. Even with the Surface Pro's pen and facial recognition, sometimes jotting a quick note onto a piece of yellow lined paper is still faster.
If you're looking for an easy way to keep your digital life physically in sync with your analog life, a tablet Padfolio might be the thing you need. These binder-like tools provide a place to store and protect your tablet alongside your flash drives, writing utensils, business cards, and loose paper. They give you a way to recapture some of that business-suave fashion highlighted by shows like Mad Men, and can make your life easier at the same time. In this roundup, we'll be taking a look at our three favorite padfolios on the market. First, we'll explore the differences between them. After, we'll help you find the one that's right for you.
Samsill Professional Padfolio
Even though it's one of the cheapest options on our list, this Samsill Padfolio packs a serious professional punch. It's simple, classic aesthetic hides the fact that this is one high tech piece of equipment. As soon as you open it up, you'll quickly see that this has the storage solutions for all of your business or educational needs.
Appearance
Samsill produces their padfolio in two different colors. You can select the classic brown, or the sleek black. No matter which color you choose, what you get is a classically stylized folio adorned with soft, padded faux-leather. This material is very soft and smooth to the touch, but still has a very executive appearance. If you've ever used something made from premium NAPA leather, you'll notice immediately that the look and feel has been almost perfectly replicated.
Unlike a binder, this folio has a full wrap-around zippered enclosure. The zipper is attached with an elastic material that helps keep the folio taut, and prevents the zipper from jamming when opening it. Nothing about this padfolio is "in your face," it simply uses the same sleek look that has been used for many years.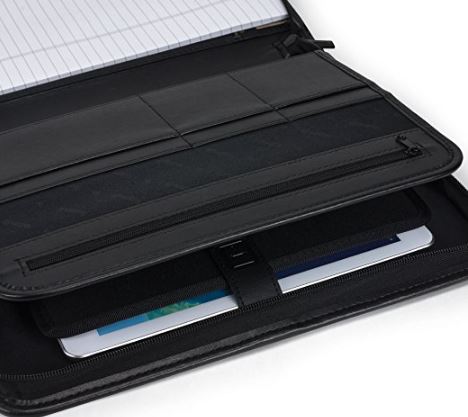 Storage
There are two different sizes available. The 13 x 10.5-inch model is going to be the most popular. This will allow you to store standard 8.5 x 11 inch sheets of paper inside. It supports tablets up to 10.1 inches inside. They can be slipped inside the front pocket. This pocket is padded to prevent dents or scratches from affecting your tablet, giving an added layer of durability.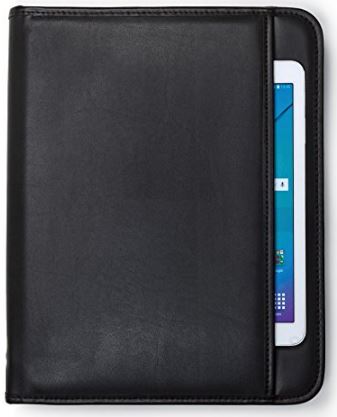 Once you open the padfolio, you'll find a whole new dimension of storage available. On the far left side is an elastic pocket that can be used as alternative storage for your tablet, or for larger packets of paper. A zippered pocket provides storage for rulers, pencils, pens, or other basic office accessories. Several sleeves are available for CDs, business cards, or smaller paper cutouts. Each of these pockets comes with a sticky label that can be used to help you keep organized.
On the far right side is a thin sleeve that is used to store a standard notebook. The hard back of the notebook slips into the sleeve, leaving all the papers exposed. You can flip through the book and fill it with notes, tearing the pages off for storage when needed.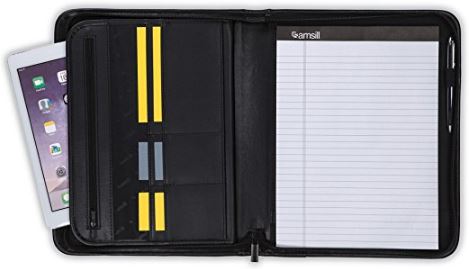 Durability
This padfolio is designed to be thin and light, although there are a few improvements that make it highly durable. Reinforcing all folds and isolated sections with elastic material give a lot more flexibility. Even if you've got a thicker tablet or a lot of documents to store, the elastic will prevent the sides from tearing. All of the main structures of the padfolio are double stitched, which prevent the various layers from separating.
The only disadvantage to synthetic leather is that it can be cut. As long as you keep it away from sharp edges, this padfolio should last you a very long time.
Wundermax Padfolio
The Wundermax Padfolio is in a class of it's own. If we had to give it a label, we'd call it "everything but the kitchen sink!" It's got storage for everything a student of office warrior could need, and yet is flexible enough to adapt to your unique needs.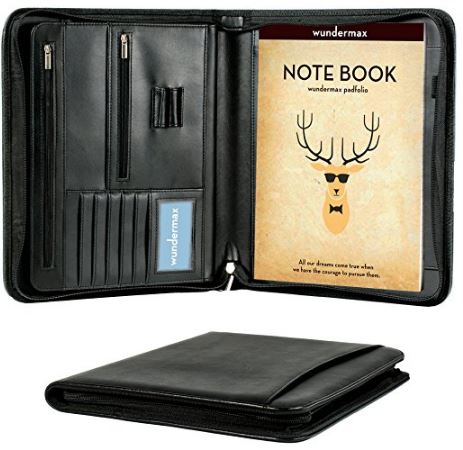 Appearance
From the moment you unwrap the box, Wundermax is committed to giving you a premium experience. The box it ships in makes it feel like you're unwrapping a high end luxury item. The box is sleek and smooth, featuring a gloss black exterior. It opens from the bottom up, revealing the padfolio along with the company's professional logo.
From the outside, it doesn't appear to be anything too fancy. It's your standard PU Leather folio with a single front pocket. But once you open it up, you'll see where the premium design comes in. Instead of vinyl-backed leather, Wundermax uses double stitched leather on both sides. There are several layers available to store all of your goods, giving a stuffed folio a very professional appearance.
Just like the Ford model T, Wundermax lets you choose any color you like as long as it's black. This folio isn't something that's going to make you stand out instantly, but up close you can tell that it's a premium model.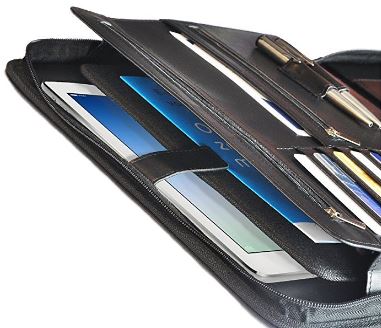 Storage
This padfolio can hold more than most models on the market. The front pocket provides storage for a few of your most important 8.5 x 11 documents. This allows you to access them quickly without having to unzip the side. Once you do open it up, you'll find two slots on the far left side. The center slot is used for your tablet. Any model up to 10.1 inches is supported. Behind the tablet is another sleeve that can store any paper documents. There is lots of space, and you could even slip a stack of three full-size magazines in there.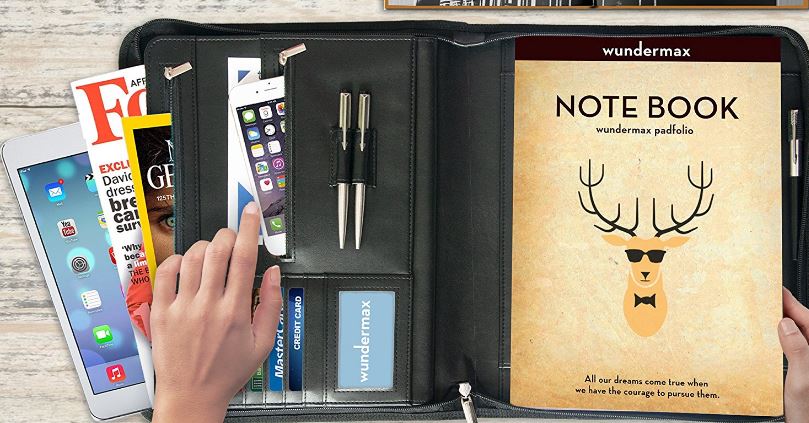 On the internal sleeve, you've got plenty of storage for additional devices. A zippered pocket provides storage for a cellphone. Behind that, a thin pocket allows you to store CDs, or 5 x 7 photo size prints. On front of all of this is two loops you can use to store pens. On the bottom part are slots for six different cards (financial or informational) and a windowed slot for your ID. A standard 8.5 x 11 notebook is included, and can be replaced with any basic model once it's used up.
Durability
This is definitely one of the most durable folios on our list. It's been hand-crafted, made from multiple layers of PU leather. This thick material bonds to itself many times over, using separate pieces to reinforce all of the common wear spots.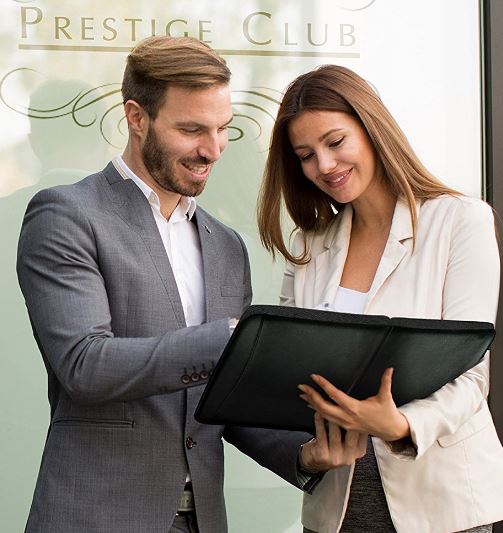 One of the main ways this folio stands out is in its unique design. The unique double-stitched elastic material that joins it together gives it a lot of flexibility. A single elastic line running through the center allows the folio to pull itself shut when it's empty, but still expand freely while it's full. This keeps it fairly tightly bound at all times. By preventing anything from flopping around loosely, all of the joints can better remain rigid. This allows the padfolio to last much longer than competing models, making it one of the more durable options on our list.
KHOMO Universal Tablet Padfolio
If you plan to spend more time using your tablet than you do using paper, you'll want something that doesn't bury your tablet in some side pocket. The KHOMO Universal Tablet Padfolio features an ergonomic mount that allows the entire unit to act as a stand for your tablet. Whether you just want to keep important documents at your side or use your tablet as a workstation, this is a great option.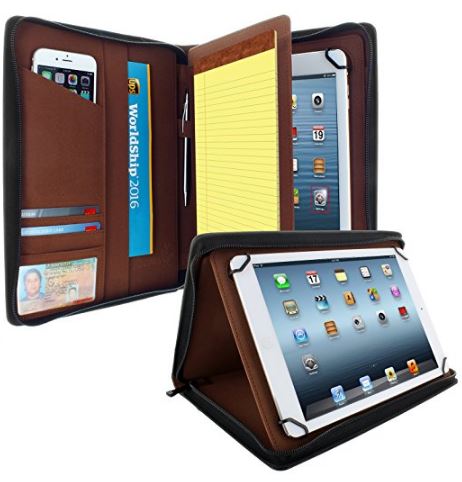 Appearance
KHOMO went for a stylish two-tone appearance with their padfolio. The most popular option is the black exterior with a tan interior, followed by a light tan on the outside and a dark brown on the inside. If you want to keep things sleek, you can also select an all-black model.
On all models, the exterior is very sleek. There is no pocket, just a smooth leather exterior with a single stitched hinge along the side. This model features that same elastic-zippered exterior you'll find elsewhere. What's unique about this one is the paged design. There is a front and back panel, as well as a hinged centerpiece that can be moved to either side. Both the interior and the centerpiece are wrapped with the same synthetic leather used on the exterior, although the outside has a smoother appearance compared to the soft-touch inside. Although synthetic materials are used, this has a very professional appearance to it.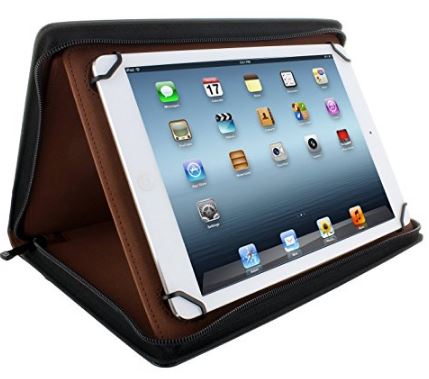 Storage
Opening the front cover, you'll see a large sleeve with plenty of storage. In the top left there is a slot that can store your smartphone. Even large phones are supported, up to the size of an iPhone 7 plus. Below it are three card slots, one of which is windowed – ideal for use with a piece of ID. A sleeve on the back side can be used to store full size pieces of paper.
The central sheet is used primarily for your notepad. One is included, although standard pads can be swapped in as needed. Your tablet is stored on the back. This model supports a larger tablet up to 11 inches in size. This makes it one of the only cases that can support a tablet as large as the iPad pro. One of the unique features about this model is that the tablet can be flipped upright, allowing the case to be turned on its side to be used as a stand. This is ideal if you plan to use a Bluetooth keyboard to get some work done, making this a highly functional padfolio.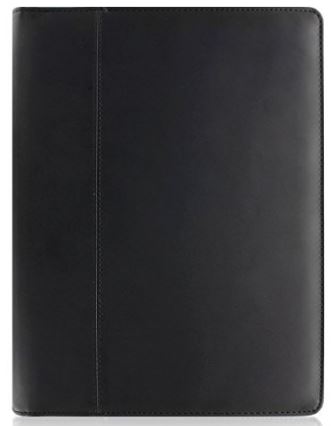 Durability
The design of this padfolio is intelligent. Despite its lower price, it relies on a rigid internal structure to keep durability high. The pockets on the left and right side are mounted directly to a firm piece of card that keeps them sturdy. When it's transported, everything is flat packed to maintain the strong structure. When it's set up on your desk, the tablet support props the cover up to create an ergonomic position. It loses most of its structural rigidity in this state, but it's unlikely that it will be moved. This dual mode design helps protect your investment when in transport, but still offers the flexibility of much less durable products.
Which Tablet Padfolio is Right for Me?
While all of these padfolios perform similar tasks, the one you choose should be based on the type of tablet you have, and how you intend to use it.
If you're looking for something that is primarily used for documents, the Wundermax Padfolio is the best choice. It's extremely attractive, and has top-tier build quality. It's suitable for smaller tablets up to 10.1" in size, and has plenty of pockets for all of the other things you need to carry.
Alternatively, the KHOMO Universal Tablet Padfolio is a great choice for those of you looking for something that doubles as a case for your tablet. This makes it easy to access all of your digital files, while all of your hardcopy things are on hand at all times. This is also the only choice for tablets up to 11 inches, as it's got the larger support.
If you're on a tight budget, the Samsill Professional Padfolio is an affordable alternative. It comes in two sizes, the smaller of which is the best option for 7 to 9 inch tablets. Despite its low price, it still has all of the functionality we look for in a high quality padfolio.