When you're picking from earbuds in the budget range, you have to balance a lot of different factors. Are you willing to sacrifice comfort for a greater battery lifespan? Do you want to obtain sound quality at the cost of connection distance? Those tradeoffs can be made manageable. But getting higher quality earbuds lets you stop worrying about a lot of things.
Because when you're shopping closer to the high-end, you can pretty much expect to get everything. Or at least, the bar is raised much, much higher. Because sometimes you really do get what you pay for, and though that's not always the case with audio equipment, it often is.
Klipsch T5 True Wireless Headphones
The T5 are true wireless earbuds. Anyone considering these kind of earbuds will usually have a distinct set of priorities. For starters, they usually are willing to settle for a lower battery lifespan. Not because it's desirable, but because it's usually somewhat unavoidable with this design. Sure, it would be nice to have a longer battery, right?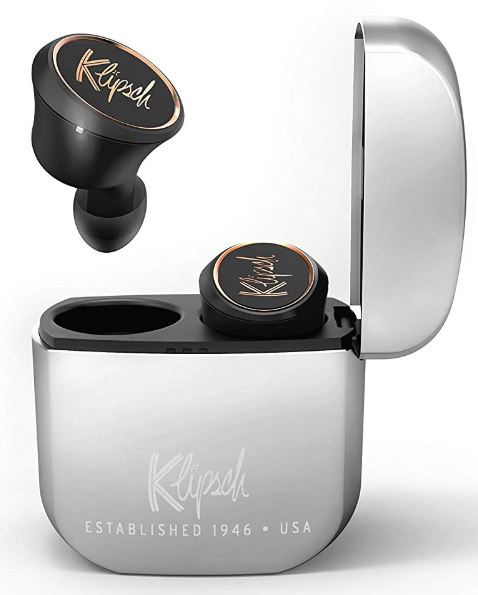 People also tend to lower their comfort expectations, relative to other kinds of headphones. Because you're going to have some object pressed up against the inside of your ear, how comfortable could that be, really? But the T5 escapes a lot of those limitations, and for some people, may break preconceptions about what wireless headphones are capable of doing.
Of course, there are plenty of features that are still missing from the T5. These earbuds were not designed with the intent of serving as someone's pool earbuds. Nor do they have active noise cancelling technologies. But for their niche, it's easy to imagine a lot of people will end up liking these earbuds.
Design & Layout
Their charging case isn't just well designed, it's outright attractive. They've gone with a metallic silver paint that vaguely resembles a classic lighter case. The top also flips open like a lighter, on a firm hinge which allows it to snap shut in a satisfying way. Inside, the earbuds are placed to rest vertically inside the recessed recharging slots.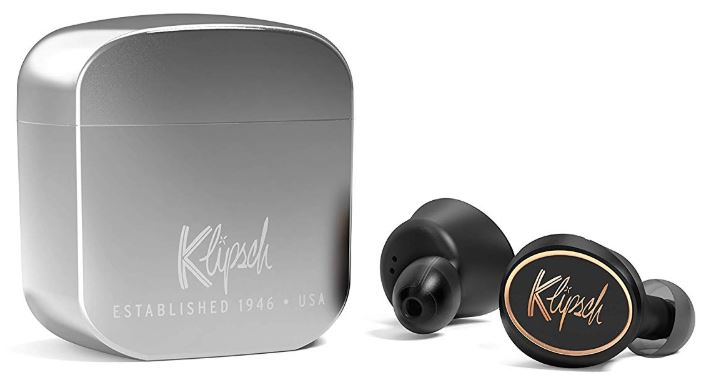 The physical construction is also pretty solid. You don't have to worry about the hinge wearing out or starting to squeak on you. And you don't have to go out of your way to baby and protect it, either. Though when it comes to portability, this case isn't going to win any awards.
You can find about a hundred examples of cases that are smaller or lighter. But it's still handheld, and easily thrown into a pocket or bag for travel purposes. That's pretty much all anybody needs for a charging case. But ultra-light devices do have their own distinct appeal. In any case, when it comes to evaluating raw power, it's often easy to figure out why the case is heavy.
Comfort Concerns
The Klipsch oval ear -tips look deceptively simple, and close to being a generic part. But they're not. These somewhat special ear-tips are supposed to provide a more optimized seal against your ears. That way, you're protected against the ingress of noise with excellent passive noise protection. It also helps to bolster bass tones by trapping air within your ear canal more successfully.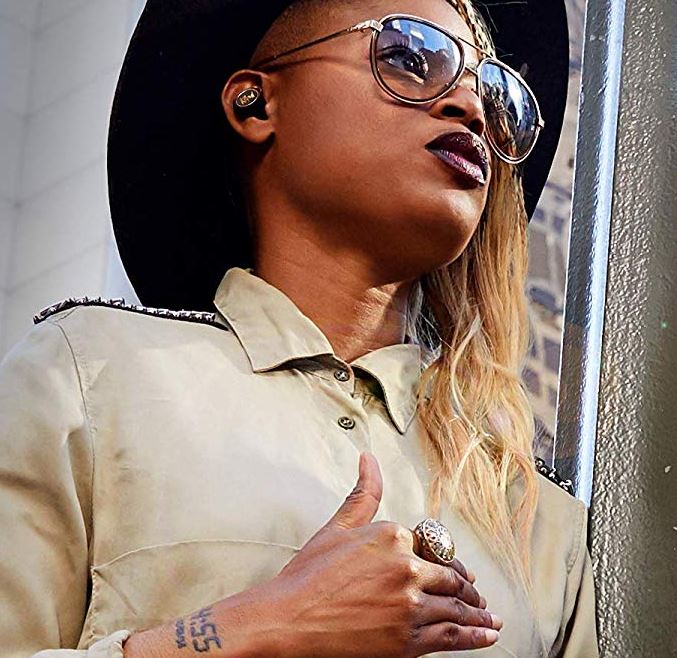 These earbuds include the typical number of tips, three sizes and two sets, allowing you to find a nice pair and then enjoy them for years to come. Mostly because they've included pretty sizable batteries inside these earbuds. The extra weight is something you can notice in your hands somewhat, but not in your ears.
The smallest nozzle housing on the case allows for minimum material fatigue while they're housed away, helping to prolong their lifespan. Of course, sooner or later, the elasticity of the tips will wear down, and you'll need to swap to another set.
Battery Lifespan
The average pair of earbuds are able to offer something like a 3.5-hour battery lifespan. That's not horrible, especially given that's long enough for one listening session, for a lot of people. But in a rather rare example of exceptionalism, the T5 go much further. In fact, they're supposed to be able to provide an 8-hour battery lifespan. That's just from the earbuds alone.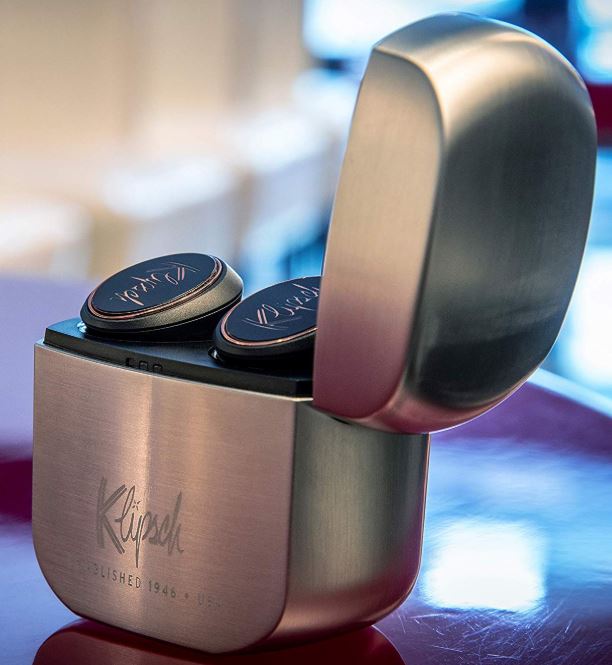 Of course, whether you actually manage to get 8-hours is another question entirety. Those 8-hour estimates are based on a somewhat reasonable assumption that you're going to be running these headphones indoors, and around 50% volume. When you start to change those variables, your battery outcomes will change as well. So if you decide to crank the volume, you may very well start to experience closer to 5.5 hours of battery lifespan.
That's still nearly twice as good as a lot of other earbuds that are playing at lower levels. And after you've got the charging case involved, things start to look even better. You're able to push out towards 24-hours, or so they claim. Once again, that will depend somewhat on your volume usage. But for the average person, you can probably expect to draw around 20-hours with great reliability. Especially if you happen to be taking advantage of their formidable calling features, which tend to consume less power than listening to music.
Call Features
What makes for excellent call clarity? When it comes to hardware, little is better than adding additional microphones into your configuration. Because separate mics, positioned at separate locations, are able to work together to eliminate environmental noise far better than any single microphone ever could.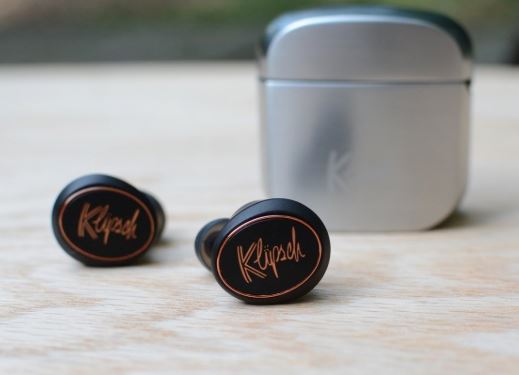 In this instance, the Klipsch T5 makes use of a total of four microphones. That bodes extremely well for call clarity from a glance. And you start checking them out for yourself, it's not that hard to appreciate the difference. For people who need to take calls in extremely loud environments, like the side of a heavily trafficked pubic street, you will definitely be able to appreciate the extra clarity.
Another notable highlight — you can make use of whatever digital assistant that you see fit, that includes Google Assistant, Siri, and so forth. And they can be accessed through the app, as well as the hardware interface on the T5.
User App
And rounding things out on the software front, Klipsch has included their own Klipsch Connect App. You don't actually need to start using the app if you want to keep things simple. But having the option there is nice. And surprisingly, their app is pretty good. That's a bit of a surprise because developing a good app isn't easy or cheap, so among less common brands, it's common to see a lot of poorly developed ones. But in this case, they've kept everything rather intuitive.
There aren't a bunch of gross grammatical spelling mistakes in the interface, and it's possible to manage your music in the same way you might from a desktop music program. You can access a full equalizer, for instance. But you can also move between some pre-selected categories. Looking for some upbeat athletic music? There are some presets just for that. Trying to listen to a podcast? Voice clarity presets can help you out.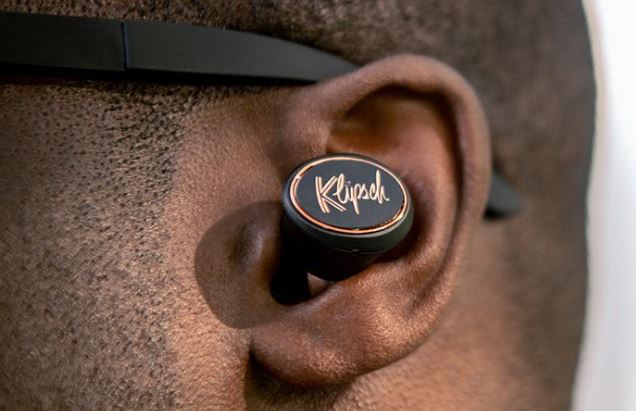 Audio Quality
It's hard to make earbuds replicate certain tones. There's only so much you can do from smaller audio drivers like this. That's why when you can get away with it, wearing over-ear headphones tends to be a better call. The audio quality goes up considerably. However, for people dedicated to earbuds, it is possible to bend some of the limits of the format. And the T5 does a lot of bending.
The Klipsch soundstage is two things. The first thing is it's detailed. They're able to help capture the nuances of the higher treble range, and still push some sense of warmth into the bass. Even though the bass does have to be boosted somewhat in order for it to compensate for the fact these are smaller audio drivers, they don't take it to the point that it sounds bloated. The bass tones stay smooth from start to finish.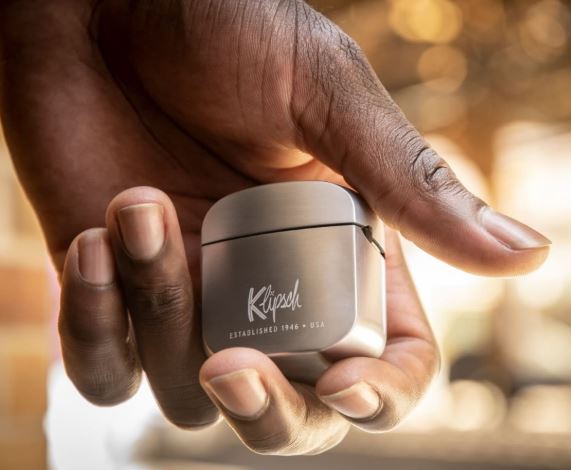 But the fact you can adjust things further using their app is really what puts the T5 over the top. For people who put them in, and find that they want to feel a little more bass coming through, it takes about two seconds to make some adjustments in the app. Even though they sound good out of the box, adjustability is almost always a plus.
Other Considerations
Though it might be obvious, these earbuds make use of Bluetooth for their wireless connection. You can anticipate a standard 30ft range of connectivity. And you can expect that connectivity to remain pretty strong and stable due to their use of Bluetooth 5. There are also some instant sync features that make using the buds much easier because pairing becomes so fast you stop noticing it. But those kinds of features are increasingly standard, so they're not important to emphasize in your decision.
One thing to keep in mind. The T5 are only capable of pairing with a single device at once. That's a minor limitation for people who are trying to setup multi-device connections.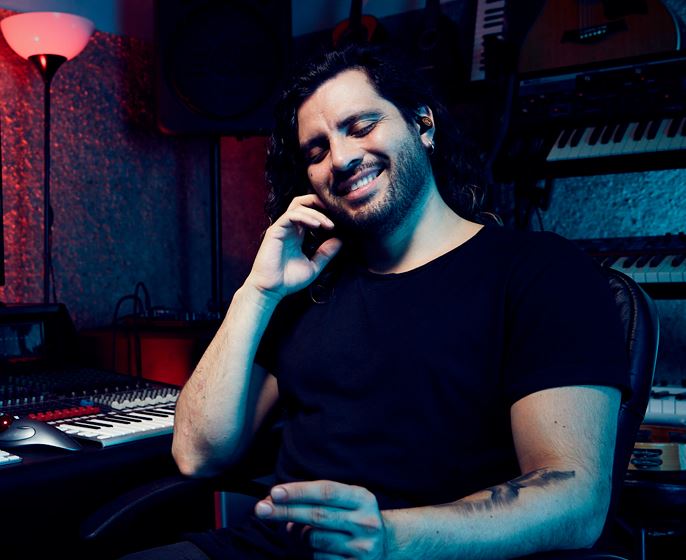 Who Should Choose the Klipsch T5 True Wireless Headphones?
The T5 True Wireless Headphones are pretty impressive in a couple of ways. For one thing, these headphones are terribly well rounded. They've covered comfort, using specialized ear-tips that surpass the kind of performance you get from generic parts. They've got a battery performance that greatly outstrips their competitors. And it certainly doesn't hurt that their charging case looks like a million bucks.
The problem with buying high-end earbuds is that earbuds are ultimately disposable electronics. In that respect, they're not all that different from an old disposable camera. Sooner or later, these batteries are going to wear out. In this case, that will probably be after about three years of heavy use, or five years of lighter use. Which is still pretty decent for a higher-end pair of earbuds.
All in all, these earbuds strike a nice balance between high end features and luxury. But without going so far that you feel silly spending so much on disposable stuff. They're a pretty smart balance between high class and sensibility.