Basically all gamers will agree on the importance of having a stable internet connection. There are even games that only let you play when you're connected to the web. And when you're playing a multiplier game, the sort of slight interruptions in connectivity that might not bother other people can be extremely frustrating. A little lag can quickly ruin your game, limit the number of lobbies you can join, or even prevent you from playing to begin with.
NETGEAR Nighthawk XR450 Pro Gaming Router
Though the Nighthawk Series is not technically a series of gaming routers, it's a series of Netgear's top shelf equipment. And that means it will inherently include at least a couple gaming routers. The XR450 is a solid step over predecessors like the XR300, though this unit shouldn't be seen as a sequel as much as it should be seen as a stronger alternative.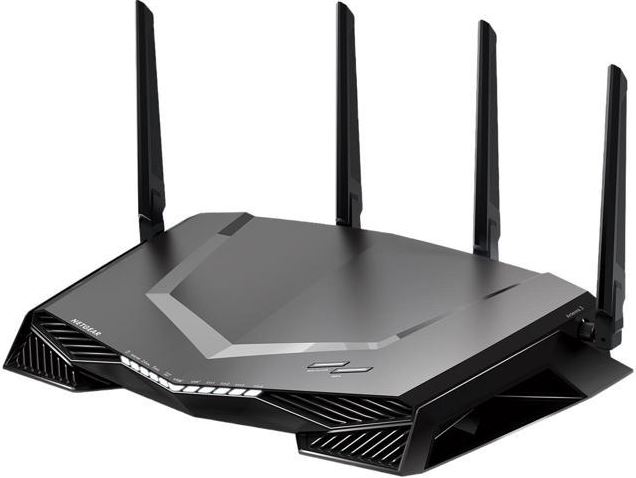 The XR450 offers the potential to greatly drop your latency while also helping to better prioritize traffic within your network. Taking a few moments to setup the router, it's possible to tweak basically all things about your network. For helping stabilize your ping, or helping keep a more stable connection to game servers, that can be essential.
The XR450 uses a variety of state of the art software to better prioritize your connection in favor of gaming. It works to smooth out lag spikes, and maintain a higher degree of reliable connectivity, even as other people make use of your network. You can even restrict lag in ways that are pretty novel with geo-filtering.
You probably already know that you don't need a ton of bandwidth in order to enjoy gaming. Bandwidth becomes a tad more important when you're trying to stream video, stream your gaming, or stream content concurrently with gaming. No matter what you're doing, the XR450 was made to anticipate and work to help ensure your games keep running smoothly. So really, it would probably be more apt to describe this as something like an entertainment router.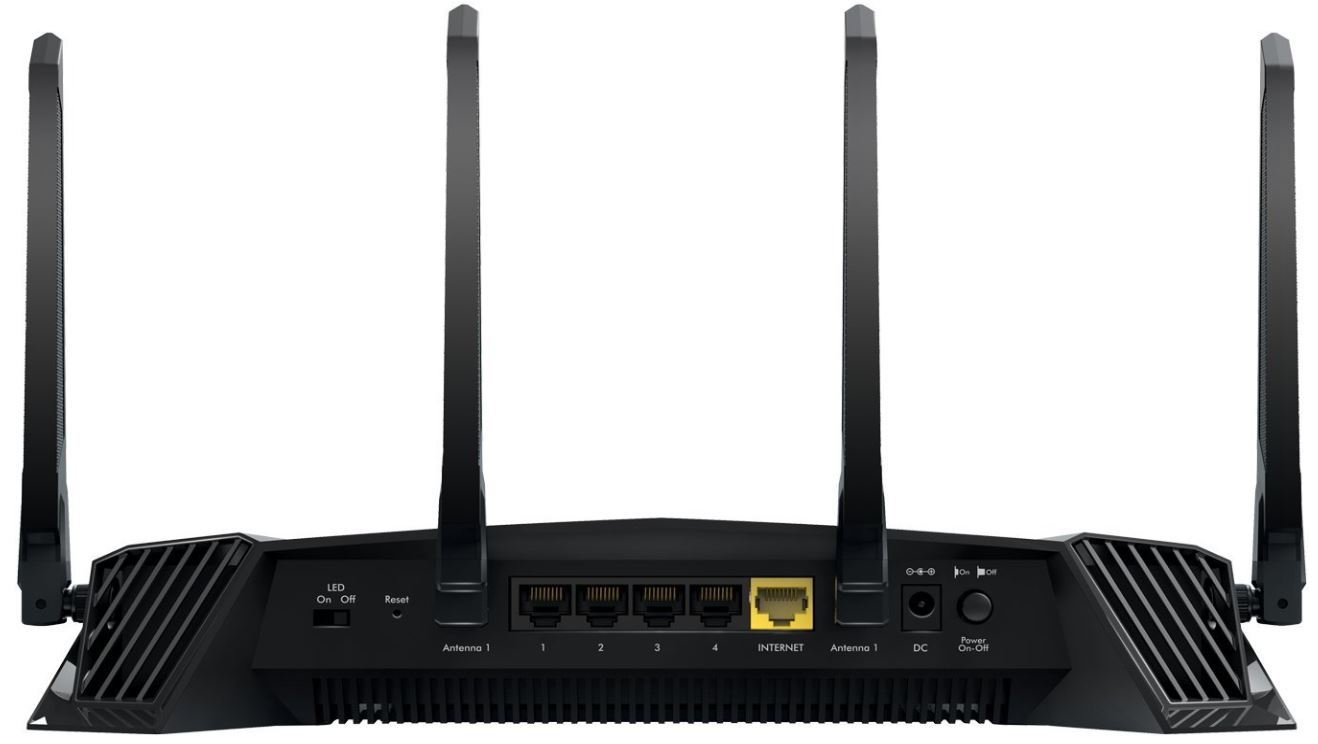 Design & Layout
The XR450 measures 12.7 x 9.6 x 2.2 inches, and weighs about 1.7lbs. It's got a fairly standardized and recognizable design that basically anyone should be able to identify as a router. Every router in the Nighthawk series has a pretty similar aesthetic. These routers are supposed to stand out, at least a little.
They've got a highly angular design that's supposed to look just a little alien. And with the gaming versions of these routers, like the XR450, they usually slather them with LEDs. That's certainly the case here, but if you find the lights are a little much, there's also an LED on/off switch on the backside.
On the backside you'll find a pair of USB 3.0 ports. It's worth pointing out these have basically twice the bandwidth of the slower and more popular 2.0 format, and there's two separate ports. That means you can use of those ports dedicated to USB storage devices for data backup, and have the other port free for data access in the network.
There are a total of five internet connection ports, one WAN port and four LAN ports. As is typical for Netgear these days, they've highlighted the WAN port in yellow so it's a bit easier to spot. Each is a gigabit Ethernet port, running 10/100/1000Mbps standard. All in all, a pretty standard and approachable I/O.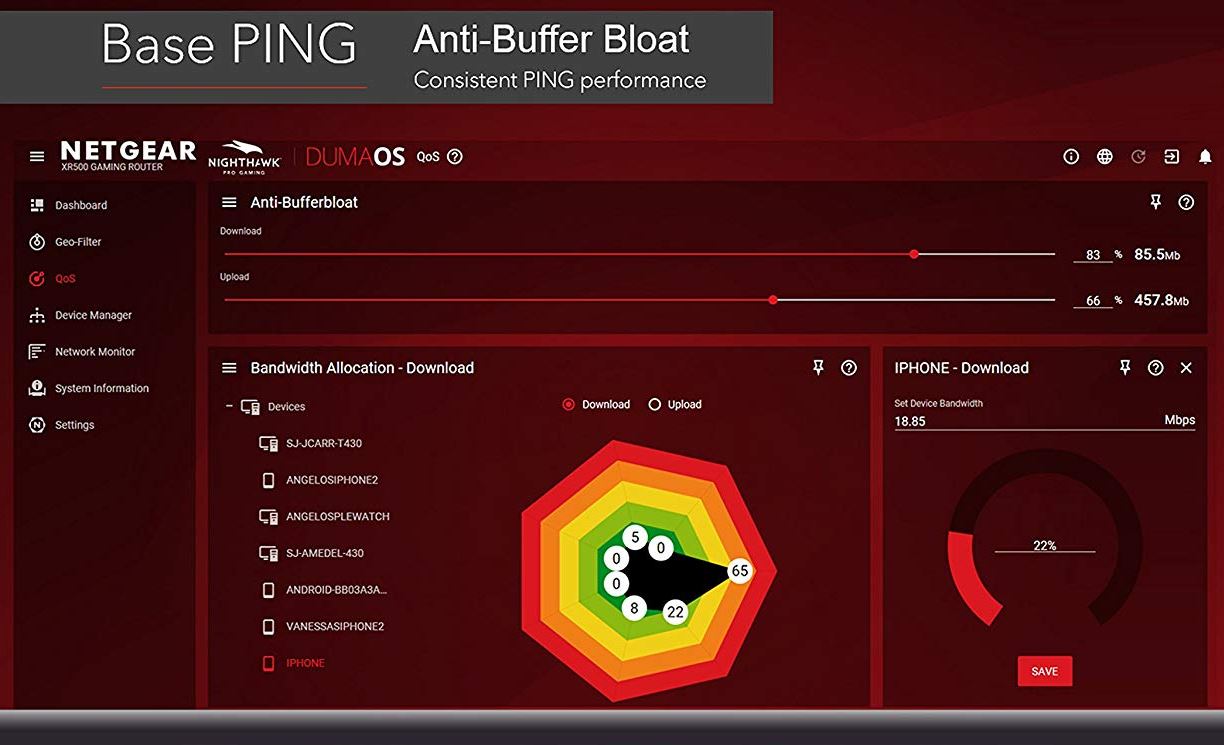 Networking Features
Most Wi-Fi routers just blast their wireless signals in every direction and hope for the best. And it works out reasonably well – but you can do better. Beamforming+ allows the XR450 to communicate with the devices that are communicating with the router, and locate them. Once the router knows where they're located, it will send the signal towards the device.
Aiming signals right where they're needed can boosts the reliability, speed, and range you can get from your 2.4G and 5G signals. The end result is basically a faster connection and more reliable degree of connectivity — even if the devices you've connected are moving throughout their environment over the course of a day. So you don't have to worry about connections dropping to your tablets or smartphones as you start walking around.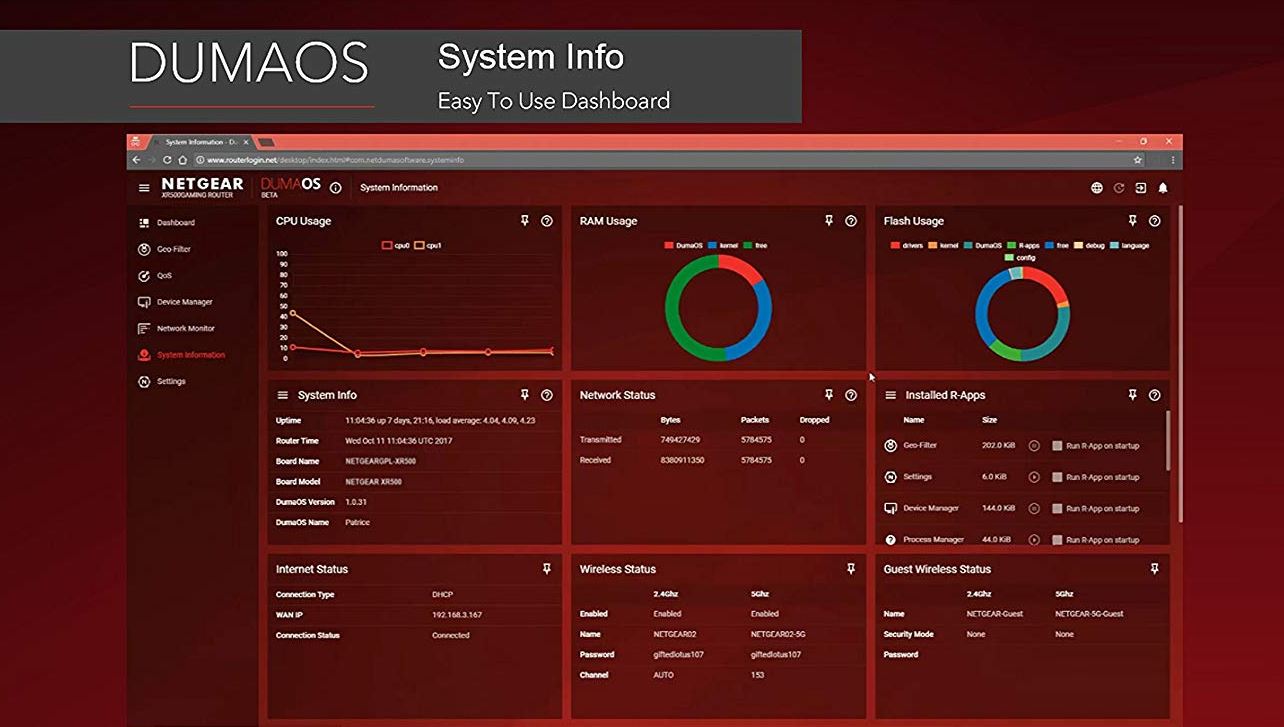 Another thing to consider is MU-MIMO. Regular Wi-Fi works by sending data to one device at a time. So your PC asks the router for something, your smartphone asks the router for something, and your TV asks the router for something. Then each of those devices gets to take turns getting their needs met. This is often experienced as video buffering.
With MU-MIMO connections, several devices can be communicating with the router at the same time. So even though your PC, TV, and smartphone are still trying to get its attention, the router can respond to all three simultaneously. The end result is obviously a bit smoother in experiential terms, though this technology does depend on using the 5G band. Which means you'll need to maintain line of sight of with the router for devices which hope to make use of MU-MIMO.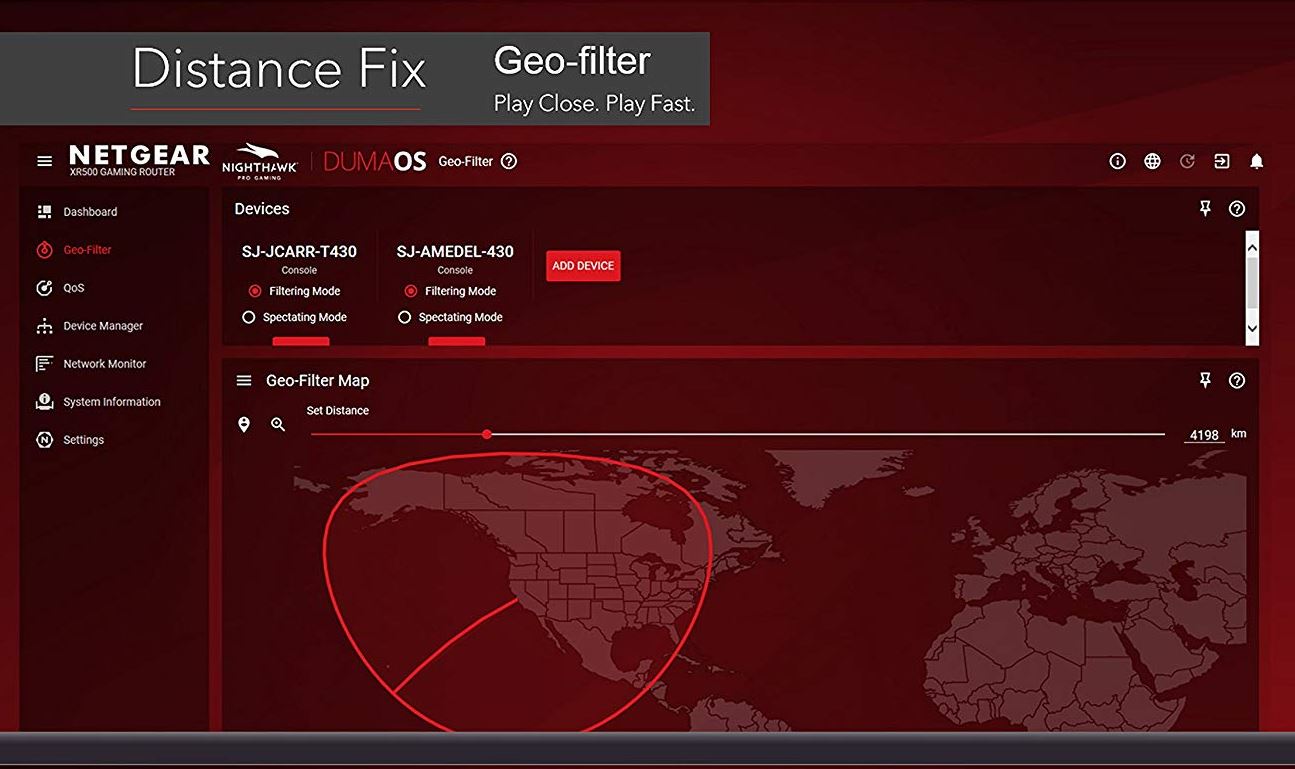 Data Backup
Another neat feature this router brings to the table concerns data backup. The ReadySHARE Vault app lets you get continuous backup from you Windows PC to a USB hard drive connected alongside the Nighthawk. The app is pretty straightforward, and once you've got everything setup, you can forget about losing data.
Automatic, continuous backup occurs throughout the day, which allows you to easily restore any deleted files and run back old snapshots. You can safeguard data and videos, too. You won't find a USB drive included with this router, but depending on the amount of storage you need for your backup drive, it really shouldn't be an expensive addition.
Support for Managing Your Network
Netgear has done a great job of making ease of use incredibly straightforward. You can basically plug-and-play the XR450, with few exceptions. It certainly feels far more streamlined once you have everything setup. Because then, if you want to make new connections, you just use the WPS button to push-and-connect additional devices to the network.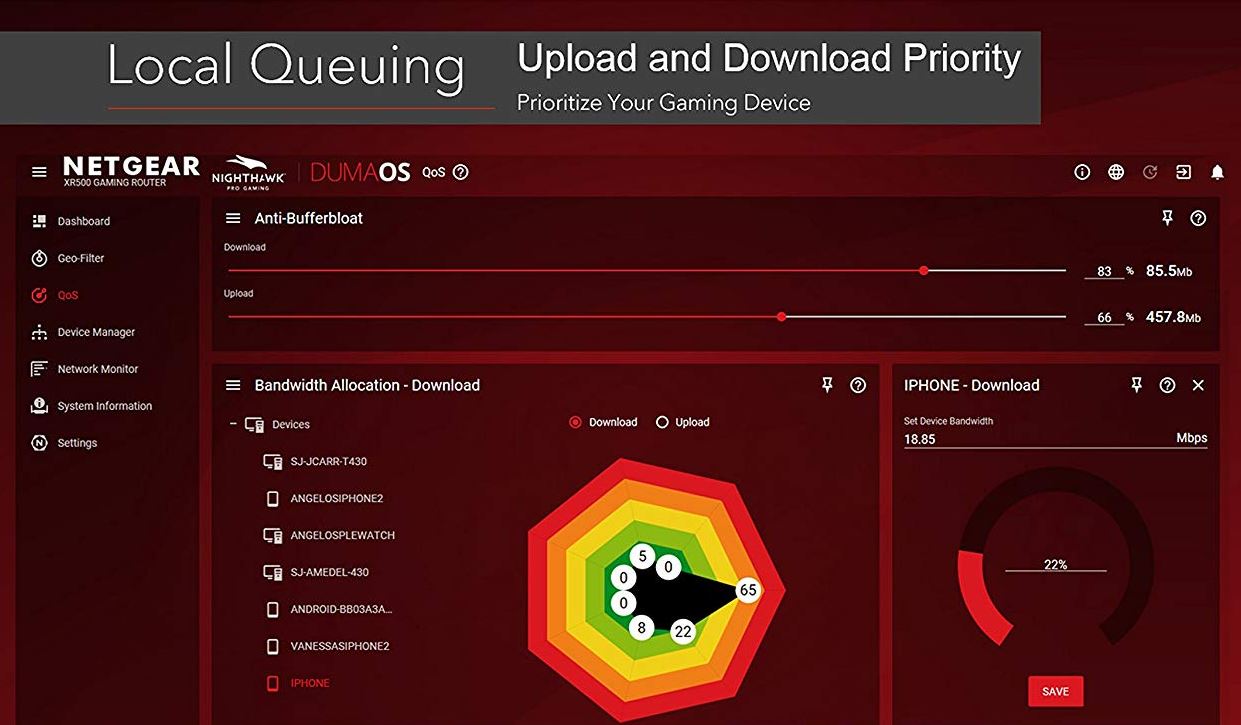 Once you've got your network going, you might be able to make use of a gaming dashboard software suite provided by Netgear. It lets you see real-time utilization statistics for your bandwidth. You can see what devices are getting how much ping, and even get clues as to why your connection is experiencing interruptions.
As mentioned a bit earlier, you can also use a geo-filter to limit the distance you allow yourself to connect to other players or game servers. That prevents you from accidentally getting connected with players who are 2,000 miles away from you, and guaranteeing increased ping in the process. Though you have to use good judgement in when to use these filters, or you can accidentally prevent yourself from joining games that you wish to join.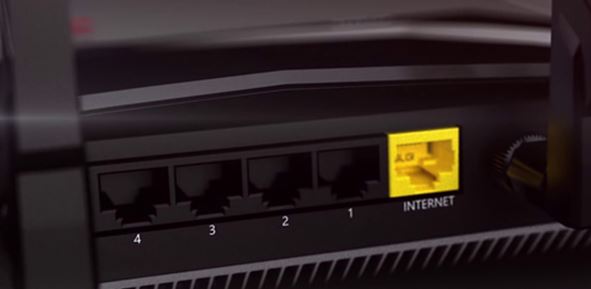 Network Support & Speed
One more thing to point out is the Quality of Service feature, which was made to prioritize gaming devices like consoles and PC games. It works to identify then prioritize gaming tasks, so you don't have to worry about someone's download interrupting your game time. You can actually customize these controls a bit further, and use them to prioritize streaming video as you see fit.
The XR450 is built around an AC2400 dual band router, with all the hardware necessary to support those types of connections. That basically means you can pull more than 2 gigabits of data through this network – far more than the average household will ever need. Which really makes the XR450 a strong choice for someone who already enjoys a gigabit internet connection, but still a reasonable choice for someone who hasn't upgraded to those levels of speed just yet.
Privacy Concerns
Likewise, the XR450 delivers when it comes to security features. You have VPN support with support-secure remote access options, and your signals are protected with Wi-Fi Protected Access WPA/WPA2-PSK options. Moreover, you can use a double firewall — both SPI and NAT providing two layers of protection against threats.
And the XR450 provides native denial of service attack prevention, though obviously this is a relatively small amount of protection against DDOS. It's enough to prevent your internet connection from becoming tanked, at least. DDOS protection isn't a feature most people will need, but streamers may be able to appreciate it.
Other Considerations
The system requirements for this hardware is pretty approachable. Anything as recent as Microsoft Windows 7 is supported. UNIX and Linux are also supported. You'll need Google Chrome, Internet Explorer, Edge, Safari, or Firefox in order to be able to change your router settings through a browser.
The XR450 includes four detachable antennas, a short Ethernet cable, a quick start guide, a power adapter, and the router itself. Netgear also includes their standard warranty for the XR450, covering you for a year.

Who Should Choose the NETGEAR Nighthawk XR450 Pro Gaming Router?
The NETGEAR Nighthawk XR450 could be a good call for players who aren't extremely knowledgeable when it comes to networking. It's a great choice for someone who is a bit lazy, and doesn't want to have to setup network settings for each of their games in order to get the best possible outcomes. But with many of the things this router has to offer, you don't actually need to be a gamer to appreciate them.
This router works almost equally well for people who are concerned with streaming content, though many of the game-facing features would be wasted on such users. Still, it's nice knowing you can prioritize connections with YouTube, Hulu, Netflix, and other video services.
If you were trying to spread your signal across a stadium, then this router probably wouldn't be able to achieve that goal by itself. But since it's possible to get the XR450 working alongside other routers to create a mesh network, you have to give this thing credit for being adaptable, too. Which really makes the XR450 a decent choice for someone looking for fairly future-proofed router.