What kind of sound do you want to take wireless? Are you looking for something basic, perhaps looking to replace a smartphone speaker? Or are you trying to find a speaker with more of a booming, true-to-life style of sound? How portable do you need your equipment to be?
Bigger speakers tend to deliver better performance. We're talking about the sort of difference between a smartphone speaker, a television speaker, and a separate independent speaker. Of course, not everybody wants to carry around a bigger speaker. But finding the right balance between those factors is essential to finding the right speaker.
Anker Soundcore Motion+ Bluetooth Speaker
The Anker Soundcore Motion+ looks like a pretty ordinary Bluetooth Speaker. It's got a pretty straightforward design, closely resembling about half a dozen other Anker speakers. To a lesser degree, it also resembles basically every other Bluetooth speaker that uses a black chassis.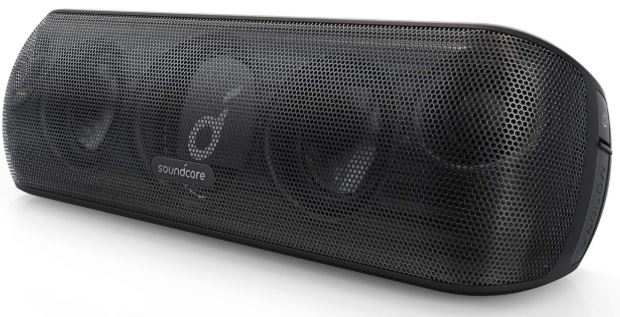 Speakers in this series are mostly made with portability in mind. The Motion+ is hardly the size of two alarm clocks placed side by side, but it's actually quite forceful in volume. In fact, its volume output might best be compared to two alarm clocks. This speaker really straddles the line between size and power.
Of course, if you're trying to fill a stadium with sound, you're going to need something a bit bigger than the Motion+. But within the constraints of a smaller room, or confined to a space filled with around two dozen people, the Motion+ may have a lot to offer.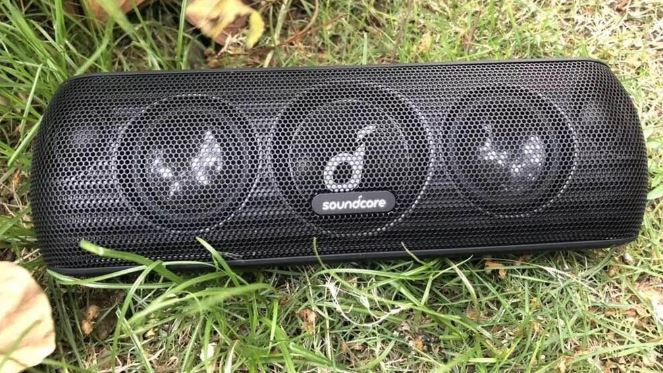 Design & Layout
The Anker Soundcore Motion+ measures about 7.5 x 4 x 2.1 inches. Though the black chassis has a superficial resemblance to basically any other speaker on the market, these speakers are actually distinctly Anker's design. The only identifiable part of these speakers is probably the Soundcore logo written in silver lettering across the front.
Most of the weight of these speakers, which amounts to nearly 2.5lbs, is due to the very large battery stored inside. But the battery doesn't prevent the Motion+ from being an effective speaker for carrying around in your hands. The handheld nature and design of this speaker is pretty obvious, at least once you've got it in your hands.
Looking at ease of use, you should find this speaker is approachable enough for even children to learn in only a couple of brief moments. The large buttons placed along the topside are complete with fairly descriptive logos.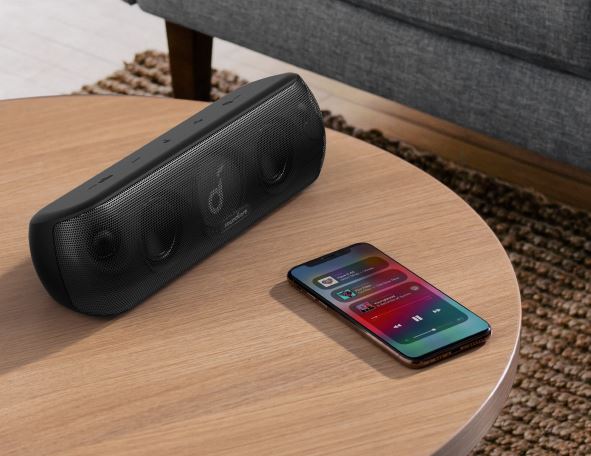 For instance, the logo that looks like a musical note can be used to play or pause music. The plus and minus buttons may be used to affect the volume, and the arrow buttons can let you navigate between tracks. Since these buttons have icons which are carved into the chassis itself, it's possible to feel them in the dark, and effectively control the speaker even when you don't have well lit conditions.
Though that's a little worse than just having some LEDs on the speaker that can help you along, having LEDs is also something that can tank your battery lifespan pretty quickly. So this design is a bit more practical. The tactile buttons can be used to navigate through the darkness without an issue.
Waterproofing
The IPX7 waterproof construction is something else that might be worth some thought. With this rating, you can basically consider yourself fully protected from water. As such, you can literally pour water over this speaker at will. Though it does have a couple of limitations when it comes to submersion, namely you can't go more than around three feet deep. And when you're down a couple of feet, you don't want to keep the speaker down there for more than half an hour.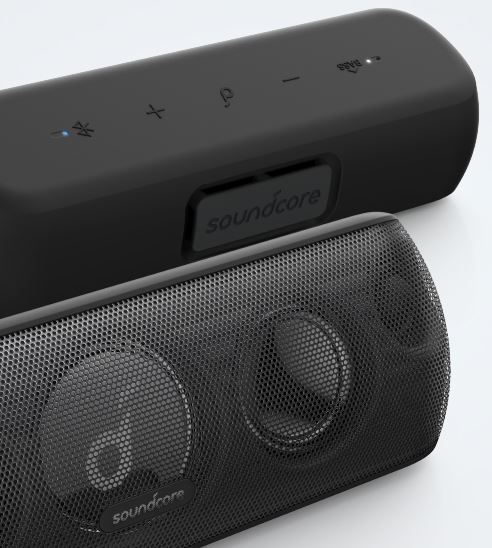 If you are interested in the higher waterproof rating, it's also worth noting that the IPX7 protection relies on the hatch placed on the backside to remain sealed. The hatch hides away your ports, and those ports are not waterproofed unless the hatch protecting them is firmly snapped into position.
Audio Quality
The Soundcore series really has its own distinctive sound, and the Motion+ is no exception. Part of what makes that sound is how the speakers are angled at a 15-degree arc, giving sound up upwards projection. This design greatly improves the way that sound is dispersed across an area.
The sound isn't reliant on dynamic drivers alone. Instead, you get a greater room-filling sound thanks to two tweeters, neodymium subwoofers, and a passive radiator. The total output exceeds 30W though it sounds like a bit more because of how economical the passive radiators are with energy. The low frequencies are further bolstered with Basumtm tech, another tech that's exclusive to Anker.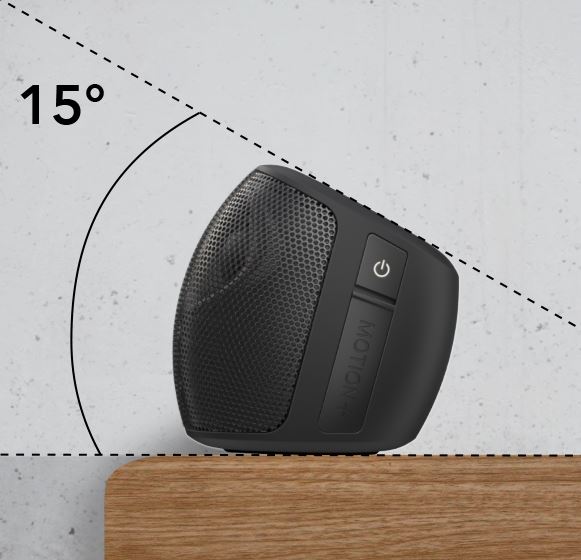 In other words, not only are these relatively large audio drivers, you're also looking at more than just standard drivers stuffed inside. You will need to power tweeters, subwoofer, and general range audio drivers, which means battery performance will look a little different than you might expect. Because the 30W output can really chew through your battery potential. But the audio delivered by that much power is something that's pretty impressive, small speaker or otherwise.
It may be worth noting these speakers are capable of generating a fairly wide frequency range, running from 50Hz to 40kHz. That's especially quite good on the treble range. Along with DSP, that ensures all the tiny details of a song can be carefully reproduced for accuracy and detail. Beyond that, the high-res audio is driven by motion+ technologies. And delivered with the support of Qualcomm aptX for lossless creation of music while using the Bluetooth connection.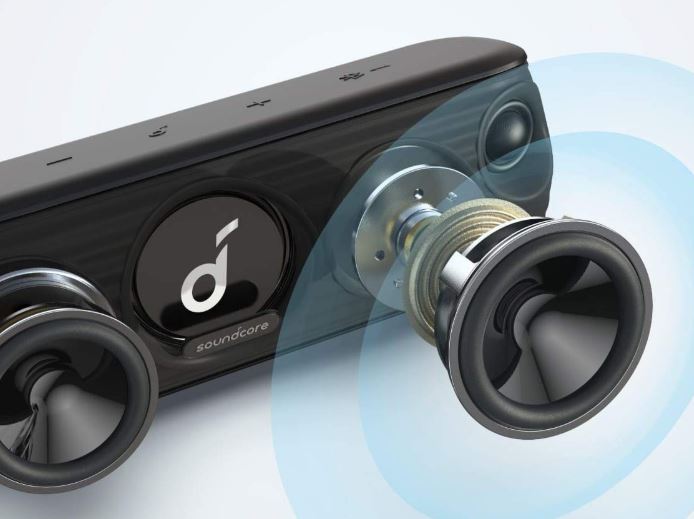 Wireless Connectivity
Speaking of Bluetooth, Anker Soundcore Motion+ Bluetooth Speakers get their wireless connectivity through the aid of Bluetooth 5. You don't actually get all of the benefits of Bluetooth 5 when you're using a speaker like this, at least, under most circumstances. But there are plenty of advantages of having Bluetooth 5, including some benefits to the battery performance.
Another thing you might want to keep in mind is that wireless pairing with additional stereo devices is possible. You can pair separate Motion+ devices into a single unit to effectively double your volume, and in doing so, create a more true-to-life stereo sound. It's not actually the same as creating a real surround sound experience, but it does come quite close. Should you decide to pair multiple Soundcore speakers, that's when you can actually appreciate the rest of those Bluetooth benefits, especially when it comes to sync features.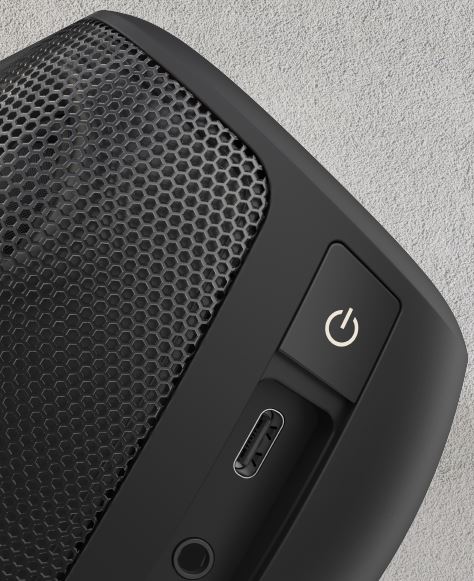 Battery Potential
The encased 6700mAh lithium-ion battery is truly quite large. It's basically the entire reason why this speaker weighs so much. That battery is large enough to serve as a power bank for several other devices, including smartphones and tablets. When used exclusively for sound, it's supposed to provide a total of 12-hours of playtime.
Will it end up delivering on its aim of 12-hours? Well, that entirely depends on you. If you crank the volume to its maximum setting, it's possible to drain these speakers in as little as 5 or 6 hours. Though many people probably expect having to crank the volume to the max setting for a smaller speaker like this, that seems less likely when you're dealing with a larger 30W output like this one.
In other words, most people will probably end up using more modest volume levels because this equipment really can get pretty loud. When you're using it with more modest volume levels, you'll find the 12-hour estimate isn't that bad. Though it would be nice if the 12-hour estimate looked more like 20-hours, you have to keep in mind that you're powering tweeters, subwoofers, and dynamic drivers. Powering more equipment means you'll need to draw more battery power.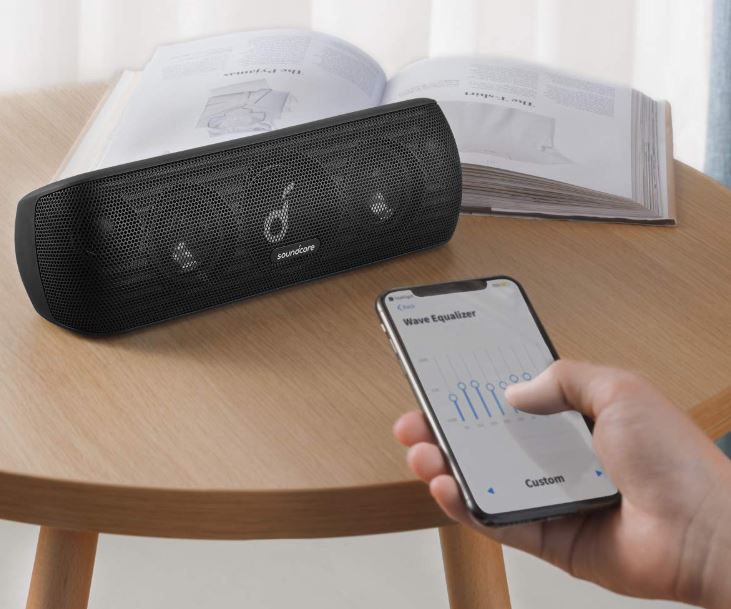 Other Considerations
One more thing that's nice about the Motion+ is the inclusion of USB-C connectivity. However, since this device is reliant on an internal battery that can't easily be replaced, it's safe to say these speakers have a finite lifespan. That lifespan is probably around 3-years of heavy use, or five years of more casual use.
Though the Motion+ doesn't come with a bundle of cool extras, it does come with an 18-month warranty from Anker. It's always nice to know you're protected just in case something goes wrong, but a warranty isn't something to get too obsessed over when it comes to choosing speakers.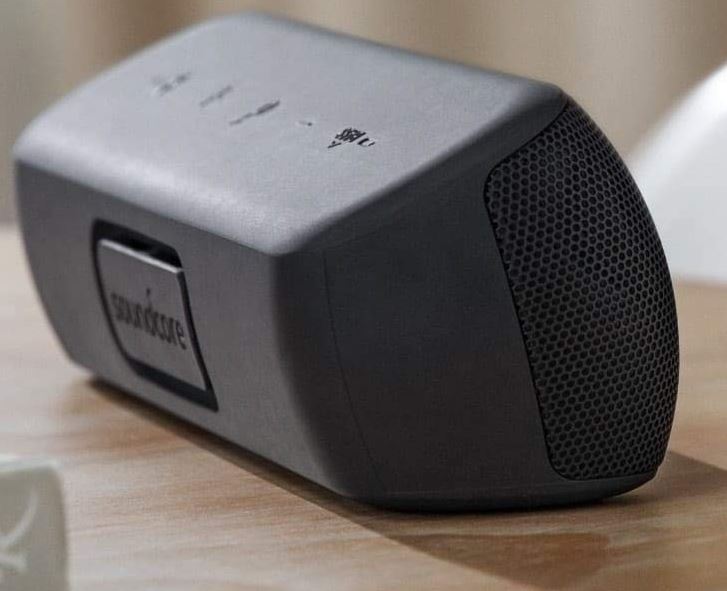 There are some things the Motion+ was not built to deliver. You'll notice there wasn't any native support for Alexa, Cortana, or Siri built-in to it.
These sorts of speakers are usually saddled with some wimpy microphones to make them seem like they're capable of doing far more than they're really able to do. But Anker has instead focused entirely on delivering a high quality speaker, instead of some kind of multipurpose communication device.
Who Should Choose the Anker Soundcore Motion+ Bluetooth Speaker?
The Soundcore Motion+ Bluetooth Speaker is probably a good choice for someone who places a high emphasis on waterproofing. This speaker is about as water tight as any Bluetooth speaker ever was. At least, provided you can keep the back panel in position. It also has the ability to adapt and pair-up with other speakers, giving it some expansion potential. Along with support for Bluetooth 5, you can expect those connections to be pretty rock solid.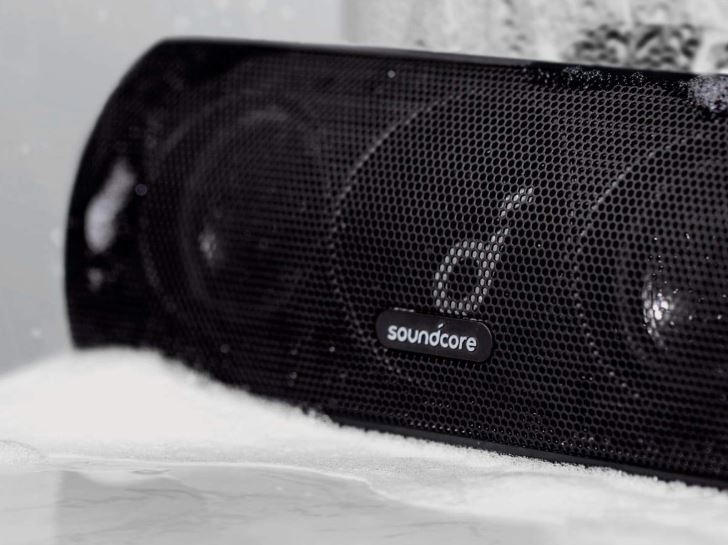 With respect to its audio, the Motion+ delivers a far more well-rounded sound than you typically get from portable Bluetooth speakers. Because it's not just dynamic drivers attempting to imitate a bunch of different parts of the spectrum of sound. Here you're working with a proper pair of tweeters, and a far better approximation of bass.
If you're looking for speakers that can last longer, you're probably going to have to pick a much larger speaker. You're certainly going to have to pick a much heavier one. Which makes the Motion+ Bluetooth Speaker a good choice for someone who wants their speaker's sound quality to be just as high as its portability.