High end projectors are able to get a lot done these days. With the right projector, you can find clarity that's comparable to basically anything you might be able to achieve with a television. Of course, there are always a few extra requirements to get a projector setup. You need a darker environment, and you need to be able to position the projector properly. But even those types of requirements can be overcome if you're willing to spend enough to do it.
ViewSonic PG706HD Full HD Projector
Picking projectors can be a little challenging, at least when compared to the relative simplicity of picking a TV. Though as with all things, if you know what you're looking to find, it gets to be much easier finding it. And you really need a combination of several things to make a great projector, many of which are present inside the PG706HD in abundance.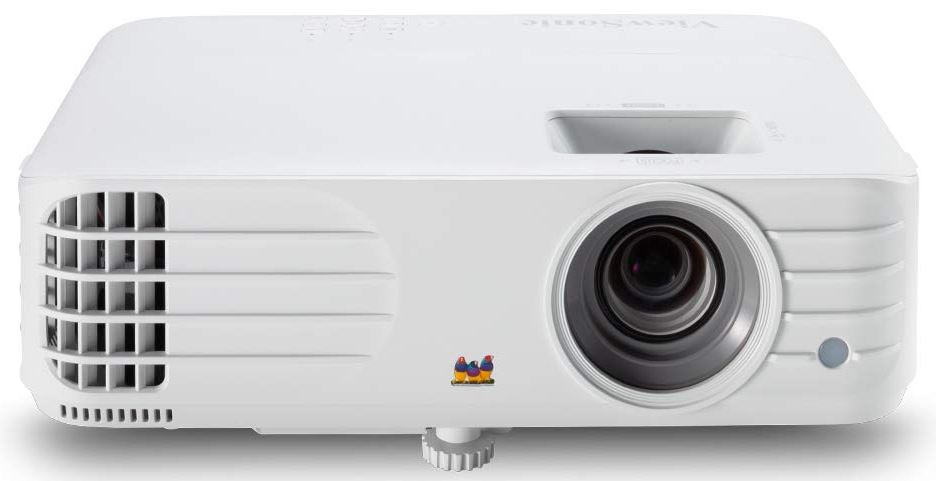 Mostly you need to think about the resolution of your projection, the size of the screen, the throw ratio, and the total brightness output. Because the resolution will help inform how smooth your presentation looks, which can be especially important as you start to reach larger screen sizes. The brightness heavily informs the overall vivacity of the image, as well as the contrast ratio. The screen size is a bit self-explanatory, but larger screens tend to be more immersive. Clearly, it takes a lot of different stuff to make a pretty strong projector.
The ViewSonic PG706HD Full HD Projector is equipped to get quite a bit done. Because it combines a bunch of high-tier technologies into a single place. Across the market, many projectors claim to be 1080p. And when they make that claim, it mostly means they're capable of running 1080p content, not that they have a native resolution of full HD. But the ViewSonic PG706HD is actually a full 1080p projector. And really, that's just the beginning.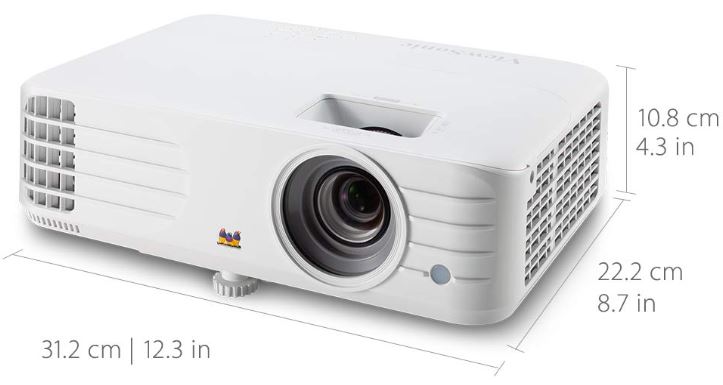 Design & Configuration
From a physical standpoint, the PG706HD Projector is hard to tell apart from about a million other projectors inside and outside of the ViewSonic brand. The chassis measures 12.3 x 4.3 x 8.7 inches, with an exterior that's a creamy white. It basically looks like any other full-bodied projector out there, including models that cost one tenth as much.
But how much time do you spend looking at the projector? If it's doing its job correctly, then the answer is probably little to none. So there's probably no reason to care much about how the projector looks, unlike the importance of a sleek looking chassis on a television. To its credit, this chassis allows for plenty of airflow through the unit.
Installation Options
The PG706HD weighs about six pounds, which isn't too tough to get up into a ceiling installation. But you can install this projector in basically any configuration you can imagine. That includes desk installations, ceiling installations, rear projection, and so forth. In fact, almost everything about the setup has been basically streamlined into simplicity.
Once things are configured, controlling the ViewSonic PG706HD is also quite simple. You can basically plug and play your media. You have flexible connectivity, with mobile devices and PCs able to connect through USB and HDMI. All the basics are covered.
Ports and I/O
Once again, the user interface is very approachable. On the topside you'll find a 1.1x optical zoom lens wheel which can be used to help zoom the screen as needed. The zoom wheel moves smoothly under your finger, allowing you a greater granular degree of control during operation. The same is true of the built-in vertical stand hub on the base of the unit, which can be twisted to alter the angle of your projection.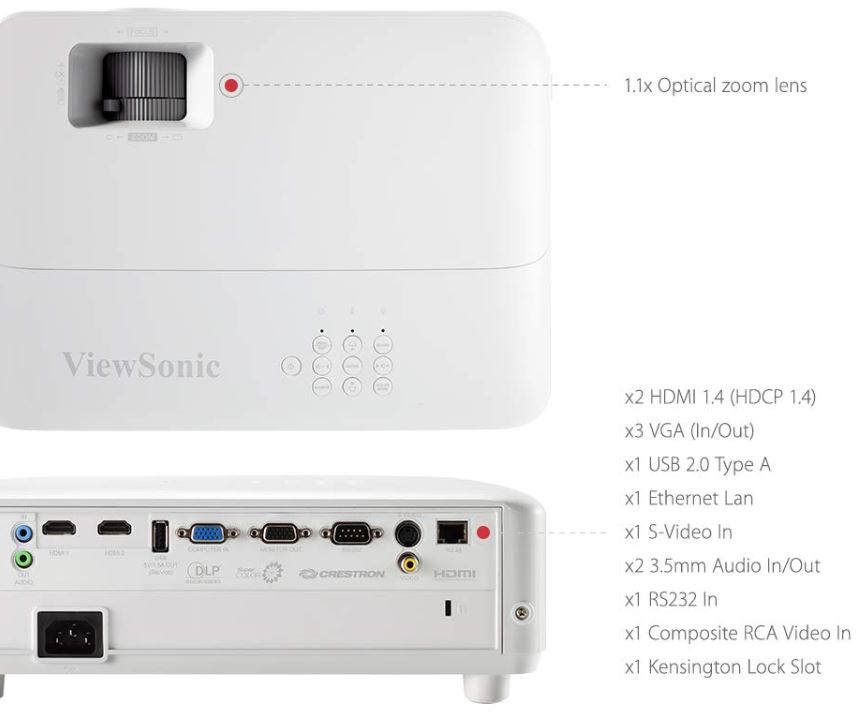 On the backside, there's a pretty wide number of input options available. Among them you'll find a pair of HDMI 1.4 cables with HDCP 1.4 support, three VGA in/out ports, and a USB 2.0 Type-A port. There's also an Ethernet port for a hard wired connection to the web, an S-video in-port, a pair of 3.5mm audio in/out ports, an RS232 port, and a composite RCA video in port.
That's basically everything you could possibly want to connect to the projector. Though you may have noticed DisplayPort isn't included, that option would be a little superfluous given the nature of this equipment.
One more thing that's easy to miss is the locking port. To top it all off, there's a Kensington lock slot which can be used to help secure your equipment. Those kinds of things can be far more important when you're tasked with protecting more expensive equipment like the PG706HD.
The Remote
The remote covers all the essentials, so you probably won't need to think about trying to replace it. Along the top, you'll find buttons for changing input sources. There's a command pad with arrow keys and a central "enter" button, a menu button, an exit button to close menus. There's also a variety of controls to affect the volume or adjust the picture.
Basically everything you need from a remote. However, there are reasons to dislike the way they've placed these buttons. The volume buttons are hidden away among a slew of other, less important buttons. They're given the same emphasis as the buttons that allow you to zoom the screen, which seems like poor efficiency in the design of the remote.
In short, you might not fall in love with the way this thing is organized, but it does let you do everything that needs to be done. It certainly helps they've color-coded five of the most important control buttons with green, blue, orange, and red icons.
Video Quality
The PG706HD allows for the maximum size of the projection to stretch to a massive 300". In other words, that's about 25-feet of screen size. When you're playing a smaller 120" screen, you'd want to sit the projector about 13 feet from its source. So it's not tough to get this projector seated properly, with a pretty adaptive projection distance supported by its 1.5-1.65 throw ratio.
Brightness is one of the most important things any projector can offer. Here you'll find as much as 4,000 lumens of brightness. That's incredibly bright, it's basically like intensity of three 100-watt bulbs. That's what allows this projector to perform so admirably even when you're not in totally darkened conditions. Of course, you're always going to get the best performance from these types of devices while you're in darker areas. Especially if you really want to appreciate higher contrast ratios.
Far exceeding what LEDs can deliver, you'll notice the color depth reaches 1.07 billion colors. That also dwarfs the kind of colors you see from inexpensive LED projectors. Moreover, this projector is enabled with some more advanced visual support, including a 1.2x optical zoom and keystone correction. Those are great, and essential for a variety of different multimedia setups and for projects where high definition content is needed. Especially PowerPoint presentations.
The ViewSonic PH706HD works around a standard 16:9 aspect ratio instead of a widescreen aspect ratio, so there won't be those black bars on the bottom of your image. But there will be those black bars on the bottom of your image if you try watching something in a widescreen aspect ratio.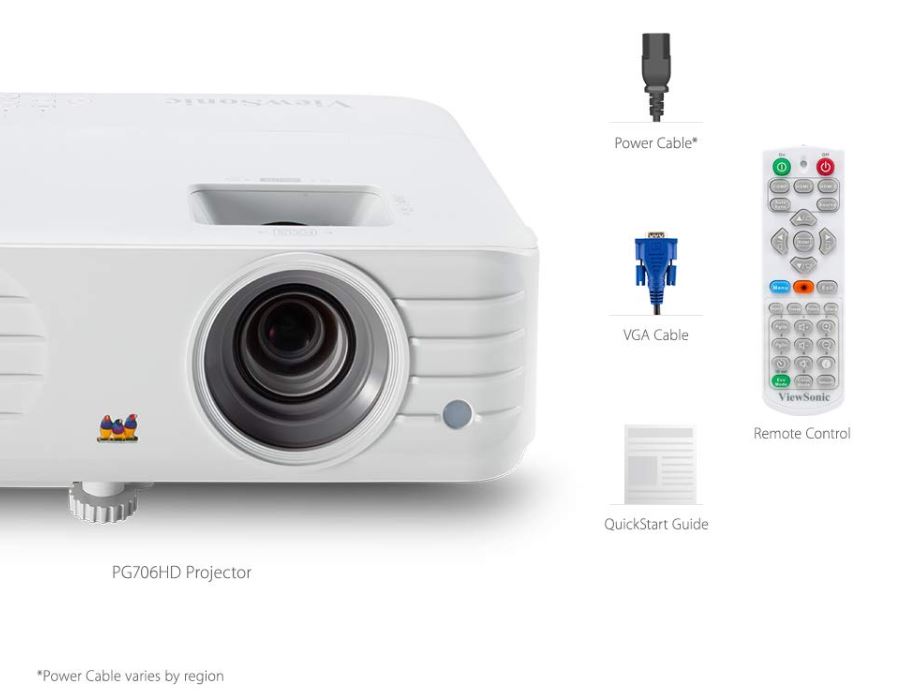 Audio Capacity
The audio output is a single 10W speaker. Even though it's mono the 10W is basically three times as powerful as the kind of speakers you'll find inside the backside of a PC monitor. But that may not be saying very much — mono sound output is something that's quite distinct to the ear.
As with televisions, if you really want great audio, you really need a separate set of speakers to help supplement or replace on-board audio. Because there's only so much sound design you can do when you're working with small speakers crammed inside of a projector.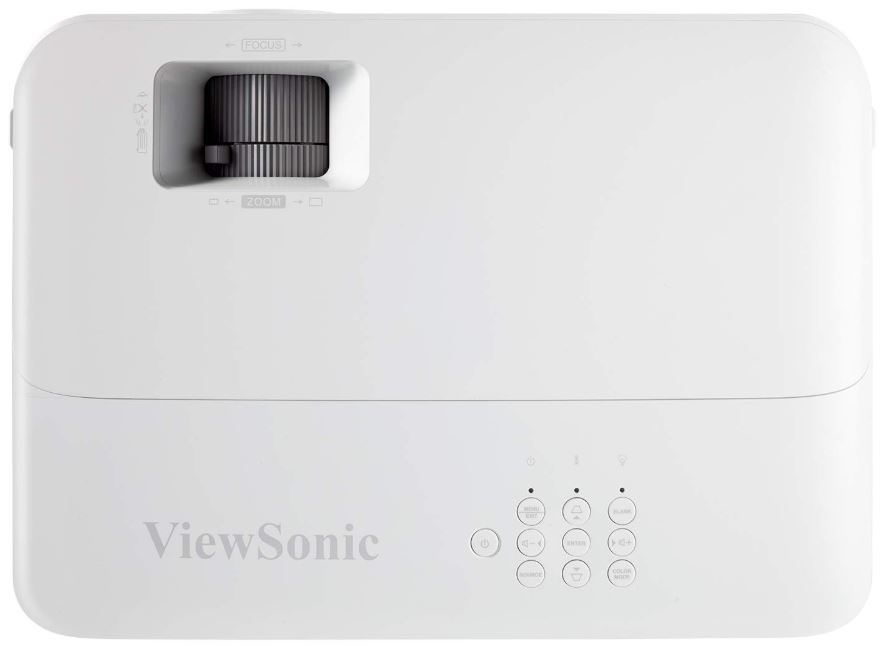 Other Considerations
How long can you expect the PG706HD to perform? Well, it partially depends on how it's operated. The super eco mode is supposed to let the lamp shine for 20,000 hours. When you're using the lamp on full blast and not operating the eco mode, you'll find the longevity darts down towards the 10,000-hour mark pretty quickly.
So it's a good idea to intermittently swap over the eco-friendly mode whenever it's convenient for you. But even if you're never using the eco mode, you'll find the 10,000-hour estimate means you can still watch multiple movies per night, every night, for years to come. And after nearly a decade has passed, you can start to think about swapping the bulb. And ViewSonic's customer support is American based, if you decide to do your bulb replacement through them.
The ViewSonic PG706HD includes the projector, a power cable, VGA cable, and the remote. It's a shame they haven't included any HDMI cables. You'll also need to provide a pair of AA batteries for the remote. Beyond that, ViewSonic also includes a 3-year warranty. Though coverage of the lamp only lasts for one year.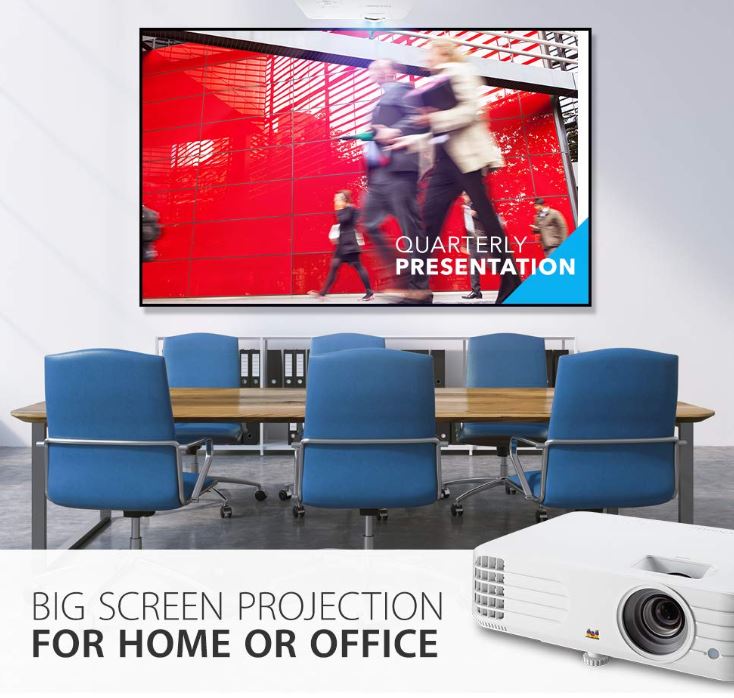 Who Should Choose the ViewSonic PG706HD Full HD Projector?
Getting 1080p as a native resolution for a projector can be quite challenging. Which is why units like the ViewSonic PG706HD are still relatively expensive. But when you see the kind of beautiful work a projector can really do, it's also easy to see why people love them. It's like creating the clarity of a television screen, and then expanding it across something greater than the size of a wall.
If you're looking for something cheap and simple, this probably won't do it for you. This is a top-shelf unit. It's not quite enthusiast-grade, but it's getting devastatingly close. Some people don't just want a home theatre, but want a home theatre that looks and feels better than going to a movie theatre. If that describes you, then the PH706HD Full HD Projector is probably going to be a great choice.