When you're out camping, watching a local sports game, taking a picnic, or heading to the beach, there's a good chance you want to bring along a cooler. Even when it's not that warm outside, a cooler means you can keep your food fresh or preventing it from melting. And it's never the wrong weather for some cool drinks.
But let's face it, stuffing a bunch of ice into a box and carrying it around isn't a very 21st century solution to the problem of keeping things refrigerated. Not that there's anything wrong with ice – it can certainly get the job done. But increasingly, there are some more technically advanced options that are worthy of consideration.
GoSun Chill
The GoSun Chill is supposed to be a redesign of a classic cooler. But it's really more like an off-grid refrigeration device that doesn't require you to operate a generator. That's because the GoSun combines some highly modern compressor technologies alongside a totally solar-powered design which precludes the need for generators. And because there's a battery involved, it's supposed to be able to help keep your stuff cooled under all circumstances.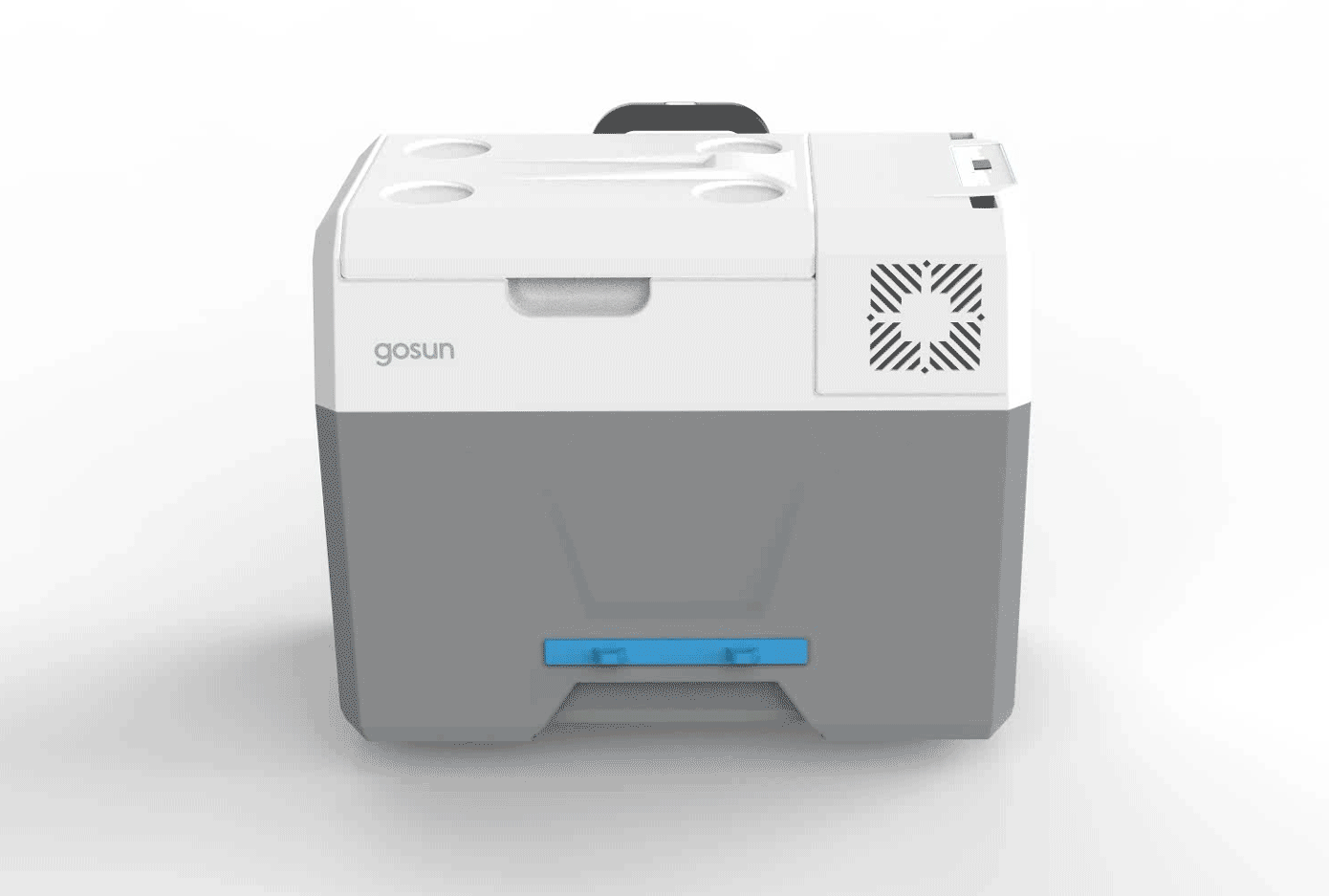 Portable fridges aren't a totally new idea; you can find some of them on the market already. But they're all heavier than the Chill, not solar powered, and generally more expensive. Which really means the Chill has a lot going for it. Whether or not it wins you over, you have to admit, it can really do quite a bit.
The ultimate goal of a device like this is pretty simple. You don't want to have to worry about your stuff getting soggy from contact with melting ice. You don't want to have to worry about needing to buy and store ice. You don't want to have to worry about carrying the weight of ice from one location to the next. And you probably don't want to deal with the melted ice water. The Chill offers an alternative to all of that.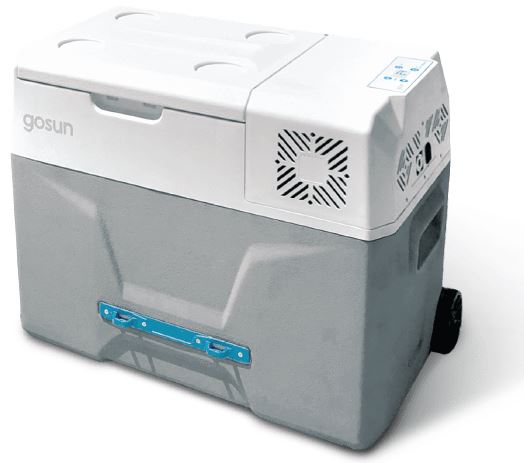 Design & Layout
The GoSun Chill weighs about 28lbs, which is actually surprisingly lightweight. It's tough to appreciate without really going into greater detail. For the sake of comparison, a large 45L cooler can contain around 28 beers at most. That cooler would weigh around 23lbs before you shoved anything inside of it, and then would double its weigh towards 43lbs after you've got it stuffed full of ice. The GoSun Chill sticks around 28lbs and doesn't go that much higher. Because you don't have to carry around 8lbs-15lbs of ice or more.
The Chill is supposed to be able to fit around 1.4 cubic feet of stuff inside of it. That works out to around 40 liters of total capacity. Physically it's about the size of any other large cooler, measuring about 24 x 16 x 19 inches. The top is a little heavier and thicker than an ordinary cooler because that's where they've stashed away the brushless DC compressor. It pulls around 40 watts of power during operation, which is reasonably low.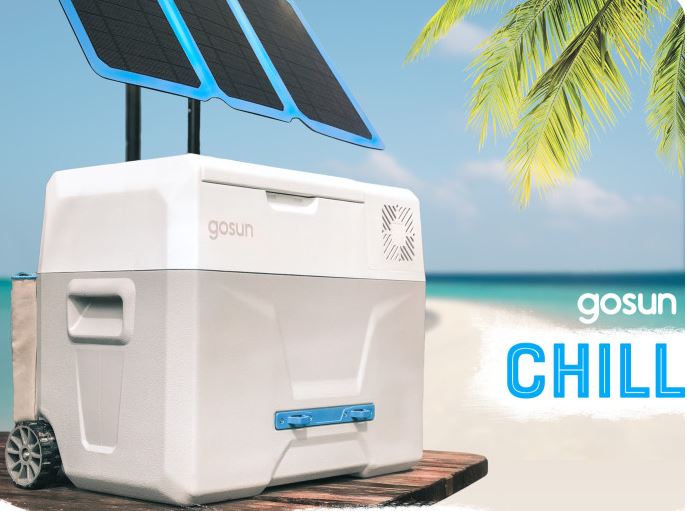 The GoSun Chill is actually quite spacious, mostly because you don't have to fill your cooler with ice. Ice can also be pretty annoying when it comes to finding exactly what you want to find inside the cooler. These kind of small benefits are easy to overlook, but they're actually some of the cooler things that the Chill can offer.
It's also worth pointing out that since this isn't a thermoelectric design, GoSun is also totally quiet and controllable. You don't have to worry about this cooler starting to howl-out with noises every time it starts to cool things, similar to mini-fridges. It's using a different type of cooling technology than the typical fridge.
Thankfully, just because these guys are building a new-age type of cooler doesn't mean they've totally forgotten the lessons of coolers made in the past. For instance, they were sure to include a built-in bottle opener to help open your drinks. Little oversights like these could have easily ruined a cool device like the GoSun Chill.
One more thing that's worth pointing out is the emergency drain. Just in case you run out of power and have to rely on ice as a backup, the draining system can be used to let water out of the cooler as needed. It's also nice for people who are trying to get the best of both worlds from their cooling.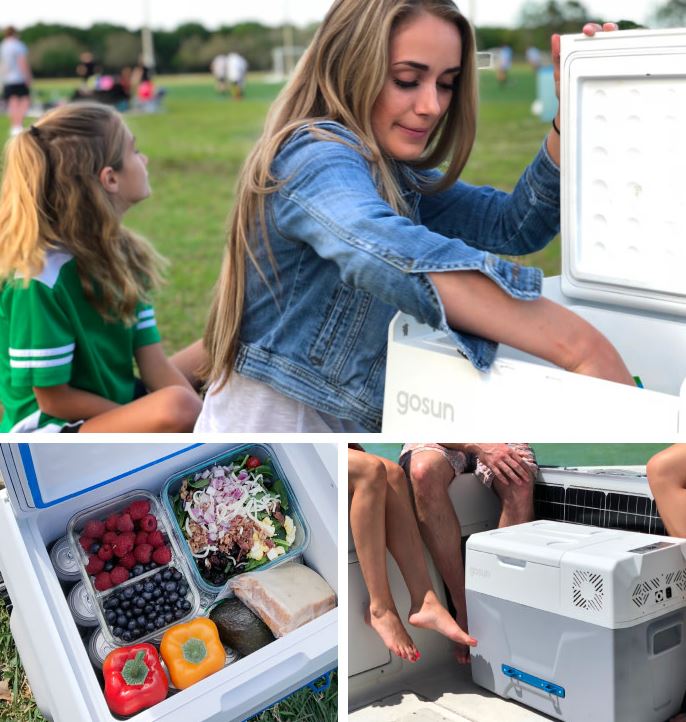 Performance Improvements
The Chill does its job. But how long, how well, and how often? Even though you don't actually need ice to power it, the Chill can become cool enough to freeze water. So theoretically, you could make ice on the spot. But as we'll get into a little later, that wouldn't actually be a great idea.
The power bank inside this cooler is supposed to provide lasting cooling for about 24-hours. That's certainly much better than you can get from a bag of ice. But those results do partially depend on the settings of the device, and how much power you're willing to chew through to keep things at certain temperatures. How much control over the temperature do you have when you're dealing with a cooler stuffed full of ice? Not much.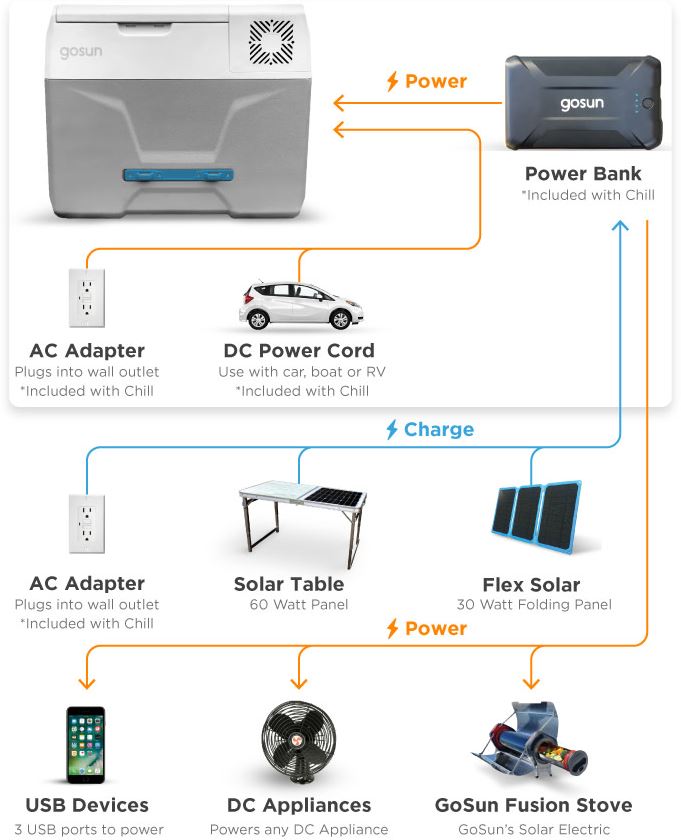 Power Options
The multi-modal power design of the Chill gives you a number of different options to keep your stuff cool. The primary power source is solar, but there's a backup power source of 12V and AC sockets. The solar panels can be used to recharge electronics as well, so if you're not recharging the cooler, you can be recharging your phone.
What other ways can you charge it? Well, it includes a 12-volt cord which can attach to the GoSun Chill to your car. You can use a solar table, or solar panels. Is it sunny outside? You can stick with solar. Is it overcast? You're still covered as long as you're anywhere near your vehicle. Even if you're not near your vehicle and it's not sunny, you can charge the GoSun Chill indoors overnight and be ready for an excursion the next day.
Removable Power Bank
Because included battery can be used as a separate power bank. The capacity of that bank is supposed to provide about one day's worth of cooling. It's actually quite powerful, able to run 12V/15A. That makes it drastically more powerful than the smaller phone-style chargers you'll find on the market. In terms of phone recharging capacity, it's capable of supplying a smartphone with around ten full recharges.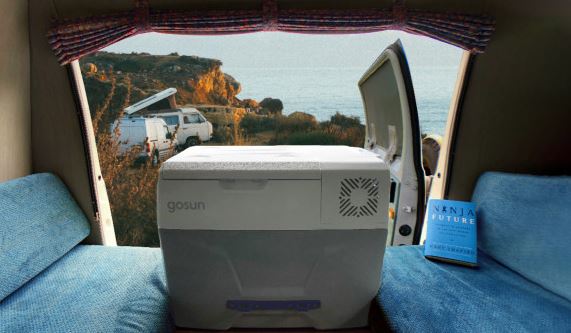 Since the power back is removable, that means it's possible to replace in the future as the battery capacity gradually decays with regular use. It may interest you that the 144WH detachable power bank is actually too large to be brought onto commercial flights – it's nearly 44% over the size limit. But again, there are lots of ways to use all that power. The GoSun battery has three USB ports on it, to help recharge your other devices. And it can be used as an LED flashlight.
In addition to the power bank, the Chill includes an accessory storage pouch to store smaller items. It includes some tie-down cleats and straps to help you carry larger loads safely atop the cooler, and it includes handles and wheels to help the GoSun traverse basically any terrain that you might want to haul it down.
Temperatures & Longevity
You don't need a degree to understand that stuff stays fresh longer when it's cooled. And even longer when your stuff isn't dripping wet from having been soaked in some melting ice. As alternative, the GoSun Chill lets you operate a temperature control panel that can carefully move the temperature up and down.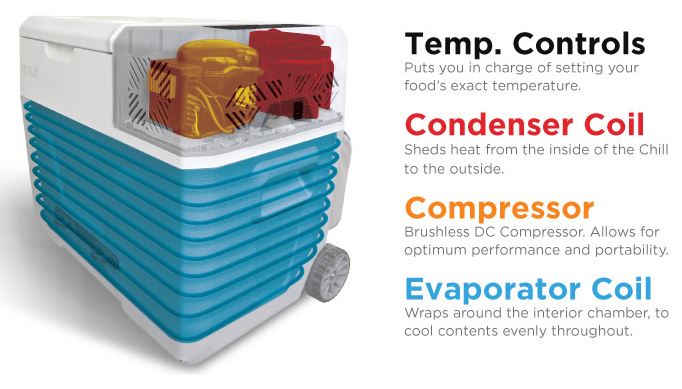 If you're trying to keep popsicles frozen, you can get that done. If you're trying to preserve ice cream, that's possible. And if you're only worried about a couple cans of coke and some sandwiches, you can pull-back on the temperature controls and enjoy a longer battery lifespan.
How long does the cooling last? Well, it depends on a wide variety of different factors. The included solar power bank can keep you running for about 14-hours of cooling, assuming it's fully charged from the start, and assuming it's about 80-degrees Fahrenheit outside.
If you plan on making ice inside the cooler, you'll get a much lower turnout. Something around 3-5 hours of lifespan, depending again on the temperature outside. That's because the compressor will have to operate full-time, which will basically work the battery to death. Otherwise, the battery is only going to try and maintain a modestly low temperature inside of the unit, which won't require continuous operation.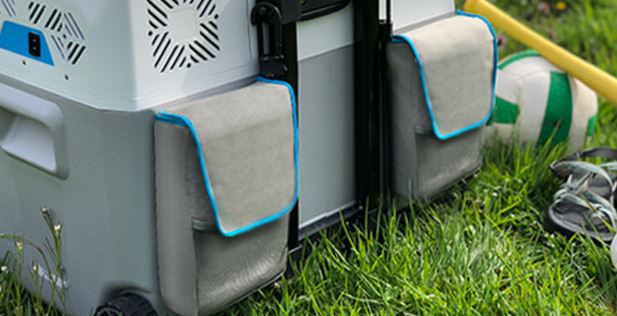 For 14-hours, you can expect the temperature to stay around 55°F. If you're going to drop the temperature down below freezing, then you'll see it slip towards 5-hours. That's pretty good in either case, and can be augmented by the addition of a little ice.
Other Considerations
If you do end up throwing ice inside this machine, you'll probably be pretty impressed how much you can get done with only a little extra ice. Because the ice isn't doing all of the cooling – that job is spread out. It's also worth remembering GoSun has a number of solar-powered outdoor cooking devices. Those include a solar table, a solar oven, and a solar cooker. And all of them have degrees of compatibility with the Chill.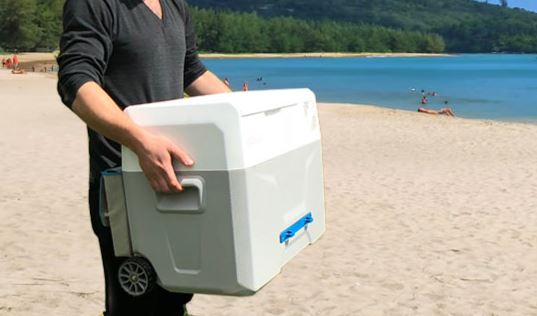 Who Should Choose the GoSun Chill?
How often do you use a cooler? If you're someone who goes through more than a couple of bags of ice, it shouldn't be hard to see the appeal of the Chill. One of the best things about this design is one of the easiest to overlook — but the fact the battery is removable means this device can be expected to last for years to come. Potentially for decades if you're willing to treat it with care, and swap the battery for a new one every three to five years.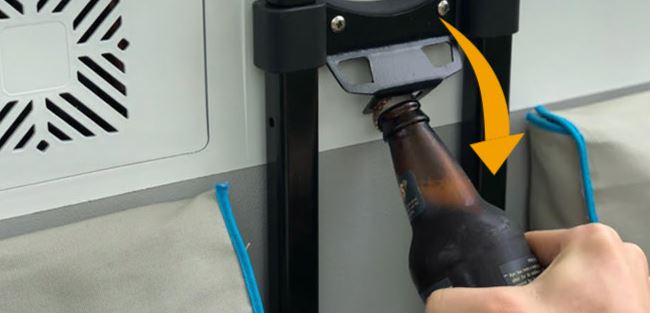 Once you've got it loaded with a bunch of stuff, GoSun Chill will be heavy, like any cooler. But it's not nearly as heavy as a cooler burdened with a bunch of ice. Of course, sometimes there's nothing wrong with ice. If you're not satisfied with the 14-hours of cooling, you can throw some ice inside the GoSun Chill and get much more from the battery, and much more cooling done. That kind of versatility is extremely appealing, at least, for those who can justify the cost of using a cooler this fancy.