There is a world of difference between the quality of different projectors. Just reaching 1080p as a native resolution is a pretty high plateau which many models don't achieve. Once you've reached higher resolutions, you can begin to focus on higher contrast ratios, color vivacity, and the other things that most impact the experience of enjoying a movie or watching a presentation. But it all begins with resolution.
Optoma EH515TST ProScene Projector
Enthusiast grade equipment is almost always impressive. So it's no surprise the Optoma EH515TST ProScene Projector has some pretty impressive stuff on display. It's no exaggeration to say it was engineered to satisfy some of the more demanding needs of professional installations and corporate environments.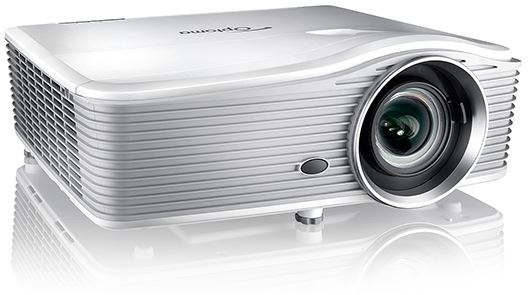 In other words, this projector was made for people who need pristine quality. That includes the ability to generate small font text that's crisp and readable from a distance. Which makes this projector quite suitable for PowerPoint presentations and similar professional presentations.
What makes it work so well? Well, the answer is actually a number of different things. It combines digital light projection alongside a number of similar proprietary technologies to better enhance your digital presentations. But exactly how well does it perform when applied to movies and home theater settings? That partially depends on the conditions of the room. But the EH515TST is certainly quite versatile.
Design & Layout
The EH515TST ProScene Projector measures 16.7" x 13.5" x 6.3" and weighs around 14lbs. That makes it one of the heavier projectors of this type out there. The silver-white chassis looks about the same as any entry-level projector, and it certainly won't catch many eyes. But you don't really spend much time looking at the projector itself anyway, at least, not when it's been properly positioned. So lack of style points isn't something to be too concerned about.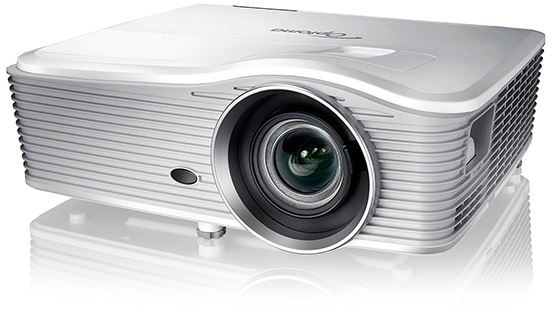 The backside provides a robust offering of inputs, spanning HDMI, HDML, DisplayPort. You have RS-232 and LAN support using Telnet, Extron PJ-Link, IP Link, Crestron. Additionally, as you would hope from a fairly expensive device like this, there's a Kensington Lock on the backside. Pretty useful as a safety precaution, especially for installations in business spaces or public spaces.
There's also a password protection feature that prohibits people from changing the settings of the projector without permissions. Again, that feature is optimal if you're placing this device in a public space. It's nice to know someone can't mess with your projector right before a presentation, even if only by accident.
Noise & Audio
Noise level during operation is a stunningly low 32dB. You basically can't hear this projector while it's going. A lot of different projectors around this price range brag about being able to remain quiet, but the Optoma EH515TST is easily one of the most silent projectors on the market right now. Assuming you've got some audio playing with your video, the projector is essentially inaudible.
Apart from the speakers, of course. Onboard, there are a pair of 5W speakers totaling 10W output. It almost goes without saying, but you would be better off adding a few speakers to this projector rather than trying to stick it out with the 10W setup. The kind of built-in speakers you'll find inside of a projector face enormous limitations. But the 10W speakers are decent for people who are in a pinch for sound.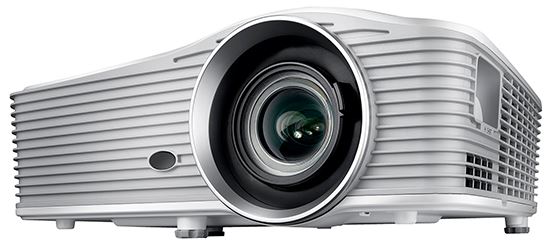 Installation Options
The four corner adjustment system means you can get a nice image even against uneven or an angled projection surface. Likewise, the top loading lamp can easily be replaced if the projector is wall mounted, and the Built-in HDBaseT is great for running many cables along the installation environment.
Getting power to your projector can be one of the more challenging aspects of any applied installation. Here you'll find the Direct Power On feature allows the projector to indirectly turn on from its power source, aiding people who are reliant on power-on timers. The single power-on features lets the projector power-up when it receives a signal through HDMI. That way, it will flip on anytime you start sending over a source signal. Pretty slick.
Another thing that keeps installation smooth is four corner geometric correction. If you're looking for a basic installation where you just sit your projector on the surface of a table, you'll find that's supported. If you're looking for something a little more complex, you'll find it's supported. Even for uneven walls, you can get this projector shooting evenly. The vertical and horizontal keystone correction is paired with lens shifting for a generally greater flexibility with the installation. You can do a front, rear, ceiling, or tabletop installation with relative ease.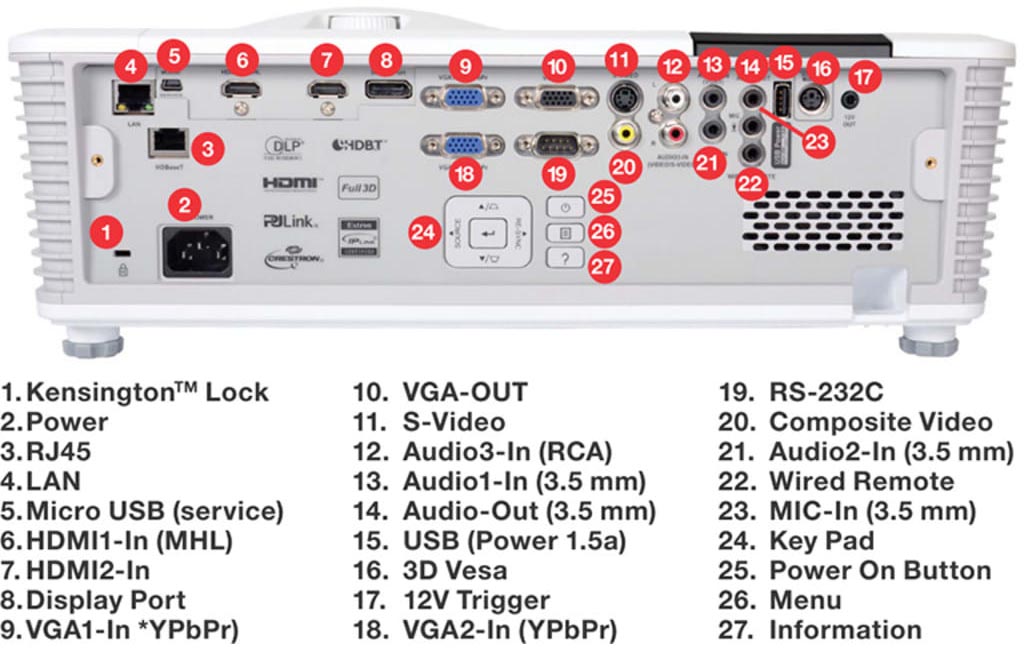 Operation & Optoma Software
The EH515TST uses a sleep timer that lets you turn off the projector after a given period of time. You can manage that in a number of different ways. For instance, the RS-232 control module lets you control it through the RS-232 cable using ASCII or HEX Commands.
If you're looking for more traditional means of control, this projector lets you operate it using the wired remote connection. That connection lets you change literally all aspects of the projectors performance, letting you control them without actually needing line of sight with the projector. That's an invaluable skill while performing or during some type of live event.
From the LAN control option, you can use their RoomView software to power on/off the projector, control, or manage as many as 250 separate units through one unit. You could basically run your own movie theatre with their software. Additionally, image stacking means flexible installations with redundancy at your disposal. You can double the brightness of an image without greatly raising your installation costs.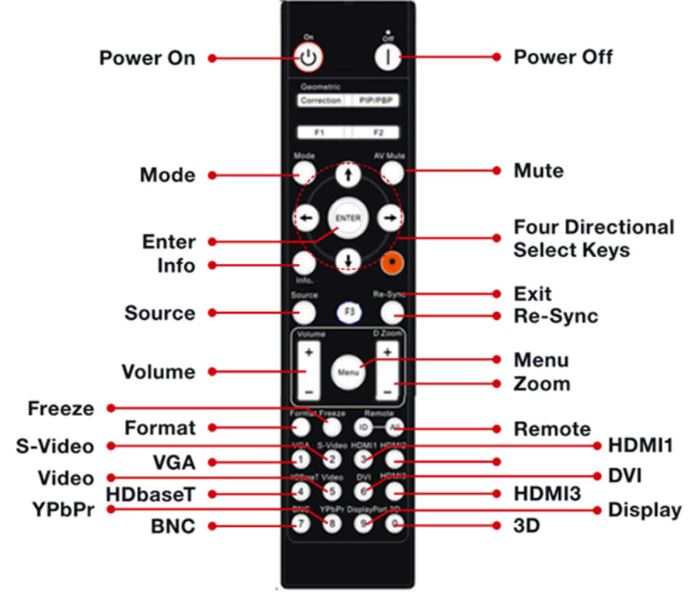 Video Quality
As you'd expect from a device like this, the technical specifications are really something to marvel at. Even though having a native resolution of 1920 x 1080 doesn't sound like much since we're all used to it with televisions, it's a totally different enterprise when it comes to projectors. You may want to note the maximum resolution is WUXGA 1920 x 1200. Naturally, that's related to the aspect ratio used by these devices. They use standard 16:9 aspect ratio, but they're also compatible with 16:10 and 4:3.
Brightness is another critical element for any projector. Here you'll find the bulb has a massive 365W output. Consequently, the EH515TST supports a bright 5,000 lumen projection, making it useful for large scale installations. That's an enormous amount of brightness, and that level of brightness means different things, for different people, in different circumstances.
And it's what allows the contrast ratio comes in at a truly impressive 10000:1. That's literally ten times better than an entry-level projector. It's something you can really only appreciate when you've got the room perfectly dark, however.
In any case, the DLP technology is made for color accuracy, perfectly honed contrast, and ultimately a more vivid image and experientially a better viewing experience. Digital light processing is Texas Instruments' proprietary technologies, it supposed to offer a higher contrast, better response time, and essentially no color degradation when compared to projectors without DLP.
You also get a generally better pixel structure, and it contributes to the displayable colors count reaching a total of 1.07 billion. Again, that's thousand times better than the color range you'll find from a basic LED projector, and it's something that's easily appreciated.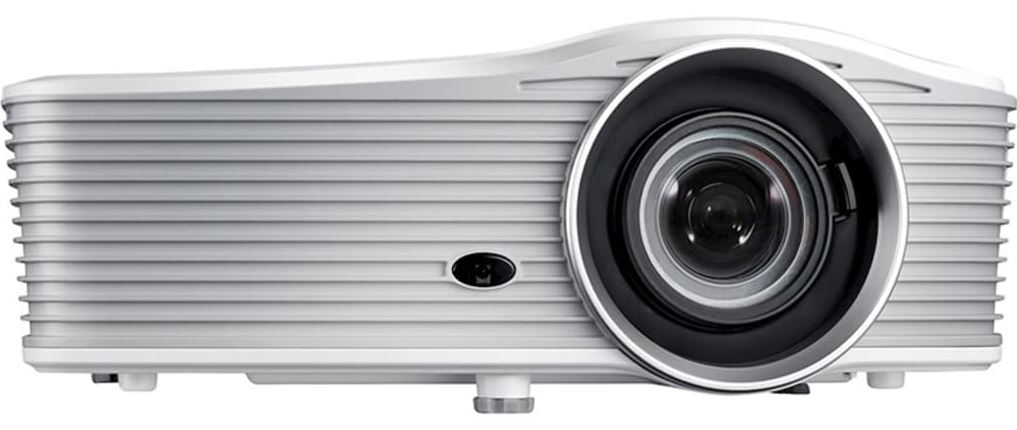 Adjustability of the Projector
The projection distance ranges between 19.7" and 221.7". Meanwhile, the screen size ranges between 28.59" and 303", along with 2x digital zoom to help center the screen as needed. Between those ranges, you're able to project a super-bright image from about 6 feet away from the wall, spanning a huge screen of 100". That's what most people will probably end up using.
But you can do far more aggressive and awkward installations as well. For instance, the keystone correction runs ±40% vertical & horizontal. Compared to most projectors, which often cap out around 15%, you'll find about two or three times as much correction is possible.
Other Considerations
Very bright lights will need to be replaced eventually. The light source has a lifespan of 3,000 hours, or around 5,000 for the eco-mode. With the brighter mode, that's around 125 days of consecutive play, or around seven years of being able to watch one movie each night. After that, you'll need to swap the bulb.
Total power consumption can reach 445W while running in the brightest mode. So similar to a small computer, this projector can get a little warm and even heat-up a smaller room. You don't need to think about any special cooling though, and the projector doesn't get louder while it's working under strain.
Optional accessories include a universal ceiling mount, 3D DLP glasses, HDBaseT transmitter, and a wireless HDMI system. Among the included accessories, you'll find an AC power cord, VGA cable, remote control, and batteries for the remote. There's also a warranty card, quick start guide, and a CD that include a user manual. How long does that warranty run? The Optoma Express Warranty is one year for the lamp, and three years for the rest of the unit.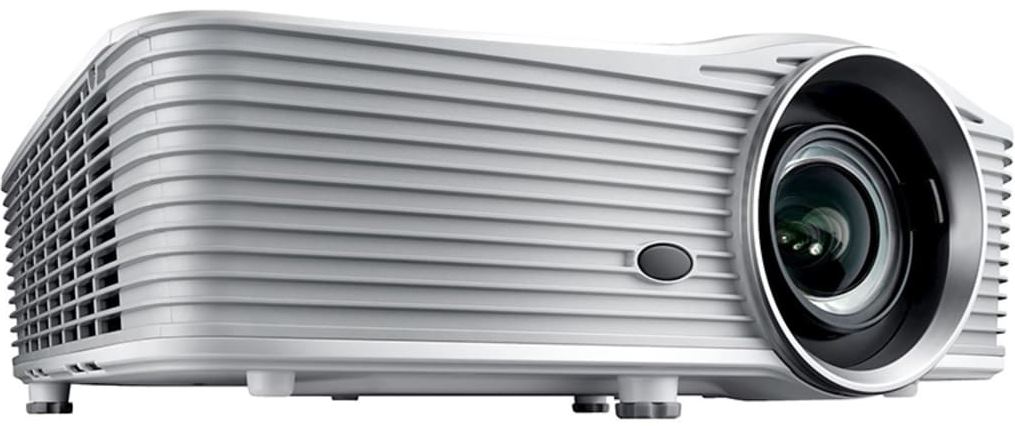 Who Should Choose the Optoma EH515TST ProScene Projector?
The Optoma EH515TST has a lot of different appealing features. Most of them stand out on their own. For instance, the full 1080p support certainly comes to mind. The 1-billion color palate performs far better than most standard LED televisions. Not to mention the enormously bright 4,000 lumen presentation and the contrast ratio that come with all of that.
But it's really clarity that helps define this machine. It's a great choice for someone who's running presentations with lots of text or detailed graphics. Those kinds of strengths make it equally great for running movies or games, but it really only makes sense to get this projector if you can take advantage of its ability to make such a high quality professional presentation.