One of the worst aspects of owning a laptop is how difficult they are to upgrade. Even if you're a certified technician, it can be all but impossible to replace the majority of the parts within smaller portable devices. For years, people have turned to external hard drives and similar adapters to solve those types of problems. But until quite recently, that kind of adaptability was essentially impossible when it came to graphics cards.
GPUs require a vast amount of data bandwidth for their operation. Speeds on par with USB 1.0 and USB 2.0 simply weren't going to cut it. The inability to upgrade your GPU is only made worse by the fact most laptops don't have strong graphics capabilities to begin with. Even if your laptop had a top-of-the-line card two years ago, GPU technology continues to advance at such speeds that the need for an upgrade is inevitable. It's just a matter of time.
But thankfully, Thunderbolt 3 and its impressive 40GBps of bandwidth now can help turn any laptop into a mini-workstation through an external GPU. That transformation can be particularly impressive for laptops that are modern, but otherwise lack a strong graphics chipset. From a design perspective, you don't want a GPU inside your laptop to begin with. Heat is what kills electronics, and adding an independent GPU inside a confined laptop body drastically increase the thermal output of your machine.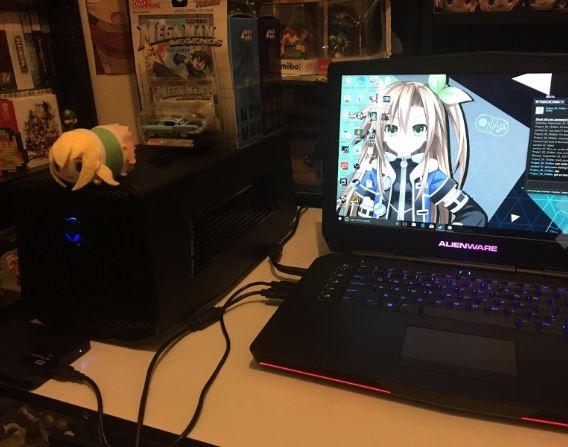 If you're looking to add graphics power to your laptop, external GPUs aren't only easy, they're far and away the best choice. They can give you the performance of a gaming laptop without the horribly short lifespan of an integrated graphics chipset, which helps your laptops perform better now and in the future. But like with choosing any other piece of computer hardware, whether or not you make a great selection or not is mostly tied up in small details.
Choosing an External Graphics Card
External GPU adapters may or may not include a graphics card. Sometimes manufacturers sell a complete kit, which includes a hardware cage to plug-in a GPU, and a GPU to put in the cage's slot. Others offer the hardware cage alone, requiring you to get a GPU through another method. All-in-one kits can be convenient if you can readily make use of the card that's included. But if you already have the GPU you want to use in your laptop, or have a very specific GPU you want to use in mind, then you're going to want to find a kit that only includes a GPU connection terminal.
Card Performance
If you choose an external graphics card kit that includes a GPU, then you'll want to know a few things about choosing a GPU. Specifically, you'll want to think about the kind of processing power you need for the tasks you have in mind for your laptop. The most basic things to reflect on are the amount of RAM on the card, its memory clock, and its memory bus width.
If you plan on running 2K or 4K content, especially within PC games, then RAM is what's responsible for making sure you have enough memory to keep all those large textures in memory for loading. Similarly, the memory clock and memory bus width are a good way to approximate the speed and overall performance of the card. If you're not sure how much speed you need, a good way to estimate is to look at the system requirements for the programs or games you're interested in running.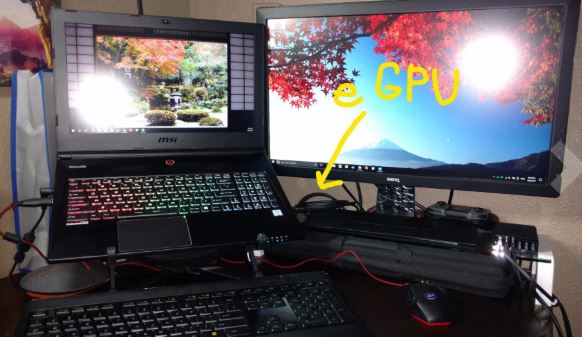 Next, you'll want to think about power consumption of whatever GPU you select relative to the power capabilities of the external GPU adapter. Even power-hungry graphics cards tend to use less than 200 watts, but there are numerous technical advantages to choosing an external GPU adapter that can support wattage closer to 400. Similarly, you'll need to think about the physical size of the cards you want to run. The dimensions of any given GPU can vary considerably from one manufacturer to the next, so it's always a good idea to double-check against the size of any given external GPU adapter.
Cooling Your Hardware
Adding a GPU essentially doubles your heat output. One reason you don't see as much graphics power inside notebooks is because powerful GPUs are hot, and the confined spaces within a laptop makes cooling difficult. External GPUs can help you get around that problem by providing their own cooling fans, but you'll want to look at how effective the cooling setup can perform.
Cooling is particularly important for people who have overclocking in mind. Many cards will throttle performance if they reach higher temperatures. And greater performance can easily be leashed by the inability to keep your cards adequately cool, making cooling in need of extra attention for people interested in overclocking.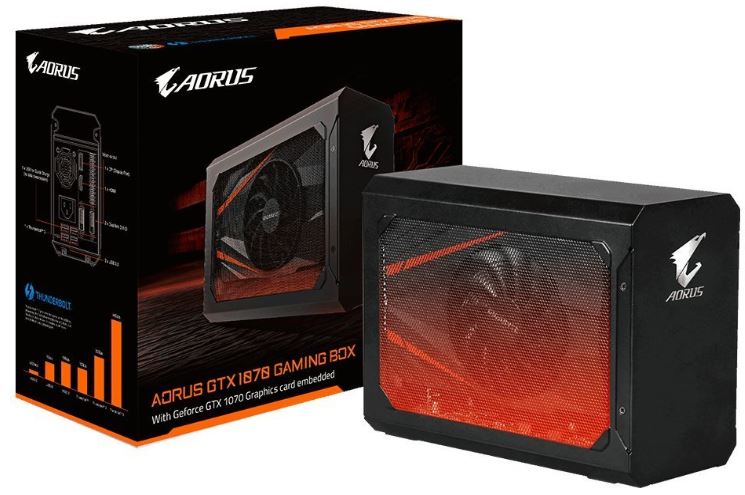 Gigabyte AORUS Gaming Box
The AORUS Gaming Box is an all-in-one solution for people who are looking to add a GPU to their laptop. The most noteworthy part of their kit is its addition of a GTX 1070 GPU. The 1070 is a formidable card by any standard, and combined with the backing of a large brand like Gigabyte, this kit has the potential to be an excellent value for someone looking to add an external GPU to their setup.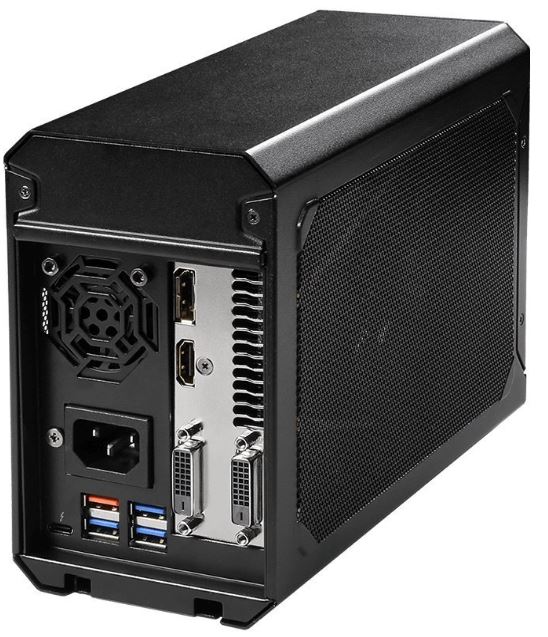 Features & Design
A large portion of the price tag of the AORUS Gaming Box comes down to the included GTX 1070. The 1070 supports 8GB GDDR5 RAM, which is adequate for 1440p gaming, but will start to struggle when placed up against 4K content. For running at 1080p, you'll never come close to using the full 8GB. Moreover, the 970 also has rather impressive 8,008 MHz memory clock and 258-bit memory bus width, which is a hair below enthusiast-grade performance. And it does provide more than enough performance for an immersive VR experience.
Chipset aside, the gaming box itself uses a modestly sized 3.78 x 6.38 x 8.35-inch body. Although that's slightly too large to carry along in a laptop case, it's still small enough to be considered portable. Internally, the 970 is connected through a single PCIe lane. And along the backside of the device, you'll find three USB 3.0 ports, two ports for DisplayPort, and Thunderbolt 3 access.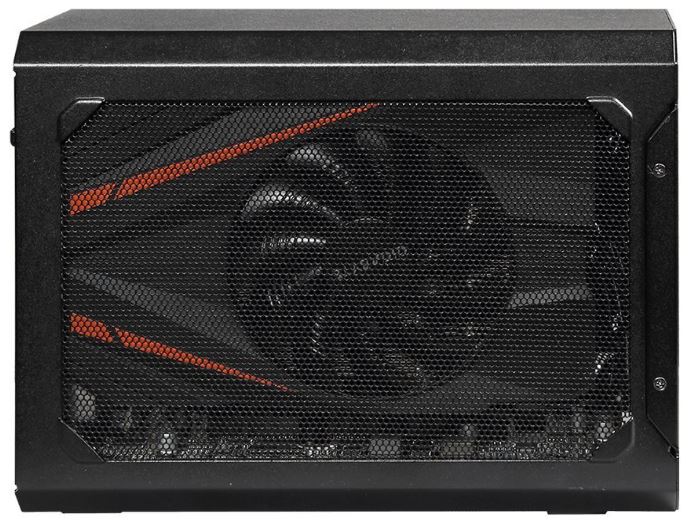 Other Considerations
Whether this kit will work for you depends largely on if you can make use of the GTX 1070. It's not the right card to take on 4K gaming, but it's more than enough to help turn your laptop into a machine that can stand eye-to-eye with any desktop computer. If you're looking for a simple and straightforward one-purchase solution, the AORUS Gaming Box can give high value immediately.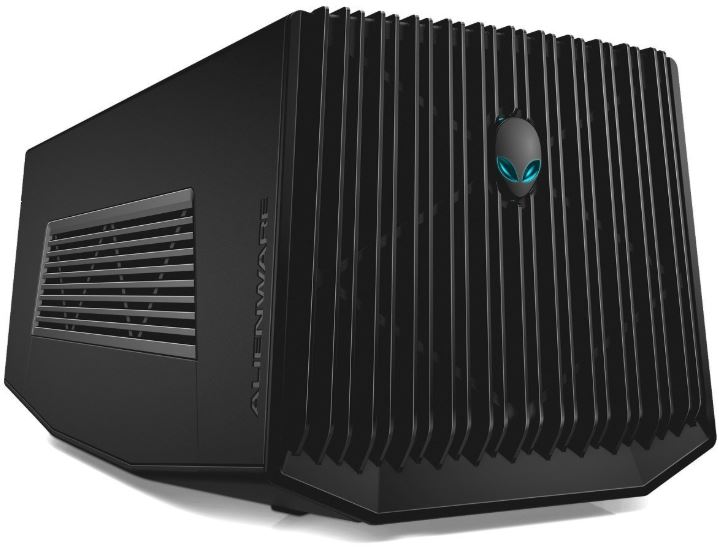 Alienware Graphics Amplifier
The Alienware Graphics Amplifier is essentially a miniaturized Alienware desktop computer case. Externally, it uses the same stylish Alienware aesthetic you'll find across the entire brand. Internally, it's compatible for all modern GPUs using PCIE x16 connections. Within you'll find a PCIe connection sufficient for installing one full-length desktop GPU, up to 10.5" in length.
But unlike some other external GPUs adapters, this cage was made specifically to be paired with Alienware notebooks. Consequently, it makes use of proprietary Alienware connections that can't be adapted to other types of systems.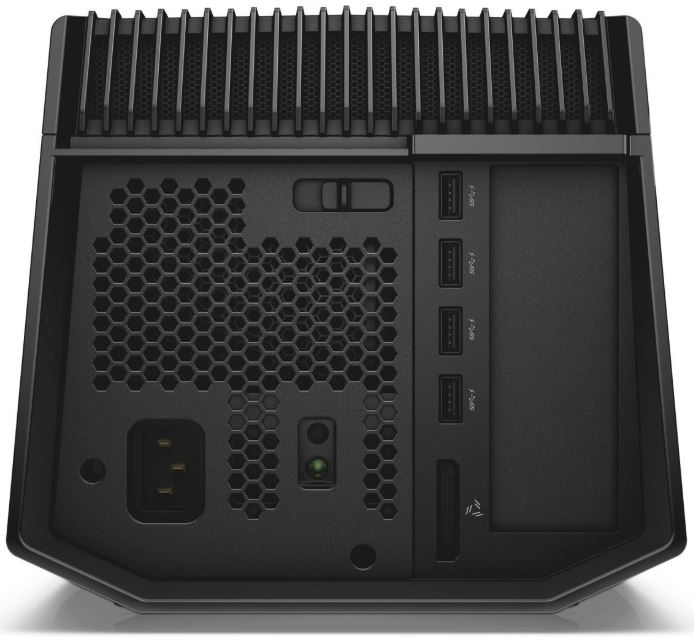 Features & Design
You'll want to note this kit doesn't include a GPU, only the adapter cage with which you can install cards. Within the cage you'll find a 460-watt internal power supply, though you don't want your cards to exceed a maximum of about 375 watts. Along the backside of the cage you'll also see four USB 3.0 ports, and the port for Alienware's proprietary connection cable.
The amplifier box is roughly 16 x 7 x 7-inches, making it similar in size to a small gaming console. The somewhat larger dimensions of its build combined with its sturdy metal construction help contribute to the casing weighing about seven pounds, and that's before you insert a card. But the weight doesn't greatly detract from portability, and it does add a lot of protection for your expensive graphics card.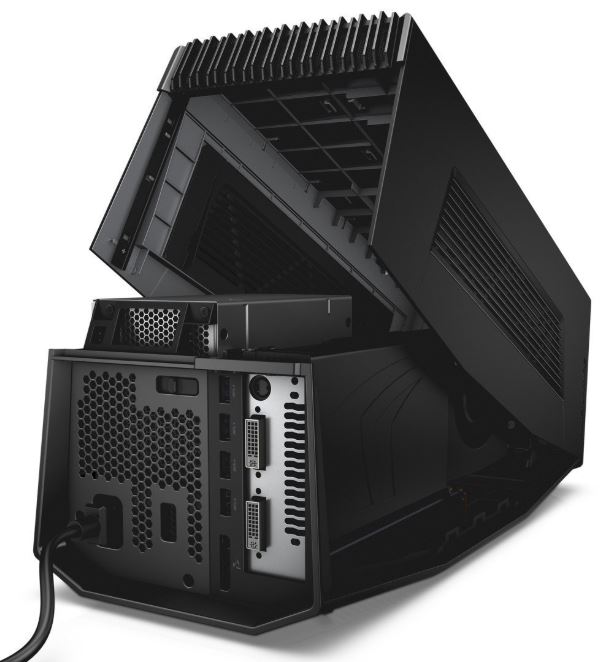 Other Considerations
Although this cage is plenty long, there is a minor issue with its height. A handful of full-sized cards won't fit. For example, many GTX 970's is manufactured to be 5.5 inches tall, but the internal space for this cage maxes at around 5-inches. That will prevent you from using some manufacturer's cards, and you'll have to be careful about knowing the cards you choose will fix within the amplifier. But once you do find a card you know will fit, you'll appreciate Alienware's 1-year standard warranty, as well as four years of accidental service damage support.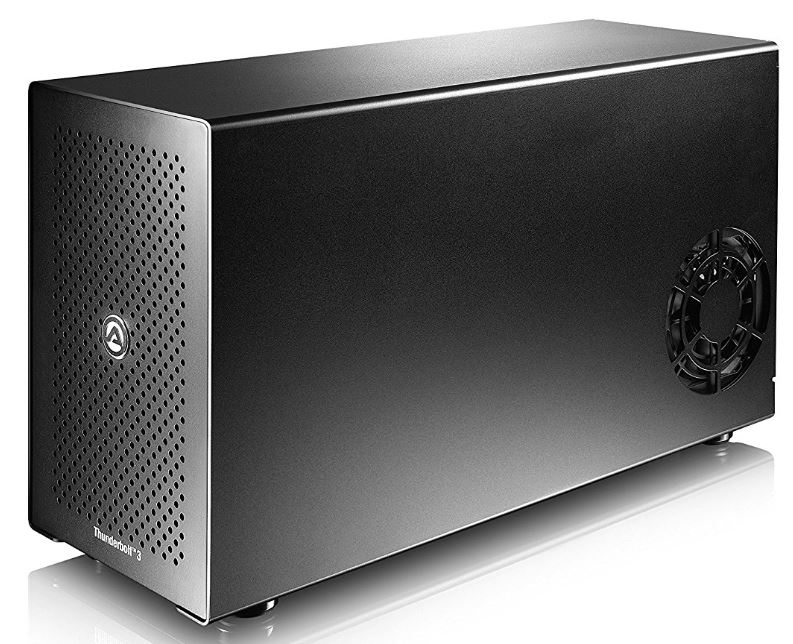 Akitio Node
The Akitio Node is another external graphics card kit that doesn't include a GPU. But unlike the Alienware Graphics Amplifier, the Node doesn't have any strange proprietary connections, making it a better choice for a general audience. Within its casing you'll find space for one full-sized PCIe x16 GPU, and all the power and protection your cards will need to thrive.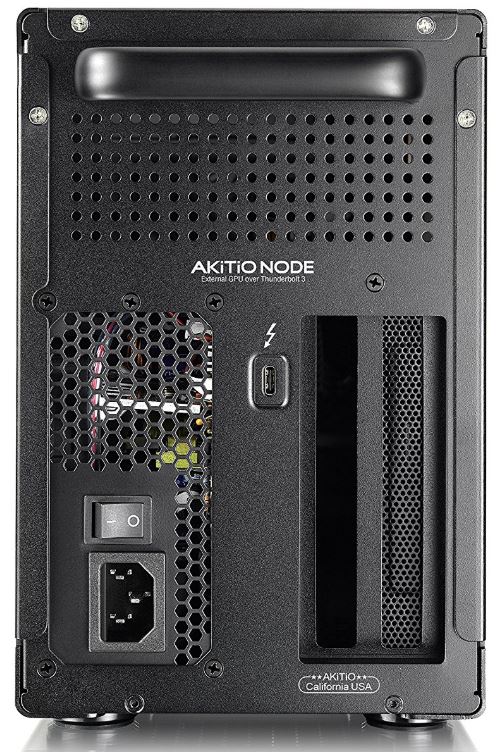 Features & Design
The Node itself is a sizeable 22 x 15 x 11-inches, and weighs about 15 lbs. That larger build is still somewhat portable, especially with the help of a helpful handle on the external casing that makes the Akitio Node easy to transport. The larger size of the Node also helps ensure it will have no trouble taking on giant GPUs, helping it serve as a powerful plug-and-play means of boosting a laptop's performance.
The Akitio Node is equipped with a 400W power supply to help provide power to your card, which is more than enough for the most power-hungry standalone cards on the market. Some of the stronger processors on the market, like the GTX 1080, only require about 180 watts. Consequently, the power supply of the Akitio Node is more than adequate for virtually anything you can throw at it.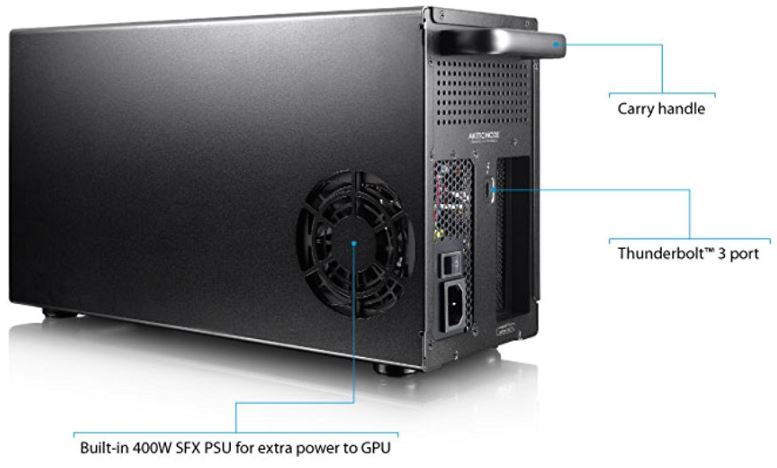 Other Considerations
In addition to its larger dimensions, the Akitio Node allows you to remove its back panel to accommodate double-width cards. That makes the Node one of the most adaptable and smartly designed external GPU options on the market. Its casing is minimalistic and doesn't provide ample cooling options, but is still more than enough for the heat produced by a single GPU.
Choosing Between Three Powerful External Graphics Cards
The Gigabyte AORUS Gaming Box is on the expensive side because it includes a GTX 1070. If you're going to get an external graphics controller and you don't have a graphics card that you want to stick inside, then the AORUS Gaming Box can be a strong value and an easy way to get started. A GTX 1070 is powerful enough for professional applications, essentially any PC game, and even RAM-hungry VR applications. If you don't already have a GPU you want to use, then the AORUS Gaming Box is a great choice.
The Alienware Graphics Amplifier is for Alienware laptops. Whether your laptop is a little past its prime, or you're just looking to add all the power you can get, the Alienware Graphics Amplifier can help. It neatly fits in with the aesthetic of all your other Alienware gear, and it can deliver on the promise of keeping your laptop performance up to par. If you're using an Alienware netbook, it's a good choice.
Finally, the Akitio Node is for someone who already has a GPU they want to use. It's a good pick for someone who intends to purchase an enthusiast grade GPU. If you're not interested in the 1070 used by the AORUS Gaming Box, then you should find the Akitio Node a relatively inexpensive way to make your laptops more expandable, now and in the future. And its larger size helps ensure it can serve even for years to come, even as GPU size standards may continue to change.