There are different Bluetooth speakers for many different uses and occasions. Then there are some that are for every occasion. With the number of them available on the market most speakers tend to focus on one or two differentiating factors that help them stand out. Each of those factors has to be compared to others competing with those same differentiators. Then there is the The Tronsmart T6 Plus which decided to hit as many quality points as possible and it appears to be one of those every occasion speakers.
Tronsmart T6 Plus 'The Element'
The T6 Plus is the latest edition of Bluetooth speaker released by Tronsmart. The T6 Plus is the next generation of the T6 model that put Tronsmart on the map. The name 'The Element' seems to have been chosen due to its rugged reliability and capacity to stand up to the elements. With water resistance and durability, this Bluetooth speaker was meant to see the outdoors. Tronsmart even threw in a one year warranty so people do not need to worry about pushing it to its limits.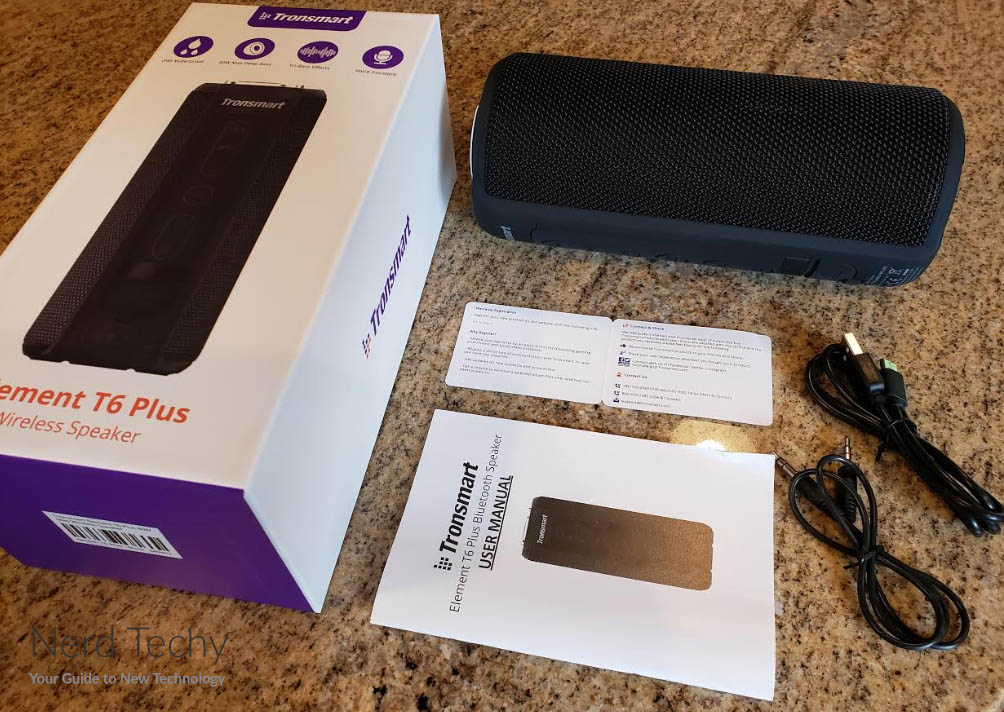 With over fifty percent more wattage than the previous generation, the difference is very noticeable. That along with the plethora of features make for a speaker well worth the price. The Tronsmart T6 Plus as mentioned has an IPX6 water-resistant rating. That rating also means it is protected against damage from dust as well. Meaning for the more adventurous individuals out there, they can carry the speaker with them without concern. Some might ask when dust would be a concern. However any cyclist out there know that a dusty bike trail will result in dust everywhere.
Order the T6 Plus on Amazon.com and use coupon code R2FZ65QW for $5 off!
Of course when you are buying a speaker you want more than just durability. Sound is the main point and for this the T6 Plus comes with Tronsmart's SoundPulse Technology. Another interesting feature is the ability to pair two of the T6 Plus speakers together to get double the power. By features alone it sets itself apart as one to spark interest.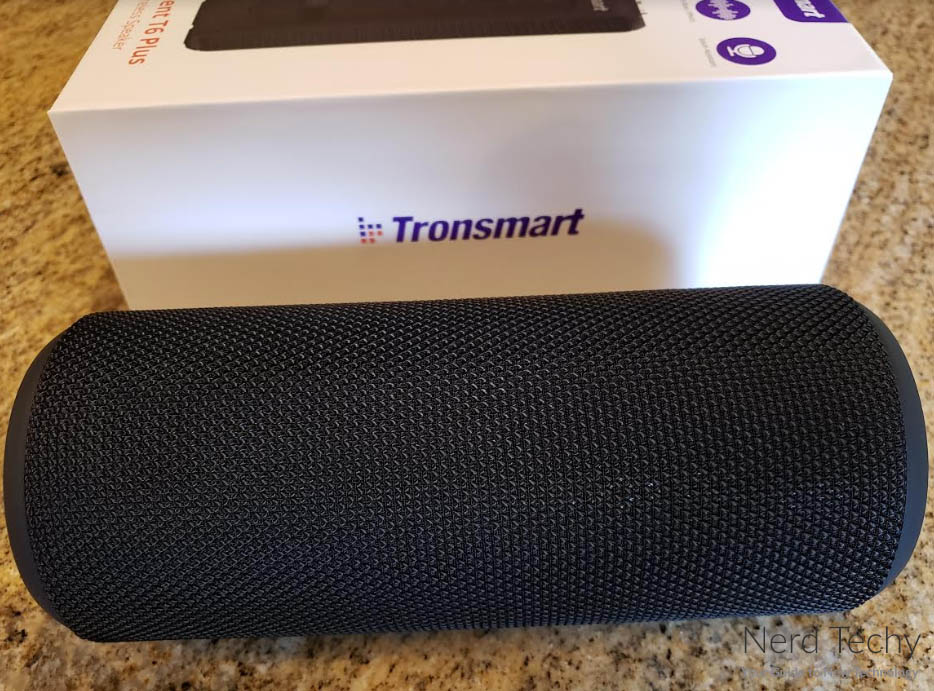 Design & Layout
Just like the previous generation T6, the T6 Plus has a cylindrical shape. This makes it rather easy to toss into a water bottle holder on the side of most backpacks or hiking bags. The volume wheel is at the top of the speaker where you rotate the large wheel clockwise to increase volume. The rest of the controls are located on the front face of the cylinder where the TWS (True Wireless function) button that allows the speakers to pair up can be found.
People have become rather comfortable with the cylindrical design with products like the Amazon Echo and some other speakers on the market. The actual dimensions of the T6 Plus come in at 9.4 x 3.5 x 4.5 inches. The shape and dimensions make it fairly straight forward to set it anywhere or carry around. Weighing in at only 2.2 pounds made from ABS and aluminum, carrying it with you is easy.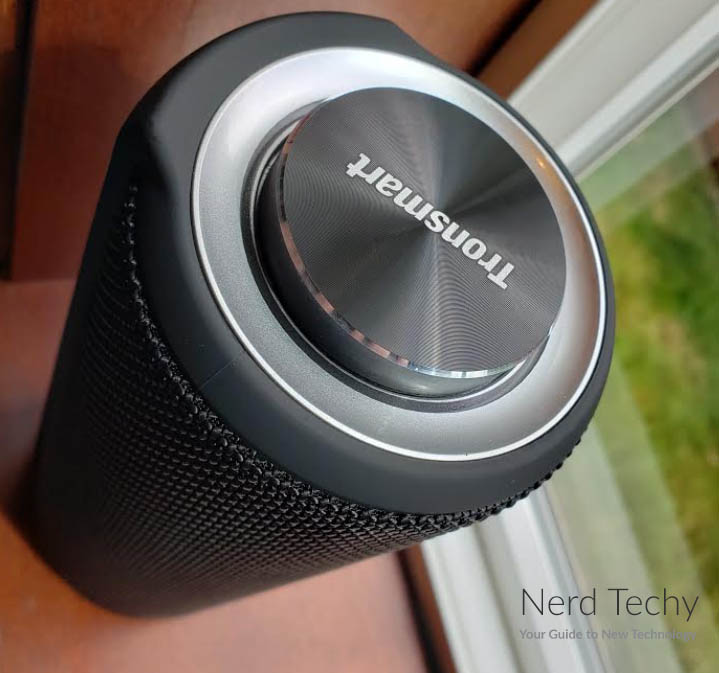 Audio Quality
Audio quality is obviously important and is based on a few factors. The file type and quality of your audio file being often times just as important as the speaker itself. So assuming you are playing a high-fidelity audio file the sound quality will then depend on the input type. The Tronsmart T6 Plus supports input from USB, Micro SD/TF, Aux-in and Bluetooth. Though playing audio on all input types during testing I was unable to distinguish any major quality changes on the T6 Plus. The Aux-in port is specifically for 3.5mm audio cables which is pretty standard for any speaker.
The SoundPulse™ technology does stand out for being able to deliver crisp audio. At the max output of 40W the SoundPulse™ technology deepens the bass and makes the vocals more defined. The SoundPulse™ technology is essentially an upgraded version of Digital Audio Processing technology. It enables a higher sophistication of power allocation in the Tronsmart SoundPulse™ enabled speakers.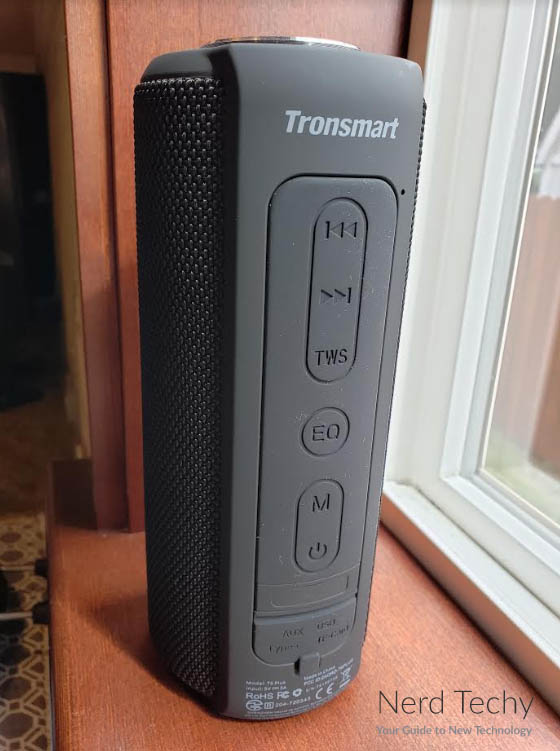 Most speakers might experience some sound defects such as harmonic distortion in certain sound ranges. SoundPulse™ technology enables Tronsmart speakers to eliminate harsh noise to counter any such defects. The end result being better quality vocals and a more rich sound quality. SoundPulse also enables the speaker to process differences in sound separately. By processing the sounds separately the can keep high pitched vocals and bass settings from clashing. That means bass settings will not negatively impact vocal quality.
Under the hood the Element T6 Plus has two dual passive radiators and two 20W speakers. The end result being enhanced vocals and deeper base. Side by side the T6 Plus seems to outperform most other Bluetooth speakers in the same price range. The T6 Plus also places its speakers at the front of the chamber allowing more broad range of coverage. This is notable because most similar devices tend to have a deeper placement that causes a more narrow focus for sound distribution.
Ease of Use
The Tronsmart T6 Plus speakers are pretty straightforward. Connect via Bluetooth and you are ready to play music. On top of Bluetooth streaming audio from your phone, as previously mentioned, the T6 Plus also has a Micro SD/TF card slot, a USB slot, and an Aux-in. This means that however you want to listen to music you should be able to do so using this speaker. The T6 Plus supports mp3, wav, FLAC, and APE.
The speaker has voice assistant functions that you activate by holding the controller wheel for 3 seconds. The feature is essentially pairing with your phones Siri or google assistant voice assistant function, then utilizing its own built in mic. If you have an Alexa dot it pairs with the voice assistant function on the T6 Plus as well. One notable feature is the hands free calling which worked well with decent microphone quality.
In addition to pairing with your phone you can actually utilize the T6 Plus as a power bank. The speaker has a USB port that you plug your phone into for charging making it a truly multifunctional Bluetooth speaker.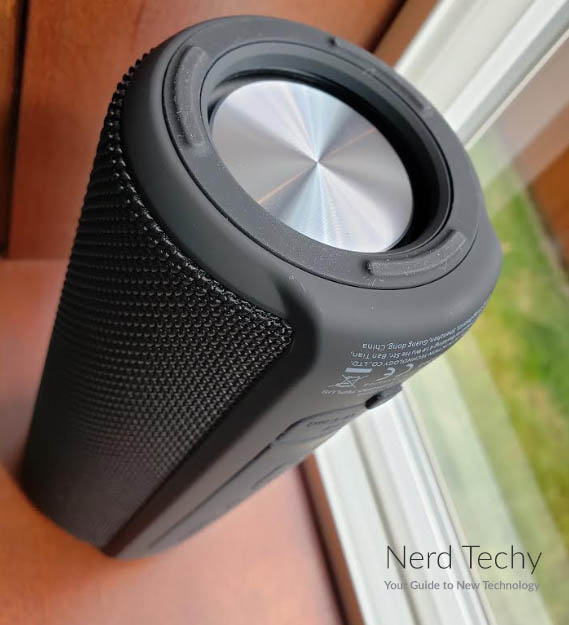 Wireless Connectivity
The Tronsmart T6 comes with Bluetooth 5 which is the latest Bluetooth revision. There are major benefits to Bluetooth 5 over previous revisions including a much higher maximum range for the connection. The range advertised for the T6 Plus is 66 feet. Bluetooth 5 also has much faster connectivity and a more stable connection. All that essentially adds up to a connection that is much less likely to experience quality issues. Bluetooth 5 also updated its energy management and was designed to reduce energy uses in connected peripherals.
Since Bluetooth 5 is backwards compatible, any Bluetooth enabled source device should be able to connect to the T6 Plus. That means it also works with USB Bluetooth adapters so that you can stream audio from your computer without having to connect the Auxiliary cable.
Battery Lifespan
The T6 Plus comes with a very solid 6600mAh battery system. The battery actually consists of two separate 3,300mAh batteries internally. This is a great improvement on the previous version of the T6 that had two 2,600mAh batteries leading to about a 12 hour run time. With the 6600mAh and all of the additional features running Tronsmart advertises a 15 hour battery life. The battery life advertised assumes you are at 50% audio the entire time. For a Bluetooth speaker with a longer battery life check out the Treblab HD7.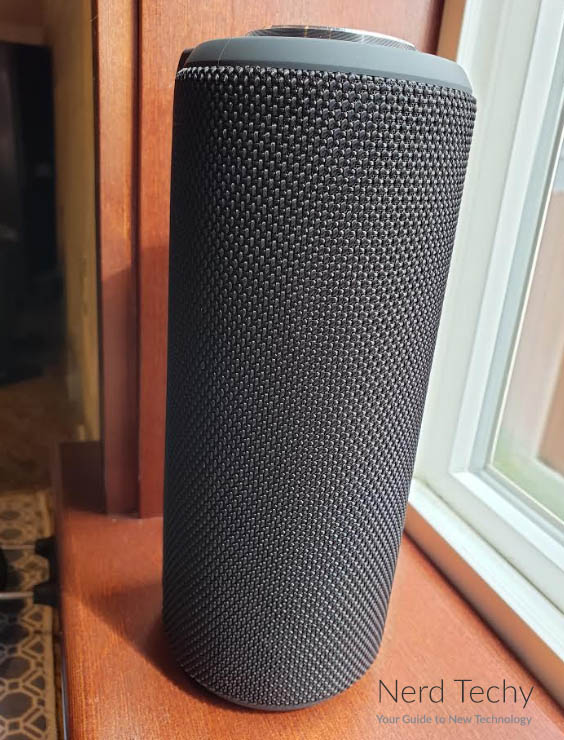 The talk time battery life advertised is 20 hours at seventy percent volume. The charge time varies based on what you are using to charge it. Charging via a wall outlet will get you back to 100% in three to five hours. Whereas charging from a USB will take closer to 6 hours assuming you are in a powered port. The speaker also tries to save power by turning itself off after 1 hour of being disconnected from a Bluetooth device.
If you are running this speaker at 100% volume constantly you are going to see the battery life drop to about 8 hours. This will get you through the day but by no means is going to last an entire camping trip. While utilizing the speaker as a power bank you can expect about two full charges on most phones.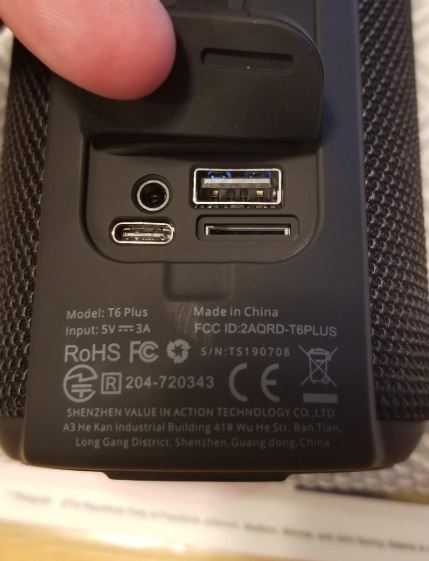 Despite having the ability to charge while playing the manufacturer does not recommend doing so. This is essentially a common recommendation with all battery powered devices including phones. Despite this common piece of advice people rarely tend to listen to it and can expect deteriorated battery life over time.
Another expected drawback is the significantly lower battery life if you are trying to utilize the speaker as a power bank while playing music. As expected using the T6 Plus as a power bank drains its power at a much faster rate than just playing audio. When you combine that with full power audio and the sound equalizer running you should not expect to be partying for too long.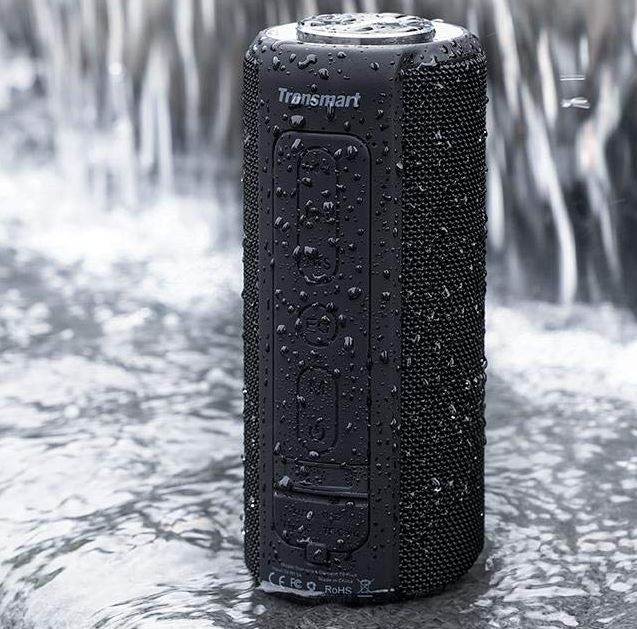 Other Considerations
Given that this speaker is expected to be used outdoors, the manufacturer includes a 30 day money back policy and a twelve month warranty. On top of the twelve month warranty you also get lifetime customer service for general device support. This makes buying the speaker a very low risk purchase. The overall price of the unit is also incredibly affordable considering all the features it has built in.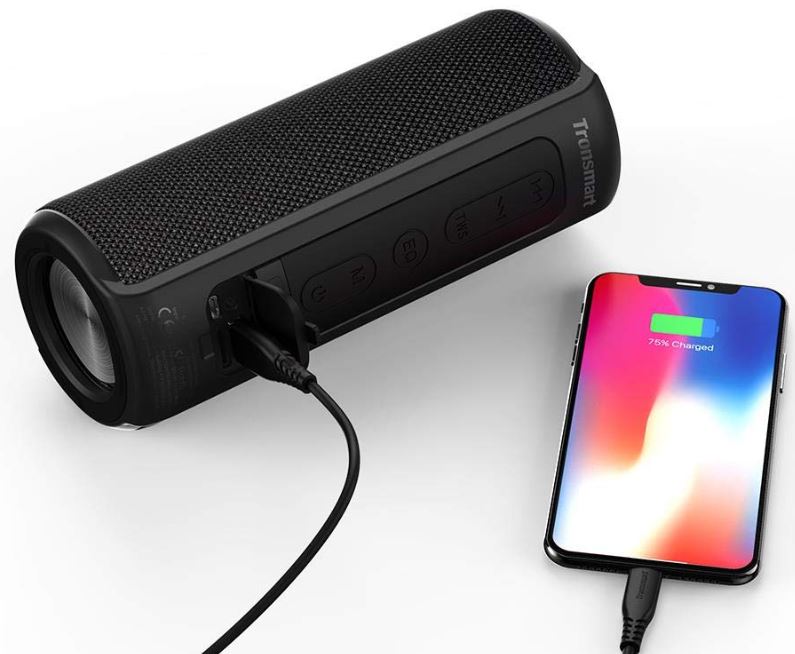 Who Should Choose the Tronsmart T6 Plus Bluetooth Speaker?
This speaker was designed to be a one stop shop of features and quality. If you like taking a Bluetooth speaker with you camping or on bike trails then the Tronsmart T6 Plus will definitely do the job. Depending on your level of use I found it particularly convenient to be able to power my phone on the final morning of a camping trip.
Order the T6 Plus on Amazon.com and use coupon code R2FZ65QW for $5 off!
If you use all the features built into the Tronsmart T6 Plus you will definitely be getting a lot of bang for your buck. Though if you are looking for a slightly cheaper option check out the Zenbre Z8Plus. This speaker is targeting individuals that often find themselves outdoors. So if you fall into that target market then the Tronsmart T6 Plus Bluetooth speaker can definitely make for a reliable sound system to take with you.