Axloie is an international audio brand known for its 'Magic' & 'Attitude' series headphones. Their motto is to 'ignite your life with audio products.' The brand is about aligning their products with a strong sense of idealism and living life for experiences not material gain. Their way to help individuals obtain such idealistic life experiences is to produce 'gorgeous and marvelous sound'.
The brand of Axloie is important to keep in mind when reviewing any of their products for a simple reason. To determine not just the quality of the product but the products integrity to its brand mission. That mission being 'to encourage you to explore the world bravely and discover the surprising and touching moments in life.' Those are bold claims and have to be matched with bold quality.
Note: At no extra cost to you, we may earn a commission for purchases using our links. Learn more.
The Attitude-X9P wireless earbuds is Axloie's attempt to achieve their mission. Chalk full of features and with an impressive battery life let's find out if these wireless earbuds can live up to the marketing.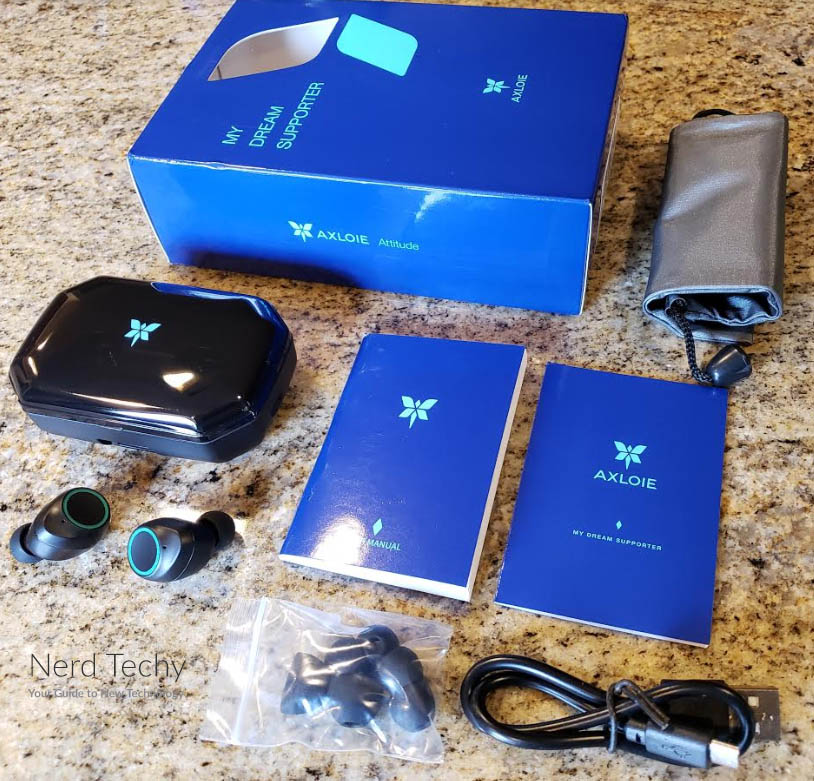 The two W's – Wireless & Waterproof
These headphones come with the latest iteration of Bluetooth technology. Utilizing Bluetooth 5.0 they are able to achieve a greater clarity, distance and stability than previous Bluetooth revisions. It goes without saying that having wireless headphones comes with the benefit of not dealing with tangling wires. The two earbuds pair with each other and then pair with your phone to ensure the audio delivery is balanced in both ears and remains synced. Similar features can be found in headphones like the Tronsmart Spunky Pro's and are becoming more common and the latest generation of Bluetooth enabled devices.
The Attitude-X9P earbuds also have an IPX6 waterproof rating. The nano-coating prevents sweat or any other exposure to water from damaging the electrical components in the headphones. At that rating they are able to resist high pressure and heavy sprays of water. Products receive such a rating only after various tests, such as enduring a thee minute onslaught of water jets spraying 100 liters of water per minute or more. With an IPX6 rating that makes them fully dust tight as well.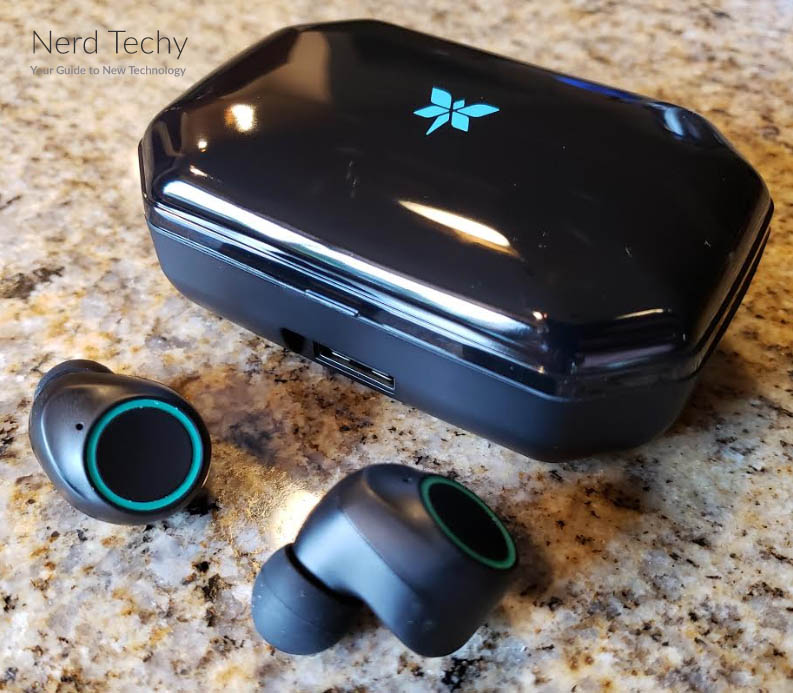 One factor to keep in mind however is that the IPX6 rating does not qualify the earbuds to be fully submerged in water despite the rigorous water flow tests. Only IPX7 rated products and higher are able to be fully submerged in water. That means you should be good to get the Attitude-X9P earbuds wet all the way till you either drop them in water or accidentally go swimming with them still playing music in your ears. If you avoid those two scenarios you should not have any problems.
What's in the Box
When you get the box and rip open their admittedly very nice packaging, you get to the components included. In the box you can expect the single pair of earbuds. You also get three different earplug replacements from small to large which are actually quite important. Matching the right size rubber earplug with your ear is going to give you a drastically different audio quality experience. So do make sure to find the size that fits you best.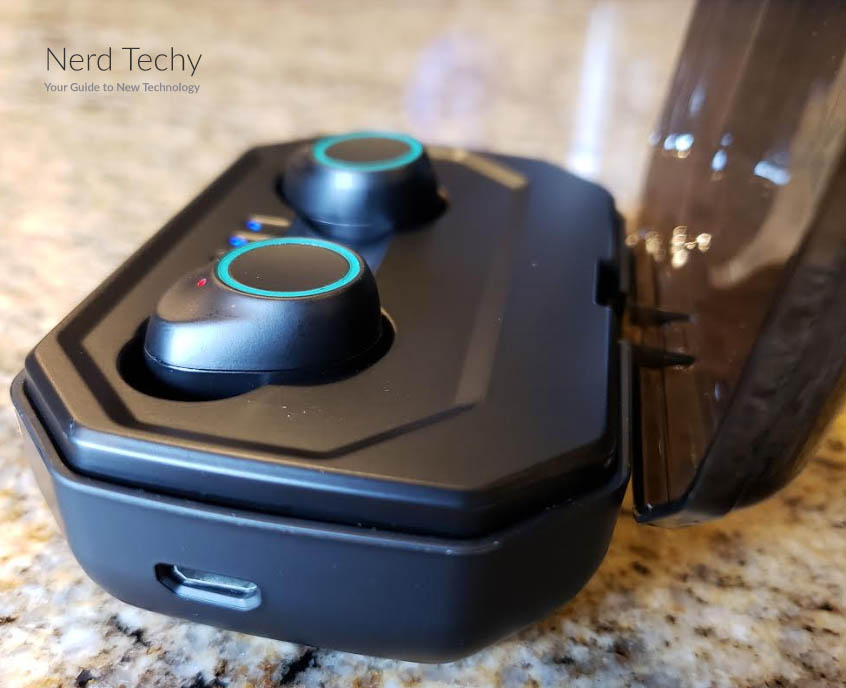 You also get one portable charging case that lights up your earbuds and magnetically keeps them in place while charging. There is the expected micro USB charging cable, the user manual and a little carrying bag. All fairly expected components however the magnetic charging case was a pleasant surprise.
The Charging Case
Since we already began talking about the charging case I want to take a moment to really cover everything there is to know about it. The charging case has a 3000mAh battery and can charge the wireless earbuds enough to extract 130 hours of playtime. One hundred and thirty hours of charging is impressive on its own, however where the charging case gets interesting is with its other functionality.
The charging case can be utilized as a power bank battery backup for your phone or other USB chargeable devices. With 3000mAh you should only expect about a 50%-60% phone charge depending on the model of phone and size of battery you have. But having that extra bit of power in CASE of an emergency is a nice bonus feature. (Pun intended)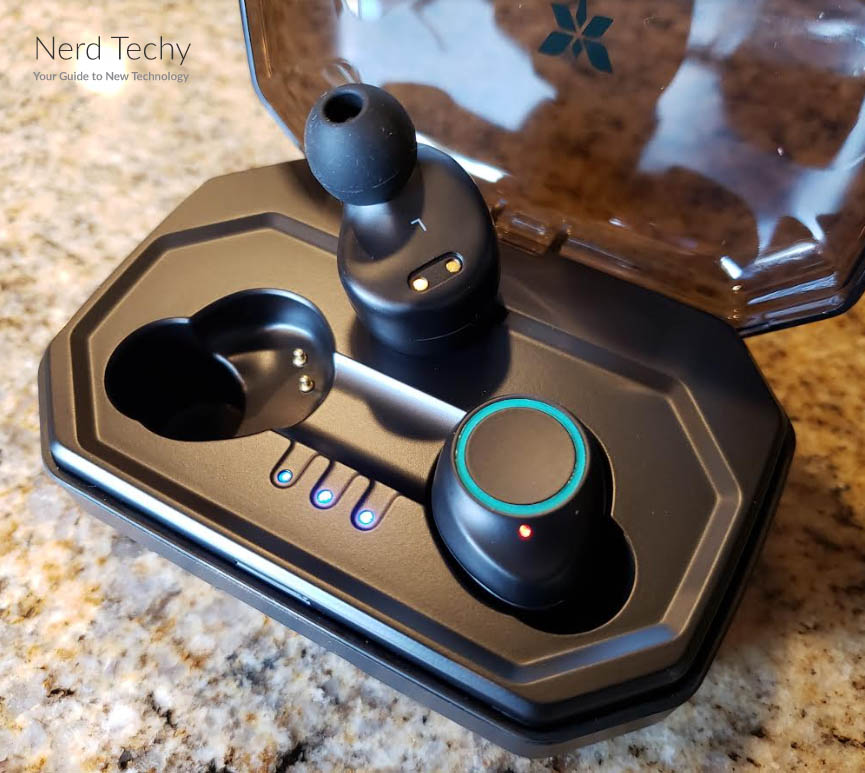 Lastly as previously mentioned the case magnetically holds the headphones in place while charging. Personally, no matter how many products utilize magnets, I always find the feature welcome and quite frankly, cool. Between the two charging bases you place the earbuds in, you will find three lights that indicate the battery power remaining. The cover of the case is clear so that you can see the charge level indicator as well as the lights on the earbuds that light up while charging. Charging time for the earbuds is just around one hour. To charge the case it will take closer to between three and four hours.
Other Features
Alright lets get down to the features you can expect from the Attitude-X9Ps. These earbuds come with Hi-Fi stereo sound and noise cancelling all built in. The lossless HD and noise cancelling technology combine for a quality sound experience. The bass was deeper than expected and the high notes were undistorted.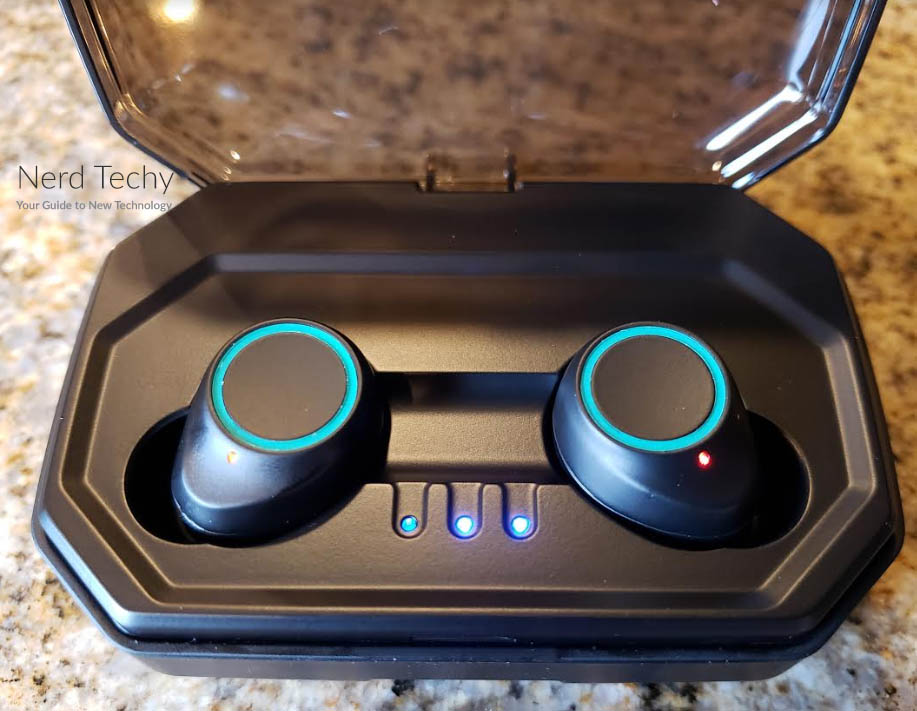 These earbuds come with Qualcomm's cVc 8.0 noise cancelling technology. Essentially it is a software suite that detect background noise. The software detects noises using the microphone and then attempts to cancel that noise out resulting in a much more clear audio quality while on calls. That being said you, will have much higher levels of noise cancellation with the Mpow H10 bluetooth headphones as they cover the entire ear. Though expecting the same levels of noise cancellation out of earbuds is foolish to begin with.
The Bluetooth connection distance stands at about 33 feet. On your phone you just scan for 'Attitude' to connect to stereo mode on the earbuds. After that just like most Bluetooth devices, your phone will connect to them automatically. They also automatically turn off when they are placed in the charging case.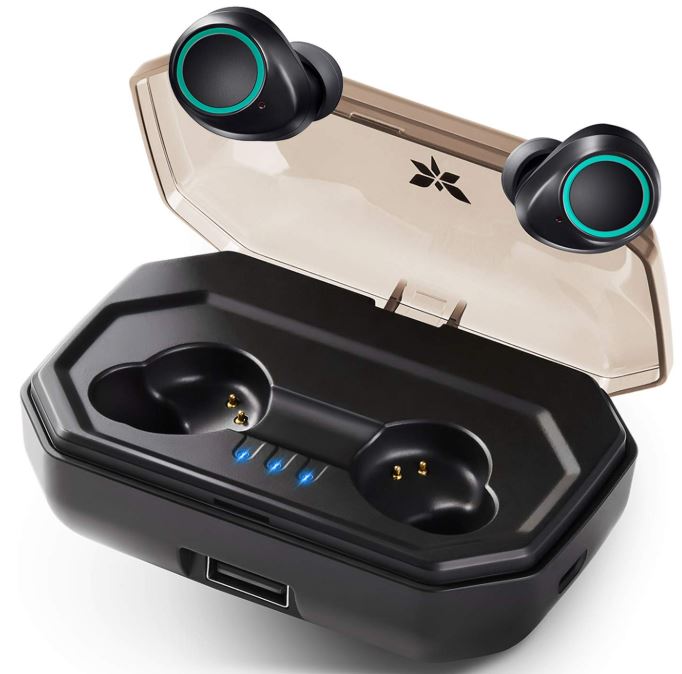 Battery Capacity
Since we discussed the charging case and its battery capacity it is about time we talked about the capacity of the earbuds. The earbuds have a 50mAh battery in them. The battery will get about three to four hours of play time before needing to be charged again. Given the size of the earbuds four hours is actually pretty decent. With larger headphones you can expect much larger battery life, however the mere size and weight of these earbuds makes the four hour battery life completely understandable.
Combined with the charging case you are able to use the earbuds between 15 and 18 times before having to get back to a wall charger. The 50mAh battery stuffed into the 4.4g that each earbud weighs backed up by the charger is definitely enough to fit most peoples needs.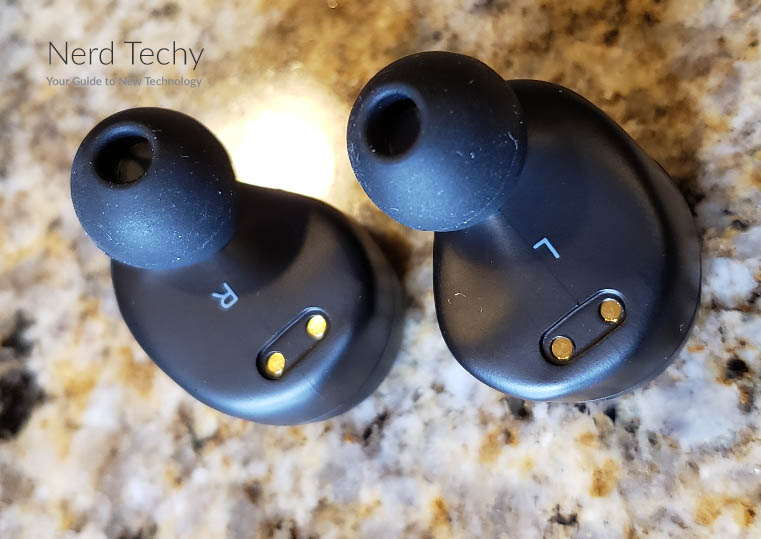 Sound
The sound quality on these headphones is what most people care about. You can stop all the water and dust in the world or have the biggest battery life, but if the earbuds sound terrible it wont matter. Luckily the Attitude-X9Ps deliver solid every day use sound quality. The Hi-Fi lossless stero and dual dynamic drivers most definitely deliver an experience that does your FLAC files justice. The price to quality ratio you get here is top notch. On top of that you can actually switch between Mono and Stereo mode for quality adjustments and use case.
One big note on quality. When we first threw these earbuds in and fired them up the quality was subpar. However once we swapped out the rubber earplug to a size that fit my ear more snug there was a drastic increase in the quality of the sound being delivered. So make sure you fit them to your ear before reaching a final verdict.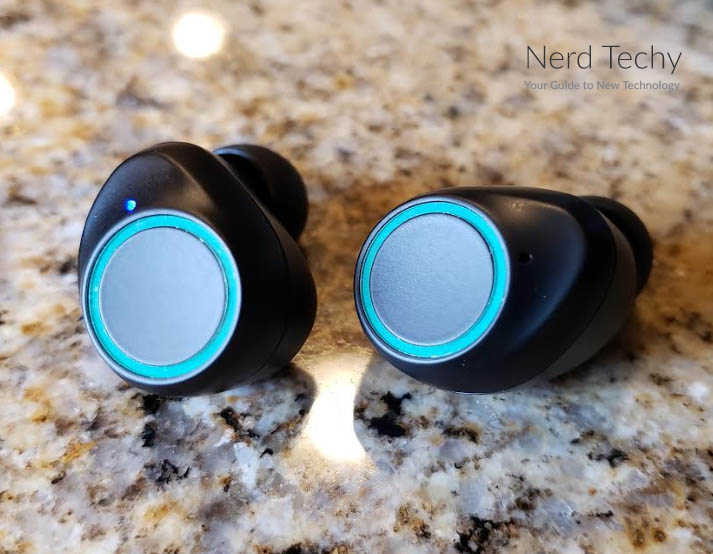 The Final Verdict
Given the way this review started there is a looming question that remains unanswered. Do these wireless earbuds live up to the brands goal to 'ignite your life' and 'encourage the you to explore the world bravely and discover the surprising and touching moments in life'? The simple answer is no, and it would be foolish to go looking for such life altering illuminations in a pair of earbuds. Life is becoming more and more interlinked with the technology we use however we have not quite reached the point where we are deriving our life purpose from the headphones, earbuds, or speakers we buy.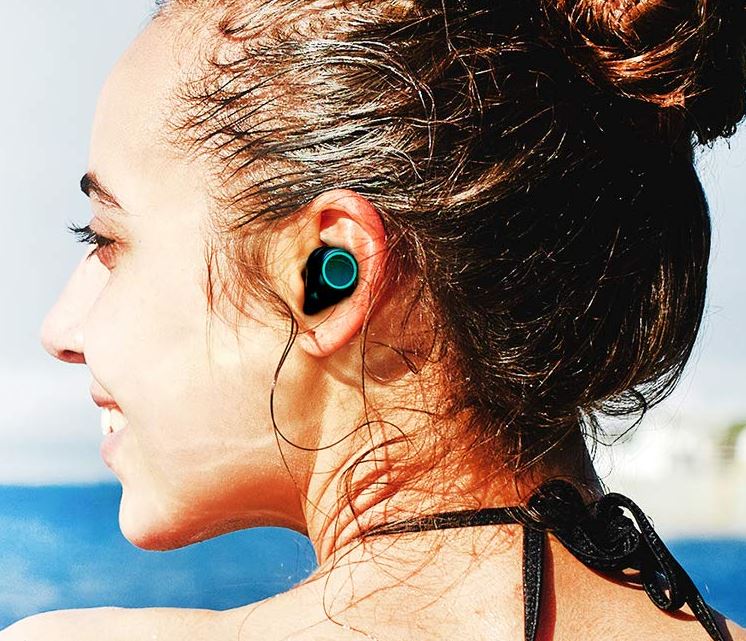 That being said, the Attitude-X9Ps are phenomenal headphones for their price. The quality you get for the price you pay is miles ahead of others in the same range. These will not compete with the top of the line Bose headphones by any means but with that said you are not paying hundreds of dollars and you are still getting a near top of the line experience. So quite frankly they deliver on every other promise they make as a product. You pair that with the twelve-month hassle-free warranty they throw in and there is not much of a downside when making your purchase.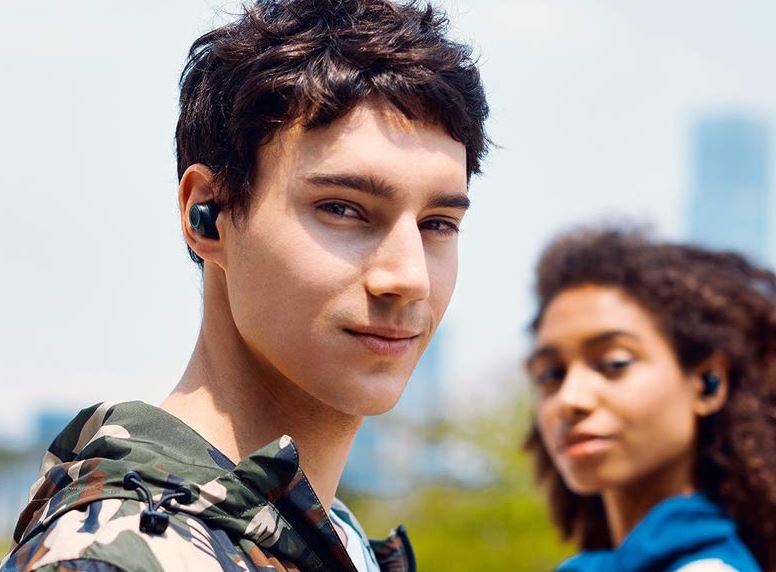 The earbuds are comfortable, light, have a long battery life, deliver great audio for both music and calls, all while being quite stylish and not breaking the bank. So you may not get that life changing bath if fire where you are reborn from your own ashes ready to take on the world. But you will get to have a reliable pair of headphones to listen to your music. And hey, maybe if you find the right song to fire up, your life will be ignited, but that parts up to you.
Please consider sharing:
Note: At no extra cost to you, we may earn a commission for purchases using our links. Learn more.