TronSmart Spunky Pro earbuds are an attractive pair of wireless earbud-style headphones, and they're in a price range that will suit many people. When you're looking around for a product of this type, the choices can seem endless.
In fact, without some help, choosing the right pair can be a confusing and time-consuming task. This article is designed to assist you in narrowing down your options when it comes to finding the perfect set of headphones.
Note: At no extra cost to you, we may earn a commission for purchases using our links. Learn more.
Hopefully, the format of this review and guide will get you to a point where, even if these aren't the ones for you, the features and technical aspects of products in this bracket will make a little more sense to you.
We're going to look at what's inside the box, what this product can do, the quality of connection and sound, and even at the specifications and features of the TronSmart Spunky Pro headphones. When choosing a pair of wireless headphones, there is much information to consider. Make sure to read all the way through this guide – you'll be better able to decide by the end.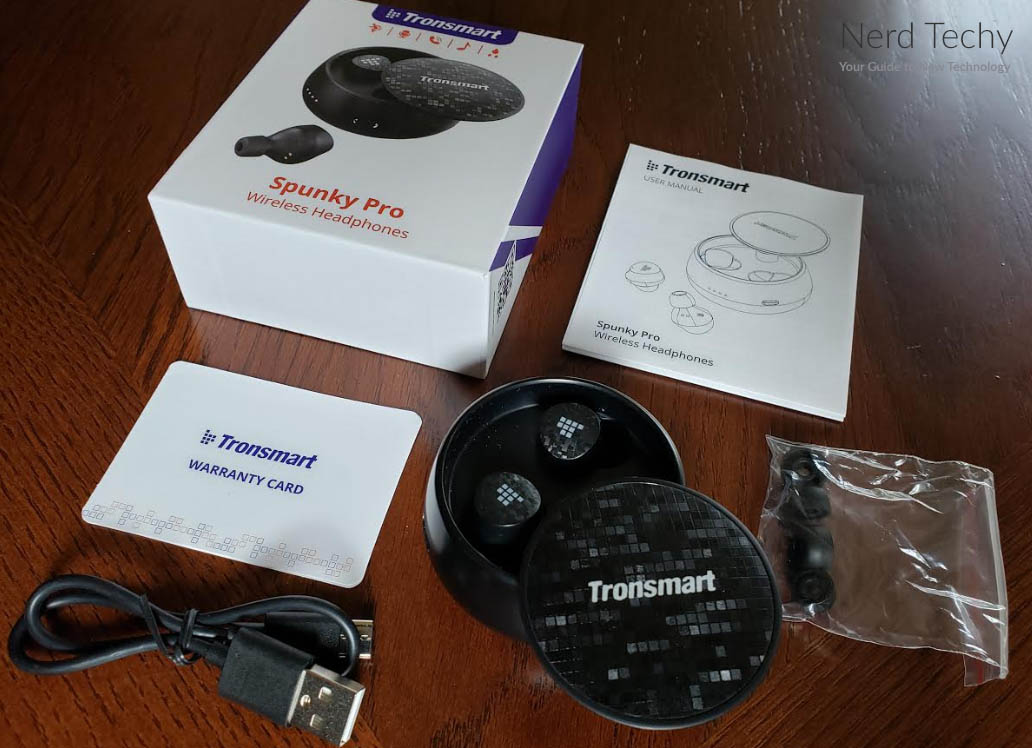 Wireless & Waterproof
The trend these days for headsets is to go fully wireless, and that makes perfect sense. The freedom of movement and activity you'll experience with a fully wireless set is a delight, and you'll wonder just how you managed before you bought a wireless set.
You don't need to be super active to enjoy wireless headphones, but this model from TronSmart is waterproof, and that's going to be a big draw for outdoor and active types. There is a lot of stuff to like about this product, so let's take a closer look at what we get for our money.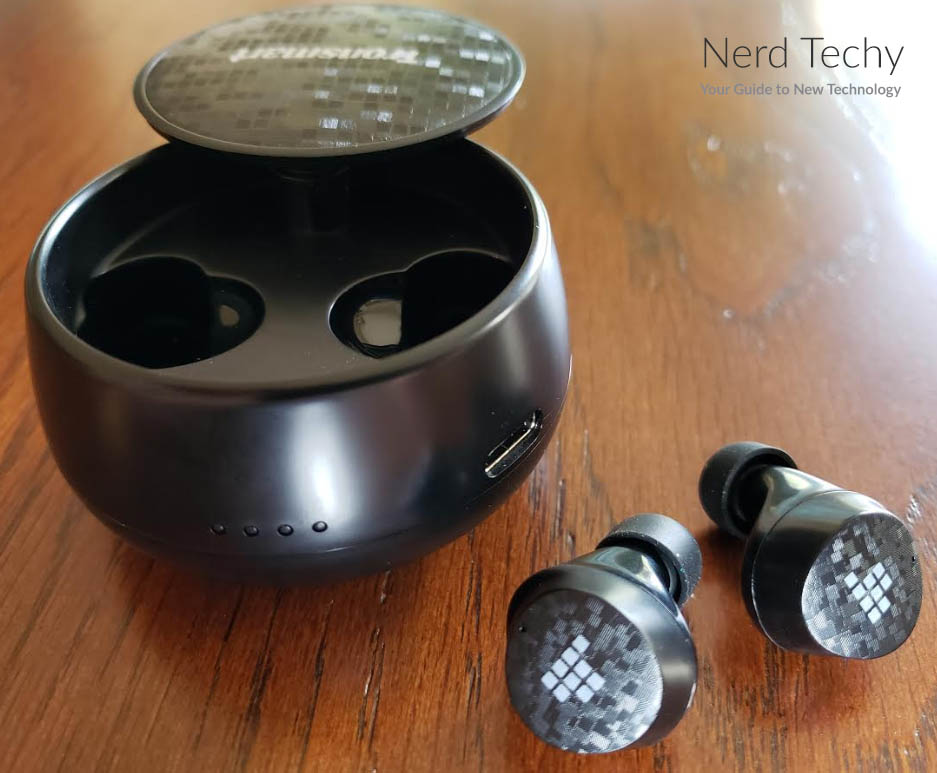 What's in the Box
Looking inside the package, the first thing that catches the eye is that everything is presented nicely, you'll also notice a decent instruction manual booklet – which is a good start.
There are a micro USB charging cable and some extra ear tips, which is a nice touch. The batteries are 2x 50 mAh which can get a full charge in 1-1.5 hours. The battery in the charging case is a 470 mAh with a full charge that'll go for 1.5-2 hours.
The Charging Case
The plastic case for these headphones also serves as the charger and is rounded in shape, kind of ergonomic, and pleasant to the touch. The whole thing is 60×34.5mm will easily fit in all but the smallest of pockets, so you'll have no trouble in accommodating the TronSmart when you take it out with you.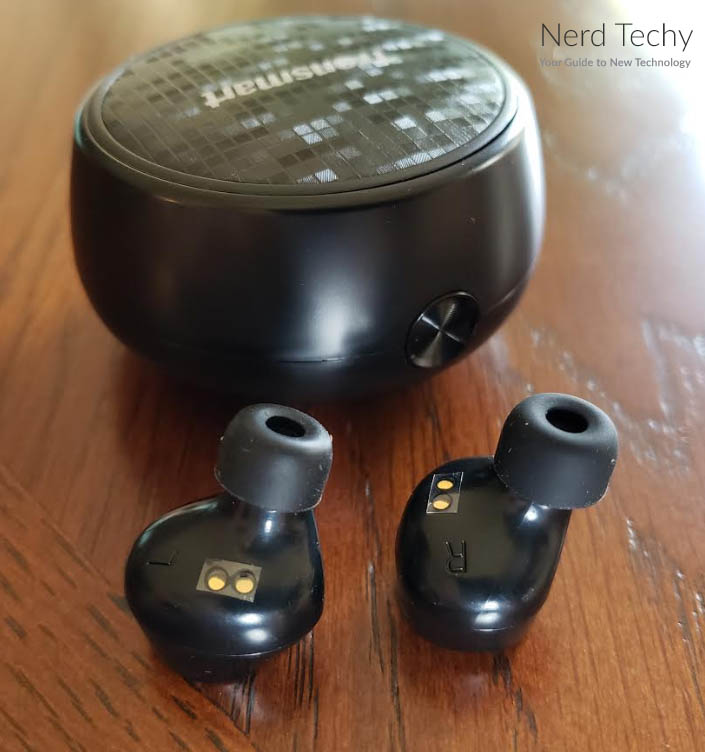 Everything is lightweight enough to feel comfortable but made robustly enough to feel like it's good quality. The case gets opened by pushing a button, and the cover then gets turned so you can reach in and access the headphones. There are LED indicators to the battery charging level and connection status. Tronsmart has put some thought into the shape, as they stay in the ear quite nicely. However, the most notable thing about these buds is that they're an oval shape.
Most other headphones like this on the market are a rounder shape, but the TronSmart version seems to fit well in the ear – which is the main thing. The overall build and materials quality of the these is good, and it's hard to find fault with them.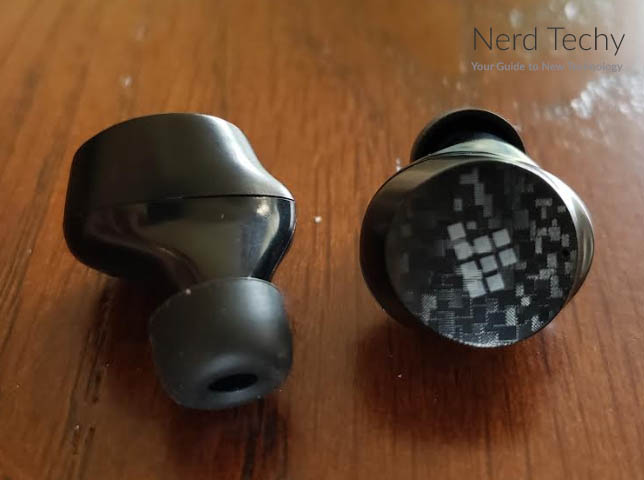 Features
You'll notice that these earbuds don't have any buttons. It's a nice touch, and there are no unsightly protrusions to mess up the sleek look of this TronSmart product. They feature touch controls instead of buttons, and you can use them to play and pause – and adjust volume.
The TronSmart Spunky Pro are IPX5-rated. That feature makes them extremely versatile, and you won't need to worry about moisture in any form. That's one less thing to worry about in a device that you're buying for portability as much as anything else.
To turn these on, all you have to do is remove them from the case. As soon as you do, the Bluetooth will search for available devices, and you'll be in the listening business in no time at all. The left earbud is the dominant one, so that's what connects to whichever device you'll be using. The right earbud simply connects to the left one. If you're going to be using them with your smartphone for calls, it's the left one that you'll need to use.
Because each side pairs separately, you can choose to use just that left bud when you're making or taking calls. That's a great advantage when you need to do so while driving, or even walking down the road.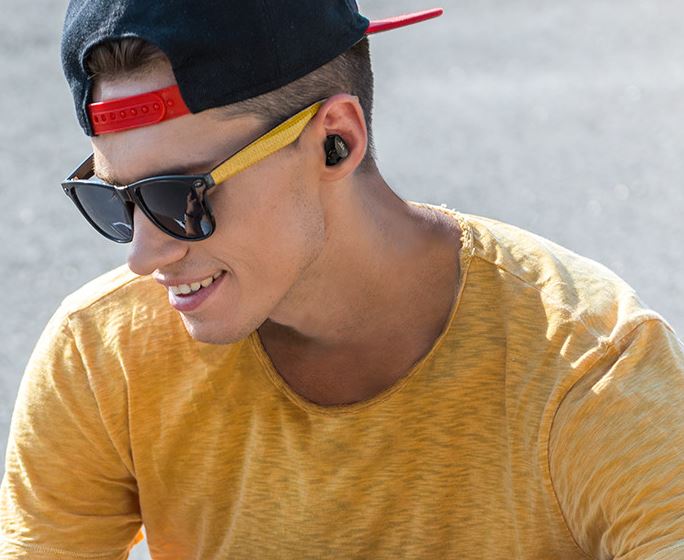 You get audible status updates through the TronSmart Spunky Pro. That includes notifications that power is on, if they are in discovery mode, pairing confirmation, and if they disconnect.
The Tronsmart Encore Spunky Pro are relatively big, compared to other options out there and they do stick a way out of your ears. Even so, they're well waterproofed so you won't have any problems with rain when out and about or with sweat during a workout.
That makes these headphones extremely suitable for an active, outdoor lifestyle. They don't really get in the way of any activities, although they might cause some problems if you wear anything that covers your ears in winter. One thing TronSmart definitely got right is the controls. These are super convenient to use, and everything is smooth and simple.
Battery Capacity
Some of you out there, depending on your listening habits and how often you use your earbuds, will never have enough battery life. What's just as true is that some of you will never have cause to worry too much about reaching the end of the battery charge.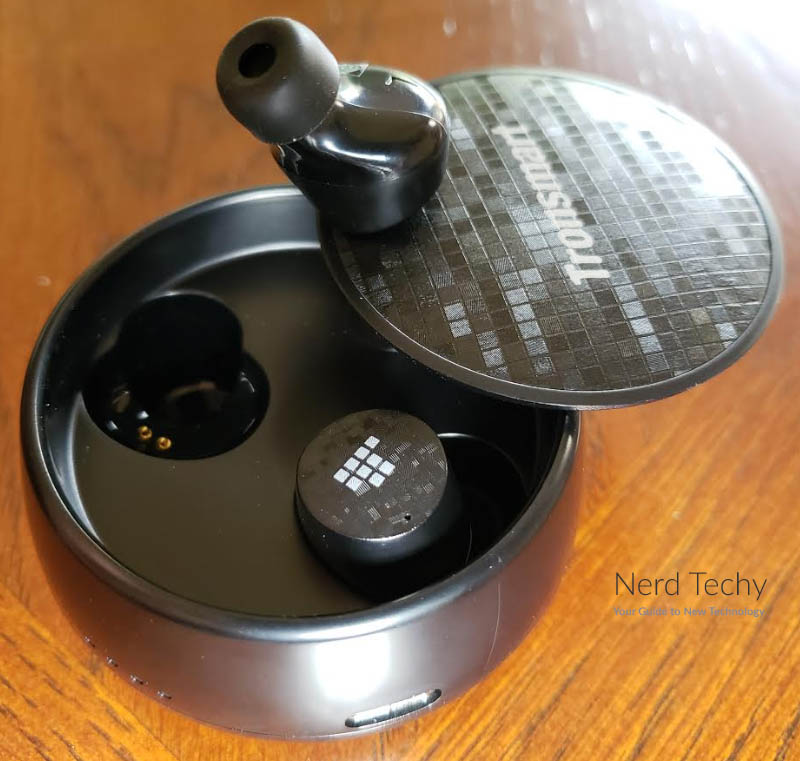 These do pretty much as specified when it comes to the longevity of charge. You can expect 4 hours of talk time, 3-3.5 hours of music, and about 80 hours of standby. That's true of most earbuds, not just the TraonSmart Spunky Pro. If you have realistic expectations and you plan to charge when you need to, you won't be disappointed.
Quality of the Connection
Connection quality is unproblematic, and the Bluetooth Version 5.0 works faultlessly. TronSmart says that you shouldn't have any issues with a clean line of sight to the connected device for a distance of up to ten meters. This means there's a lot of scope to use these while you're engaged in an activity and you don't want to have your phone in a pocket or your hand.
There's a really lovely soft interruption feature – if you lose connection or a streaming device lags slightly, they automatically mute the incoming signal and restore the sound gently when the streaming resumes. Which is a lot nicer on the ears than something loudly stopping and starting suddenly.
Sound
Sound quality is important. Let's face it – this is what we want to hear when we buy any type of headphones. The good news here is that all in all, the TronSmart Spunky Pro deliver all-around excellent audio performance, and this is one area where they can't be faulted in any significant way.
At this point, it's reasonable to think about the price point, and when you do, the sound performance is impressive. It's as simple as that. There will definitely be pricier options on the market that don't deliver the same sound quality as these do.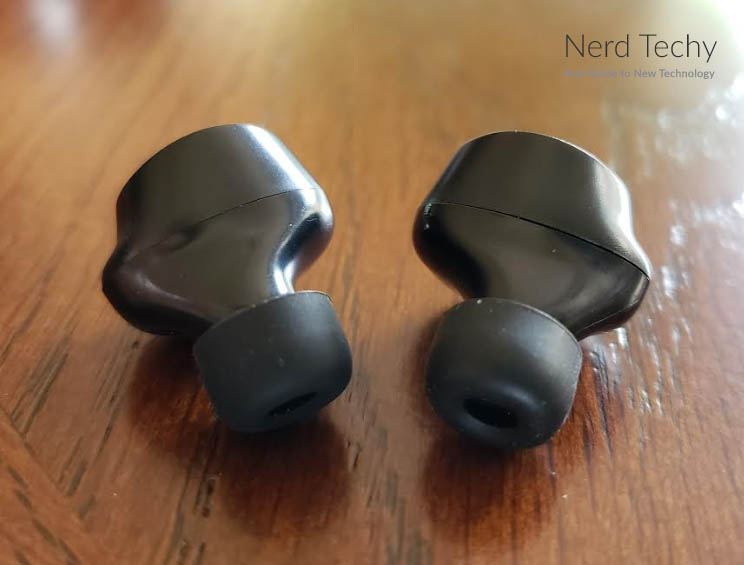 Sound quality is where the larger earbuds come into their own. Part of the reason that the TronSmart Spuky Pro are larger in size (19 x 15.5 x 21mm, weighing 47g, and containing 2 x 6mm drivers) than most others is that they employ slightly bigger drivers, or speakers, than many smaller ones out there.
That difference in size means you get excellent performance right across the frequency range of 20Hz-20KHz. There's nothing tinny or distorted here at all. The bass is just as you'd like it, and higher frequencies get replicated beautifully. Everything is tuned to perfection, and the TronSmart Spuky Pro are a pleasure to listen through.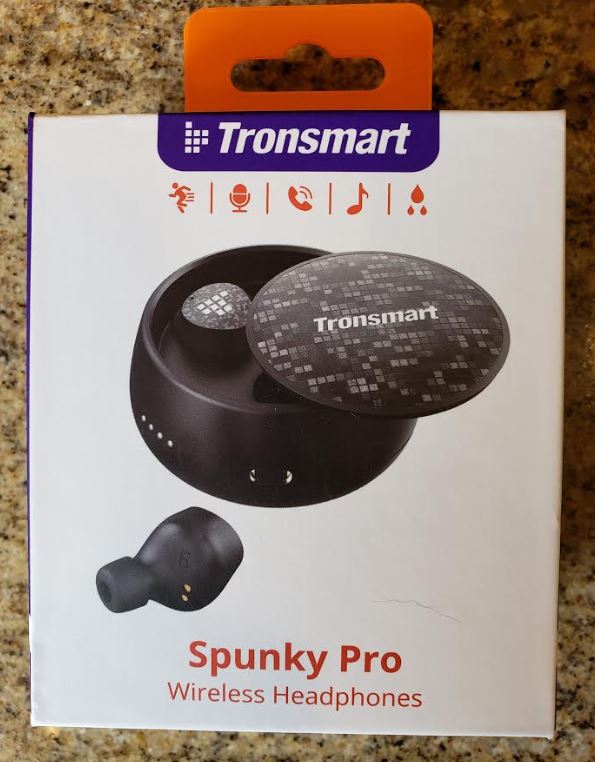 Final Verdict
When all is said and done, it's hard to fault the TronSmart Spunky Pro because they represent excellent value for money, a high level of performance, and they're portable enough to be fit for purpose – even though they're not the smallest ones out there.
It has to be said that we found two good reasons for buying slightly larger buds in this review. First, they tend to stay in the ear very well. Second (and possibly an even more significant advantage) is that the larger drivers in the TronSmart Spunky Pro give a brilliant listening experience at all frequencies.
They're not the most beautiful option available, and the charger case is bulkier and more awkwardly designed than the charger cases with some other brands. But having said that, most of us buy headphones for the sound – not for primarily for the aesthetics.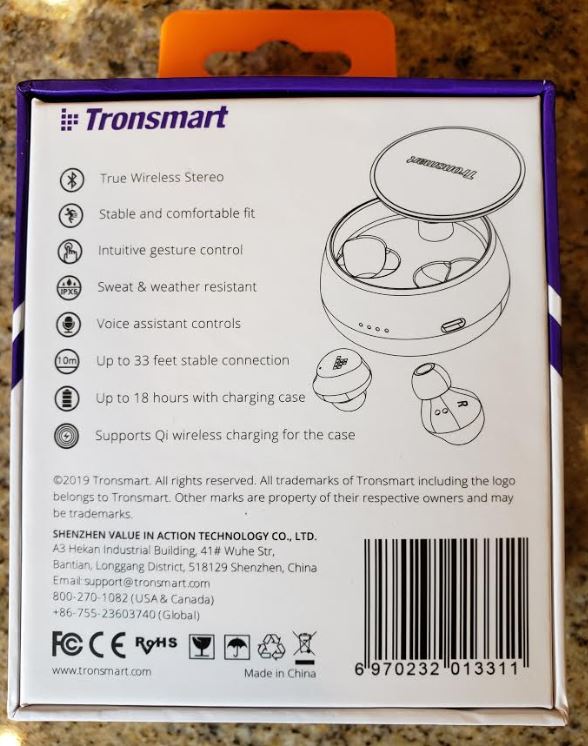 When you weigh up the pros and cons, the pros definitely win. And they win more than comfortably. There are just too many good things about the Spunky Pro to make them a bad buy. They're fully wireless and maintain a good connection, as well as sounding great. It's hard to think of anything more important than that.
So, whichever earbuds you end up picking, and whatever your choice of music, just remember to have fun with it. If you're not buying this product, I hope this article has at least given you some pointers as to what to look out for when you're shopping around.
Please consider sharing:
Note: At no extra cost to you, we may earn a commission for purchases using our links. Learn more.