When you're picking a portable Bluetooth speaker, you usually want to keep things small and portable. Because there are many advantages with running larger speakers. It almost goes without saying, but for a wireless speaker, there are advantages to staying small as well. So striking the right balance is really a matter of needs and preferences coming into alignment.
Treblab HD7 Small Premium Bluetooth Speaker
Treblab has been having a great couple of years, and they've been making a variety of noteworthy equipment. The new Treblab HD7 Premium Bluetooth Speaker is a pretty good example. For starters, this speaker is pretty much the size of a can of beer. Even though it's got a small frame, the internal audio components can really bring the noise, so to speak.
Note: At no extra cost to you, we may earn a commission for purchases using our links. Learn more.
With more than twice as much wattage as some similar portable speakers, the HD7 has a lot on offer. Naturally, when you're looking almost any Bluetooth speaker that's less than $250, you're going to find devices made with a focus. Sometimes they are focused on creating fantastic media connectivity. That could include SD cards or Wi-Fi connections. Other times, they're focused on building-up the speaker with some kind of special app support.
The HD7 isn't loaded up with that many extra features. It's not slathered in party-style LEDs for a fun aesthetic. This thing is more focused on the essential components of good sound design. That won't make it the right choice for every kind of listener, but it should give the HD7 a distinct target audience.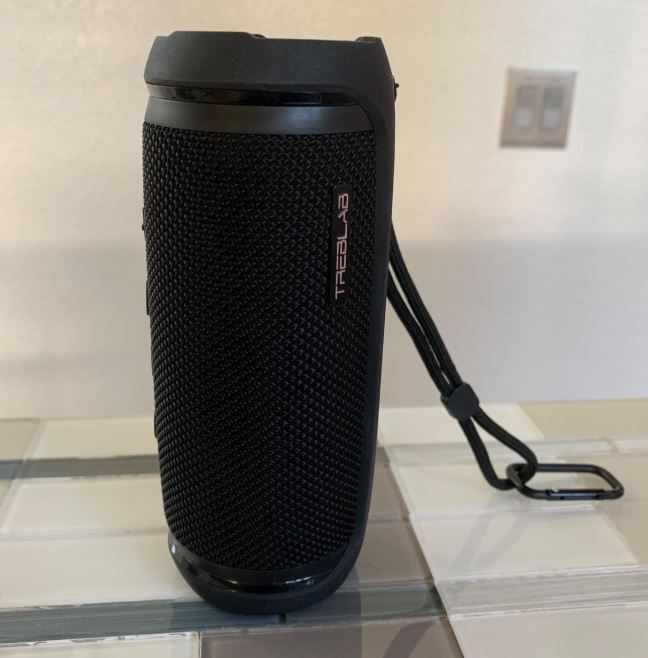 Design & Layout
As mentioned above, this speaker is fairly small. It measures 6.3 x 2.6 x 2.5 inches; a fairly compact design. Like almost every Treblab speaker, this one is mostly made from ABS. It's a decent material for this kind of device because it's impact resistant and it does a good job of dissipating heat. As long as you're not dropping the HD7 more than 3-4 feet, basically not much more than the distance from your hand to the ground, then it should hold together quite nicely.
Since this is a rounded unit, it shouldn't be too surprising they've placed three flattened spaces along its edges. That way, you can put down the HD7 without worrying about it tipping over and rolling away. Placing the unit on its end is also pretty stable, provided that it's not on a wobbly table.
Basically any pair of decent Bluetooth speaker will need to make use of protection against water. If your speaker can't take on a few drops of water, then it doesn't matter how lightweight or small it is. Without waterproofing, it's disingenuous to call a Bluetooth speaker portable. In this case, you're looking at IPX6 water resistance.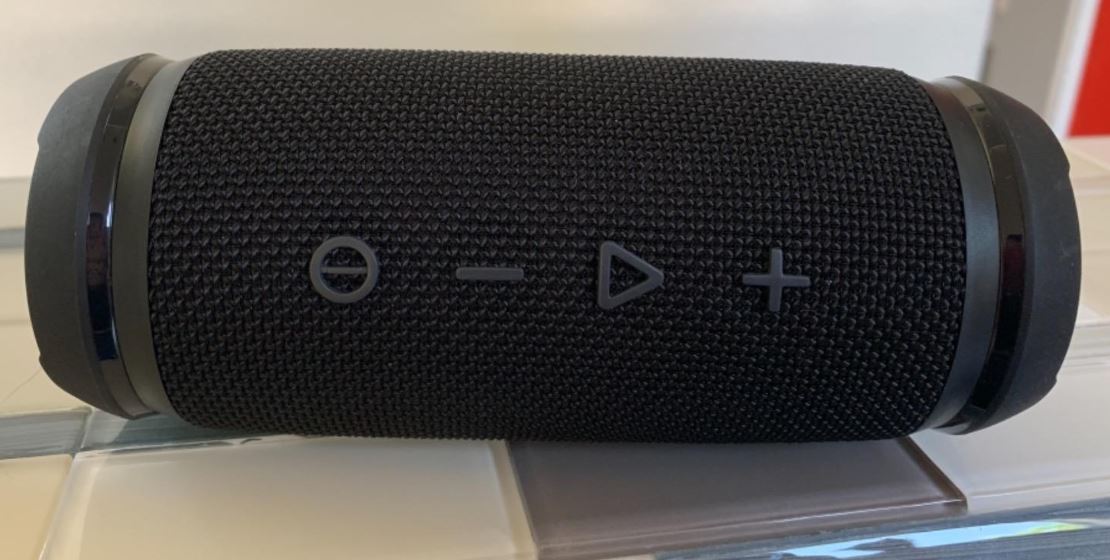 That's a pretty decent rating, indicating that you can spray down the HD7 with a hose without having to worry about water damage. Though submersion will still be an issue, so you'll want to keep this thing away from the pool. It's enough to keep the unit portable, but not so much that you'd want to take it for a diving adventure.
Stored away on the bottom, you'll find a pull-away panel that allows you to access connection ports. This paneling is important to keep in place if you want to maintain the water resistance of the unit. So it does take a little bit of effort to pry the backside open, since it has to be waterproof.
Audio Quality
The HD7 produces a total 12W sound output. But depending on where you're standing, and how you have the speaker setup, it can actually feel more like 6W. That's because the HD7 uses a 360-degree design, sending audio in all directions around itself. With audio equipment that's been tuned the right way, even small speakers can end up with a large voice.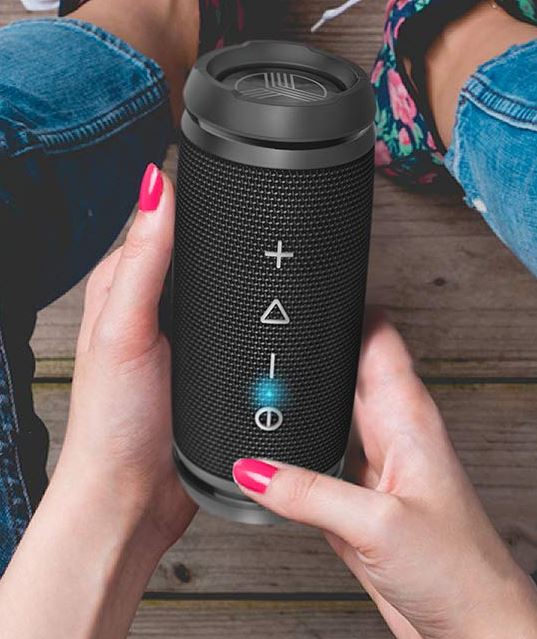 Inside the chassis you'll find two separate audio drivers, each pointed in a different direction. When played indoors, especially in smaller areas, it's much easier to capture the full force of the 12W sound. Rather than trying to refine the bass range, or to offer more support for the highest edges of the treble range, Treblab did something else. They've focused on building the central tones that they know they can do well.
When you adjust to this kind of sound signature, the HD7 will sound particularly strong. The lowest bass isn't something this speaker can create, which is just a limitation of its size. But it does have some pretty crisp treble. The HD7 also includes a couple of sound modes. And those modes allow you to change the distance at which this speaker is expected to project sound.
If you're working indoors, then you can switch to the indoor mode and see some improvement to the bass performance. It's not a night and day difference because there's still no subwoofer involved in the creation of this device. But it does make enough of a difference that some people will develop a preference for one more or the other.
Conversely, the outdoor mode basically gives up on trying to make deeper bass, and focuses instead on projecting sound as far as it can. This has some cost on clarity, but volume levels are quite strong and consistent.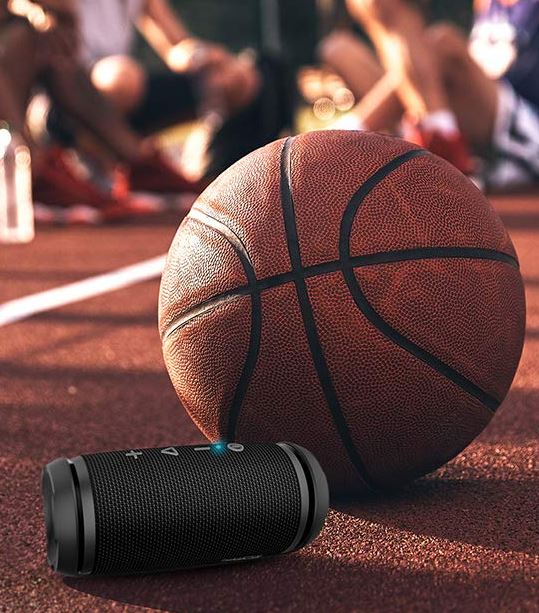 Ease of Use
Like so many of their speakers, Treblab has designed this series around practicality rather than frills. You can find about a million different kinds of Bluetooth speakers that are covered with all kind of attractive LCD screens and LEDs. By contrast, the HD7 uses a very simple mesh cover that's bookended by ABS. The only LED on the whole thing is a small light near the control panel, and it's used to help let you know what's going on with the battery. In other words, it serves a good purpose.
The analogue interface is pretty straightforward. Treblab uses the same kind of control layout for basically all of their equipment. That includes a couple of plus and minus buttons, and some arrow keys. Doesn't take much to get used to them. Since they're analogue controls, they're also easy to operate in low-light conditions. And the size of each button along with the distance between each icon makes using the interface easy.
As if often the case with Treblab's audio gear you can carry the HD7 with a carabiner or a similar strap. The HD7 actually includes one. The included strap only runs about nine inches in length, but that's not bad. It's good enough for both carrying or hanging the HD7 just about any place where you'd like to put it. This thing ends up weighing a bit less than a pound. So you don't end up noticing the weight being carried on you.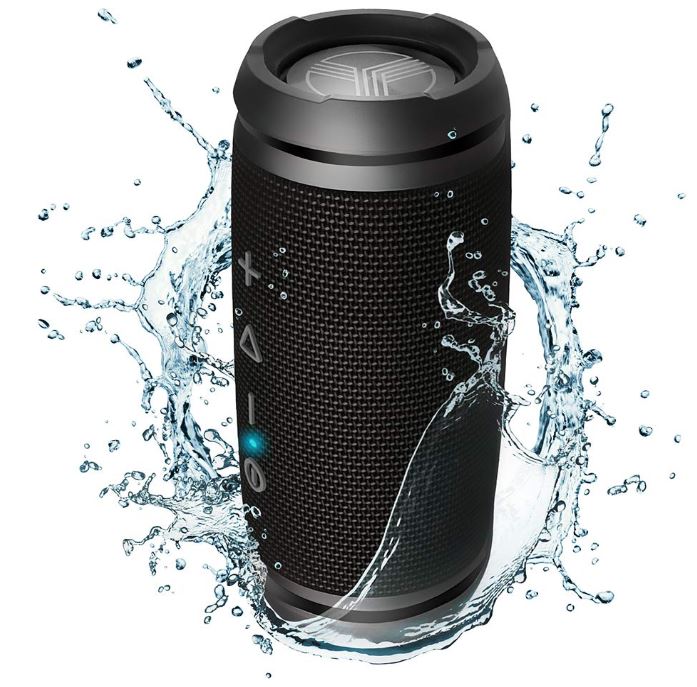 Wireless Connectivity
How do these speakers make and maintain their wireless connection? In this instance, it's Bluetooth 4.2 that allows you to stay connected. And it lets you make connections in about three seconds. Since this is a Bluetooth based device, you've also got wide support for connectivity with iOS, Android devices, Windows, and so forth.
Basically any mobile device or non-mobile platform should have no issue. And the same is true when you look at connection range. You end up with a very standard connection distance, allowing you to run about 33-feet away from the speaker before the Bluetooth starts to be a little spotty.
The H7 isn't app-based, you don't need to download any software to get going. You pretty much just hold the Bluetooth button on the HD7 for a couple of seconds. It would've been nice if they'd added some kind of built-in cable, perhaps one that could be retracted from the chassis. They have included the next best thing, which is a 3.5mm audio cable. It can be connected to eliminate the need for running Bluetooth, which can further extend battery life expectancy.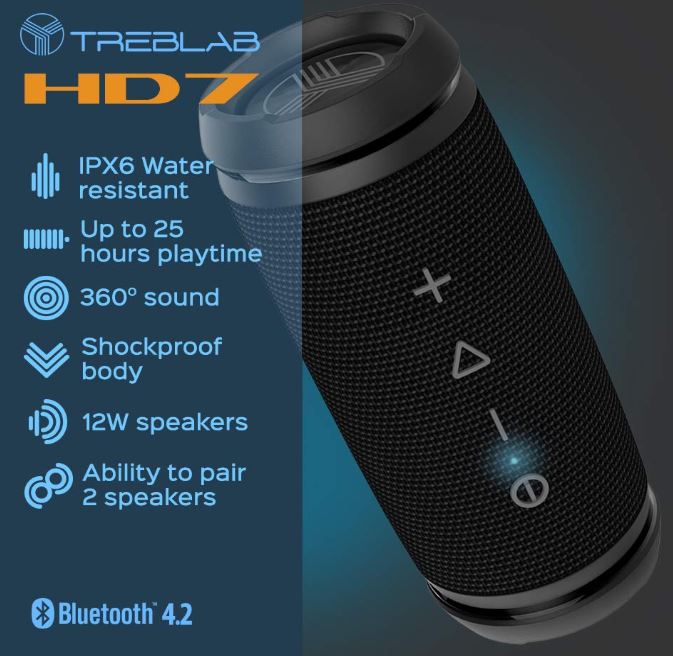 Battery Lifespan
The HD7 is made with a pretty decently large 2500 mAh battery. That's actually about half of the battery size Treblab uses on a lot of their other portable equipment. But given the modest size of this speaker, you're able to draw about 25-hours of playtime from this speaker. Whether you reach the 25-hour mark will partially depend on you.
Are you running the speaker on 100% volume constantly? Then those play times are going to start sinking towards 18-hours. Still a respectable amount of time for a single charge, but it's not quite the amazing 25-hours that they tell you. Though since this speaker is pretty loud to begin with, you're probably not going to end up needing to run it at 100% volume anyway.
Microphone Quality
On these smaller Bluetooth speakers, it's pretty common for manufacturers to throw on a microphone as a last minute thought. That's pretty much the case here. You aren't going to find any special microphone features, no native AI assistant features, and so forth. It's just a run of the mic microphone, not too unlike the one inside the average smartphone.
It's smart enough to be able to automatically pause your music and alert you about incoming calls. It's smart enough to start playing your music again after a call ends. So for taking the occasional call, it will get the job done.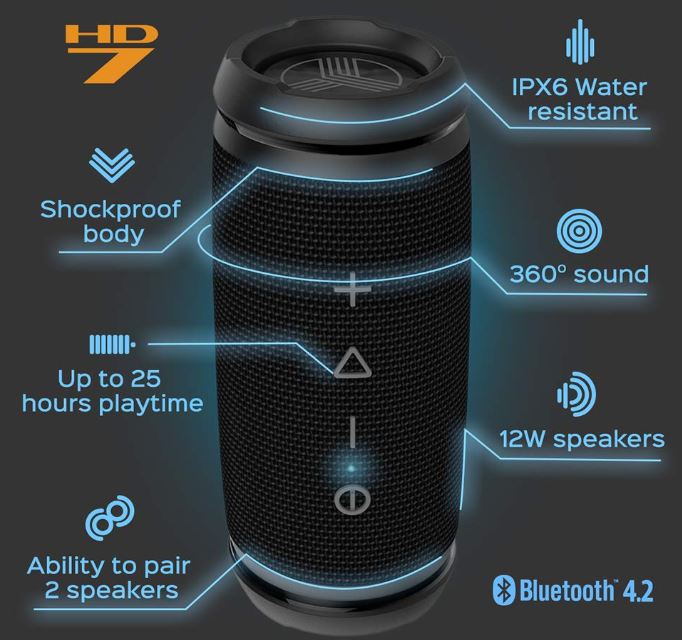 Other Considerations
There isn't native TWS support, so you can't take these speakers and setup a larger network of audo equipment. It's not that common for people to actually double-up and run two speakers like that. But it can be nice to have the option.
The Treblab HD7 comes with a 3.5mm audio cable, USB charging cable, and a carrying strap. Trebleb also includes a 1-year warranty with the HD7.
Who Should Choose the Treblab HD7 Small Premium Bluetooth Speaker?
This speaker was aimed at creating value. As such, it isn't loaded down with a ton of extra features. And that has pros and cons. For the pros, it means you end up saving a lot of money while getting respectable audio performance at the same time. For cons, it means you're not necessarily getting all the performance and aesthetic features you could with a larger budget.
For instance, you're not able to play audio from USB. There isn't a bunch of pretty LEDs on the side to make things brighter. But if the only thing you care about is decent quality audio that will last through a workday, the Treblab HD7 is a good option.
Please consider sharing:
Note: At no extra cost to you, we may earn a commission for purchases using our links. Learn more.