Sometimes a brand name can mean something. Other times, not so much. About ten thousand different companies make earbuds now. A lot of them are actually generic components, cobbled together from a handful of hardware manufacturers. In many cases, the audio hardware used by bigger brands is the exact same hardware used by smaller brands. But that's not always the case, which is why you've got to look at wireless earbuds on a case by case basis.
Philips UpBeat SHB2505 Wireless Earbuds
Philips seems to rarely take big chances. They try to make stuff for the average person because they never want someone to get one of their products and end up horribly disappointed. So when it comes to the way they design audio equipment, that design philosophy still applies. They tend to make earbuds aimed at a general listener. That usually means some slightly inflated bass, among other things.
The UpBeat SHB2505 have some decent automatic calling features, but nothing you probably haven't seen before. For example, they have automatic call management, so you can answer or end calls without having to do anything at all. It's really only when you start to look at each individual feature that you can get a better sense of these earbuds.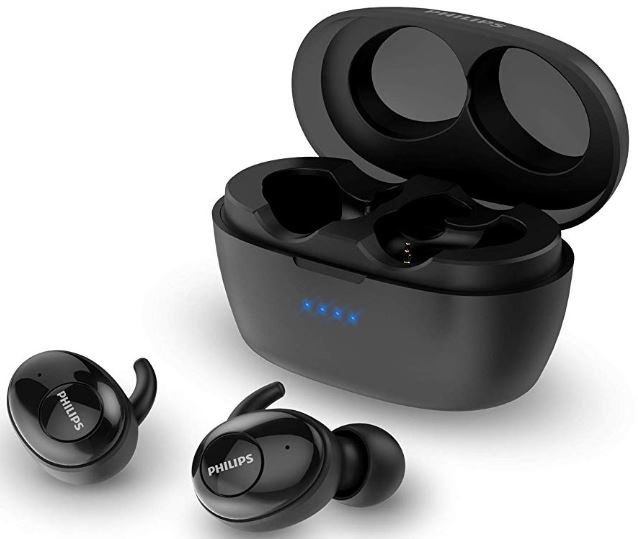 Because the SHB2505 Wireless Earbuds were made to give off a general sense of quality in all dimensions. When you're using cheap earbuds, even if they work okay, they might end up feeling as cheap. The plastic casing might look cheap, and they might even look gaudy in your ears. That sense of style is hard to measure, but it's something we all experience.
Design & Layout
Physically speaking, this charging case is not unusually small or unusually large. As with many aspects of this design, it's a pretty average sized case. It's small enough to shove into your pocket, but not so small that you might forget it was there. Though the fact it hardly weighs an ounce certainly helps its portability as well.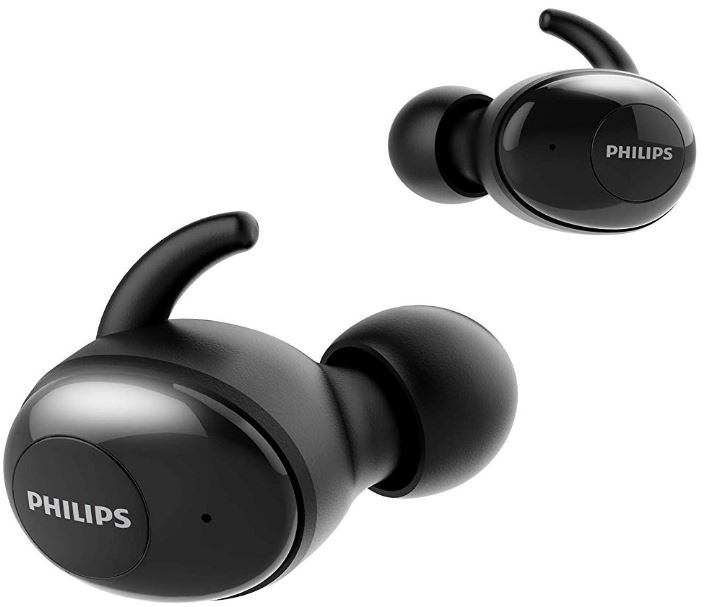 The geometry of each earbud was designed to better fit securely inside the case and inside your ear. And that close fit allows these earbuds to keep out ambient noise in a fairly effective way. Likewise, the closed design of the outer shell of the earbud ensures at least some additional degree of ambient noise protection.
Each earbud uses an ordinary egg-shaped ear capsule design. This design is intended to fit snugly inside the ear, and allows each earbud to fit rather nicely inside the charging case. One thing you might notice is that each earbud feels a little bit hefty in your hands. That's because the included battery inside each earbud is a bit larger than usual. But the weight difference isn't something that's appreciable while worn in the ear.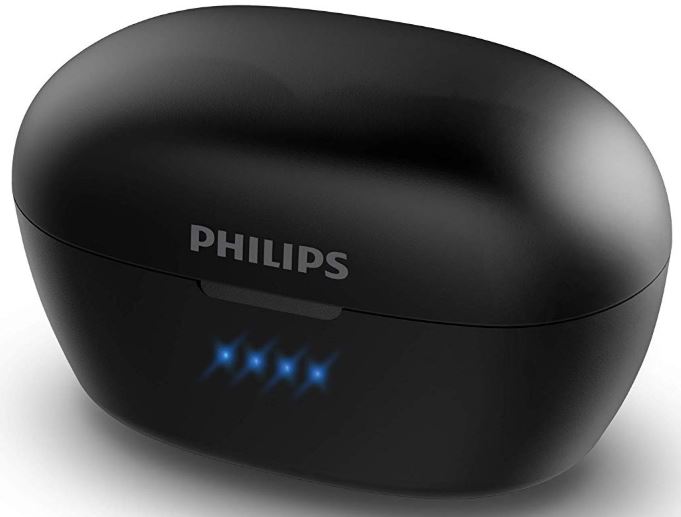 You can probably tell by looking at them that these earbuds make use of touch controls. These kinds of controls are becoming quite common among earbuds like the SHB2505, and the way they operate is equally common. Each earbud can do a total of 3 things with that one button. Running multi-function controls is trendy for a reason – it works great. So between the two buttons, you can access six commands. That's before you start to think about the possibility of voice control, but we'll look into that a bit more later.
Comfort Concerns
If you want to keep earbuds in your ear while in motion, you've got several options. One option is to build silicone ear-tips that need to penetrate deep into your ear canal. This happens to provide great noise isolation, but some people find it less comfortable. And it tends to be less comfortable for longer periods of wear, too.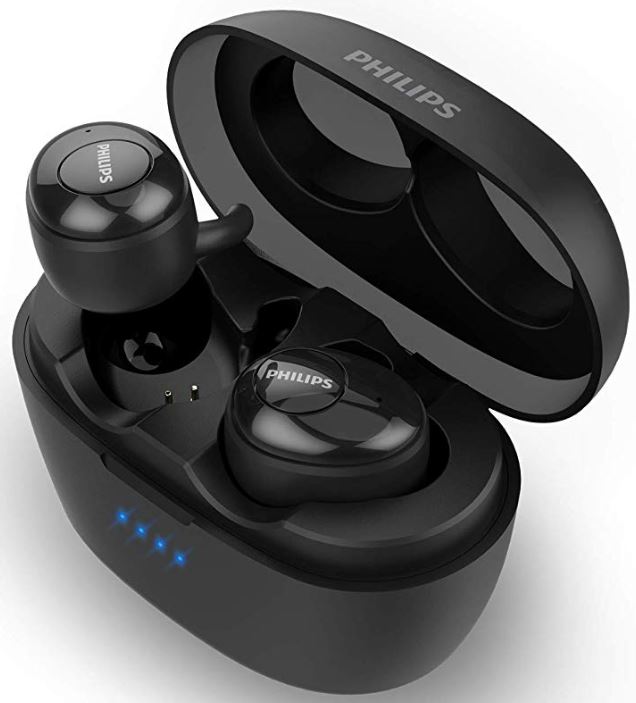 Another option is something more extreme, like attaching large silicone ear-hooks, then wearing them over the top of your ear. These are about as secure as you can make any pair of earbuds, but the problem is that you end up adding a lot of bulk in the process. They're nowhere near as portable as true wireless earbuds.
The UpBeat SHB2505 decided to use a middle-ground between these extremes. They've included an ear-fin design, with the fin pushing against the inside of your ear bowl in order to achieve a more secure fit. The result is more comfortable than having silicone tips that enter your ear canal, and more secure for motion. The only thing you're giving up is a little bit of passive noise isolation, which is something that tends to be washed out once the music is on anyway.
Philips included three sizes of silicone ear tips. It's a pretty standard offering, but at least each size is very discreet. You should have no trouble forming some preferences between them. Though as is always the case, it's important to take the time and try those ear-tips. Because it's not only a matter of comfort, it's a matter of noise isolation.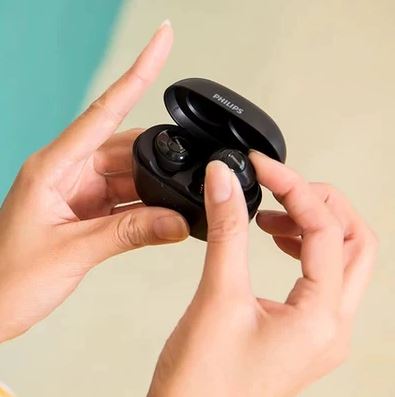 Wireless Connectivity
The UpBeat earbuds make use of Bluetooth 5, giving them a number of advantages when it comes to their battery lifespan and the stability of their sync. After an initial setup period, you also don't have to worry about creating a sync between your devices. Because an automatic sync will be established between the devices which you regularly connect with.
The rest of the connection is pretty ordinary. As you might expect, the range behind these earbuds is about 33-feet. A pretty standard distance for a pretty standard pair of earbuds. For people who need to reach longer connection distances, you typically have to be willing to expend more battery to achieve that effect. And if you're only connecting up with a smartphone that's in your pants pocket, then you're using that battery for no significant gains.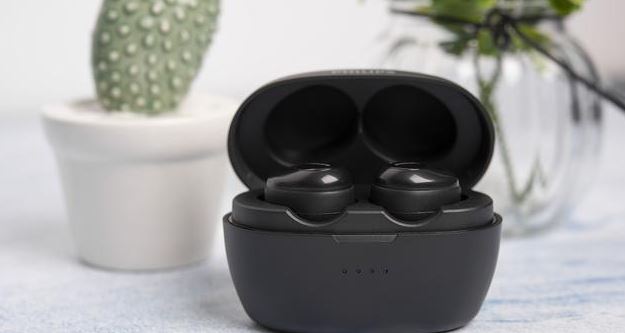 Battery Lifespan
For their battery capacity, you're looking at around three hours from each earbud. That's pretty much low-average. Because the average for a pair of earbuds like these is much closer to 3.5 hours. However, one thing to keep in mind is accuracy. That 3-hour estimate is very close to home. It's often the case that earbud manufactures say that they're going to give you 5-hours, but you end up with 3. At least with Philips, their estimates are actually close to home.
After you get the charging case into the mix, things start to look up. The charging case is able to provide 9 hours of additional playtime, which means 3 full recharges for each earbud. The total 12 hours of playtime is not exactly sensationally high. But it's certainly enough for most people in most circumstances. Battery longevity isn't that big of a deal, as long as they're able to make it through a day or two without intervention. It's only when you've got to start micromanaging your audio equipment that it starts to be a little tedious.
One thing missing from these earbuds is the inclusion of rapid recharge features. Those kinds of features are still fairly uncommon on headphones like these. But you can find them on another pair of headphones we reviewed recently, the TaoTronics Sound Liberty 53.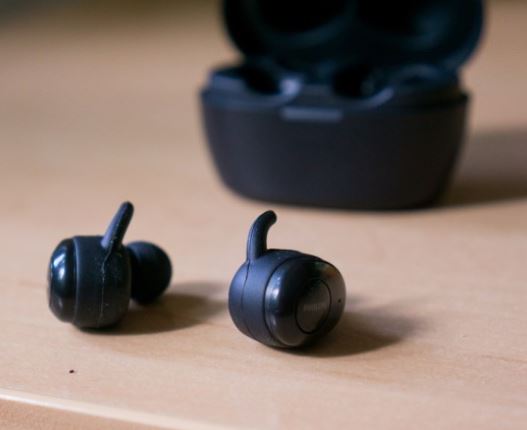 Audio Quality
UpBeat Wireless Earbuds were made with small 6mm drivers. That's a very common size for portable earbuds like these, which makes it easy to predict the kind of audio you'll get from them. Smaller earbud drivers make for more anemic bass, at least compared to over-ear headphones. But also compared to even slightly larger 8mm drivers. So when it comes to bass, these earbuds do not defy the laws of physics.
Still, the bass is smooth, but not bumpy. Towards the higher end of the treble range, clarity also remains pretty smooth. These earbuds sound especially good for people listening to upbeat music, like the sort you might play during exercise. It's energetic, and it's upbeat. If you want to escape this kind of energetic soundscape, it's easy to do so with the aid of an equalizer. Notably, Philips doesn't have some kind of control app you can use for that purpose. You'll have to dig an equalizer up on your own.
The UpBeat SHB2505 are not unusually strong when it comes to their passive noise protection. The outer shell of each earbud provides a basic layer of protection against the ingress of noise. But it's not an especially protective design. That's probably because they wanted to maintain comfort levels, and extremely good passive protection is almost unavoidably going to have a negative effect on comfort.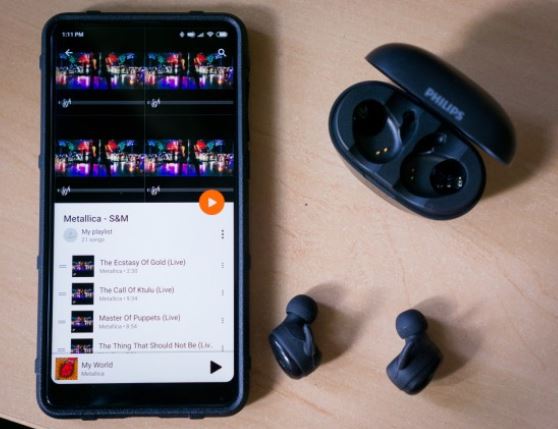 Other Considerations
The only aspect of the UpBeat's design that falls a little flat is the calling performance. The microphone sensitivity is a tad on the low side, sitting at 90dB. It's not enough of a difference to cause a big dip in call performance. You can pretty much expect this mic to perform about as well as the microphone on the average smartphone. But unlike a smartphone, there aren't any special features aimed at voice assistant calling.
Who Should Choose Philips UpBeat SHB2505 Wireless Earbuds?
If you're only looking at their stats on a page, the SHB2505 Wireless Earbuds probably do not seem very impressive. Their battery capacity is low-average, and their calling features are a little anemic. You might have noticed there isn't any ANC. But sometimes stats don't tell the entire story.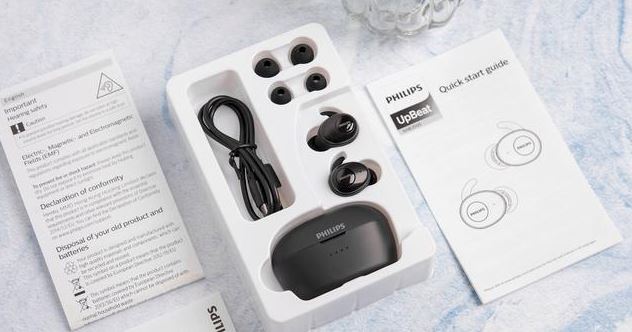 Because what you can't see is the audio quality. A bigger brand like Philips has the resources to create their own distinct sound signature. While a thousand generic Asian brands can destroy the SHB2505 when it comes to comparing product specs sheets, for most people, it's audio quality that counts the most. And the Philips UpBeat SHB2505 do manage to sound good, even if they do end up facing the same limitations applied to any pair of 6mm drivers.
The ubiquitous nature of these earbuds make them suitable as daily drivers. You could use them equally well at the gym, in home, or for traveling. Though these earbuds might not be the top choice for someone who's looking for some kind of amazing hidden bargain, they are a steady and reliable pair of earbuds more generally.