How is it that convenience can be so complicated? True wireless earbuds can be convenient, and they can be a hassle. The best pairs usually try and minimize the ways that they can be a hassle, and maximize the ways in which they can be a convenience.
For instance, true wireless earbuds tend to be easy to lose. A smart charging case can fix that. And these types of earbuds tend to be prone to sync issues between the buds. That's something which can be secured with the right wireless features. But getting all the right features in just the right balance can be tricky, especially when you're on a budget.
TaoTronics SoundLiberty 53 (TT-BH053) True Wireless Earbuds
The TaoTronics SoundLiberty 53 (TT-BH053) are true wireless earbuds. And when you're picking true wireless buds, you tend to have a different set of priorities. Battery capacity might be more or less important. Comfort options might change, and noise isolation features could become more valuable. It's all a matter of preferences, and a matter of what you're going to end up doing with your earbuds.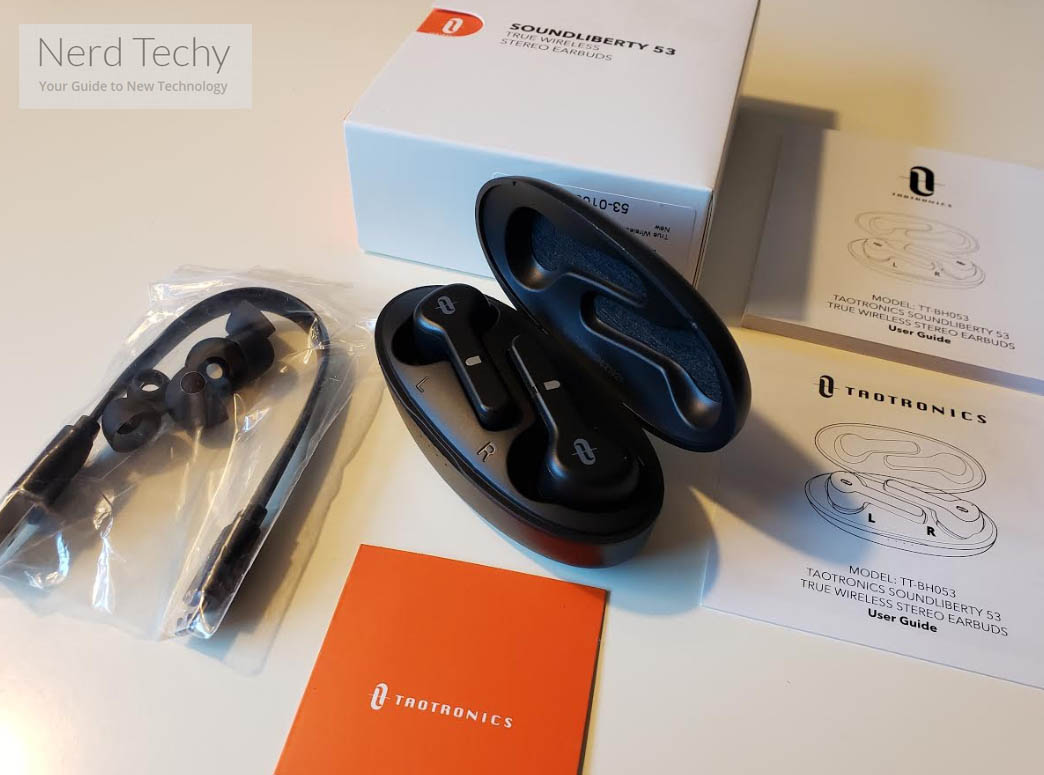 The Sound Liberty 53 have pretty run of the mill noise isolation options. Their comfort and size options are pretty close to average as well. In fact, these earbuds check off a bunch of essentials, including decent waterproof protection. But when it comes to wireless connectivity, ease of use, and battery power, that's where these earbuds really shine.
How long does it take for a pair of headphones to recharge? If they're a nicer pair of headphones, the answer is often something like 5-hours. But the Sound Liberty 53 aim to do much, much better than that. Still, there's no such thing as a perfect pair of earbuds. How close do the Liberty 53 come to striking a reasonable balance between critical factors?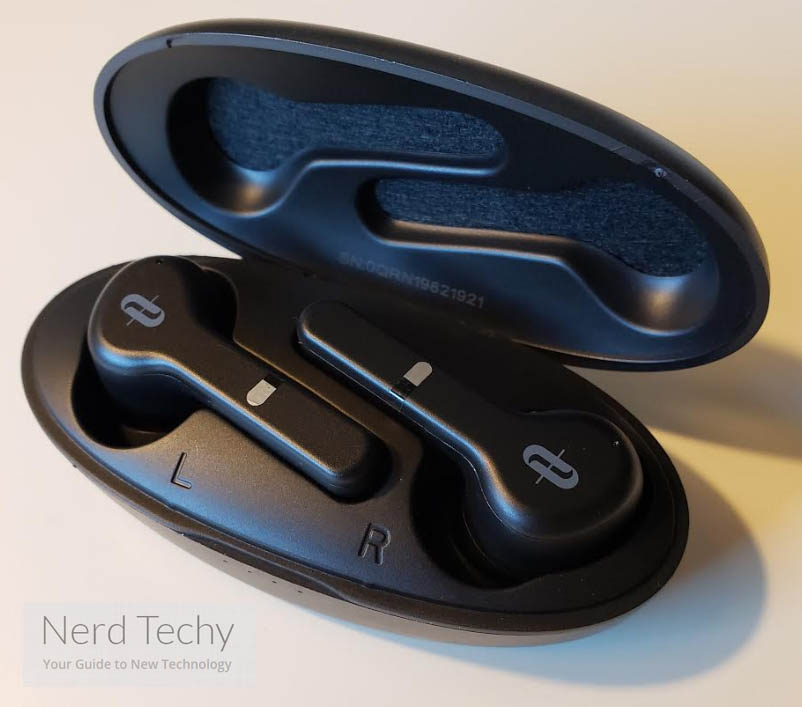 Design & Layout
The charging case measures about 3.23 x 1.54 x 1.1 inches, and weighs pretty close to five ounces. Placed inside, the earbuds don't take up much space because their antennas are placed in parallel to one another. The resulting compact design is nearly small enough to neatly place on a keyring. It's an egg-shaped device with four small LEDs on the front side.
Those LEDs let you know how much charge is remaining inside the case. Sadly, these are only going to give you some rough estimates about remaining battery life. Because when you're at 74%, that's going to show as three LEDs. But what about when you're at 51% or so? That's also going to show at three LEDs.
So these simpler LED displays are inferior to those that give you a more complete picture of the remaining battery capacity. But on the other hand, these smaller displays do tend to do a better job of preserving their battery power for being used by your headphones.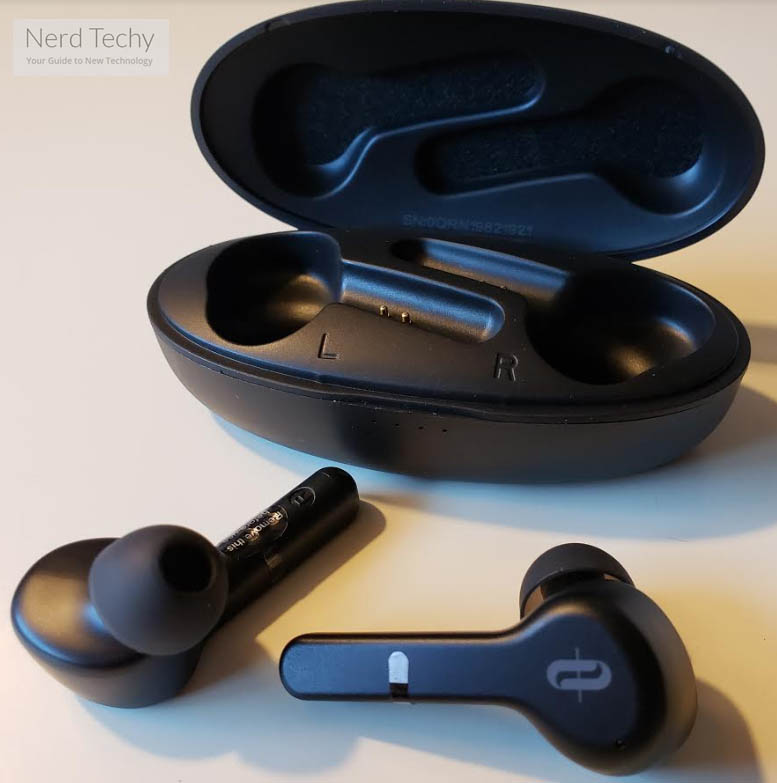 On the outside of each earbud, a tiny touch control button allows you to manage the earbuds. A couple of taps on either bud will raise or reduce the volume, answer or reject calls, skip around between your music, and so on. It only takes a couple of minutes to get used to the controls, and the touch patterns are pretty intuitive. The touch button itself is also rather responsive, so you don't have to apply a bunch of pressure to the earbud by pushing the button while it's against your ear. Some gentle taps will do.
The Liberty 53 are constructed with an IPX7 waterproof certification. That basically means you're protected from everything except for lengthy underwater submersion. Throw them into the sink, take them into the shower, and don't think twice about sweat or rain. But don't keep them underwater for more than half an hour because they're not supposed to be used for diving.
The earbuds use an extended antenna design, which provides a stronger signal for the devices, offers better positioning for the microphones, and serves as a good counterbalance to help keep the earbuds in your ear. It's a pretty smart design, which is why it's becoming more popular. It doesn't hurt that it looks pretty cool as well.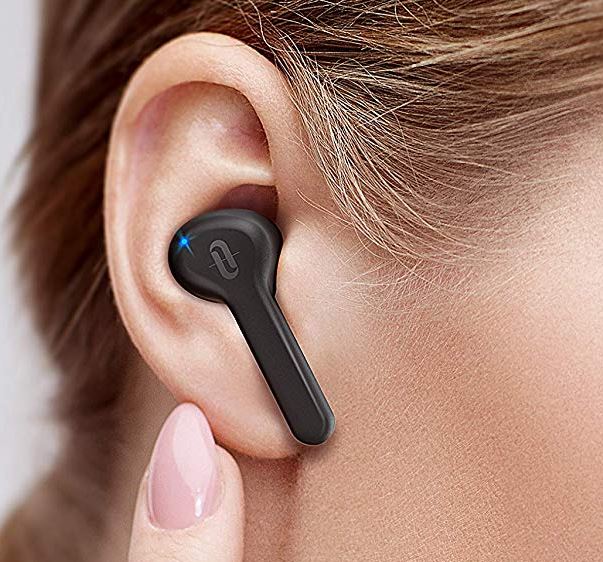 Comfort Considerations
Comfort features aren't that prevalent on earbuds. But occasionally, you'll find earbuds that throw more than three pairs of silicone ear-tips at you. Sometimes you'll get as many as seven different sizes, or even get ear-tips specially designed to let more ambient noise into your ear. Or conversely, foam ear-tips to help prevent ambient noise from getting to you better than silicone can.
The Sound Liberty 53 do not come with those kinds of extras. A total of three ear-tips are included. It's a standard array of medium, large, and small tips. For most people, that should be enough to ensure you end up with a decent fit. It's a shame there aren't any extra ways to protect yourself from ambient noise. But if you could care less about extras, then it just means you're saving few bucks avoiding features you don't care about.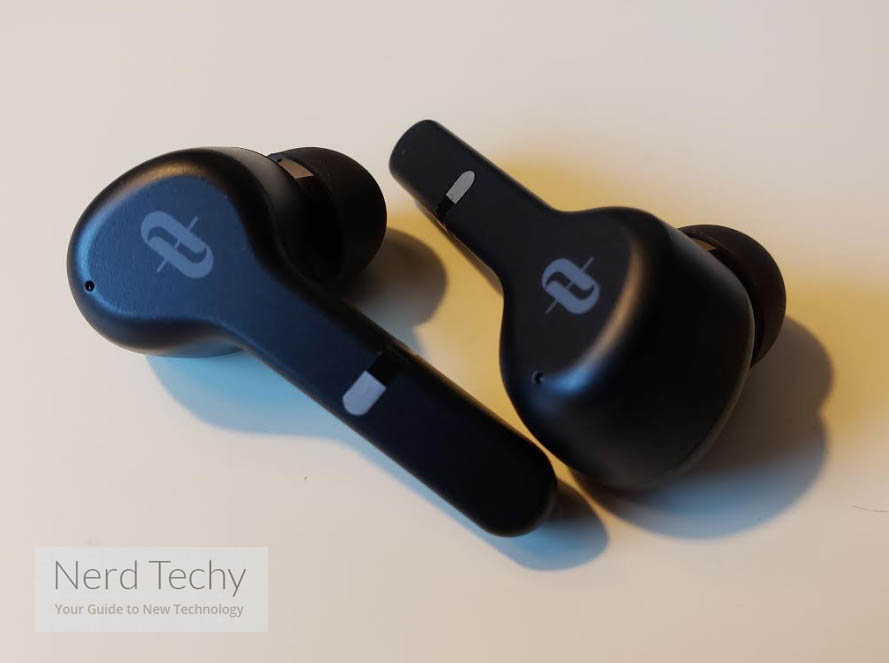 Wireless Connectivity
Liberty 53 connect with Bluetooth 5. Ensuring you've got Bluetooth 5 is often unimportant, but it's a good idea for true wireless earbuds like these. Because it has a number of benefits aimed at improving the sync between the buds, and automatically connecting between the earbuds and your devices.
Those kind of quality of life improvements are worth their weight in gold. And anything compatible with at least Bluetooth 4.0 will be compatible with Bluetooth 5, so you don't have to worry about your stuff struggling to make connections to these earbuds in most cases. Bluetooth 5 is fairly good at being backwards compatible.
The total connection distance runs out towards 33-feet. That's perfectly average because it's a bit more than the average person ends up needing. And if you don't need to run much further, then you typically don't want earbuds that run out to great distances. Because you'll be paying for features you could care less about.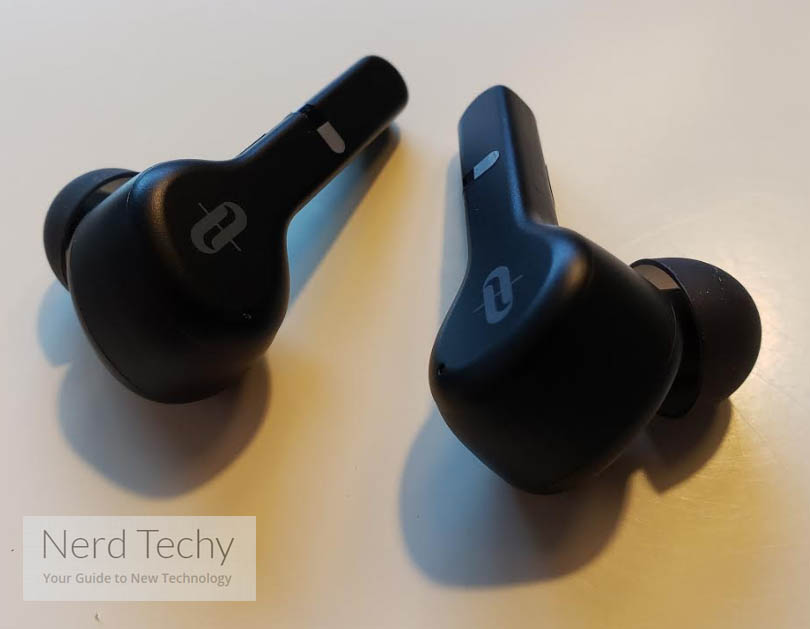 Battery Lifespan
Once the case has been accounted for, you have around 40 hours of total playtime available, resulting from a pretty large 650mAh case. Each earbud offers around 5 hours of playtime. That's about 20% higher than average compared to most similar earbuds. The average is much closer to 3.5 or 4-hours, depending on what you're counting.
These earbud estimates always have to be taken with a grain of salt because the kind of playtimes you end up with depends on everything from the level of volume involved to the ambient temperature around you. But given volume levels set around 50%, and supposing that you're not standing in an arctic forest during wintertime, the 5-hour estimate is actually close to home.
Theoretically, it could be possible to stretch the playtime out towards 75-hours, if you were always using these earbuds in mono-mode. That makes them an excellent choice for someone who wants to run mono earbuds, especially considering you're not paying very much for that enormous battery capacity at all.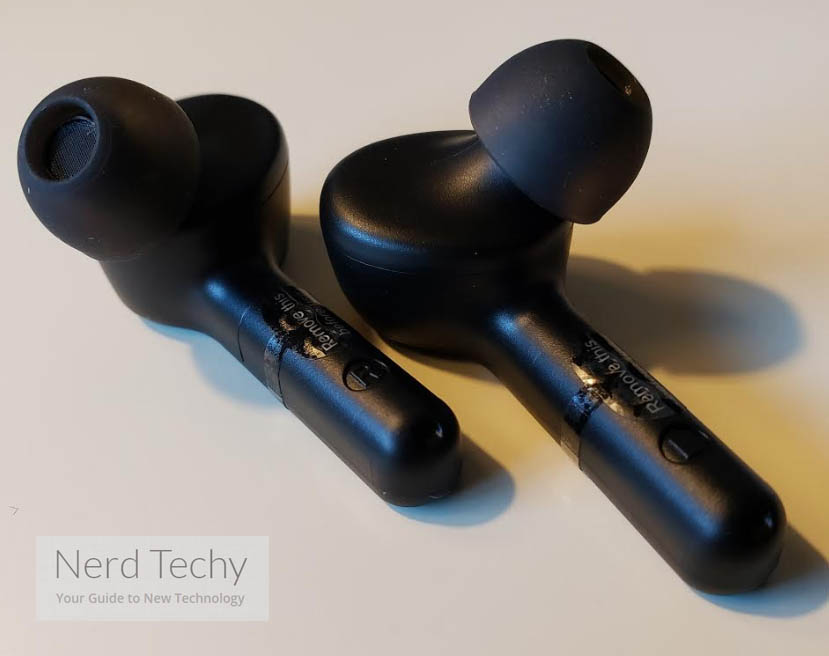 Audio Quality
There's two sound modes: the single mode and the twin mode. This is basically their fancy way of saying that these earbuds can be used in mono, each ran independently of each other. And neither earbud is the master bud, allowing for an equitable split. So when you're really trying to stretch the battery capacity of your case, it's much easier to do that without unnecessary recharges or listening breaks being involved.
These earbuds make use of tiny 6mm dynamic audio drivers. And they appear to be pretty run of the mill drivers, relative to their size. Since they're a tiny on the small side, there are some limitations with respect to bass. They've compensated by artificially boosting the bass a bit, making these headphones suitable for both music and watching videos.
Im general, these earbuds have a neutral soundscape, aimed at presenting tones in the clearest possible way. That neutral sound will make them a favorite for some people, while others will feel tempted to break out an equalizer to add some more bass. Though TaoTronics doesn't include an onboard equalizer, it would be trivially easy to run an equalizer app with them.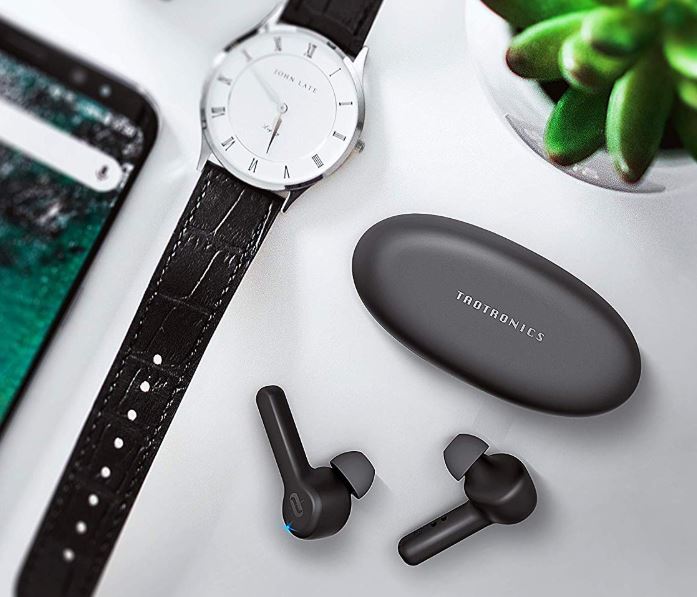 Other Considerations
Occasionally, you'll find that charging cases are made so that you're able to use them to recharge other devices. It's a pretty cool design in theory, but in practice it can present problems. Because these charging cases are almost never loaded up with a super-powered battery. Doing so would invariably make the case heavier and bulkier.
Which is why TaoTronics didn't bother with that for their charging case. This case isn't intended to recharge anything except for the earbuds. If you wanted that kind of battery storage feature, you'd need a more robust and large case. At that point, you may as well just get a separate portable power pack.
Who Should Choose TaoTronics SoundLiberty 53 Wireless Earbuds?
The SoundLiberty 53 Wireless Earbuds are going to please a certain type of listener. For one thing, the battery inside each earbud feels like it lasts forever. Because even though they're only running about 20% longer than many other earbuds, that bit of extra time feels like it makes a big difference.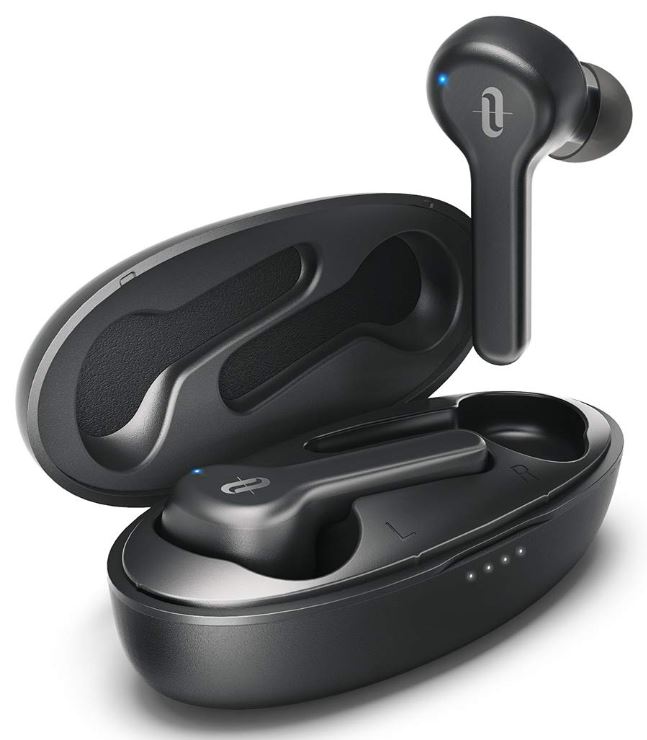 The quality of their construction is generally good. You can pour water over them without concern. They're even sturdy enough to survive a couple of accidental drops to the floor, especially thanks to their lightweight design. Their sound quality is pretty run of the mill for mid-range earbuds, but it's also about right for this price.
The calling features are just a tiny bit thin. The microphone works fine, but it's not backed with any special noise cancellation features. Which makes these earbuds a little less attractive for people who are primarily interested in making calls. But for a daily driver, the SoundLiberty 53 Wireless Earbuds are probably a decent choice.