Taxi drivers and people working in rideshare services will generally need a different type of dash cam. At least, compared to the ordinary driver. You don't necessarily need to work in the rideshare industry to take advantage of having a camera aimed at your cab. But when you want a view of the interior of your vehicle, an ordinary dash-cam just won't cut it.
SOLIOM G1 380° Dual Dash Cam
The Soliom G1 380° Dash Cam has a slightly misleading name. This camera works by combining two wide angle shots into one larger image, effectively giving you total visibility around your vehicle. The result isn't exactly a 380°-degree view, but it's actually pretty close. Though this kit can be used alongside a rear camera, it's really the front/cab camera combination that distinguishes the G1.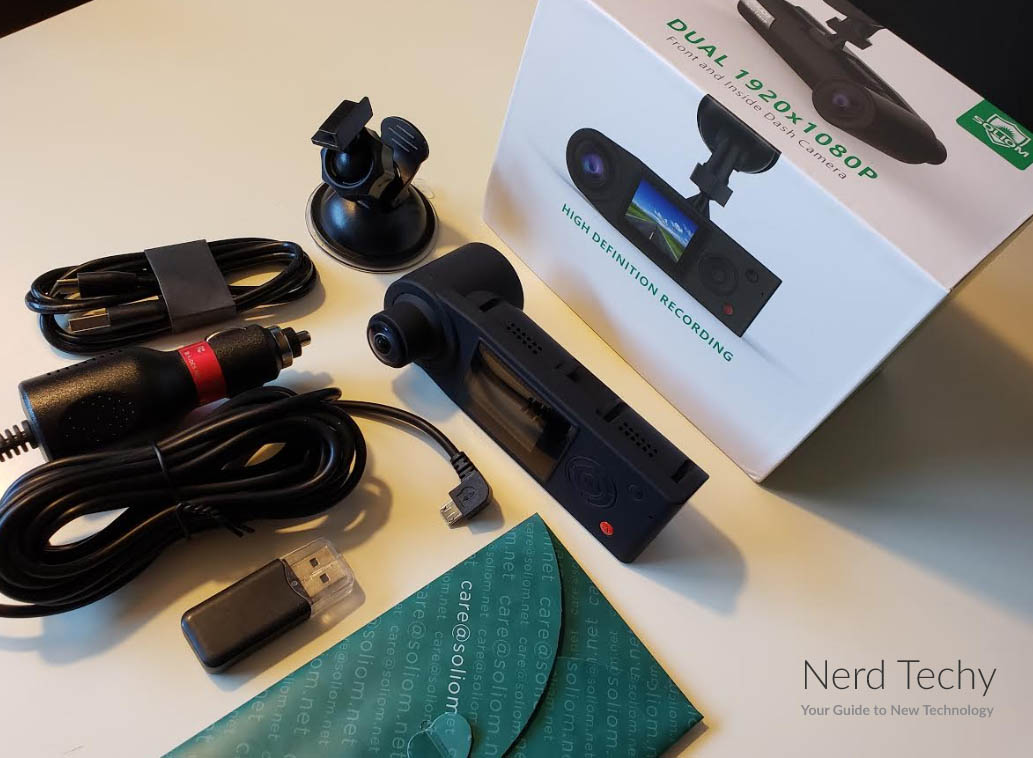 When it comes to night vision features, dash cameras are getting pretty fancy. Some of them allow you to see out hundreds of feet into the darkness, with night vision that borders on being military-grade. Others are built to more commonsense standards. And that's the camp where you'll find the G1. The night vision can see about as well as a person, but not much better.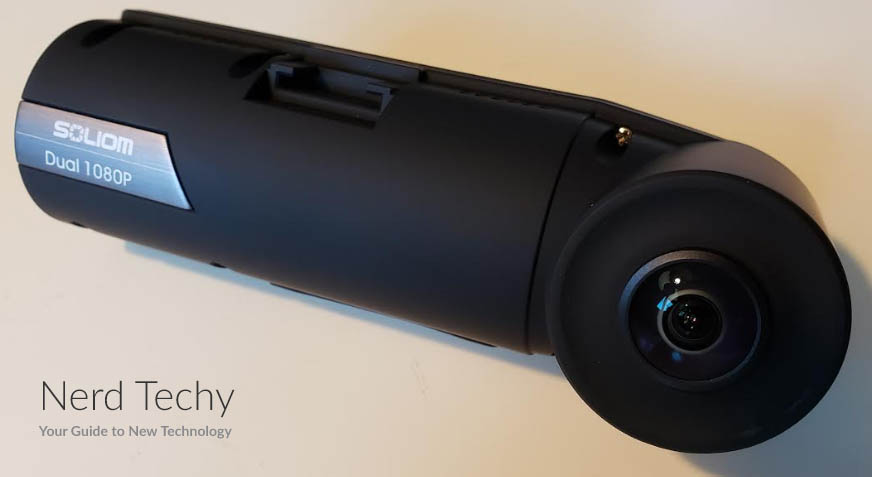 Basically any dash camera that's been made in the past three years will have some reliable parking modes. Whether or not those modes are made robust or they're simplistic is another question entirely. How does the camera work at night? What happens to the footage you record? Getting through these kinds of questions can be critical to finding the camera most suitable for your needs.
Design & Layout
The primary camera is a fairly small, handheld sized device. It runs about 5" in length, which is a fairly small chassis. And it helps ensure the placement of the camera doesn't end up obscuring your view of the road. There are a couple of different options for mounting that we'll get into a little later, but you can rest easy knowing that windshield mounting should be no issue.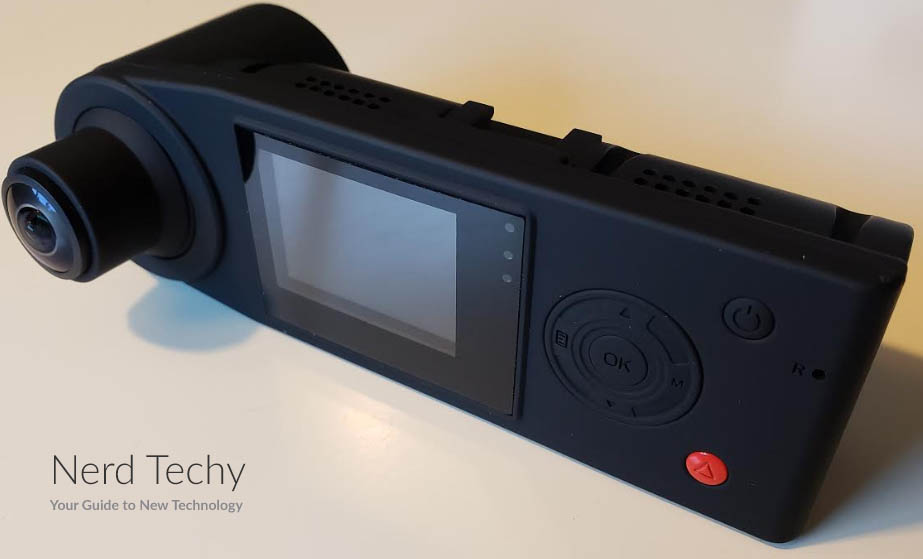 The backside of the camera is home to a small 2" color display. It allows you to view and review footage as necessary, though the display is small enough that you can't exactly watch that footage from a distance. There is also a small set of analogue controls positioned adjacent to the display. Those allow you to navigate between menu options, turn on/off the dash cam, and initiate manual recording. Another minor thing worth mentioning is the Auto LCD off feature, which ensures the display won't distract you while driving at night.
Even though the chassis is small, there's a lot of smart design here. For starters, the Soliom G1 uses an enlarged cooling pin. That extra size allows it to have about three times the heat dissipation capacity of other dash cameras. It also has a number of well-placed cooling holes, which have been spread across the surface of the camera on multiple sides.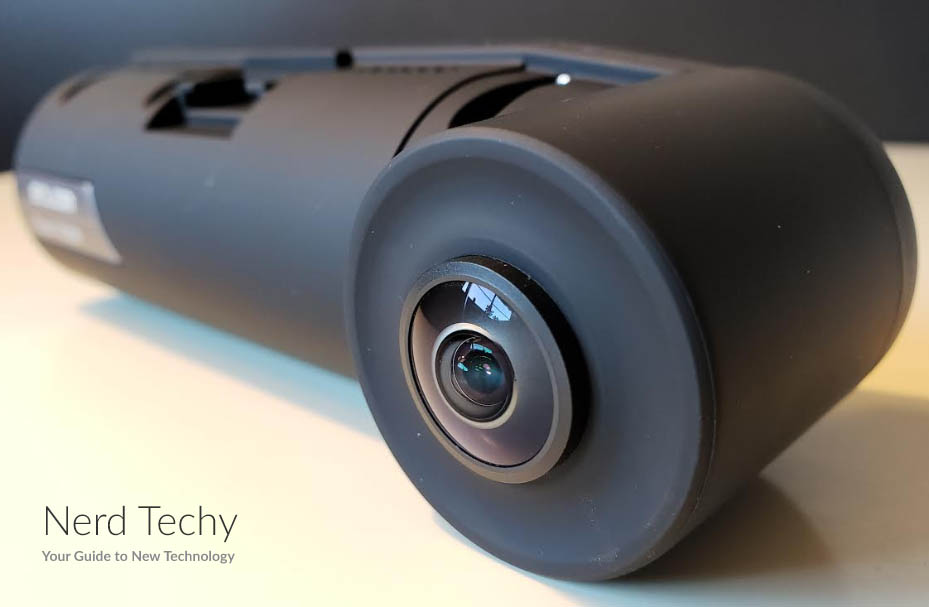 Between those two things, the G1 is much better at regulating heat. And working between -4 °F and 158°F, the G1 is safe to be used around extreme weather environments. Even if it's 100-degrees out, and your car is parked under the desert sun, the G1 isn't going to quit on you. But if you happen to live in an extremely cold environment, you will have to rescue the G1 if temperatures are far below sub-freezing.
Microphone & Battery
The built-in microphone and speaker is conditionally very good. For a single microphone, its performance is rather impressive. It's even pretty good at minimizing the sound of the road outside of your vehicle. But there are no special noise cancelling features. So if you're driving a convertible down the highway, you shouldn't be surprised if the microphone doesn't perform any better than your smartphone.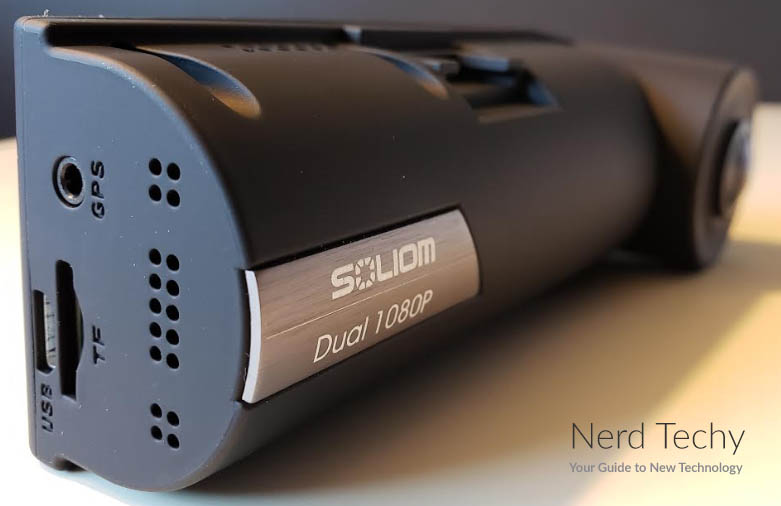 You may have noticed the G1 uses a built-in battery. It's a pretty small 300mAh battery, which is supposed to last through about three years of heavy use, or around five years of more modest use. But that battery is basically only there to help provide emergency file backup incase the camera suddenly loses power during a recording. You want to keep the camera plugged in at all times during operation, the battery isn't intended to be used for recording.
Visual Presentation
As its name suggests, the Soliom G1 is aimed at creating a seamless video that allows you to see everything in your environment. It does that by splicing together a pair of 190° wide angle lenses, allowing for a complete viewing radius around the front area and cab of your vehicle. Though advertised as 380°, in practice you're really ending up with 360° of viewing space. Though no matter how you say it, the G1 allows you to eliminate blind spots within your vehicle.
Video footage is captured in standard 1080p, and it's saved with the aid of some Sunplus processors and a Sony Exmor IMX323 sensor. The fixed lens has a f/20 aperture, which allows the inside and front cameras to capture the cabin and front of the vehicle in a seamless way. That's a pretty good hardware core for software features to be used against.
Speaking of software features, super wide dynamic range functionality allows for a clearer capture of the road while in driving in diverse conditions. Is it really bright outside? The WDR can help tone down the brightness in your shots. Is it really dark outside? The WDR can help compensate. That wide range is also partially the result of the larger aperture.
How about the smoothness of the footage? You'll find footage is captured at 30fps while you're recording both the front of your vehicle and inside the cab. If you only record from the front, you can actually maintain the wide 190° view while moving up towards 60 frames per second. Going to higher framerates is really only a good idea when absolute necessary because it will double the amount of storage space used during recordings.
And in doing so, cut your recording space in half. But if you have nobody inside your vehicle with you, being able to swap to 60 frames is pretty cool. Normally, the leap to 60fps isn't worth the effort. But it's something you can appreciate more easily on a dash cam because of how fast vehicles tend to be moving.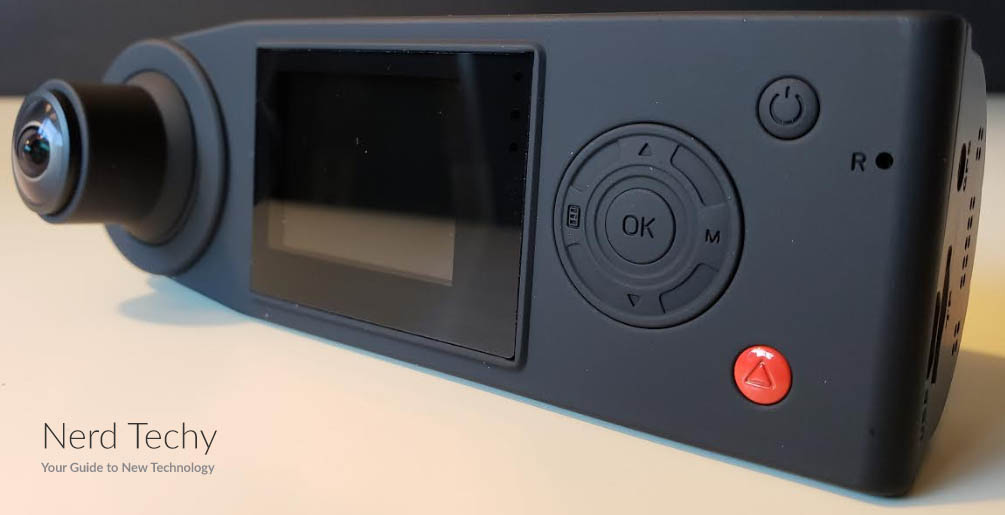 Capture Modes
The Soliom G1 has a mostly common sense set of features. Parking mode allows for 24-hour monitoring, which can wake-up the camera and start recording anytime there's a collision with your vehicle. The motion detection feature can work the same way, initiating recording the moment motion is detected. Though if you want to detect motion wile in the parking, mode, additional hardware is needed for a hire wired connection to your vehicle.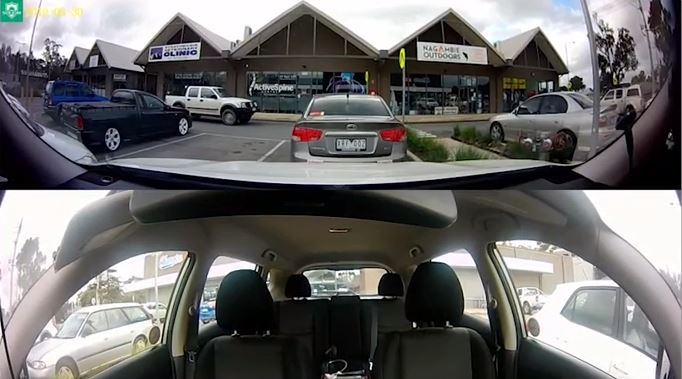 Unfortunately, you can't use these modes in an interdependent way. In some security cameras, you can set things up so you'll only get an alert when a conjunction of several sensors are set off. For example, a motion sensor that also requires the noise of breaking glass. But those kind of features really only serve to slightly lower the rate of false positives you might get while recording. In other words, it's usually easy to live without them.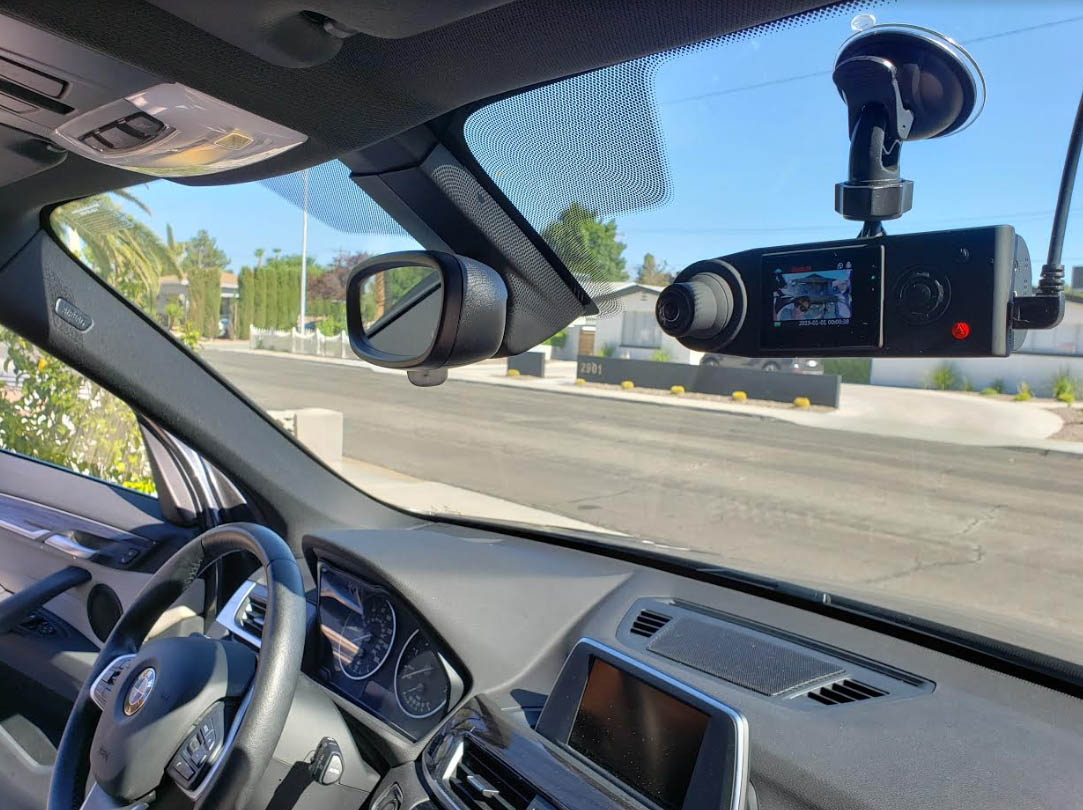 The G1 has a couple of ease of use features as well. For instance, the time lapse feature allows you to capture motions, events, or changes taking place over long periods of time. It's a great for saving space with a compressed video clip. And having support for loop recording means you don't have to worry about micromanaging your camera's storage. The G1 will overwrite the oldest footage on the camera by default when you run out of space.
The G1 supports micro SD cards as large as 128GB. It helps to get cards specifically designed for dash cameras as well because they're made to endure chronic amounts of writing and rewriting. Given that you're shooting in 1080p; it should be no trouble to shove weeks' worth of recordings into this camera.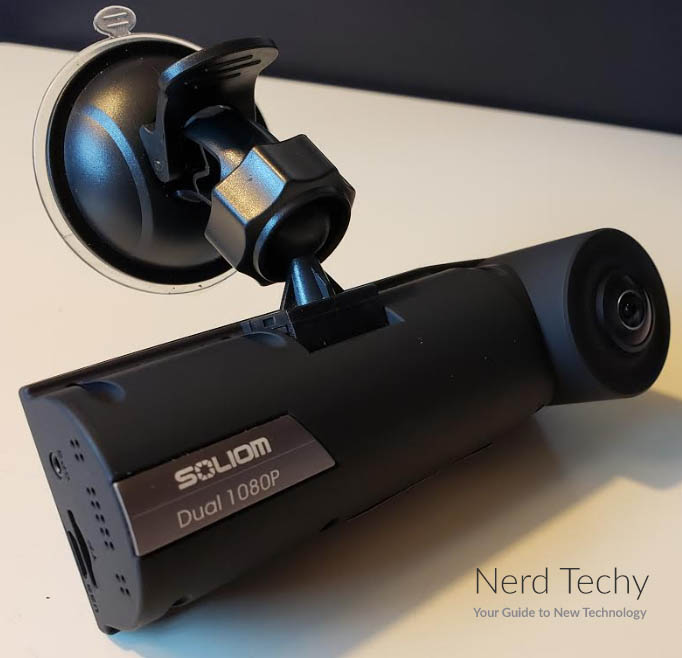 Other Considerations
The Soliom G1 includes the dash camera, user manual, suction cup mount, car charger, USB data cable, and a reset pin. Nearly everything you need to get started, with one limitation. The SD card is not included, and there's no native storage capacity. So in order to start using this dash cam, you'll need to get your hands on a micro SD card.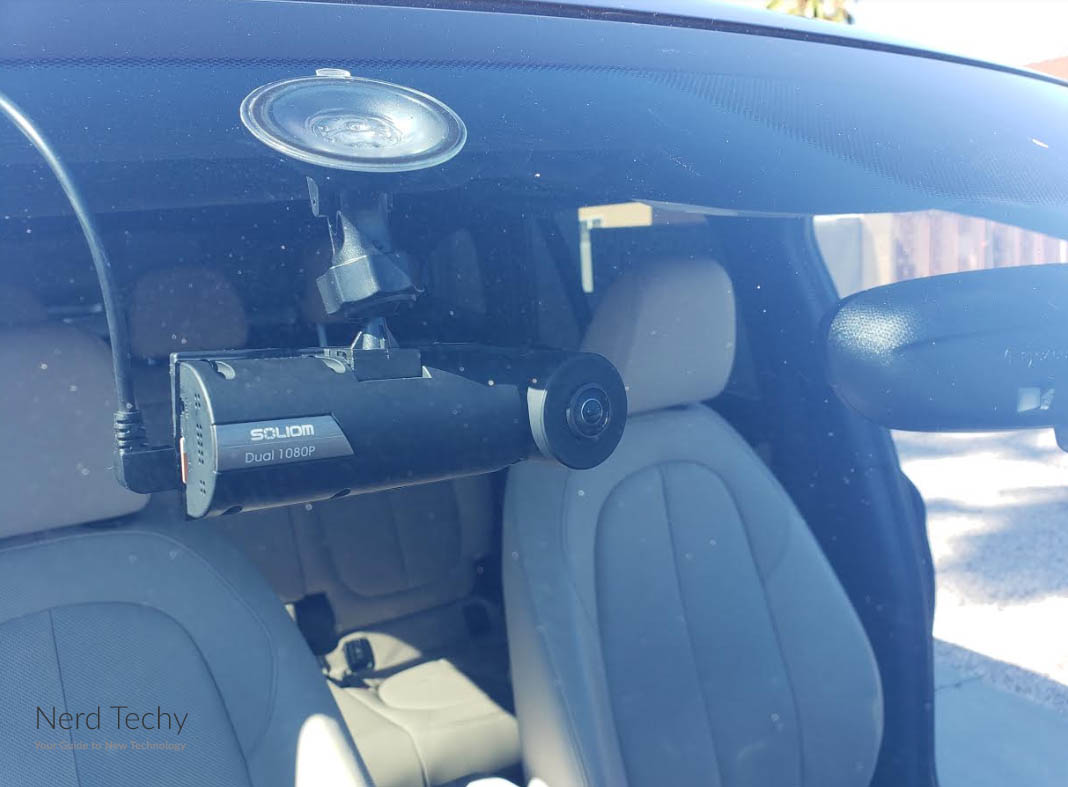 Anytime you're selecting an entry-level camera like the G1, you're not going to end up with every possible feature out there. In this case, it may be worth noting the G1 doesn't have any app support. If that's something that you can live without, then great. Because adding app support to a camera like this would raise the price of this camera by another 50% or so. Since there's no Wi-Fi connectivity, you're also not interconnected with cloud service. Everything ends up on hard storage.
Who Should Pick the SOLIOM G1 380° Dual Dash Cam?
Instead of focusing on refining the parking mode features, the Soliom G1 380° Dual Dash Cam is focused on making a camera which is uniquely suitable for taxi drivers and people working in rideshare. Both the internal and external cameras are pretty strong. Both are well suited for daytime and nighttime shooting.
When it comes to more generalized dash camera features, the G1 isn't so bad. The included parking features have some limitations compared to a camera made specifically for its parking features. But having motion detection is really all that most people end up needing, anyway. If you were only looking to prioritize security modes, the G1 might not be your first choice.
The split view between the front of the road and inside the cab works very well in execution, but it does make the G1 a little niche compared to a generalist dash cam. But for people in this particular niche, it should serve very well.