If you're willing to accommodate slightly larger headphones, then wearing over-ear headphones is usually the way to go. Compared to basically all other forms of headphones, over-ear headphones are superior in just about every way. For instance, they tend to be more comfortable and they tend to have larger batteries.
But there's actually a lot of different ways to build portable over-ear headphones. Depending on where you plan on listening to music, different headphones might always be appropriate.
TaoTronics SoundSurge 46 Hybrid Active Noise Cancelling Headphones
Even though TaoTronics doesn't have the same level of name recognition as a brand like Sony, they're actually a pretty strong player in the audio space. And their recently released SoundSurge 46 have basically three strong-points. First and foremost, these headphones have an above-average battery capacity. That's really important for someone who intends on making heavy use of active noise cancellation features.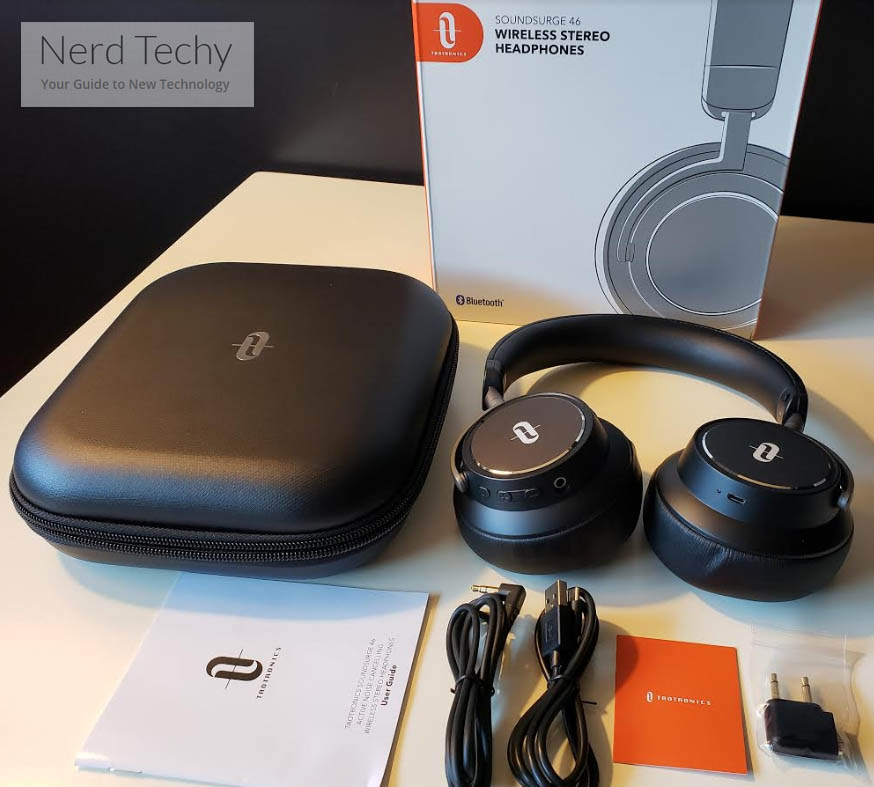 Which brings us to ANC, which is actually the second strong-point for the Surge 46. Though this ANC isn't the best on the market, it's rather competitive for this price range. And it outcompetes basically all of the other lower-tier brands when it comes to clarity.
The third thing the Sound Surge 46 do well is calling features. They've got a pretty solid microphone backed by the right noise cancelling technologies for great call performance. Those features are also terribly intuitive and easy to use. But when it comes to the rest of the attributes of the Surge 46, everything tends to be pretty middle of the road.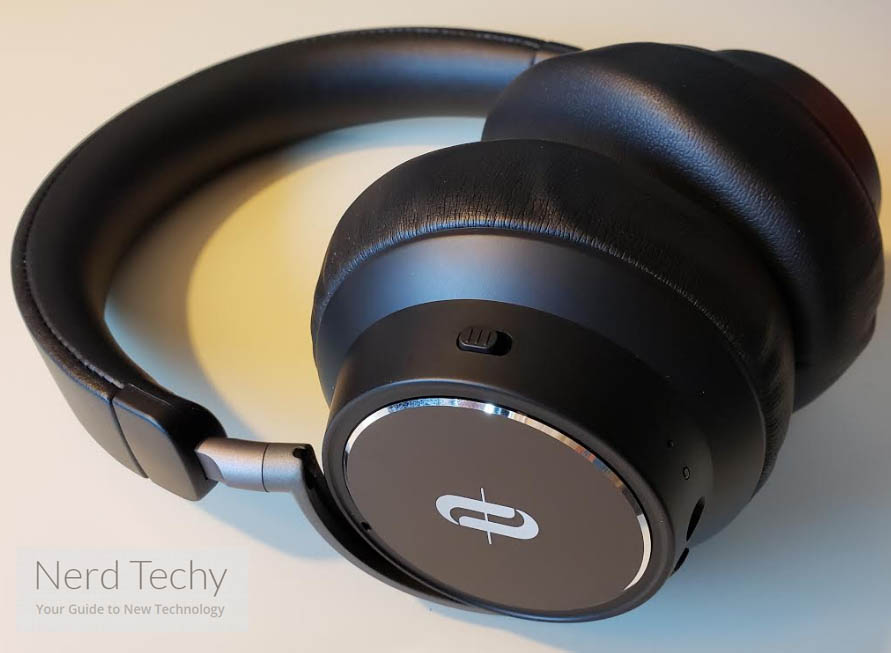 Design & Layout
Aesthetically, TaoTronics headphones have always looked a little generic. These are no exception, with the predominantly black design being easily mistakable for a thousand other pairs of headphones. But when something works, it works. This design is used so often for a good reason.
On the right ear cup, there's a small tactile switch that can be toggled up or down for ANC. And right beneath that, there are a pair of small multi-function buttons which are used to control the headset. If you're trying to raise the volume, swap between tracks, or interact with callers, you're going to be using those buttons. Each button is discreet and easy to distinguish from the other.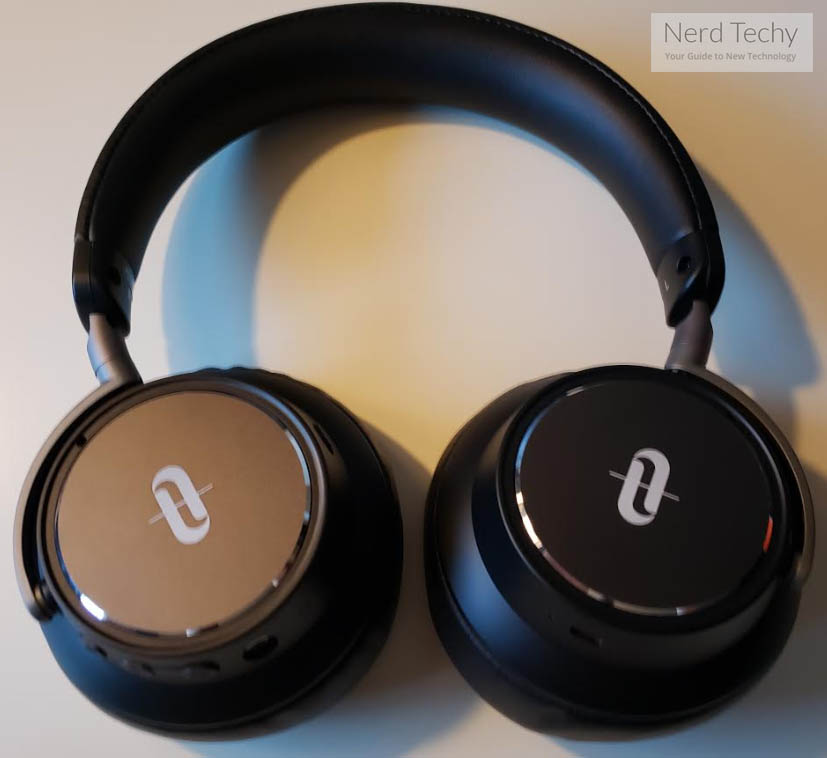 Still, multifunction buttons have strengths and weaknesses. These are easy to distinguish from each other using only your finger, which is a good thing. But stacking six controls inside two buttons is always going to make things a little more complicated. At least, until you've got past the learning curve.
Apart from the headphones, TaoTronics SoundSurge 46 include a carrying case, 3.5mm aux cable, USB charging cable, airplane adapter, and a user guide. The carrying case isn't anything impressive, but it does manage to keep all of the kit together.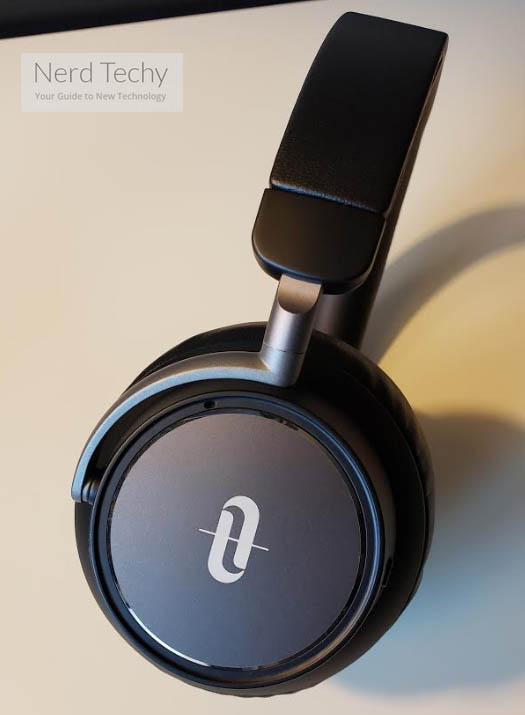 Comfort Concerns
The headband can be pulled up or down to add another two inches or so to the total size of these headphones. Since these are supposed to be portable, they've gone with a thinner headband that's only lightly padded. Given the generally lightweight deign, this light padding is still good enough to maintain comfort. But it's not on exactly the same level as a pair of wired headphones that don't care about portability.
Past that, the cushioning is pretty standard. It's a basic memory foam lined with a black fabric that's intended to approximate faux leather. Aesthetically, these could easily be mistaken for about a hundred different pairs of headphones. But in terms of comfort, they're a little bit smarter than they initially let on.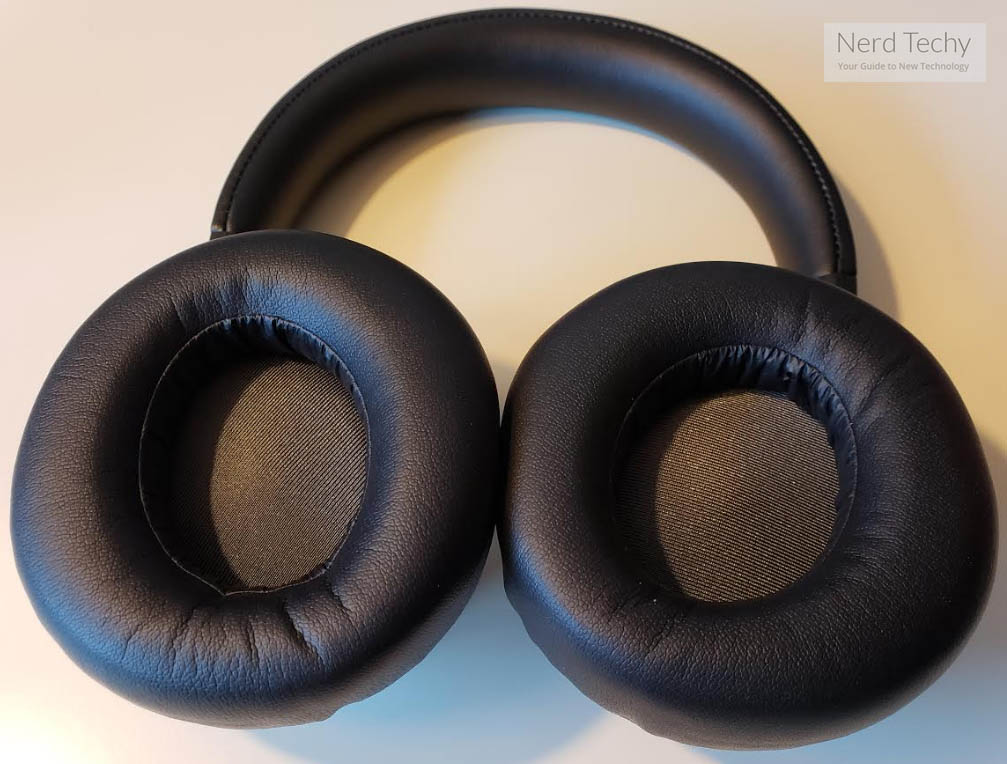 One thing that's not easy to notice is how there's an adjustable headband that allows for a 90-degree rotation both left and right. For wearing them comfortably on your head, that rotation allows for heads of different shapes and sizes to still end up with a cozy fit. It also makes these headphones a bit more resistant to damage during transportation because they store away a lot safer.
When you're trying to make headphones more compact and portable, you usually want to make them a bit smaller. You want to cut back on the foam padding a little. And that's exactly what TaoTronics has done with the SoundSurge 46. The ear cups are actually pretty deep for a pair of wireless over ear headphones, but the size of each earcup leaves a little to be desired. If you have large ears, you may find these slightly smaller ear cups will press against your ear lobe, which may not be comfortable for long listening sessions.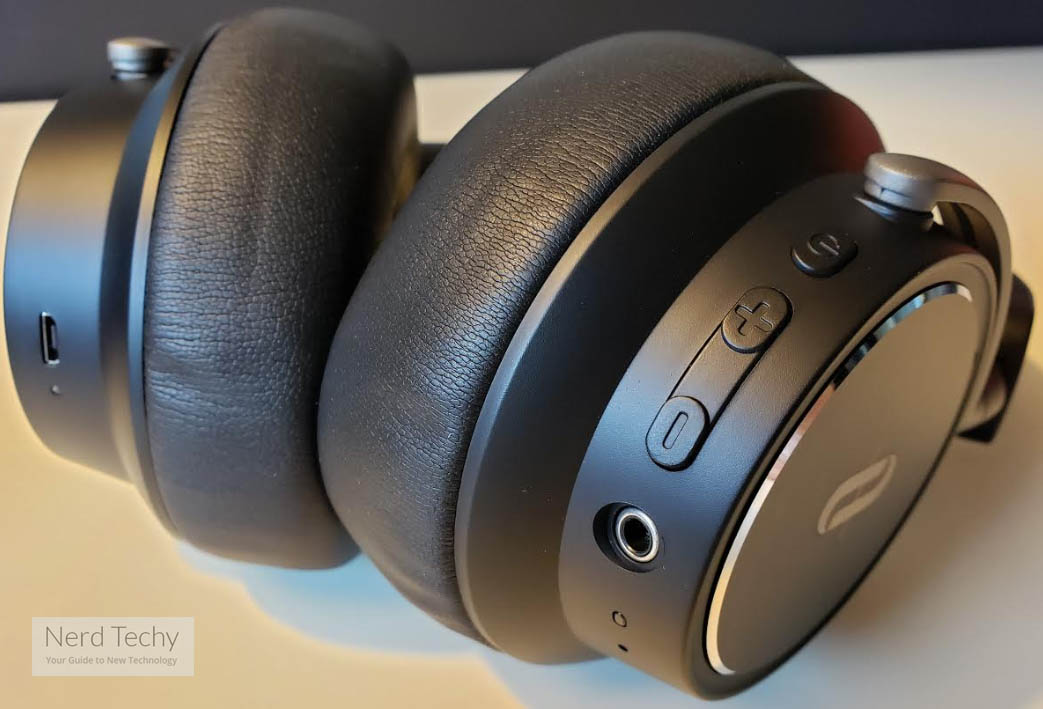 Wireless & Call Features
The Sound Surge 46 are Bluetooth headphones, and they support Bluetooth 5, the latest iteration of the format. Running Bluetooth 5 is particularly advantageous for earbuds like these because it helps ensure a better sync between each bud. It's also in part responsible for the reasonably strong battery lifespans that we'll cover in a moment.
In addition to all that, these earbuds have a wireless connectivity range of about 30ft. That's fairly standard for wireless earbuds because it tends to be more than enough for ensuring a stable connection. You usually don't want longer connection distances unless you're going to use them. Better to only pay for the features you actually care about.
When it comes to calling features, that kind of thing can be hit or miss on headphones like these. But the TaoTronics SoundSurge 46 Hybrid Headphones make use of cVc 6.0 noise cancelling tech, which really levels things out. That makes them pretty great for taking hands free calls and not having to worry about whether you're being heard on the other end of the line. It's not on the same level as running a two-mic configuration, but it's the next best thing.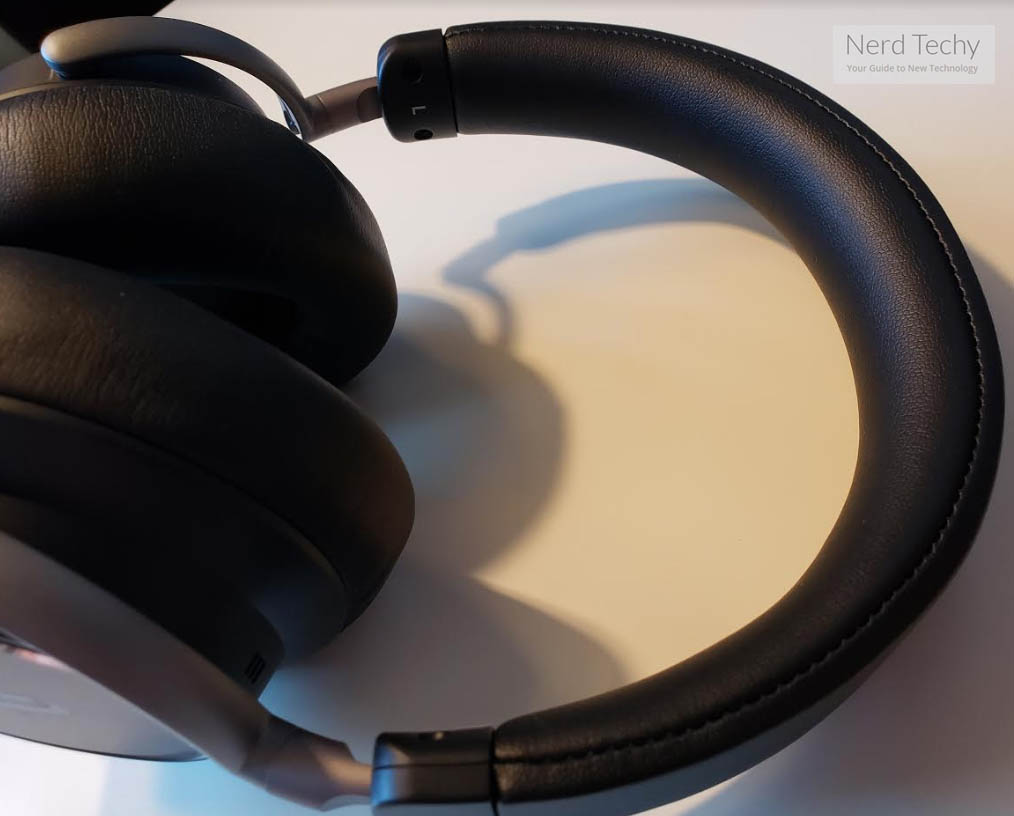 Battery Lifespan
As mentioned earlier, there are some rapid recharge features. The battery can recover two hours of playtime from around five minutes of charge time. So if you forgot to recharge your headphones but you need to head out the door, even giving them a couple of minutes of recharging at the last possible moment can really squeeze in a lot of extra playtime.
A complete recharge can be done in around 45 minutes. That's more than twice as fast as it takes to recharge a typical pair of over ear headphones. The full battery is supposed to be able to accommodate around 30-hours of playtime. How often do you really reach the 30-hour mark?
That partially depends on you. Are you listening to your music at very loud levels? Are you taking many calls? Are you outside in a snowstorm? Different types of use will drain the battery at different rates. Nevertheless, the 30-hour estimate is actually pretty close to home. At least, until you start thinking about the ANC.
The biggest battery variable for an ANC headset is whether or not you're using the ANC. Because running ANC takes about as much power as running Bluetooth. So that 30-hours of playtime can be shrunk towards 20-hours if you've always got the ANC running. Notably, the ANC can be utilized even while you're not listening to music. So it's important to always remember to turn off the ANC after you're done using it.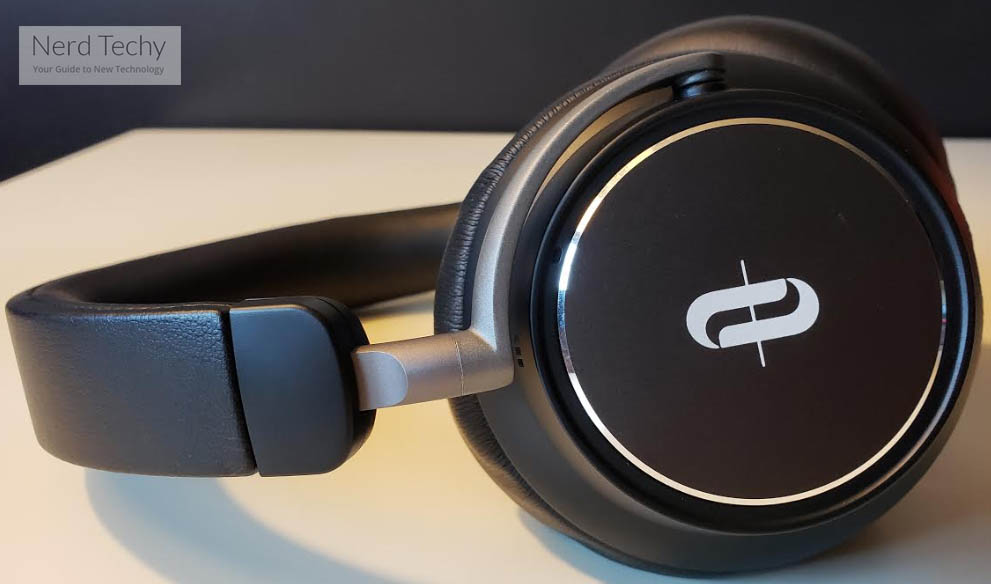 Audio Quality & ANC
The 40mm audio drivers are about averagely sized for over-ear headphones like these, though for wireless cans, manufacturers often go with slightly smaller 35mm drivers. These full sized drivers are better at capturing deep bass performance.
As is true with nearly all ANC headphones, the SoundSurge 46 will perform their best while the ANC is engaged. The ear cups don't squeeze that tightly against your head, by design, so that the ANC is able to work more efficiently. But comfort aside, intentionally letting-in noise isn't great for those times you don't feel like running the ANC.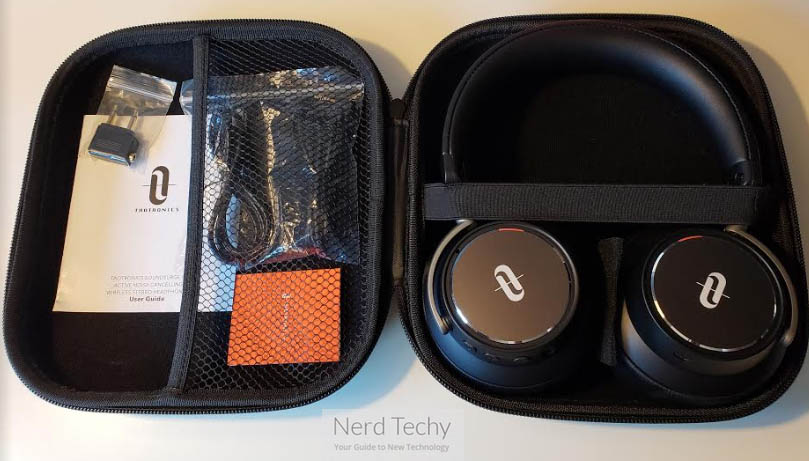 They've estimated that with the ANC, you can reduce low frequency sound by around 96%. It's not necessary to get caught up in those numbers, they're not nearly as descriptive as they appear to be. Because that measurement is taken with a fairly narrow conception of what constitutes low frequency sound. Nevertheless, like any ANC, this works quite well at eliminating lower bass tones. Once you get towards the middle of the tonal range, where most voices reside, the effect is pretty washed out. And high treble tones pass through the ANC undisturbed, as is to be expected.
Even though it can seem otherwise, not all ANC is identical. Higher end headphones tend to have better ANC. You can even find headphones with several different levels of ANC which you can move between. That way, if you still need to maintain some environmental awareness, you can run the ANC without making yourself totally oblivious to the area around you.
Though these headphones do not offer levels of ANC, their standard ANC feature is surprisingly competent. This kind of thing can be hit or miss when it comes to generic brands like TaoTronics, but they seem to have gotten this right.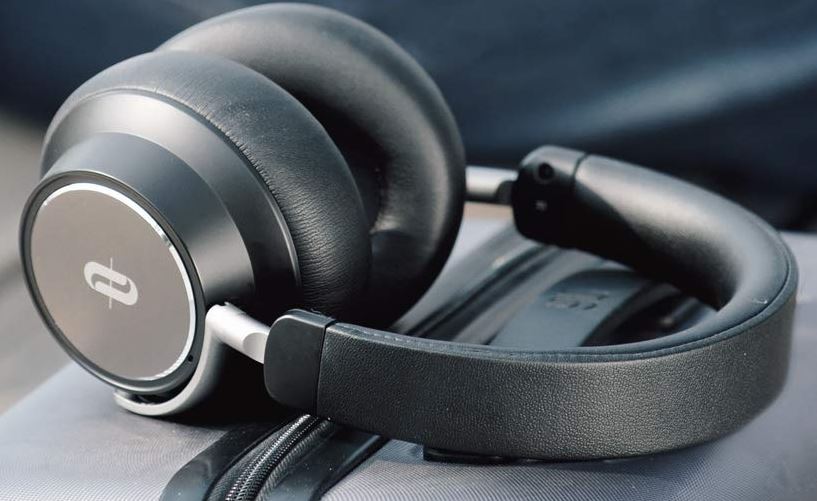 Who Should Choose TaoTronics SoundSurge 46 Hybrid ANC Headphones?
The SoundSurge 46 are partially defined by their ANC. Without the ANC, these headphones end up sounding pretty close to average. With the ANC running, the battery lifespans start to slip lower than advertised values. But not so low that they become problematic.
Using cVc noise cancelling goes a long way towards creating smooth and clear calls. Though there aren't any fancy multiple microphone configurations at play here, it's more than enough for the kind of circumstances these headphones will be used in. Another thing that helps to define these headphones is their rapid recharge. These kinds of features are still pretty uncommon on midrange headphones.
And it's not hard to see the appeal of being able to get hours of charge out of minutes of charging. For someone who values a generally strong battery, solid calling clarity, and effective noise cancellation, the SoundSurge 46 just might make sense.