When you've decided to use over-ear headphones, protecting yourself from noise can be challenging. Because with passive noise protection, it's necessary to build a physical barrier against your ear canal and ambient sound. Doing so requires a fairly tight seal between your head and the headphones, which means using clamping force.
If you're only going to be using your headphones for an hour or two, that kind of thing isn't going to bother you. But for wearing them over a longer period of time, you usually don't want headphones forcefully clamped against the side of your head. It can be a real drag on comfort, which has traditionally meant over-ear headphones were designed with mediocre noise isolation.
TaoTronics SoundSurge 60 Active Noise Cancelling Headphones
But active noise cancellation really helped change that. Naturally, ANC and passive noise cancelling are not interchangeable. But one does complement the other rather nicely, especially when it comes to over-ear headphones like the SoundSurge 60 (Model: TT-BH060). These headphones were clearly made for people who are on the go. That's made apparent by a couple of different features.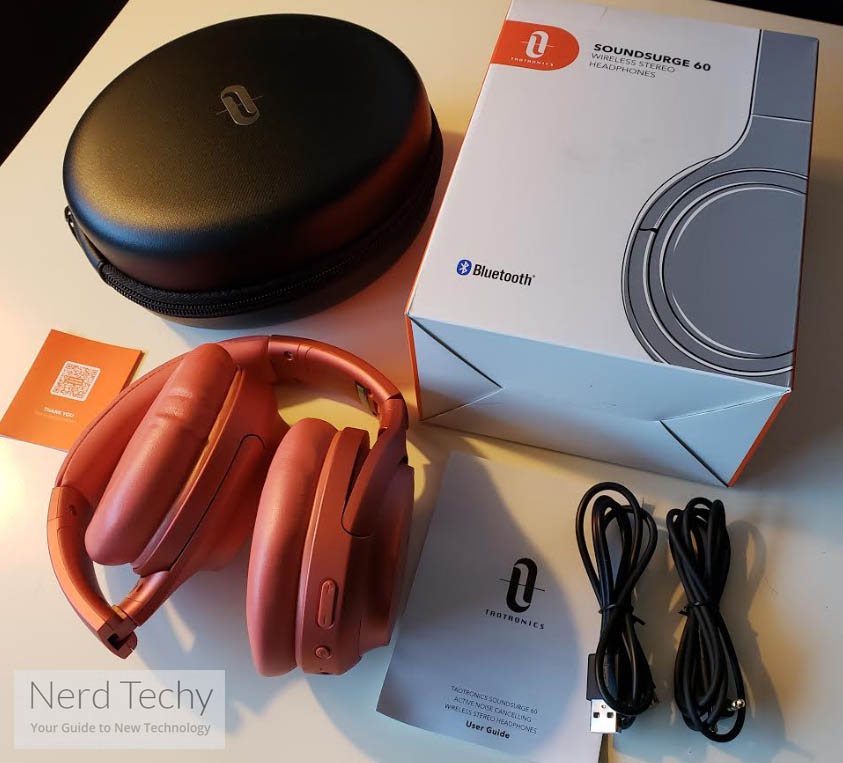 First and foremost, these headphones are a bit flashier than most. Compared to standard matte black, these will catch the eye. The way they've combined passive noise protection and ANC is also pretty useful for people who are moving through the world because ANC is great at eliminating the noise of vehicles and engines.
Every pair of headphones will have strengths and weaknesses, which will make them more appropriate for certain kinds of activities, and less appropriate for others. For about a dozen different reasons, the TaoTronics SoundSurge 60 are probably not a top choice for someone who's interested in cardiovascular exercise. Though they do have pretty good stability on your head, they're not intended for athletes to wear while working out. How about walking around town? No problem.
The SoundSurge 60 also have some calling features that help distinguish them a little bit more, though it's really the rapid recharge features that have made the latest line of TaoTronics headphones so noteworthy. But how well do these features work in execution?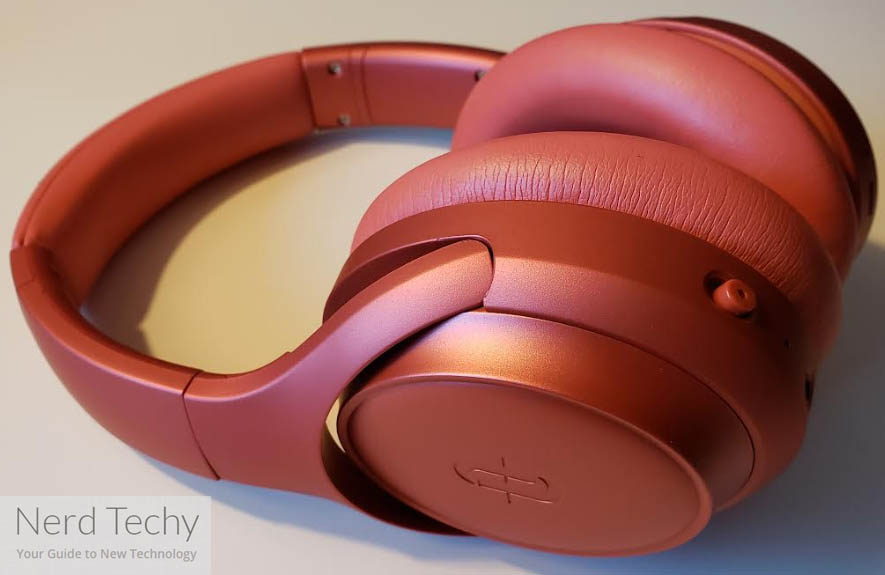 Design & Layout
Aesthetically speaking, SoundSurge 60 are available in orange and fresh mint. Both the ear-pads and the headband keep the same uniform color, making each of pair stylistically unique. Beyond the color choices, these headphones are made in a pretty standard and straightforward manner.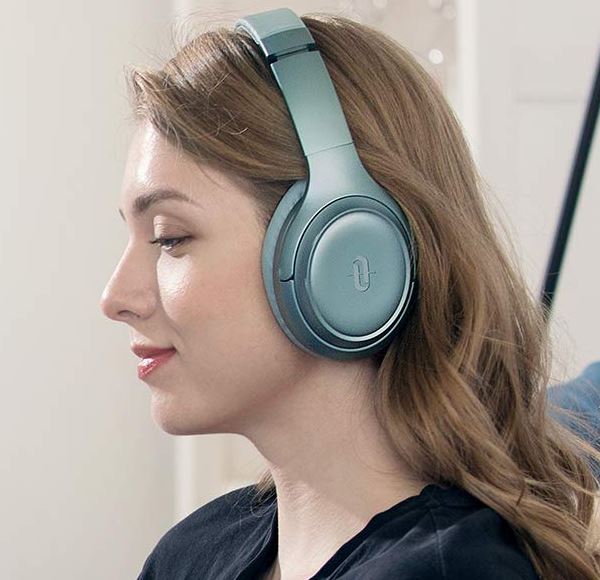 In an age where it's increasingly common to have touch-interface on headphones of all types, it's worth noting these headphones make use of more traditional analogue inputs. The bottom side of the left earcup has a 3.5mm audio port, a switch that's used for ANC, and two multi-function control buttons.
Touch controls aren't right for everyone. When you're wearing gloves that might interfere with touch sensors, analogue buttons can make a lot of sense. Sometimes people prefer using analogue buttons for other reasons. In any case, this interface is simple, and you can master using it in about ten seconds.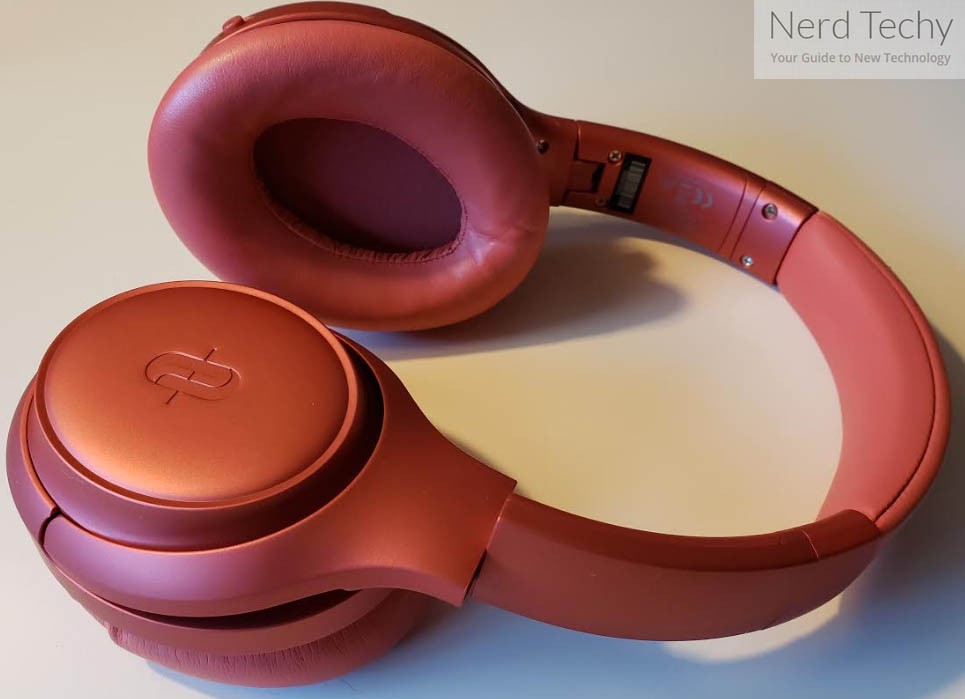 Comfort Concerns
Providing a comfortable experience is a general goal for basically every pair of headphones. And plenty of headphones manage to be comfortable for at least some period of time. But how long do they stay comfortable? Can they stick with you over the course of an entire day? That's not always the case. Because the different ways that headphones are worn can have a drastic impact on comfort over time.
Here you'll find a widely adjustable headband helps ensure these headphones can accommodate a variety of different head sizes. The headband can be drawn and retracted by about two inches in total, which naturally adds to its portability. Speaking of portability, the ear cups are able to rotate in a 90° range around their axis. That makes these headphones more adaptable for comfort, and more protected from damage during transport.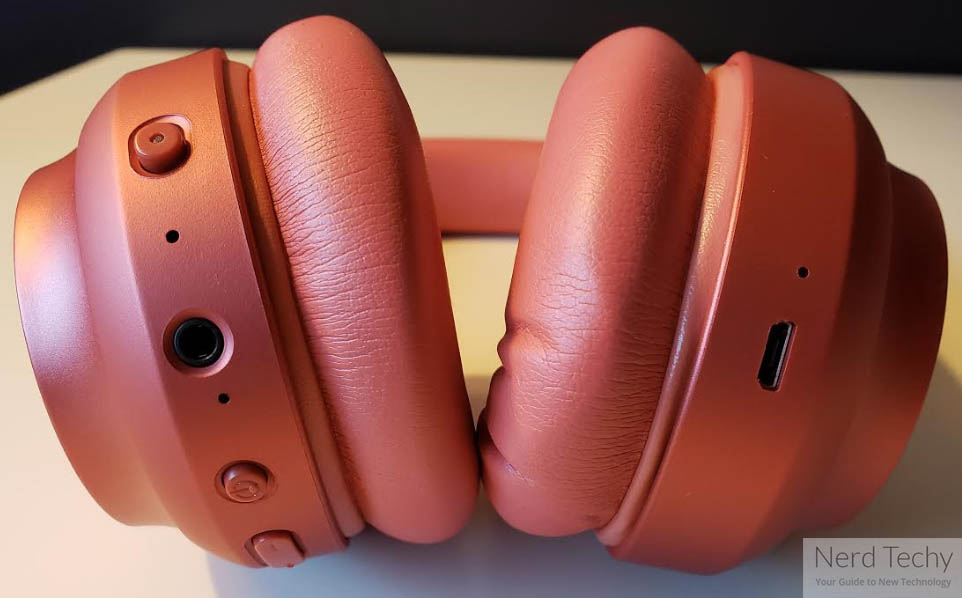 Actually, these headphones are also foldable. Because the headband doesn't contain a solid spine, you can essentially bend them in half without breaking them. So in addition to being resistant to damage, that also makes these headphones fit better when pressed against the side of your head. Want to take-off one ear-cup so that you can hear a nearby person talking to you? The SoundSurge 60 will bend and flex as you need.
One area where their comfort doesn't get high marks is with heat dissipation. The fabric on the earbuds is smooth and resilient, but it's not exceptionally breathable. This is a problem that's endemic to almost all over-ear headphones, so it's hard to pin too much blame on the SoundSurge 60.
Wireless Connectivity
For a wireless connection, these headphones make use of Bluetooth 5. It's not that important to run Bluetooth 5 for over-ear headphones because a lot of the advantages are aimed towards true wireless earbuds. But nevertheless, it's nice that these headphones will automatically sync up with your devices as needed. The use of Bluetooth 5 also has a marginal effect on their battery capacity, which we'll look at in a moment.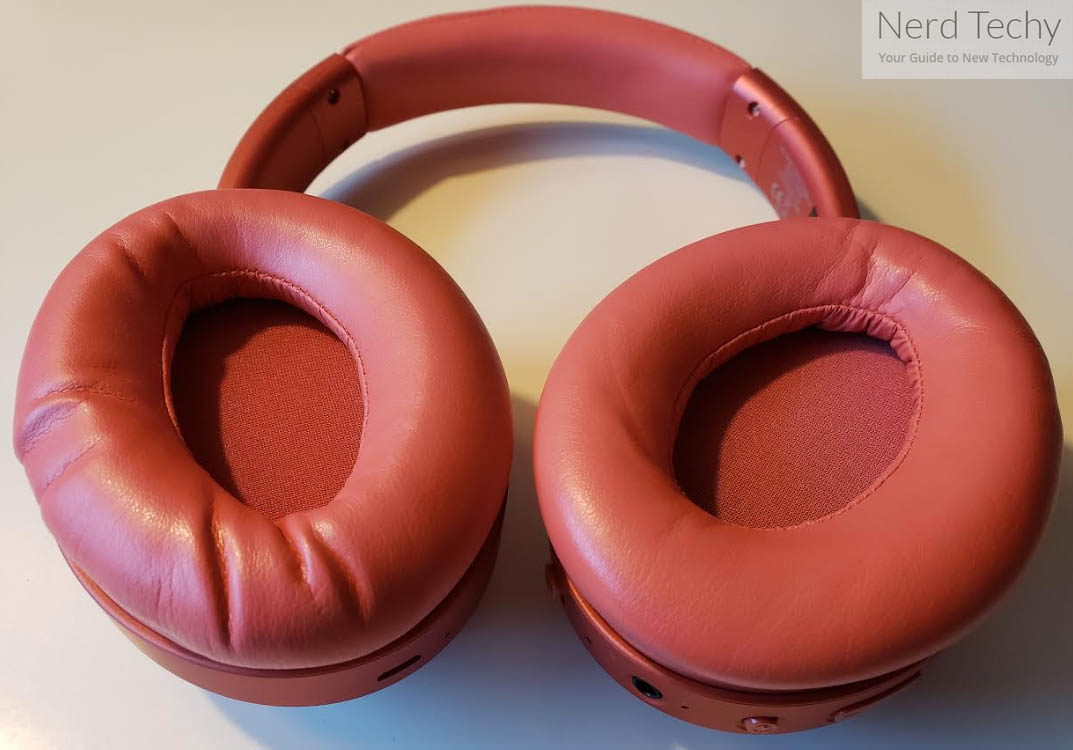 First it's worth pointing out one small highlight in the realm of calls. These headphones make use of CVC 6.0 noise cancelling tech, which is pretty good for ensuring those who you call can actually hear you. Along with the front placement of the mic, the SoundSurge 60 are able to deliver a fairly professional level of call quality.
Battery Lifespan
As mentioned above, TaoTronics has been rolling out rapid charge features on each of their new headsets; including the SoundSurge 60. It takes around five minutes to restore about two hours of playtime from these headphones. That means even if you drained the battery, and you forgot to recharge them until the last possible moment, you're not necessarily out of luck.
For getting everything back to 100% capacity, finishing a full recharge takes about 45 minutes. That's also comparatively fast when you're looking at similar over-head headphones. Usually, you end up recharging for about two or three hours. In any case, after you've taken the time to full charge these headphones, you can anticipate around 30 hours of total playtime from them.
At least, until you try using the ANC. That changes the battery playtimes, running you closer to 20-hours in more realistic scenarios. That's still high average for virtually any type of over-ear headphones, especially when compared to other ANC headsets. You don't see them go beyond 30-hours that often because the battery weight starts to become a bit encumbering. So it's easy to give a thumbs up to the battery lifespan on the SoundSurge 60.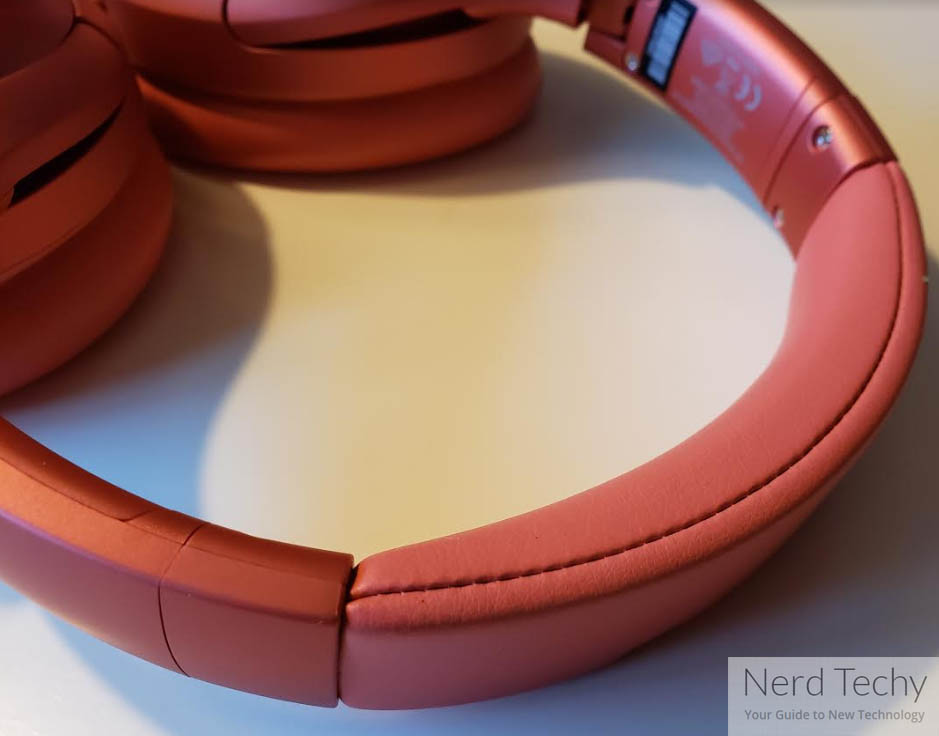 Audio Quality
Because these are over-ear headphones, the SoundSurge 60 are constructed with full sized 40mm audio drivers. Often time, audio developers shrink their drivers in order to make headphones a bit more portable. But running full sized drivers like these is also advantageous. They're able to create a deep thumping bass, especially when compared to what in-ear headphones can do. So the fact they didn't downsize the drivers to a smaller 35mm kit is very nice.
ANC adds a fair amount of price to any pair of headphones. In this case, you'll find the TaoTronics SoundSurge 60 end up sounding pretty average while their ANC is flipped off. But when the ANC goes on, that's when you can really hear the unique characteristic clarity of these headphones.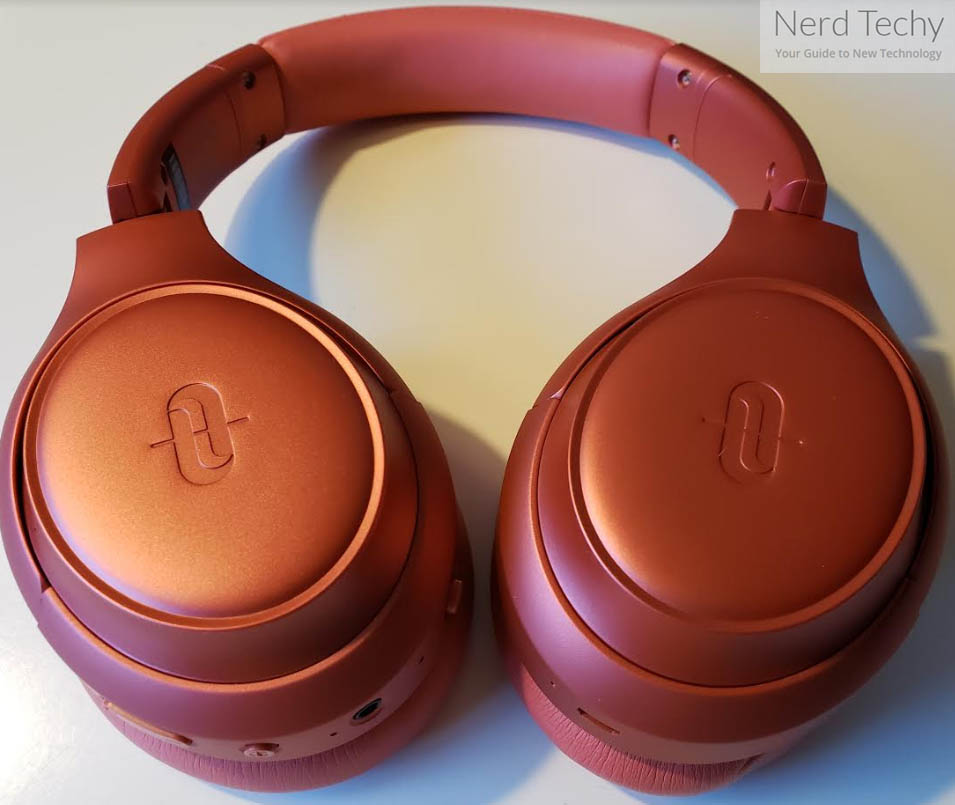 As with almost any pair of headphones that offer ANC, the ANC often becomes a bit essential to your listening experience. Again, it's only when you ignore the ANC that you'll end up with the advertised 30-hours of playtime. But that doesn't necessarily mean you can't get those longer playtime outcomes while enjoying the ANC.
Remember that 3.5mm audio port from earlier? If you were looking to find other ways to conserve power, the SoundSurge 60 are able to make a wired connection, which means you can switch off Bluetooth. Since Bluetooth and ANC use comparable amounts of battery, this is a great way to stretch out your battery lifespan. Though running the wired mode full-time, you'd be able to add another 4-5 hours to your lifespan at most.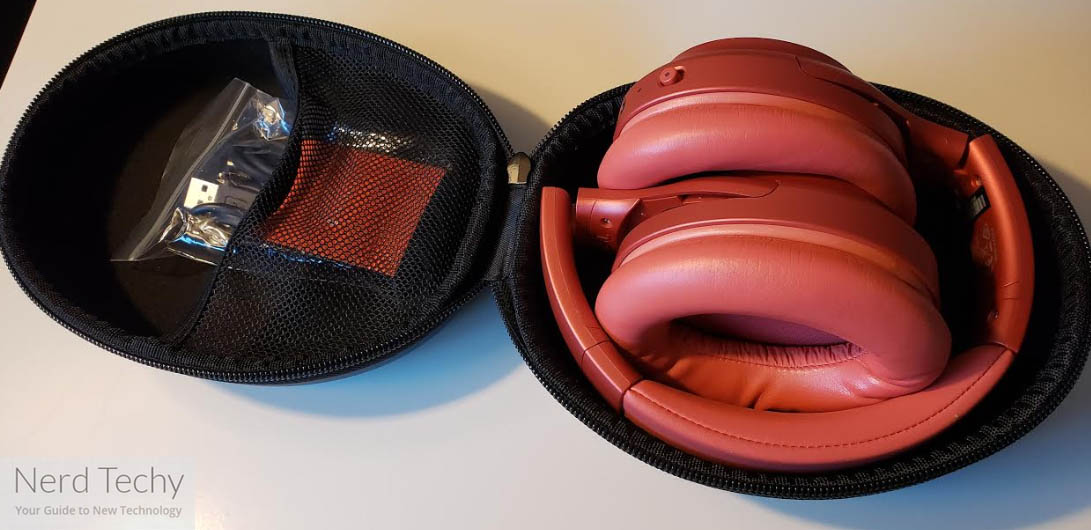 Other Considerations
In addition to the headphones, SoundSurge 60 come with their own carrying case. The carrying case is slightly resistant to moisture, but it's not something you'd want to leave outside while it's raining. Think of it more as spill-resistant. Apart from the carrying case, they also include a 3.5mm audio cable for wired operation, and a standard USB charging cable. The USB cable is only about six inches, but that does make it good for shoving inside the case with the headphones.
Who Should Choose the TaoTronics SoundSurge 60?
Aesthetically speaking, the SoundSurge 60 have an unorthodox style that's a bit like a breath of fresh air for the industry. Especially compared to the mundane black headphones that dominate the market. Outside of style considerations, they've got rock solid Bluetooth connectivity, enough adaptability to swap into wired operation, and come with a carrying case that helps you keep them folded up and safe while not in use.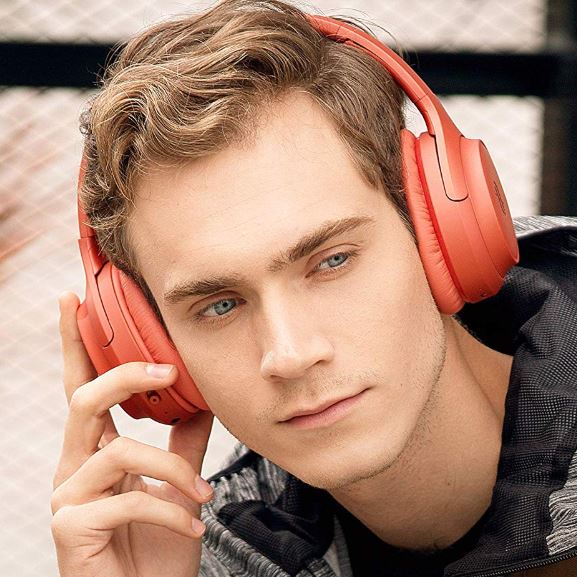 When it comes to audio quality, these headphones tend to be a little run of the mill for this price point. And that's somewhat expected because of how strong almost every other feature is on the SoundSurge 60. For instance, they've got both a fantastic battery capacity, and a rapid recharge feature that really helps to distinguish them.
Though they don't mention it much in their own advertising, TaoTronics has included some fairly decent ANC inside of these headphones. Compared to a brand like Bose, their ANC feels a bit dated. For instance, it doesn't have a bunch of different levels of stronger or weaker ANC you can select between. But for a single-mode ANC, it does work impressively well.
This headset is also not getting much attention for its great calling features, but TaoTronics didn't skimp on those, either. All in all, that makes the SoundSurge 60 a good choice for people who want to have a higher range of quality on basically every feature provided by their headset.
Meet Derek, "TechGuru," a 34-year-old technology enthusiast with a deep passion for tech innovations. With extensive experience, he specializes in gaming hardware and software, and has expertise in gadgets, custom PCs, and audio.
Besides writing about tech and reviewing new products, Derek enjoys traveling, hiking, and photography. Committed to keeping up with the latest industry trends, he aims to guide readers in making informed tech decisions.