Maintaining clean air around you can actually be a tremendously healthy habit. Because you don't need to be allergic to pollen to benefit from sucking pollutants out of your air supply. But if you do suffer from those kinds of issues, you almost certainly want a greater degree of reliability from your purifier, right?
Levoit LV-H134 Air Purifier
For the average person, the size of the unit is usually the most important thing to consider in an air purifier. That's because the size will ultimately determine almost everything else you care about. It'll help determine whether or not the air purifier is effective at cleaning the air around you, it'll help determine if the air purifier makes too much noise, and so forth.
Where does that leave the Levoit LV-H134? Well, in more ways than not, the H134 is similar to almost every other purifier in this series. Even though there are a couple, the control differences are fairly small. It's actually differences in capacity that help to define this particular unit. The H134 is able to accommodate around 710 square feet of space, which would be sufficient for an enormous 27 x 27-foot room. That would also make this unit perfect for smaller apartments and office spaces, provided you have doorways open between each connecting room.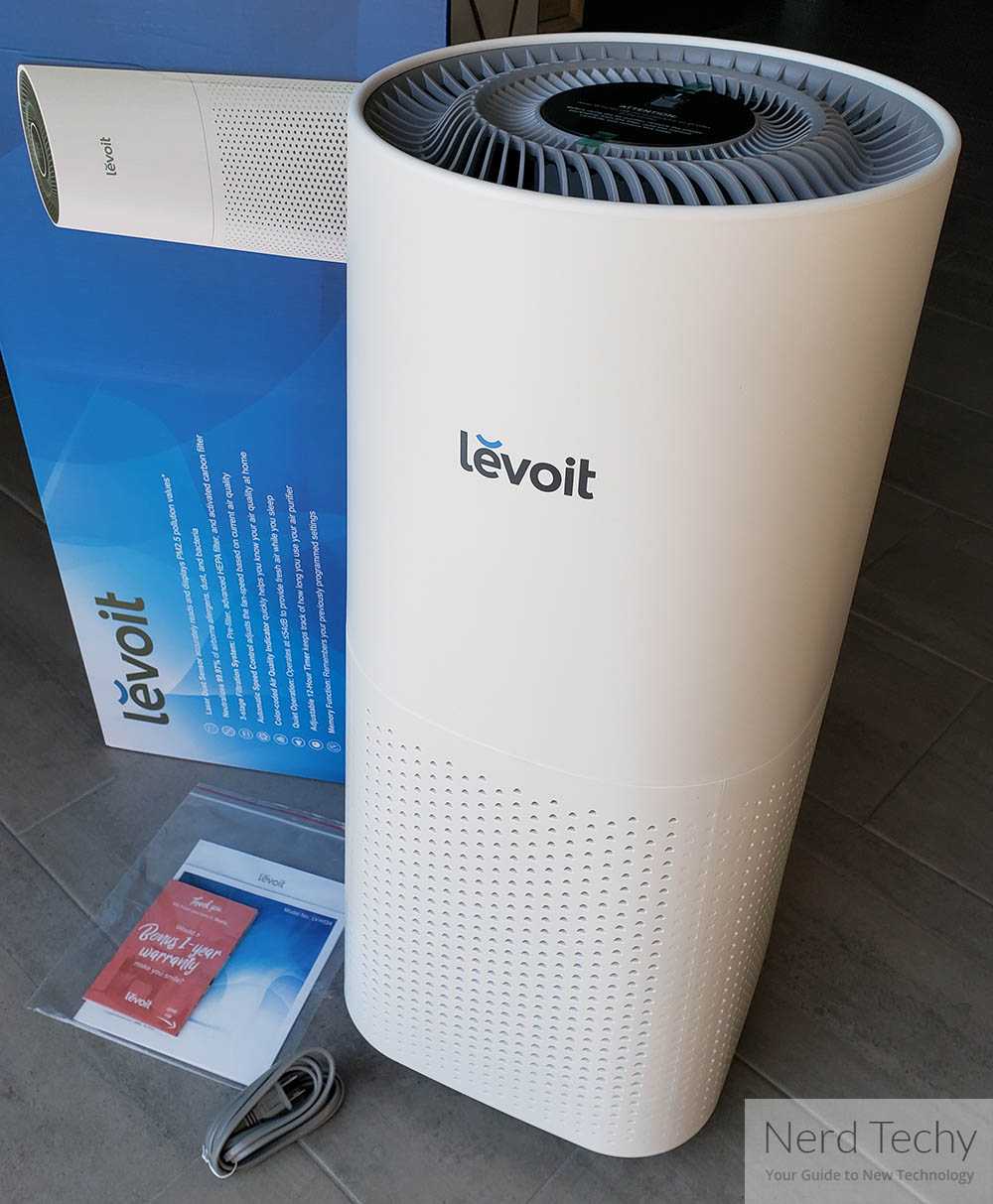 If you were looking for Wi-Fi connectivity features like the LV-PUR131S offers, you won't find them here. But short of that, the H134 should be able to deliver a little more than the average person has come to expect from these kinds of purifiers. From its air sensor system to its unique operation modes, there are more than a couple small defining features here. But how many of them are worth the price?
Design & Interface
The LV-H134 measures 32 x 16.5 x 15.5 inches. That makes it essentially the same size as the smaller units in this series, except in the dimension of height. Standing about 2.5ft tall, this air purifier certainly has a presence within a room, even while running in a noise-free fashion, which does require you to think about placement of the unit.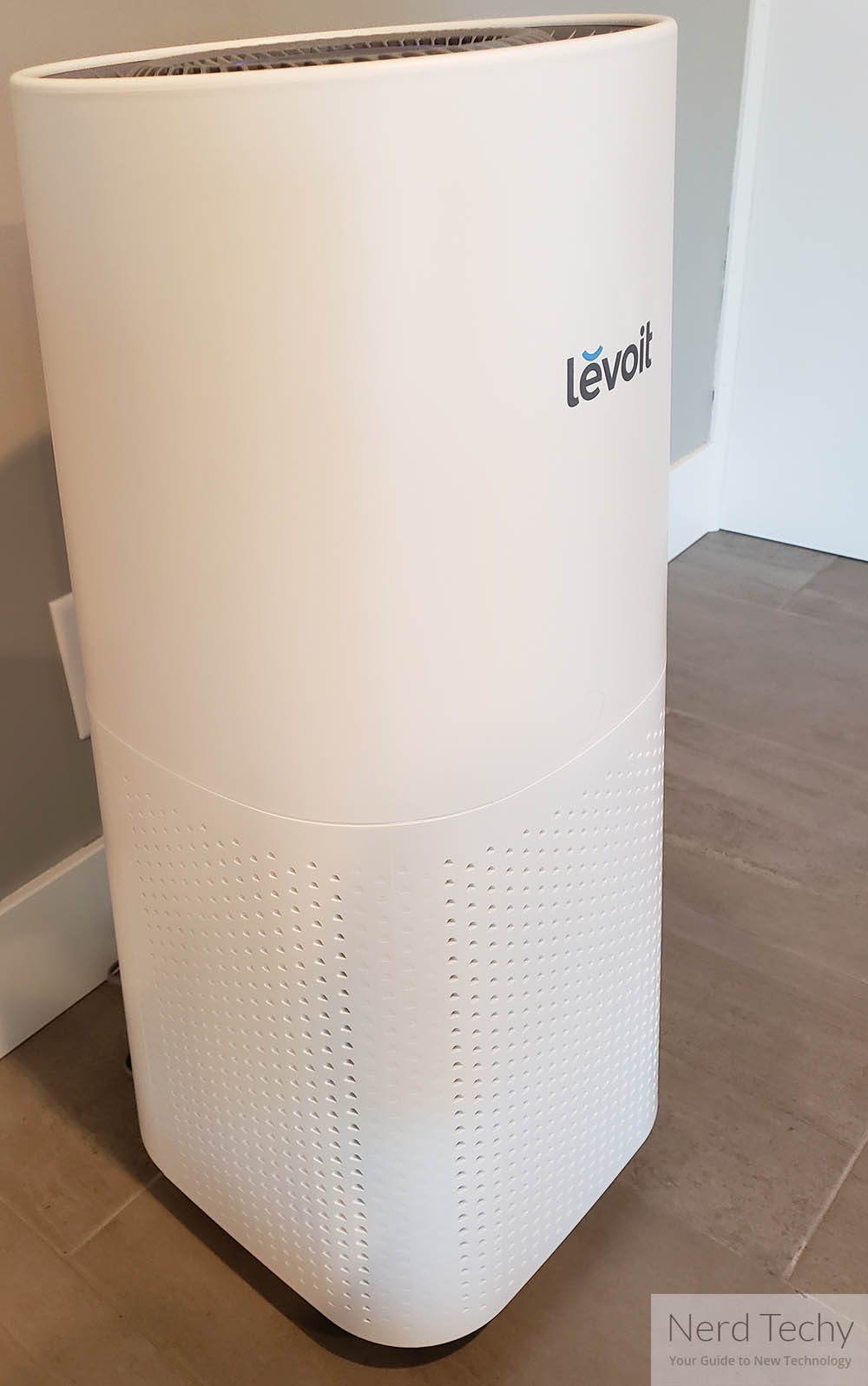 On the top of the unit, you'll find a pretty impressive display. The display is about the size of a smartphone screen, and is crafted into a stylish circular design. Within the circle, you'll find a digital power button, a timer button, a speed button, and a variety of extra buttons that can be used to move between the different usage modes. The center of the display also gives you information about the quality of the air around you, and whether or not it's time for you to consider replacing your filter.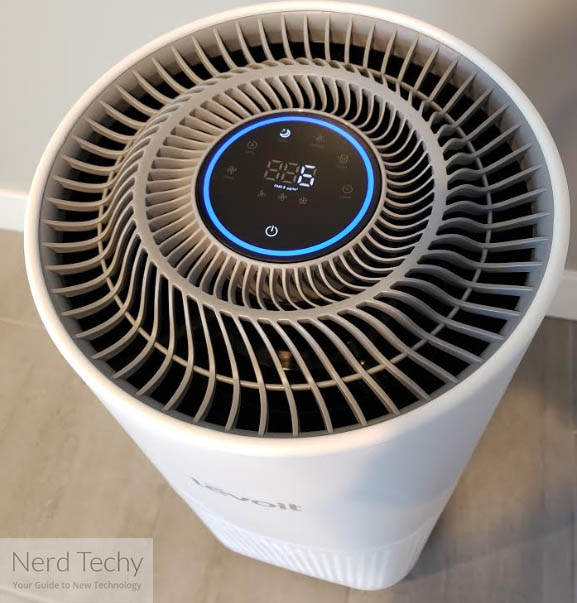 When the colorful ring around the display is blue, that means the air quality has been deemed very good by the internal sensors. When it goes green, that means the air quality has become good, which means the levels probably won't be agitating to people who have allergies… but could be improved. When the sensor goes orange, that means there's a moderate amount of pollutants in the air, and you probably want to increase the speed of the fan to help the machine catch up.
If it cannot catch-up after several hours, that would probably indicate you're either inside a room that's being constantly filled with new pollutants, or you're using the purifier in a room that's far too large for it to handle. When you find yourself in that circumstance, just about the only thing you can do is try adding another air purifier to another location in your environment.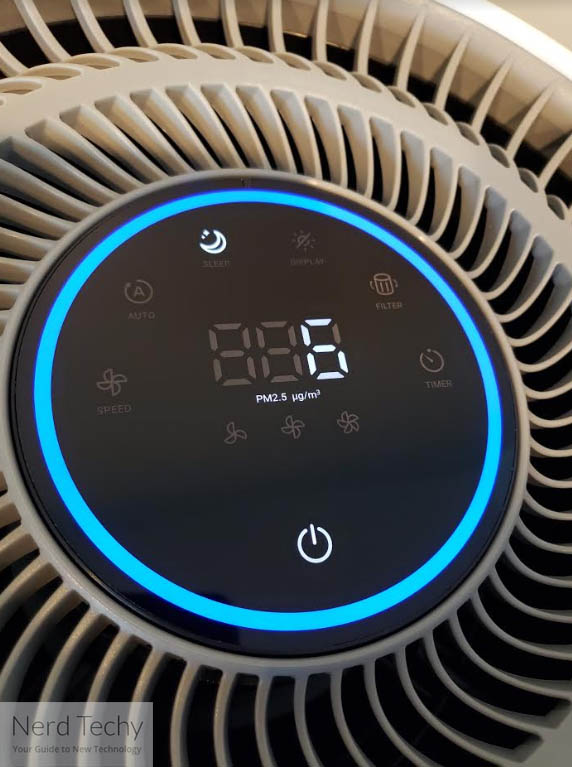 But that's not the worst of it – the worst is when a red ring comes on. That ring means people with allergies are essentially guaranteed to have problems with the air quality, and even people who don't have issues would be better off in a cleaner environment. When the red ring comes on, the machine will be running at full speed by default, which can wear down filters a little quicker.
Filters are estimated to last between 6-8 months between replacements, but whether or not you'll make it that long really depends on how often you're running the fan on higher speeds. In any case, it's nice that you don't have to think about it, and then machine can remind you when it's necessary to swap them. If you wanted to be prepared with filters ahead of time, you might consider setting an alert on your phone as well.
Many air purifiers are still using UV-C in order to kill bacteria and the like. It seemed like a great idea for a while, but those designs have been shown to create a small amount of ozone gas, which isn't something you want to breathe in. As such, the LV-H134 is made with an ultraviolet-free design, relying entirely on the filtering system to trap particulates and keep them away from your air supply.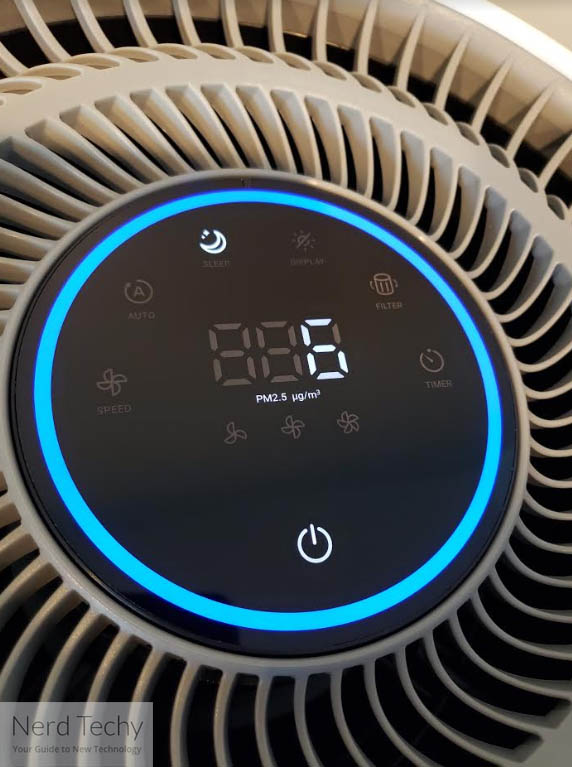 Three Stages of Filtration
Does the filter work without the aid of UV-C? Like the previous unit in this series, the LV-H134 uses a three filter system. As you can probably expect, the first filter is a basic pre-filter, not unlike the one you might find inside an old vacuum. The general idea is to trap big chunks of stuff inside the bigger filter, and leave the more refined filters to trapping the smaller particles. That way, your fancy filters don't get clogged with cat hair or pet dander.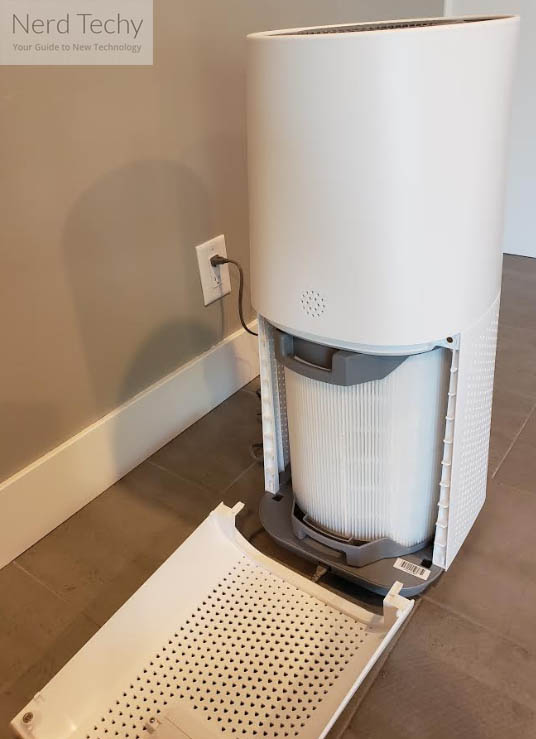 The second set of filter is a standard HEPA filter. It's supposed to be able to remove particles as tiny as 0.3 microns. But notably, it's possible to get HEPA filters in a variety of different sizes, and in a variety of different range of quality. If you really need to capture much smaller particles, HEPA filters can be made to grab incredibly small stuff. You really only want to get filters that are appropriate to your circumstances though. Because much more sensitive filters can end up costing you more.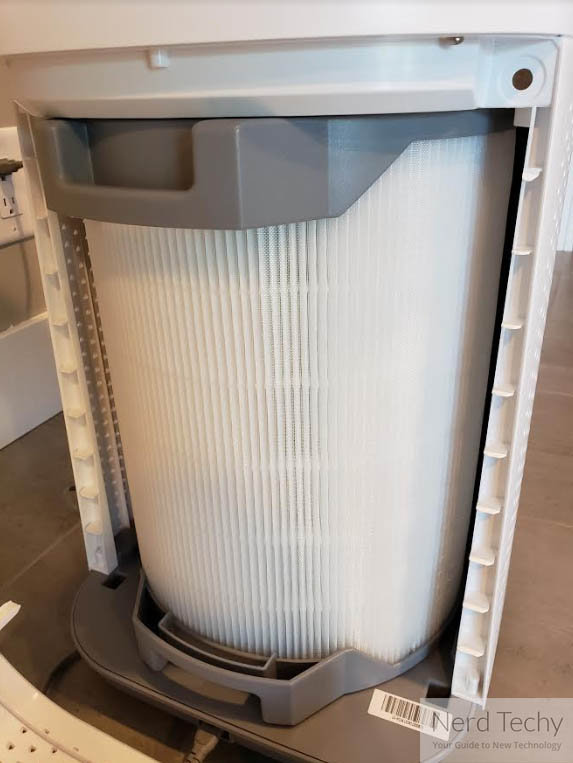 Last but certainly not least, the final filter is a basic use-activated carbon filter. As bad smells pass through this filter, the carbon swipes them from the air. That includes smells from pets, smoking, and so forth. Carbon filters are fairly universally used for this task, and they're pretty inexpensive to replace, so it's nice to have that third filter in the system.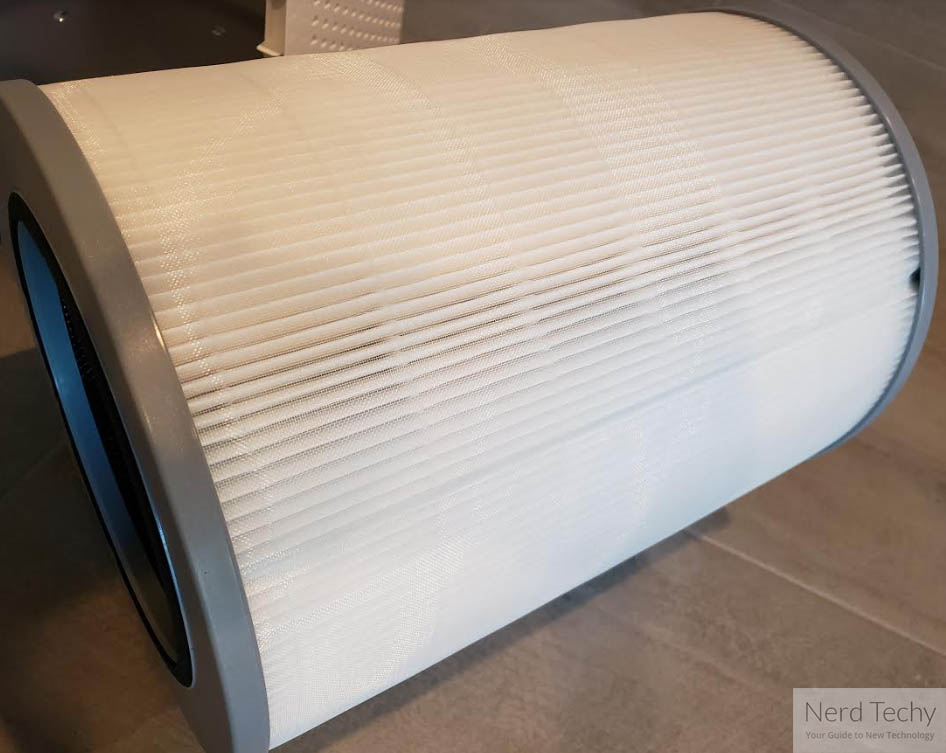 Fan Speeds
A lot of these Levoit purifiers only allow you a minimal degree of customization when it comes to timers and fan speeds. For example, the unit aimed at serving a small room only has three fan settings. And that's really not that bad when you're working with a smaller machine. But when you've got a larger purifier, you probably want to exercise more control over it — for the most effective cleaning it can possibly provide.
In this instance, you'll find there are actually a total of 12 timer options. Or more specifically, you can set a timer anywhere between 1 hour and 12 hours, which is far more options than you'll find on a smaller unit. This is actually necessary because effectively using these options can help you save money on electricity in the long run.
At the highest speed, the fan is able to suck through about 312 CFM. That makes this filter ideal for big kitchens, master bedrooms, and larger living rooms. On its lowest setting, or while using the sleep mode, the fan runs at around 32dB. That's a quiet hushed tone, similar to the sound of turning on a desktop computer. With acute hearing in a quiet home, you may be able to hear it while walking by it.
Turned to the higher settings, the noise can reach out towards 55dB, which is something you can certainly hear, and even hear from another room in a quiet environment. But it's not something that should disturb a conversation, though you probably wouldn't want it running with that ferocity during a movie.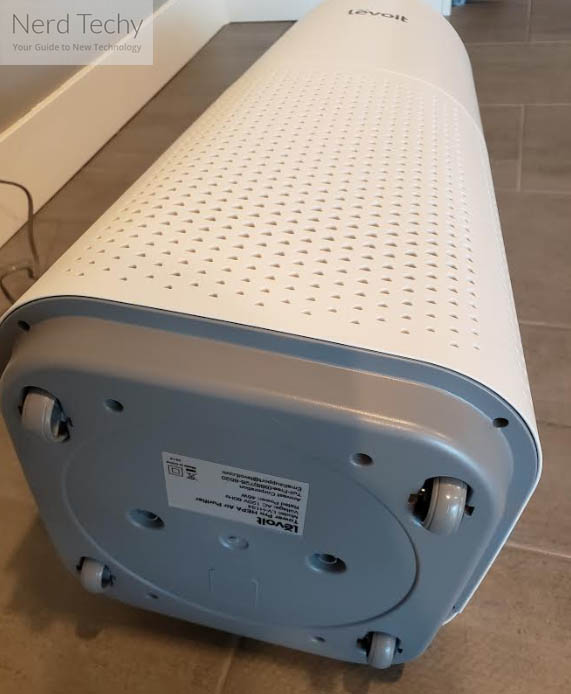 Other Considerations
It sometimes feels like Levoit is artificially gating their features, giving the nicest to their better models, while keeping the lower models on more modest features. The great control center inside this unit could easily have been used on a smaller model, but they've reserved the better interface for units like the LV-H134.
One result is that the LV-H134 ends up costing nearly twice as much as the LV-H133. Do you end up with twice the machine? Well, not exactly. But this is certainly a much stronger purifier, in at least one sense of the word. Apart from the purifier, this kit includes one pre-installed air filter, the power cord necessary for operation, and a user manual. You can pretty much ditch the user manual on contact, though it does provide some useful advice about swapping the filters.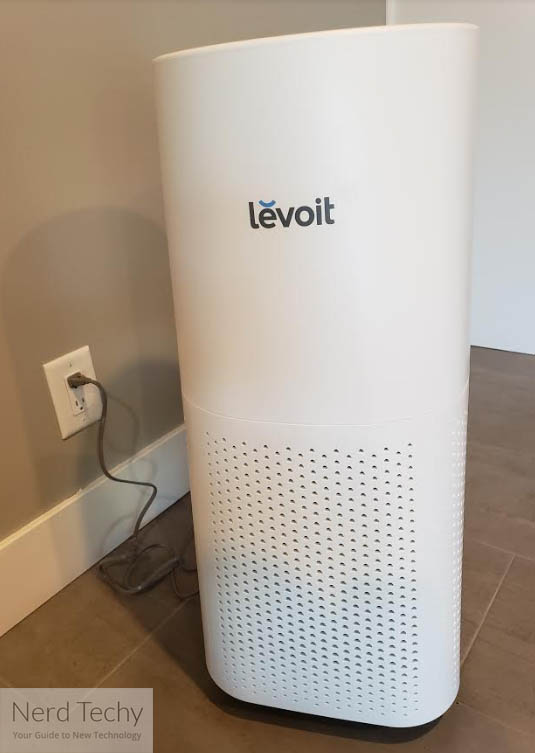 Who Should Choose the LV-H134 Air Purifier?
As one of the larger units in this series, the H134 doesn't have many limits. It gives you great timer control spanning 12-hours. It's reasonably quiet, though not as quiet as some of the smaller units. And it uses the same kind of HEPA filters you'll find across this series of air purifiers.
If you're not fighting allergies or don't have a specific health reason to use an air purifier, you might consider running a slightly smaller unit instead. Even though it would struggle to filter the air in a timely fashion, provided the airflow in the room was minimal, you could get by with a smaller unit, and save a ton of money in the process.
But for larger rooms with airflow, you're going to need to use something like the Levoit LV-H134. And in those circumstances, this purifier will get the job done. It's a little regrettable the cost is as high as it is, but it works as you expect it to. Assuming you're trying to cover around 700 square feet of space, for the average user, the LV-H134 is going to get the trick done.