Many notebooks and laptops are no longer being constructed with Ethernet ports. And it's understandable why. The port itself is pretty large and unwieldy. Plus, it allows for an ingress of dust when unplugged. They're sometimes prone to damage, and when damaged on a laptop, there's generally no replacing them.
Perhaps worst of all, they just don't fit neatly on the slimmer I/O that is becoming more common on slim laptops. The good news is that in place of those Ethernet ports, devices are starting to run USB-C instead. Though the format is young, USB-C has some pretty impressive networking features, and some equally strong power-transmission capabilities. Connecting from Ethernet to USB can be tedious, but finding a good network adapter can help.
TRENDnet TUC-ET2G USB-C 3.1 to 2.5GBASE-T Ethernet Adapter
The TRENDnet TUC-ET2G Ethernet adapter has a fairly straightforward design. It's supposed to allow you to connect a USB-C device and RJ-45 port for gigabit Ethernet speeds across Cat5e cabling. It does that with a pretty compact design, and it does it while relying entirely on USB power. That means you don't need to go out of your way to find a power source, or run a separate power cable. And it's also why this device can operate on such a low-energy design.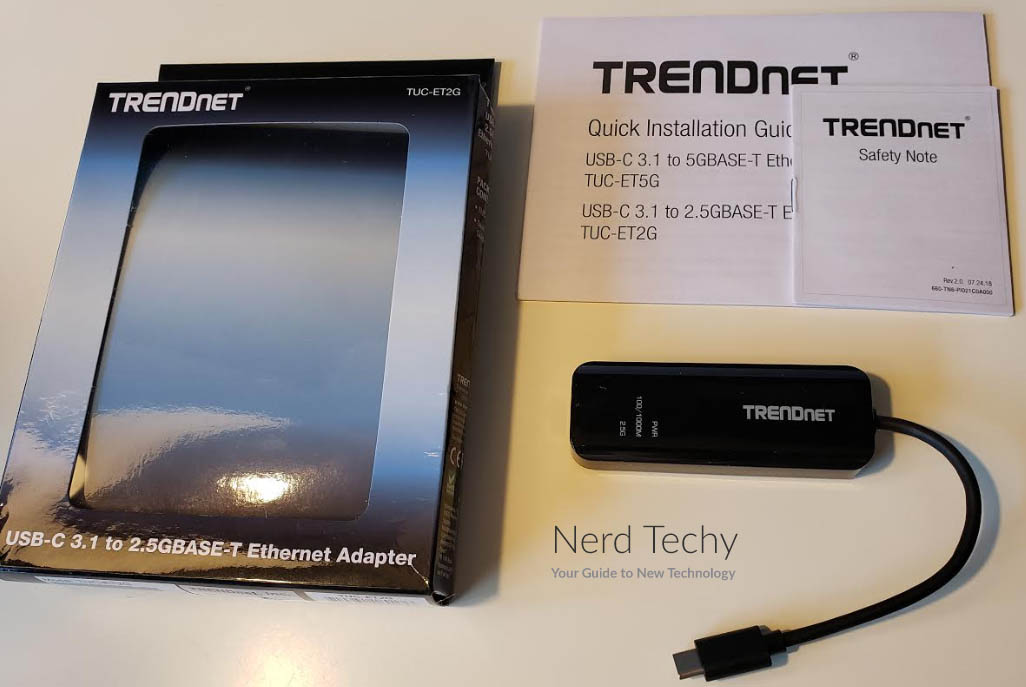 Of course, simplicity isn't all about hardware, it's about ease of use more generally. And make no mistake, the TUC-ET2G has hardware that's worthy of respect. The IEEE 802.3bz construction behind this unit is 2.5 GBASE-T compliant, so you can actually draw quite a bit of bandwidth through this cable. There's also a USB-C 3.1 connection interface, which is how it's able to support up to 2.5 Gbps for connection speeds.
To top it all off, TRENDnet's adapter is also compatible with any existing Cat5e cabling, or superior cabling. So for people who need to take advantage of multi-gig internet connections, the TUC-ET2G just might be pretty useful. But how well does it get the job done in real usage situations?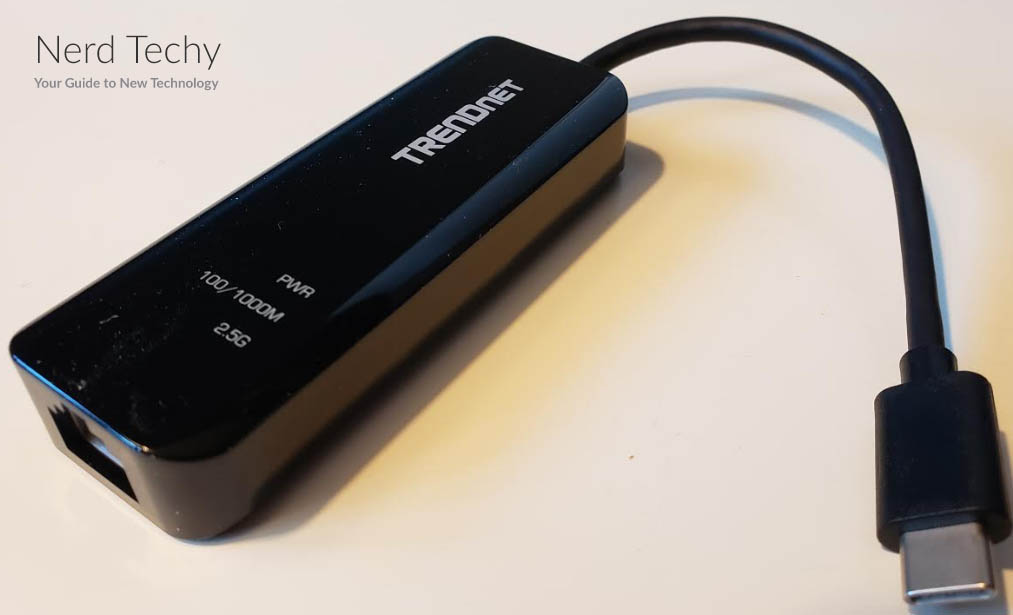 Design & Layout
The entire Ethernet adapter measures only 1.25 x 3.3 x 0.51 inches. Even with the extra length of cabling, it remains lightweight, coming in at around one ounce. All in all, that makes for a tremendously portable design. You can pretty much shove this thing into your pocket and forget it's there; with one caveat. There is a pretty long attached cable.
The TUC-ET2G has decided to use an integrated cable, placed towards the back end of the adapter. That cable spans a total of 4.9" in length. That's in addition to the body length of the unit itself. Between the two, this thing has a total length of about 8" when fully stretched out. So even if you're trying to connect cables that are a few inches apart, adapter has quite a bit of reach behind it.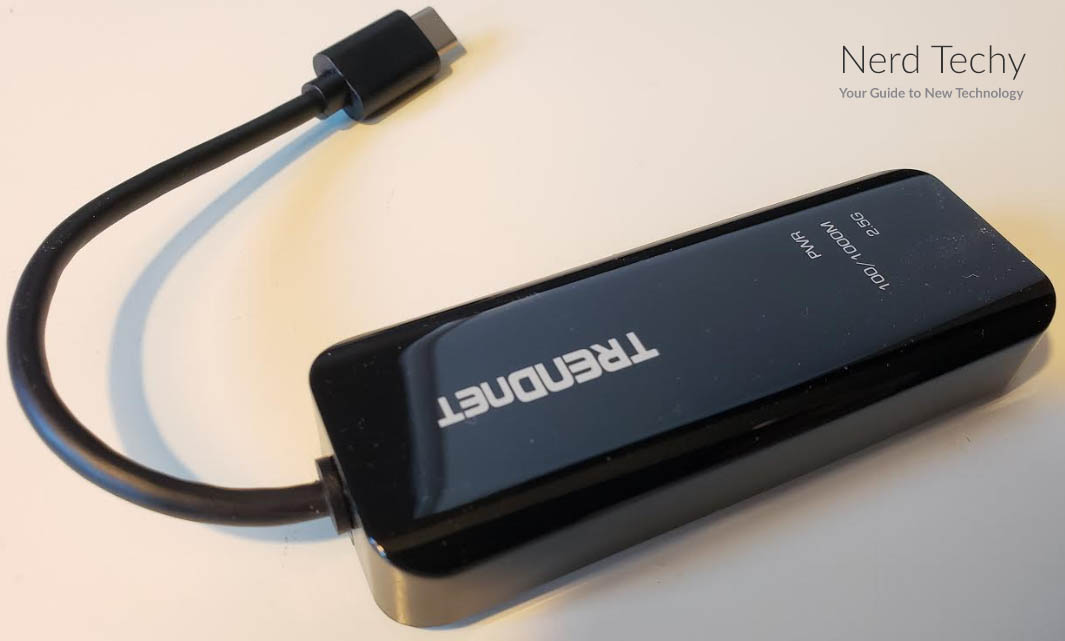 That's a design with pros and cons. For pros, it does mean you don't have to worry about misplacing the cable. There's also the extra reach you get from the cable itself, which can be hugely advantageous in some situations. For cons, it does mean you've got a slightly more unwieldy adapter. And cables tend to make things more vulnerable, not less vulnerable.
Because cables might be designed to survive thousands, or tens of thousands of small bends. But eventually damage will take place, especially if those cables get mistreated at some point in time. For example, you might accidentally put some unnecessary tugging force against the cable while plugging or unplugging it. Those kind of small bending forces are usually what's responsible for killing wired headphones.
Anytime you're looking at an adapter you want to last for more than a couple of years, cable thickness is one of the best ways to determine whether the thing will last. Because cables are damaged when they're bent. The damage is incredibly small, but it adds up over time. Here you'll find the cable is actually quite thick and sturdy. With a thicker cable, you can worry a little less about the wear-and-tear associated with bending it around.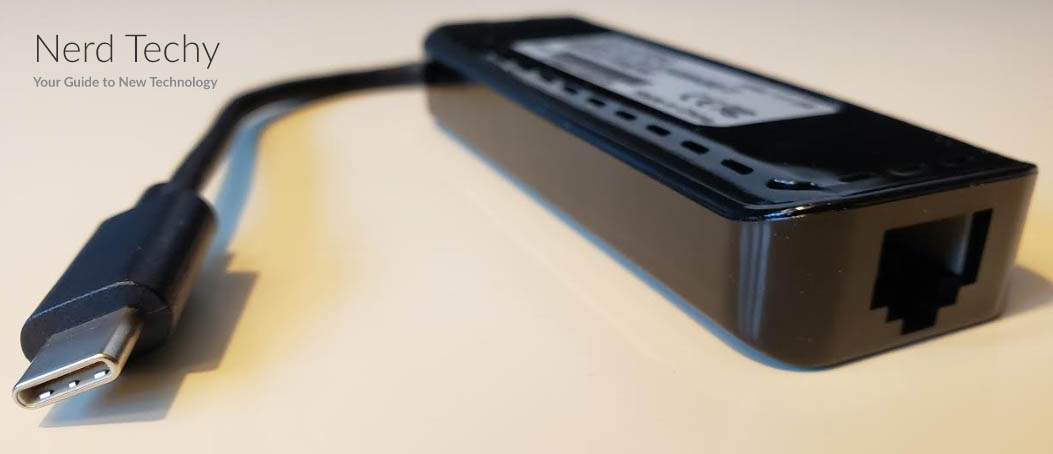 User Interface
As mentioned earlier, the interface includes one 2.5GBASE-T port (2.5 Gbps/1 Gbps/100 Mbps), and then one USB-C 3.1 connector. The USB port has a nice fat connector head on it, making it much easier to grip while you insert or remove the adapter cable. Moreover, the USB design is part of how this adapter uses energy saving technology to reduce the amount of juice being used by the system.
For people who are powering the adapter via a laptop, that can be pretty important. For the same reason, it's nice that the TUC-ET2G makes use of Wake on LAN features. That way your connectivity can be suspended or restored as needed without extra management.

Installation Process
Sometimes adapters can be very tedious to install. Because like any piece of networking equipment, these sort of things can be prone to small errors. If even something very small is off about your connection, that can be enough to cause a big problem down the line. As such, TRENDnet's TUC-ET2G does a pretty good job of keeping things simple to help avoid errors.
All in all, this adapter gets a B+ for its ease of installation. Because on the one hand, the hardware setup is about as simple as they come. You just plug in the USB-C connection to one side of the network, connect an Ethernet cable to the other side of the adapter, and you're done. Or at least, you're done with the hardware portion of the installation.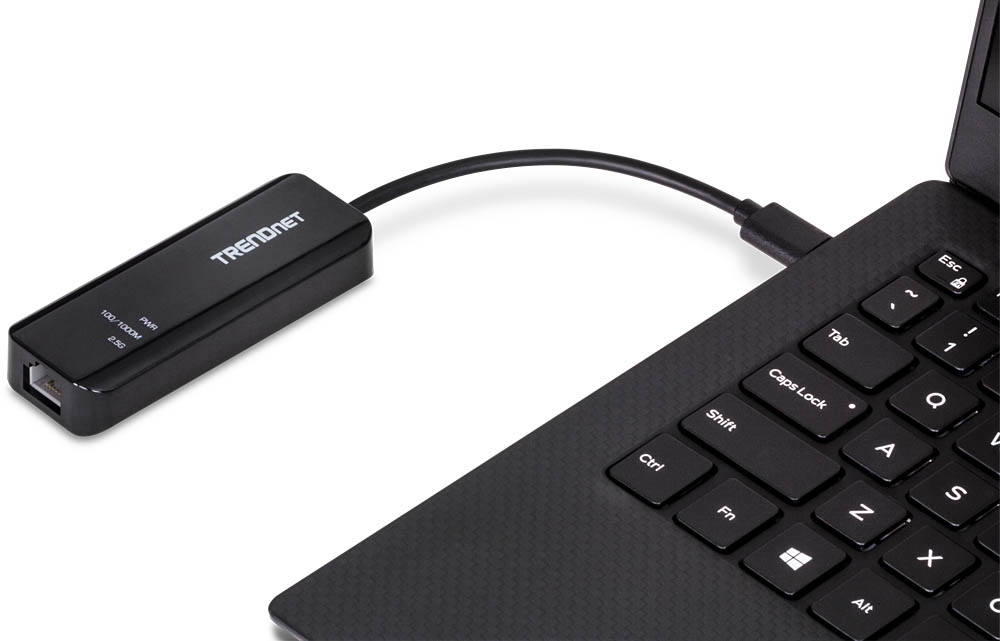 Unfortunately, this device will require you to download some driver software in order to operate it. And that's where this device suddenly starts to lose some points. But actually taking this extra step isn't so bad. If you're like the millions of other people who have gotten rid of optical drives altogether from their PC, then you'll be relieved to know there are alternatives. The TRENDnet site lets you download the latest version of the driver as needed. In fact, since the latest versions are available online, you're almost always better off using those instead of the ones included on CDs.
Network Speeds
You can probably tell from its name; this adapter can get you to 2.5 Gbps. That's assuming you're connecting alongside a Cat5e cable or something a little better. It's also assuming that your internet service provider is able to give you those kinds of speeds in the first place. But bottlenecks are something to watch out for.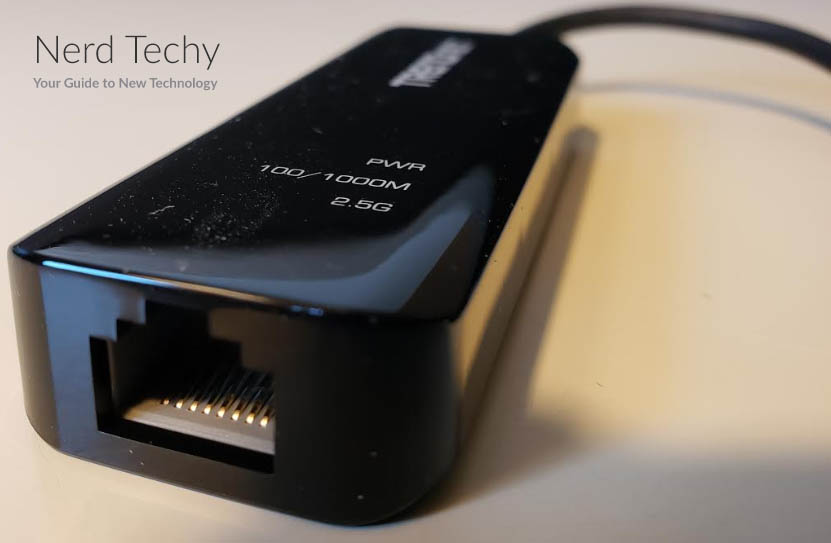 If you connect and you end up with lower speeds than the adapter is able to support, there are a couple of different potential sources for that problem. It could be that the router that you are connecting with may be bottlenecking you. It might be your ISP. For example, if an Ethernet switch can only connect at 100 Mbps, and you decide to connect this Gigabit switch adapter, then you're not going to end up liking the results.
You're going to get stuck at 100 Mbps because the weakest link in the chain is all that matters when it comes to deciding how much bandwidth you can pull through this adapter. In order for you to reach the 2.5 Gbps speeds, you need every component in your system to be on par with those speeds.
Additionally, this adapter is backwards compatible through the USB-C interface. If you're trying to connect with a USB adapter running a lower speed USB connection, you will automatically be bottlenecked by the lowest port in your connection. So if you start running data through a USB-A connection to a USB-C connection, then you will be brought down to the lowest shared standard among the two.
In this case, that would mean you'd bandwidth would drop to a few hundred Mbps pretty quickly. So in short, yes, this adapter is backwards compatible. But you are better off avoiding connecting with older cables or formats because doing so will sabotage your connection speeds.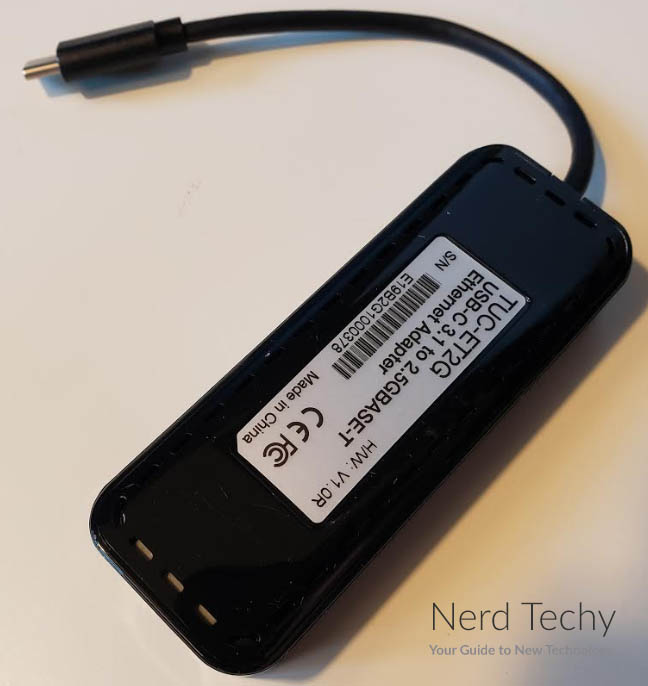 Other Considerations
For compatibility, you can use this adapter with basically any modern version of Windows. That includes 7, 8.1, and 10. You can also use it on MacOS 10.13.5 or later. For people who need to get very technical, supported standards include: IEEE 802.1p, IEEE 802.1Q, IEEE 802.3u, IEEE 802.3x, IEEE 802.3ab, IEEE 802.3az, IEEE 802.3bz, and USB-C 3.1.
With respect to operating temperature, you're looking at a pretty regular of supported temps. You can use this adapter anywhere from 32° – 104° F. Basically all similar electronic devices have around the same range of temperature sensitivity, including most laptops.
This adapter includes the TUC-ET2G itself, an installation guide, and a CD-ROM that contains some drivers. It contains a digital version of the user guide; just in case you happen to lose the paper version. The TUC-ET2G also includes a two-year warranty.
Who Should Use TRENDnet TUC-ET2G USB-C 3.1 to 2.5GBASE-T Ethernet Adapter?
It's usually the case that adapters like the TRENDnet TUC-ET2G have at least a couple of significant flaws. But this adapter is actually quite pristine. The connection terminals are easy to grip. It's not too bulky or large, and it provides a nice range of extension between the two ends of the adapter.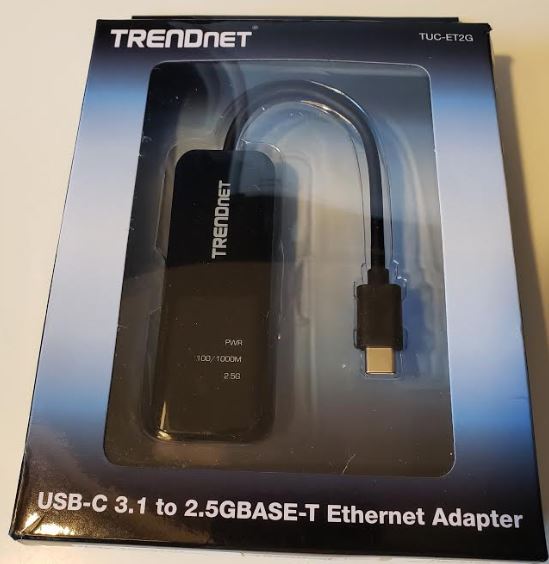 If you were looking for something a bit more portable, then you might go looking for an adapter that doesn't have an almost 5" cable attached. Though the cable can be flopped over and placed alongside the rest of the adapter, making it easy enough to carry with you, that's not very elegant. It does fit nicely inside laptop bags though.
When you're trying to connect two cables or two devices, an adapter can make things easier or harder. Sometimes it helps when the adapter is able to stretch your connection distance a few extra inches. Other times, it's best when the adapter is as small as possible, and there may not even be a cable involved in its design.
When you look at the networking standards used here, everything is very forward-looking. The front side uses an Ethernet connection that's capable of supporting the best cables on the market. So if you're trying to connect two parts of a network, the TUC-ET2G is going to be quite useful.
Meet Derek, "TechGuru," a 34-year-old technology enthusiast with a deep passion for tech innovations. With extensive experience, he specializes in gaming hardware and software, and has expertise in gadgets, custom PCs, and audio.
Besides writing about tech and reviewing new products, Derek enjoys traveling, hiking, and photography. Committed to keeping up with the latest industry trends, he aims to guide readers in making informed tech decisions.