The market is full of great portable Bluetooth speakers. The problem is that it's also full of terrible ones, and it can be tough to tell them apart. It's even trickier because different people need different types of speakers, so what works great for your friend won't necessarily work great for you. Thankfully, it's not impossible to tease all this apart with a thorough investigation.
ZENBRE Z8Plus Bluetooth Speaker
In photographs, the Z8Plus gives off the impression it's much larger than it is. It's actually more like a handheld speaker. The ZENBRE Z8Plus was pretty clearly made for listeners who want more than entry-level Bluetooth speakers can provide. Its 20-watt design can provide volume levels that compare favorably to a traditional boom box. (US 30% Off Discount Code: 30ZENWZE) (UK 30% Off Discount Code: DZIJY2YG)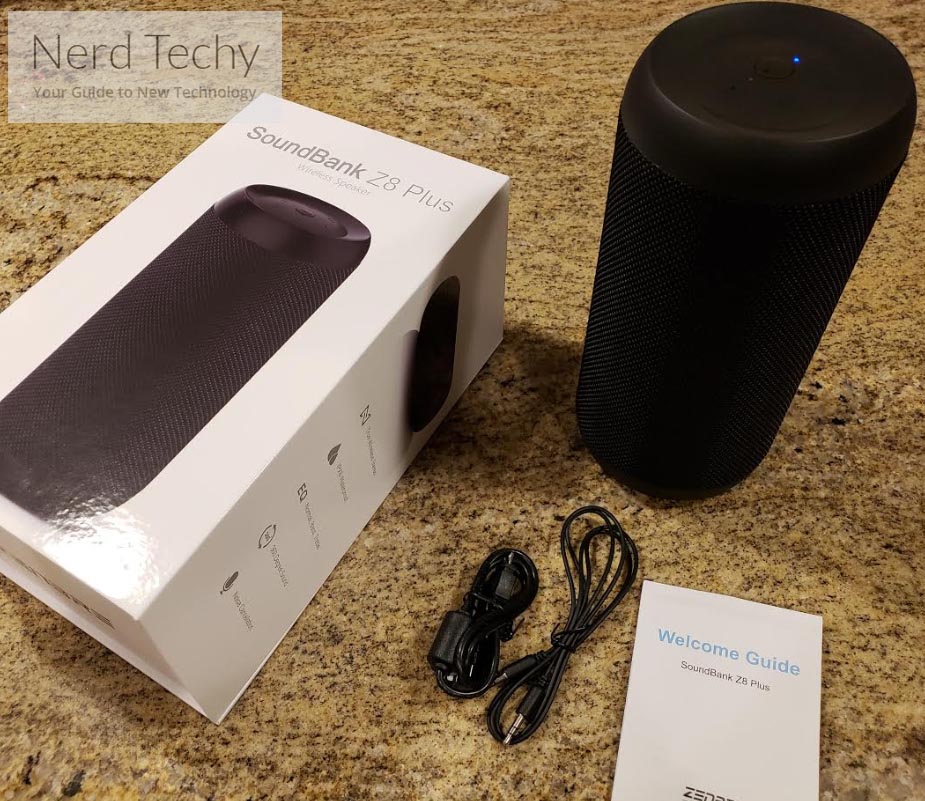 Going head-to-head with similarly sized speakers, there's almost no competition. The Z8Plus is among the best in class when it comes to handheld sized equipment. In addition to broadcasting sound in all directions, the Z8Plus Bluetooth speaker has multiple independent audio components. Instead of just using one or two dynamic drivers to power everything, having several specialized audio components allows the development of a more even and bright soundscape.
Sound quality aside, the Z8Plus doesn't bring that much to the table. The Z8Plus isn't a flawless speaker, and perhaps no speaker is truly flawless. But for people who are trying to find audio power into a teeny-tiny format, without losing the power of a larger piece of equipment, the Z8Plus is worth a look.
Build & Design
On the topside of the Z8Plus Bluetooth Speaker, there's an EQ button, TWS button, call button, and mode switch button. There is also power, play, pause, and forward/backward buttons. None of them are terribly well lit-up or otherwise well identified, but there are some standard icons to help clue you in. Even if you don't immediately identify all the icons, you should identify enough so that you can basically guess your way to success for the rest.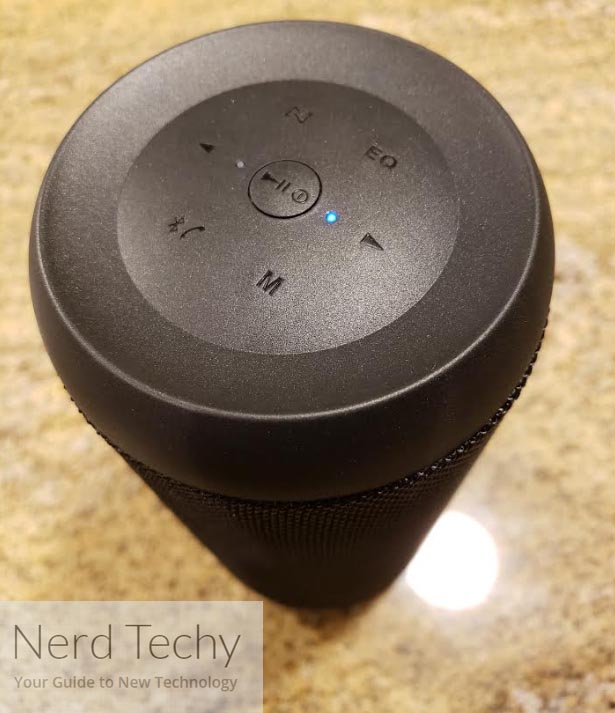 The Z8Plus measures 3.5 x 3.5 x 4.7-inches. It's a short cylindrical build. Its dimensions are quite close to a can of soda, except the Z8Plus is about one inch wider. It's actually much heavier than a can of soda, weighing about three pounds. This design was clearly made to be handheld, though one side of the unit is slightly flattened, allowing it to sit securely on a flat surface.
Unfortunately, the all-black chassis looks terribly generic. From a superficial point of view, you could hardly pick out this speaker from a thousand others that look almost identical to it. There aren't any color options, either. This equipment blends in as much as any Bluetooth speaker ever could.
It's becoming increasingly common to slather Bluetooth speakers with LED lights. Those types of lights are basically a needless battery drain that are only visible during the night, but admittedly they do look pretty cool. The Z8Plus Bluetooth Speaker doesn't use any such LEDs. If nothing else, that should give you some confidence that you're buying audio equipment instead of a fashion accessory.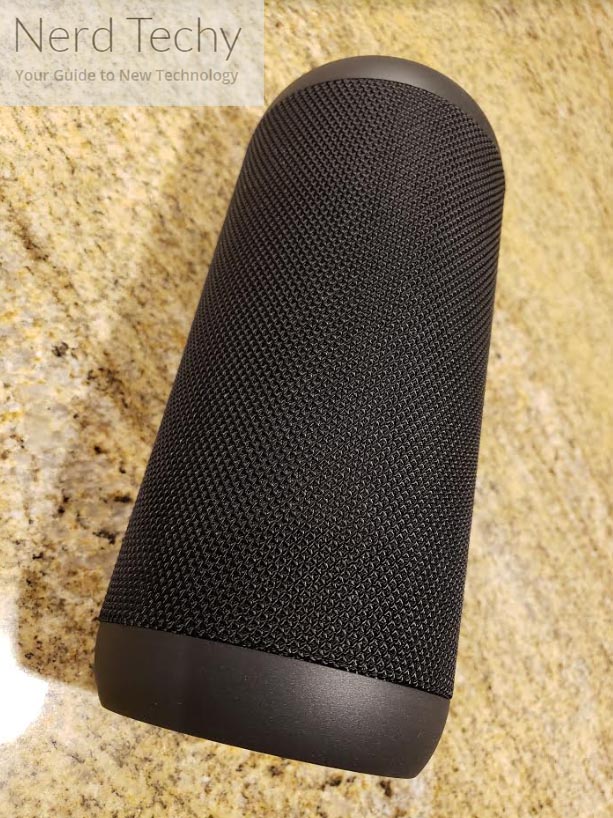 Waterproofing
The chassis is sealed sufficiently to support an IPX6 waterproofing certification. It's largely the result of a waterproof fabric combined within the sealed cover. An IPX6 rating is the least you'll want for a Bluetooth speaker, especially a portable Bluetooth speaker. It indicates the equipment is protected from sweat, rain, and light splashing.
It's not protected from submersion, so you should really think of the Z8Plus as being resistant to water rather than immune to it. If you wanted to use audio equipment specifically around aquatic areas, you'd probably want to spring for an IPX8 certification instead.
Microphone Quality
As with so many Bluetooth speakers these days, the built-in microphone is underwhelming. Unless you get Bluetooth speakers which were made specifically for calling, you will find many of these types of microphones consistently mediocre. Most people will find call clarity is passable, but it's certainly not a highlight of the device.
That's because if you wanted to make excellent clarity for Bluetooth calls, you'd need to use some kind of microphone noise cancelling tech. You might use CVC technology, similar to many cheap sports headsets, or a multiple microphone setup, similar to most home assistant devices. But you'd want one or the other. In the absence of both, passable is the best word to describe the microphone.
Especially because this speaker does not have any native call assistant features, either. If you want to rig-up a voice assistant it, it's not going to be difficult. But the fact there isn't any native support is worth noticing, especially for people who want to make frequent use of their voice assistant from their Bluetooth speaker.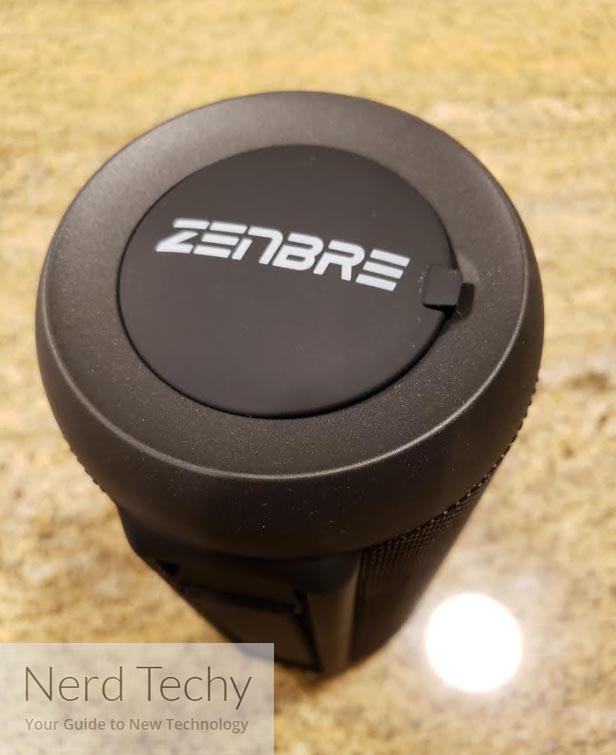 Wireless Connectivity
The ZENBRE Z8Plus Bluetooth Speaker achieves wireless connectivity through Bluetooth 4.2. That also means you get quicker pairing, automatic re-pairing between your devices, and generally lower power consumption compared to previous versions of Bluetooth.
The downside is that you don't really get any extra range. These speakers can broadcast about 30-feet, given an interrupted line of sight with paired devices. That's low-average for similar Bluetooth speakers in this price range.
But if you don't specifically need greater transmission distances, you're often better off not having them. There's not much point in using the power to blast out a 100ft signal if your speaker happens to be spitting distance from its source.
Apart from Bluetooth, you can play music through a USB or SD card. Not using Bluetooth means you'll be able to save a considerable amount of battery power, which will invariably translate into more playtime.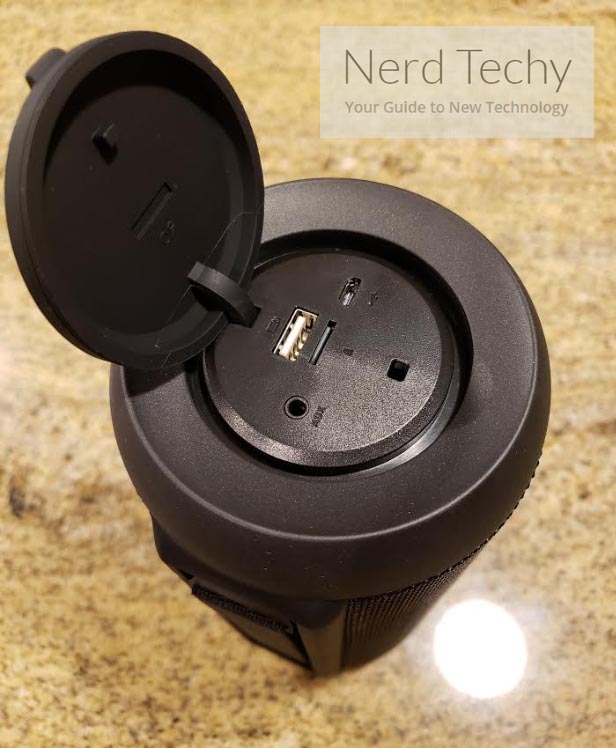 Battery Power
The Z8Plus Bluetooth Speaker is built around a 6600mAh lithium-ion battery. That sounds like it's ready to power the Z8Plus for an eternity. But because of the high-powered nature of the audio equipment, you can end up chewing through this large battery pretty quickly.
If you play the speaker on full blast, then you can expect roughly four hours of battery time. If you're using it with more moderate levels of volume, then you'll be able to get something like six hours. Those numbers change again if you start playing from an SD card instead of using Bluetooth.
They change once more if you begin playing songs that really take advantage of the bass capabilities of these speakers. The four to five-hour estimate seems a little short, but that's basically what you can expect from high-powered Bluetooth speakers of almost any size.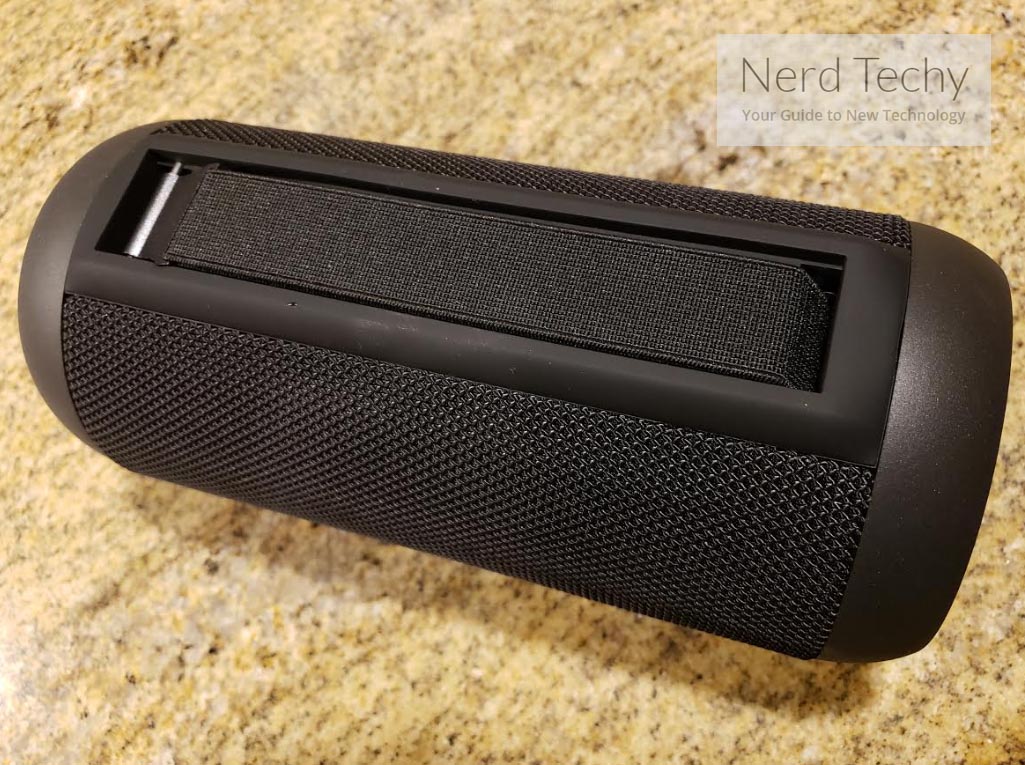 Audio Quality
Finally, one area where the ZENBRE Z8Plus Bluetooth Speaker is not average. In spite of its small frame, the Z8Plus delivers 20-watts of audio power, sending out sound in all directions. It's the combination of two 57mm audio drivers, one 4" horn-loaded MF, and one 4.5" subwoofer. That's a ridiculous amount of technology packed into such a small frame.
Unfortunately, the subwoofer component performs about as well as you'd expect from a subwoofer that's been crammed inside such a small chassis, and tightly packed with so many other components. But the simple fact the subwoofer exists means bass performance for the Z8Plus is head-and-shoulders above the vast majority of its rivals.
On the digital level, the Z8Plus delivers sound through a Class D amplifier, which heightens audio stability. In practical terms, this allows for the Z8Plus to deliver true wireless stereo across two separate channels. The result is an emulation of 3D sound that's not bad. It would be a great exaggeration to say the ZENBRE Z8Plus is capable of surround sound, but depending on the environment where it's played, you may find the 3D sound nearly as immersive.
Remember that EQ button on the front face of the device? It's not exactly a full-fledged equalizer because you can't adjust specific tones. But it does allow you to toggle between a couple of handy presets, including classical, DBB, and pop-music effects. Depending on your tastes, you might find that you enjoy one above all the others, and never end up turning it off.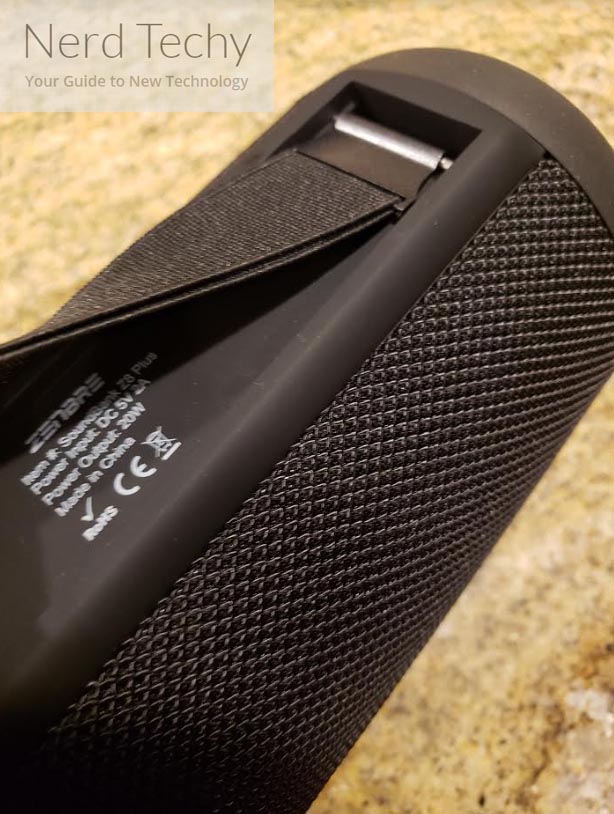 TWS Feature
The True Wireless Stereo feature provides the ability to connect two of the Z8Plus speakers to the same audio source. This way, listeners are able to hear two different channels of audio from any vantage point that they choose. Setting each one up on different sides of the room creates a 360 degree soundscape with your tunes coming from multiple locations. It's a feature that isn't always commonly found in speakers of this class, and definitely a nice addition for those wanting to immerse themselves deeper into their audio.
Other Considerations
ZENBRE makes a variety of speakers, headphones, and similar audio equipment. Though they're a generic brand, their equipment is reasonably respectable. The only way in which the ZENBRE brand really falls short is software support. When you choose from one of the major brands, you invariably end up with great app support.
Because the big brands have the kind of money necessary to develop software platforms in addition to putting together hardware. When generic brands attempt to make their own apps, which is rare for this reason, they typically come out looking cheap and malformed. To ZENBRE's credit, they would rather not offer a control app than offer one which would damage their brand.
ZENBRE includes a one-year warranty with their equipment. The strength of the warranty is slightly undercut by the relatively small stature of the ZENBRE brand, but the odds of receiving a defective unit to begin with are quite unlikely. Speakers simply don't have that many moving parts.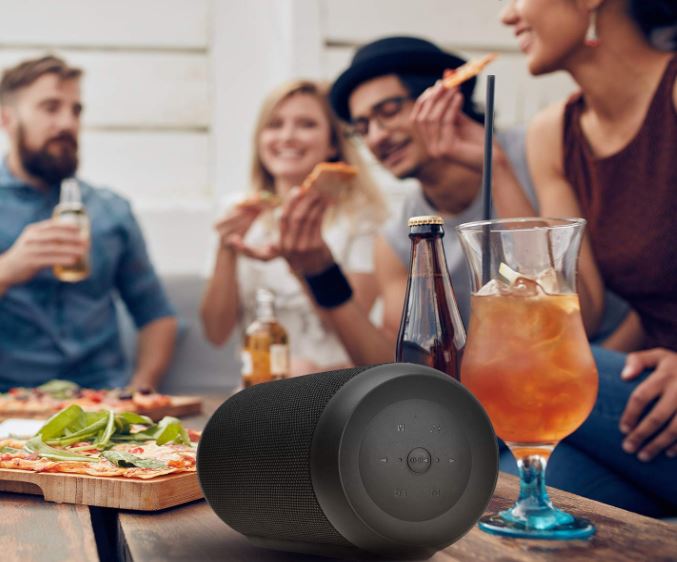 Who Should Choose the ZENBRE Z8Plus Bluetooth Speaker?
The Z8Plus has plenty of strengths and weaknesses. The waterproofing is protective, but not excessive. Its Bluetooth capabilities are connective, but not expansive. And the enormous battery is off-put by the greater power consumption of the equipment. In many ways, the Z8Plus is aimed at the middle.
But there is one way in which the Z8Plus Bluetooth Speaker is polarizing – size. If you're willing to carry around a larger Bluetooth speaker, then you should find one. Larger equipment will almost invariably perform better. Though you may end up spending a little more, inch for inch, bigger equipment can deliver bigger sound advantages.
The ZENBRE Z8Plus Bluetooth Speaker is quite small. (US 30% Off Discount Code: 30ZENWZE) (UK 30% Off Discount Code: DZIJY2YG) It would be fair to call it handheld, even for people with smaller hands. If you're looking for a handheld Bluetooth speaker because you actually need handheld portability, this will fit the bill. It has about as much technology as you can pack into such a small speaker, and still have everything come out sounding pretty good.