It can be tough to choose portable headphones. All types of portable headphones have their own weaknesses, especially long-term comfort problems. To achieve the greatest portability possible, manufacturers gradually strip down a headset until it's made from as few parts as possible. Ultimately, you're left with a bit of copper wiring that's attached to bits of silicone.
The most comfortable portable headphones will eventually become uncomfortable. It's just a matter of how long it will take, and whether or not the portability you've traded was worth it. Otherwise, you have to be willing to surrender a considerable amount of portability to achieve greater battery life, more lasting comfort, or similar features. Which is why you need to think about how plan on using your headphones.
Soundpeats Engine Q40 Wireless In-Ear Headphones
It's becoming easier to find quality earbuds like the SoundPEATS Q40. That's because sound quality in general has been improving. It's improving to the point that even generic equipment can provide pretty impressive performance.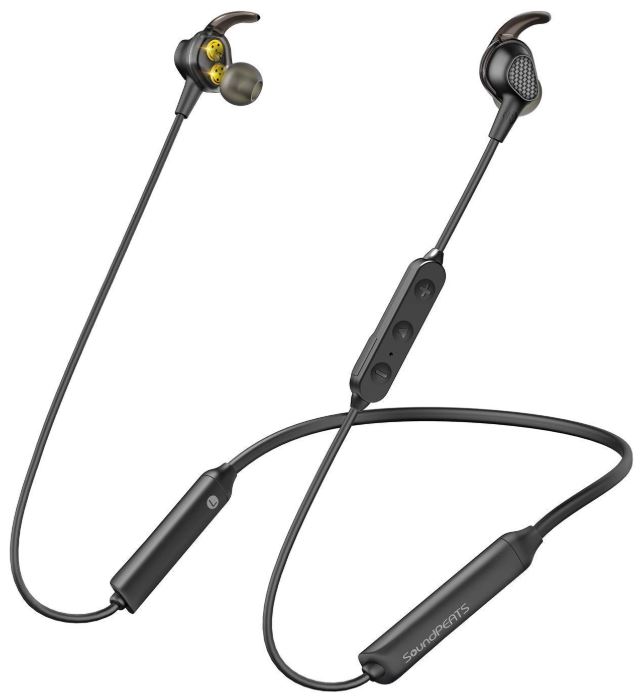 The Engine Q40 are incredibly simple looking, yet far more powerful than their humble appearance lets on. Ultimately, these are just another pair of behind-the-neck wired earbuds, and that means they've got a great emphasis on portability.
But if you happen to be looking specifically for those kind of features, you'll find the Q40 comes close to being a perfect, at least relative to the kind of goals it's trying to achieve. Not every headset is appropriate for every person, but the Q40 does manage to achieve an appeal to wide audiences.
Build & Design
Aesthetically speaking, the Q40 are built with a simple black chassis, joined by cabling that's been layered in a black matte jacket. For the portion of cable that's connecting each earbud, the jacket is flattened slightly. It's flattened considerably for the wiring which rests behind the neck, a decision made in the interests of comfort.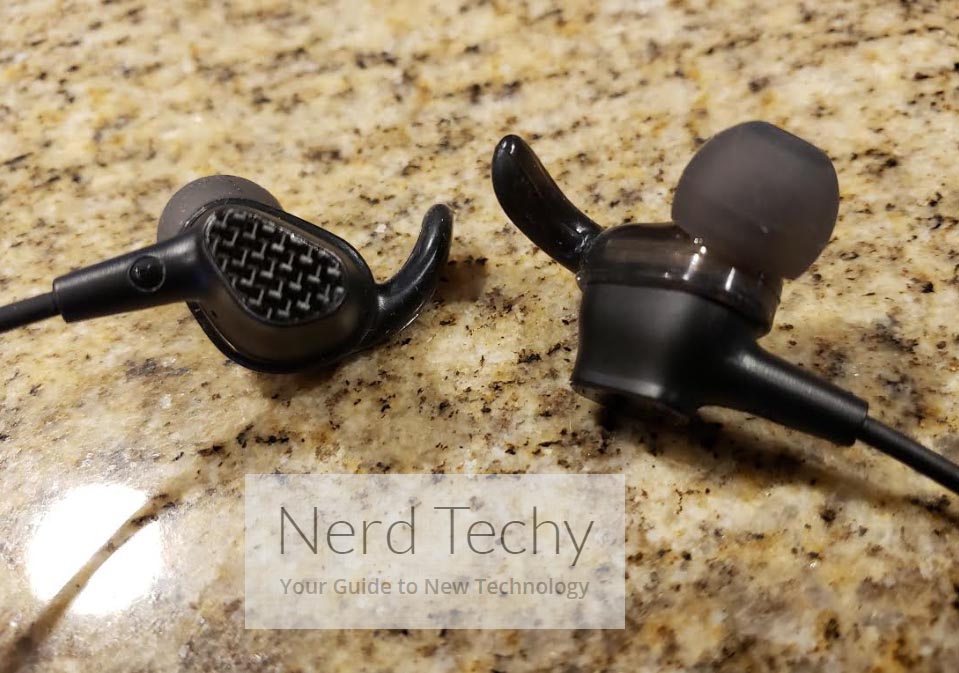 Like almost any other pair of similar earbuds, the Q40 weigh about three ounces, which makes it possible to wear them almost without noticing they're on you. Each earbud remains in-place with the help of a small ear-fin. Similar to athletic headphones, each fin works by pressing against the inside of your ear bowl. It's one of the most secure designs you can use for any type of earbuds, athletic or otherwise.
Athletic Waterproofing
It's worth pointing out the SoundPEATS Q40 are constructed with IPX6 waterproof protection. That's an essential feature for almost anyone who's looking for a good pair of athletic earbuds. The IPX6 rating indicates you're ready to take on sweat and rain without a problem.
However, you still want to avoid submersion. For kayaking or rafting down white water rapids, you'd want to consider headphones rated closer to IPX7. But for virtually all other types of athletic activities, the SoundPEATS Engine Q40 ought to be up to snuff.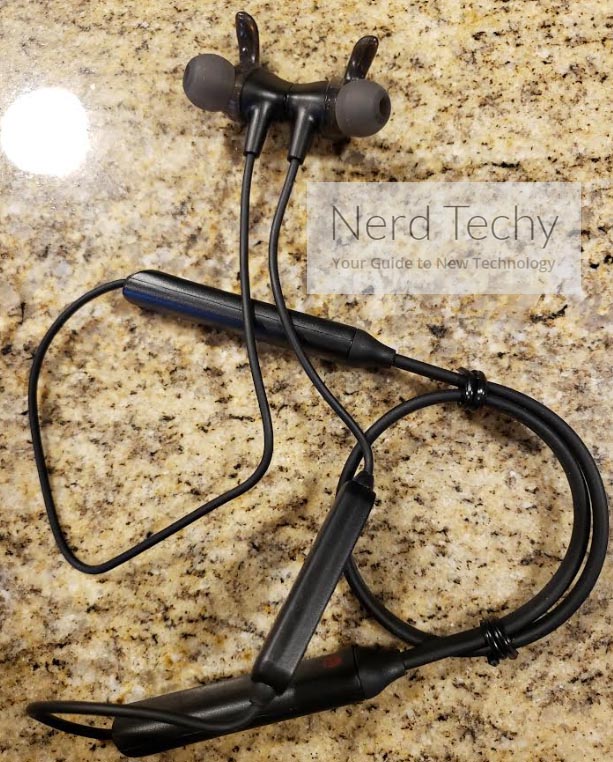 Ease of Use
Of the many different headphones manufactured by SoundPEATS, a huge percentage of their earbuds make use of a magnetic design. The Q40 is not an exception to this rule. On the outer face of both earbuds, a small magnetic plate allows each bud to become clasped together.
It's perfect for carrying from place to place, and really precludes the need for a carrying case in most circumstances. After all, the earbuds are basically waterproof, right? Having the two earbuds connected in this way also makes them a bit easier to pick-up and put-on, as well as store away.
When it comes to controlling your tunes, the Q40 uses an in-line controller. That's a great alternative to sticking those buttons on the earbuds themselves because it means there's far more room. You don't end up trying to press a tiny button positioned near your ear, which is great, especially on an earbud. Because you don't really want to be wiggling around your earbuds in the first place.
The inline controller is really nothing remarkable, it can help you raise or lower volume, play or pause music, or skip between tracks. It also makes it a little easier to determine which is of the earbuds is the right earbud, and which is the left. Because it's housed on the right earbud's cabling.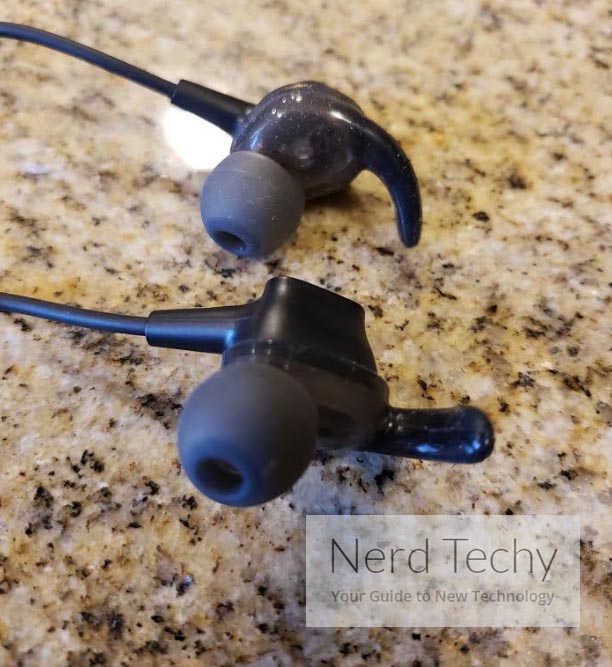 Audio Quality
When it comes to audio quality, the SoundPEATS Engine Q40 really aren't too different from almost any other athletic headset around this price. You'll find the bass range is slightly boosted, similar to almost any athletic earbuds. The mid-tones remain smooth, though the treble is a little muddied at its peak.
That's not necessarily a bad thing. To their credit, the SoundPEATS Q40 Wireless In-Ear Headphones are built with reasonably unique dynamic drivers. In fact, they have two drivers in each earbud, and a beryllium plated diaphragm.
But in spite of their somewhat special physical design, the SoundPEATS Engine Q40 doesn't really have its own signature sound. It sounds terribly similar to almost every other pair of athletic earbuds on the market, almost as if they decided to do the same thing, but in a different way.
That's probably attributable to the fact that sound quality from earbuds is largely linked to Bluetooth connectivity. After all, not many people are carrying around headphone amplifiers, and not many go out of their way to use ultra-high resolution audio files.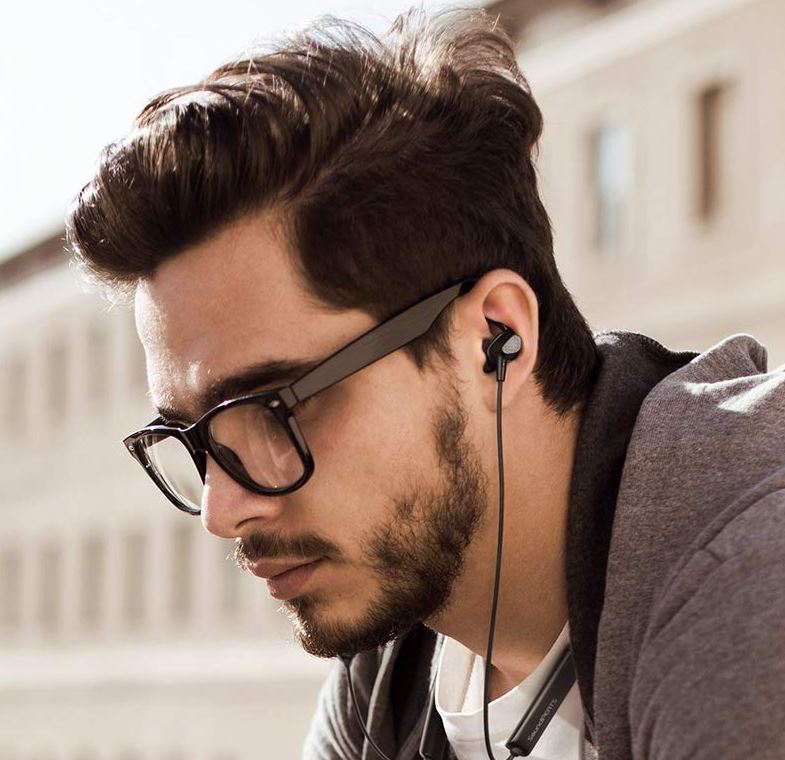 Microphone Quality
The Q40 has a built-in microphone, and it's actually a little impressive. For starters, it's an electret condenser microphone. That's not all that different from the kind of microphone you'd use inside a pilot's headset, which helps guarantee a reasonable degree of clarity from your calls.
Additionally, the microphone hardware is bolstered with the help of CVC 6.0 technology. It's basically a software that creates noise reduction for your microphone. The general idea is to provide drops in ambient noise for areas where people are talking in the background, it's actually pretty good at scrubbing unwanted voices from calls. The output reduces noise by as much as 30dB.
Whether or not CVC 6.0 will be useful is terribly circumstantial, but you're basically always better off with it. The Q40 won't perform as well as headsets with a business-quality microphone, but it's certainly a league better than any microphone without comparable technologies.
Battery Lifespan
The SoundPEATS Q40 was generously granted a 240mAh battery, allowing them to provide roughly one third more of a lifespan many similar athletic earbuds. The total playtime works out to roughly 13-hours, though there's a huge variety of factors which determine whether or you'll make it that far.
That being said, the 13-hour estimate isn't far from base. Assuming you're not always cranking the volume to 100%, and assuming you're doing a mixture of calling and listening to music, you ought to be able to get through that kind of playtime without any issues.
Once you've emptied the Q40, you'll find their recharge time takes about two hours. And their standby time is about 200 hours, which is slightly longer than a week. Unfortunately, there aren't any quick charge features to help speed things along.
Wireless Connectivity
The Soundpeats Engine Q40 achieve wireless connectivity with the assistance of Bluetooth 5. That provides a variety of minor advantages with respect to both connectivity and power consumption. In fact, it's primarily the strength of Bluetooth 5.0 and support for the APTX codec that carries the audio quality of this device.
Unfortunately, that support really doesn't extend much further than the average person can throw. You get roughly 30-feet of connectivity. That's low-average for any pair of similar earbuds. But Bluetooth 5.0 does guarantee the Q40 will be compatible with virtually anything you want to connect with them. That includes smartphones, tablets, consoles, stereos, PC monitors, and so forth.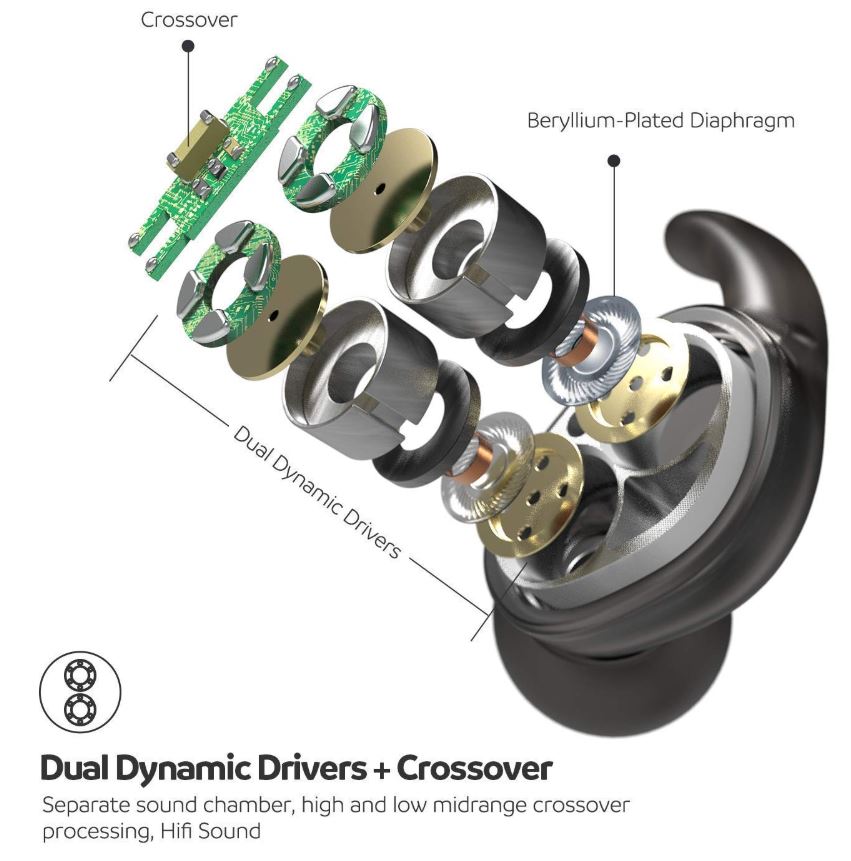 Worn Comfort Options
Even if you end up wearing the Q40 for a couple of hours, the wire retains a very ergonomic feel. It's the extra-flattened nature of the on-back wiring that's responsible. Because it enables the wiring to rest smoothly against you. That's really the whole trick. The material used to protect the wire is really nothing remarkable, but it's nevertheless quite smooth if you happen to be wearing the Q40 against bare skin.
When it comes to finding a perfectly comfortable pair of in-ear Bluetooth headphones, what really matters are the silicone ear-tips. Most pairs of Bluetooth earbuds, especially pairs in the price range of the SoundPEATS Q40, tend to offer about three sets of replacement ear tips.
The Q40 offers a total of six earbud tip size options. Nearly everyone ought to find a good fit from that huge selection. The size of that selection favorably compares with some of the best and most expensive earbuds on the market.
But it doesn't stop with the silicone ear-tips alone. There are six different sizes of ear-fins as well. Choosing the perfect size of ear-fin isn't about comfort as much as it's about security. Because these ear-fins are responsible for helping keep tine Q40 in your ear, especially during physical activity.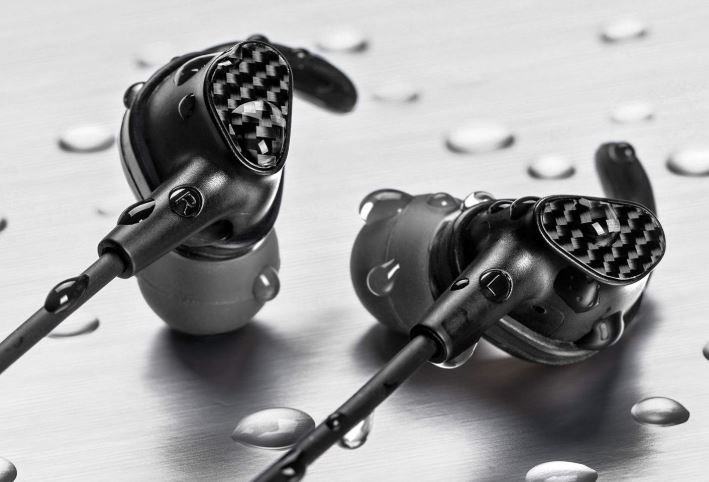 Other Considerations
The Q40 includes a fairly protective carrying case, a small carabiner, a micro USB charging cable. The Q40 also includes half a dozen pairs of replacement ear tips, and half a dozen size options for ear-fins, and a one-year warranty.
The SoundPEATS Q40 don't have any special support for voice assistants like Cortana or Siri, nor any special buttons dedicated to those types of features. Accessing voice assistants is possible, there's just no native support provided by SoundPEATS.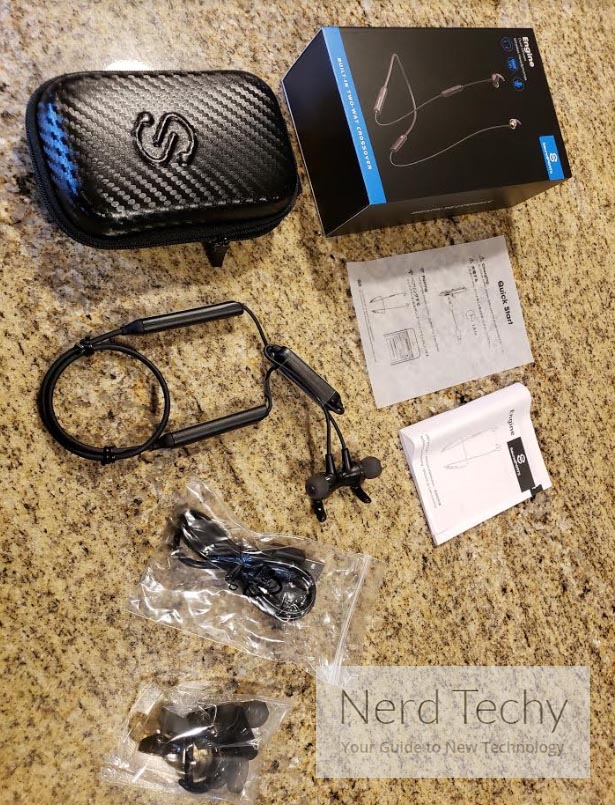 Who Should Choose SoundPEATS Engine Q40 Wireless In-Ear Headphones?
Soundpeats Engine Q40 Wireless In-Ear Headphones don't have a charging case. They don't use an ear-hook design. They're not perfect for everyone. But for people who are looking for behind-the-neck earbuds, it's tough to find more comfortable pairs in this price range.
The Q40 don't leave you micromanaging your earbuds. Once they're in your ears, you can rest assured they'll stay in place until you're ready to take them out. And there's really no rush to take them out because of the almost bottomless comfort options they provide.
Security and comfort aside, you'd also be hard pressed to find a higher overall value from similar athletic earbuds. That makes the SoundPEATS Engine Q40 worth picking up for almost anyone seeking some inexpensive in-ear athletic earbuds.
Meet Derek, "TechGuru," a 34-year-old technology enthusiast with a deep passion for tech innovations. With extensive experience, he specializes in gaming hardware and software, and has expertise in gadgets, custom PCs, and audio.
Besides writing about tech and reviewing new products, Derek enjoys traveling, hiking, and photography. Committed to keeping up with the latest industry trends, he aims to guide readers in making informed tech decisions.