Unlimited power isn't only for sith lords anymore. Power banks are becoming incredibly powerful, especially compared to the limited battery power of devices just 10 years ago. Portable power banks have been in demand since phones became more like computers and we began to both rely on and become addicted to them.
With phones becoming our wallets with apple pay and other similar services a dead phone means you have to resort to the ancient method of cash or credit cards to pay for things.
Phones are quickly becoming an extension of our very lives. They connect us to the world; we use them for both personal and business tasks. They entertain us and we use them to access the worlds knowledge when we want to prove someone wrong in a heated debate.
Surely there are people out there that have gone to google a fact to shut down your friend's clearly invalid argument, only to realize your battery is about to die and as your page loads the phone shuts down. Truly a miserable and infuriating experience.
All that said, it is not necessary to go through such misery every again. Sure, there have been power banks for ages, but even the best of them were usually only able to charge your phone once or twice. Everyone knows how fast PUBG drains your battery life, so you can easily kill your phones battery in 2 hours.
There have been many that have come to try and save us from such perils, like the Razer 12,800mAh power bank for all those gamers out there. There were even power banks that had really neat tricks like wireless charging such as the iWALK Qi wireless power bank.
But neither Razer nor iWALK compare to the absolute beast of a charger that is the Jackery Supercharge 26,800 mAh portable power bank.
This is a charger that while still managing to be a pretty convenient size, also has the power to charge your laptop and your phone simultaneously. Not only does it have an insanely large amount of power, but it also charges incredibly fast.
If the Jackery Supercharge was a video game character, it would need to be nerfed immediately. We don't think anyone told Jackery that you can either be really strong or really fast, that is how the world maintains balance, and here they come causing disturbances in the force.
So with that introduction out of the way, lets dive right into a breakdown of exactly what the Jackery Supercharge 26,800 mAh is capable of.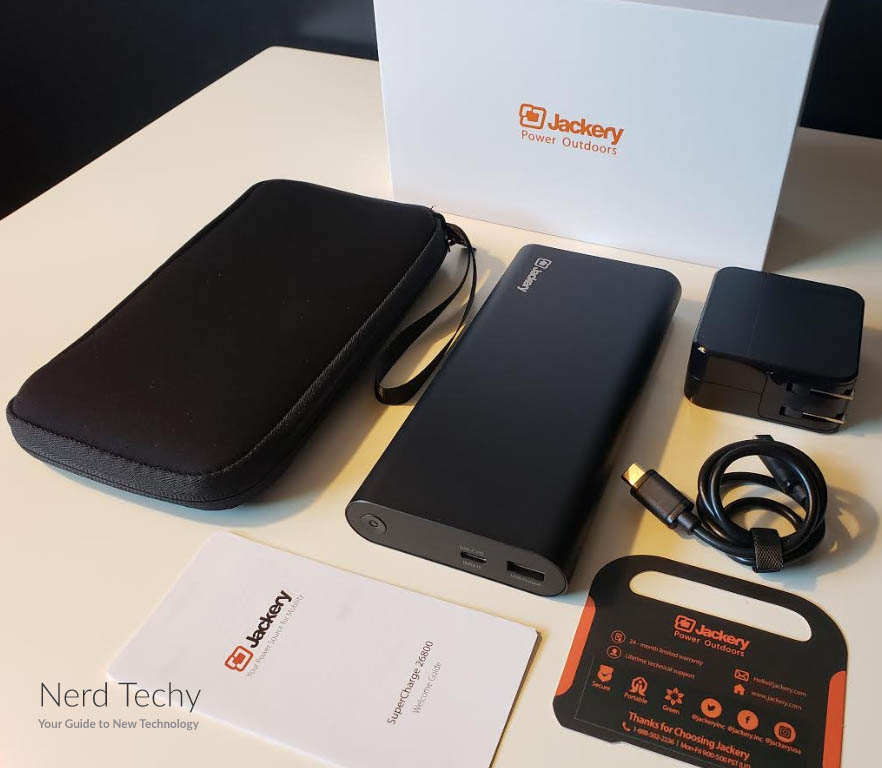 Design & Layout
This power bank has a total length of 6.7 inches a width of 3.2 inches, and a height of only 2.2 centimeters. It has a nice jet-black finish and an LED display on the base that shows how much charge it has left. To the left of the LED display is the power button which is self-explanatory.
To the right of the display is the USB-C PD IN/OUT port that is for both charging the power bank and can be utilized to charge other devices. Lastly to the right a step further is the USB output port for charging most USB powered devices.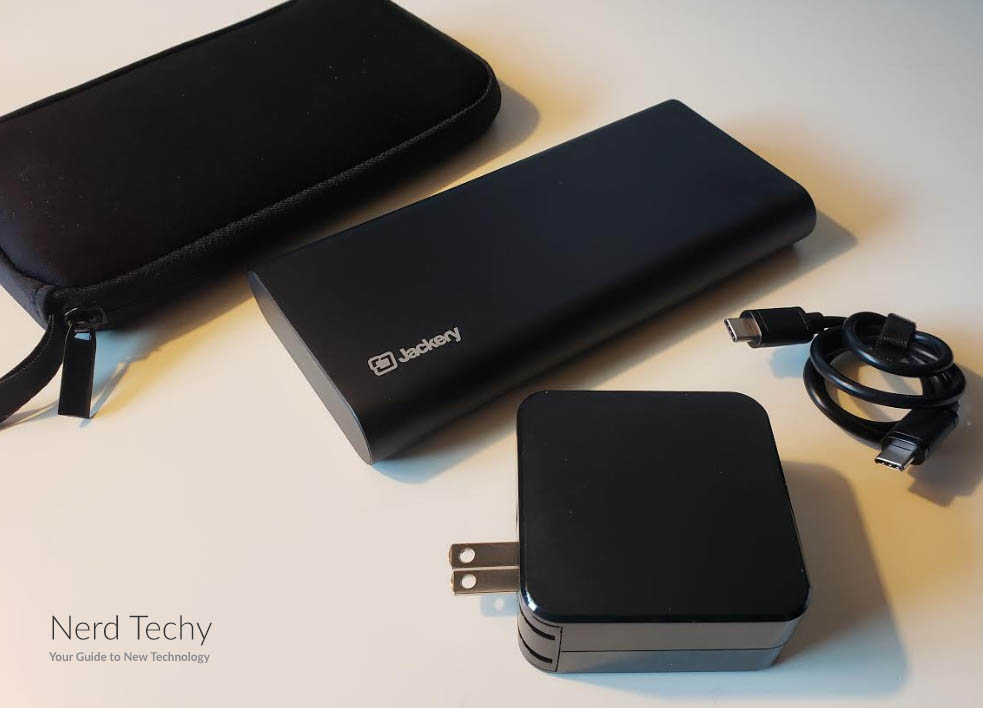 There isn't much more than that regarding the design. The simplistic layout is meant to be just that, simplistic. It is thin enough to fit in your pocket or the outer pack of your backpack and as such, is very easy to carry around. Portable and powerful staying true to the product name of portable power bank.
Charging Performance & Battery Capacity
If you have a PD enabled device, you can get insanely fast charge speeds. The PD stands for Power Delivery and such a straightforward name works because this tech can deliver astounding power. The USB-C PD port can charge around 70% faster than a standard USB charging port. You get a total of 45W power output which can charge an iPhone X to 50% in just thirty minutes.
For you Google Pixel users the Pixel 2 can be charged to 50% in around 37 minutes. The USB-C circuit boards are designed so that they can carry an increased wattage without being damaged or overheating. This is great for fast charging as well as safety.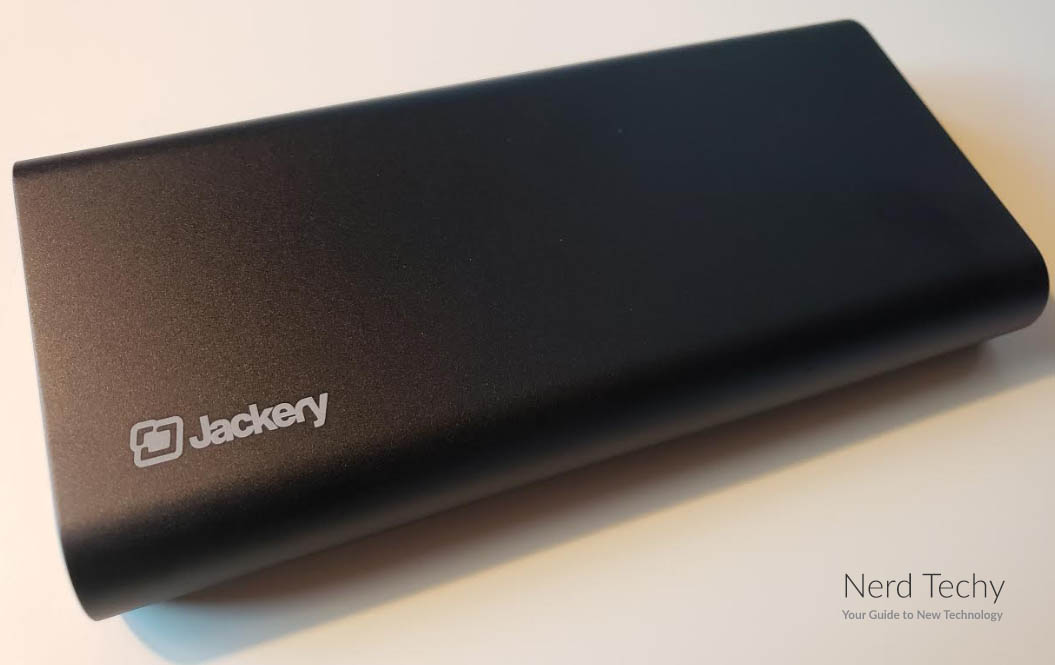 The PD was designed specifically to handle higher power and make a more universal standard for a wider range of devices to have quick charging capabilities. Many laptops are moving toward the USB-C PD charging port instead of a standard power only port. The PD port works by determining exactly how much power the device needs and how much can be pulled from the charger.
Power Deliver begins can range from 5v to 20V or up to 100W if you have a designated EMCA cable. Universal charging is the way of the future and with USB-C PD it is becoming a reality as well as a much more convenient means of obtaining needed power.
The power bank naturally comes with its own fast wall charger and can get back to 100% charge from a dead battery in just three hours. The regular USB port has a 5V 3A output while the USB-C output is PD 45W for that ultra-fast charging. With the massive 26,800 mAh capacity battery you are essentially carrying around a portable wall outlet.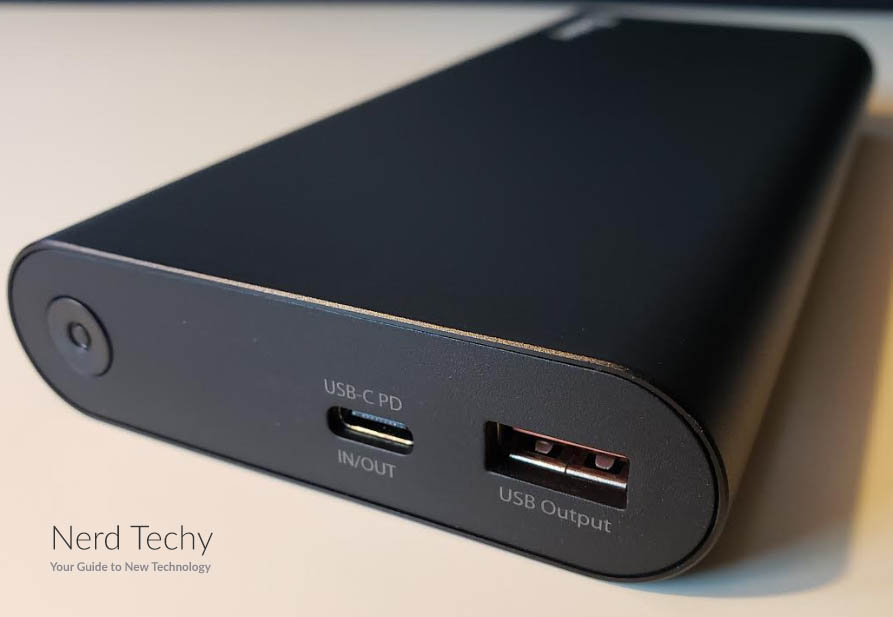 You can get around 7 to 8 charges for a big phone like the iPhone X or a bit more than 4 on a handheld gaming system like the Nintendo Switch. Your laptop might take up a bit more of the power, but you can still charge your phone and laptop at the same time while you facetime from your phone and watch Netflix on your laptop.
We hope that it is coming across that we are very much impressed with the charging capabilities of the Jackery Supercharge 26,800 PD charger, because we are. The adoption of the latest charging technology combined with the massive battery and the ability to charge multiple devices at the same time is simply wonderful.
With this kind of power you are able to make it through entire camping trips with your portable surround sound Braven BRV Mini Speakers and Portable Philips PicoPix Max Projectors so you can watch scary movies in the words without giving up on quality. What an age we live in when we can walk into the middle of a forest and watch a surround sound enabled move on our portable projector, powered by our 26,800 mAh power delivery portable power bank.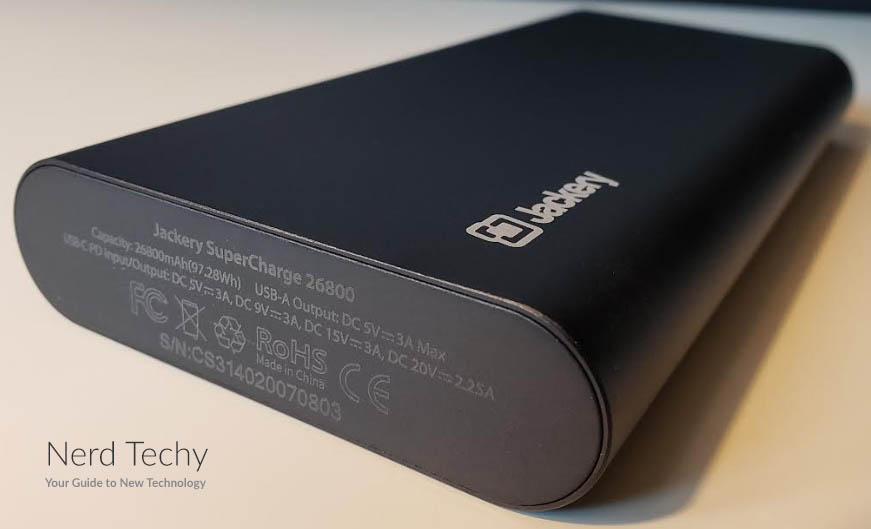 Compatibility
Any USB-C powered phone or laptop should not have a problem with this though there are a few direct exceptions. They specifically note that this power bank is not compatible with the Thinkpad Yoga X1, the Thinkpad Yoga 910, the Samsung Notebook 9 2018, the Dell Inspiron 7000, or the Samsung Notebook pro 13.5". It is also important to mention that the USB-C PD charging will not work with any device with an input below 50mA which some Bluetooth headsets might have.
Outside of the listed items we were unable to find any other issues with compatibility. Most of the compatibility issues listed are due to the manufacturer of said device not actually due to the battery itself. It is due to the manufacturers integrating limitations into their own devices or not implementing the latest in power delivery technology.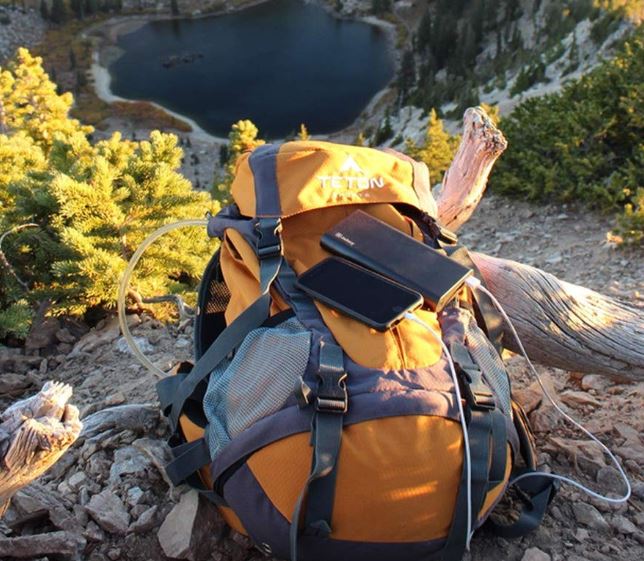 Worthy of mentioning
Despite the massive power in the battery backup Jackery made sure that it still meets TSA standards. So you will not have any issues taking this power bank on long flights and do not have to worry about putting your laptop on 25% brightness in a desperate attempt to prolong your ability to play Minecraft.
In the package you can obviously expect to find the Jackery SuperCharge battery, the 45W wall charger, the USB-C charging cable, a travel pouch to pack your battery in, and a warranty packet with the user guide.
Warranty
The Jackery Supercharge power bank comes with a limited warranty from Jackery. It covers the power bank from defects in workmanship and defects in the materials for 24 months from the date of purchase. No damages from regular use or accidents are covered.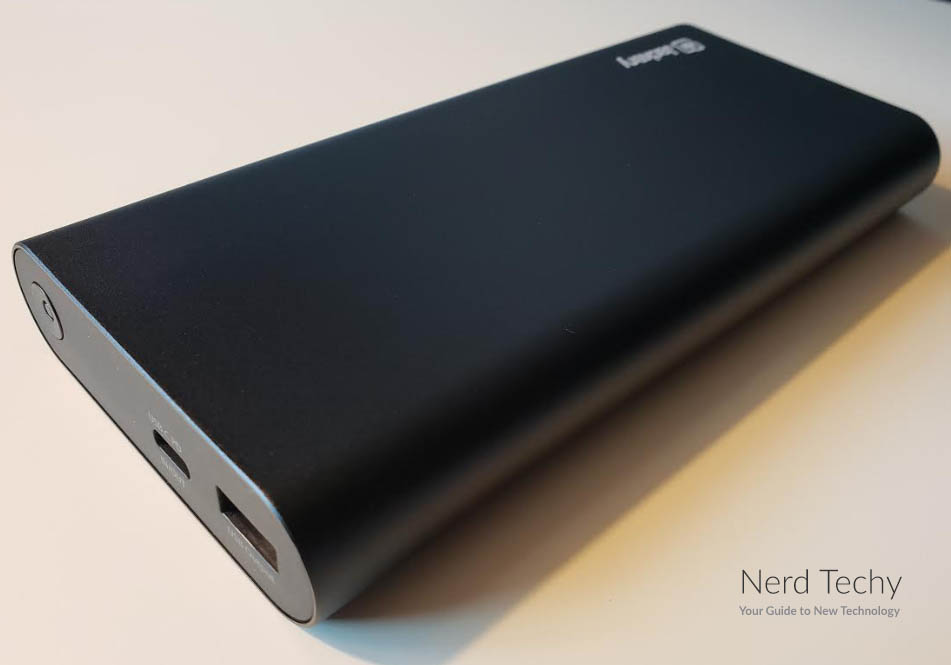 If for some reason you do not want to keep the Jackery Supercharge power bank because it is just too much power for you to handle, then they do have a 30-day money back policy along with a 24 hour customer service line. Ultimately the only risk you have is running out of battery on your phone because you returned the supercharge power bank.
Conclusions
Its been clear from the start that we like this product. Battery technology went through many years of stagnation and we are finally seeing a jump forward. From electric vehicles, to power walls that can power an entire home, battery technology is having its day in the sun and seeing it trickle down to consumer products is great. Packing in more power into a smaller total space, with greater power management in the chipsets so that we get massively increased charge times is like having your cake and eating it too.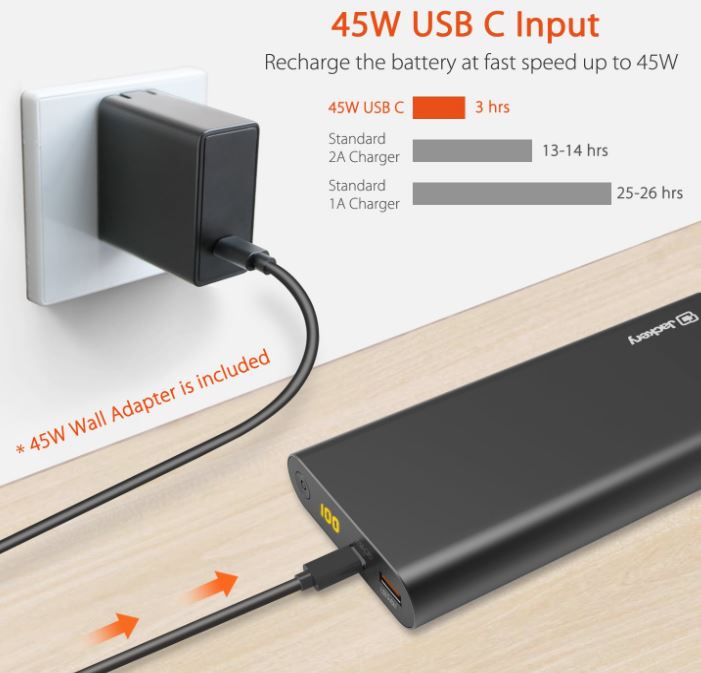 Anyone that has ever needed more power for their many devices would do well to pick up a Jackery SuperCharge Portable Power Bank because it is the one stop shop for their many electronics. This is of course not the only 26,800 mAh power bank.
We have reviewed others with that capacity before, including the Omars Beast. That doesn't take away from the great things the Jackery SuperCharge does right, in fact it makes it even greater for everyone because it means we are going to see more and more of these high-quality chargers hit the market.
Check this charger out and put it to use and then let us know what your experience has been. Do you like this portable charger as much as we do? Whether the answer is yes or no, make sure to leave a comment below and let us know why or why not.