Have you ever huddled around your phone screen to watch a youtube video or perhaps even a movie? It can get a bit frustrating trying to hold the phone far out enough for everyone to see. That is one reason we have always liked the idea of portable projectors. You have something to show so you Bluetooth into your portable projector and light up the wall.
Portable projector technology is nothing new, however a differentiator for the PicoPix is that this is a standalone device. What that means is that you do not have to connect your phone to it at all. The projector has the Android OS pre-loaded onto it. So you can install apps, load movies and even play games directly from the projector. You are still able to connect to the projector from other devices with HDMI, USB-C, USB, and Wi-Fi and Bluetooth, but being able to load up movies right on the devices itself is pretty cool.
Throw in the fact that the PicoPix has built in dual stereo speakers and you essentially have a completely standalone, portable, high quality android powered device whose display is projected out instead of built in with a screen. The speakers are a minimalist 4watt max but there are two of them so you still get decent sound quality.
Design & Layout
The PicoPix Max is a true portable projector, coming in at 5.35 x 5.38 x 1.87 inches. At the base of the device is an area you can connect a tripod to. On the back of the top there are the android buttons you would expect including the back button, home button, menu, and volume buttons. Above the buttons is the touch pad for interacting with everything on the projector.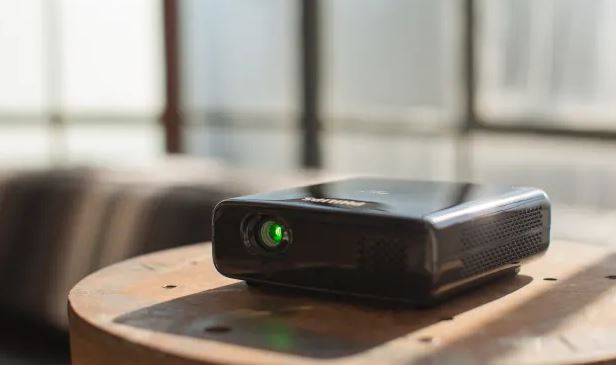 On the front side you obviously have the projector bulb and on the back side you have the connection slots. Starting from the far left there is the power button which is self explanatory, then you have the Micro SD car slot followed by the HDMI, USB, audio port, and then two USB-C ports.
Video Quality
The PicoMax has Full HD 1080p native resolution with 800 Color Lumens. What will blow your mind is that 4k is also supported. The screen size can rage from 30 to 120 inches and with 800 Lumens the quality is impressive. For those out there that have an interest in projectors, lumens essentially measures brightness. The number of lumens needed for quality depends on a few factors. The size of the screen you will be projecting, and how bright it is in the room or area that you are in while using it.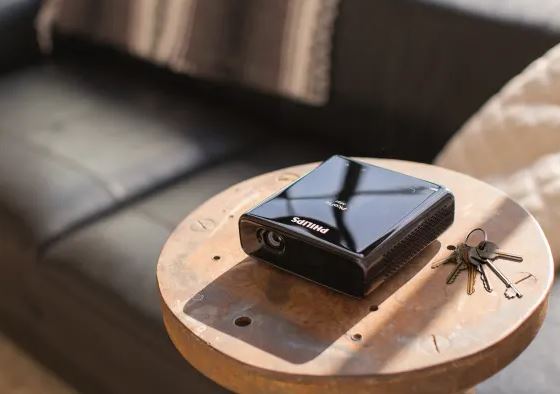 The PicoPix Max utilized TI (Texas Instruments) DLP technology and an RGB-B LED bulb. There is a contrast ratio of 10,000. The contrast ratio is essentially a comparison between the dark and light contrast on the screen. So the higher the contrast ratio the greater the juxtaposition between the darkest and lightest the screen gets. For example at 10,000:1 the light image will be 10,000 times brighter than the dark image. You will be able to notice the difference primarily in a perfectly dark room, otherwise in a very bright room you would not see much change between a 2000:1 contrast ratio and a 10,000:1 contrast ratio.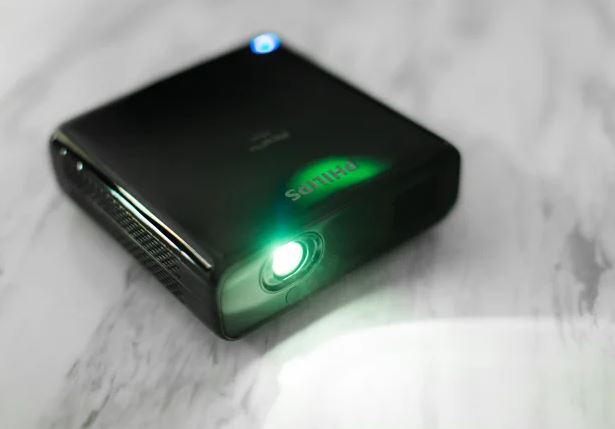 The native resolution is 1920 by 1080 however as mentioned before the PicoPix Max does have support for 4k which is wonderful. You can expect an aspect ratio of 16 by 9 and a diagonal range of 75 centimeters to 305 centimeters. There is auto focus so you don't have to worry about adjusting the lens as you might find yourself doing on an older home theater projector.
Overall you can expect good quality video and performance from the PicoPix Max however you should not be expecting the kind of quality you get from a home theater powered projector with 4,000 lumens. If you go into it understanding what to expect you should not be disappointed.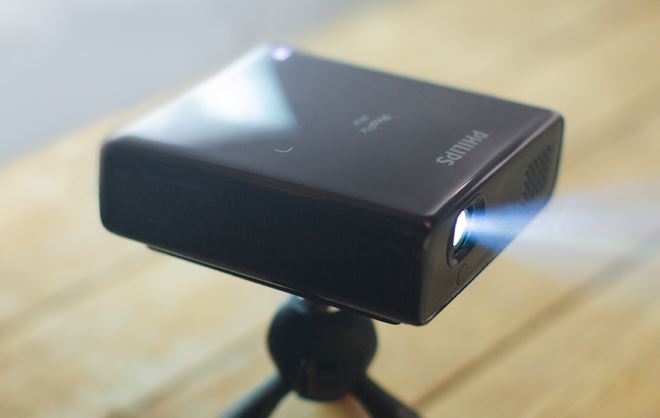 Battery Lifespan
Inside there is a 16,500mAh battery that should last you around three hours of projection time while playing movies. You can stretch it out by customizing brightness but you will also be sacrificing quality for lifespan. One neat feature is that you can use the PicoPix Max as a power bank if you decided you don't want to project your emotions today and instead want to charge your phone.
Other Considerations
The LED bulbs in the PicoPix are rated to last 30,000 hours of usage. To put that into perspective, you could let a nonstop loop of Rick Astley's Never Gonna Give You Up go on for almost three and a half years before needing to replace the bulb. More realistically though if you played just two hours of video games a day, seven days a week, you would not have to replace the bulb for over forty years.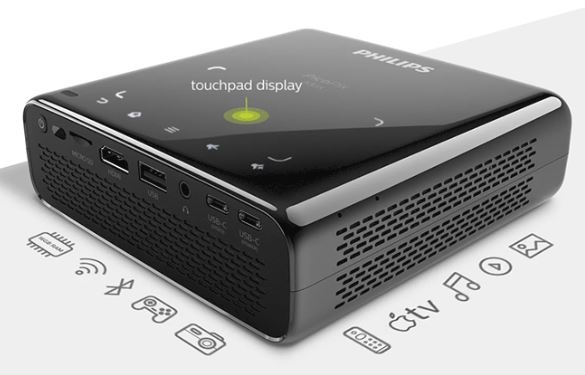 The portability of the standalone projector makes it tempting to just bring it with you everywhere you go. If you find yourself in a business meeting and want to do a quick presentation but don't want to have to log into the meeting room computer and find the file for your presentation then have someone click for the slides. You can just pop out the PicoPix Max and get on with it since you preloaded your file onto your projector or you have some cloud app installed and can just open up the presentation.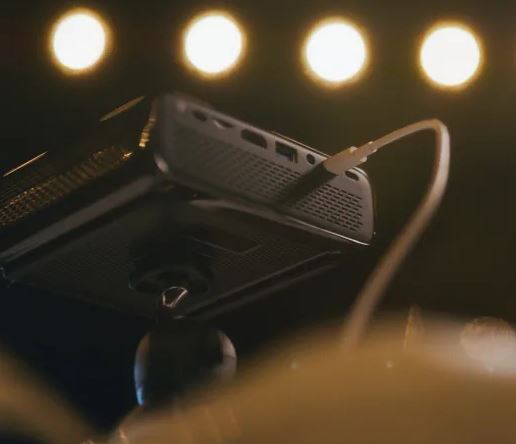 This becomes exponentially easier considering the fact that there is a built in touchpad display on the top side of the projector. Enabling you to actually utilize the projector as a self contained eco system. Whether its playing games, or browsing the web you can do it with just the projector, no other device needed. For convenience you also get a remote control with the PicoPix Max so that you can interact without having to go to the device to use the touch pad.
There is almost universal compatibility with the PixoPix since it can use Airplay from a Macbook, Iphone, and iPad. It can use screen mirroring from your laptop, phone or tablet, you can connect a flash drive or external HDD with movies onto It or just plug right in with your apple or PC deices using USB and USB-C. Then you have the option to connect via Bluetooth or HDMI on top of everything else. So whatever device you find yourself with you should be able to use it with the PicoPix Max, or you can just load everything you want onto it directly and use the built in android. The point is that you don't really have any limits here with how you want to use the projector.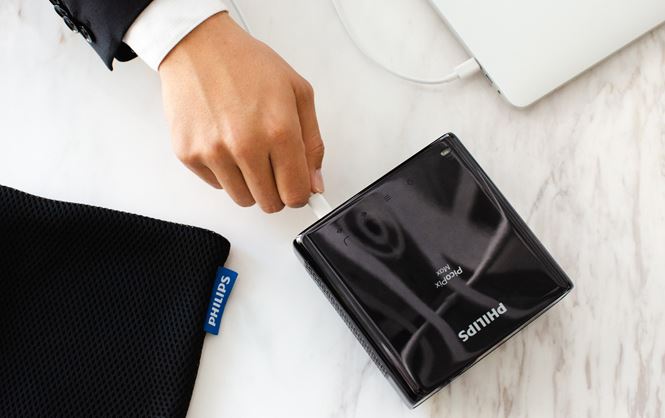 Whether you want to pair Bluetooth speakers or plug directly into the headphone jack on the back of the projector, you are not limited by the dual speakers built in. You can grab the PicoPix Max and taking it camping with you, assuming you have light flat surface to project onto. Then grab your Tronsmart T6 Plus Bluetooth speaker and get a surround sound experience in the middle of the forest. Perhaps instead of camping you see yourself using the projector for business. In this satiation, during a presentation you connect to your Treblab HD7 and play your perfectly edited, motivating video presentation with video quality and sound quality that bring a tear to the executives eye.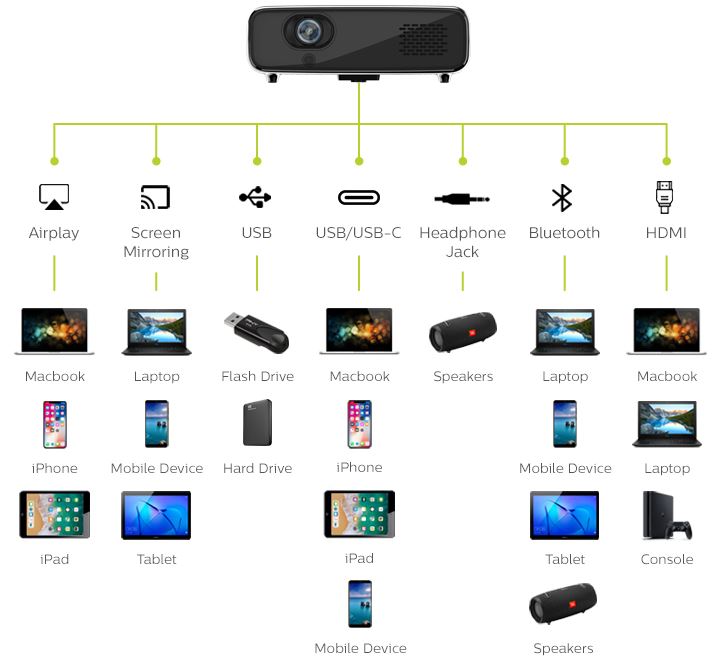 The point is with portability, quality, and the many options you have for connecting to the PicoPix, you can use it almost any way you can imagine and imagining use cases is always important before making a purchasing decision. If you cannot picture yourself using something in your mind then you probably wont actually end up using it in practice.
In the box you can expect to have the PPX620 projector obviously,. and the AirMote which is the wireless remote. There is the User Guide, the Quick start guide, the warranty card, and the power adapters. Packed in there you can also expect to see the travel pouch and the tripod. Some final factors that might impact your decision is the warranty. There is a 24 month warranty and a 30 day exchange policy.
Final Verdict
If you want a home theater projector that you plan to mount and never move, then this isn't the one you want. There are many other much more expensive options that will give you the max quality for your home theater. If however, you are looking for a projector you want to be able to take with you then the PicoPix Max by Philips is an option you should seriously consider.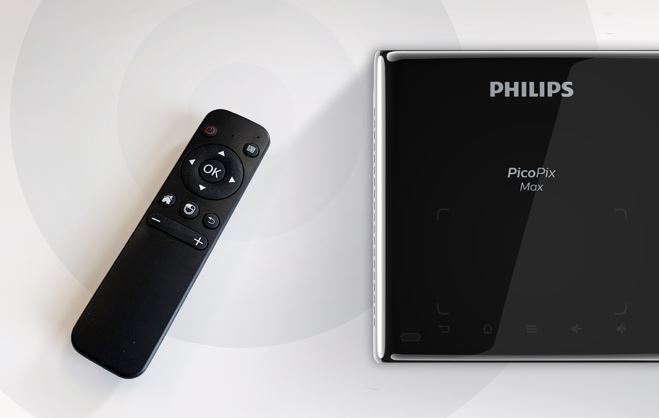 There are a vast number of portable projectors on the market such as the Canon Rayo S1 and the Topvision 2400Lux but out of all of the portable projectors we have reviewed in the past, none of them have the functionality that allows them to be completely stand alone like the PicoPix Max does. There are some projectors with high lumens, and others with smaller designs however when you balance out all the features there is a clear winner with the PicoPix.
So simply ask yourself "Do I want a projector that I can take with me and use in a variety of different situation?" If the answer is yes then look no further. If the answer is no, well, then look elsewhere obviously, that much should have been clear by now.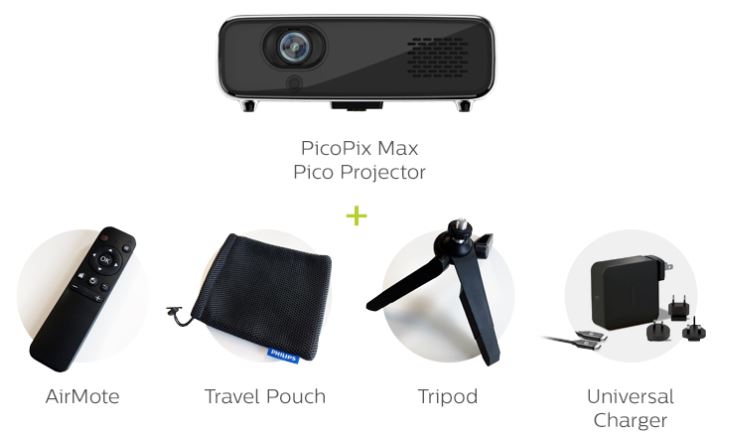 The PicoPix Max was a crowdfunded product by Philips to determine if there was a demand for this kind of stand alone projector. They decided to set a goal of 55k to determine demand and fund development. When people saw the projector a clear demand was set because instead of hitting the 55k goal to fund it, they hit over 3 million dollars in backers. That is 5711% of the original goal. Clearly there is the demand, so all that is left now is to ask yourself if you are part of that demand.