FlyBuds are Tribit's latest creation, but they're by no means their first big-time buds. Their previous line, the X1, created a lot of buzz when it was released, and remains a favorite among athletes and music lovers alike. Tribit's new true wireless earbuds, Tribit FlyBuds, were released this past August 28th. Of course, we couldn't wait to get our hands on some. Why?
FlyBuds are positioned as an affordable option, suitable for the same fitness-oriented folks who already love the X1. They're constructed with an eye to durability, with a waterproof and sweat-proof design. Whether you're jogging outdoors in the rain or working up a sweat on your gym's treadmill, it's important to have a pair of earbuds that won't short-circuit just because of a little moisture.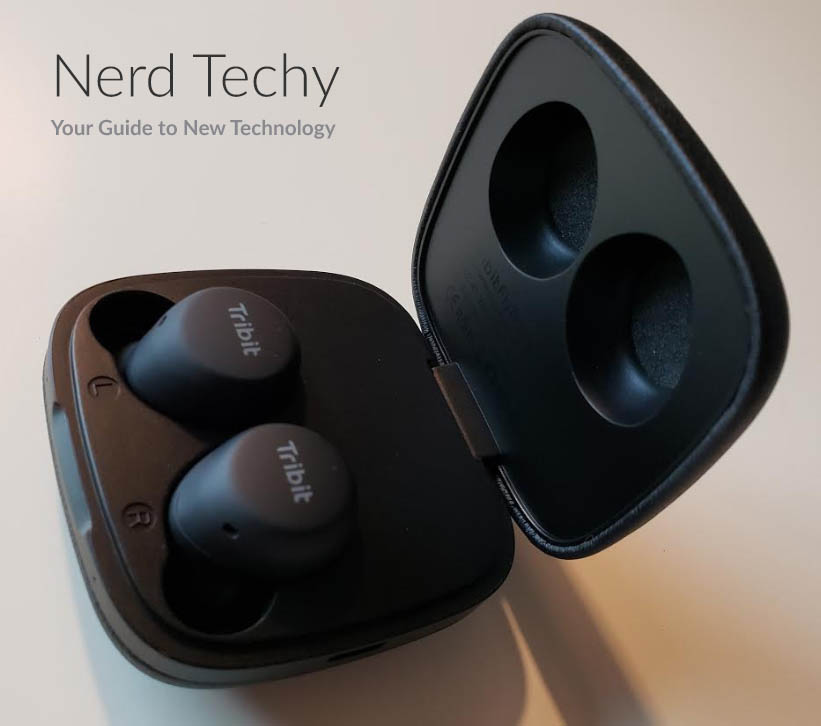 These earbuds have a sturdy charging case, which plugs into any USB outlet. When they're inserted into the case, they automatically charge. When they're removed, they automatically attempt to pair with your cell phone or any other mobile device. Users will get to listen to up to 6 hours of audio without a recharge, or 36 total hours if you bring the charge case along with you.
So, are these earbuds worth buying? We're about to look at every aspect of their design and performance, to determine whether they're really as good as they're hyped up to be.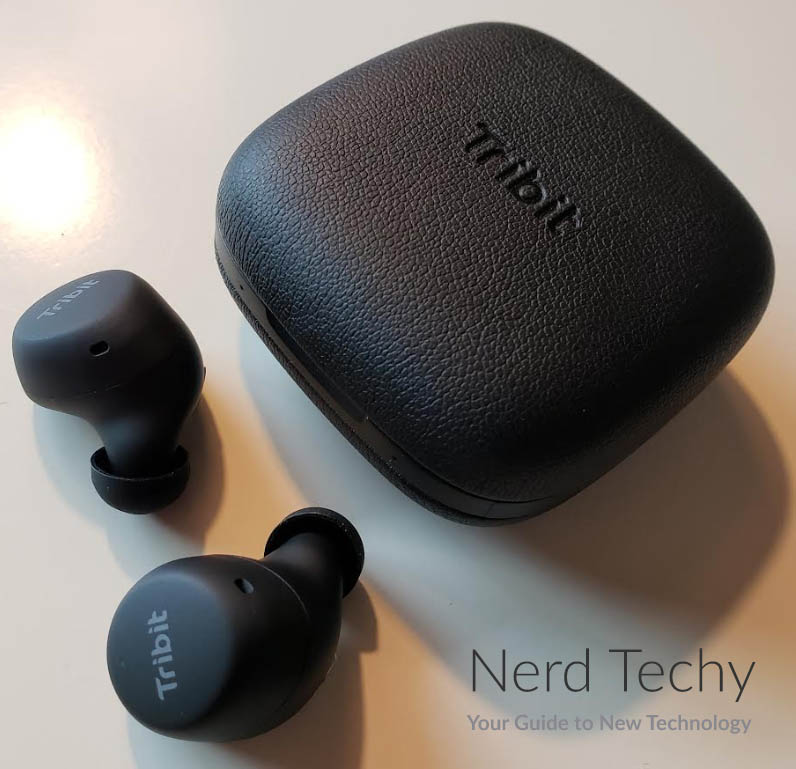 Specifications
For those of you who want a quick, TL;DR overview of Tribit FlyBud earbuds, here's a rundown of the basic specifications.
Noise cancelling
Waterproof
One-touch operation
Can sync with 2 devices simultaneously
Each earbud weighs only 0.18-ounce
6 hours of battery life (36 total with charge case)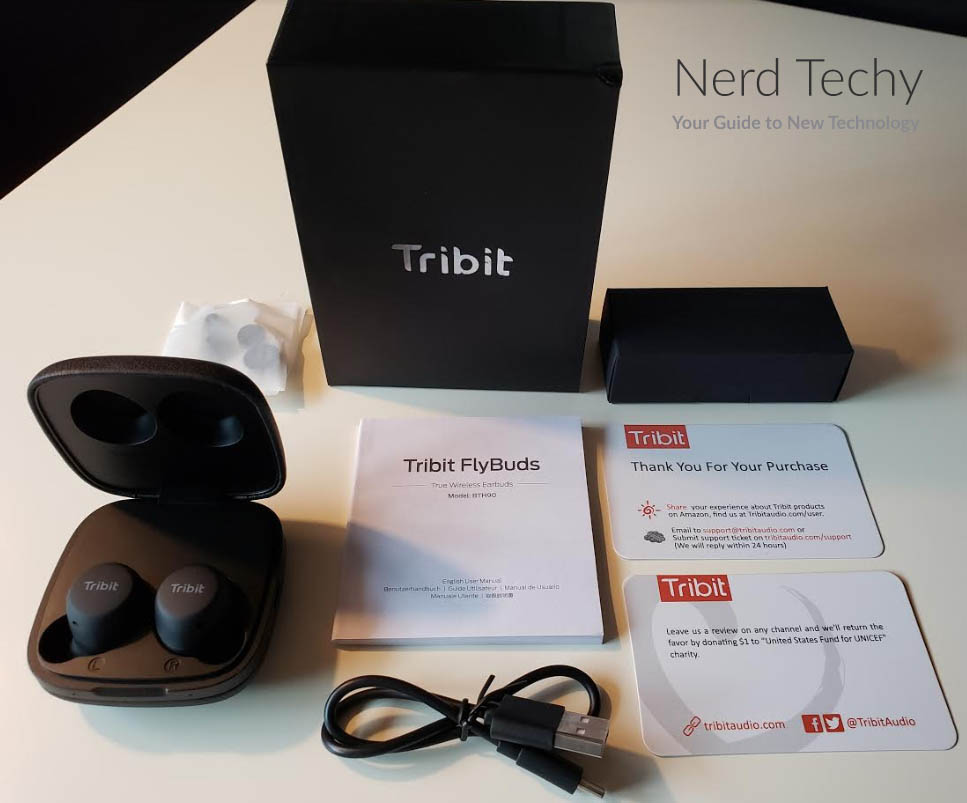 What's in the Box?
Every wireless device needs some accessories to make it fully functional, and FlyBuds are no exception. Here's what you'll find in the box.
Left and right earbuds
Charge/carrying case
USB-C charging cable
3 sets of alternate-sized ear tips
Owner's manual
Design and Features
The first thing you'll notice when you open the box is the case. It has a soft, faux-leather finish that's light to the touch, with a crush-proof inner layer that will holds its shape just fine when it's shoved into your pocket, purse, or gym bag.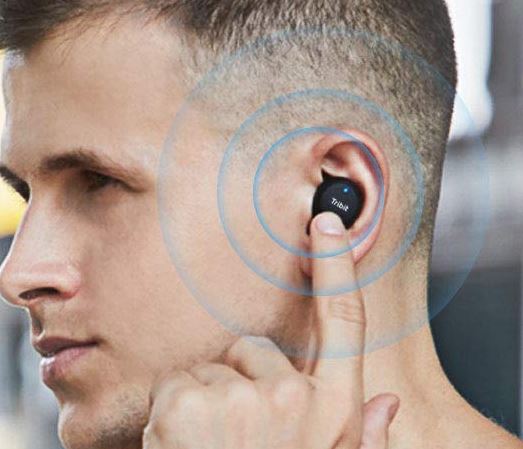 The FlyBuds themselves look and feel like they're ready for a fitness application. The rubberized finish not only makes them sweat-proof and waterproof, but it's comfortable, and won't chafe the inside of your ear during intense workouts. The finish is also easy to clean, a necessity any time you're soaking one of your devices with your bodily fluids.
The fit is as secure or as loose you want it to be. The profile is a bit large, and may be too big for people with very small ears. That said, Tribit includes three alternative sets of ear tips in the package, so most people should be able to find a fit that's both secure and comfortable. Play around with them as needed to find a pair that works well for you.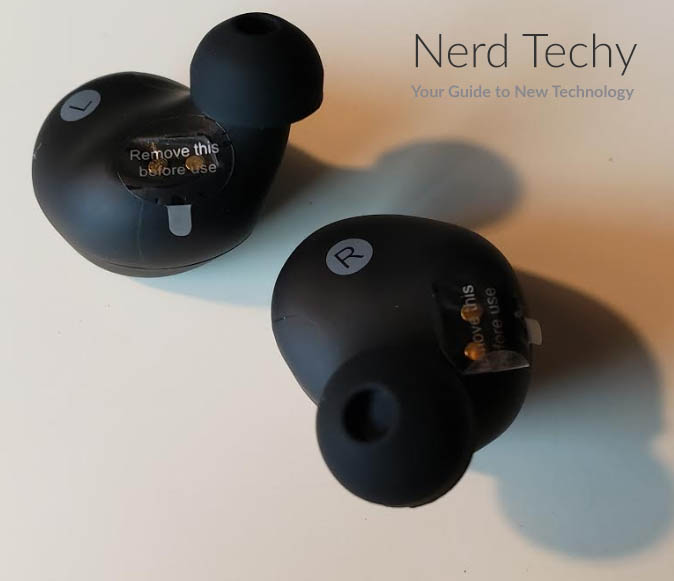 There's a reason for the chunky size; FlyBuds have relatively large batteries, which offer 6 hours of playback before you need to top them off. The case holds enough of a charge for an additional 30 hours, so you'll be well-prepared for a weekend excursion, with one fewer USB device that needs to be plugged in overnight.
The touch controls are some of the best we've seen on a pair of wireless buds. This is partially due to the fact that they have a relatively large surface area, but they're also incredibly responsive. A simple brush of your finger is enough to control your earbuds.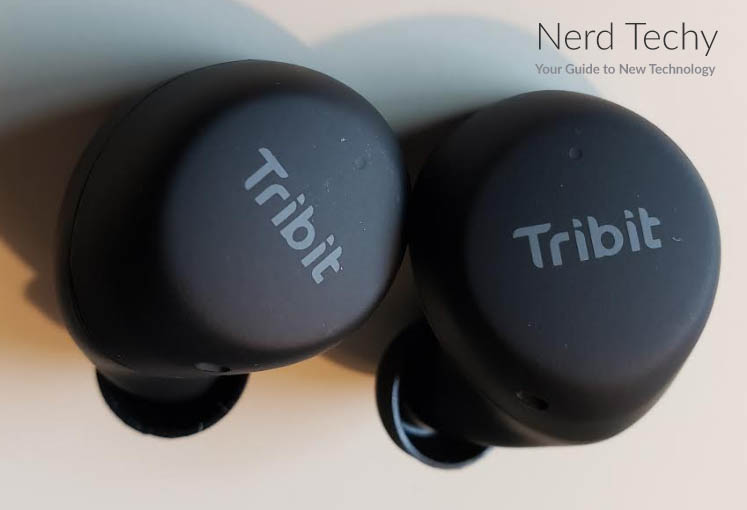 Accessories
As we've already mentioned, FlyBuds offer an impressive amount of battery life. Even without the charging case, the earbuds alone offer up to 6 hours of playback, which is more than enough for most people to get through an average day. But why limit yourself to 6 hours, when you can get 36?
We've already talked about how crush-resistant the FlyBuds case is, but it also offers a slim profile. This pocket-friendly design makes it easy to carry anywhere, even on a weekend hiking in the woods, or on an airplane for an international flight.
Another nice feature is the USB-C cable, which can recharge on high-speed USB ports. And while we've already mentioned the extra ear tips, we should point out that they're really a necessity on an earbud of this size. You need a secure fit to keep them in place, and Tribit's tips are comfortable, washable, and flexible.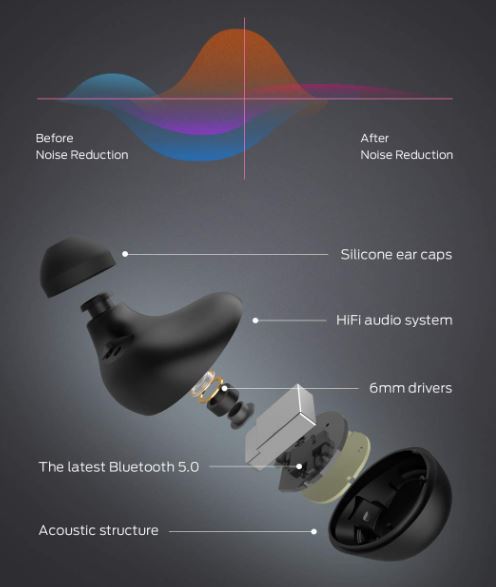 Sound Quality
First, let's be clear about what we're comparing FlyBuds to. We're not talking about premium, top-tier earbuds. We're talking about affordable waterproof earbuds that are reliable, but don't have a lot of bells and whistles. As a result, our expectations were for a pair of earbuds that exceeded AirPods, but wouldn't stack up to a lot of similarly-priced wireless buds.
We'll admit, we were pleasantly surprised. FlyBuds offer an impressively rich sound, much more balanced than you'd expect from a pair of budget buds.
These earbuds offer smooth playback across all parts of the spectrum. This is especially true for mids and highs, which come through clearly without any tininess. The highs sparkle, but they're not intrusive, which is great for listening to classic rock music with lots of cymbals.
If you're looking for deep, heavy bass, you'll be better off looking elsewhere. The bass is present, but it doesn't offer a lot of punch, even if you crank the bass all the way up in your equalizer. Fans of a thumping, powerful bass will want to look at some of our other reviews for better options.
FlyBuds do excel in one area: vocals. If you're a rap fan or listen to a lot of spoken-word podcasts, you'll appreciate the exceptionally clear vocals you get from these earbuds.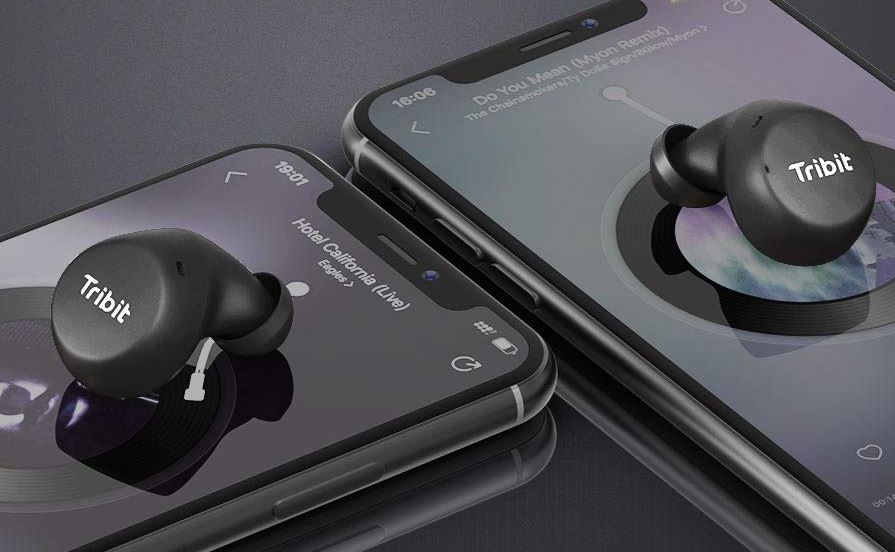 Connectivity
One thing we really appreciated about FlyBuds is their compatibility with the Bluetooth 5.0 protocol. This is an upgrade from the less reliable connection on the Tribit X1, and allows for a reliable, fade-free connection. Of course, this doesn't mean that FlyBuds won't pair with older devices. If your phone or iPod is compatible with Bluetooth earbuds, it will pair with FlyBuds.
The Bluetooth 5.0 protocol offers for exceptionally fast pairing. This is a nice feature when, for example, you come home from a run and play a YouTube playlist on your laptop while you change your clothes.
A final benefit of this protocol is that it allows you to pair your earbuds with multiple devices. Android users will love this feature, since it means you can connect your Android phone and your iPod simultaneously. On the downside, when paired with two devices, FlyBuds will play audio in mono instead of stereo.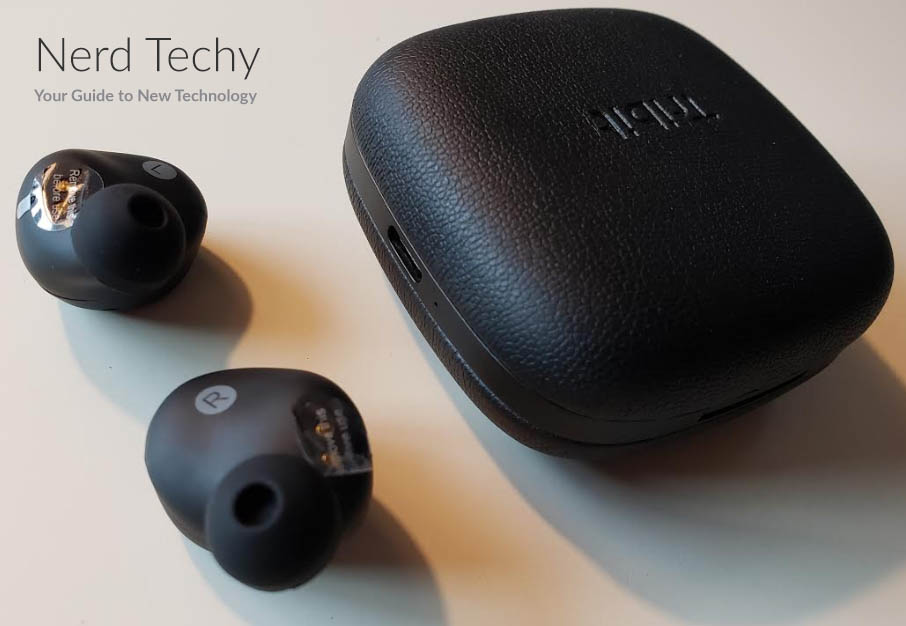 Pros & Cons
So, how do these buds stack up to the competition? Before we answer that question, let's take a look at how they perform in their own right. Here's a quick look at the pros and cons of Tribit FlyBuds.
Pros:
Clear, crisp mids and highs
Long battery life
Lightning-fast Bluetooth pairing
Can pair with multiple devices
Pocket-friendly case
Waterproof design
Affordable
Cons:
Lackluster bass quality
Large profile
Final Verdict
When Tribit launched FlyBuds, their senior audio engineer had some words for the occasion. Here's what he had to say:
"Our latest wireless earbuds, the Tribit FlyBuds, are totally in line with our mission to elevate the entire auditory experience beyond boundaries – and definitely without wires. We hope our customers will be as excited as we are about our latest innovative earbuds, because we designed them specifically for their busy, active lifestyles while ensuring quality and enjoyable entertainment."
So how well do FlyBuds live up to this goal?
The audio quality is certainly good. Unless you absolutely must have loud bass, you'll appreciate the clear playback. Quality is further boosted by the Bluetooth 5.0 protocol, which allows for higher bitrate audio transfer, as well as for lag-free performance when watching high-definition YouTube videos.
The 6-hour battery life is also impressive. Especially when paired with the charge case, you'll get more playback time than you could possibly need. As a matter of fact, FlyBuds' greatest weakness – their large size – is directly attributable to these large batteries. No improvement comes for free.
All in all, FlyBuds are a great investment. They'll serve you well through many workout sessions, and stand up to any amount of sweat or rain.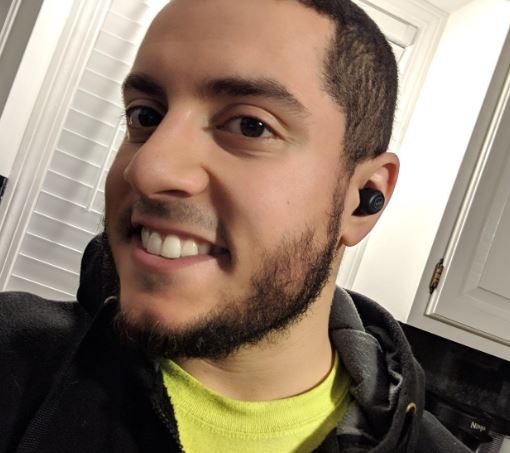 Alternative Options
No single pair of wireless earbuds is going to be the right choice for everybody. We're all unique individuals, and each of us has our own sets of needs and preferences. So what should you do if Tribit FlyBuds don't appeal to you?
You're in luck! We've reviewed many wireless earbuds over the years. Here are a few recent entries that might be up your alley.
TronSmart Spunky Pro Earbuds. These buds are built specifically to deliver loud, powerful bass. That's not to say they'll be outperforming a pair of Bose speakers any time soon. But they're more boomy than most earbuds on the market. That said, this large speaker requires them to be just as large as the FlyBuds, and the battery life is only 18 hours, even with the charging case.
The Sony WI-XB400. This is another beefy, bass-heavy pair of earbuds. They offer an impressive 15 hours of battery life without the need for a carrying case, and in a pinch, they also offer a 10-minute quick charge that will provide you with an hour of juice. On the downside, they're not truly wireless, and the battery pods will be hanging around your neck.
The Axloie Magic. These earbuds include a battery pack that offers a whopping 130 hours of play time. That's enough for a whole week of nearly-nonstop listening never mind a day on the job. They're also small in size, a good choice if the other earbuds we've looked at are too big for you. Unfortunately, the sound quality isn't as good as we'd like to hear.
Thanks for checking out our review! Even if you had to go another direction, we hope we've helped you learn more about what's available on the market, and what you should expect from a pair of wireless earbuds.