Batteries have finally started getting better in our consumer technology. Electric vehicles are taking over the roads and thanks to Tesla's battery innovations they can actually go more than a few miles. In our phones and laptops, due to increases in efficiency of power use, we have also been able to benefit with longer lasting batteries in our consumer products.
With the Sony WH-CH510 wireless headphones you get to benefit from all the advances in battery technology. Sometimes the reason we choose over the ear headphones instead of earbuds is because we want to be fully immersed in the sounds. Other times we choose them because we want to block out the noises around us such as babies crying on an airplane or people snoring on an airplane. Some of these are perfect for the WH-CH510's and others not so much.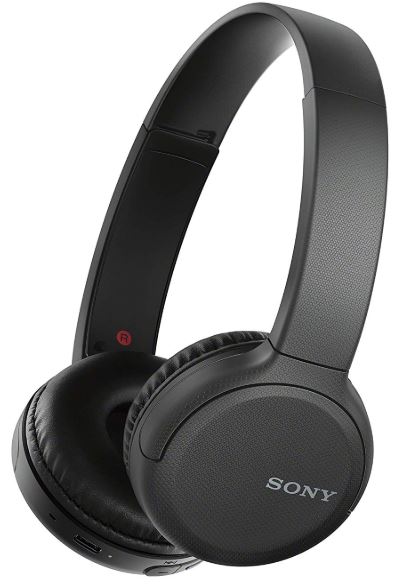 With Sony you already know you are buying into a brand with a long history of building good quality electronics. They were founded after World War 2 back in 1946 in Tokyo Japan by Masaru Ibuka and Akio Morita. Even their first product had to do with audio, though it was a power megaphone not electronic headphones.
Later on in the history of Sony's adventures in audio they developed a transistor radio before breaking into the TV game. Down the road a bit they developed the Walkman which defined an entire generation of music lovers lives. In modern times they have their hands in manufacturing a huge variety of consumer electronics.
The question of course becomes one of whether Sony can live up to their legacy. They have been manufacturing quality for longer than most of the modern companies have even existed and they have out lasted even more companies. Their experience, long history of research and development, and ability to hire the top engineers gives them an edge over the competition that is hard to overcome.
In the headphone game just like in pretty much every other arena Sony gets into, they are known as making great and reliable products. With the WH-CH510 they adhere to that legacy. They are designed to be very long lasting and easy to use, have excellent quality sound, and easy to travel with. On top of that they are meant to be used for calls and give you full voice control over your phone with integration for voice assistant.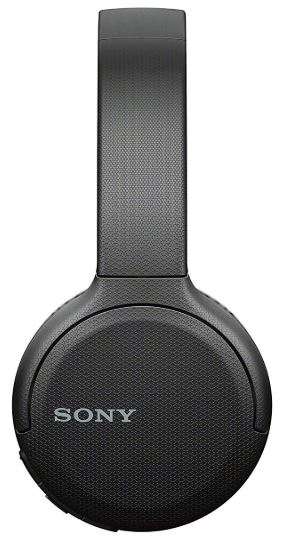 Design & Layout
The headphones weigh in at 9.8 ounces and fully open measure at 7.8 x 6.8 x 1.6 inches. The earcups actually swivel so you can pack them in a bag easier for compact traveling. The headphones are definitely designed for use while traveling as noted with their long lasting battery life and design.
At the base of the earcup you will find the two volume controls along with the power button and a USB-C port for charging. They are almost entirely jet black aside from some white micro dots on the outside of the two earcups themselves mixed in with the Sony logo. Though that is only the default option and you can find other color options to suit your unique style. Along with all over the ear headphones they do adjust to fit the size that is most comfortable for your head.
At the base you will also find the hole for the built in microphone. The microphone can be used to take and make calls without actually having to touch your phone. This is due to the voice assistant functionality that ties into your smartphones Siri or Google assistant feature. That means without taking your phone out of your pocket you can make calls or check the weather or pretty much anything else you can do with voice assistant.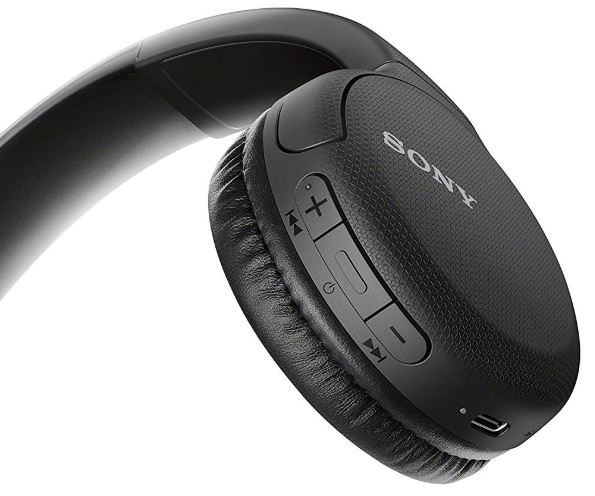 Wireless & Call Quality
The built in microphone is top notch and testing both indoors and outdoors there was no loss in quality. The Bluetooth connection remained stable at 30 feet away from the connected device. The quality and range can be attributed to the inclusion of Bluetooth version 5.0 which is of course the latest rendition of the wireless technology.
Given the upgrades to Bluetooth with 5.0 you get higher quality, that longer range, and backwards compatibility with the older Bluetooth versions. The battery life on the WH-CH510's gets a little boost from the extra efficiency that Bluetooth 5.0 has over previous versions so utilizing the latest technology helps maximize your play time. Bluetooth 5.0 also has duel pairing function so you can actually connect two different headphones to your phone and listen. That means sharing on a plane is incredibly easy. No more extra dual input jacks for watching movies.
If you have a computer with Bluetooth capability you can actually use your headphones for VOIP calling at the office. The lack of noise cancellation actually comes in handy here because you can keep your headphones on for calls while also still being able to hear people in the office trying to get your attention. For the price it would actually be quite easy for an office to buy a large order of these and provide them to all of their call intake specialists as well. In combination with a phones walky talky app you can actually keep an entire retail staff connected.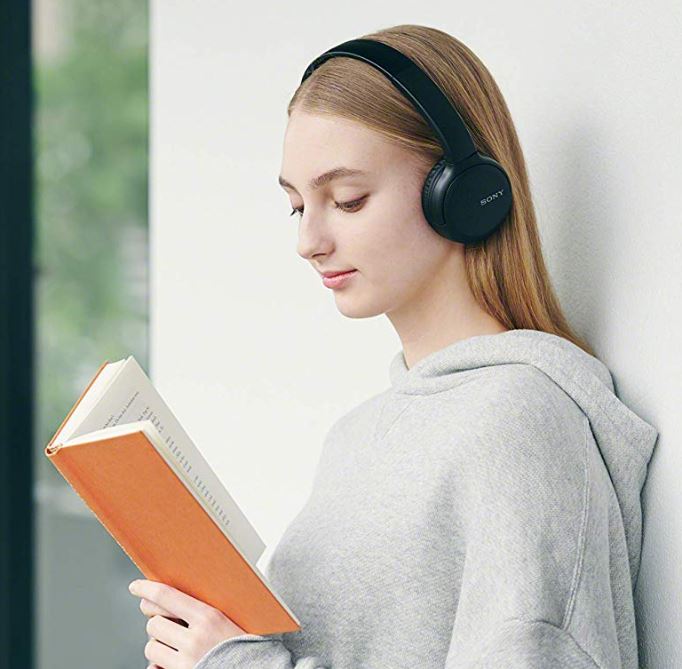 Battery Lifespan
The battery life on the WH-CH510 Sony headphones is phenomenal. Not only do they get a whopping 35 hours of actual play time, but it has built in quick charging as well. With the quick charging functionality you can plug in the headphones for just 10 minutes and get 90 minutes of additional play time. So even the longest flight wont be a problem for the battery on it.
Pairing these up with a kindle while traveling was amazing because both of those devices last a very long time without requiring a power source. The kindle can of course play audiobooks so while traveling even if your vacation was two weeks long, if you listened to 2 hours of audio every single day you would still have leftover power for the ride home. On top of that they can get up to 200 hours of waiting time from a full charge.
Audio Quality
The sound quality on these Sony headphones is respectable. For the price you are getting great audio that will last you a long time. Though they will not compete with much higher priced Bose headphones they balance out with comfort, battery life, and solid quality for the value.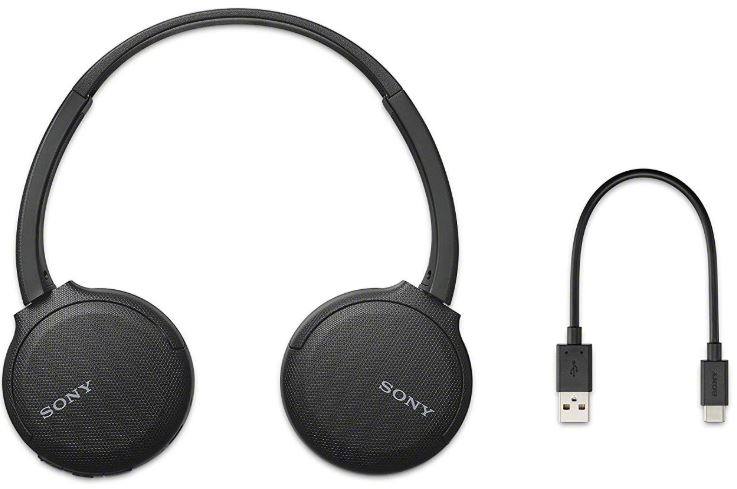 Other Considerations
These headphones are for the kind of person that plays the balanced warrior class in a video game. They know they are not going for the class that excels at a single point like damage per second or support but has the endurance they want and matches their play style. These headphones are meant to be used all the time, be comfortable and reliable.
The downsides are not many but they do pose a concern because they limit some use cases. For example these headphones no waterproof rating, meaning they are not the pair you want to bring with you while kayaking down a river or caught out in the rain.
They also do not have built in noise cancelling so despite the good audio quality, if the environment is particularly loud you will still hear some of it through the headphones. Also whoever you are speaking with using the built in mic on the headphones will also hear some of the louder sounds around you.
That being said the price is very fair so despite lacking the previously mentioned features you are not paying to have them put in.
Other Options For Other Lifestyles
If you are looking particularly to block out the world and focus on whatever it is you find yourself listening to, then we suggest you take a look at the Denon AH-GC30's. They fully cover your ear and have a robust noise cancelling feature that can really isolate you from those pesky sounds pesky humans tend to make.
If you are more of a sporty person and require something that is going to survive going on your many adventures, then instead of over the ear headphones you might check out the Lokmat Bluetooth Bone Conduction headphones. The bone conduction is safer on your ears than super high volume audio traditionally is and they are rated at IP56 waterproofing so you don't have to worry about splashing water on them.
Of course if you want that over the ear quality and comfort with the ability to walk in the rain without worrying, you need to look into the Mpow H12 Hybrid headphones. They solve both concerns by having waterproofing and noise cancelling built in plus they compete on battery life by having around 30 hours of play time. Not quite as much as the Sony headphones but very close.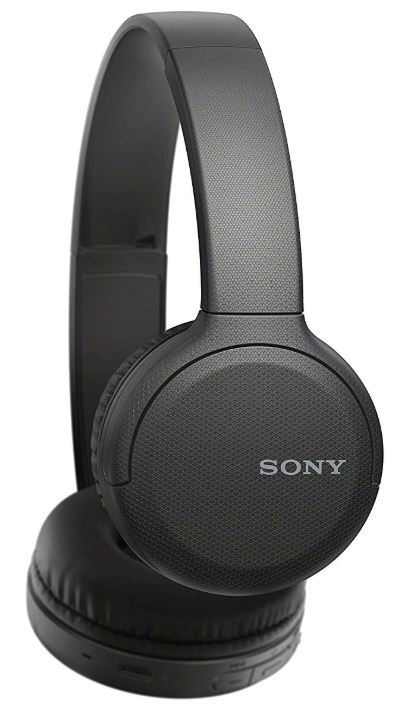 Who Should Buy the Sony WH-CH510?
Anyone that wants good quality for a normal use scenario of reliable home and travel headphones will be safe with the Sony WH-CH510's. These headphones are perfect for your number one use, take with you traveling, have with you at work, kind of headphones.
The only limitations as we discussed are noise cancellation and waterproofing, so if you do not plan on taking these through a waterfall or in crowds of screaming people, then you are going to love these headphones. There are not many bells and whistles which makes them just a balanced set of quality headphones so you know what to expect and if you like the value given in the price demanded there is nothing that should stand in your way.