Earbud options are plentiful. You have more earbud options today than you have music streaming services. It seems every consumer electronics company makes a pair. With that sort of saturated market what can you do to find the right pair that will serve you the way you want? What can you do to maximize your value to dollar ration?
There are a few factors you want to focus on when purchasing earbuds. First is why you want them, and by that we mean where do you plan to use them? What exactly is your personal use case? Once you have an answer to that question you can begin isolating the features you actually want to have in the perfect pair of earbuds to match your desired use.
There are earbuds that target audiophiles that simply want the best audio experience and do not care about any other features though most of them will tell you that cords are king. There are options for the sporty type that are meant to be used at the gym or on some hiking excursion. Of course they even have earbuds for people that just want to listen to their music and want to pay as little as humanly possible to do it.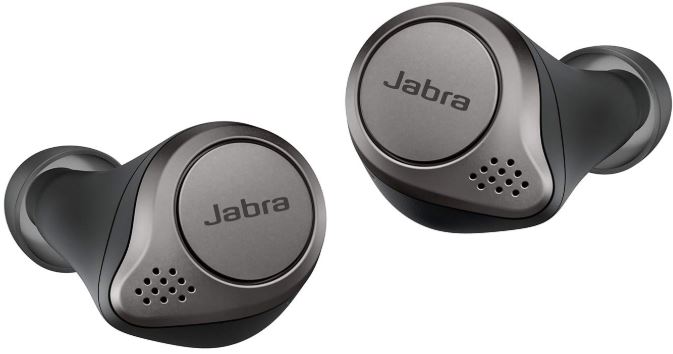 The Jabra Elite 75T True Wireless Earbuds are designed for people that want to have their earbuds be multipurpose. They are designed to maximize call quality, so you can use them as your Bluetooth headset without looking like a crazy person with the large over the back of the ear standard headsets. They are also meant to take that sound quality and give you plentiful options to customize your own sound profile.
Some of you might have had experience with Jabra products in the past. For those that have not they are a company that is part of the GN Group that has been around for around 150 years. The GN group is about pushing boundaries and they have done so in the past by creating the world's first ultra noise- cancelling microphone, among many other innovations. Their goal is to deliver the latest sound technologies and innovations which they certainly did with the Elite 75T earbuds.
Design
The design of these earbuds have a sleep professional look. They come in titanium black and matt black color options. They fit snug in the ear and while shaking your head far more than you would under normal conditions they still didn't fall out. Though the right size silicone gel padding is essential for that test. This is of course an intentional design feature in order to minimize the risk of losing or damaging your product.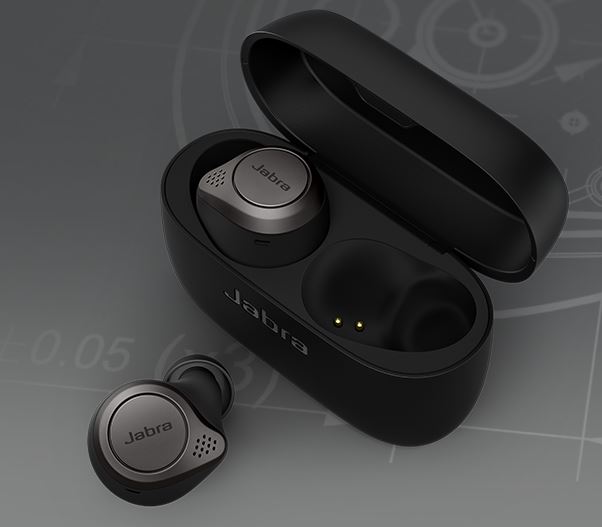 The Jabra Elite 75T earbuds are designed for use with calls. This is made abundantly clear when you look at their 4-mic call technology. This allows them to enable top of the line noise cancellation isolating individual sounds and only allowing through what you specifically want to hear.
This is perhaps one of the most useful features that enables the custom sound profiles in the app.
Sound Quality
The sound quality is wonderful. What makes it wonderful is the number of customizations options you get. The Jabra Elite 75T's were built to allow a unique experience for everyone that wears them. This is due to the app integration that we discuss a little later. Because of this integration you can set your treble and bass levels among many other options. Getting the exact sound that you want instead of having sound settings decided for you by the manufacturer. Getting the power handed back to the consumer so you can experience the world the way you prefer to.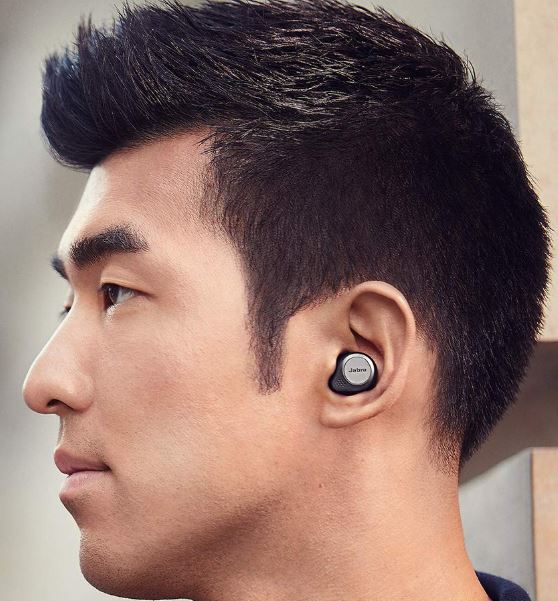 The 4-mic feature also clears up the sound quality for calls so that external noise or windy environments don't make you inaudible to whoever you are speaking with. Everyone has been on the opposite end of a person using a phone outdoors and being blasted with wind consuming the microphone. It is never great to hear that and it is equally annoying to have to repeat yourself because the person is unable to hear you. The 4-mic technology eliminates this from being a concern.
Battery Life
These buds get 7.5 hours of use out of a single charge. There are a lot of headphones these days that sacrificed battery life for other features and can only pull a measly 3 or 4 hours. A perfect sample of this is the Skullcandy Sesh Earbuds that only have 3 hours of play time. With the Jabra Elite 75T's however you get a batter life you would expect from some larger headphones. This is extended even further when you factor in the charging case that can get you to a total of 28 hours of use.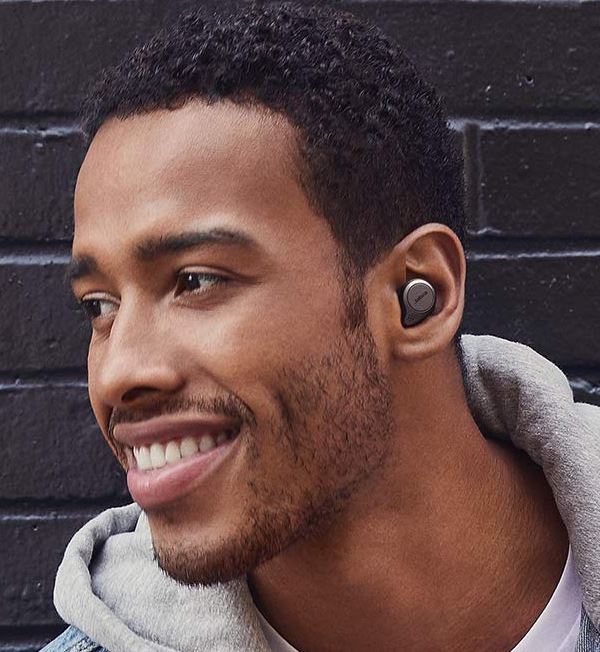 The fast charging technology built into the case and earbuds lets you set them into the case for 15 minutes and get an hour of play time. Meanwhile you can track the entire charging process on the phone app. The case itself is also very small so it takes up very little space and is easy to travel with.
Features
An incredible feature that really separates these earbuds from others is the integration with the Jabra Sound+ App. The app allows you to personalize your sound intake specifically to your surroundings. You can set the earbuds to three different modes called "moments", where there is commuting, in public, or private. Each one has optimization settings for the specific "moment" you choose making sure you get the best quality regardless of the environment.
There is a visual graph display of the sound settings and you can manipulate every setting individually. With 'HearThrough" mode you turn off the noise cancellation so that you can maintain situational awareness while still listening to your music. The music equalizer allows you to fine tune the sound with the 5-band equalizer graphically.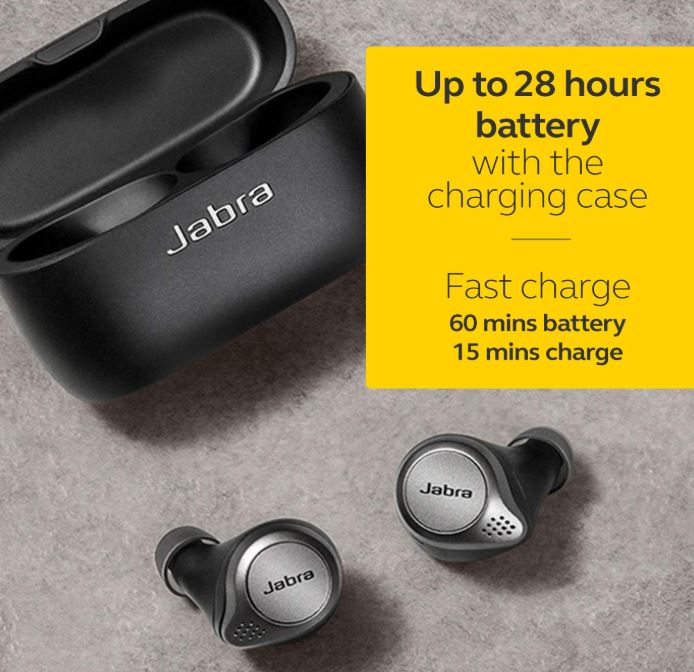 There is also a 'find My Jabra' features that lets uses the phones GPS to pinpoint the last spot you connected to your earbuds. Why that is useful is because if you set the buds down and walk away with your phone then realize later that you don't have your buds with you, just pull up the app and you can see where they were last.
Then there is the fact that the built in mics paired with the app will analyze your surrounding environment sound and automatically apply your personalized sound settings or 'Moment'. The apps and the earbuds are tied together intimately and you can even see the battery status of them within the app. No more guessing your charge level or being surprised by that "low battery" notification.
On top of everything else you can manage your warranty within the Sound+ App. When you register your Elite earbuds on the app you are protected for 2 years against damage from water and dust.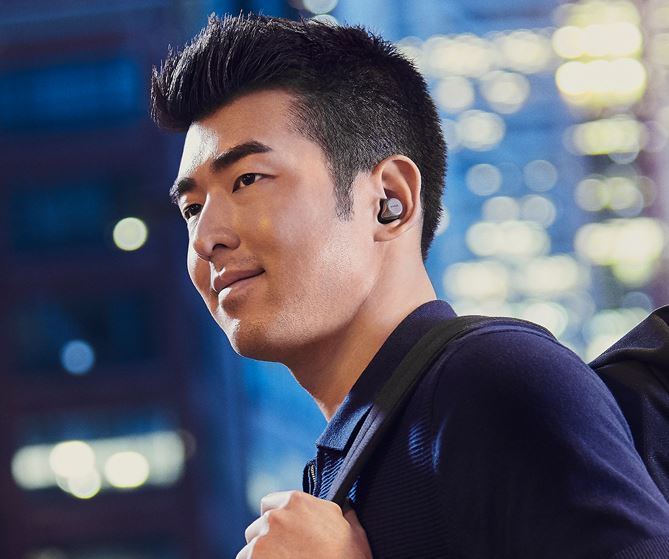 Disadvantages
The disadvantages here are minor. Other earbuds in the same price range have charging cases that offer a lot of extra battery life. For example with the Axloie Attitude-X9P Earbuds the charging case gets 130 hours of lifespan for the buds. There are even cases that can act as a battery backup for your other devices. Not having those features doesn't detract from the earbuds themselves but would have been nice.
Aside from that the only other factor is lack of waterproofing. If these had IPX9 on top of everything else they would be flawless. This disadvantage however is largely mitigated by the warranty that protects you against that water and dust damage. So at the end of the day despite the minor inconvenience of the replacement time period, you still don't have to worry about the elements too much. Still you cant expect the same usage out of these earbuds as you can out of a outdoor designed rugged pair like the Braven Flye Sport.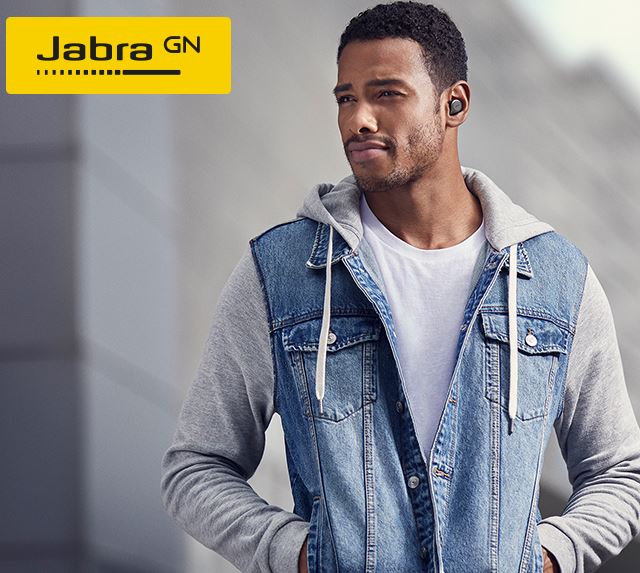 What matters here is understanding how you want to use your devices and if you know you are not going to take them white water rafting then there is no need to get those ultra rugged outdoor options.
Final Verdict
This is the future of earbud technology. The app integration and ability to create custom sound profiles or boost bass whenever you feel like it is incredible. It is so great that it is actually surprising this feature is not being built into every single pair of earbuds on the market.
From the professional design to the 40-mic technology they will completely replace whatever other Bluetooth headset you have been using for phone calls. With the sound quality and customization options they will become your favorite pair of earbuds for almost any situation.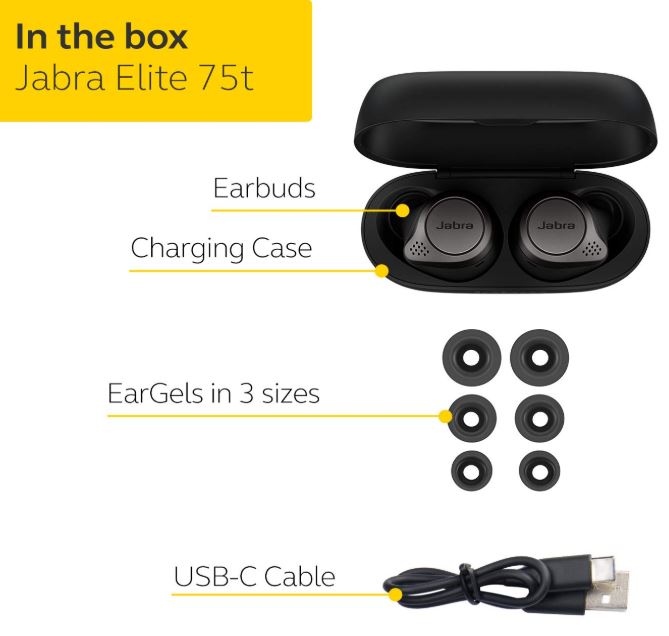 They are the transition lenses equivalent of the audio world. From listening to audiobooks at home with private mode on. Then going shopping where they will automatically detect your environment changed and adjust to block out unwanted sounds. After which you decide to head into the office and enable sound pass through so you can hear everything around you while also taking business calls. They are the most multi purpose and cross functional earbuds we have yet reviewed.
So who should buy them? Well everyone should. Make the market adapt and let the manufactures know that the adaptation functionality in the earbuds is something all of their products should come with. When that happens the evolution of audio will grow even faster. Don't take our word alone, give them a try, after which it is very likely you wont be looking for another pair of earbuds for a very long time. Love may be blind, but it isn't def and when you experience the Jabra Elite 75T Earbuds you might just fall in love.