If you're involved in intense athletic activity, a regular pair of earbuds isn't necessarily going to be up to the task. Standard earbuds can produce high-quality sound, but they don't typically do well when it comes to resisting sweat. And sweat is inevitable when you're running or hitting the gym.
So how do you keep your tunes going without wearing out earbud after earbud? You don't want to be the person who brings a speaker to the gym, with no sense of personal space. Instead, you want a pair of athletic earbuds that are specifically designed for people with an active lifestyle.
Today, we'll be looking at the Braven Flye Sport, a popular pair of earbuds that are designed to be flexible and waterproof. These earbuds have become popular in recent years mostly for their affordable price, which is very reasonable for a pair of waterproof buds.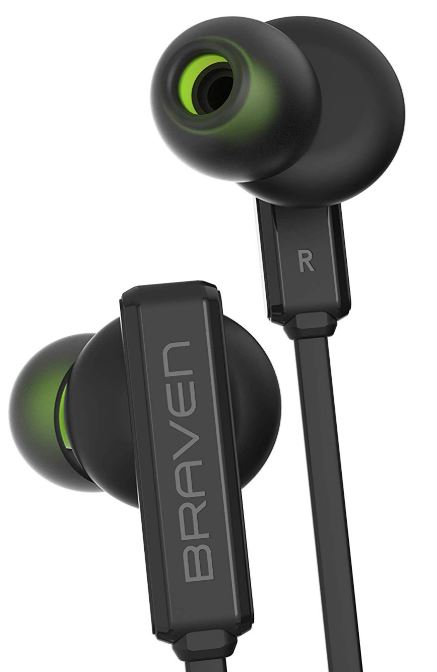 Braven is known for Bluetooth speakers, which have been generally well-reviewed over the years. Like the earbuds, Braven's speakers are also known for providing a great value for the price. As a result, we thought these earbuds would be worth taking a look at.
What's in the Box?
The first thing we need to do is take a look at what you're actually going to get with these earbuds. Here's what's in the box:
Earbuds with tangle-free cable
Power charging pack
Three sets of silicone ear tips
Three sets of wings
Micro USB charging cable
Backup 3-foot micro USB to 3.5mm cable
Zippered storage bag
That's a standard selection of supplies, about what you'd expect from any affordable pair of sports earbuds.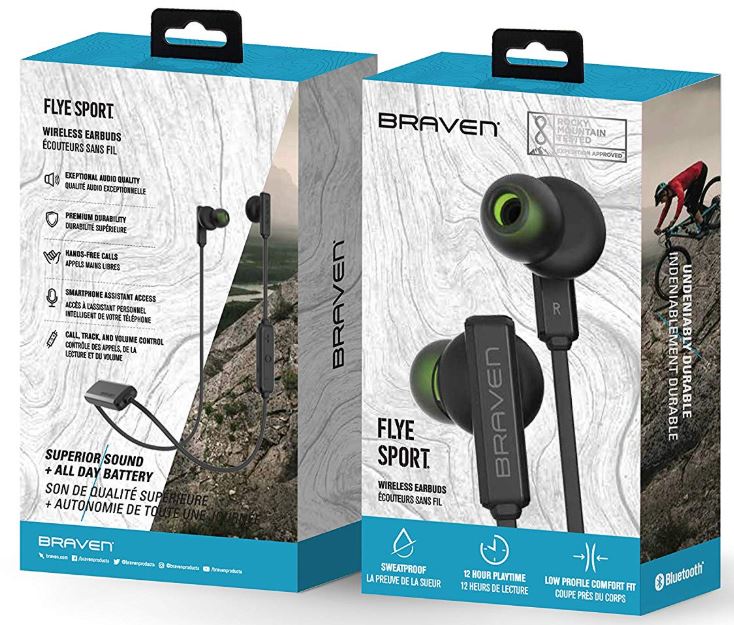 Features
We're going to take a deep dive into the Braven Flye Sport's features, benefits, and drawbacks. But before we do that, let's take a quick look at the main features.
Comfortable to wear
Waterproof construction
Hypoallergenic silicone ear tips
Includes a portable charging pack
Can be used as an un-powered AUX earbud in a pinch
Long battery life
Provides emergency cell phone power
Unique Design
The Braven Flye Sport is a hybrid earbud, which combines the convenience and light weight of wireless earbuds with the security and ease of use of a wired pair of earbuds.
Braven achieves this by connecting both earbuds with a lightweight, flexible cable that's constructed of a tangle-free material. It will flex freely while you're exercising, without getting twisted up and falling out of your ear. This makes these headphones well designed for the gym, especially for running or CrossFit, where constant, complex movement is the norm.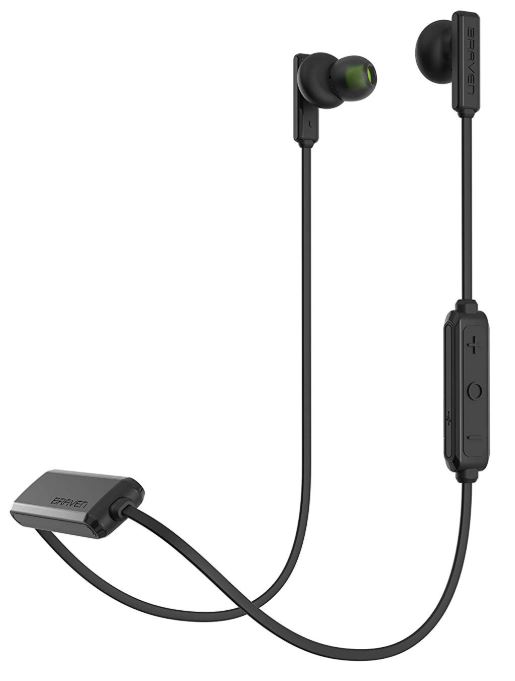 When properly fitted, these earbuds will never fall out of your ears, although you'll need to take the time to adjust them appropriately. To help you out, the kit includes three different sizes of wings, as well as three different sizes of ear tips. Alternatively, earbuds also feature a pair of snap-on ear hooks, if you're willing to sacrifice a tight fit for a secure one.
The controls on the Flye Sport are more convenient to use than those that you'll find on most Bluetooth earbuds. Rather than being forced into using a proprietary mobile app, you can simply use the button pod that hangs from your right ear. The buttons themselves are easy to click. They're coated with a soft silicone, which is easy to feel when you click them.
The connection quality was relatively reliable, although it's not the best that we've seen. You'll need to actually carry your device on your body, since leaving it on a nearby bench or table will cause your signal to cut in and out. That said, provided that you're actually carrying your phone or iPod, your signal will be more than adequate.
These earbuds advertise a 25-hour battery life, but if you browse the internet you'll see everything from five hours up to 25. So why the discrepancy? The answer comes down to the Flye Sport's unique power pack design.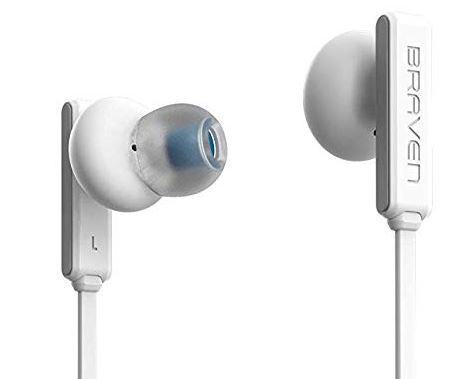 The Power Pack
On their own, the Flye Sport earbuds have a five to six hour battery life, depending on what you're listening to and how loud the volume is. However, the portable battery pack offers three recharges, for up to about 20-24 hours of actual listening time.
There are two ways to do this. The first method is to simply use the battery pack as a recharging station. The control pod on the earbud cable slides into a slot in the charge pack, and is retained in a secure grip so that the battery pack won't come loose even if it's dangling around. As a result, you can also leave the battery connected, and tuck it under your gym shirt or sports bra to keep it out of the way.
The battery pod itself is small and unobtrusive. It measures only 72mm x 48mm x 12mm, and weighs only 1.5 ounces. It won't hang comfortably off your ear – at least not for long – but when it's tucked away it's almost unnoticeable.
This battery pack has a 1,100mAh capacity. This is enough to power the earbuds three times. It's also about a third the charge of an iPhone X, or about a quarter of the charge of a Samsung Galaxy S10. In other words, it's not enough to provide a full charge for texting your friends and cruising social media, but the USB port can be used as an emergency power supply for your phone if you're in an emergency.
Four LED lights on the front face indicate the charge on the battery pack. It's generally well-balanced, but it tends to flop forwards if you try to tuck it under the front of your collar. We found that it was most comfortable to wear it around your back, where the battery is less likely to shift out from behind your shirt collar.

The Accessories
We've already talked about the power pack and the USB cable. So what else comes with these earbuds?
As it turns out, the micro USB to 3.5mm cable isn't just for show. With the power pack attached to your earbuds, plug the cable into the power pack. Then plug the 3.5mm cable into your phone's aux jack, and you're good to go without the need for any battery power.
The downside of this approach is obvious. You'll be carrying the power pack around your neck. That said, it's always good to have options, and this is a welcome backup option.
Sound Quality
We've talked a lot about the Braven Flye Sport's other features, but we haven't touched on perhaps the most important one: sound quality. After all, you're buying your earbuds to listen to music, so at least some minimum amount of quality is going to be a requirement.
In this department, the Flye Sport falls squarely in the middle of the road. The sound quality is bright, a good feature for vocals. Mids were steady and clear, without any muddying. Bass was terrible, although that's inevitable on all but the priciest Bluetooth earbuds.
Unfortunately, you'll need to turn the bass down. Way down. At any significant level, it distorts the mids and highs to a noticeable extent. If bass is what you crave, you may want to spend more money on a higher-priced brand.
That said, many people complain about bass without having a good understanding of how to fit their earbuds. A good seal is critical if you're going to hear any bass at all in a pair of earbuds, so make sure to experiment with different sets of tips if you're not hearing any base at all.
Additionally, you'll want to try different wings. This will change the amount of pressure on the ear tips, affecting sound transfer.
What Are Some Alternatives?
Of course, there are as many quality earbuds on the market as there are quality speakers, which is to say that there are a lot of them. We certainly won't make the claim that everyone should own a Braven Flye Sport.
If it doesn't sound like it's going to meet your needs, here are a reviews for a few alternatives that might be a better fit.
The Light Harmonic Mera. This is a high-end set of waterproof earbuds that will provide superior protection against sweat, rain, and other moisture. The sound quality is top tier, with as much of a full spectrum as you can expect to hear from an earbud speaker. That said, they're on the expensive side, so be prepared to pay for the quality you're getting.
Aufo Wireless Earbuds are priced comparably to the Braven Flye Sport. These earbuds are truly wireless, and leave nothing hanging out of your ears when they're inserted. The downside? You have to control them with a mobile app, so adjustments can be a headache.
The Axloie Attitude-X9P. These earbuds are truly wireless, like the Aufo Wireless Earbuds. They're also waterproof, like the Braven Flye Sport. And they include a charging case, which lights up when the earbuds are inserted. That said, they also can only be controlled via a mobile app.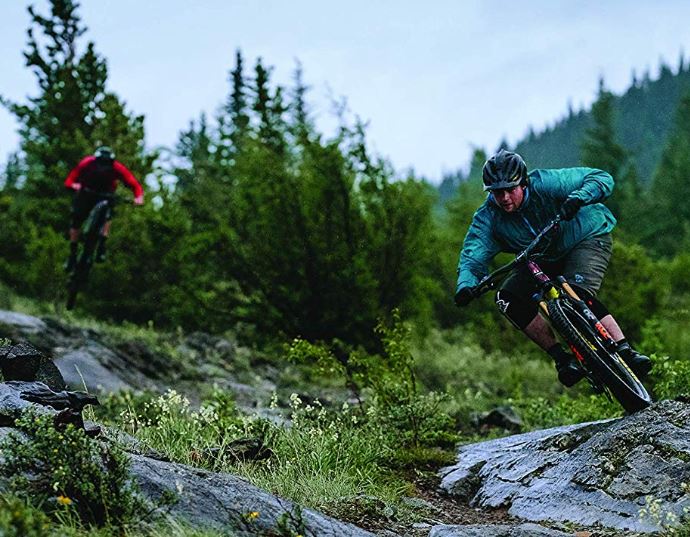 The Final Verdict
So, what's the final word on the Braven Flye Sport?
In the last analysis, it's a mid-tier earbud at best. The downside of its design is that it's built to do many things at once. It's supposed to reproduce beautiful music, but it's also supposed to stand up to rain, sweat, and other abuse. On the second score, it succeeds admirably.
As much as we've knocked on the Flye Sport's sound quality, we need to stress that it's engineered to survive intense workout sessions. You're not going to find a reliable pair of athletic earbuds at this price, at least not a pair that's going to take any significant amount of abuse.
On the other hand, as we've already discussed, the sound quality just isn't what you'd expect from a pair of earbuds in this price range. This is to be expected. A mid-tier earbud can offer great sound quality. A mid-tier earbud can offer weather resistance. But it's not going to do both.
Whether or not you want to invest in these earbuds is up to you. For the price and durability, they're not a bad way to go.