For years, Amazon has been partnering with other companies to build Fire TV technology into existing devices. From the original basic Fire TV Stick, options have grown to include the Fire TV Cube, as well as a series of Fire TV Edition televisions from several different manufacturers. As a result, it should come as no surprise that they've added a Fire-integrated soundbar to their lineup.
The Nebula Soundbar was developed through a partnership with Anker Innovations, an established manufacturer of all kinds of quality sound equipment. This will be the first soundbar available with fully-integrated Alexa and Fire TV functionality. It will connect to virtually any TV, and act as your fire TV streaming hub in addition to working as a soundbar.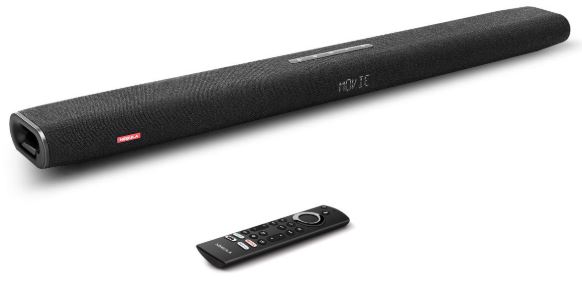 We say it "will connect" because the Nebula Soundbar hasn't actually shipped yet. It releases on November 21st, just a week before Thanksgiving, and just in time for the holiday shopping season.
As a side note, it's interesting that this product is rolling out when it is. Roku has also announced a competing soundbar, designed to function as a hub for the Roku TV system. If you're an existing Amazon customer, the Nebula is a great way to get in on the action without the need to sign up for a new service.
This soundbar offers Dolby 2.1 stereo sound, with 100 watts of power driving two speakers and a pair of integrated subwoofers. It supports 4K Ultra HD as well as Dolby Vision for crisp, clean images, with optical and even aux inputs for connecting all your devices.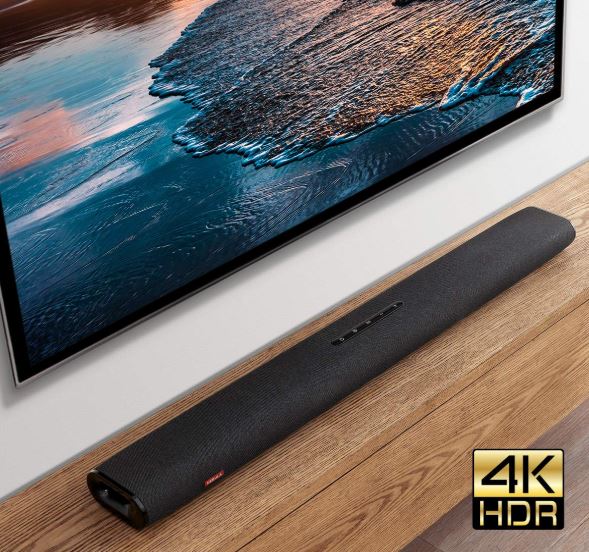 Speaking of connectivity, the Nebula Soundbar is well set up. It comes with an Alexa-compatible remote, so you can use voice commands to control both your soundbar and your Fire TV interface. It's also compatible with Echo speakers, which allows you to use the Nebula as a hub for a multi-room sound system for streaming music through any of the dozens of apps you'll have access to, like Spotify or Amazon Music.
But is this soundbar actually any good? We're about to take an in-depth look and find out everything we can.
Specifications of the Anker Nebula Soundbar – Fire TV Edition
We know you're excited about our in-depth review. We're getting there. First, here's a quick look at the Anker Nebula's specifications, including all the features you're likely to be interested in.
100-watt speakers
2.1 channels
Supports 4K Ultra HD and Dolby Vision pass-through
Dual built-in subwoofers
Built-in Fire TV adapter
USB, HDMI, and Bluetooth inputs and outputs
Additional aux and optical inputs
WiFi-compatible
Can pair with Amazon Echo devices
Includes an Alexa-compatible remote control
36.2" wide
Weighs 7 pounds, 1.8 ounces
As you can see, this is a long soundbar that's relatively lightweight. It's also packed with features, with enough inputs and outputs to work with virtually any media device. So how does it actually stack up? We're about to find out!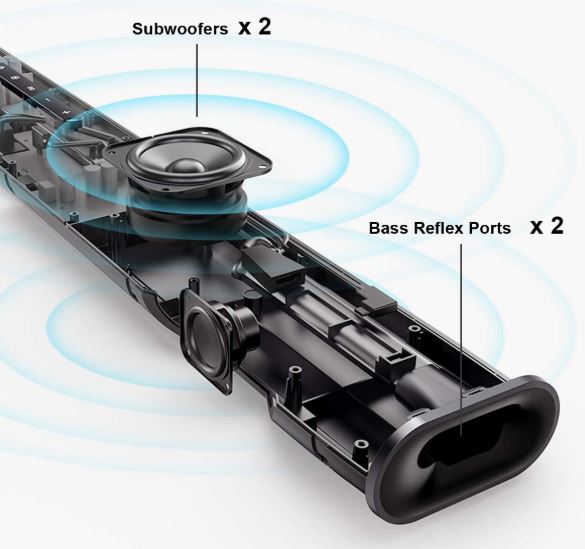 Sound Quality
Obviously, the most important feature of any soundbar is the sound quality. If you were only interested in the multimedia aspects of the Nebula, you wouldn't be buying it. You'd be spending a fraction of the price on a simple Fire TV Stick.
Now, it's hard to evaluate a product that hasn't even hit the market yet, but in the case of the Nebula we have an advantage. This is because the speakers come courtesy of Anker, the company that brought us the Soundcore Motion+ and the Soundcore Wakey bedside speaker. This gives us a lot of faith in their products, as opposed to some fly-by-night Chinese made speakers you'd expect to find on a less reputable soundbar brand.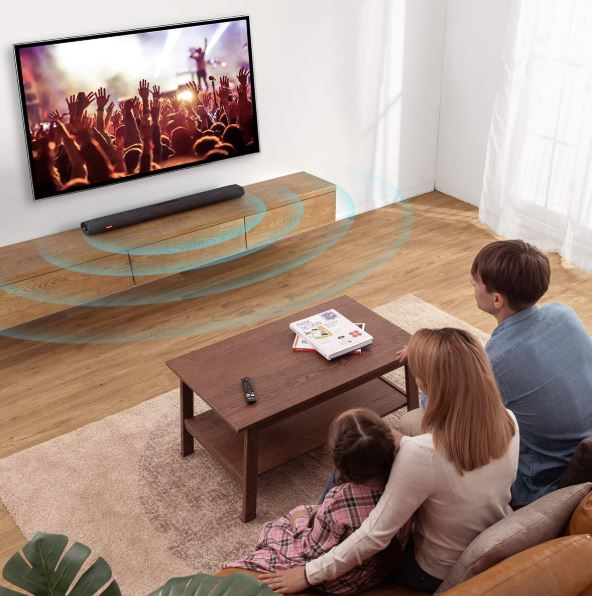 The speakers are going to be a pair of 20-watt tweeters, which at this size will be plenty to offer clear mids and highs at enough volume to fill a large room. These are paired with a set of 30-watt subwoofers, allowing for thumping bass that will provide enough bounce for any party – and plenty of realism for action and horror movies.
These speakers don't support Dolby Atmos. This might be disappointing to audiophiles who want to get the absolute clearest sound possible. However, most audio sources don't offer Atmos compatibility to begin with, so the benefit of owning Atmos-compatible speakers is debatable.
Video Quality
The Nebula Soundbar is specced to output video at full 4K Ultra HD. It's compatible with HDMI10 cables, so it's ready to connect to your 4K TV right out of the box. It also supports 60 frames per second framerates through Dolby Vision.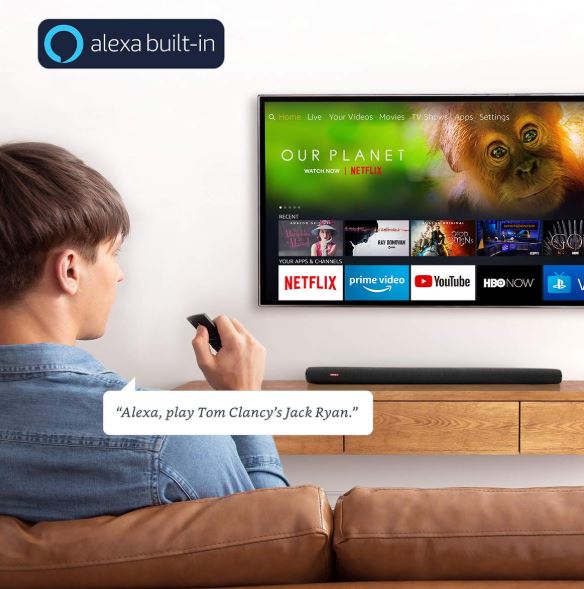 Needless to say, these features require a compatible video source and a 4K TV. If you're hooking up your old DVD player, you're only going to get DVD quality picture.
That said, provided your internet service is fast enough, you'll be able to stream in full 4K. The Fire TV adapter can handle it, so there's no need to settle for lower quality just because you're streaming instead of watching a disc.
Interface and Ease of Use
The main selling point of the Anker Nebula Soundbar is its interface. There are plenty of soundbars on the market, and there's nothing about the Nebula itself that makes it stand out from the crowd. This isn't to say it's a sub-par soundbar; it's not. It's just that from a pure sound quality standpoint, there are plenty of better options at this price.
In terms of basic external design, the Nebula is pretty straightforward. The front, top, and back are wrapped with a grey mesh material, with a black plastic shell on the sides and bottom. The LED display on the front is bright enough to read through the mesh, and will display your input source as well as a volume bar (when you change the volume).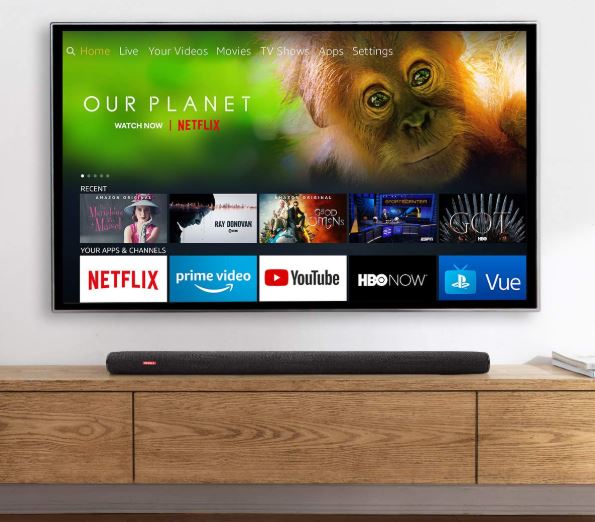 The top of the soundbar features a pair of standard control buttons: power, input source, and up and down buttons for adjusting the volume. The button panel is constructed from a sleek, silvery-colored plastic that forms a good contrast to the flat grey mesh of the surrounding surface.
You'll find your input connections on the lower back side of the unit. There are inputs for aux cable, USB, and optical cable, as well as an HDMI output for transferring video from Fire TV streams. This isn't enough to make it useful as an all-around AV hub, but it's more connectivity than you'll see from most soundbars on the market.
The remote is easy to use, with large, rubbery buttons that are clearly marked. It's also designed to accept Alexa voice commands. While you won't be able to casually control your soundbar as you're walking through the room, you'll still be able to use voice commands when you actually have the remote in your hands.
One other nice feature about the Nebula is that it connects to other devices via WiFi. This means you can stream audio from your computer or mobile device, as well as using your Blu-Ray player or Fire TV as an input. In addition, you can pair the Nebula with Echo speakers that are also connected to your home's WiFi network. This allows you to use the Nebula as the hub for a multi-room sound system.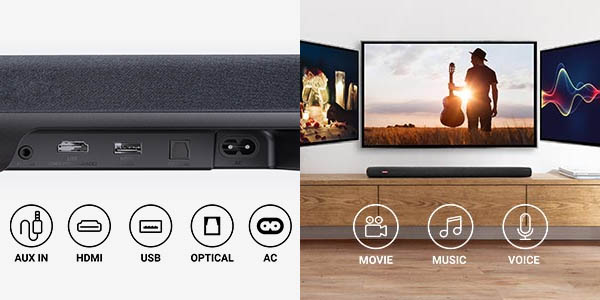 Review Wrapup
Before we give our final rating, it's helpful to take a broad look at what we liked and didn't like. In that spirit, here's a quick look at the pros and cons of the Anker Nebula Soundbar – Fire TV Edition.
Pros:
Built-in Fire TV adapter
Plenty of input and output methods
Alexa compatible
Pairs with Echo speakers for multi-room audio
Simple, easy-to-use interface
Cons:
Not compatible with Google Assistant or Siri
No surround sound
Final Verdict
The Anker Nebula looks like a smart buy, and it makes sense that Amazon would choose to partner with Anker to create this product. It goes well with their other Fire TV devices, such as their Fire TV Cube and their line of smart TVs. And by partnering with Anker, Amazon has ensured that sound quality isn't going to be a problem.
Ultimately, whether or not this device is a good choice for you is going to depend on how much value you're going to get out of the Fire TV adapter. If you're going to get some use out of it as a set-top box for watching Netflix, Hulu, Amazon Prime, or other streaming services, it's a good all-around package. If you already have a set-top box or a Fire TV, though, it's hard to see where the value comes from.
All of this is hard to judge on a soundbar that hasn't been released. We'll find out for sure on November 21st, just like the rest of you!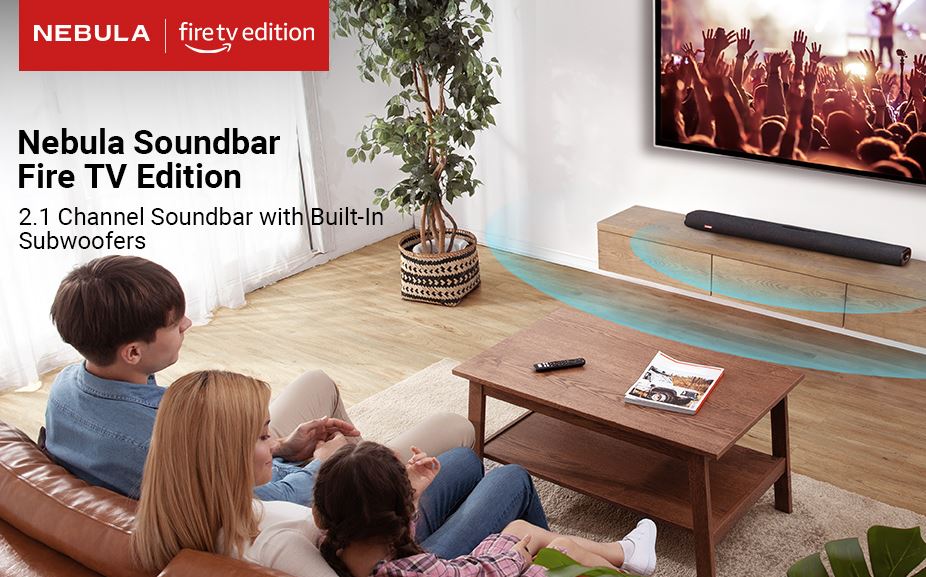 Alternative Options
As you can tell, we're really excited about the Anker Nebula Soundbar. But we understand that it's not going to be everyone's cup of tea. Maybe you're a hardcore audiophile and you want the loudest sound possible. Or maybe you have a smaller TV and want a proportionally smaller soundbar.
If you need a soundbar but the Nebula isn't up your alley, check out these other soundbars we've reviewed in the past.
The Sony HT-Z9F. This soundbar offers 3.1-channel stereo instead of 2.1. While it's still not a surround-sound system, the addition of a center speaker allows Sony to angle the left and right speakers outward, resulting in a significantly broader sound that really fills the room. On the other hand, this setup requires Dolby Atmos-compatible audio to glean any benefit from it, and there's not much Atmos-compatible content out there.
The Wohome S9920. This 40-inch soundbar is ideal if you want to position your soundbar on the floor. It has large rubber feet that absorb vibrations, so you can crank up the volume without rattling the room. Unfortunately, it only accepts RCA, aux, USB, and optical inputs. The lack of HDMI may be frustrating depending on your TV.
The Bluesound Pulse SOUNDBAR 2i. This is a big, beefy soundbar that draws a full 150 watts of power. For that power draw, you get a pair of 5.5 inch subwoofers that can put out enough sound for any party. It offers multi-room connectivity, so you can pair multiple SOUNDBAR 2i units together. It's also affordably priced.
Obviously, there's a lot of variety in the soundbar market. No matter what your needs are, there's at least one available that's going to meet your needs.