Amazing picture quality can be undercut by mediocre sound. Most HDTVs are built with a focus on providing a crisp image, leaving sound almost entirely overlooked. And it would be fair to say the speakers that come built-in on televisions are proportionally equivalent to the speakers on your smartphone, or the cheap speakers you'll find on the back of a computer monitor.
Problems like that only become worse when you're interested in surround sound. Running a 5.1 channel stereo systems creates an immersive soundscape that can't be fully replicated without literally surrounding yourself with speakers. For most people, that means if you don't have a separate room dedicated entirely to your TV, then you probably don't have the space for true surround sound.
And that's why sound bars exist. Compared to ordinary speakers, sound bars are designed to be essentially invisible in a room. They're small enough to escape notice and fit into cramped spaces, yet retain nearly all of the power of a full-sized stereo system. But not all sound bars are created equal, especially if you're looking for something closer to a true surround sound experience.

Sony HT-Z9F 3.1 Channel Soundbar
Among Sony's 2018 announcements for new audio products, the two additions which stand out the most are both sound bars. It seems Sony has noticed that people who are willing to invest in large HDTVs and UHDTVs aren't satisfied with the kind of sound quality you can achieve from slim-bodied televisions. Consequently, Sony has begun a spree of creating companion speakers specifically for TVs. And that's where the HT-Z9F comes in.
Sony is calling the HT-Z9F the world's first 3.1 channel sound bar. How does that work? A typical 2.1 channel system is composed of three separate speakers: two front channels and one low-frequency channel. By contrast, Sony's 3.1 channel system uses 3 front channels, 2 side channels, and a low-frequency channel. In other words, the HT-Z9F doesn't just send sound directly forward, but also upwards and outwards.
That directional effect helps provide the closest emulation of surround sound you can achieve without actually having five separate speakers around you. Although the result isn't equivalent to 5.1 sound, it's clearly more developed than 2.1 channel sound, so it's fair to say the 3.1 description is accurate.

Build and Design
The HT-X9F series matches the design of Sony's X900F 4K televisions, which is a minimalist aesthetic that will match most other electronics. The body of the sound bar is just over 39" long, making it well suited everything except the largest TVs on the market. And it only weighs about six pounds, ensuring it's not too unwieldy to move or relocate.
The subwoofer is another story. Unlike most sound bars, this 3.1 channel system has its own separate subwoofer unit. On one hand, it's reasonable to feel that adding an additional unit to a sound bar system will begin to defeat the purpose of choosing a sound bar. But if you want excellent bass, then you can't avoid a bulky subwoofer. The HT-Z9F subwoofer uses a sizeable 7 x 15 x 15-inch rectangular design, and it weighs over 17lbs. Fortunately, that's still small enough that it isn't particularly difficult to hide away.
Another design concern is the position of the bar itself. Positioning a sound bar directly in front of your television can cause problems because the base of the TV is where remote sensors are typically placed. And placing a sound bar directly in-front of those sensors has been known to sometimes cause issues. But thankfully, Sony's HT-Z9F uses an IR repeater design which ensures you won't run into those issues.
Turning to the back of the speaker, the IO interface is a refreshing new look on Sony's old format. It's essentially easier than ever before to set up. If you're looking for a wired connection, there are two HDMI inputs and one HDMI output. The only other port to be found on the back is a LAN connection for Internet access, and a USB port for playback. Beyond the hard connections, you can connect through Wi-Fi and Bluetooth, which makes the HT-Z9F incredibly versatile.

Play Modes and Features
You can learn far more about this device by looking at the remote than by looking at the speakers. From the remote, you can toggle between the five essential audio modes that the HT-Z9F has been designed around. That includes cinema mode, music mode, game studio mode, news mode, and sports mode.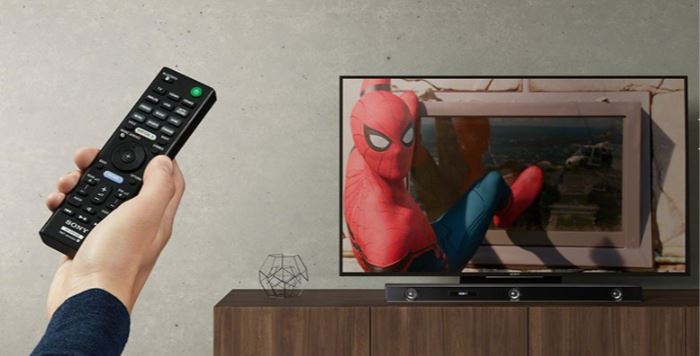 Cinema mode is focused on providing an immersive sound experience similar to a theatre, while music mode focused on enhancing the richness of the sound. The gaming mode is also focused on immersion, but with an emphasis on heightening the feeling of motion and distance for the player.
The news mode is handy for people who have hearing problems. It's designed to take voices and make them stand out against background music, noise, and audio effects. The sports mode is something you'll either love or be totally indifferent towards. It's designed to bolster crowd noise to help you feel like you're watching from the sidelines, but does so without sacrificing the clarity of the commentators.
Another noteworthy thing you'll find on the remote is the "vertical S" button. When you press it, the HT-Z9F will up-mix your digital signal processing to 7.1 channel sound. The result isn't a 7.1 channel system; you would need seven separate units for that. But your audio quality does get up-mixed to prestigious 7.1 standards.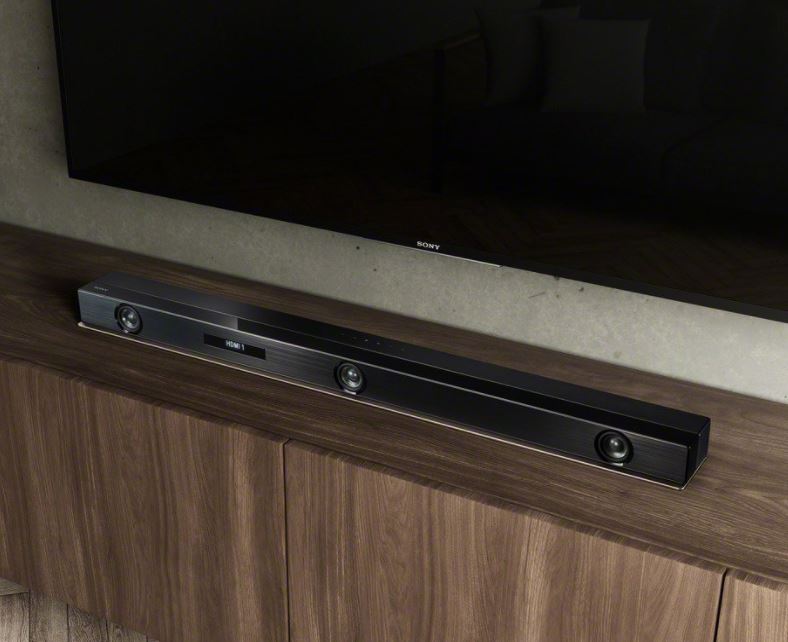 Sound Quality
Part of what gives this sound bar its surround-sound like feeling is its Dolby Atmos technology. It's the same sound tech used in many modern movie theatres, which helps add spatial depth to sound on the digital level. And Sony is no stranger to the space of audio equipment, as demonstrated by their own high end audio features, like S-Force PRO. The result is Sony's claim that the HT-Z9F can produce studio-quality sound, offering audio reproduction higher than CD quality. This is true, but somewhat misleading.
In the distant future, audio engineers may be able to design a speaker capable of handling ridiculous quantities of digital music data, perhaps even terabytes of data. But doing so would be almost exactly like moving from a 4K television to a 40K television. After a certain point, human perception isn't going to be sensitive enough to keep up.
Given closer viewing distances, most people already can't tell the difference between a 4K and an 8K screen. When it comes to audio quality, the limits of human perception have already been reached, and they roughly match up with the sound resolution of 44.1 kHz CD-quality audio. Higher sampling rates mostly exist for the purpose of sound recording, which can benefit from avoiding data compression.
In other words, the HT-Z9F sounds excellent and compares favorably to almost any pair of high end speakers. It uses three relatively small drivers, but manages to create a versatile sound stage that you'd normally need half a dozen speakers to recreate. It wouldn't be totally inaccurate to call these audiophile quality speakers. The end result is in cinematic quality in your home, and it's truly the best three dimensional sound that you get without making a 5.1 surround system.

Other Considerations
Additionally, you should know the HT-X9F can be paired up with Sony's SA-Z9R as rear speakers, extending the surround sound experience. If the availability of space changes or you want to add to your sound system later on, it's nice to know you the compatibility is present. It supports Google Assistant voice operations, allowing you to talk to a smart speaker to issue commands to your sound bar. And it supports most high-resolution audio formats, including the popular lossless .FLAC format.
Drawbacks
You can think of Atmos content as being similar to 4K content. Where it's available, the effect is immersive, striking, and clearly better. But getting the Dolby Atmos effect requires content that's Atmos-supported, and there really isn't that much Atmos content available right now. That means Dolby Atmos is less of a selling-point, and more of a nice addition that will help future-proof your speakers as the format gradually sees greater adoption. And given Sony's backing, it's fair to say that it won't be too hard to find more Atmos content over the next few years.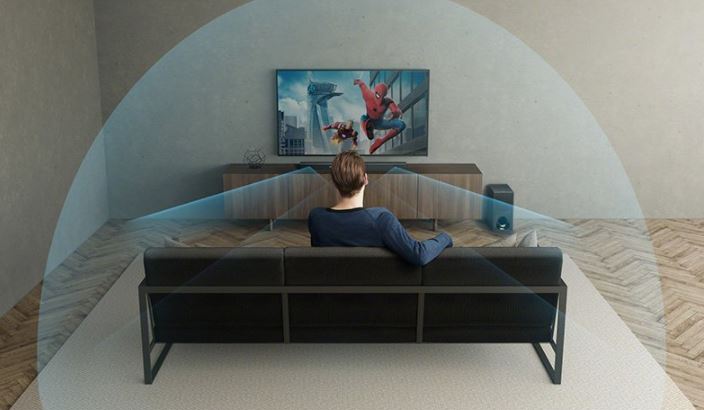 Who Should Choose The HT-Z9F Soundbar?
People who choose sound bars are doing so to make a compromise. They don't have the space for a full 5.1 or 7.1 channel setup, or they don't want their home littered with bulky speakers. But this 3.1 channel rig doesn't leave you feeling like you've made a compromise. With Sony's S-Force PRO working alongside Dolby Atmos, the result is desperately close to authentic surround sound.
If you've got space and a budget for a 5.1 channel system, then the HT-Z9F isn't the right choice for you. Digital recreation of surround sound isn't as good as a true surround setup. But if you don't have the willingness, space, or budget to move to a 5.1 or 7.1 channel system, then the HT-Z9F is the next best thing. The 3.1 channel design is considerably better than anything you'll find from comparable 2.0 and 2.1 channel systems.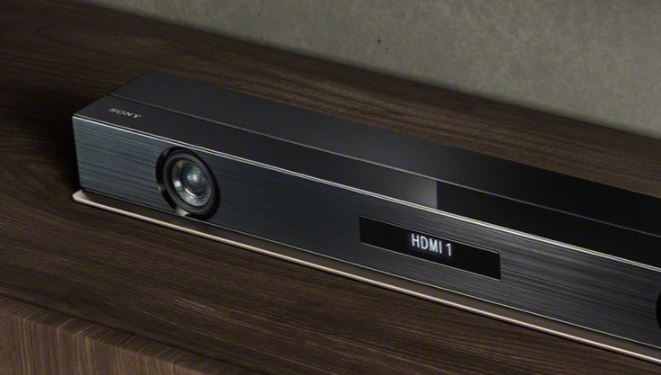 But circumstances change. Maybe you'll find yourself moving to a new town, and maybe you'll suddenly have the space available for a 5.1 or 7.1 channel setup. In that case, the HT-X9F is expandable. If you're able to solve whatever space or budget limitations you've got, then you can add on to your system in an instant and achieve actual three dimensional sound.
The HT-Z9F is a strong pick for people who want a compact sound system that suffers very little for being designed compactly. Speakers tend to be a long-term investment. If you take care of them, there's no reason to expect them to last less than a full decade. Between its expandability and wireless support, the HT-Z9F is as much of a safe choice as it is a smart choice.