We're not what you would call "athletes". Our pecs have never glistened in the sun and our biceps were never impressive enough to draw stares from the fairer sex. Even running a few feet leaves us huffing and heaving in a pile; hungry for air and the comforts of home. Instead of visiting the gym several times per week, we pass the gym several times per day in our car, fearfully staring at the horrors that await us within its steely grip. Our yearly trip to our local workout den typically results in an asthma attack, followed by a trip to a fast food restaurant. No, no, no, athletes we are not.
As we've aged, we have become more and more fixated on our existential reality. We're not going to live forever. What would we do for ten more healthy years of life? Are the comforts of a sedentary lifestyle worth the hazards of poor health? To some, laziness conquers all, but we've decided to make a change. The first step towards solving a problem is admitting there is a problem in the first place. We're lazy; that's our problem, but what can we do to change our old habits? The answer is simple: anything. Just start. Get off your keister and get to work.
The problem is we are just so unmotivated. How do you motivate someone who has a strong desire to be healthy, but has absolutely no interest in fitness? The answer is, "Add music!" Music is a powerful force. A good pair of earbuds and some good tunes can motivate even the laziest of couch potatoes. We're lucky enough to live in a time when workout electronics are relatively inexpensive. There are tons of affordable and functional fitness-centered devices that are easy to access and won't break the bank in the process.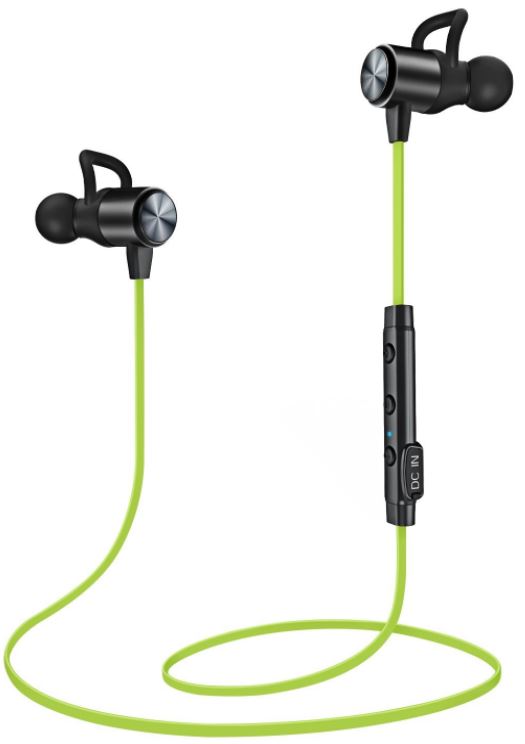 First Impressions
The ATGOIN BT565M Bluetooth headphones are an affordable pair of earbuds designed for the gym. As one of the most popular pair of Bluetooth earbuds on Amazon, Atgoin's wireless headset combines affordability with an impressive line of features geared towards the music listener trying to get in shape. Over the past week, we've put the BT565M headphones through the wringer, testing the earbuds at the gym, on public transportation and in the comfort of our own homes. Here is our honest review of the Atgoin BT565M wireless earbuds.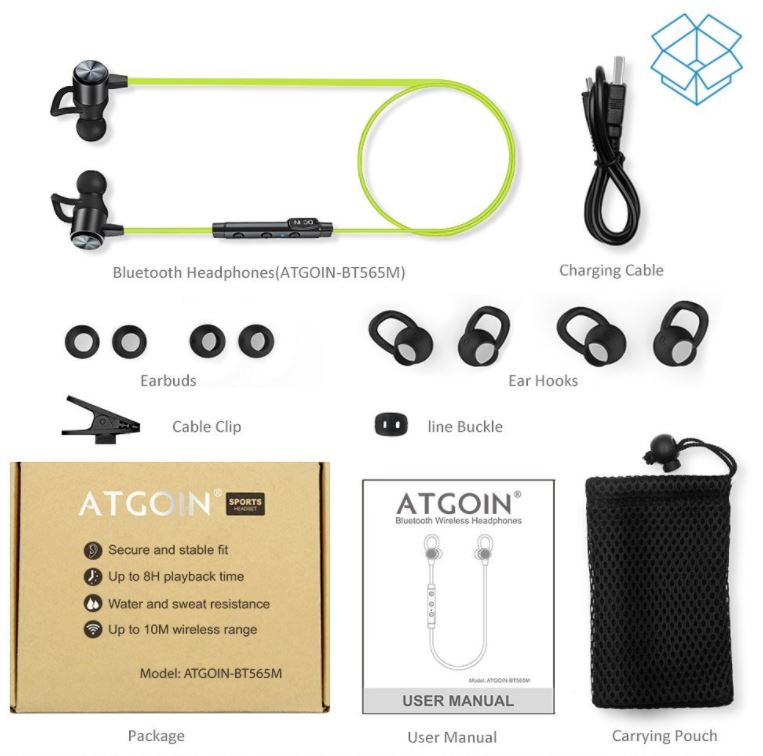 What's in The Box?
The first step in our review process was the unboxing—personally, our favorite part of any review. The headphones ship in a thin, yet sturdy cardboard packaging which we have come to expect from products in the same price range. The contents of the packaging were well-contained and did not seem to be in any danger of being damaged on the way here. Included in the box is the headphones themselves, six silicone ear tips (in small, medium and large size options), one line clamp (which allows you to clip the connective wire to your clothes to reduce movement), 12 ear hooks (a welcome surprise for anyone who goes through headphones the way we do), a carrying pouch (for convenient and safe portability), a USB charging cable, and the user manual.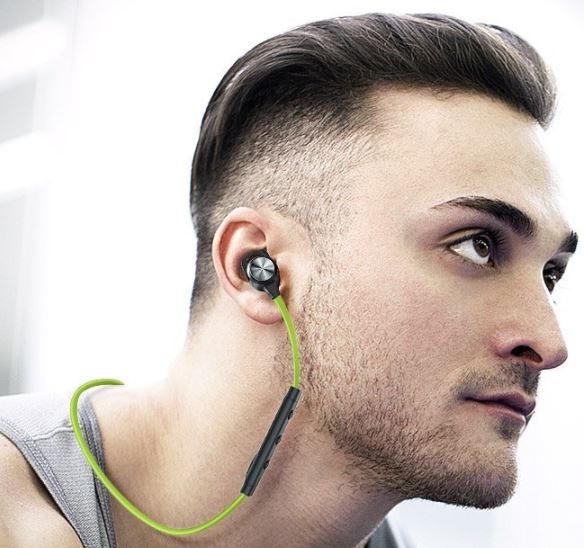 Comfort
Earbuds never quite fit our ears right. Either they're constantly falling out, or the ear hooks chafe the back of our ears to the point of being unusable. There's always a design quirk that ruins the experience. As far as ergonomics and general comfort goes, Atgoin has done a fantastic job at designing the BT565Ms to be comfortable for all ear types. The silicone ear tips size options are sensible. Some headphones come with ear tips that are comically sized. The small ear tip is sometimes about the size of a pearl, while the large tip can be seemingly closer to a bowling ball than an ear canal.
The ear tips on the BT565M headphones sit deeper than your standard pair, which makes a huge difference as far as comfort and security. We tried pretty hard to get the buds to fall out of our ears and they maintained their position very well, despite some hardcore jostling. The interior ear hooks mold to the natural contours of your ear, which ensures that the headphones stay put. Even after sustained usage we noticed no pain or discomfort. Their comfort alone make the BT565M's an attractive pair of budget earbuds.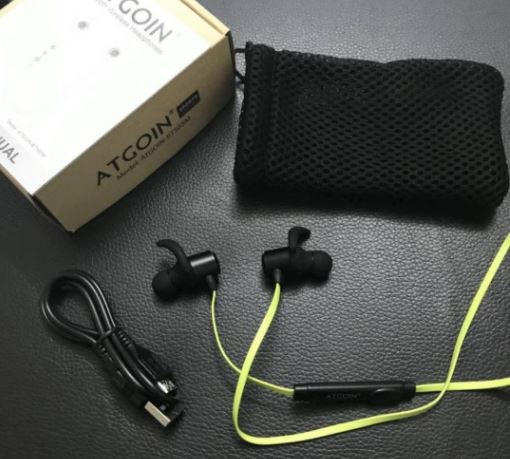 Sound Quality
The biggest concern with off the shelf budget headphones is always the sound quality. A typical pair of dollar store specials will sound tinny, muddy and hollow, all at the same time. That's no easy feat! Despite their low price point, Atgoin keeps it all together with their BT565Ms. We were particularly impressed with their audio reproduction, which is often times the biggest contributor to poor sound quality.
The bass isn't going to blow you out of the water, but for the price, the low tones are totally acceptable. High frequencies on cheap headphones can sometimes sound as grating as a mouthful of crushed glass. Just plain painful. The BT565Ms produce highs that are punchy, without sounding shrill. The clarity of these bad-boys is what really sets them apart from the pack.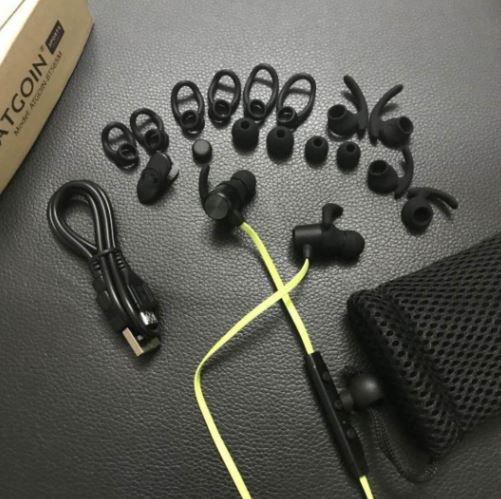 Battery Life
Another major concern with budget headphones is their battery life. Not only can battery life be on the low side, but cheap battery design can make their capacity start to fail fairly quick. Based on our usage, we concluded that the BT565Ms provide a little more than 8 hours of active listening time, when used at 75% volume. When we tested out the standby time, we tallied around 175 hours of juice when they are not actively being used. We've only been testing the headphones out for a week, but according to reviews from users, the battery life appears to hold up, even after months of ownership. There is nothing quite like a pair of dead headphones to get you unmotivated to continue your workout. Atgoin has done a great job of getting as much charge out of their batteries as possible.
Bluetooth Connectivity
We wouldn't be exaggerating if we said that some budget headphones have Bluetooth connectivity that is so weak that it can barely reach your pocket. We've dealt with cheap earbuds that have a shorter range than wired headphones. We wish we were kidding. Luckily, that is not the case with the BT565Ms. During our review process, we concluded that the Bluetooth 4.1 connectivity of these headphones is just around 35 feet. Atgoin officially markets them as having a range of 33 feet, which is probably right on target depending on a variety of circumstances, including obstructions and position. For a pair of headphones that are designed to be used with your phone close by, the 33 foot range makes them versatile enough for everyday use, rather than just a pair you can throw in your gym bag. The BT565M headphones also offer support for the aptX codec, which greatly improves the sonic quality of lossy stereo audio.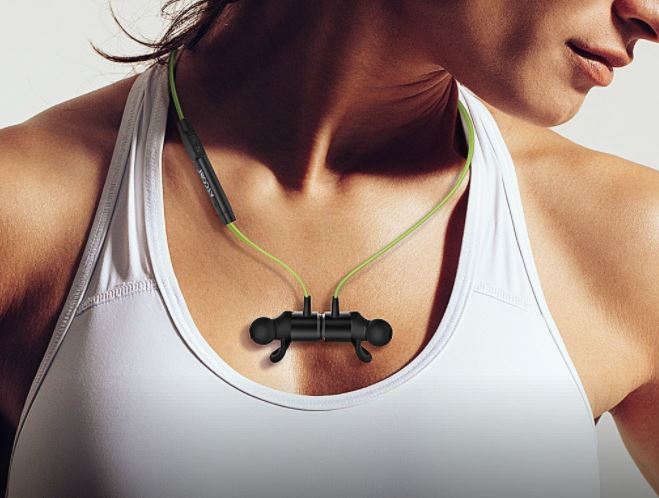 IPX Water Resistance Certification
The BT565M headphones are IPX5 certified, which means they'll be able to withstand water jets from all directions. If you'll be primarily using these headphones at the gym, then you won't have to worry as long as you're not some sort of Super Soaker-eared alien being, in which case, you're invited to my next barbecue. The IPX5 rating is more than enough protection to make these earbuds sweatproof, no matter how heavily you perspire. The only gym activity we don't recommend with the BT565Ms is swimming. While the IPX5 rating is perfect for general workout use, they will almost certainly not withstand a complete submersion. Trust us, you'll regret it.
Call Quality
While the BT565M doesn't feature any active noise cancellation, the in-line mic does offer cVc noise cancellation, which helps prevent ambient noise from making its way into your conversation. We tested the headphones during several phone calls over the past week and we had absolutely zero issues. For many of our calls we asked the recipient how we sounded, and whether or not there was a lot of background noise. According to the other callers, we were coming through loud and clear.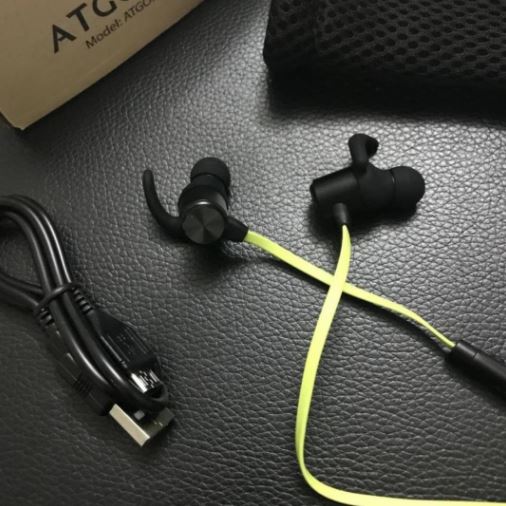 Design
In addition to being designed for comfort, the BT565Ms are also designed for convenience. Both earpieces contain a magnet, which allows the earbuds to magnetically attach around your neck like a necklace. They perhaps aren't the most stylish piece of jewelry, but they certainly offer better sound quality than a string of pearls. The magnets not only keep the headphones securely around your neck when you're not using them, but also helps prevent them from getting tangled in your pocket or gym bag.
Controls
The controls are conveniently located on an in-line set of buttons. The three-button remote operates much like any other standard Bluetooth headphone controls. The three buttons allow you to skip tracks, play/pause, and accept phone calls. The USB charging port is also located on the same panel. A blue indicator light signifies that the headphones are powered on. If you've ever used a pair of wireless headphones before, then you'll already be familiar with the control format. If not, it's easy enough to pick up.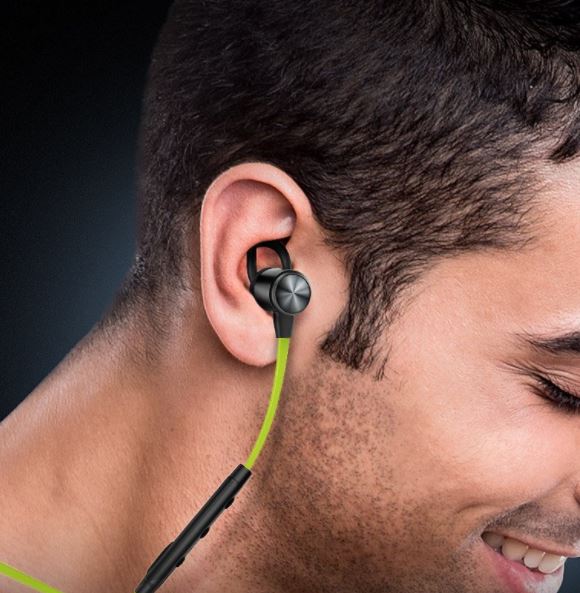 Final Thoughts
The Atgoin B565M headphones are a solid choice for anyone in the market for a budget pair of sweat-proof wireless earbuds. They sound better than most of their similarly priced competitors and are definitely more comfortable and secure. Their ear hook fit system creates a tight and secure fit for all ear sizes and shapes. These headphones are definitely among the top choices for an affordable set of Bluetooth earbuds that are cheap enough and strong enough to be tossed into a gym bag or pocket without causing you launch into a panic.
If you're looking for a little motivation to get your butt moving, listening to some of your favorite tunes while doing cardio is a great way to keep on moving. Whether you're a world-class athlete or a couch potato, everyone needs a little incentive from time to time. Get yourself a pair of decent headphones and get to work!