TV resolution has reached its newest peak. 4K resolution with HDR might just be the highest quality picture that is visually detectable to our weak human eyes. Your pet eagle might not be impressed, but for our inferior peepers? 4K is probably the last drastic leap that will make a huge difference to our visual experience. Well, at least until 8K comes around, but that's beside the point. What we're trying to say is 4K HDR quality media is shockingly beautiful. We're finally reaching a point where 4K content is being released on a consistent basis and it's only a matter of time before we start seeing 4K live broadcasts in the wild. Have you ever wished you could see Wolf Blitzer's skin pores in more detail?
The newest TV tech makes watching the boob tube feel as realistic as staring out the window. At times, 4K HDR is almost surreal realistic, even more vibrant and sharp than are own reality. As wise men and philosophers alike have been known to say, "4K HDR is fricken rad, dude!" And we tend to agree. To experience the full force of 4K resolution, you've just got to watch on a large screen. Smaller screens look pretty great too, but the difference between 1080 and 4K really shows itself on screens 42" and larger.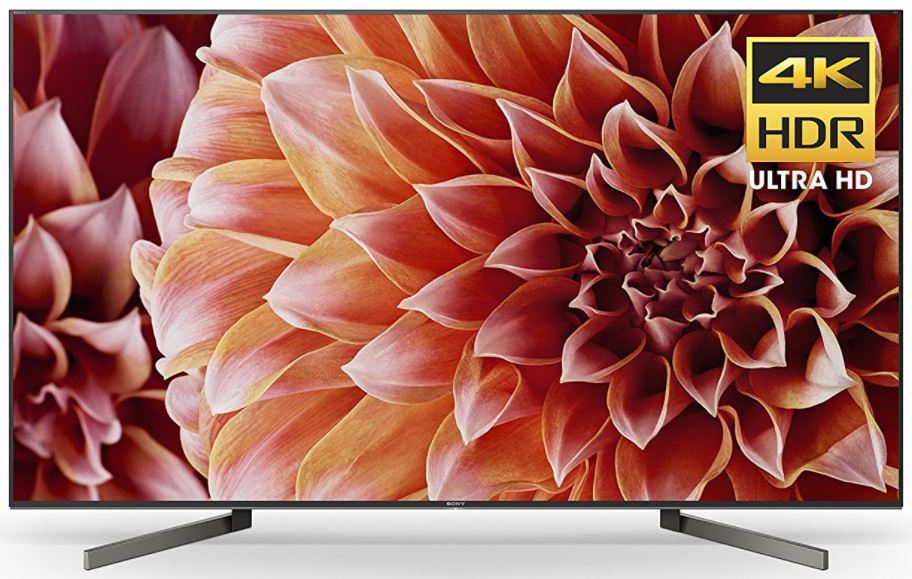 First Impressions
Sony's new 4K offering, the Bravia X900F, is a force to be reckoned with. With their newest model, Sony has positioned themselves to dominate the 4K market with a wide range of screen sizes and pricing options. Their newest offering features local dimming technology (for enhanced contrast control), amazingly intuitive processing and scaling, a TRILUMINOS display, 4K HDR bitmapping, and a truckload of other features which we will discuss later on in the review. The X900F is available in five different sizes: 49 in., 55 in., 65 in., 75 in., and 85 in. In this review, we'll be focusing on the mid-range 65X900F 65 inch model.
What's in The Box?
Included in the packaging material is the TV itself, a remote control, an IR blaster (to increase the signal range of your remote), a pair of batteries for the remote, and the user manual. The remote control is your standard Smart TV universal remote, featuring easy access shortcut keys to Netflix and Google Play.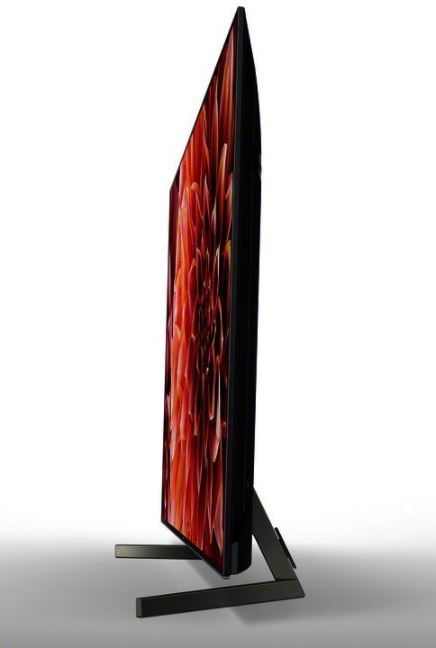 Design
The X900F doesn't make any revolutionary leaps in their design. Sony has opted to keep the form factor nice and simple. The bezel is unobtrusively thin, keeping the display's borders very low profile. We didn't find the minimal border bezel to be distracting or unsightly, and if anything, nicely accents the display against its surroundings. Here's the kicker: while the bezel is practically unperceivable, Sony includes a pair of feet that are far too large for the TVs otherwise sleek design.
The feet are pretty obnoxious; funny in the same way that clown shoes are funny. They do their job though. The TV feels very secure once it is in place. The feet are also rather far apart, so you might want to make sure you have enough room on your furniture to contain the TV's length. When footed, the X900F's real estate measures 39.2 in. x 10.6 in., which is kind of bulky when compared to the competition. The good news is that there is plenty of room to include a soundbar beneath the device.
We're going to have to recommend mounting the X900F if possible, as it removes both the foot issue and the size concerns.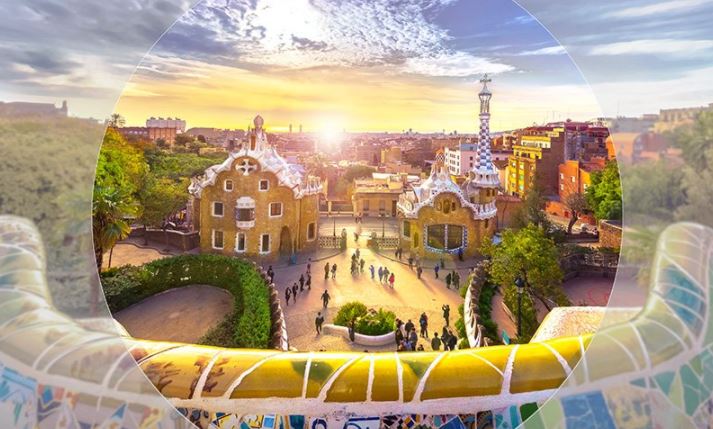 4K Quality
Cumbersome design choices aside, the X900F's picture quality is what sets it apart from the competition. Sony's newest TV release handles 4K sources like a pro, using the X1 Extreme processing engine, dimming technology and Triluminos color management to create a 4K experience which is second to none in its price point. The x900f also knocks motion reproduction out of the park with their upgraded Motionflow processing technology, now called X-Motion Clarity. The refined motion reproduction technique ensures that fast moving scenes look just as clear as stationary scenes. As TVs have advanced, motion reproduction has been getting better and better, but we've yet to have seen anything even close to the X-Motion Clarity system, at least in the mid-level price range.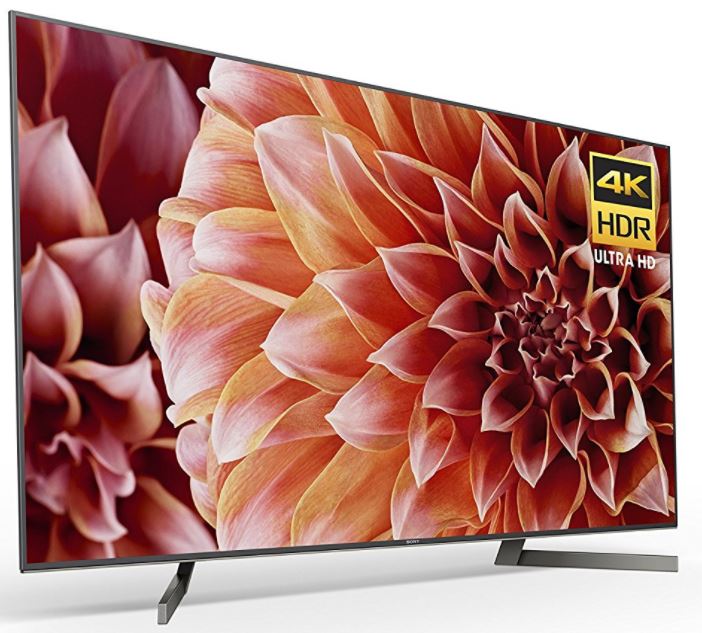 Lighting
Instead of grouping all of the lighting around the edges, Sony uses a direct lighting approach which allows for different levels of lighting at different areas of the display. When compared to the standard method of edge-lighting, the X900F's localized dimming technology provides a more dynamic and micro-managed HDR experience. The result is a more immersive experience than the traditional edge-lit displays. Sony uses their dimming technology to improve motion reproduction and increase contrast and vibrancy.
Sony's unique lighting system is amazing to witness first hand. The direct lighting, combined with enhanced dimming technology, results in ultra bright HDR highlights, which appear even more vibrant against a clear dark background. The deep black colors produced by the X900F help create stunning dark scenes that feature an impressive contrast and uniformity. Bright scenes look just as awesome due to the TV's vibrant brightness and screen finish, which helps reduce any glare or reflections that could interfere and distract with the image. The only thing you'll want to keep in mind is that the X900F's clarity does significantly degrade when viewed at an angle. This is something you'll want to consider if you're installing a TV in a room where the device will be viewed often from the side.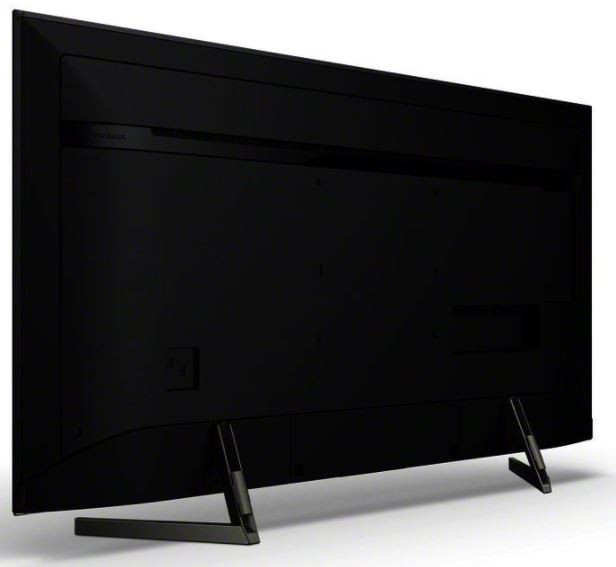 Upscaling
The X900F's SDR and HDR upscaling are very impressive, thanks to the combination of several factors. First off, the new X1 Extreme video processor makes a huge difference in the way that the TV handles source data. The processor's unique dual-database system reduces noise produced by non-4K sources and even adds detail through pixel prediction. When we tested out the X1 Extreme using both Blu-ray and DVD sources, the results were truly stunning.
In the case of Blu-ray content, the upscaling looked truly 4K, which is not always the case with other TVs. DVDs didn't look too shabby either. Considering the vast difference in pixel resolution, the X900F did a fantastic job of limiting noise and blur. The X900F even does a great job converting SDR images to HDR images. The bottom line is the Sony's X1 Extreme video processing is the best damn upscaling technology on the market, period.
SDR Quality
If you're the kind of person that prefers to experience SDR in all of its original glory, no sweat. While the HDR upgrading is included in most of the TV's presets, you always have the option to use Sony's True Cinema option, which allows SDR images to remain SDR. The good news is that SDR still looks fantastic on the X900F. Most modern TVs really make the flaws of lower resolution sources stick out like a noisy thumb, but the X900F keeps the colors looking sharp and vibrant, with blacks and dark colors still looking solid.
SDR peak brightness looks amazing, even in an already bright room. If you've ever tried to watch a television with a bright light source close by, you know how distracting glare and reflections can be. The dimming technology does a fantastic job of boosting the lighting of dimmer areas on the screen, which keeps the picture looking uniform and consistent. The result is a much more immersive experience.

Smart TV
Much like their previous Smart TV offerings, Sony preloads the X900F with Android TV, Google's Smart TV platform. The Android TV platform offers a ton of content, including games, apps, news, music and video streaming apps, including YouTube, Netflix, Hulu, Amazon Prime Video and any other video streaming service you can imagine. Android TV also Chromecast support and voice command compatibility through Google's Voice Assistant.
While Android TV is tremendously content-rich, the platform's performance can sometimes leave something to be desired. At times, the software is slow to react to remote control commands, which can be pretty frustrating considering we've become accustomed to instant gratification. The Android TV user interface also isn't the prettiest example of a Smart TV UI. The main page is cluttered and often puts an emphasis on games and non-streaming applications, despite the fact that it's operating on a television. While Android TV does have an automated recommendation engine built-in, we found that the suggestions aren't quite as intuitive as other platforms.
On the plus side, Android TV features some great integration features if you're already an Android user. The X900F is also compatible with Alexa. The Alexa integration allows you to control your TV from afar. Alexa can power your TV on, control the volume and manage your inputs. Netflix and Hulu already offer a selection of 4K quality streaming video, which is a great way to experience the full resolution capability without running out and upgrading your whole movie collection to 4K.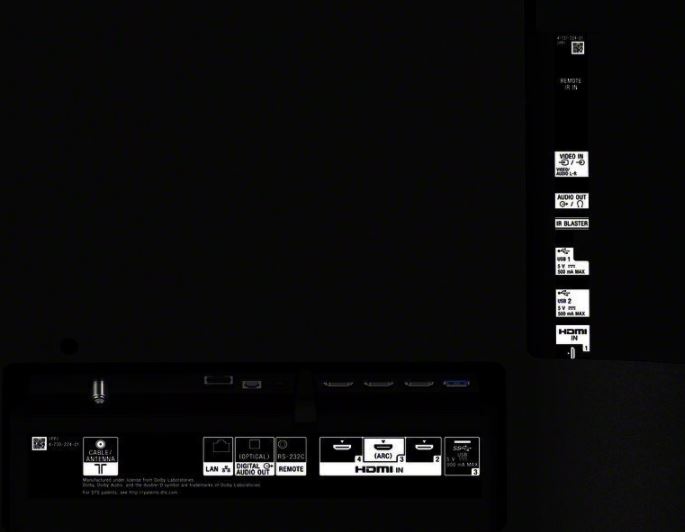 Sound
If you're planning to hold off on installing a separate surround sound system, it should be a relief to hear that the X900F's sound quality is more than capable of standing on its own. The audio displays an impressive soundstage, but doesn't feel open to the point of dilution. The result is music that carries, but dialogue that feels sharp and focused. One of our least favorite parts of integrated TV audio is the way that dialogue can become cloudy. The X900F does a very good job of keeping dialogue directionally accurate. We did notice some pretty wimpy bass, but the wall of sound effect created by the TVs soundstage is immersive enough to disguise the pitfall.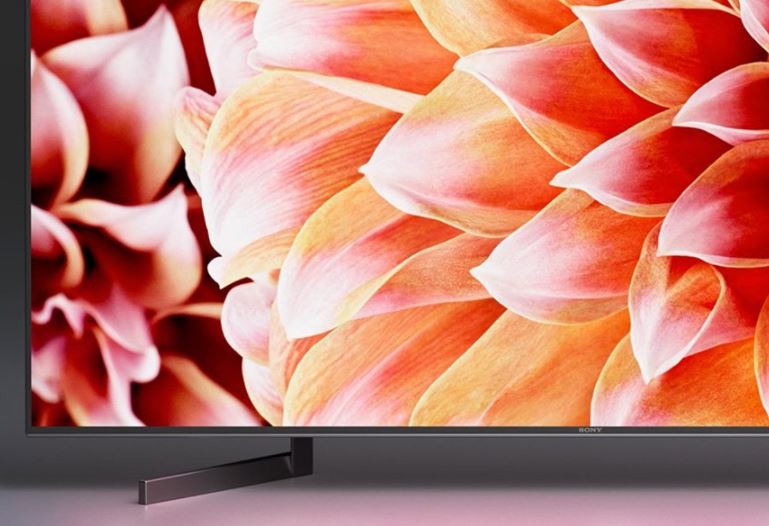 Final Thoughts
To our eyes, the Sony X900F features the best 4K HDR picture on the mid-range price market. With its unique dimming technology and powerful X1 Extreme processor, Sony's newest Bravia model has all the pieces in place to dominate the 4K TV market in 2018. If you're willing to look past a few small design quirks, a limited viewing angle and a slightly cluttered Smart TV user interface, than the X900F is the best option that this year's 4K market has to offer. Now that 4K is making its way into the mainstream, now is a good time to invest in the technology. The X900F is a great place to start.