When we were just wee lads, we lived in the kind of neighborhood where the doors were never locked. Why bother? Everyone knew everyone else, and ole' Miss Pennywaffle down the road knew the comings and goings of every single person on the block. If Mr. Eggypants was cheating on his wife, Miss Pennywaffle knew it. We didn't take home security very seriously because we figured Miss Pennywaffle, with her oversized curlers and her floral-printed muumuus, was even more effective than a fierce guard dog.
One day, our family arrived home to find our front door ajar. "The milkman probably just forgot to close the door," we said to ourselves in a gesture of reassurance, "Yeah, that's it. No reason to worry." As we walked through the door we knew something was amiss. Our mother's sewing machine was missing, as was an entire bowl of strawberry-flavored hard candies. Why? How? And more importantly, who? What sort of evil monster would destroy the sanctity of our home—our very illusion of safety?
As our eyes peered across the tiling of our foyer, the evidence began to mount. A zig-zagged trail of curlers led from the candy bowl directly out the front door. The faint stale smell of mothballs lingered in the eerily-still air. The culprit was clear. Miss Pennywaffle had fooled us all.
The point is, you simply can't trust your neighbors to be your personal security guards. The concept of a neighborhood watch is ingenious, at least in theory, but there are only so many eyes available at any given moment. Why even take the risk? Modern security tech is way more affordable and way less difficult to install than ever before. In the golden age of the 1980s, installing a security system could set you back up to $10,000. These days, security technology can cost well under $100. There is no excuse not to have some sort of security in place.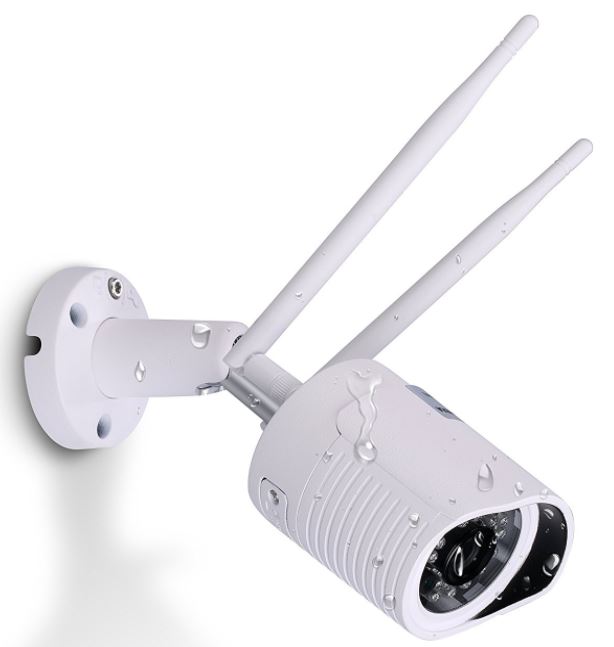 First Impressions
The HiKam A7 is an intelligent outdoor home security camera for the modern era. These days, home security is all about artificial intelligence and mobility. We feel like we shouldn't have to sit and stare at hours of camera footage every single day, potentially risking the chance to miss suspicious activity.
We want out technology to notify us when there is something to report. The A7 features an intelligent human detection system, WiFi connectivity, live streaming, smartphone monitoring and IPX6 waterproof certification, all for a very reasonable price. Over the past few weeks, we were able to put the A7 to the test, including several fake robbery attempts. How did the camera perform? Let's find out.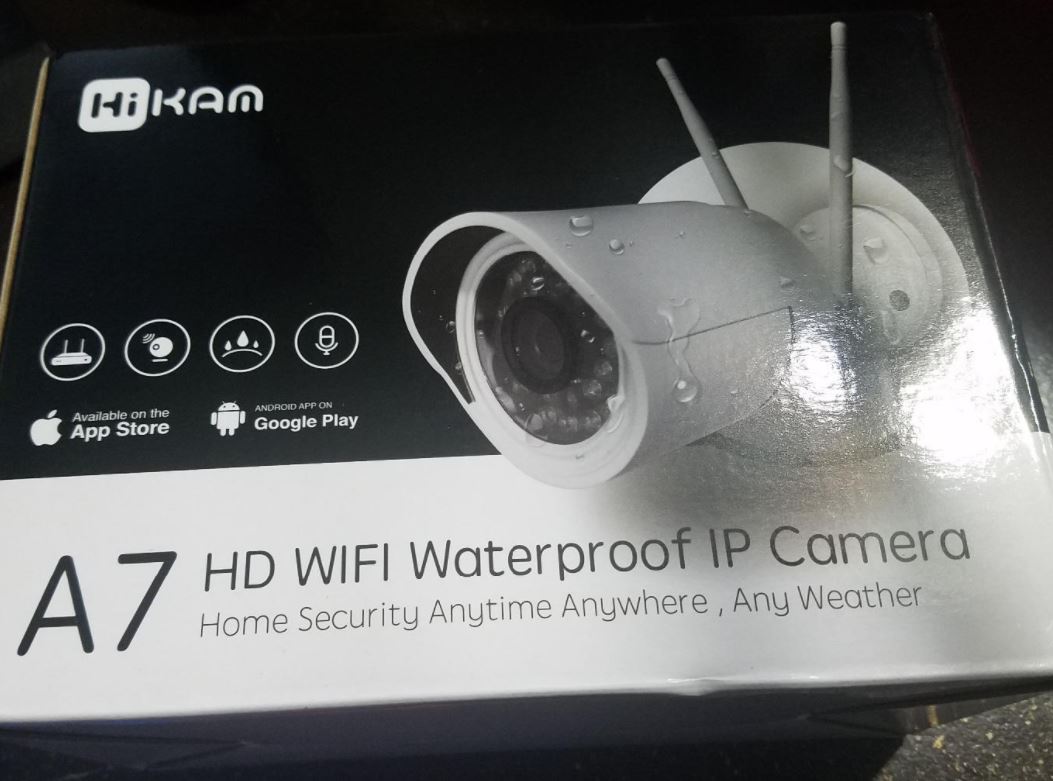 What's in The Box?
The HiKam A7 ships in an attractive two-toned black and light silver box. All of the contents are packaged securely, with no indication that the packaging could pose any sort of damage hazard. Inside the box you'll find the camera itself, a WiFi antenna, a 433 antenna, the mountable base, a power adaptor, a quick start quide, mounting and interface instructions, and nylon nail-it and screws. Our first impression is that the build-quality feels sturdy and looks sleek. We really like the clean Apple-like design.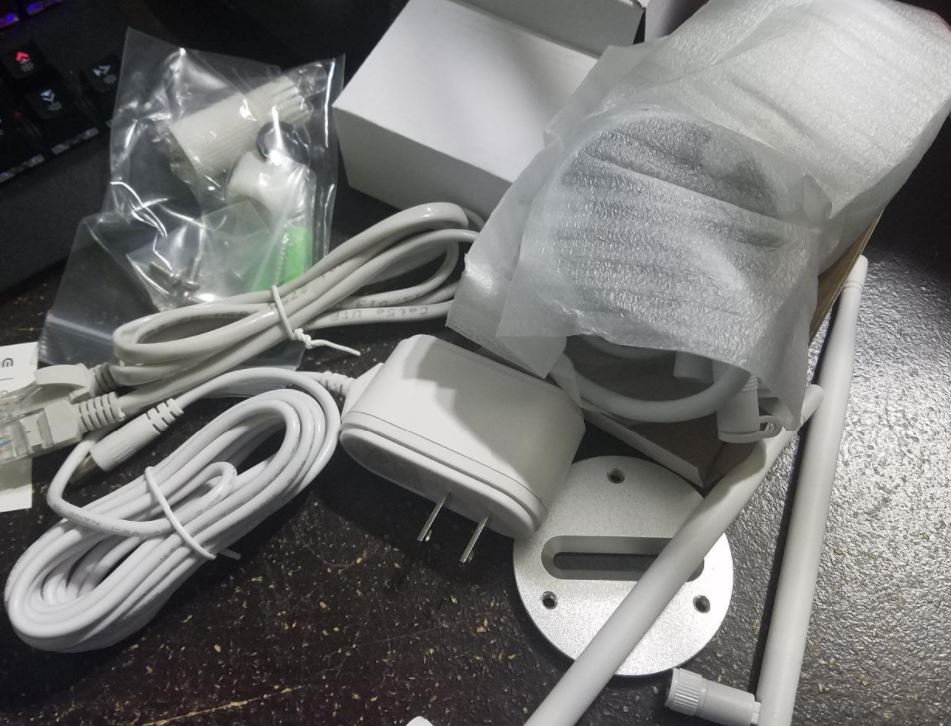 Installation and Set-Up
Many of the security cameras we've reviewed in the past are a real pain to install. The mounting is usually awkward and the wireless syncing is not very intuitive. HiKam seems to have mastered the instillation process with the A7.
Syncing the camera to your wireless network is as easy as downloading the HiKam app on your smartphone and choosing the network. The camera most of the work. Just keep in mind that the camera is only compatible with a 2.4 Ghz WiFi connection, so you're not going to be able to connect the device to a 5 Ghz connection. Mounting the camera was a cinch. The included hardware combined with the camera's articulated base make the A7 easy to mount almost anywhere. Once our A7 was mounted on our porch, it felt very secure. There was no indication that any wind or jiggling would knock it loose.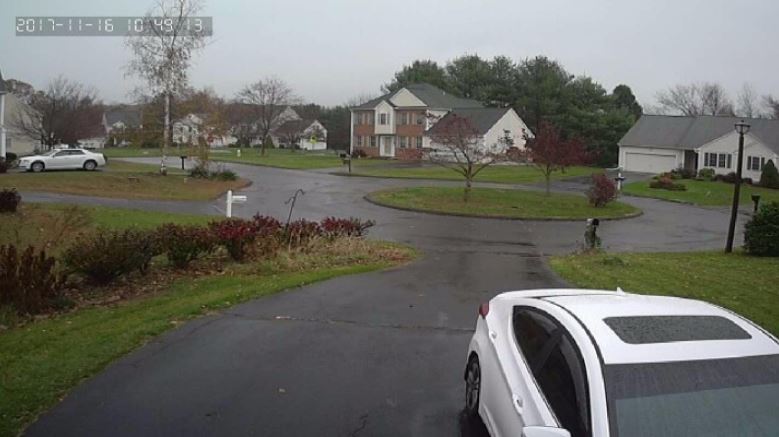 Video Quality
Security cameras have come a long way in the past two decades. If you've ever watched Unsolved Mysteries or any of those crime shows that show CCTV footage from the early-90s, you know just how rough security cameras use to be. The HiKam A7 features a 1 MP camera with a resolution of 960p (1280 x 960 pixels). Unless you're planning on zooming in on the perps skin pores, 960p is a perfectly capable HD video resolution. There are security cameras that feature higher definition video quality, but for the additional dough, we really don't think it's worth it. For the price, HiKam's video quality is a steal.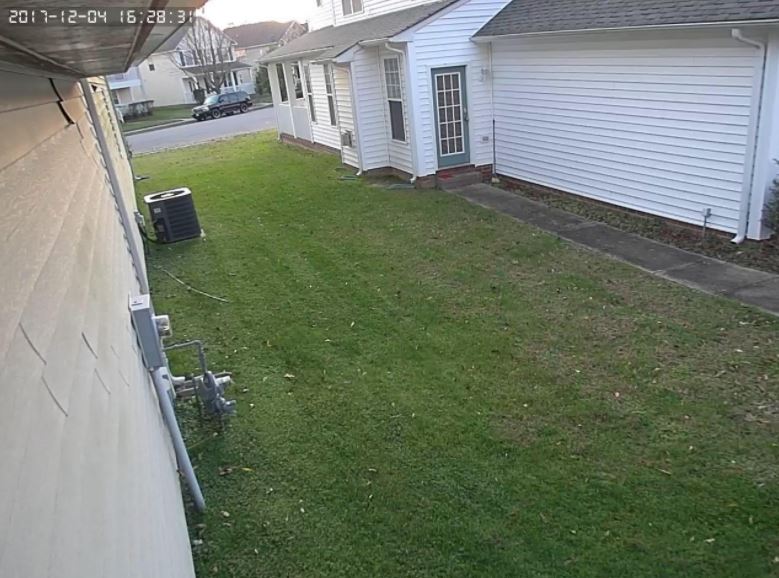 Night Vision
A security camera wouldn't be very secure if it only recorded during the day. The A7 features night vision with a range up to 50 feet. Built with 24 infrared LEDs, the night vision camera was actually quite impressive. For the mid-level price point, we weren't expecting very much, but the range and clarity were both much better than our preconceptions would have suggested.
During one of our fake burglary tests, the night vision camera allowed us to clearly make out the facial features of the perp. We also tested the camera's ability to catch any distinguishing marks in night vision mode, such as tattoos or birthmarks. Tattoos were easily visible. We were vaguely able to see that our thieving friend was freckled, but the picture wasn't clear enough to be definitive. All in all, the night vision was superb.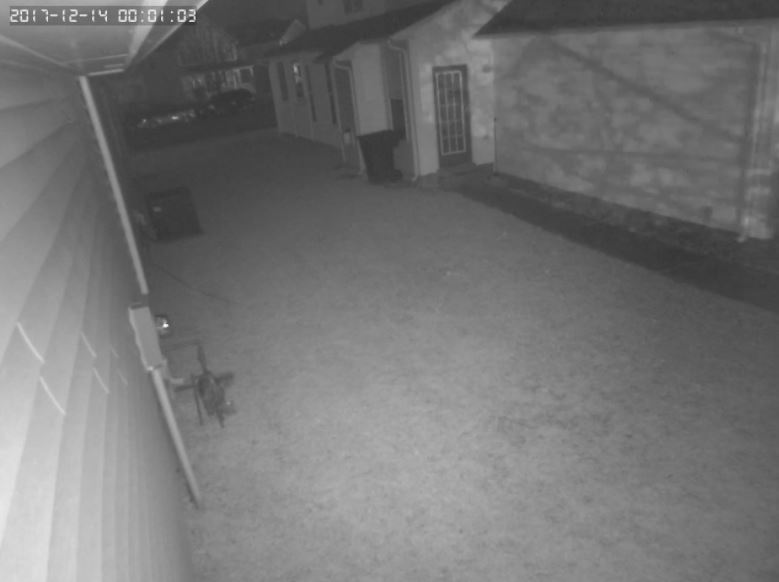 Human Detection and Alerts
Wow, wow, wow. This is where the A7 really shines. HiKam has included a proprietary human detection system which is smart enough to distinguish humans from birds, cars, pets, tree branches, or any other moving object. We tried our hardest to fool the software's system, but we failed terribly. Keep in mind that our efforts included using a human-sized teddy bear (please don't tell our kids).
According to the calculations, the A7 avoided over 1000 false alarms through one week of use. Yes, over 1,000. Could you imagine getting 1000 unnecessary alert texts? You also have the option of recording video to an on-board micro SD card, up to 128 GB.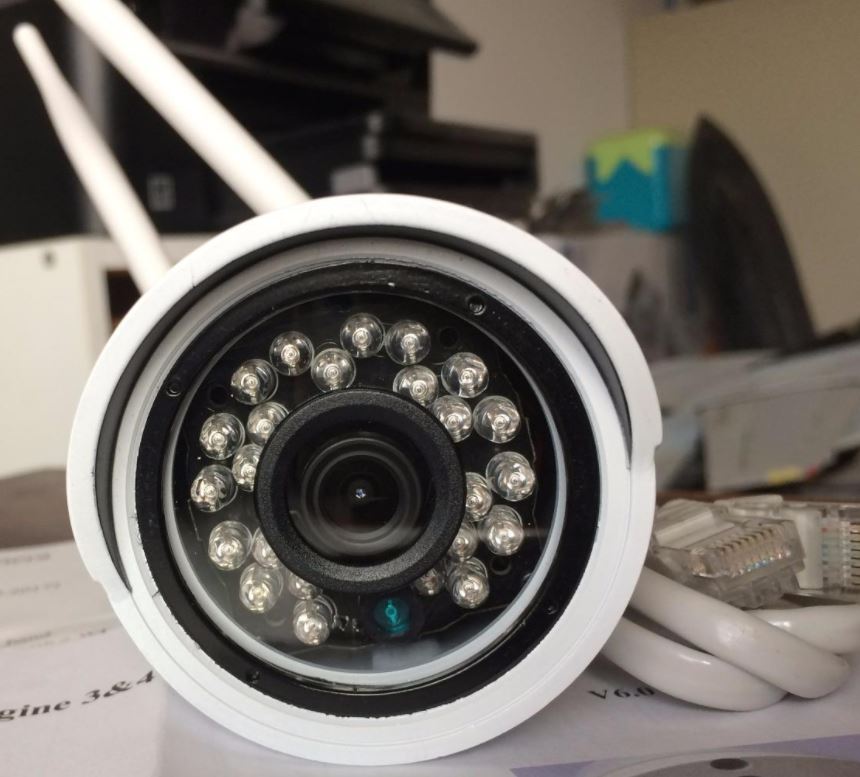 We had a blast playing around with the A7's notification alert and instant video review feature (Disclaimer: It's probably a lot less fun playing with the camera during an actual emergency). Whenever the security camera notices anything fishy, you'll immediately receive an email and text alert on your smartphone. The notifications include still images of the suspicious event, providing you an instant look at the situation. You can also instantly review the footage from your phone. Being able to remotely access your security camera is truly awesome.
In case of an emergency, you'll have a much better chance of stopping a robbery or any vandalism before it even happens. How else would you ever know if something nefarious was going on at home if you were halfway across the country on business?
Waterproof Certification
The HiKam A7 is made for the outdoors. Besides being sturdily built, the camera also features an IPX6 waterproof certification. An IPX6 rating means that the A7 is safe from strong jets of water from any direction.
Even if you accidently (or purposely. To each their own!) spray the camera with your hose, or if you unexpectedly get hit by a torrential downpour, the A7 will still operate perfectly. Knowing that our security camera won't go rogue the second a raindrop touches its lens makes us feel very confident that the A7 won't fail us at our most trying time. When you have children, random jets of water are not beyond the realm of possibility. Our kids have an unnaturally effective way of destroying our favorite gadgets. Not this time, bubba.
Privacy and Security
Privacy is a hot button issue at the moment, but your home network security should always be at the forefront of your mind, not just when data leaks are in the news. This is particularly true when it comes to cameras. There is a good reason why Mark Zuckerberg covers his webcam with a piece of tape when he's not using it. The Zuck doesn't want some basement hack warrior to be creepily staring at his billionaire naughty bits.
HiKam doesn't want anyone starring at your naughty bits either. The A7 utilizes RSA, AES and TLS encryption algorithms, which means your naughty bits are safe with them. Wait… why are you pointing your security cam at your naughty bits anyway, ya creep?
Sound Quality
The HiKam A7 features a built-in microphone that offers one-way audio. The only feature we feel is missing from the A7 is a two-way conversational speaker. One of the perks of having an outdoor security system is being able to interact with any visitors without having to crawl out of bed. Also, it's a lot more awkward to curse off Jehovah Witness's to their faces. If we're going to be cruel, we prefer to be cruel from a distance. It's also a lot of fun to just scream at random people as they walk past your house.
On the plus side, the A7's built-in mic works great. During our testing we were able to hear conversations taking place on our porch without any problem. HiKam has included noise suppression technology that isolates the sound you actually want to hear. At a normal speaking level, we measured that the A7 has a listening range of about 20 feet.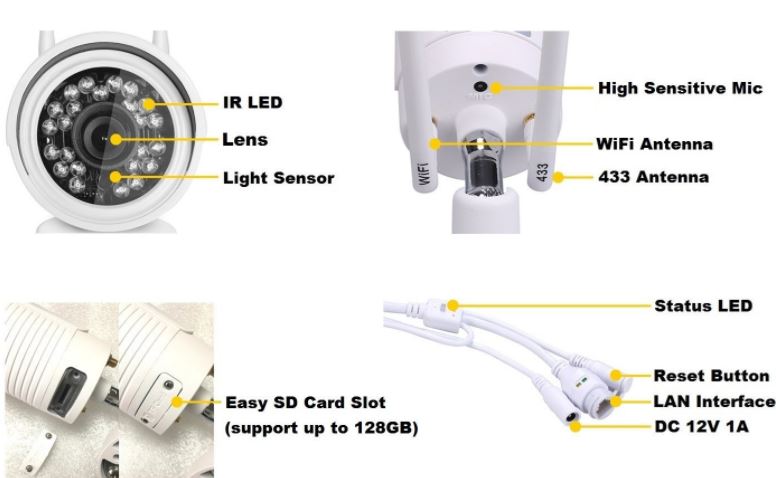 Final Thoughts
The HiKam A7 is the best value on the outdoor home security camera market. With the A7's mix of affordability and quality, we'd be hard pressed to recommend any other mid-range security device. While we would have liked a two-way speaker added for remote communication, the other features, such as intelligent human detection, notification alerts, great video / night vision quality, instant video review, and live streaming made up for the device's very few downfalls.
Knowing your family and possessions are secure can change your life. If you're generally a neurotic person, which we definitely are, a security camera like the HiKam A7 works wonders for taking the edge off. If you've been hesitating on making the purchase, tentatively hovering over the "Place Order" button, you are doing yourself a disservice. Make the jump. You won't regret it.