If you've ever been to a very wealthy neighborhood, you know how seriously mansion owners take their security. When you pull up to the gates of a palatial home, a voice, as if by magic, beckons you from a hidden speaker. What is this sorcery? There's no possible way that there is someone just sitting there staring at a security monitor for 24 hours a day. Even for a millionaire that would be an extravagant expense. No, there's some sort of other force at play here.
What's their secret? Technology! Yes, technology—that mysterious force that binds our society. As tech journalists, our lives revolve around the newest and coolest gadgetry. When we hear about a new, and more importantly, affordable piece of shiny security equipment, we're all over it like white on dice (You thought we were going to say, "white on rice," didn't you? What are we, some sort of cliché machine? Well, aren't you just cute as a button).
When we heard about the Remo+ DoorCam, we couldn't wait to get our grubby little paws around its luscious curves. There's something romantic about setting up a security camera when you live in a modest home like ours. We feel just a bit more Hollywood. Today a security camera, tomorrow a star on the Hollywood Walk of Fame. With dreams of stardom floating around our brains, this week were able to take the DoorCam for a test run. Here is our honest review of the Remo+ DoorCam in all its glory.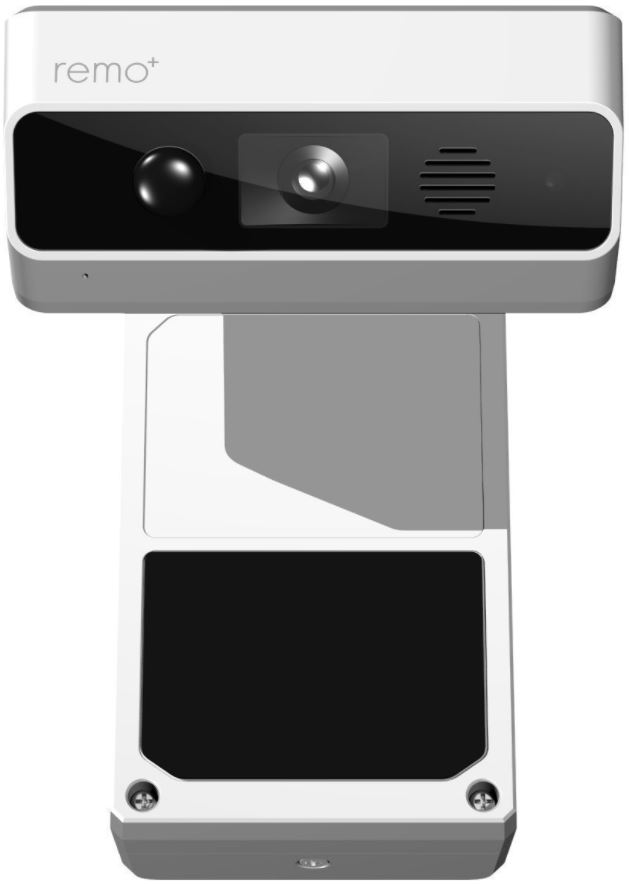 Size and Fit
Before you purchase the DoorCam there are a few important matters to keep in mind. First off, the Remo+ will unfortunately not fit every door. The over the door camera is only compatible with doors that push to enter. If the entry you're looking to secure has a door that pulls outwards, the DoorCam will not fit. Also, the DoorCam only fits doors that are between 1 3/8 in. and 2 in. If your door is thicker than 2 in. or narrower than 1 3/8 in., the camera will not fit correctly.
Think of it this way; if you've ever owned one of those over the door towel or coat hooks, then you'll understand the basic premise behind the device. The camera hooks over your door, with the camera side on the outside and the large main base on the inside. The base's top end reaches slightly above the door jamb, which is why the camera is only compatible with push to enter doors. If your door pulls outwards, you'll discover quite quickly that the device is not going to work.
Viewing Angle
The DoorCam has the highest viewing angle of any home security camera that we've ever reviewed. With a 160-degree wide angle lens, the viewing area is practically panoramic. The result is streaming video which provides a uniquely peripheral view, with coverage that includes the whole entrance area of your home. We were continually impressed by the viewing angle through our testing. The wider perspective makes such a huge difference and made us feel confident that we would be able to easily see any shenanigans taking place on our deck or front lawn.
Connectivity
When we first installed the DoorCam, we were curious why Remo+ had designed the camera's interior base to sit slightly about the door jamb line. We figure that without that extra top bit, the DoorCam would be compatible with both push to enter doors and pull to enter doors. While we still think that fixing this issue would make be a huge improvement on the camera's versatility, our review allowed us to understand why Remo+ made this design choice. The extra bit on top is actually an enlarged antenna. Sometimes companies make the decision that design must take a backseat to functionality and Remo+ made the choice to improve performance rather than streamline the aesthetics.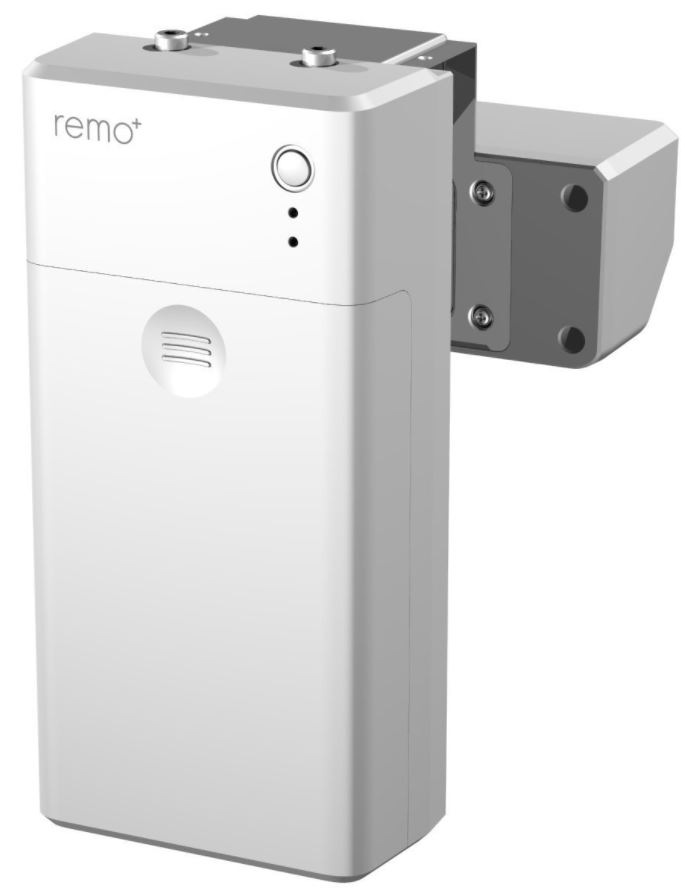 Many home security cameras suffer from connectivity issues due to their distance from the Wi-Fi source and the many obstructions in their paths. The DoorCam wireless hardware sits on the inside of the door, eliminating the Wi-Fi interference caused by the thick wood of the door and insulation material. If there is one feature of a security camera that you want working at all times, it is the connectivity.
Since the DoorCam is completely wireless, it relies heavily on signal strength. Remo+'s unique design vastly improves the camera's signal consistency. You'll want to keep in mind that the DoorCam is only compatible with the 2.4 Ghz wireless frequency, so if you're heavily reliant on the 5 Ghz band, you're going to have to make a concession for the DoorCam.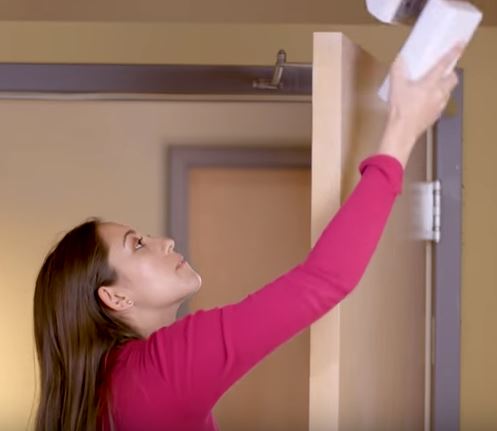 Setup and Installation
Syncing the DoorCam with our Wi-Fi connection was an absolutely seamless and idiot-proof experience. All you must do is download Remo's smartphone app, power up the Remo+ and use the app to choose the correct network. Since the Remo+ hooks right over the top of your door, there are no complicated mounts or hardware. The physical installation literally takes about 20 seconds. The wireless setup takes less than 5 minutes. You can do the math from there (Okay… now we feel bad. 5 minutes + 20 seconds = 5 minutes and 20 seconds. Better? Way to make us feel guilty, jerks.)
Battery Life
We were unbelievably impressed by the DoorCam's power efficiency and battery longevity. The device's power management is a bit of an oddity since it takes 3 D batteries, rather than a proprietary built-in battery pack. Another reason why the interior base is so large is because Remo wanted to make sure that the camera was always up and running. Because of the camera's energy efficiency, the device has a battery life of up to 12 months. That is an entire year of battery life without having to change the batteries. That is far and away the longest battery life of any other consumer wireless security camera on the market that we are aware of.
Motion Detection
The DoorCam features customizable PIR motion sensor, allowing the user to set their preferred level of motion sensitivity. If you live in a heavily wooded area, you'll likely want to set the motion detection threshold a bit higher since it would be rather annoying to receive a notification every time a bird or deer prances across the screen. For us, the motion detection worked flawlessly. The camera did not miss a single motion event or send us any false alarms.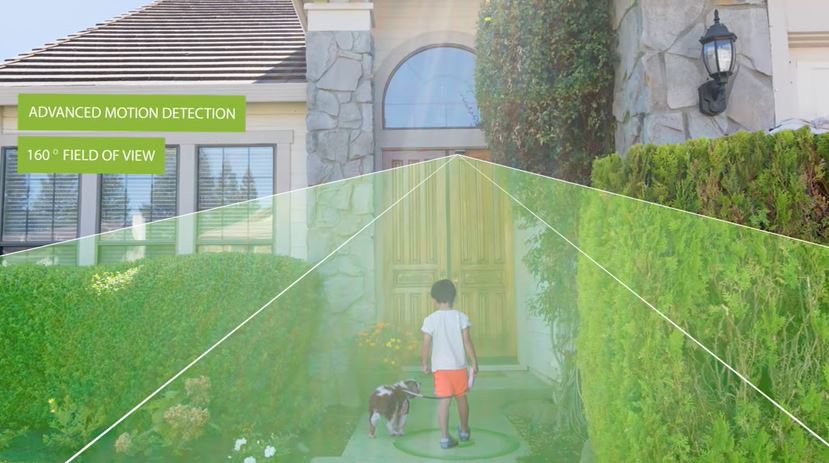 Notifications and Monitoring
Here's how the DoorCam's alert system works. When the camera senses any significant movement, you'll receive an instant notification pushed to your smartphone. The notification gives you two options: accept or decline. If you select "accept," a live video stream will appear on your phone. Once the video feed is pulled up, a two-way speaker allows you to have a back and forth conversation with your visitor. If you chose decline, the live video feed is dismissed. Regardless of which option you choose, the DoorCam will record the event and store the video on a timeline which you can access from your phone at any time. When you access the recorded video footage, you have the option of sharing the video or downloading the recording onto your device.
The smartphone app allows up to 5 different users to access live video, so even if your busy, another member of your family can handle any motion notifications. The DoorCam also gives you the option to store recorded videos on the cloud for a low monthly cost.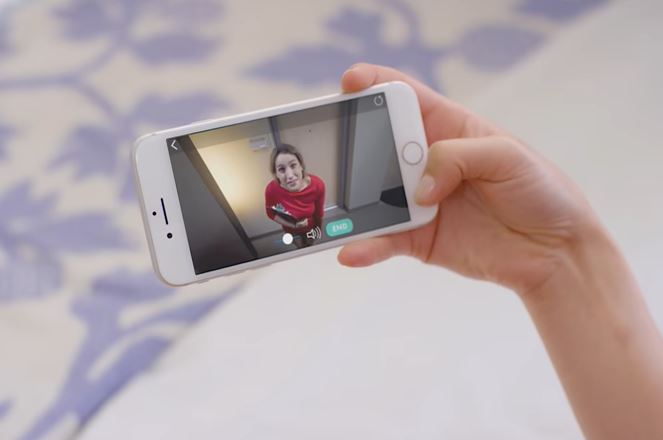 We were continually impressed with the DoorCam's notification system and motion detection. The ability to have a two-way conversation is a fantastic feature, and one we wish other companies would include with their security equipment. DoorCam's application of the speaker feature is fantastic. The sound quality was clear and well isolated.
Night Vision
Night vision is the one feature that is slightly lacking on the DoorCam. The camera's infrared LED night vision only offers a ranger of about 10 feet, which is significantly lower than many competing security cameras. The night visibility is also very dependent on the ambient lighting produced by the moon and any artificial lighting, such as street lamps and porchlights. If you live in a very dark location, the visibility will be proportionally lower. Our best guess would be that the very wide viewing angle makes full night vision coverage much more difficult. There are only so many IR lights you can attach to a device so small without interfering with other features.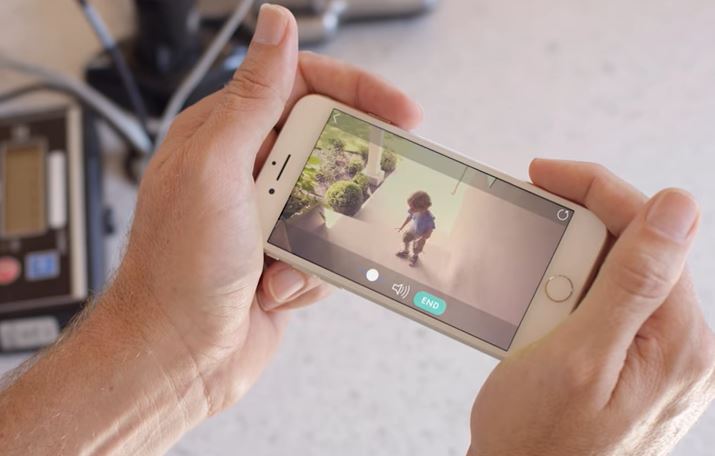 Video Quality
The DoorCam features 720p video resolution (1920 x 720 pixels), which is not terrible, but won't blow you out of your seat either. The picture looks clear and noise-free on our smartphone screens, even in night vision mode. When compared to 1080p and 4K quality video, 720p recordings are significantly smaller video files, which goes a long way when you're trying to manage your storage capacity. A higher video resolution would have shot the camera's price through the roof, without offering much in the way of functionality. Having a security camera that records cinematic-quality video would be just a tad bit excessive and not worth the extra expense unless you had money to blow.
Final Thoughts
The Remo+ DoorCam impressed the heck out of us. With its massive viewing angle, two-way speaker, customizable motion detection, an ingenious design that provides consistent Wi-Fi connectivity, year-long battery life and intuitive alert system, the DoorCam is one of the highest performing and most unique security camera options on the market. We'd like to see future models have a little more installation flexibility, but that's a small sacrifice to make when you consider the benefits you'd be giving up with a more traditional design.
If you're looking for a security camera that's easy to install and provides 160 degrees of video, than the Remo+ DoorCam is a great choice. Just make sure to make all of the necessary measurements to make sure the camera will fit on your door.